24 Halloween Drinks and Cocktail Recipes
Wondering how to make spooky Halloween drinks?
Brittany Barber
Contributor
With Halloween just around the corner, you've probably started to think about Halloween costumes and spooky decorations. But what about the Halloween drinks and cocktail list? Are you throwing a Halloween party and hiring a bartender? Keeping it intimate and mixing something up yourself? Maybe you haven't put much thought into what beverages to make this Halloween, which is perfectly fine too. But if you're wondering how to make Halloween drinks at all, read on!
Whether you're on the hunt for a boozy cocktail recipe or a non-alcoholic beverage, we've got you covered. Our favorite Halloween drinks and cocktail recipes will help you find the perfect selection for your Halloween menu. 
Pro Tip: Although many of our Halloween drink recipes include alcohol, you can omit any alcoholic ingredients to create delicious, kid-friendly Halloween mocktails instead!
READ MORE:
Wondering how to make spooky Halloween drinks and cocktails? Here are 24 recipes you can use!
Witches' Brew Cocktails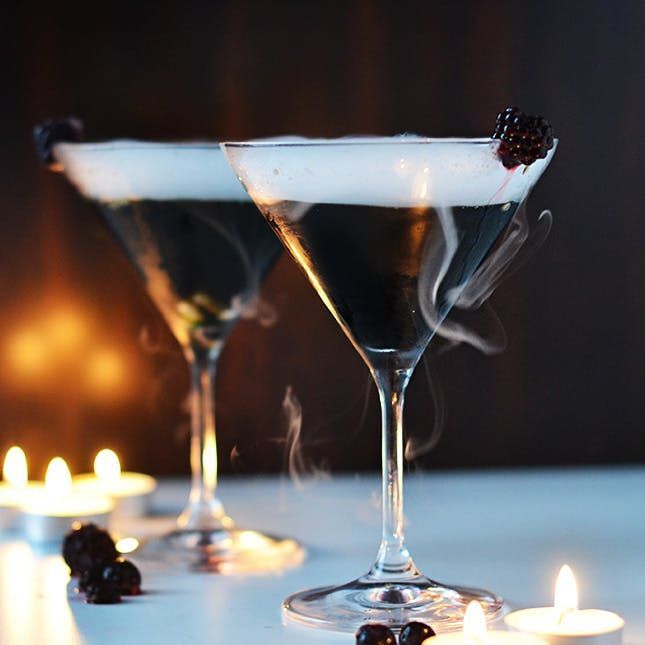 Have you ever wondered how to make drinks smoke for Halloween? If you are committed to serving the spookiest Halloween cocktails this year, make sure to stock up on dry ice. This smokey, raspberry-based cocktail from Brit + Co is delicious, mystical, and highly recommended. 
Halloween Pumpkin Punch
Let's face it, anything with pumpkin in it will suffice as a great cocktail for Halloween or Fall. This pumpkin punch recipe from Entertaining with Beth suggests serving the punch out of a hollowed-out pumpkin, which will definitely give you points for mise-en-place.
Grasshopper Cocktail
This eerie green Halloween cocktail from BBC Good Food certainly suits the spooky vibe. With punches of mint and a creamy finish, this adult Halloween beverage will satisfy any cravings for minty treats. 
Halloween Gummy Worm Ice Cubes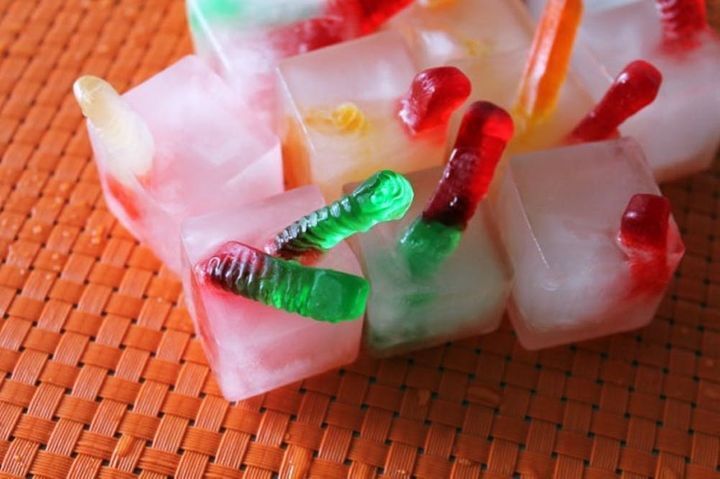 Gummy worm ice cubes are a creative, fun and easy way to add a touch of spook to your Halloween drinks. Making them is as simple as sticking gummy worms in your ice tray, filling with water (or juice), and letting them freeze! 
Haunted Orchard Cocktail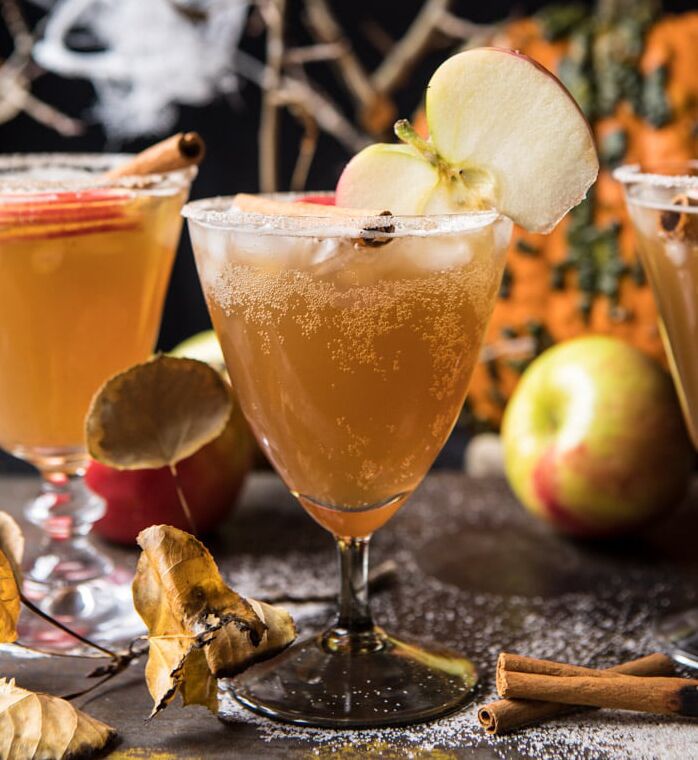 This cocktail is a delightful combination of autumn flavors, plus tequila. This recipe from Half Baked Harvest calls for silver tequila, but a reposado or añejo would be just as delicious. Not into tequila? Swap it out for vodka, or keep the alcohol level low with a hard cider instead.
Bloody Mary Syringes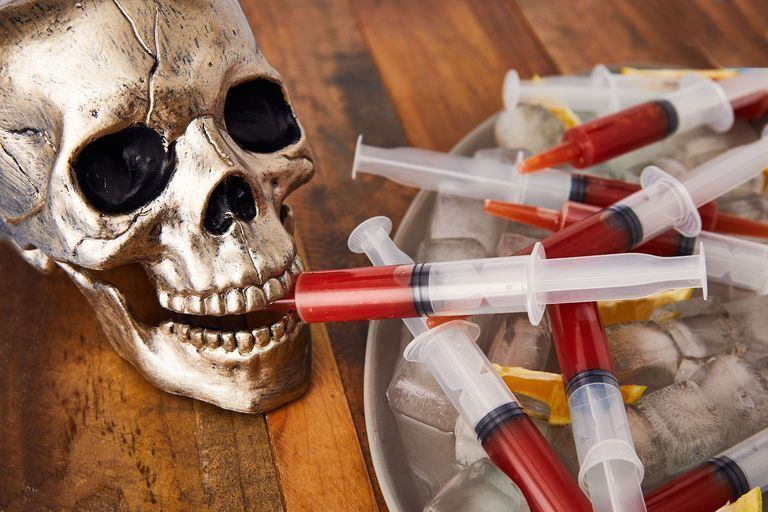 Bloody syringes anyone? These creepy bloody marys will prove to be effective when it comes to freaking out your guests and getting them tipsy. 
Black Fig Vodka Martini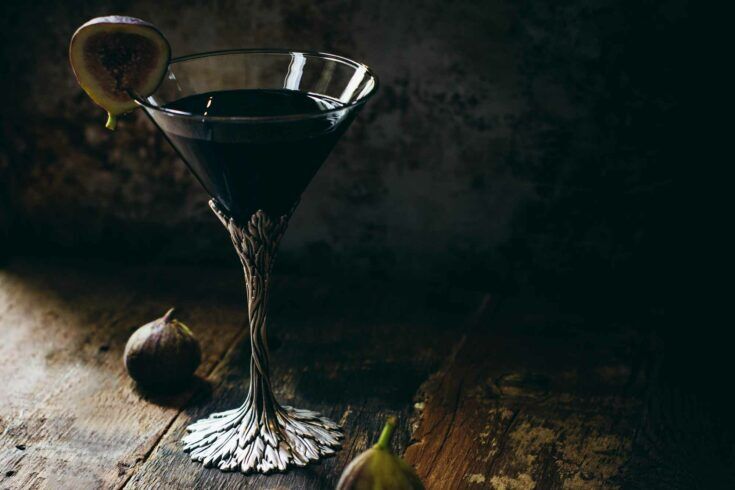 This black martini from Little Figgy is both spooky and divine. With just a few simple ingredients, this Halloween cocktail is undeniably delicious. Aesthetically speaking, it works well with a witch or vampire costume. 
Creepy Shirley Temples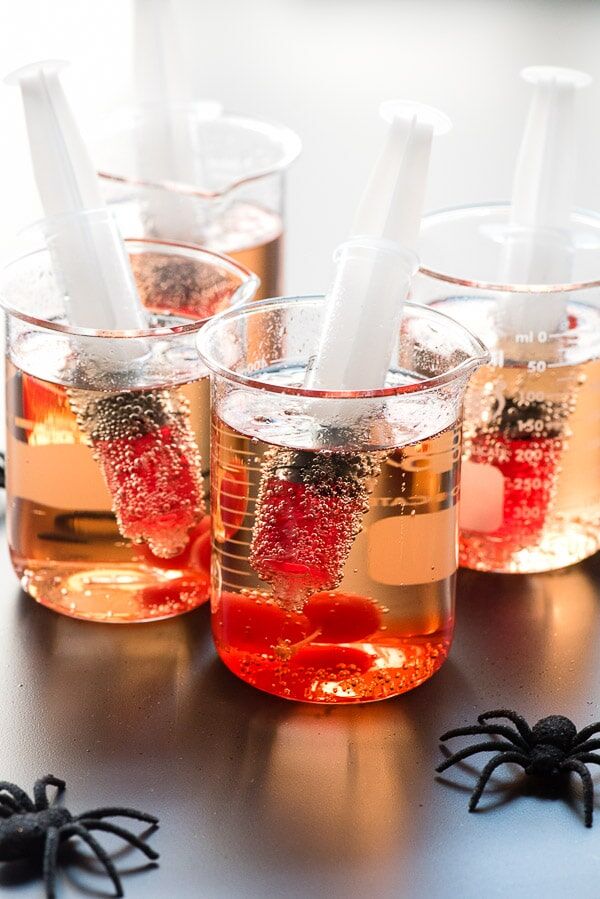 Boulder Locavore's creepy Shirley Temple is a classic mocktail with a spooky twist. The creep-factor is created instantly the moment you add a toy syringe filled with red, gooey grenadine into the glass. In fact, put a grenadine-filled toy syringe in any beverage and it will be creepy... guaranteed. 
Black Magic Jello Shots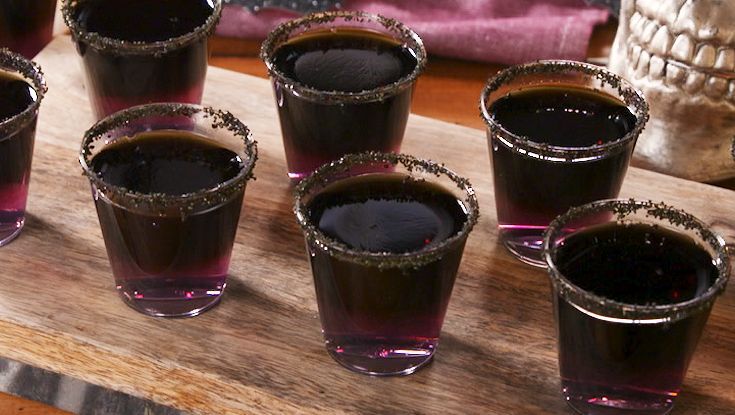 These black magic jello shots from Delish are nearly black, giving them an uncanny, poisonous look. Just make sure you rim your shot glasses with blackened sugar to make them look edible too!
Eyeballs and Severed Hand Halloween Punch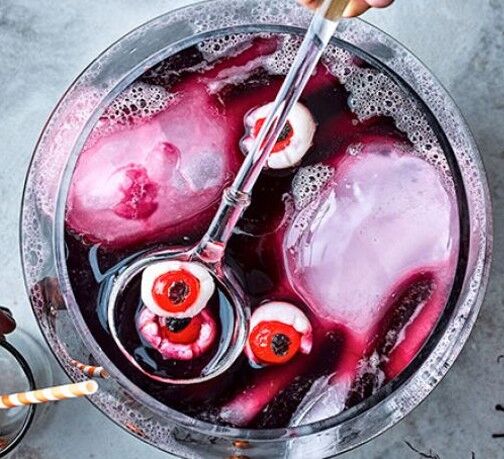 This uber-creepy fruit punch recipe from BBC Good Food is non-alcoholic, so it's great for older kids that don't scare easily. If you're hosting adults who prefer a spiked punch, adding 12 ounces of rum or vodka should do the trick. 
Drunken Halloween Peanut Butter Cup Cocktail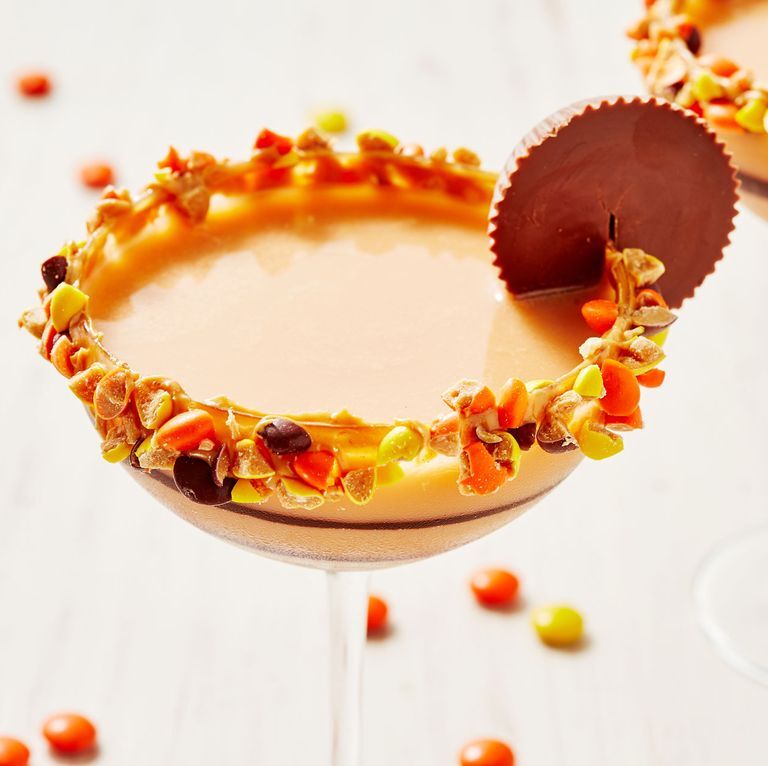 Creamy, chocolatey, peanut buttery, boozy goodness. Need I say more? Check out Delish for the full recipe. 
Halloween Candy Corn Jello Shots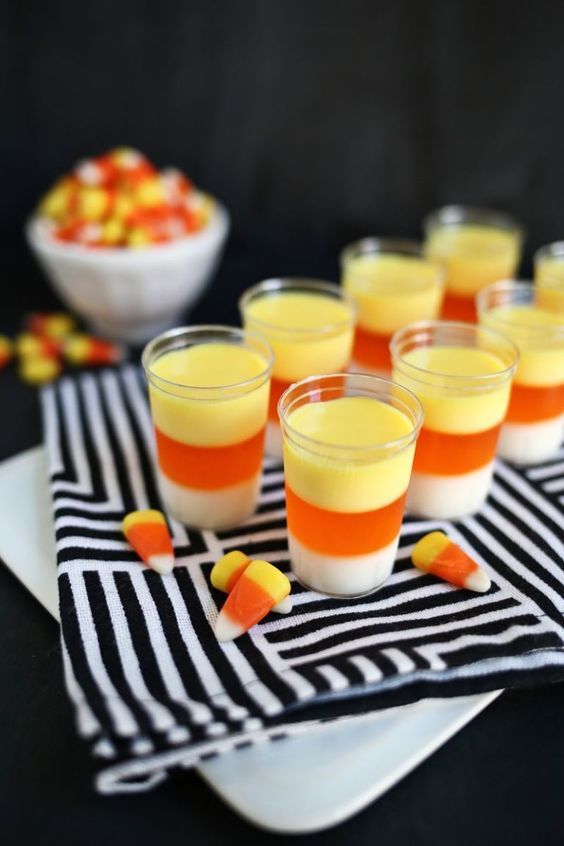 Everyone knows that candy corn is a staple Halloween treat. But if you want to mix it up a bit, skip the regular stuff and make candy corn jello shots instead! Just make sure you're serving an all-adult party - they look a lot like treats kids can have too, so be careful. 
Hot Chocolate with Zero Skellington Marshmallows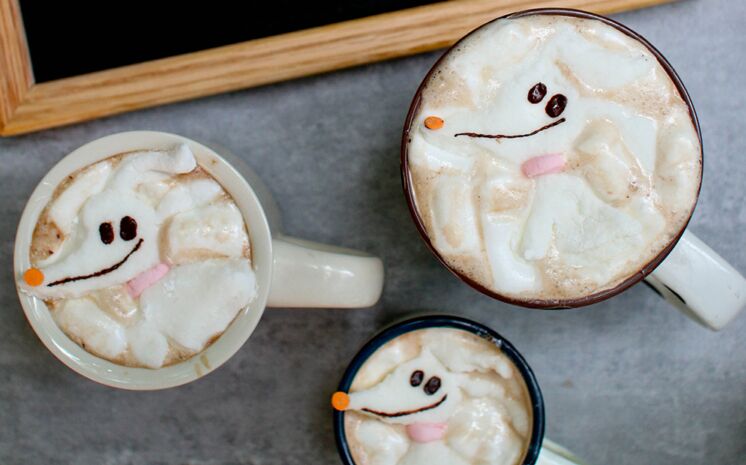 These marshmallows are an easy addition to Halloween themed hot chocolate. If you love Tim Burton's A Nightmare Before Christmas, then you'll love this ghost pup garnish. Check out Disney Family for the recipe!
Boozy Screamsicle Shakes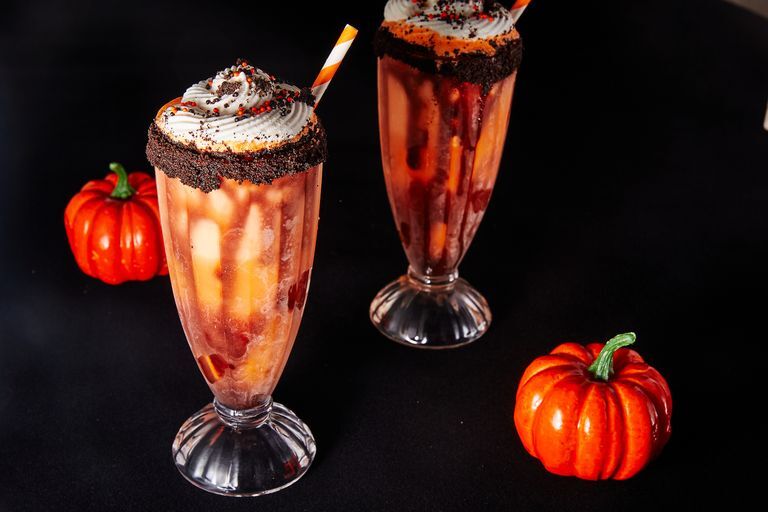 If you're looking for a sweet and creamy Halloween treat for adults, try this spooky spiked milkshake from Delish. You could even skip the alcohol if you'd prefer to keep it all-ages! 
Pumpkin Spiced Latte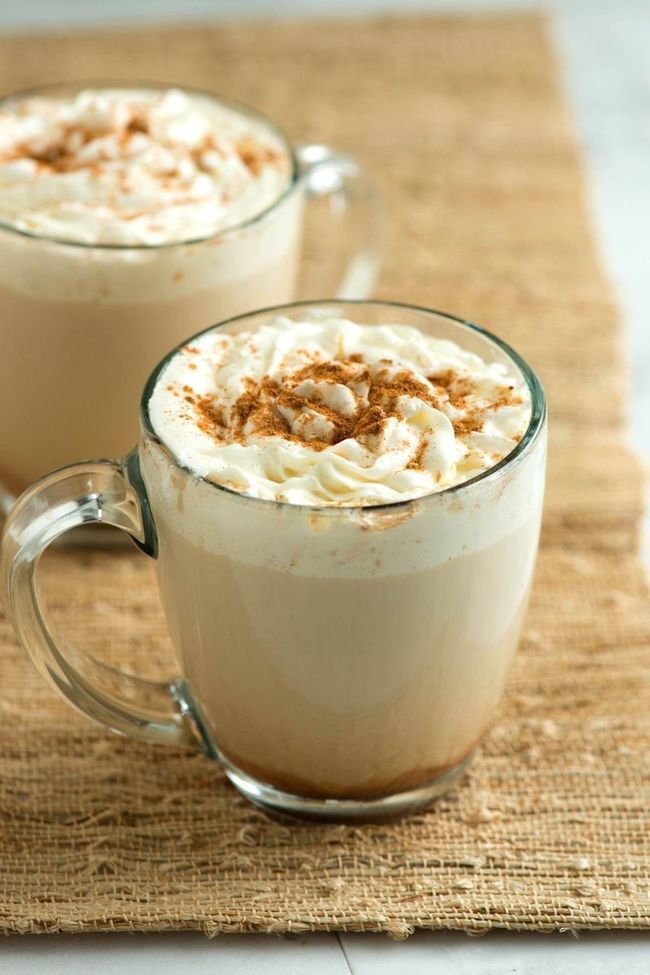 What better time than Halloween 2020 to bust out some homemade PSLs? This classic autumn beverage is delicious as is - but if you want to spice it up, add a little Baileys for an extra kick!
Dragon's Blood Halloween Punch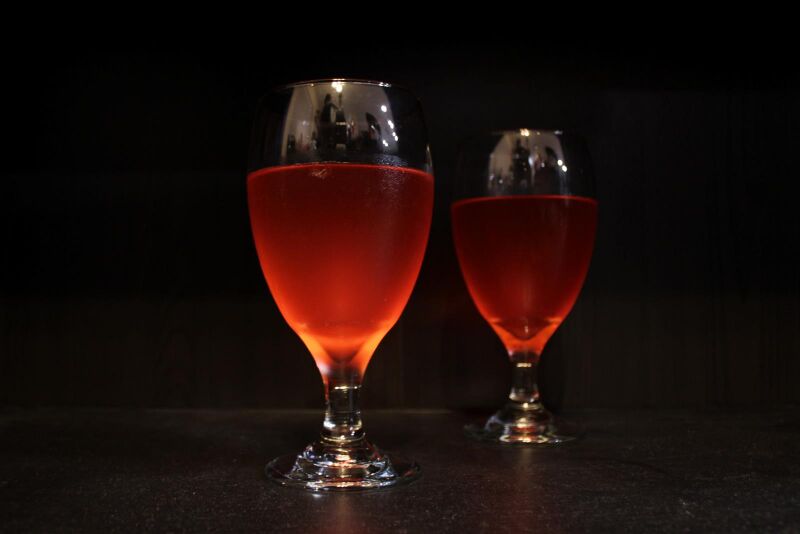 Dragon's Blood Punch is a super simple Halloween drink best made with bright red fruit juices and berry-flavored vodka. The recipe from Bear and Bug calls for some specific juices, but really, as long as it's bright red, it will work! 
Pumpkin Butterbeer Hot Chocolate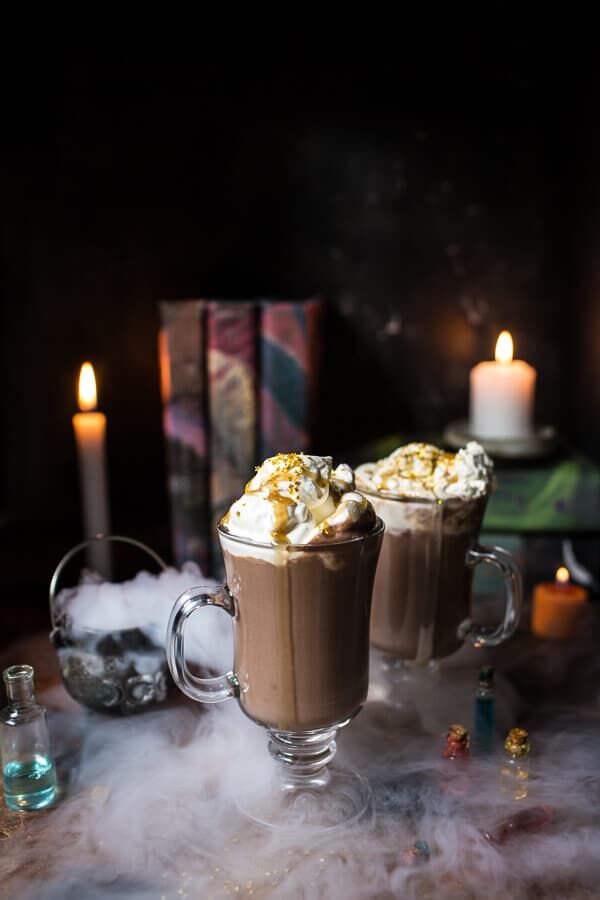 How heavenly do these pumpkin butterbeer hot chocolates look? Yes, these are great for Halloween because Harry Potter and magic and such, but my goodness. These deserve to be served all year, or least until the end of winter! Take a look at this recipe from Half Baked Harvest and please, indulge.  
Spiced Cider Punch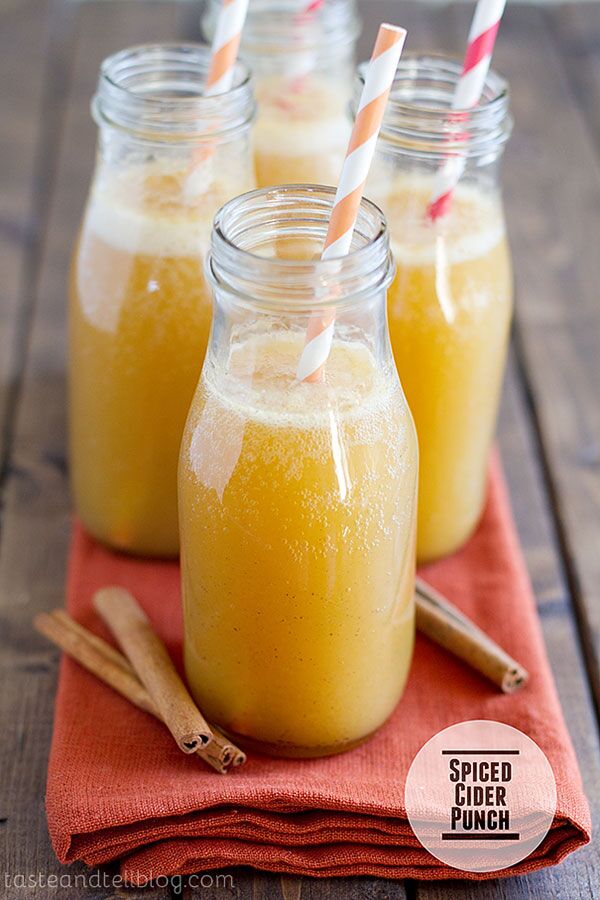 This spiced cider punch from Taste and Tell is an amazing alternative to a hot or boozy cider. With apple cider, ginger ale, and some extra spices, this drink is great for Halloween - or even Christmas! 
Polyjuice Potion Cocktail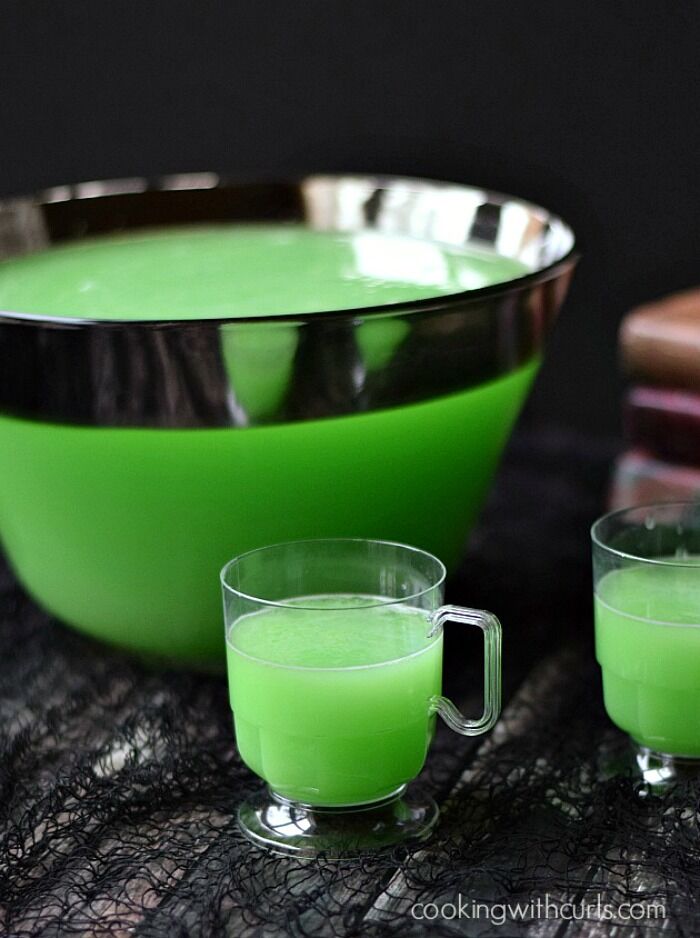 Make your Harry Potter dreams come true this Halloween with this boozy Polyjuice Potion. It's just three simple ingredients: lime sherbet, lemon-lime soda, and vodka! Serve as soon as it's made, and don't forget to quote the books and movies while you enjoy it. 
Bloody Vampire Punch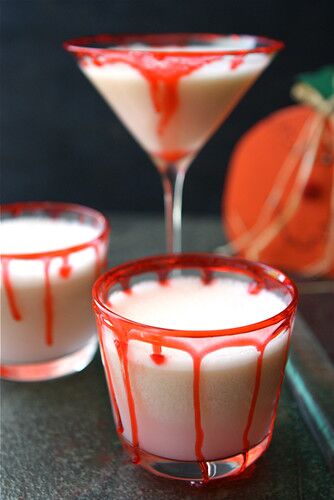 This spooky, bloody vampire punch recipe from Cookin Canuck is sure to be a smash at your Halloween festivities this year. The recipe calls for corn syrup and food coloring, but if you have any grenadine kicking around, that will work just as well! 
Halloween Hypnotist Cocktail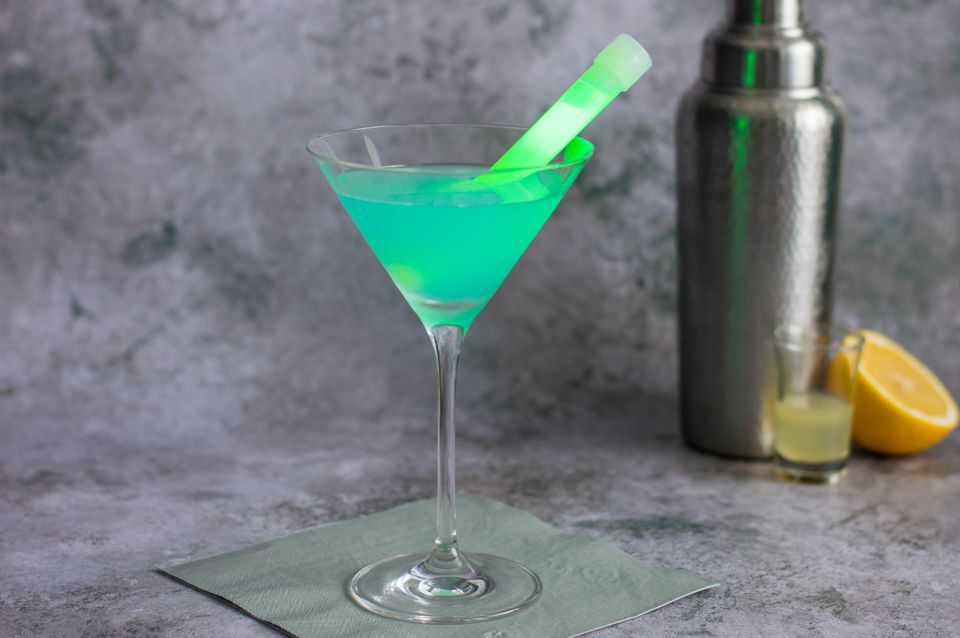 A creepy cocktail that glows? Sounds like Halloween. Now, the ingredients themselves don't actually glow - but the garnish does. Check out this eerie Halloween cocktail recipe if you're intrigued!
Beetlejuice Cocktail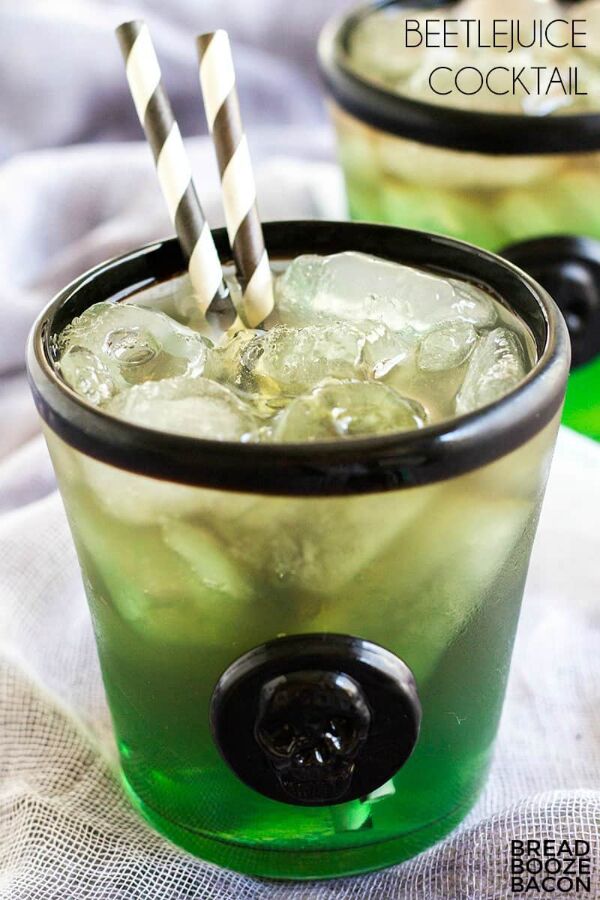 Beetlejuice, Beetlejuice, Beetlejuice! If you don't know who Beetlejuice is, mix up this Beetlejuice cocktail and watch it immediately. Best served with a black and white striped straw. 
Devil's Dark and Stormy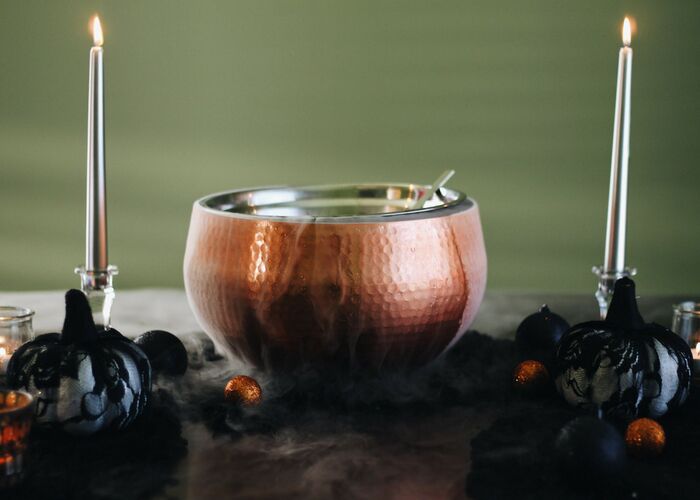 Don't let the name of this cocktail totally scare you away. With rum and ginger beer, this classic cocktail is a timeless favorite. Not spooky enough for you? Add a little dry ice for an even darker and stormier beverage. 
Sweet Poison Cocktail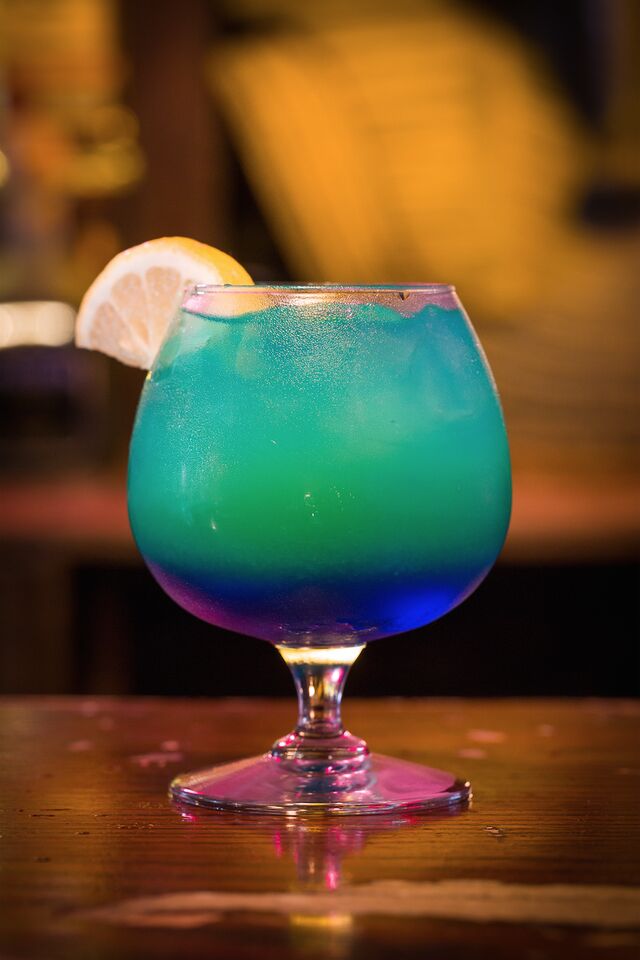 This sweet poison cocktail is so vibrant it's eerie. Which is exactly what you want in a Halloween cocktail, right? However strange it may appear, it is delicious with a flavorful tropical palate that will keep your guests asking for more. 
Find great bartending professionals in your area on The Bash.
About Brittany Barber
Brittany Barber, lover of books, dogs, and romance, graduated from Bishop's University with a Communications and Theatre degree. After spending some time working abroad in the theatre world, she is now a freelance writer covering a range of lifestyle topics including event planning for The Bash, WeddingWire, 2life and Fluttr, and shopping for BuzzFeed and Narcity.