A Simple Halloween Party Checklist
Hosting a spooky soirée? Here's our guide on how to plan a great Halloween party!
Brittany Barber
Contributor
Let's Get This Party Started!
Find event inspiration, themes, and unique party vendors here on The Bash. We'll share customized ideas, personalized tips, and recommended vendors to help bring your celebration to life!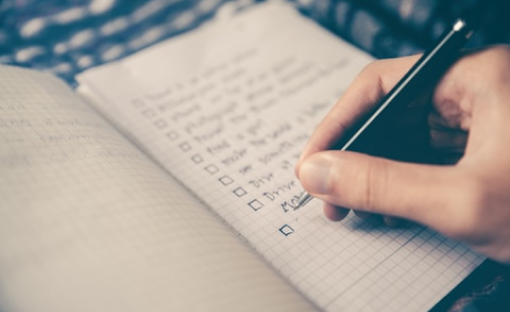 Party Planning Checklist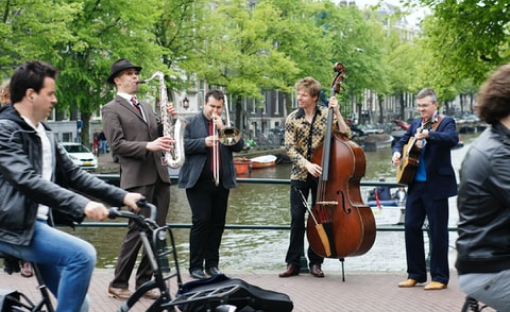 Recommended Vendors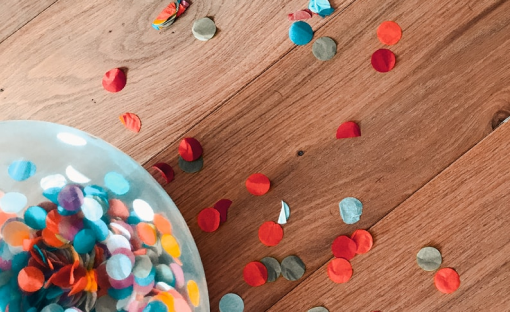 Party Trends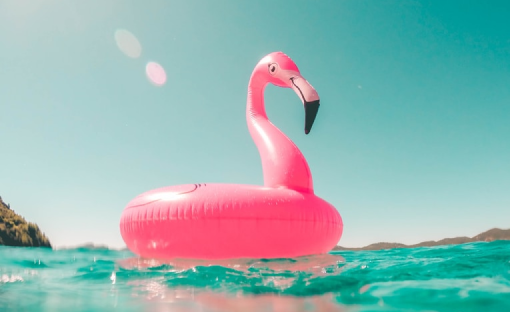 Party Themes
With Halloween just around the corner, it's about time to start planning the festivities! If you intend to throw a Halloween party this year, you'll want to make sure you have everything you need. From eerie appetizers to Halloween entertainment ideas, this Halloween party checklist will help you get organized and ready for the Monster Mash. 
READ MORE:
Here's a simple Halloween party checklist to help you get started this year: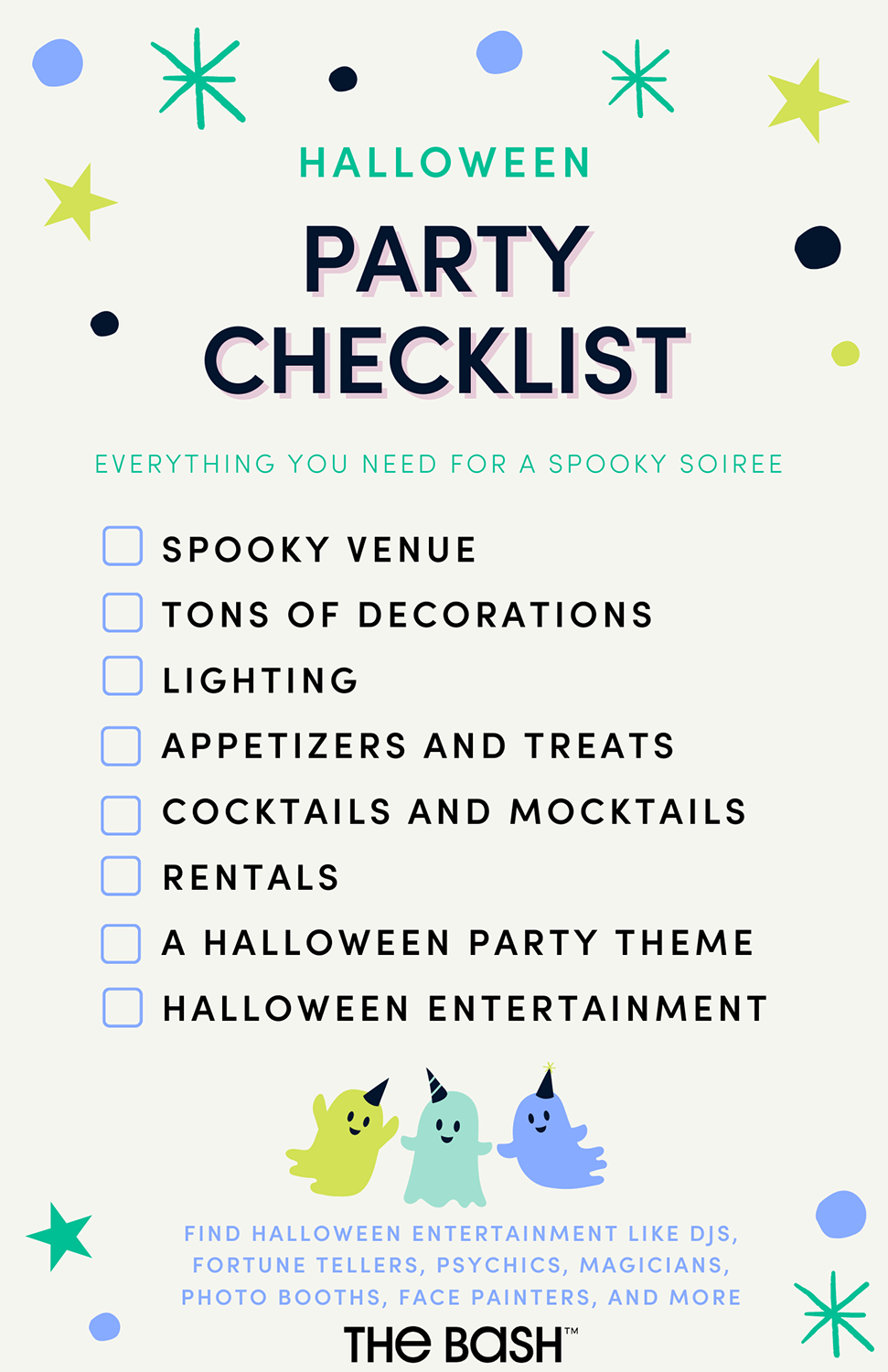 Pro Tip: Save or print this Halloween party checklist PDF for easy reference while planning your spooky soiree.
Spooky Venue
Photo: Africa Studio
/Shutterstock.com
Where will you host your spooky soiree? Depending on your guest list, you'll want to decide what kind of space is best suited for your Halloween get-together. If you're not looking to entertain from home, you may want to peruse local venues instead. Between renting out a warehouse, restaurant, or private garden, there are definitely a few options to consider. Take a look through our venue listings for inspiration!
Halloween Decorations
Photo: Viacheslav Nikolaenko
/Shutterstock.com
Decorations are everything on Halloween. Decide on what kind of vibe you want before hitting up your local party supplies shop. Creepy and macabre? Bewitching and elegant? Autumn auburn and orange? The options are vast, but we recommend picking just one look to avoid an overly complex aesthetic. Plus, choosing specific party decor may even help narrow down what kind of Halloween costume to wear. 
Lights
Photo: tomertu
/Shutterstock.com
Lighting, though often looked over, is crucial to the ambience of your Halloween party. There's nothing worse than blinding fluorescents on a night that is meant to exhibit enchantment and mystery. You'll want a warm glow at your party, either by using candles, an assortment of lamps, or hanging fairy lights. If you're lucky, your party space may have lights with dimmers, in which case a little extra decorative lighting (or perhaps a disco ball?) is all you need. 
Halloween Food
Photo: AS Food studio
/Shutterstock.com
A killer menu that features fun and easy finger foods is important to prepare for your Halloween party. Unless you're hosting a sit-down dinner, passing around spooky appetizers and Halloween treats should be enough to satisfy your guests' cravings without interrupting the vibe. Consider hiring a caterer if you would prefer a professional to handle the menu, especially if your guest list leans on the larger side. 
Halloween Drinks
Photo: VGstockstudio
/Shutterstock.com
Sinister cocktails? Pumpkin ale? Butterbeer? You know your guests best, so decide on a signature beverage they'll enjoy and serve it all evening long. If you don't want to worry about making sure glasses stay full, consider a self-serve punch bowl, stocking the fridge with canned drinks, or even hiring a bartender. 
Rentals
Photo: Igisheva Maria
/Shutterstock.com
If you're planning on hosting in your home or backyard, be sure to consider how much seating, glassware, and utensils you have. Venues will often provide the basics, but it's a good habit to find out exactly what will be provided - in case you need to rent anything extra. From wine glasses to photo booths, you can rent just about anything for an evening!  
Choose a Halloween Party Theme
Photo: Anna Zheludkova
/Shutterstock.com
Although a Halloween party itself is technically a themed party, decide whether or not you want to be more specific. You could host a murder mystery party where everyone dresses in glamorous 40s garb, a DIY costumes only party, or even a Harry Potter themed party. Holiday events can become a little predictable at times, and choosing an interesting theme could be just the way to mix it up. If you're looking for inspiration, take a gander through our 10 favorite Halloween party themes. 
Halloween Entertainment
Photo: n_defender/Shutterstock.com
Now! We're! Talking! Nothing beats a Halloween party except a Halloween party with awesome entertainment. The Bash offers a variety of performers, like fortune tellers, tarot card readers, magicians, hypnotists, and even murder mystery entertainment. We can also connect you to photo booths, face painters, and virtual entertainment too. Whichever type of entertainment you choose for your Halloween party, we're here to help you find your best fit. Wondering exactly how to hire? Check out our tips on how to hire virtual or IRL entertainment! 
Find more Halloween entertainment and party ideas on The Bash.
About Brittany Barber
Brittany Barber, lover of books, dogs and romance, graduated from Bishop's University with a Communications and Theatre degree. After spending some time working abroad in the theatre world, she is now a freelance writer covering a range of lifestyle topics including wedding and event planning for The Bash, WeddingWire, 2life and Fluttr.