24 Spooky Halloween Finger Food Recipes
Creative and creepy appetizer and dessert recipes.
Brittany Barber
Contributor
Add a little spook to your Halloween party experience with these unsettlingly delicious Halloween finger food recipes. What could possibly be more appetizing than witch fingers, lychee eyeballs, and ghost cookies? If you're hoping for more than your typical mini chocolate bars and bite-size candies, concoct something creative, creepy, and captivating this Halloween. We've got 24 sweet and savory Halloween finger food recipes to inspire your party menu.
Pro tip: If you're planning a Halloween party and would prefer to take some stress off of yourself, you could always hire a caterer and ask them to use some of these recipes as inspiration instead! 
READ MORE:
Here are 24 Halloween finger food ideas to make your Halloween party even spookier! 
Poison Candy Apples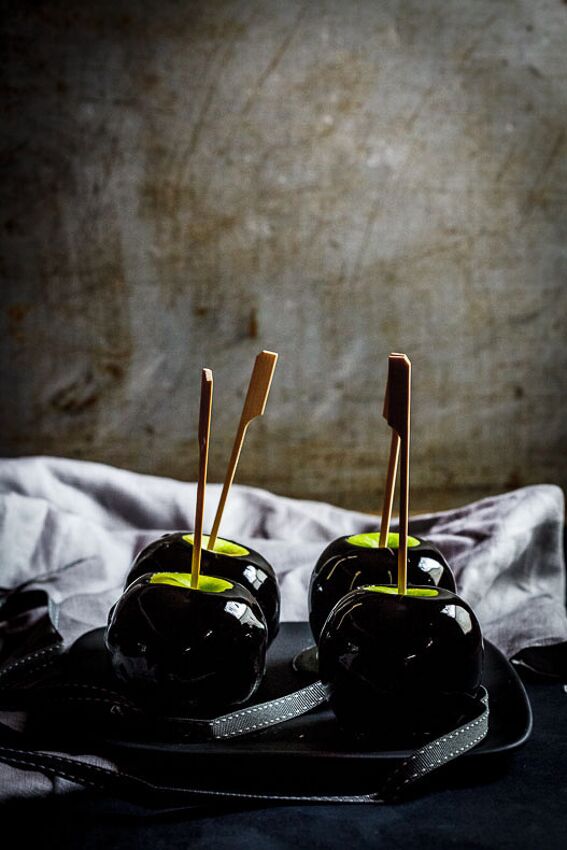 These sinister candy apples are a Halloween finger food idea that everyone needs to get on board with ASAP. One look at their glistening black gloss will be enough to intrigue anyone you celebrate Halloween with this year. This recipe from Simply Delicious Food is easy to follow and amusing to prepare as well. Don't be scared to get a little sticky!  
Seven Layer Spider Web Dip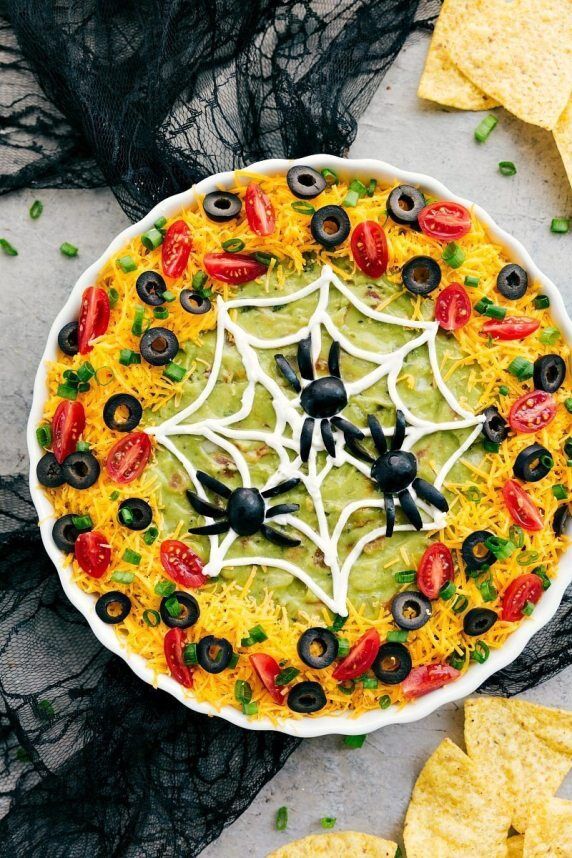 This dip recipe from Chelsea's Messy Apron is a Halloween party favorite that requires minimal effort to make. With olive spiders and a sourcream spider web, this seven-layer dip is guaranteed to look great among your other spooky Halloween food and drinks. 
Witch Hat Calzones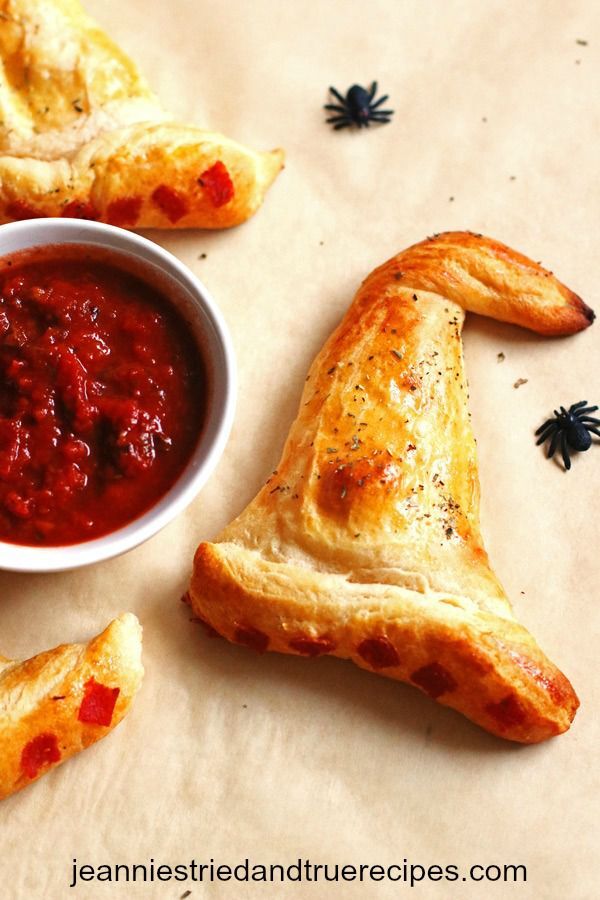 Who doesn't love a festive calzone? These witch hat-shaped calzones are fun to make and easy to serve as Halloween finger food appetizers. You can get creative and make some other Halloween-themed shapes with this recipe too, like ghosts or monster faces.
Jalapeno Mummy Poppers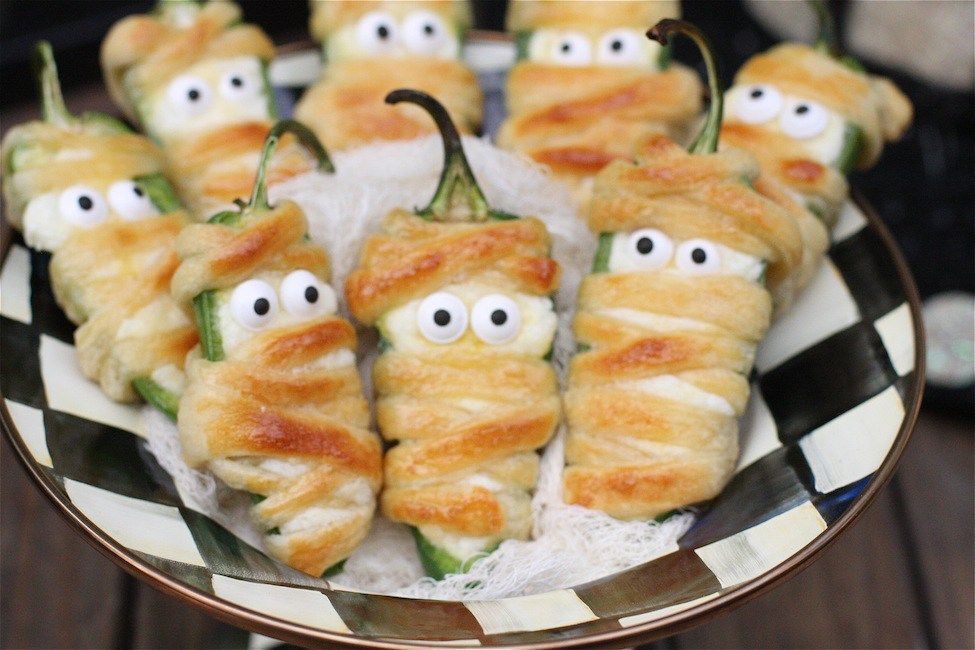 If you're looking for cute finger food ideas for your Halloween party, look no further. Spice up your Halloween dining experience with these adorable jalapeño mummy poppers. The Hopeless House Wife's recipe calls for candy eyeballs, but you could also replace them with dollops of sour cream or even bits of cheese. This will help to cut the spice and save you the trouble of outsourcing for eyeballs. 
Pumpkin Pie Cheesecake Dip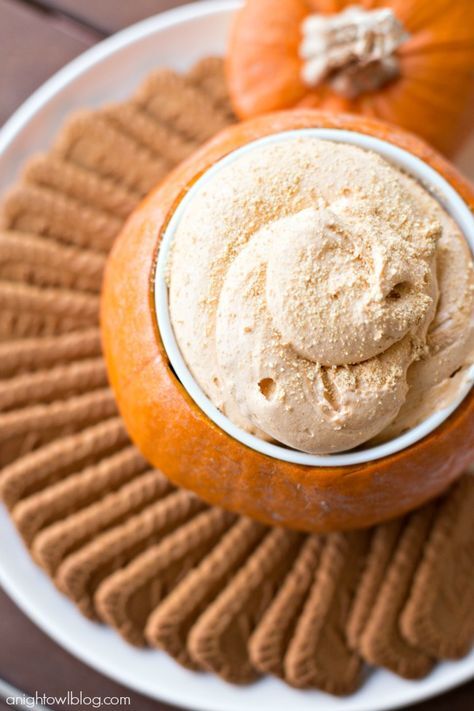 Salivating at the thought of this rich Halloween treat? Same. A Night Owl Blog's pumpkin pie cheesecake dip recipe is truly next-level. Choose your favorite cookie to dip into this creamy pumpkin dream, or slice up some apples instead to balance out the buttery goodness. 
Witch Fingers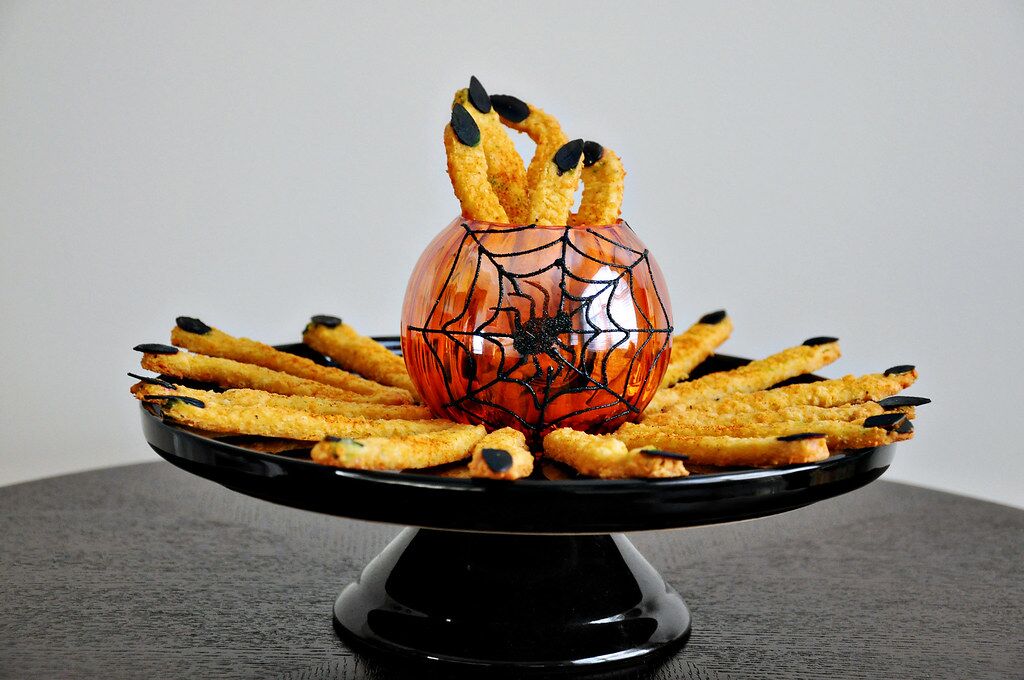 These cheesy, savoury, breaded cheese sticks are just as delicious as they are creepy—and literally, a Halloween finger food idea. The secret to their spook-factor is to use almonds as fingernails! All you have to do is dip the almonds in black food coloring for a menacing black nail. Just bake until golden and voila! You've got yourself a bundle of scrumptious severed fingers. 
Cheesy Breadstick Bones with Bloody Marinara Sauce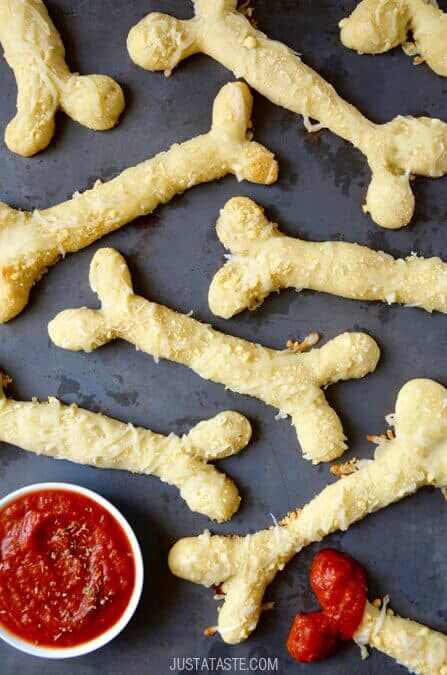 Just a Taste's cheesy breadstick bones are super cheap and easy finger food for a Halloween party. With only a few ingredients, this straightforward recipe can be used to make more than bone-shaped breadsticks. You can try whatever Halloween-themed shape comes to mind, like broomsticks or ghosts too. 
Silly Monster Apple Bites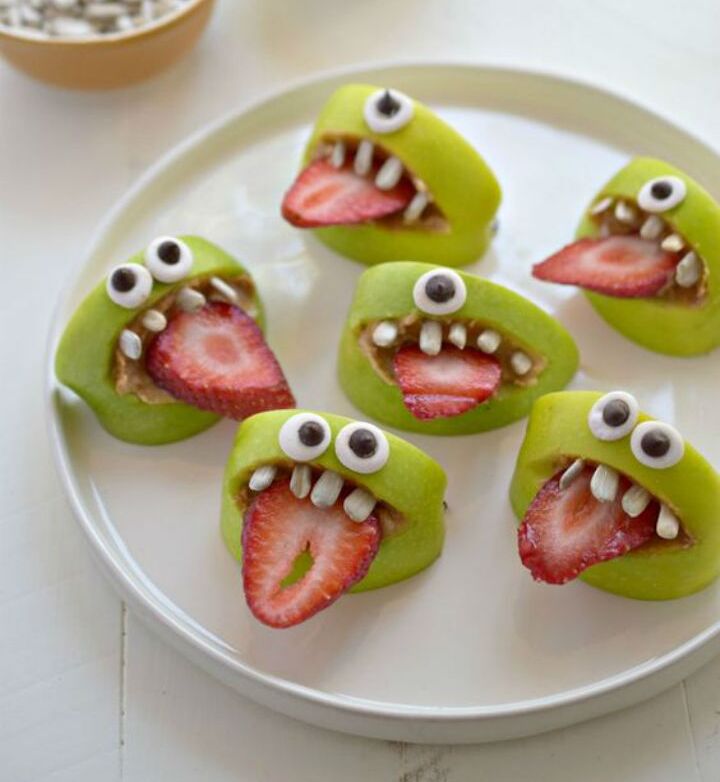 These silly monster apple bites are terribly cute treats to make for Halloween. Healthy snacks on Halloween may be far and few, so making a nutritious dish that isn't candied or smothered in chocolate might help balance things out a bit. Check out this awesome and hilarious recipe from Fork and Beans for help on how to construct them!
Black Velvet Ghost Cupcakes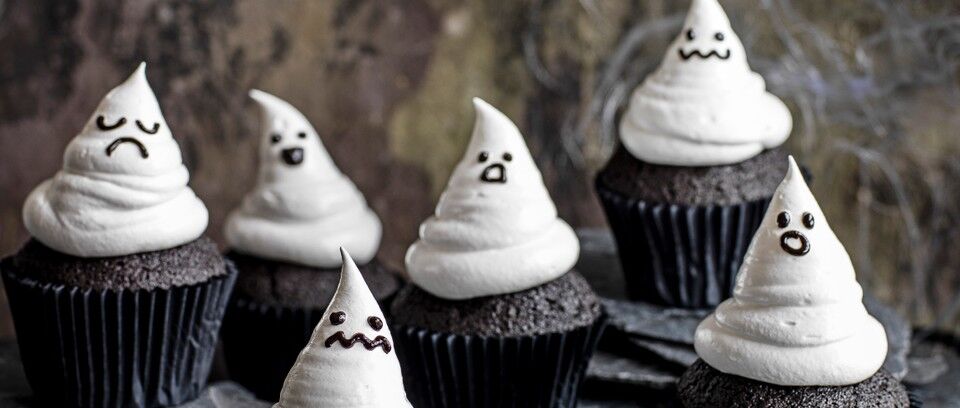 If you love Halloween and everything that comes along with it, these ghoulish, adorable cupcakes are just for you. They are sure to be an impressive treat to serve at your Halloween party!
Graveyard Parfaits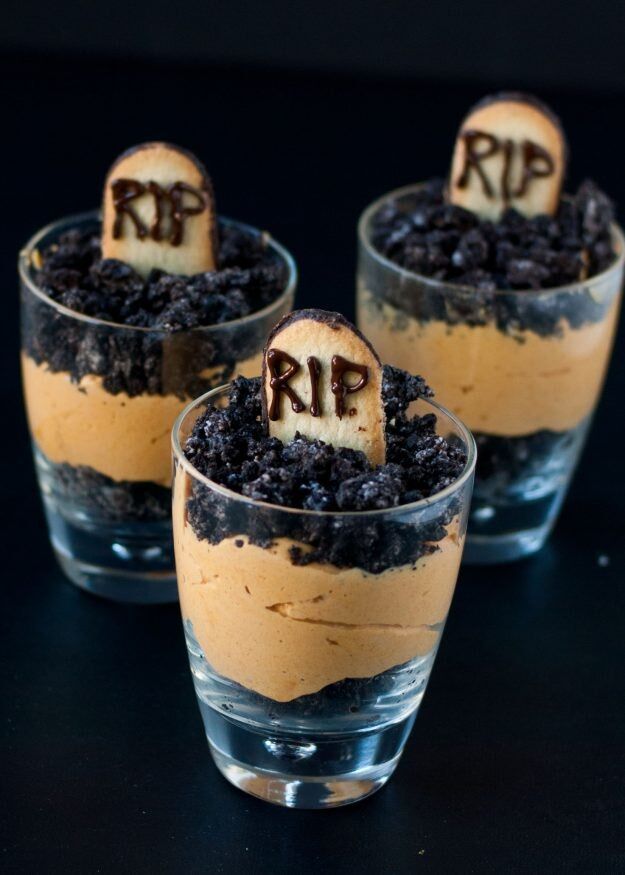 When it comes to single-serving desserts this Halloween, these delightfully spooky parfaits are perfect. Neighbor Food Blog's recipe has a few steps to follow, so if you intend to make a big batch, you may want to plan their creation as a fun Halloween group activity!
Ouija Board Cake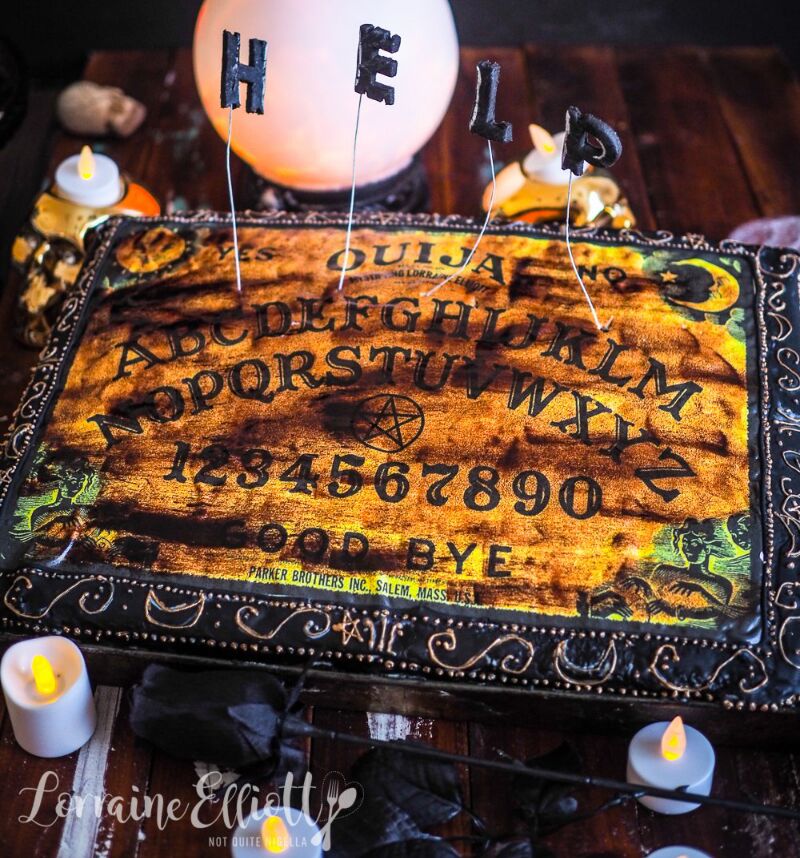 If you're up for the challenge, put your baking skills to the test with this impressive ouija board cake recipe! Creative and eerie, there is no doubt this devilish cake will awe your guests as a ghastly centerpiece.
Spooky Ghost Cookies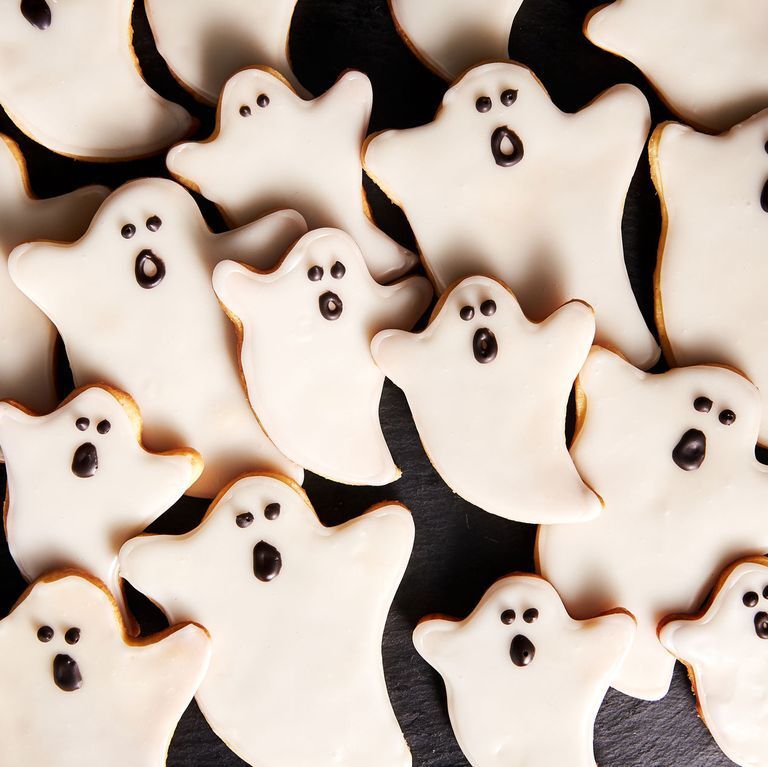 Photo by Parker Feierbach/Delish
These cute sugar cookies are a delightful sweet Halloween finger food to try this year. I mean, who wouldn't bake this on Halloween? This recipe from Delish suggests using cold cookie dough for a flawless turnout. 
Skeleton Veggie Tray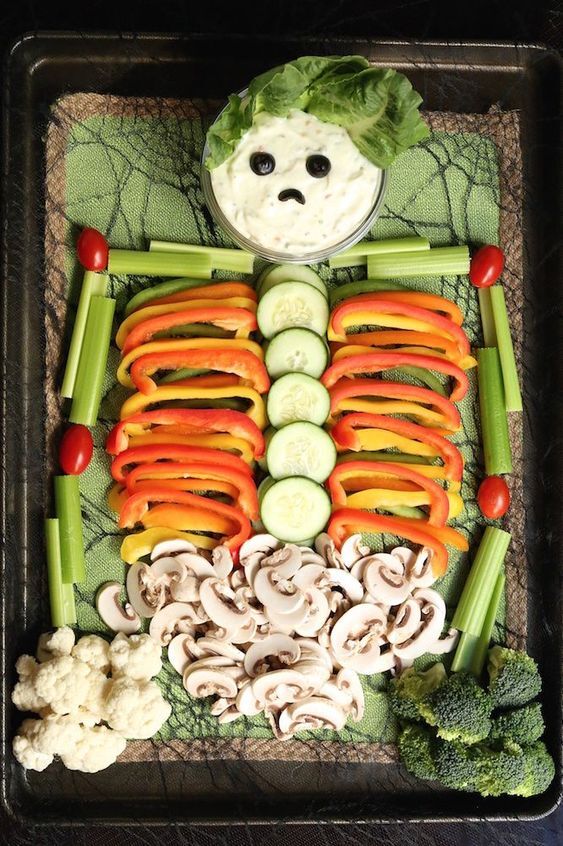 All you need for this dish is a selection of your favorite veggies and a touch of creativity. Follow along with this recipe from Cooking with Janica, or use it as inspiration to concoct your own spooky platter!
Halloween Gingerbread Skeletons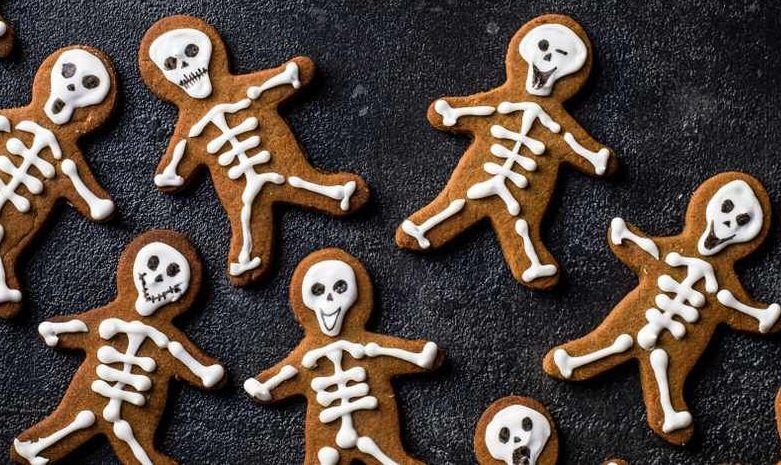 As a spooky spin on your typical gingerbread-person cookies, these gingerbread skeletons from Olive Magazine serve as great Halloween baking inspiration. All you need to do is make regular gingerbread shaped people, and use icing to turn them into sinister skeleton treats! 
Peanut Butter Spider Cookies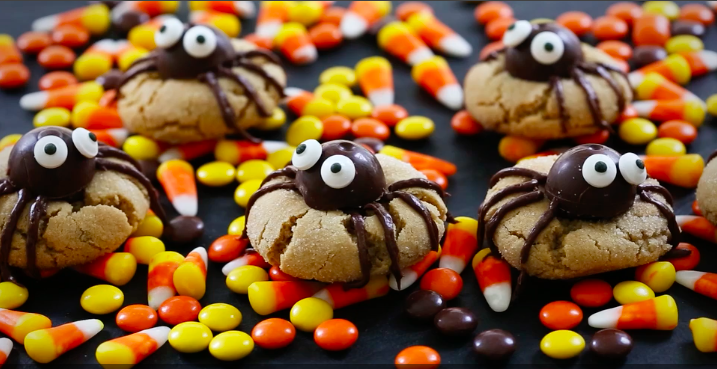 Afraid of spiders? Despite their creepy title, these peanut butter spider cookies from All Recipes are far from being creepy. Adorably Halloween-themed, try your hand at these decorative and delicious treats!
Eerie Eyeball Pops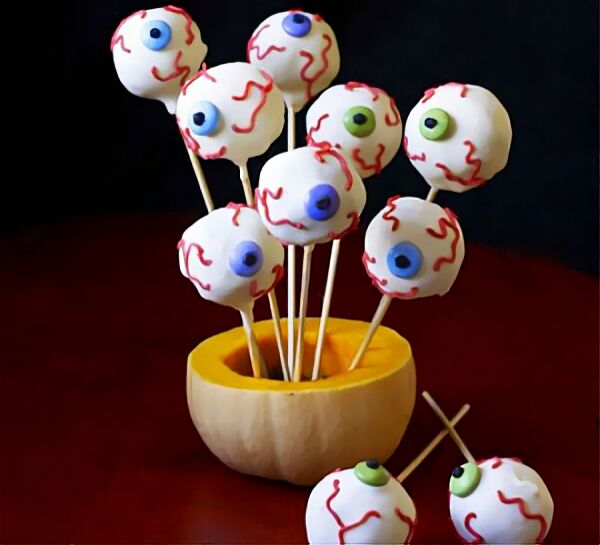 These menacing cake pops are the perfect Halloween finger food idea. Unnerving yet tasty, check out BBC Good Food for the full recipe. 
Jack O' Lantern Chips and Dip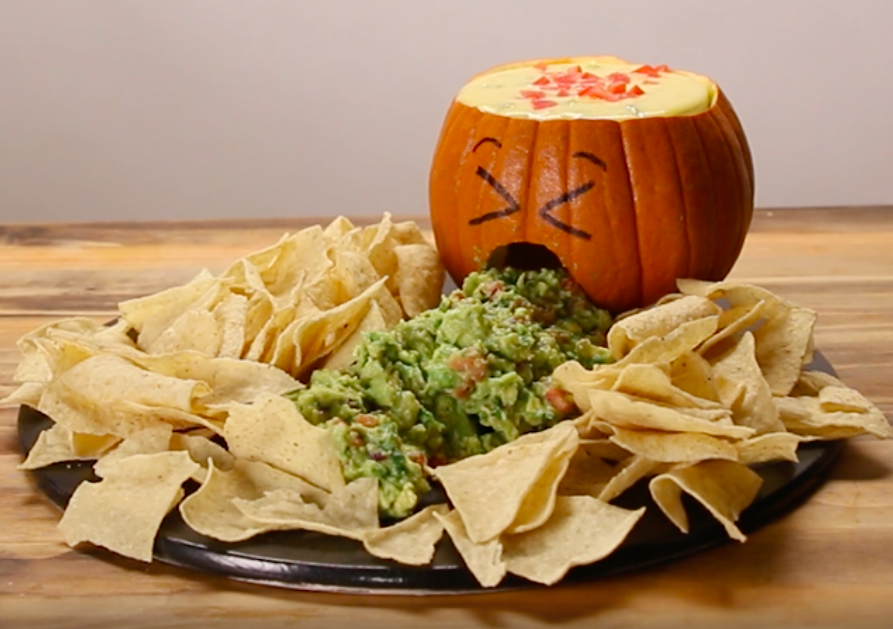 Everyone's seen the hilarious carved pumpkin literally puking its guts out, right? Well, Tasty's chips and dip recipe takes it to a whole new level. This unsettling display of spewed guacamole may not seem particularly appetizing, but it is certainly an excellent Halloween dish.
Halloween Bat Truffles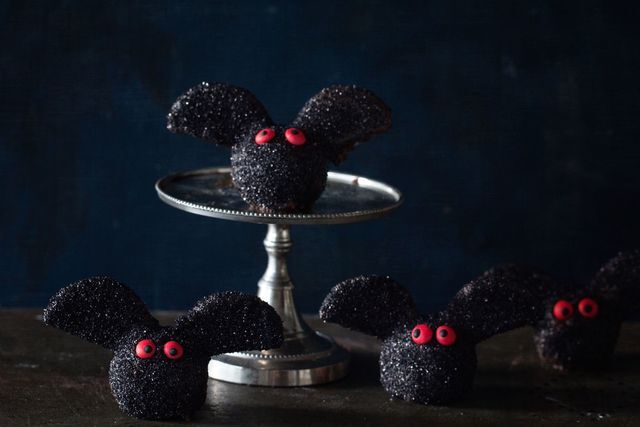 Photo by Naomi Robinson/Delish
How cute are these mini bat chocolate truffles? If you're trying to astonish your guests with your culinary creativity, this treat from Delish will certainly do the trick.  
Monster Mash Cookies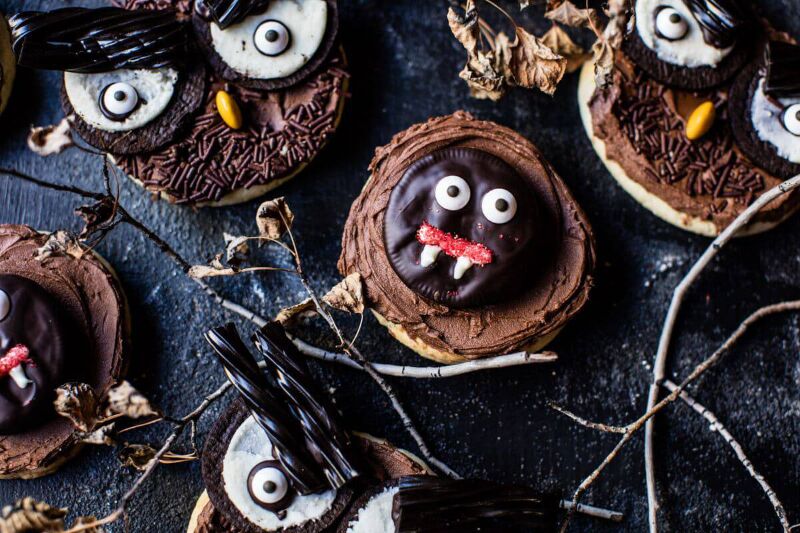 If you enjoy the art of decorating cookies, these monstrous Halloween cookies are a great choice for you. Feel free to be as funky as you'd like with your monster face decor - the more absurd they look, the better they are! 
Eyeball Panna Cotta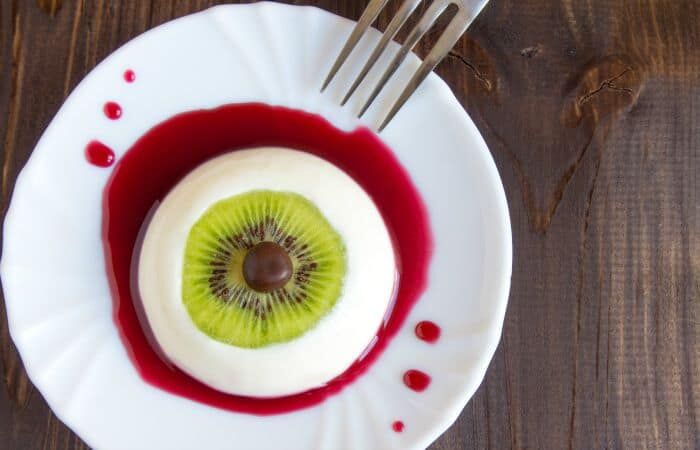 This bloody eyeball dessert is great for anyone seeking out a vegan Halloween treat. With kiwi and dairy-free chocolate covered coffee beans, you really can't go wrong with this panna cotta recipe. 
Pumpkin Cheesecake Truffle Mummies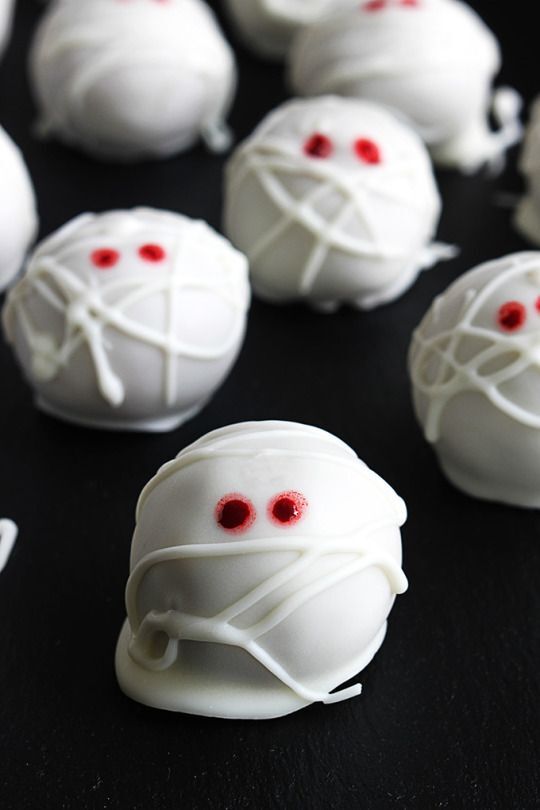 Delicious, creepy, and best of all, no-bake. Le Creme de la Crumb's pumpkin cheesecake truffle mummies are a cute Halloween finger food idea that are just as enjoyable to make as they are to eat. You can use red food coloring for the eyes, or stick on some candy eyeballs for a sillier aesthetic.
Golden Snitch Cake Pops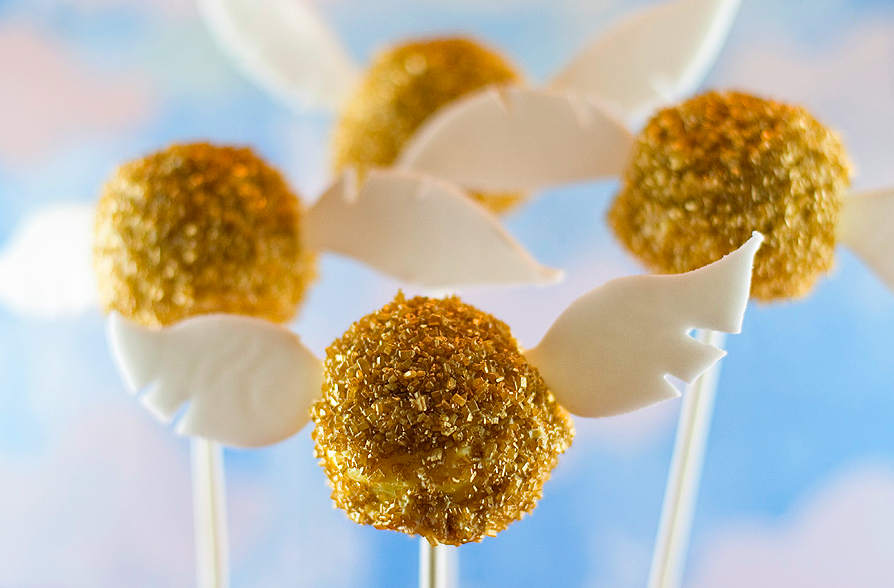 All of the Harry Potter fans are going to want to try these golden snitch cake pops! This recipe shows you how to turn simple cake pops into a bouquet of sparkling golden snitch balls. It will take some time to craft the wings out of fondant - but it's worth it! 
Jack Skellington Sugar Cookies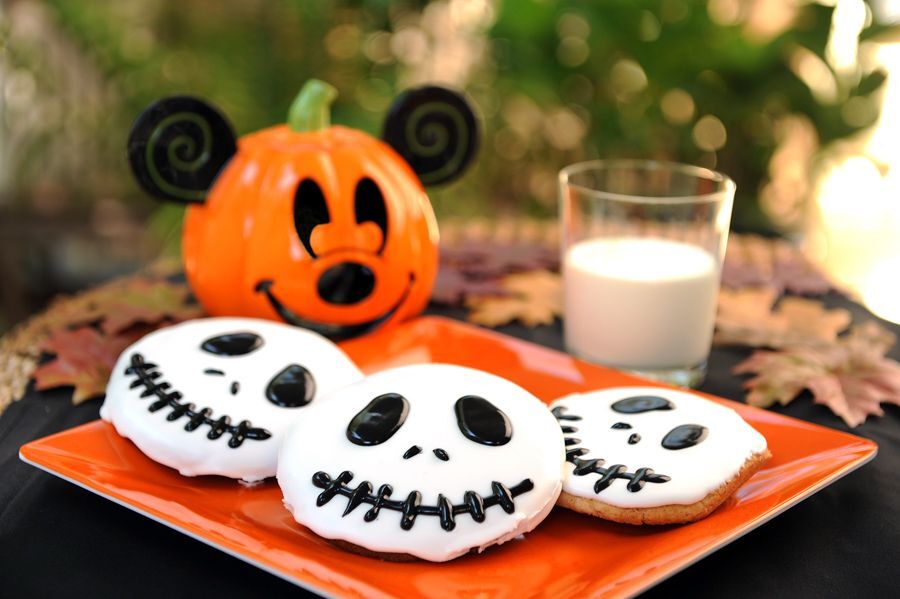 Tim Burton and Halloween go together like sugar and cookies. If you're a fan of A Nightmare Before Christmas, you'll want to make these spooky sugar cookies this year. If you have a steady hand and a knack for decorating with icing, this recipe from Sugar Spice and Glitter is just for you! 
Lychee Eyeballs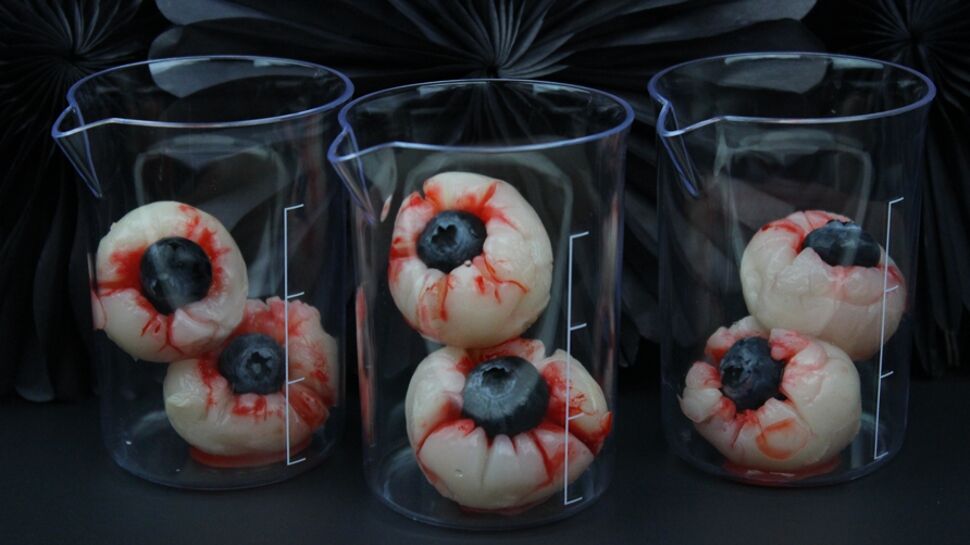 Photo by Jenn Fujikawa/nerdist.com
Lychee eyeballs? They are as creepy, slimy, and tasty as they sound. As far as spooky Halloween finger foods go, these are by far the most uncanny. But also the healthiest! If you're on the hunt for a real gross-out dish that is also delicious, look no further. Check out All Recipes on how to make them!
Find more Halloween entertainment and party ideas on The Bash.
About Brittany Barber
Brittany Barber, lover of books, dogs, and romance, graduated from Bishop's University with a Communications and Theatre degree. After spending some time working abroad in the theatre world, she is now a freelance writer covering a range of lifestyle topics including event planning for The Bash, WeddingWire, 2life and Fluttr, and shopping for BuzzFeed and Narcity.