20 Awesome Oktoberfest Party Ideas for 2021
Beer, brats, music, and more!
Lauren Miolene
Contributor
Beer, brats, and music—that's the recipe for a successful Oktoberfest party! It may be called Oktoberfest but the celebration actually takes place during the last two weeks of September. If you haven't started planning yet, there's no time to waste. Get started now with some of these Oktoberfest party ideas.
Although the official Oktoberfest celebrated in Germany is cancelled this year, we are here to help plan the ultimate at-home party or Oktoberfest block party for your friends and neighbors. Our German may be a little rusty, but our party planning skills are right on target! From Oktoberfest party decorations and musical entertainment to Oktoberfest food and drinks, everything you'll need to host the best Oktoberfest party is right here.
READ MORE:
Here are our favorite Oktoberfest party ideas:
Oktoberfest Party Entertainment

Photo: FooTToo/shutterstock.com
This year, bring the authentic festival-style celebration directly to you by booking some live entertainment.
German Band
Keep the traditional feeling of your Oktoberfest party by booking a German band to perform. This style of music is known for incorporating the tuba, drums, bass, and other instruments to create a distinct and unique sound—they might even dress up in traditional German attire!
Polka Band
Polka is an extremely popular type of music throughout Europe and can be heard playing in the streets during Oktoberfest. Dance around to this fun and happy music in your own backyard with a performance from a classic Polka Band.
Accordion Player
The accordion is one of the most distinct and authentic sounds of German music. Bring in a traditional accordion player to perform for guests at your at-home Oktoberfest festival this year.
DJ
If you are looking to keep things more contemporary during the festivities, consider booking a DJ to play all of your favorite songs. Ask them to incorporate a few German songs featured on this Oktoberfest music playlist to stick with the beer fest theme.
Bartender
Oktoberfest is obviously all about beer, but if you want to shake things up, make your party even more memorable by booking a bartender for the day. These professionals will serve delicious and creative German-inspired cocktails, mocktails, and of course, traditional Oktoberfest beer!
Oktoberfest Food Ideas
Having the right Oktoberfest menu ideas for your celebration will help create an authentic ambience. Serve traditional or German-inspired dishes (like roast chicken and German potato salad) plus some of these creative Oktoberfest food ideas: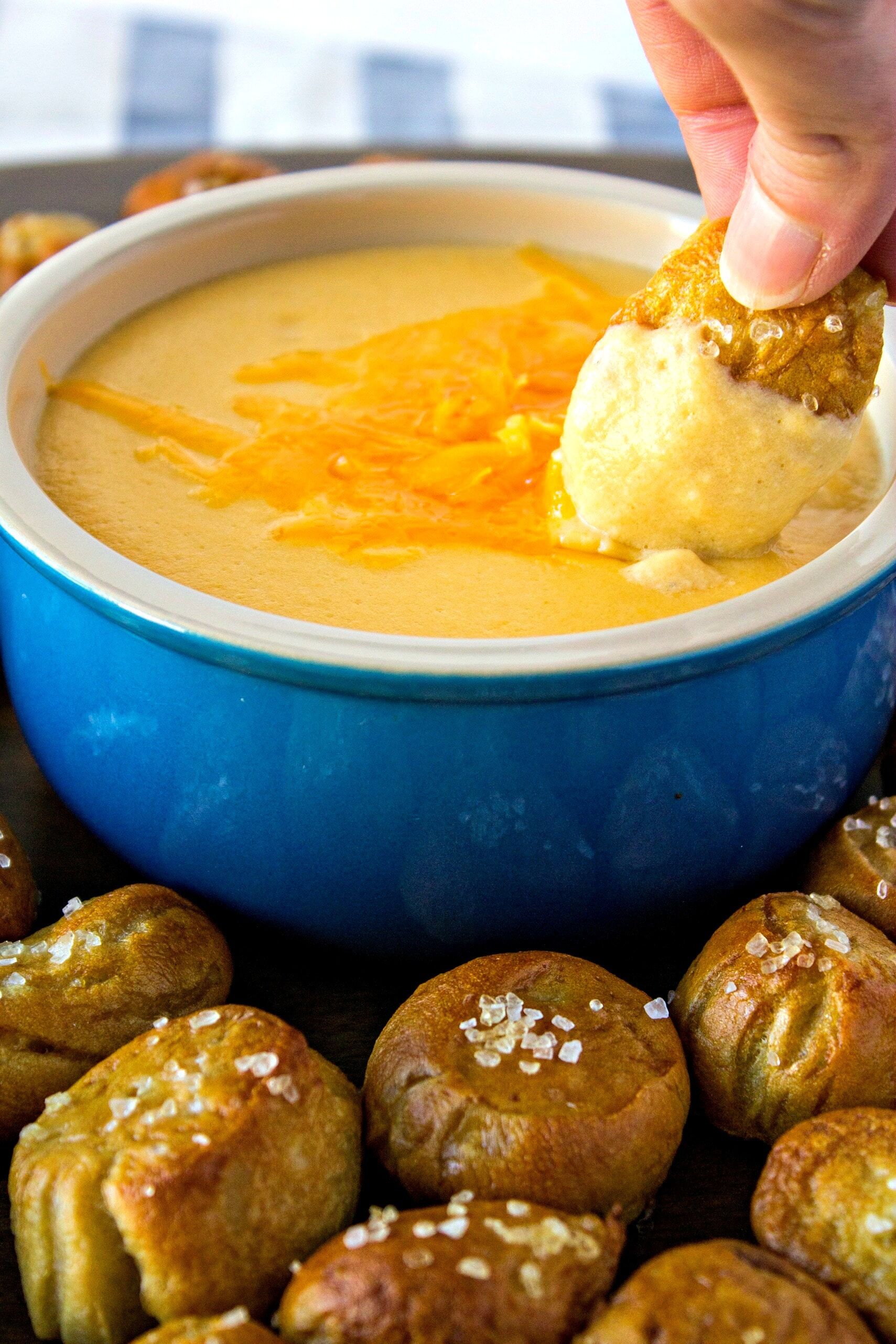 Pretzel Bites and Beer Cheese Dip
If there isn't some sort of beer cheese spread on your Oktoberfest menu, did you even celebrate? This soft Pretzel Bite and Beer Cheese Dip by Certified Pastry Aficionado makes the perfect snack for any party, especially Oktoberfest.

Crispy Sauerkraut Fritters
Kraut is a staple in German cuisine that needs to make some sort of appearance at an Oktoberfest party. Change things up with these Crispy Sauerkraut Fritters by The Good Hearted Woman that are made in the air fryer! These cheesy and crunchy snacks are packed with flavor and perfect to make ahead of time as a side dish.

Skillet Beer-Braised Brats
In German culture, beer and bratwurst go together like peanut butter and jelly. Include this delicious culinary combination on your Oktoberfest menu with Skillet Beer Braised Brats by Craft Beering. This recipe features a malty beer sauce with caramelized onions that you're going to want to make year-round.

Bavarian Cream Puffs
This spin on traditional Bavarian cream is a delicious dessert your party guests will love. Made with a light batter and a whipped cream filling, these Bavarian cream puffs will literally melt in your mouth. Get the full recipe from Happy Money Saver.

German Spice Cookies (Pfeffernusse)
These chewy, traditional German cookies include allspice, molasses, and ginger, pretty much making it the ultimate dessert for fall and Oktoberfest. Get the full recipe for German Spice Cookies from Gonna Want Seconds.
Oktoberfest Drink Ideas
When you think of Oktoberfest menu ideas, your first thought is probably beer. This year, when planning an Oktoberfest party, it's time to get creative! Sip on delicious German-inspired cocktails and mocktails during your fall festivities—big surprise; a few of these drinks include beer!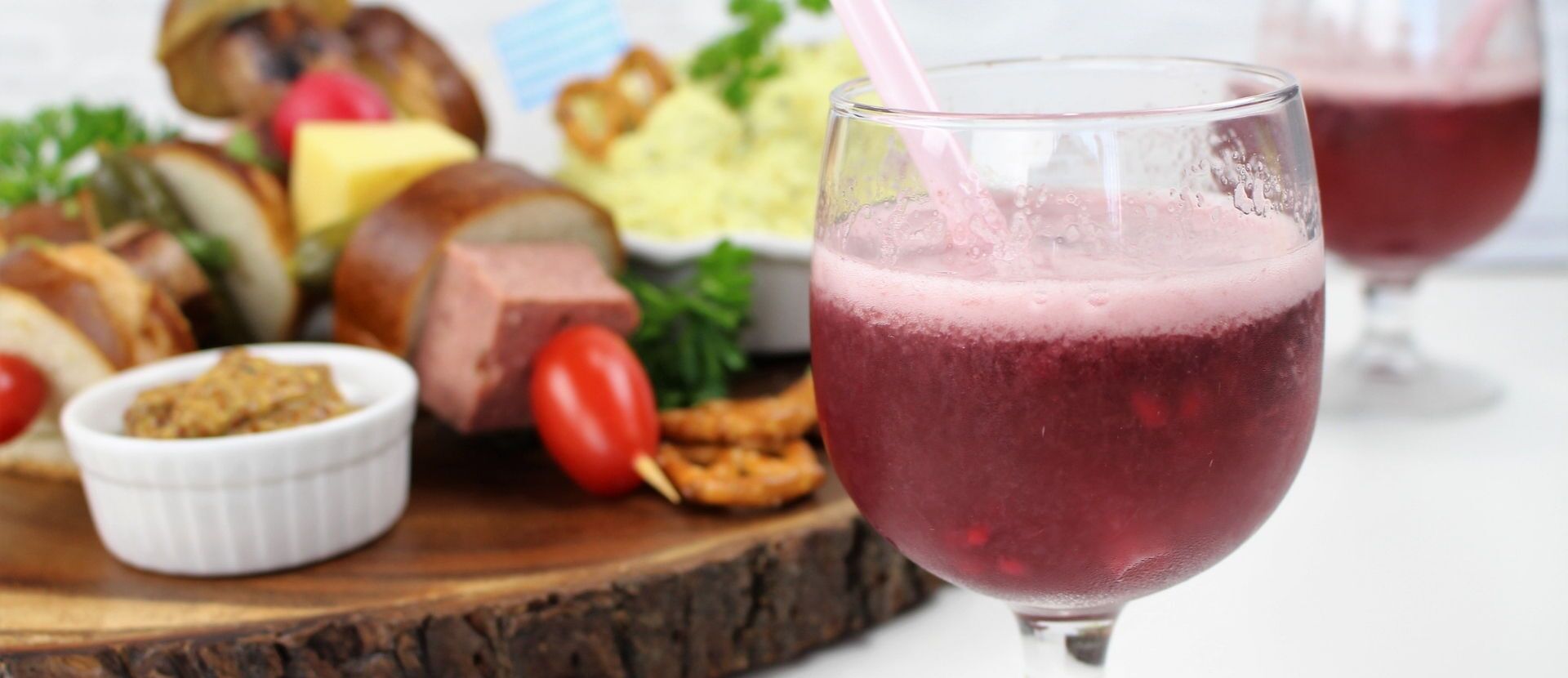 Raspberry Wheat Beer Punch (Weissbierbowle)
If you're not the biggest fan of beer, Raspberry Wheat Beer Punch, aka Weissbierbowle is for you. Dress up any kind of wheat beer with raspberries, schnapps, and riesling for this delicious, fruity cocktail. Check out All Tastes German for the full list of ingredients.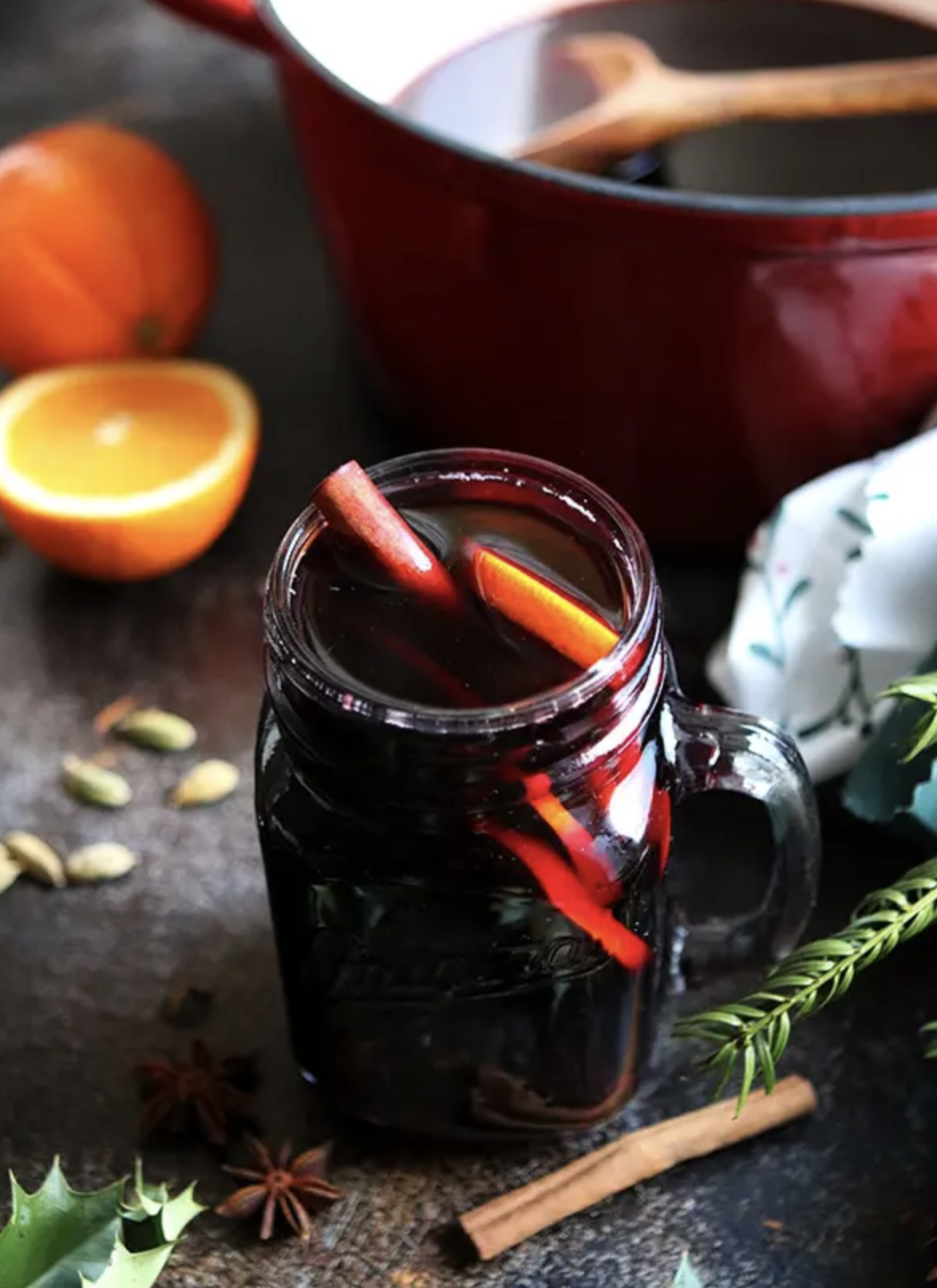 German Mulled Wine (Gluhwein)
As we know, mulled wine is the perfect drink for any fall get-together! Serve this warmed wine to guests to make them feel like they are actually celebrating in the streets of Munich. Get the full recipe for German Mulled Wine from Happy Kitchen.

Radler Beer
Radler is a classic Bavarian beer cocktail that is a must for Oktoberfest. Combine any lager or pilsner with sparkling lemonade over ice, and garnish with lemon and rosemary sprigs. You can even skip the beer for a refreshing sparkling mocktail everyone can enjoy. Visit Craft Beering for the full recipe.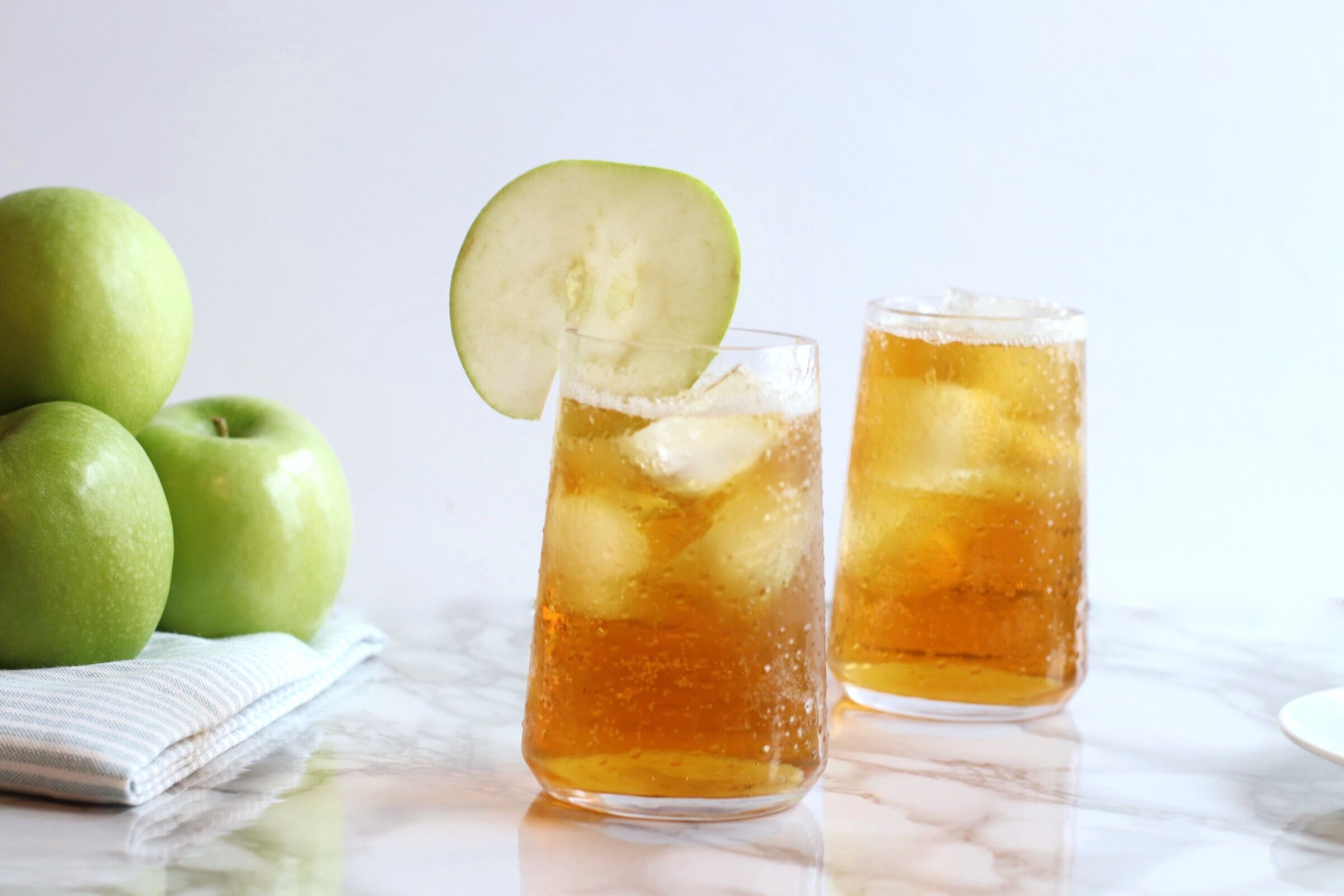 Bourbon Apple Smash
Although not a German cocktail, this Bourbon Apple Smash by CareFree Mermaid is a sweet and spicy cocktail to kickstart the fall. Combine bourbon, vanilla, hard cider, and garnish with apple to whip up this fun drink. Skip the bourbon and swap hard cider for regular apple cider for a family friendly mocktail. 

German Chocolate Cake Martini
Wind down the Oktoberfest festivities with this decadent German Chocolate Cake Martini recipe from The Cookie Rookie that makes the perfect dessert cocktail. Combine almond milk, coconut vodka or rum, hazelnut liquor, and chocolate syrup that'll taste like a big slice of German chocolate cake.
You can also have the professionals handle your Oktoberfest food and drinks:
Caterer
Let's face it, sometimes cooking for any kind of get-together seems like the most amount of work! Leave it to the professionals and hire a caterer to whip up schnitzel, apple strudel, and all your German favorites for Oktoberfest this year.
Food Trucks
Traditionally, Oktoberfest is a 2-week long celebration that takes place in the streets of Munich, Germany. Transport your guests there by recreating that same feeling and excitement with food trucks during the event. Book a food truck or two and have them line up outside for the ultimate at-home Oktoberfest food truck festival.
Oktoberfest Party Activities

Photo: KarepaStock/shutterstock.com
Oktoberfest costume contest
Invite guests to wear their best lederhosen, dirndl, and other German garb that'll take your Oktoberfest party at home to the next level. Encourage your guests to embrace the theme party and dress the part to make it even more festive and fun.
Oktoberfest beer tasting
Oktoberfest is centered around beer, so take the opportunity to have a German beer tasting with guests. Some favorite brews include Paulaner Oktoberfest, Spaten Oktoberfest, and Augustiner Brau Marzen Bier. Purchase plastic beer boots to sip out and get ready for some drinking fun!
Karaoke
With the help of an awesome karaoke DJ, guests can take part in karaoke! Sing your favorite German tunes or even host a yodeling contest that will make everyone laugh out loud.
Beer bottle ring toss
Since you're probably going to have a few (or a lot) of beer bottles lying around, put them to use by arranging them for a ring toss competition. Check out DIY Everywhere for inspiration on decorating your own festive set.

Photo: Vasya Kobelev/Shutterstock.com
Oktoberfest Party Decorations
When decorating your home, backyard, or beer garden venue for Oktoberfest, it can be done with the option of two color schemes. Some party planners decorate with red, black, and gold which are the colors of the German flag. Others choose to go with blue and white which are the colors of the Bavarian flag (the German state where Oktoberfest originated). Check out Oriental Trading for Oktoberfest party supplies!
Find more party ideas here on The Bash.