6 Outdoor Party Venues in Seattle For Every Occasion
Lauren Miolene
Contributor
A venue can make or break the success of your event. When it comes to planning a party in Seattle, the venue options are endless. This summer, choose an event space that will leave your guests talking for months to come. We guarantee you'll find the perfect spot for your event with one of these outdoor party venues in Seattle.
Whether it's a winery, patio or garden, you can't go wrong with a Seattle event venue with an outdoor area. From Pike Place Market to Pioneer Square, the Space Needle and Elliot Bay, there truly is no shortage of beautiful private event spaces in Seattle. 
If you're hosting a birthday party, corporate meeting, or anniversary party, these spaces located in the Seattle area will be ideal locations for intimate events and large scale parties too.
Here are 6 of the best outdoor party venues in Seattle to host your next special event, private party, or corporate event.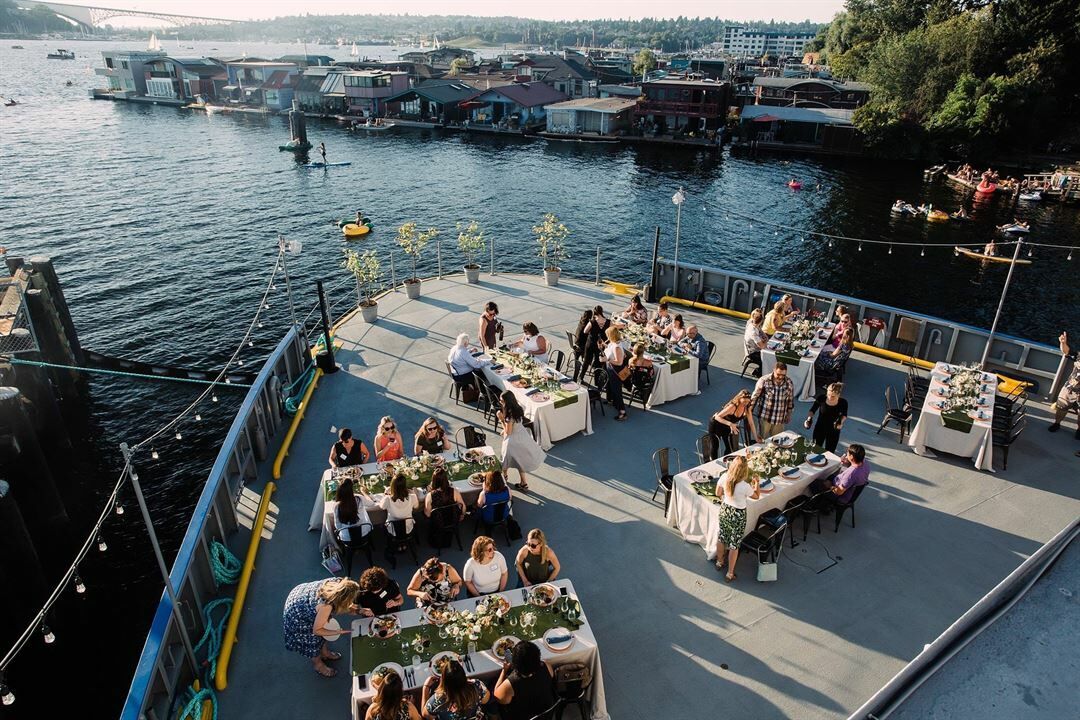 On The Hiyu, 1801 Fairview Ave E, Seattle 
Imagine you and your guests coasting down Lake Union, Lake Washington, and Puget Sound while enjoying breathtaking views of Mount Rainier and downtown Seattle's skyline. That's completely possible with On the Hiyu! This one-of-a-kind event space allows party goers to dance, mingle, eat, and celebrate on top of a fully renovated 165-foot ferry boat.
The top deck can be configured to suit any type of event from seated receptions to cocktail hours. The space has stringing market lights above, two private bars, and state of the art sound and lighting systems. This expansive, open, outdoor event space provides a unique and tranquil ambiance for your guests to enjoy.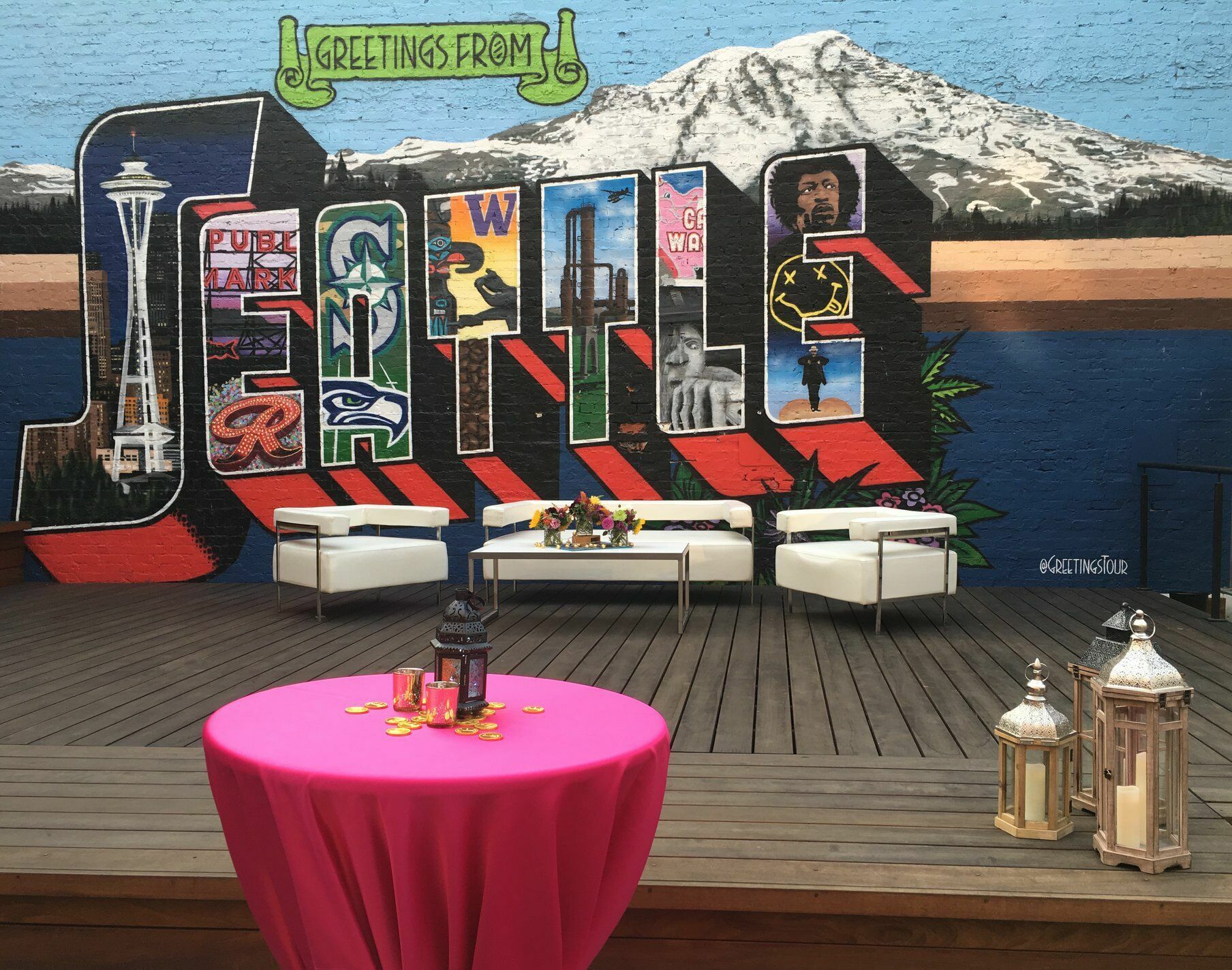 Block41, 115 Bell St, Seattle
Block41 is an urban, industrial warehouse venue located right in the heart of Seattle. Surrounded by city skylines and concrete walls, this fully enclosed private outdoor garden allows guests to experience seclusion inside of the bustling city. 
The exterior space features a colorful mural of the city's namesake that guests can use as a unique photo backdrop. This outdoor party venue in Seattle is completely open air with unobstructed views of the surrounding metropolis. It can accommodate corporate mixers, wedding ceremonies, product launches, and seated dinner receptions.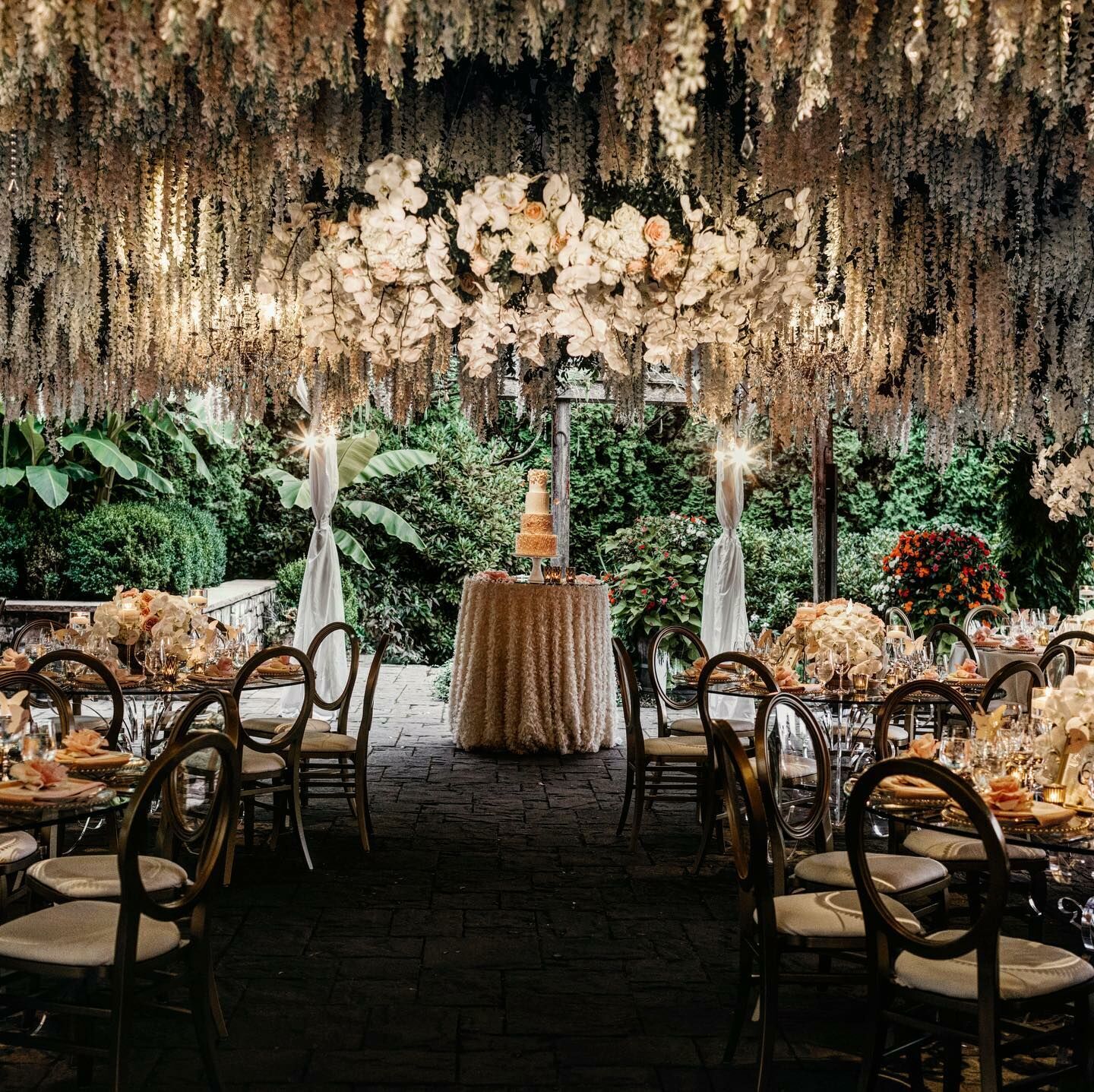 Chateau Lill, 14208 Woodinville - Redmond Rd NE, Redmond
Located in Redmond, Washington is a beautiful winery and event venue, Chateau Lill. This ten-acre estate features a luxurious outdoor patio that spans 2,000 square feet. It is fully tended with hanging chandeliers that help create its romantic, tranquil ambiance. Situated right off the grand ballroom, the outside reception space is surrounded by luscious greenery and colorful flowers. 
The patio at Chateau Lill can be tailored to suit any event type or personal style. Your guests will enjoy this open air event space that is completely private to celebrate with family, friends or coworkers. Host a fancy corporate event, milestone birthday, wedding reception, or bridal shower at this gorgeous Seattle event venue.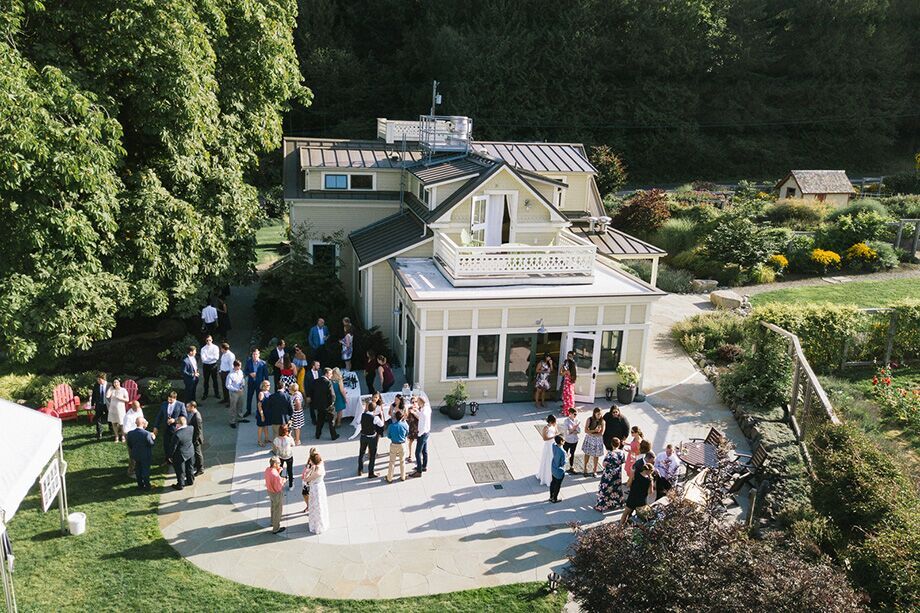 Heyday Farm House, 4370 Old Mill Rd NE, Bainbridge Island
Heyday Farm is a beautiful piece of land featuring breathtaking gardens in Bainbridge Island, Washington. This outdoor party space is tranquil and inviting with surrounding greenhouses and farm crops that will make the perfect backdrop for any of life's special moments or celebrations.
The event space can easily be tented without obstructing any views of the farmland, so it can be used during every season. Depending on the time of year, heaters or fans can be brought in for guests' comfort as well. Incorporate stringing chandeliers and market lights to help create a magical ambience and accentuate the venue's natural beauty. Heyday Farm House is the ultimate rustic and inviting event venue in Seattle!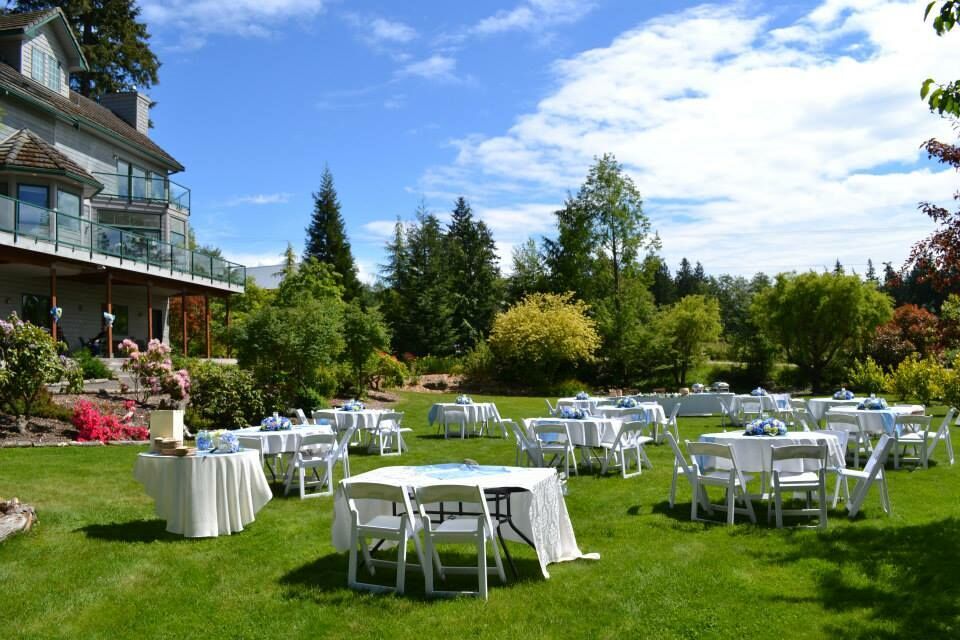 The Quintessa, 3493 French Rd, Clinton
Located on Whidbey Island, The Quintessa is a gorgeous estate with stunning views of Puget Sound and the Olympic Mountains. Enclosed by wooden fencing, the luscious manicured greenery and outdoor grounds can be tailored to suit any event size or style. 
The Quintessa's garden and green space is a completely open air style and accented with stringing bistro lights above, to allow guests to dine under the stars. With a gazebo, forest trails, and numerous ponds, it truly offers a one of a kind area for you and guests to enjoy! And, as a bonus, up to 36 guests can also stay overnight.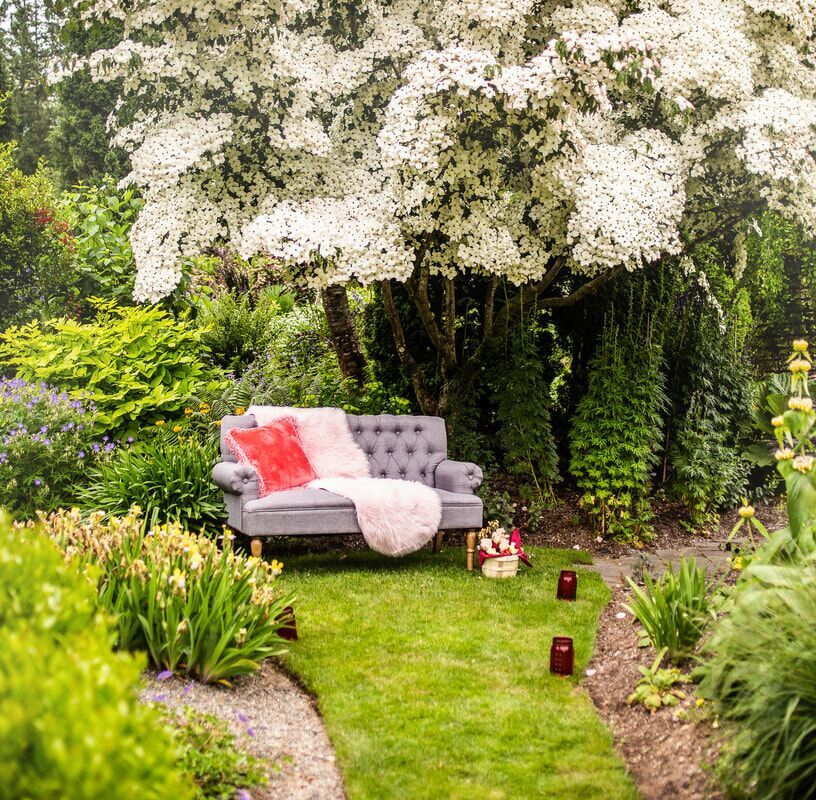 Heronswood Garden, 7530 NE 288th St, Kingston
Heronswood is a world renowned garden featuring a variety of over 8,000 plants and luscious greenery. It is the ultimate outdoor event venue in the Seattle area, providing a tranquil backdrop for any occasion. 
With 10,000 square feet of landscaping, a large patio, and stone pathways throughout, party hosts have the choice to host the event in a variety of locations on the grounds. Whether it's an intimate cocktail hour or larger seated reception, the numerous event spaces including private rooms at Heronswood can accommodate it all.
Find more outdoor spaces and party venues in Seattle here on The Bash.