10 Amazing Outdoor Wedding Venues in Miami
Planning a wedding in Miami? Here are some of our favorite outdoor wedding venues.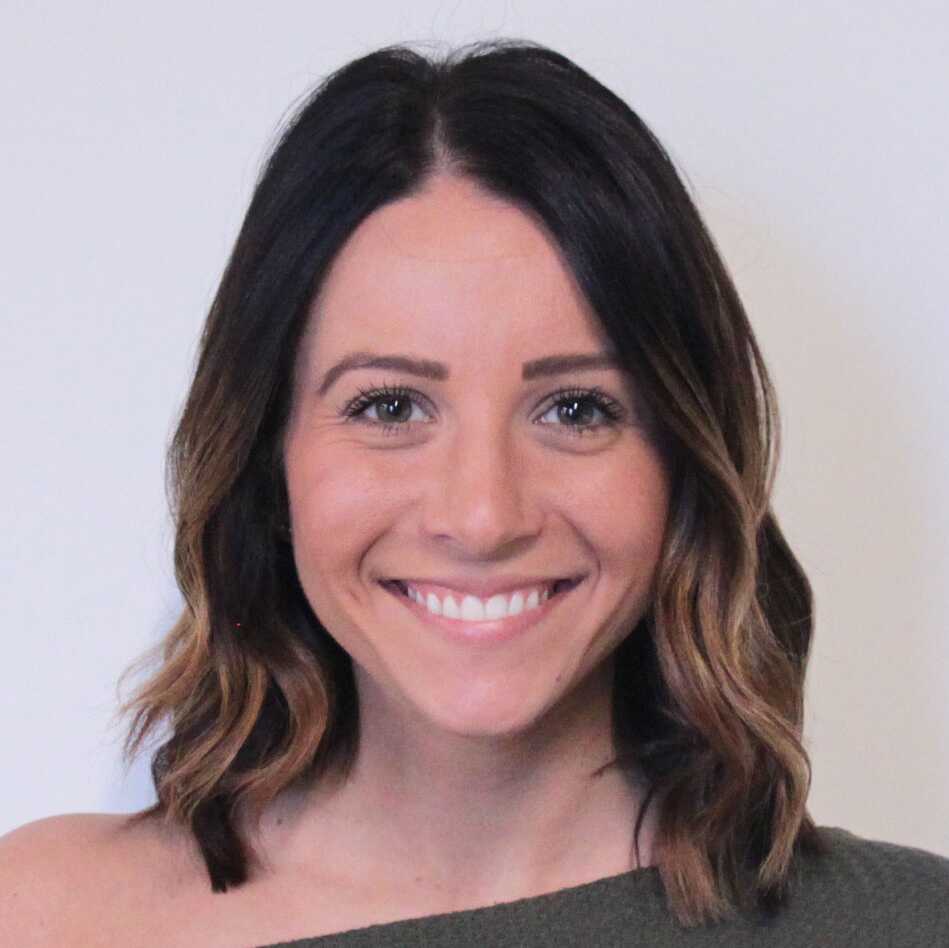 If you're looking to tie the knot in Miami, the possibilities to finding the perfect venue are endless. Outdoor wedding venues in Miami are more popular than ever. When you get married in South Florida you know the weather will be warm and the views will be breathtaking. 
Miami outdoor wedding venues include event spaces like gardens, rooftop bars, patio areas, beach hotels, and more. From the wedding ceremony to the reception, and everything in between, your special day will be even more memorable when you find the perfect outdoor wedding venue. 
Here are 10 amazing outdoor wedding venues in Miami.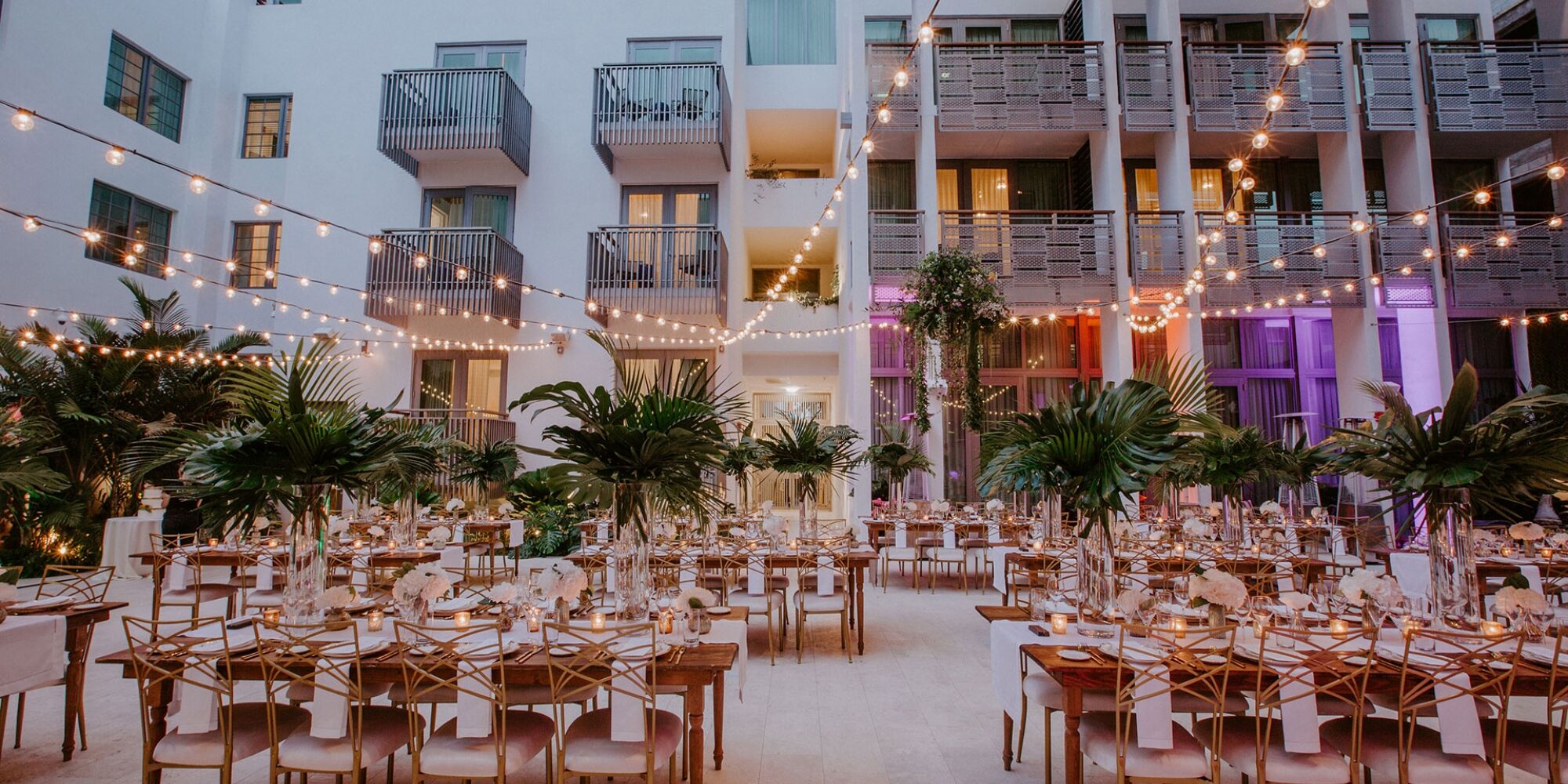 The Betsy - Atrium, 1440 Ocean Dr, Miami Beach
Located in Miami Beach, The Betsy is an award winning hotel and event venue. Offering a variety of event spaces, one of the most popular and highly requested areas is the Atrium. Located in the heart of the hotel, surrounded with palm trees and bistro lights hanging overhead, the Atrium has both an indoor and outdoor feel. You'll get the best of both worlds for your big day. 
With a European aesthetic, limestone floors, and a calming water fixture, this space is elegant, chic, and the perfect setting for an outdoor wedding. The catering and beverage services are all provided on site, in addition to a dedicated event staff. Every wedding will be treated with complete personalization to the bride or groom's vision.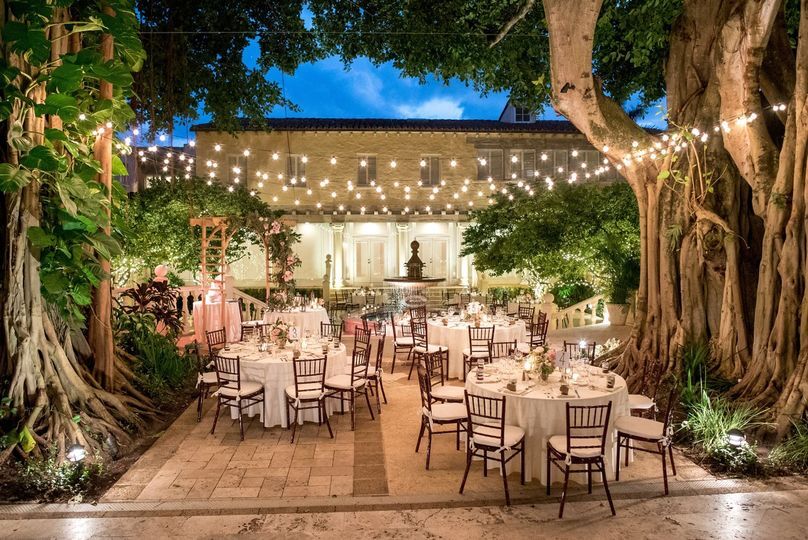 The Addison - Courtyard, 2 E Camino Real, Boca Raton
The Addison is a historic estate and premier event venue located outside of Miami in Boca Raton, Florida. The Courtyard is the outdoor wedding space that is surrounded by the building's Spanish architecture, 100 year old banyan trees, and a cascading fountain in the center. 
The Courtyard is an open air patio that can host guest counts of up to 200. Between the market lights and the tranquil greenery, this space exudes a romantic yet chic vibe. If you're looking to be transported out of the South Beach area and into a more laid-back, classic style venue, then the Courtyard at The Addison is the spot for you.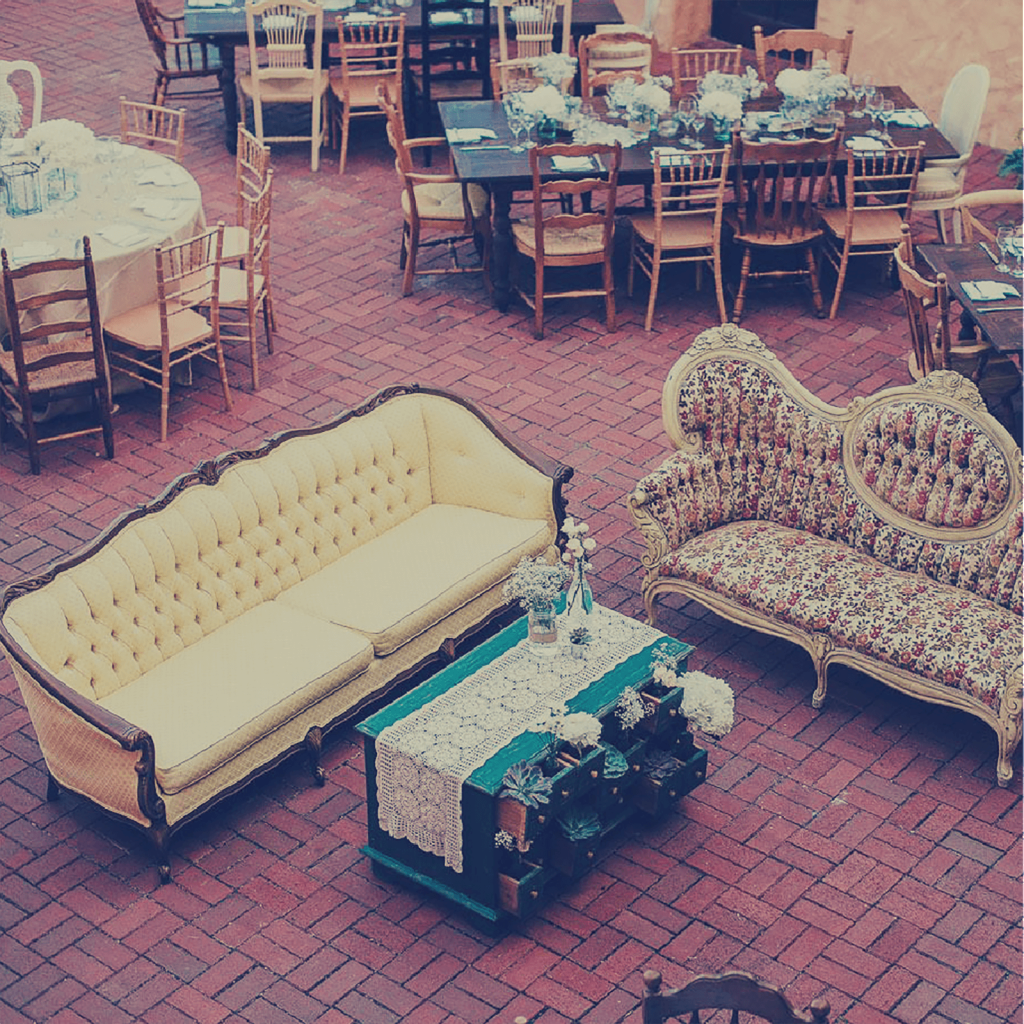 Curtiss Mansion, 500 Deer Run, Miami Springs
Conveniently located north of the Miami International Airport is the Curtiss Mansion. With Unique stone architecture,lush tropical landscaping, and the ability to hold up to 250 guests, this historic property in Miami Springs will be the perfect outdoor wedding venue.  
The Curtiss Mansion has multiple spaces within the venue to accommodate a wide variety of weddings. Any outdoor ceremonies or receptions can be held under the elegant stone archway, in the lush shaded grove, or in front of a romantic bridge. The unique architectural designs of the mansion will lead to beautiful wedding photographs unlike any others you've seen.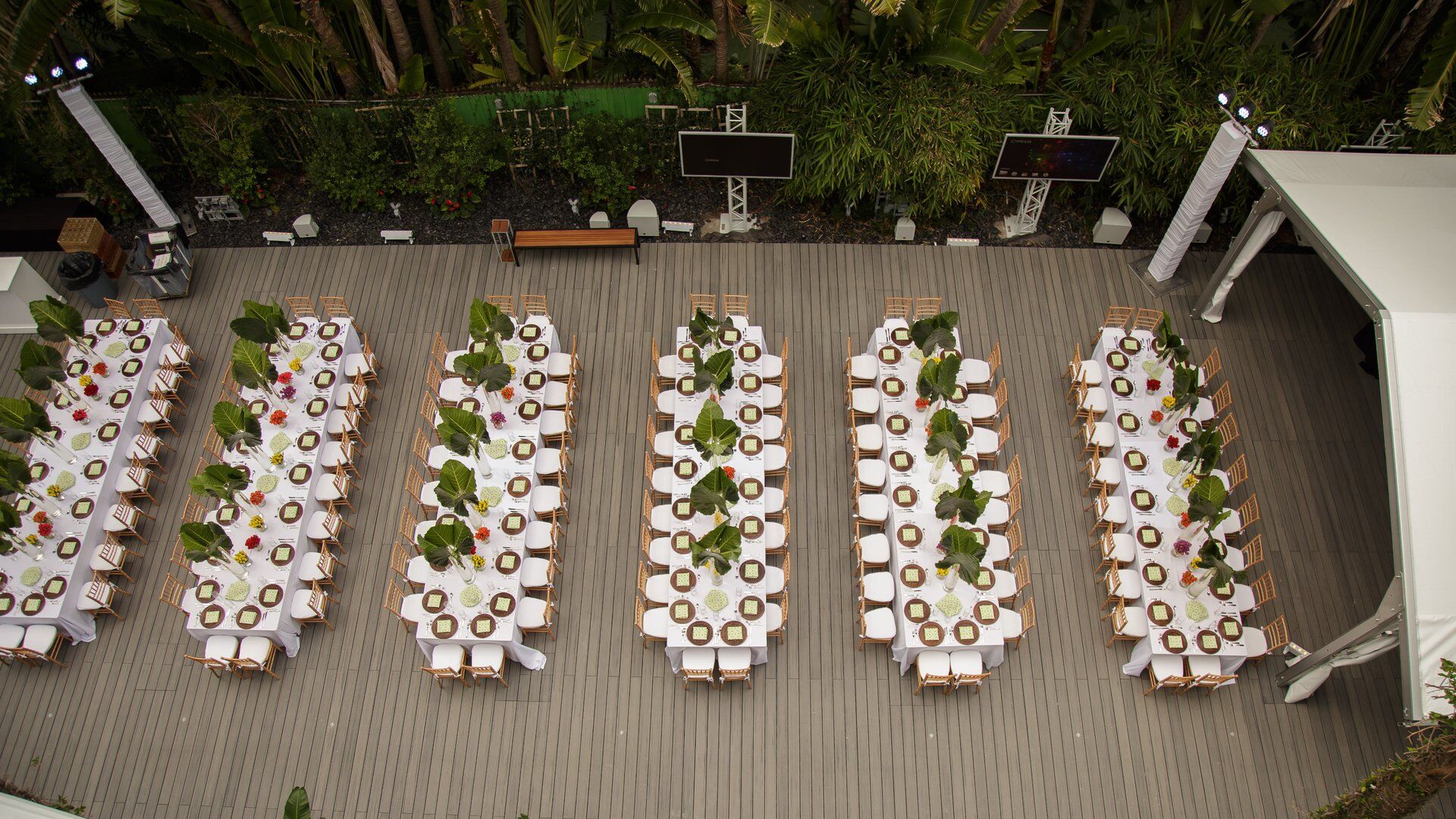 Sagamore Hotel - Video Garden, 1671 Collins Avenue, Miami Beach
The Sagamore Hotel, located in Miami Beach, is a chic oceanfront boutique hotel in the heart of the Art District. This 18,000 square foot waterfront venue offers a variety of different event spaces. The Video Garden is its largest area, nestled in the courtyard of the building and provides a quintessential mix of artistic and luxurious space. 
Surrounded by towering palm trees, romantic lighting, and manicured greenery, The Video Garden is a luxurious and modern location. It can transform to suit any style of wedding, with the ability to hold up to 150 guests. The Video Garden also has optional wooden flooring that can be installed, four plasma TV's that can display personalized art or signage and plush outdoor furniture.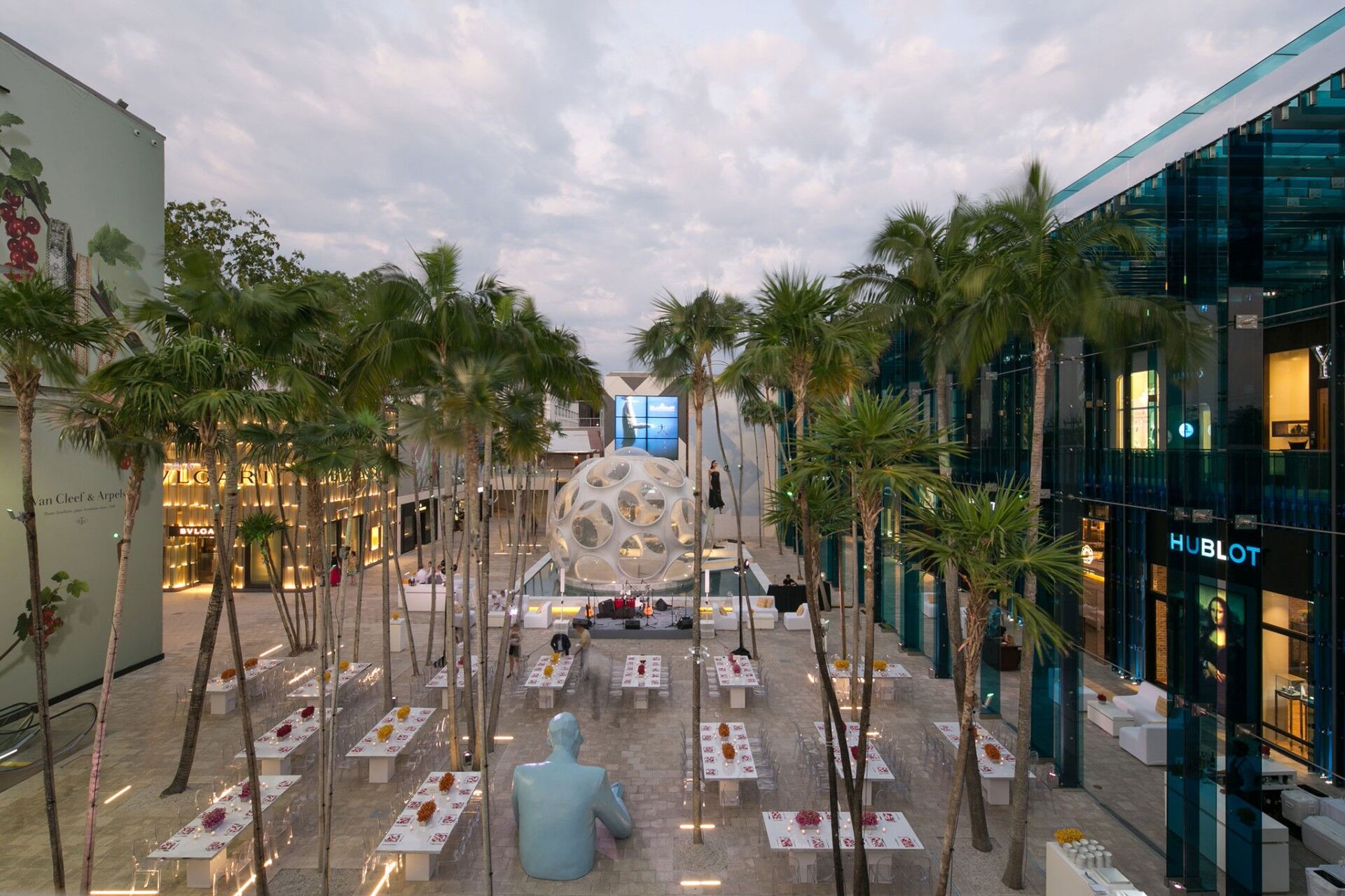 Palm Court Plaza, 140 NE 39th Street, Miami
Palm Court Plaza is an open-air venue located in Miami's Design District. With towering palm trees, eye-catching architecture, modern art installations, and a focal water fixture in the heart of the space, this venue is truly breathtaking—it's also massive.
Palm Court Plaza can accommodate large events with the capacity to host up to 4,000 guests. This 7,00 square foot event venue can suit a wide variety of layout preferences, from seated dinners to open lounging, and of course dancing. Palm Court Plaza has various amenities to offer including an onsite event staff, flexible noise ordinance rules, coat check, and equipment set up and breakdown—your wedding day will be stress free.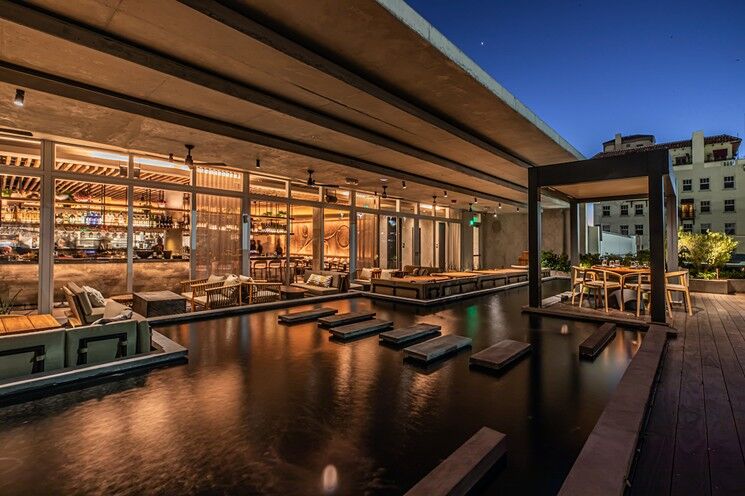 MILA Terrace, 1636 Meridian Avenue, Miami Beach
If you are looking for a unique wedding venue in Miami with a rustic yet chic aesthetic, you'll want to check out the Terrace at MILA. This rooftop bar features eye-catching waterfront views and stylish decor like comfy banquettes and bamboo chairs. On top of its regal ambiance, MILA serves renowned Asian and Medietteranin-inspire food, as well as an extensive wine list. 
The Terrace spans 5,000 square feet and can accommodate up to 190 guests. Between the iconic focal point water feature, and surrounding palm trees, the Terrace at MILA is the ultimate tranquil space to celebrate this major milestone. If you plan to host your wedding at this one-of-a-kind wedding venue, you can guarantee your guests will never forget their time at this luxurious rooftop.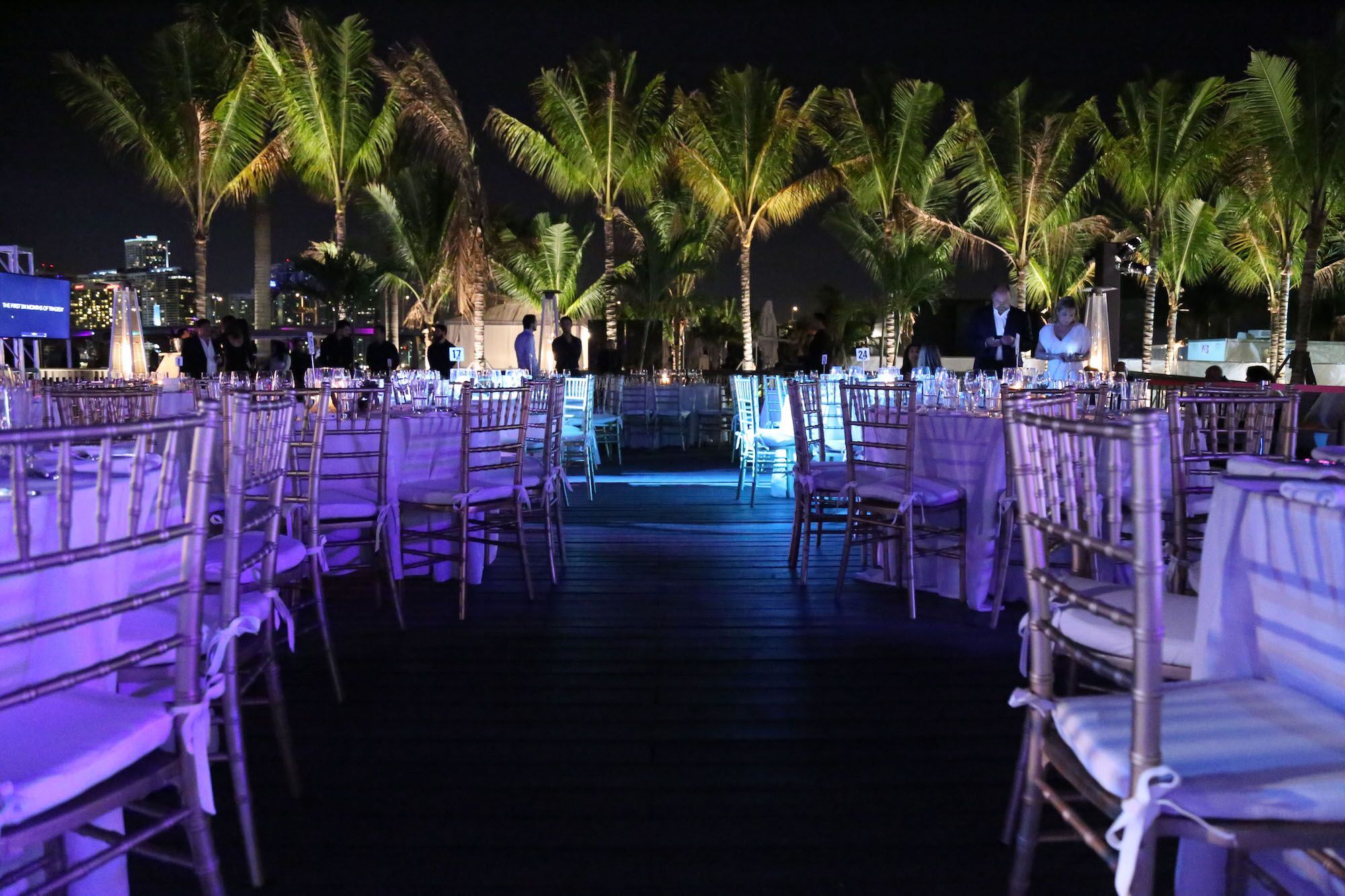 Island Gardens - The Wood Event Deck, 888 MacArthur Causeway, Miami
The Wood Event Deck at Island Gardens is featured right on the waterway in Miami, Florida. This premiere restaurant and event venue is equipped with catering services, lighting and sound systems, and a large open and outdoor space. Invite anywhere between 150 and 800 guests to celebrate your big day.
Take in views of the signature Miami skyline, watch boats in the surrounding marina, and enjoy the tropical feel of palm trees and greenery. This versatile option at Island Gardens will make the perfect backdrop for your upcoming wedding in South Florida.
Jungle Plaza, 3801 NE 1st Ave, Miami
Jungle Plaza is a vibrant, artsy, and exciting setting for an outdoor wedding in Miami's Design District. This space is all about self-expression, so get creative with it! Couples are allowed to modify the area to better suit their stylistic visions and bring their wedding vision to life.
Complete with plenty of space for a dancefloor, tables, and tents for inclement weather, this 20,000 square foot venue can hold up to 2,500 guests. Use the iconic jungle themed mural as a unique backdrop for photos to capture during your celebration. Take advantage of the incredible event staff as they will assist with setup, breakdown, and clean up throughout the day.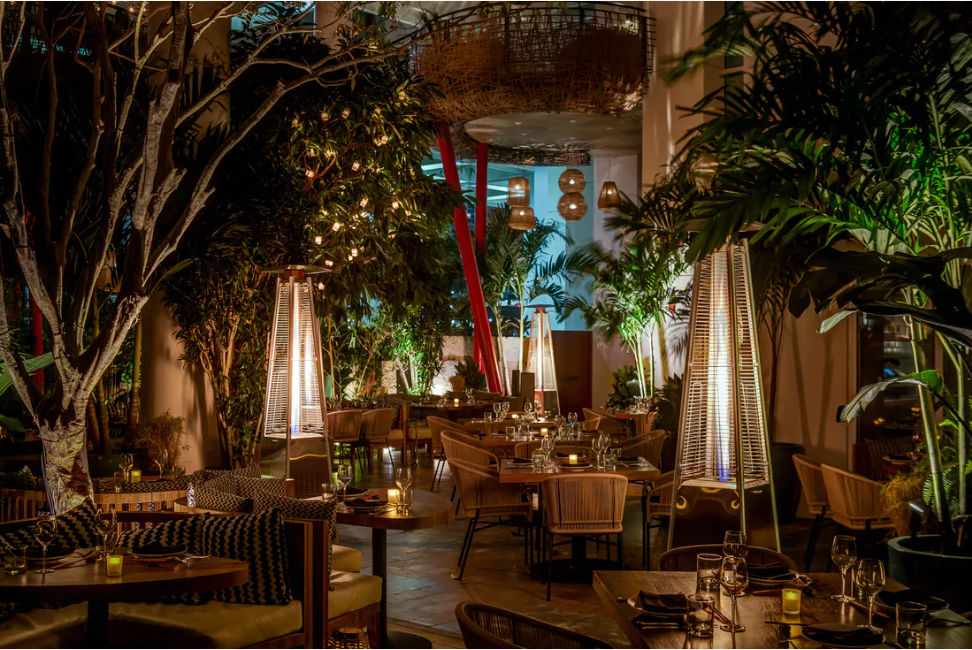 Komodo, 801 Brickell Ave, Miami
Located in the Bricknell neighborhood of Miami is the indoor/outdoor restaurant and bar space, Komodo.This space replicates the signature Florida atmosphere of being both tropical and contemporary. Enjoy delicious Asian dishes and handcrafted cocktails for your wedding that can be served either buffet, family style, or with chef stations. The space can accommodate between 300 and 450 guests, which makes it an ideal location for a large wedding in Miami.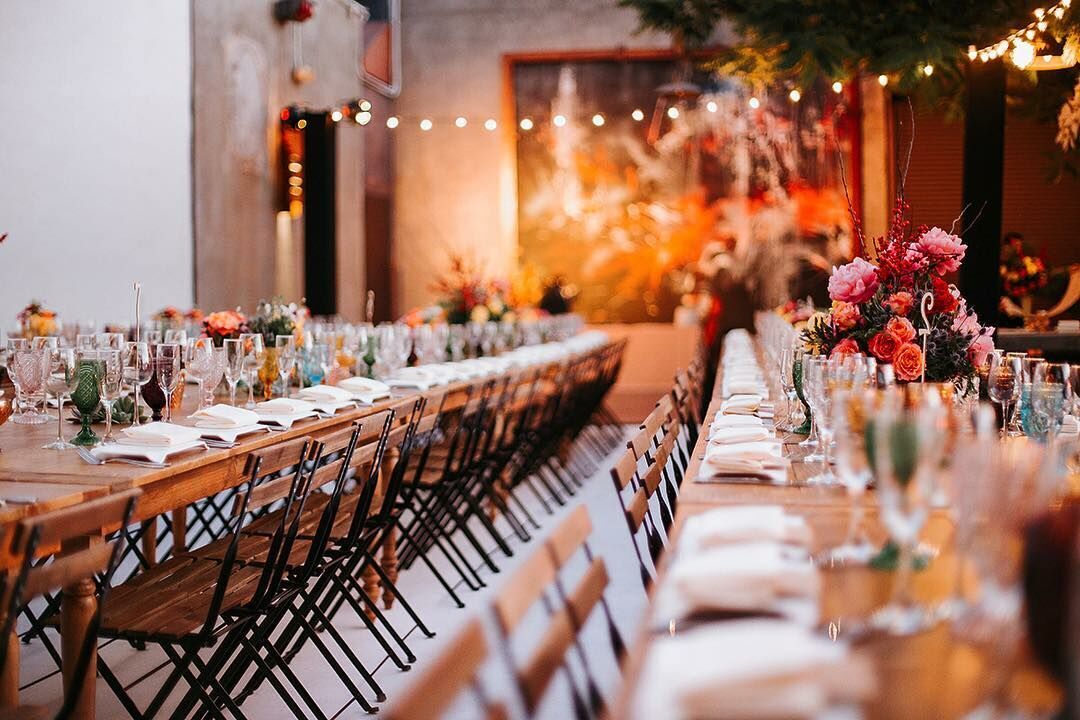 MAPS Backlot, 342 NW 24th St, Miami
Located in the Wynwood Art District of Miami, Florida is MAPS Backlot. This 15,000 square foot open-air event venue is ideal for larger gatherings since it is commonly used as a multipurpose space. Hosting your wedding here allows for total creativity as MAPS Backlot is a complete blank canvas that allows you to bring your wedding vision to life. This eclectic space can host up to 1,000 guests and also has ample space for dancefloors, bars, and banquet tables.
Find more wedding venues in Miami on The Bash.