The Top Wedding Trends for 2023
Don't be surprised when you see these wedding trends in 2023.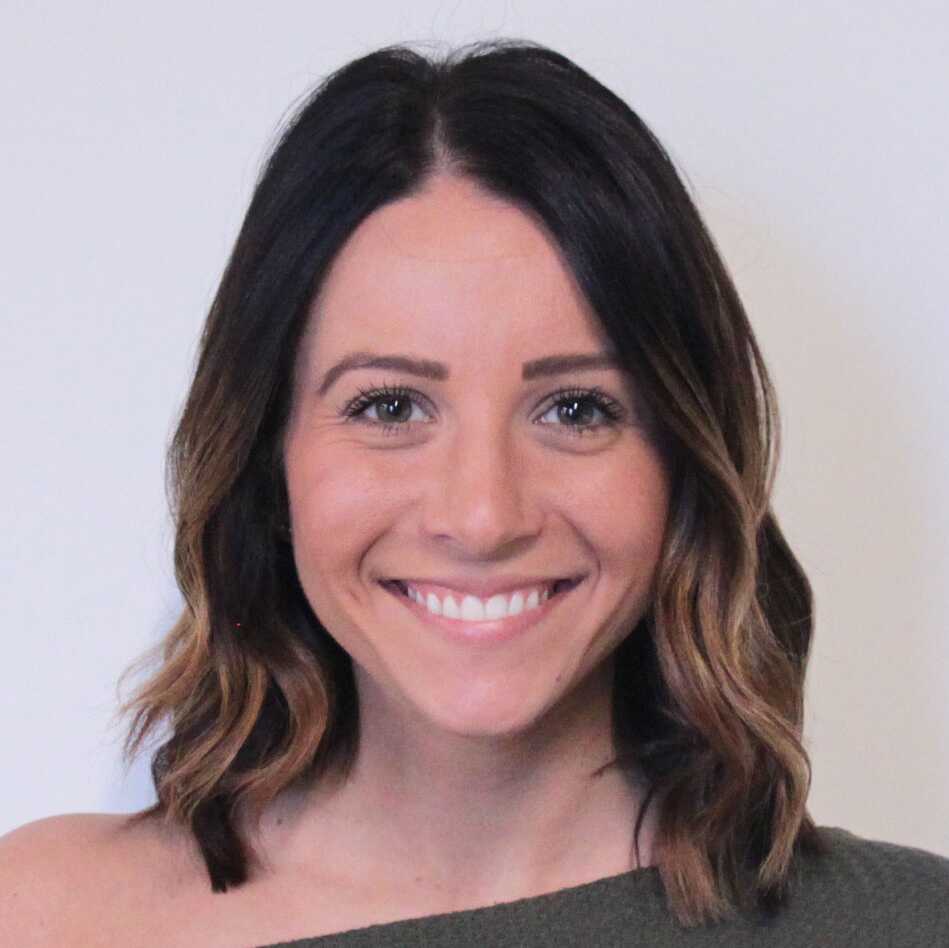 With your wedding date on the horizon, it's never too early to start planning and incorporating some of the top wedding trends for 2023 into your big day. We've rounded up some top ideas and things to expect at 2023 weddings from event professionals and planners in the wedding industry.
If you're just getting started with planning, these top wedding entertainment ideas as well this comprehensive wedding planning checklist will help too. 
Here are some of the top wedding trends for 2023:
Maximalist Designs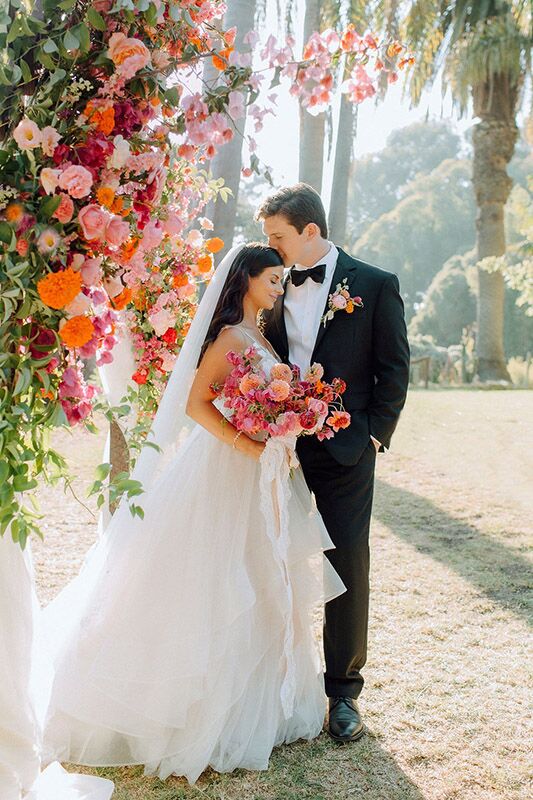 Photo: Wild Whim Design and Photography
"Primarily white weddings have given way to color explosions! While minimalist white weddings with loads of greenery dominated color palettes for ages, we're entering a new age of maximalist "power colors," shared Mandy Connor, Owner at Hummingbird Events & Design.
"Couples are excited to explore and design with the full array of traditional wedding colors while incorporating a host of non-traditional colors (like burnt orange) and bold tableware (hello, black plates!) and it's giving new life to celebrations."
Luxury Micro Weddings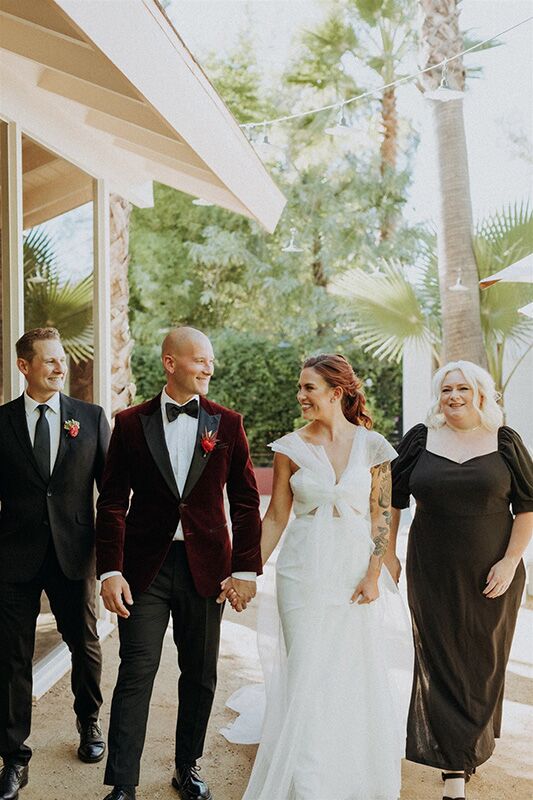 Photo: Albany Katz Photography
"The luxury micro wedding is here to stay after brides that went through planning during Covid started to realize what was really important. Treating each guest like gold rather than hundreds of people they may not be able to have a conversation with on the wedding day has made this trend a long-lasting one," shared Philip Casey Photography.
Grand Exits
"In 2023, grand exits have graduated from sparklers to…well to basically anything else. Exit with flowers, pre-lit balloons, fireworks, confetti bombs or streamers like this couple chose. Photos are still incredible, but exits are much safer for the guests and vendors," shared Philip Casey Photography.
Unique Experience and Style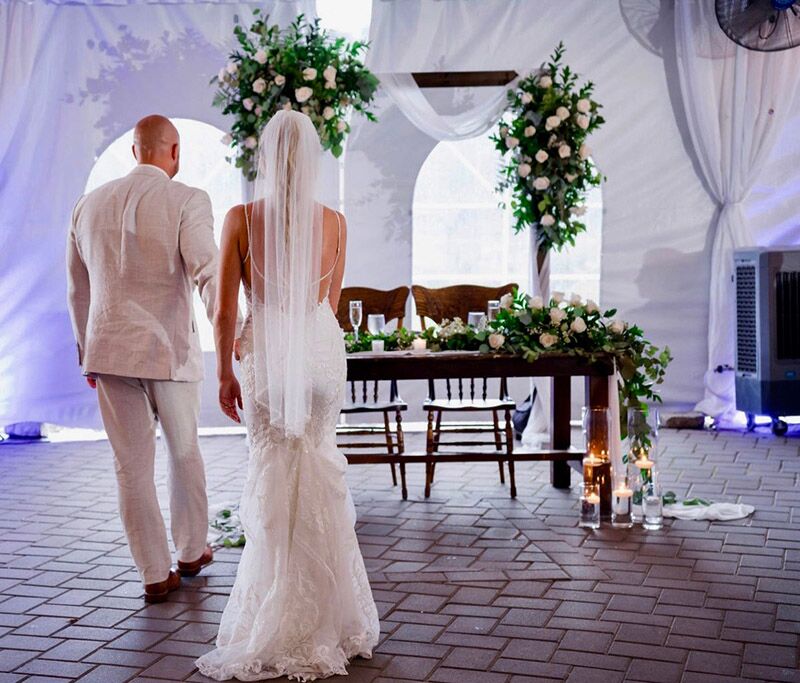 "What is unique about the coming year is that our clients are focused on showing their distinctive décor taste on their special day. More and more clients are inquiring about our customized design & décor services because they don't want to go with the venues off the shelf décor," shared Inmayra Taveras Event Planning.
"For weddings, large and attention-grabbing natural floral installations will replace smaller arrangements, and faux flower centerpieces are also becoming very popular because clients can use the savings to enhance other areas of their wedding celebration, such as adding an open bar for the entire night." 
"Finally, engaged couples are opting for local full weekend weddings, which adds luxury to their experience without breaking the bank."
Venues with Natural Beauty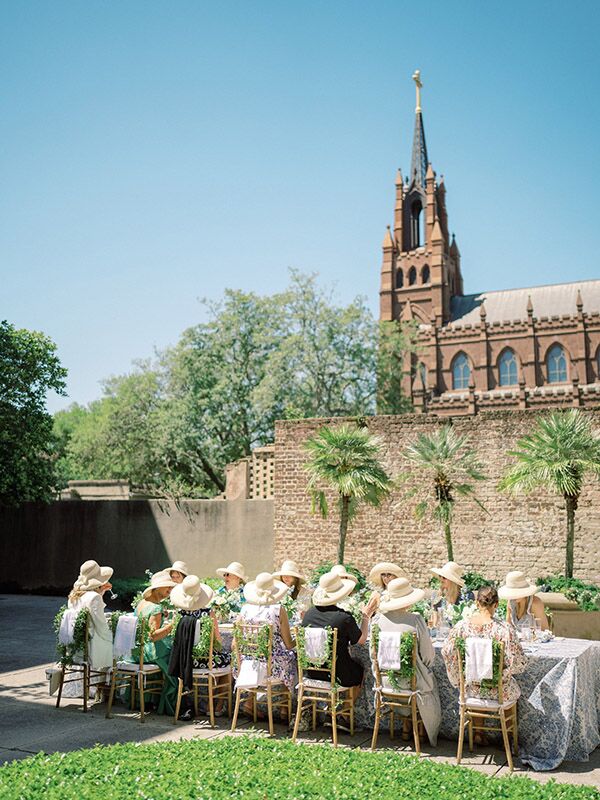 Photo: Phillip Casey Photography
"Thanks to the pandemic, we're still dealing with floral and décor supply chain issues in 2023. So savvy couples are opting for wedding venues that require very little extra embellishment—like sparkling beaches, lush gardens, striking industrial spaces, and colorful art galleries," shared Miller. 
"These venues look great au natural, which means couples can save on both money and stress since they don't need to go all-out with styling. Natural beauty, for the wedding win." 
Color!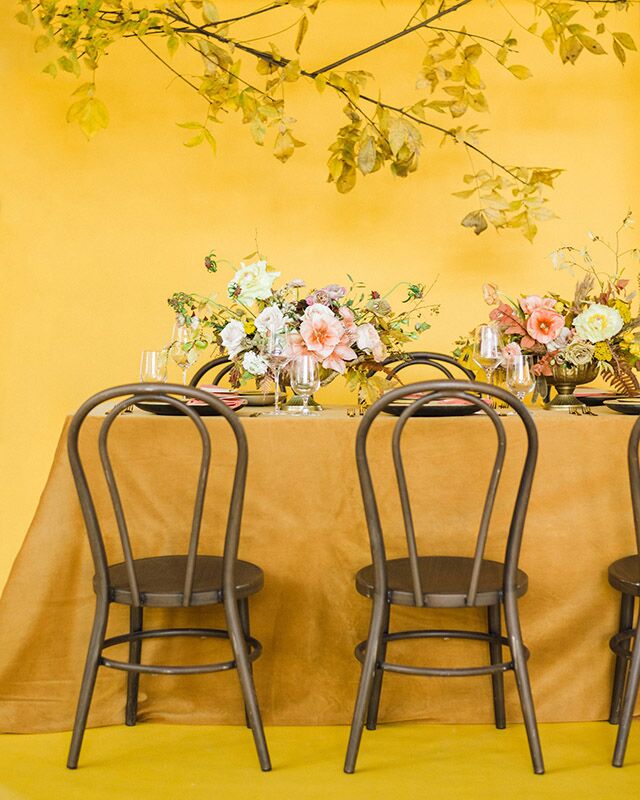 Photo: Phillip Casey Photography
"We saw a LOT of neutral tones throughout 2022, but 2023 is about to be an explosion of color. While classic neutral color palettes won't go out of style any time soon, we're seeing couples embrace more vibrant tones to punch things up a bit with their design," shared Jason Jackson, President & COO, Generation Tux.
Casual Receptions
"Things I'm predicting for 2023 are less formal sit-down dinners and more casual receptions. I've also seen less and less clients getting cake for their wedding and just providing a dessert bar. Lastly, another trend I'm seeing is no wedding party and just having a few VIP friends and family members getting ready with the couple versus making them official bridesmaids and groomsmen," shared Kari Dirksen, CEO + Lead Planner, Feathered Arrow Events.
Embellishing Details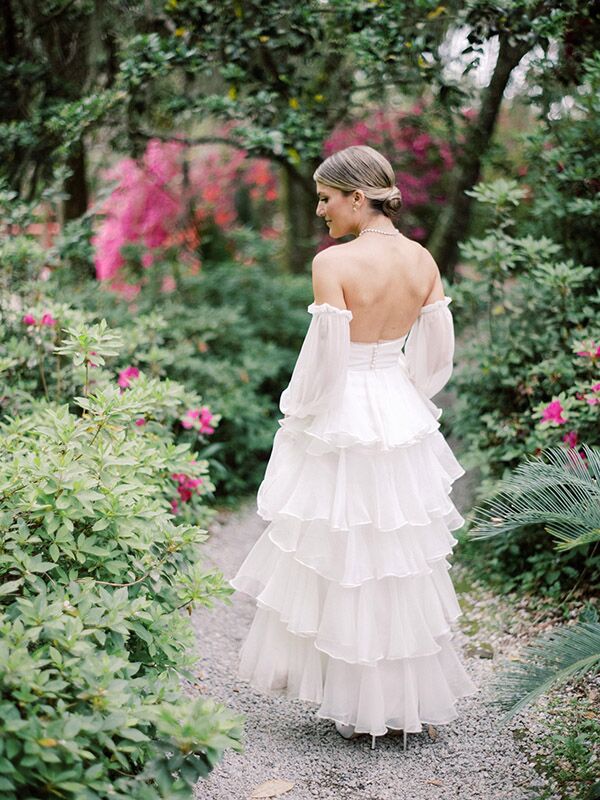 Photo: Phillip Casey Photography
"When it comes to wedding fashion trends in 2023, there will be no shortage of embellishing details. You will see more wedding gowns with flower appliques, removable sleeves/capes, and of course any kind of sparkle will never go out of style. Men's wedding fashion will promote more individuality with multi-layered suits and a mix of patterns and colors," shared Lisette Gatliff Photography.
Stationery Blind Embossing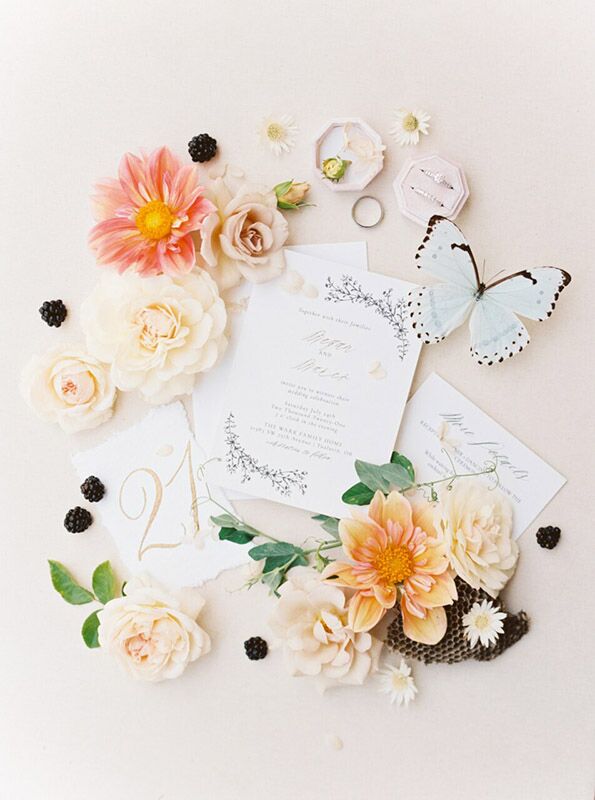 Photo: Sweetlife Photography
"I've seen so many inspirational articles and photos including this gorgeous trend on the stationary front. It allows clients to utilize a more traditional serif font in a super chic + modernized way," shared Ashley Lachney, Owner of Alston Mayger Events.
Floral Ombre Moments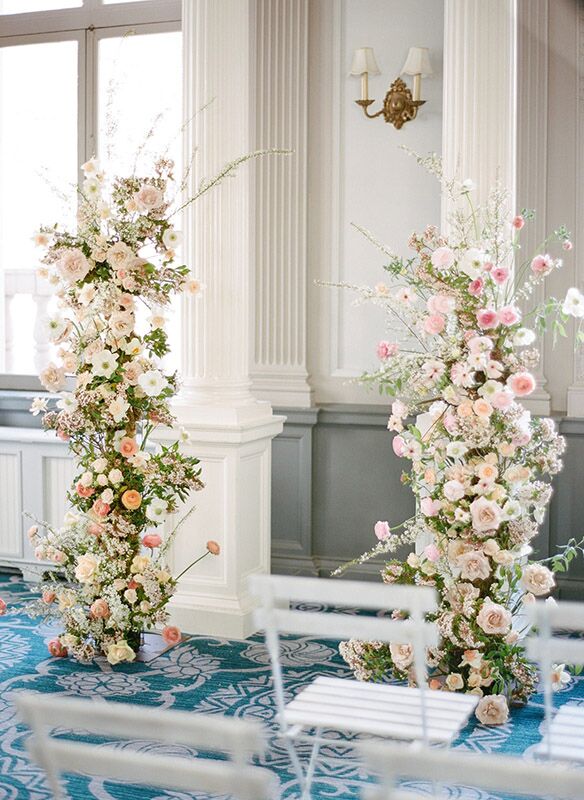 Photo: RT Faith Photography
"Utilize your florist's amazing eye for design to incorporate a sweeping color moment during ceremony + reception. You truly cannot go wrong with creating something pleasing to a guest's eye with this emerging trend," Lachney also shared. 
Venues that Host Wedding Weekends
"A huge trend we're seeing is the multi-day wedding—and lots of venues are now offering "wedding weekend" packages to accommodate couples that want a few fun-filled days of festivities," shared Jenna Miller, Creative Director of Here Comes The Guide.
"Perhaps it starts with a welcome party to kick off the weekend, followed by recreational activities the next day, a rehearsal dinner, the wedding ceremony and reception, afterparty, and farewell brunch on the last day. The best wedding weekends happen when all the guests are staying on-site (or as close to your venue as possible), so consider campground venues, retreats, hotels, resorts, inns, lodges, and lakefront properties."
Pearls, Pearls, Pearls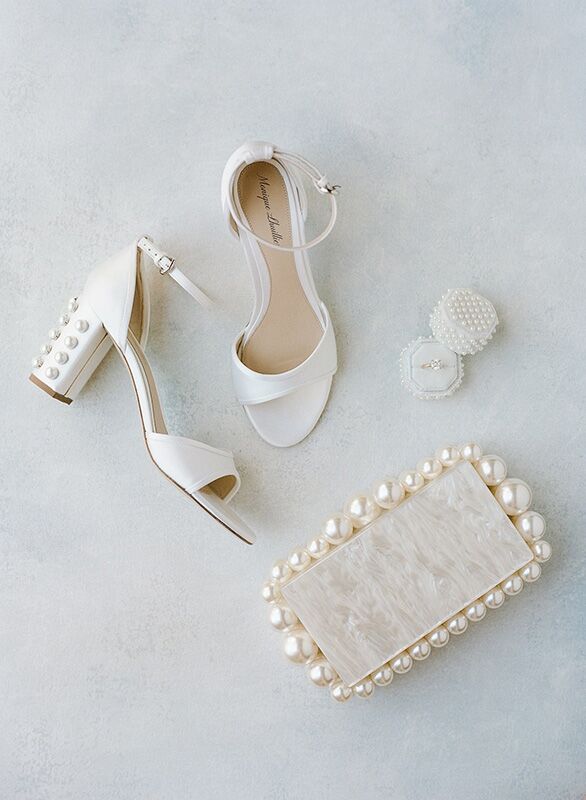 Photo: Rebecca Yale Photography
Ashley Lachney also predicts, "We're having a glam moment, and we're ALL here for it. Pearl earrings, pearl embellishments, pearls in your hair have become a staple of the chic, modern + minimalist wedding, and this trend isn't going anywhere anytime soon." 
Impact Flowers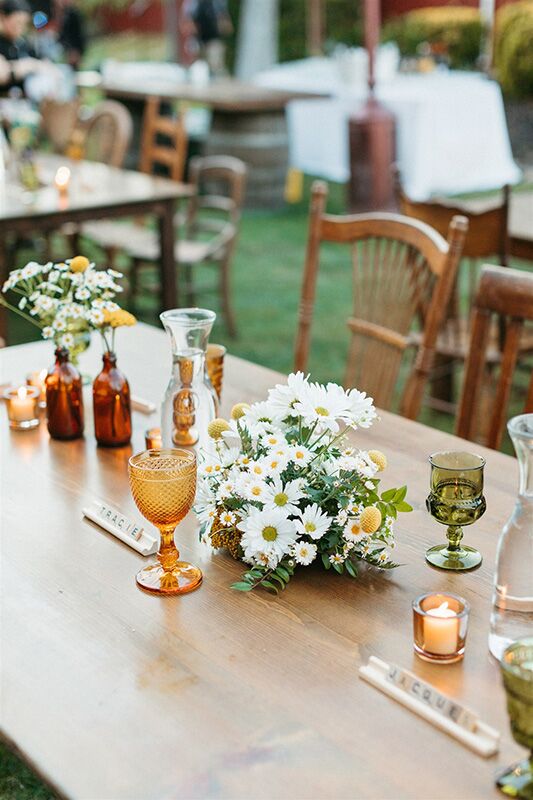 Photo: Weddings by Mika
"While we have oohed and awed over the look of small/bud vases spanning the length of tables, we are loving the reintroduction of impact flowers. Whether these arrangements are found in the center of the table or hung from above (yessss!) we are here for it!" shared Nora Sheils, Founder Bridal Bliss and Co-Founder Rock Paper Coin.
"We are predicting cleaner place settings, minimal but still elegant. And while neutrals will still be important, the addition of soft pops of color from some of our favorite flowers, poppies, roses & wildflowers will help to bring a table to life."
Bright Warm Colors & Unexpected Details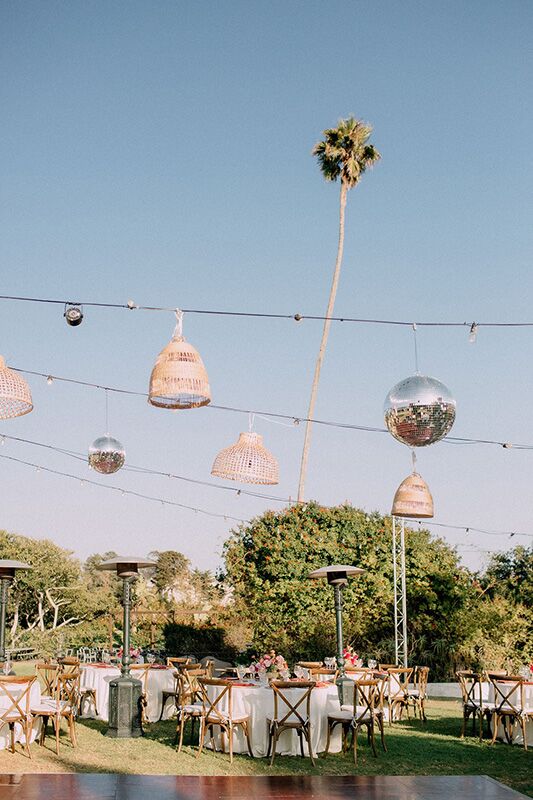 Photo: Wild Whim Design and Photography
"Some trends that I'm seeing come to life in late 2022 and know will be very popular in 2023 are: unexpected details, bright warm colors that evoke happiness, disposable cameras in place of guest books (no more albums!), and bohemian disco theme which builds off the glamour disco we saw a lot of this year," shared Melanie Levin, Owner of LuckEleven Events.
Sustainable Weddings
Nora Sheils also shared some predictions on eco-friendly weddings. "One of the big words we are hearing is sustainability. Although sustainability is not a new concept, it is becoming more and more important to our couples. Couples are conscious about the footprint they are making both during their wedding and beyond. How exactly this plays out might differ from couple to couple, but the intent is what matters."
"We have couples opting to stay local (less travel for themselves and their guests), smaller guest counts, sending out virtual invitations rather than the traditional paper ones (which can still be customized by the many talented designers in our wedding world), working with a local caterer to make sure food is current to the season and grown/harvested locally, and eco-friendly flowers that are donated or wrapped for guests to take home following the wedding." 
Private Dance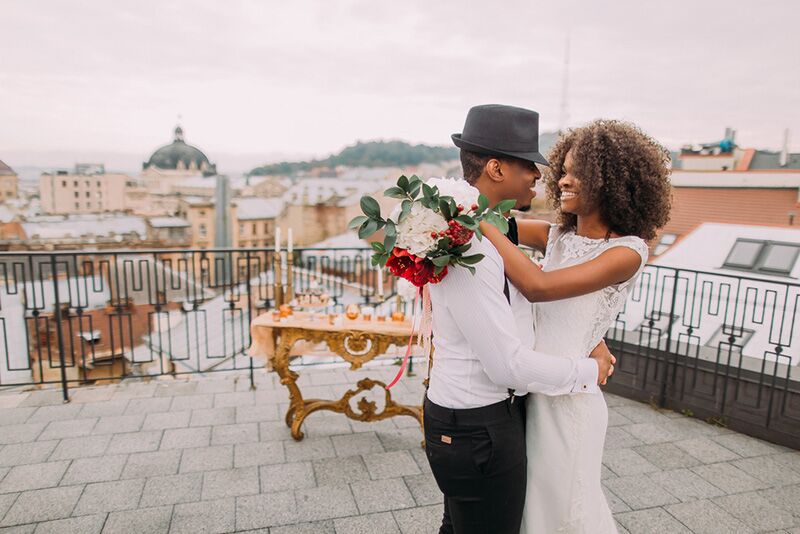 Photo: Andrii Kobryn/shutterstock.com
"Quite possibly our favorite trend is the private dance. If you have not heard of this don't worry, we can help you make it happen. After we send your friends and family into the night for no doubt an epic after party, we will have your band or DJ stick around for one last song, just for the two of you! We love this sweet moment, as a way to close out what was (hopefully!) the best day of your lives," Nora Sheils also shared.
Interactive Favors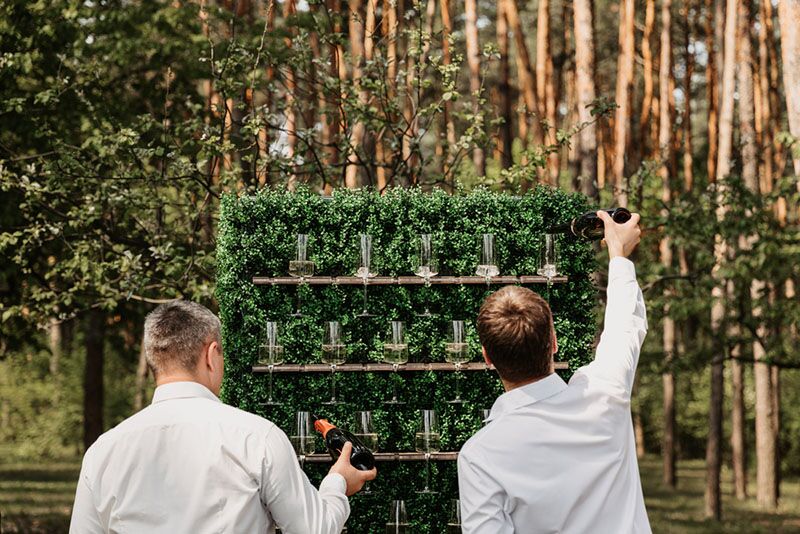 Photo: Alexander Shunevich/shutterstock.com
"An upcoming trend for 2023 weddings is going to be incorporating the guest favors as an interactive experience. Some examples of this is a champagne wall with a custom tag for each guest, or a custom wall with vases of flowers for each guest," shared Casey Stamouli, Casey & Co. Events.
"The best part about this trend is having it be incorporated with the theme, or style of your wedding day. All the way from maple syrup, to oyster ornaments! The creativity is endless!"
Find more wedding inspiration and vendors here on The Bash.