Back to profile
The Wonderfuls Reviews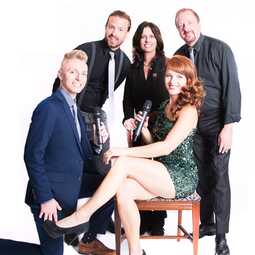 Avg 5.0 | 152 Reviews

Cover Band from Dallas, TX

291 Verified Bookings
Starting at $1,500 per event
---
152 Reviews for The Wonderfuls
Veteran's Day Party•Reviewed on November 15, 2014•From Commerce, TX
These guys were amazing! We had an event where the attendees ranged in age from 16 to 90 and everyone commented on how much they enjoyed them. While we are not a "dancing" sort of crowd, there were several people who took to the dance floor and even when there weren't people dancing, The Wonderfuls didn't lose any of their enthusiasm or energy. We all LOVED their set list and they tailored their songs appropriately to the ages in the room. Even though I was working much of the time, I was still dancing around and singing, thoroughly enjoying myself! Can't wait to have them back next year!
Wedding•Reviewed on November 1, 2014•From Corinth, TX
The Wonderfuls were 5 stars across the board! We booked them for our wedding ceremony and reception and the music was flawless. We had guests throughout the event coming up to us complimenting and asking who they were because they wanted to book them for other events. They played a good mix of oldies and today and were able to play our first dance, father-daughter, and mother-son dance LIVE. Wedding planning can be very stressful trying to get all the details in order but after booking them, that was one less thing I had to worry about because John was very professional and answered any questions I had. Thank y'all so much!!
Private Party•Reviewed on October 31, 2014•From Shreveport, LA
The Wonderfuls exceeded are expectations for our party in everyway. I would highly recommend them for any party. Great people to deal with also. There vocalists male and female can cross over and sing all current songs and all 80s stuff also. Great party band!!
Wedding•Reviewed on October 4, 2014•From Fort Worth, TX
John and the band were absolutely amazing. They accommodated our time and schedule changes without any complaints or issues. They worked with our requests for their live performance as well as smoothly incorporating pre-recorded tracks. They seamlessly worked with both the groom's father and the groom back-up and instrumental for vocals. They lived up to all requests and surpassed our expectations. We highly recommend to anyone! Thanks the Wonderfuls for being part of our perfect evening!
Birthday Party (Adult)•Reviewed on August 2, 2014•From Mansfield, TX
We had The Wonderfuls play for my wife's birthday party. The pre show communication was very good. They arrived promptly and had everything up in no time. The music was really great and I had people coming up to me all night asking how I found them. They truly were wonderful. We didn't want them to stop. Thank you for everything!
Wedding Reception•Reviewed on June 21, 2014•From Tyler, TX
We are so thankful for you guys!!! We had a great time and so Did everyone else! I seriously thought we were dancing to a recording until I looked over and saw y'all singing. We received so many compliments about y'all and will keep y'all in mind for parties to come!!! If you don't book this band, you're missing out!
Wedding Reception•Reviewed on May 31, 2014•From Shreveport, LA
The Wonderfuls were fabulous!!! They played at our wedding reception and every one of our guests came up to us and told us how fabulous the band was. John was so great, accommodating, and easy to get a hold of. They played so many different types of music, all done perfectly! We had the best time dancing the night away! i highly recommend The Wonderfuls!
Wedding Reception•Reviewed on May 10, 2014•From Texarkana, AR
This band rocks! Most wedding receptions have a multi-generational audience and they can play all over the charts from every period of rock music. They are also just fun to talk to and can accommodate all sorts of special requests. Everyone loved this band!
Awards Night Party•Reviewed on May 3, 2014•From Tahlequah, OK
The Wonderfuls did a great job for our event! They got everyone out on the dance floor and moving! They even learned a song before they got on the stage for us. Great time had by all, would highly recommend them and would use them again!
Wedding Reception•Reviewed on April 26, 2014•From McKinney, TX
These guys were excellent. They were incredibly flexible and accommodating, and John was 100% responsive (and patient!) to my questions/requests in the months leading up to the event. They sounded awesome, and did a great job playing to the room and keeping the guests entertained, and we as John doing a FANTASTIC job MC'ing the wedding (announcements, etc.). The employees working at the facility where the wedding was told us that this was the best band they had seen come through there, and they see a TON of bands. With no reservations what-so-ever, I would recommend these guys all day for anybody who is looking for a great wedding band.
Wedding•Reviewed on April 12, 2014•From Llano, TX
I give the Wonderfuls a perfect rating as they were the perfect band for our wedding! Easy to work with, music for everyone, and very talented. I have recommended them to many...and our wedding was just five days ago!
Wedding Reception•Reviewed on March 1, 2014•From Dallas, TX
The Wonderful's exceeded my expectations!!! This band is incredibly professional, talented and accomodating! Everyone at the wedding was impressed and we danced the night away. I know it is scary booking a band on the internet that you have never seen live but trust me (As a professional event planner) this group is top-knotch! You are in wonderful hands here and they will truly make your night one to remember!
Fundraiser•Reviewed on January 18, 2014•From San Angelo, TX
The Wonserfuls did a great job performing for the Symphony Belles at our Symphony Gala. The music was amazing and everyone had a great time. We would definitely have them back again!
Wedding Reception•Reviewed on January 4, 2014•From Longview, TX
The Wonderfuls were great to work with and the variety of music was perfect. Everyone had a great time at the reception. I would recommend the Wonderfuls to anyone looking for a great band!
Wedding Reception•Reviewed on December 15, 2013•From Houston, TX
These guys are GREAT! The Wonderfuls drove all of the way from Dallas to Houston to play at our wedding reception and they completely rocked the house! They hit the nail on the head with every song and they made it very fun! GREAT ENERGY, FANTASTIC VOICE, AMAZING INSTRUMENTALS, INCREDIBLE EVERYTHING! I would definitely love having these guys again at our next event!
Christmas Party•Reviewed on December 7, 2013•From San Marcos, TX
The Wonderfuls truly made our event! We were so happy with there performance and look forward to booking them again!
Christmas Party•Reviewed on November 23, 2013•From Grand Prairie, TX
Great Band with a Great Price with an Excellent Variety of Music!
Wedding Reception•Reviewed on November 16, 2013•From Dallas, TX
The choice of music and artists were awesome. They stayed till the end and played all the appropriate tunes... Great job The Wonderfuls.. We know who to pick up the next time we need a band ??
School Assembly•Reviewed on November 1, 2013•From Commerce, TX
This band was incredible! The vocalists are awesome and the band as a whole just sounded amazing! We could not have asked for more, our students and community members that attended the event loved them - book this band!
Wedding Reception•Reviewed on October 26, 2013•From Tulsa, OK
The Wondefuls did an amazing job playing at our wedding! They really listened to our wants and we're very quick corresponding with me in perpetration. The acoustic music they played during the ceremony made it absolutely perfect. They are extremely talented and can play anything and sound spot on! I highly highly recommend them for any event, they made our special day perfect!
High School Reunion•Reviewed on October 5, 2013•From Joplin, MO
The Wonderfuls were fantastic! They had everyone dancing, from toddlers to grandparents, at our event. Their song samples and videos on their GigMasters page do not do them justice. We are already looking into bringing them back again soon.
Anniversary Party•Reviewed on August 17, 2013•From Flower Mound, TX
Awesome band that presented a wide range of music from older tunes to present. No matter the song or style, they were on it - just outstanding performers. They presented themselves very well during our event, were well-dressed, and absolutely drove our party celebration with 60 guests. They added so much and made it so much fun! They also could not have been more accomodating before the event as they worked with us to visit the site in advance and plan for music, sound and lighting needs. We could not be happier with The Wonderrfuls and received many compliments from our guests. For those of you searchiing for a band online, search no more! Glenn & Mandy
Wedding Reception•Reviewed on August 10, 2013•From Lubbock, TX
The name sys it ALL! I so appreciated John and the Wonderfuls. They rocked the wedding reception, but John really gave extra effort to please our waiting guests with entertainment in the courtyard prior to arrival, then did a flawless intro! The great suggestions like the "generational dance" perfect! We could not be more pleased! I will keep their info and recommend these folks to all my friends!!!! There are still some weddings left in our crowd! Maybe we'll see you in Ozona or Wimberley sometime soon! Thanks and blessings to each of you!!!! Sally & Sterling Harris PS.... Keep " Mustang Sally" in your song list - GREAT!!!!!!!
The Wonderfuls:
Sally & Sterling, Thanks SO much for inviting The Wonderfuls to be a part of such an amazing wedding reception. We had a really great time and enjoyed meeting you! Your daughter was a sweet & gorgeous bride and we wish Taylor and Caul ALL the very best with their new life! :-) - John
Wedding Reception•Reviewed on June 8, 2013•From McKinney, TX
They were totally "Wonderful" and I would recommend them to anyone!!! John was super; these guys really know what they're doing!
Banquet•Reviewed on May 21, 2013•From Austin, TX
Great as always! We hired The Wonderfuls after our first experience with them in 2012 and were pleased again!