Back to profile
The Wonderfuls Reviews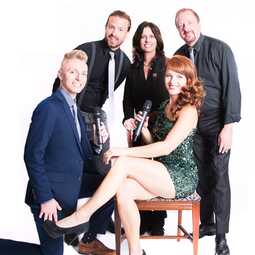 Avg 5.0 | 152 Reviews

Cover Band from Dallas, TX

294 Verified Bookings
Starting at $1,500 per event
---
152 Reviews for The Wonderfuls
Wedding•Reviewed on May 11, 2013•From Canton, TX
Hope and I want to thank the whole band so much for a great performance. It was more than we hoped for. You guys nailed our wedding dance song and all the songs to the bitter, sweet end! And a special thanks for helping with the sound system for our opening ceremony. All of our guests were really impressed with the band as well. Your new lead singer was awesome! Watch out Rihanna!
Kentucky Derby Party•Reviewed on May 3, 2013•From Abilene, TX
They were fabulous. We had a great time. Everyone had positive things to say about the band. They made the party super great. All the band members were super talented and really easy to work with.
Birthday Party (Adult)•Reviewed on March 30, 2013•From Keller, TX
Their name describes them perfectly ! " The Wonderful's" . I knew I had to have them for my 50th birthday celebration after hearing a couple of their sample songs. They were very professional, courteous and accommodating to my party needs. They know how to please the crowds and kept them bouncing and going wild! Their repertoire is very extensive but I personally enjoyed their 80's collections . The lead female vocal impersonation of Madonna was astonishing! I have received so many compliments on how great the band was from many of my guest. I strongly recommend this group to anyone looking for a band and I would definitively will use them again!
Wedding Reception•Reviewed on March 23, 2013•From San Antonio, TX
The Wonderfuls were absolutely fabulous at my wedding on March 23rd, 2013. John was fantastic to work with prior to the event & always got back to me right away with any information that was needed. We had an interfaith wedding & I requested the Hava Nagila- which was arranged in the most phenomenal way. Many of the guests even asked where we found such a great Jewish wedding band =) I've been to so many weddings where the dance floor is barely stepped on but the Wonderfuls read the crowd & had guests dancing the whole night. The whole band had so much energy which made it so fun for everyone. I definitely recommend them & feel like I can't say enough good things!
Festival•Reviewed on March 11, 2013•From San Antonio, TX
The Wonderfuls are truly a Wonerful Act, the musicians were extremely talented. The young lady that sang has a great voice with a wide variety of music. They are a true classic band. Can't wait to bring them back!
Fundraiser•Reviewed on February 23, 2013•From Dallas, TX
The Wonderfuls did a very good job at our school auction! At 1:00 a.m. they still had about 50-60 people dancing away...which I think is the best testament to their sucess. They were great to work with and I have heard lots of compliments on them.
Birthday Party (Adult)•Reviewed on December 29, 2012•From New Braunfels, TX
The group was outstanding. They came to New Braunfels, and put on a show. They will play exactly what your party needs and wants. They were very professional and were a hit with the ground. I look forward to seeing them again.
Holiday Party•Reviewed on November 17, 2012•From Grand Prairie, TX
Amazing!! This was our 2nd year with The Wonderfuls.... and Yeup! I am booking right now for next year!!! The Wonderfuls are TRULY WONDERFUL!!!!
Halloween Party•Reviewed on October 20, 2012•From Fairview, TX
This is their second appearance at our house parties, they were so great at Christmas, we had them come back for Halloween. They were such a hit with the guests! It's like 2 bands in one when you have a female and also a male singer. How great were they? We're booking them again for a spring party next year. Book them if they are available, you will not regret it!!!!
Corporate Function•Reviewed on October 13, 2012•From Fort Worth, TX
The Wonderfuls did a terrific job at our company holiday party in Fort Worth. Everyone had a great time. The song selections were perfect for the evening. They were very flexible in schedule to accommodate presentations during their music sets. We'd hire them again in a heartbeat! Awesome job!
Wedding•Reviewed on September 29, 2012•From Sunnyvale, TX
We had an outside wedding under a tent and heavy rain. It was tough setting up but did not take them long. They sounded great and had everybody up on the dancefloor. Would not hesitate to recommend them to my friends!
Country Club Event•Reviewed on September 28, 2012•From Dallas, TX
The wonderfuls put on a great show, the people who were there had a great time and said that this was the best band we have had at Hackberry creek country club . Will definatly hire them again .
Event•Reviewed on October 2, 2012•From Commerce, TX
The Wonderfuls were OUTSTANDING!!! They played to our University crowd of approximately 600 and kept them entertained with every performance. Persons constantly complemented the band and many were seen singing along as they ate and visited the community booths. We will definitely want the Wonderfuls back for next year's event!!!
Wedding Reception•Reviewed on August 11, 2012•From Ada, OK
The Wonderfuls played our wedding at my wife's parents home in Ada OK. . From the time we started talking to them (John) the leader was very professional and promised nothing but the best and that he would make whatever we wanted happen. That's exactly what we got it was WONDERFUL! They learned the songs we requested for our special dances and entertained our guests the hole evening going above and beyond !!! We can't say enough about how great of a evening it was. Thank you so much to The Wonderfuls for making our day special ! Dan & Brandy
Birthday Party (Adult)•Reviewed on July 14, 2012•From Fairview, TX
I hired The Wonderfuls to play at my wife's 40th birthday party and we were both THRILLED with their outstanding performance! We had adult guests of all ages at the party and everyone enjoyed the music and commented on how awesome the band was. The ladies (and even some of the men) just couldn't stay off the dance floor! The Wonderfuls were SO much fun... and very interactive with the crowd. They were easy to work with regarding booking and making arrangements, very professional. We will definitely have them back for our next big event. If you book them, you won't be disappointed!! I highly recommend them!
Private Party•Reviewed on June 16, 2012•From Plano, TX
2nd year for The Wonderfuls at my pool party and another smash hit! Great music, great fun and great people. Looking forward to 2013 with them again!!!! Thanks Guys for an amazing time :) Alana
Luau Party•Reviewed on June 9, 2012•From Anna, TX
John was very easy to work with and did everything that we asked of him. The band played a variety of great music and they sounded amazing. They were all very professional and I would recommend them to everyone.
Birthday Party (Adult)•Reviewed on June 2, 2012•From Grapevine, TX
Great great band. The folks working at the Elks Lodge said it was the best band they had had in the lodge. Played all different genre and did them all great! They were friendly and professional. Hope to book them again in the future. They made me look like a hero to my wife, her family, and friends. For throwing such a great party at the lodge.
Banquet•Reviewed on May 22, 2012•From Dallas, TX
I hired The Wonderfuls to perform at the banquet of a non-profit Annual Meeting and they were fantastic!! From the very beginning, John was a pleasure to work with and very accessible via email for any questions/requests I had. In past years, the banquet entertainment never really went over too well with our members but this year was an entirely different story thanks to The Wonderfuls! People stayed and danced until the curtain closed! I would certainly recommend them and I'll be using them in the future.
Wedding•Reviewed on May 13, 2012•From Palmer, TX
When another band that was booked for 8 months cancelled at the last minute for my daughters wedding ceremony/recpetion, we had no idea what a blessing it would be as The Wonderfuls came to our rescue. There were 3 songs that were to be played for the ceremony and they learned them all saving sadness for the couple, and not only did they learn the songs, they were performed as well as anyone you could hire. John kept in touch in the weeks leading up to the event, and all the members of the band checked to ensure they were doing exactly what was expected through the night. AMAZING, my wifes 50th Birthday is next year, yes, The Wonderfuls will be there. HIRE THEM.
Review by Stan or Melode S.
Graduation Party•Reviewed on May 12, 2012•From Midlothian, TX
The Wonderfuls entertained us at our daughter's graduation from TCU. We had guests ranging from 5 to 99 years old and everyone had a fantastic time. We danced the night away to this fantastic and entertaining band. I would hire them again and probably will. I would recommend them highly, you won't be disappointed. The are awesome! Thank you to the Wonderfuls for a great party.
Wedding Reception•Reviewed on May 5, 2012•From Shreveport, LA
Daughters wedding reception- From the initial contact with John to the hand shake at the end of the night The Wonderfuls exceeded our expectations in every way. They even learned 4 new songs per our request and were spot on with all 4. I knew at sound check prior to the party these guys were the real deal .The Wonderfuls were the talk of the party as I had many guest ask me how and where did I find these guys? The band was the first thing my daughter and son in law taked about the next day. not the wedding, not the food, and not the guest. And the best part, the fee was more than reasonable for a band of this caliber. Will be booking again for my 50th b-day.
Fraternity Function•Reviewed on April 27, 2012•From Fort Worth, TX
They did a great job performing for our day party. They had a great line up songs and everyone at the party was very pleased with thier performance. There were no problems at all and they sounded great too. They were well prepared and were easy to get in contact with.
Wedding Reception•Reviewed on April 21, 2012•From New Orleans, LA
We could not be happier that we have chosen The Wonderfuls for our event. Our wedding was definitely a culturally different experience and challenge for them, but they pulled it off beautifully for us. From the very beginning, John was responsive to all our emails, phone calls, questions, and requests. What really impressed us is how well they learned two specific songs we requested to be played. If I could give them more stars, I would!! Thank You The Wonderfuls for doing a great job at our wedding!!
Review by Lori and Jason K.
Celebration•Reviewed on April 14, 2012•From Coppell, TX
Oh my gosh - The Wonderfuls are truly wonderful. Not only professionals, but accomodating and excellent!!!!! They were truly one of the best bands i have ever heard. Wide variety of music, great vocals and just a blast to be around. We have gotten so many compliments on the band. I would highly recommend them to anyone looking for a great time. We will hire them again. Thanks to all of you for making our party a hit! Lori & Jason Kougl