76 Best 90s Party Songs to Get Your Guests Groovin'
Here are the top tracks of the decade by artists like Destiny's Child, M.C. Hammer and Backstreet Boys.
Looking for a 90s music playlist for an upcoming event? We've got the best 90s party songs that will definitely get your friends on their feet. From boy bands and pop divas to indie bands and rap stars, we've chosen the top tracks from the decade by artists like Christina Aguilera, *NSYNC, Nirvana, Lil' Kim and more.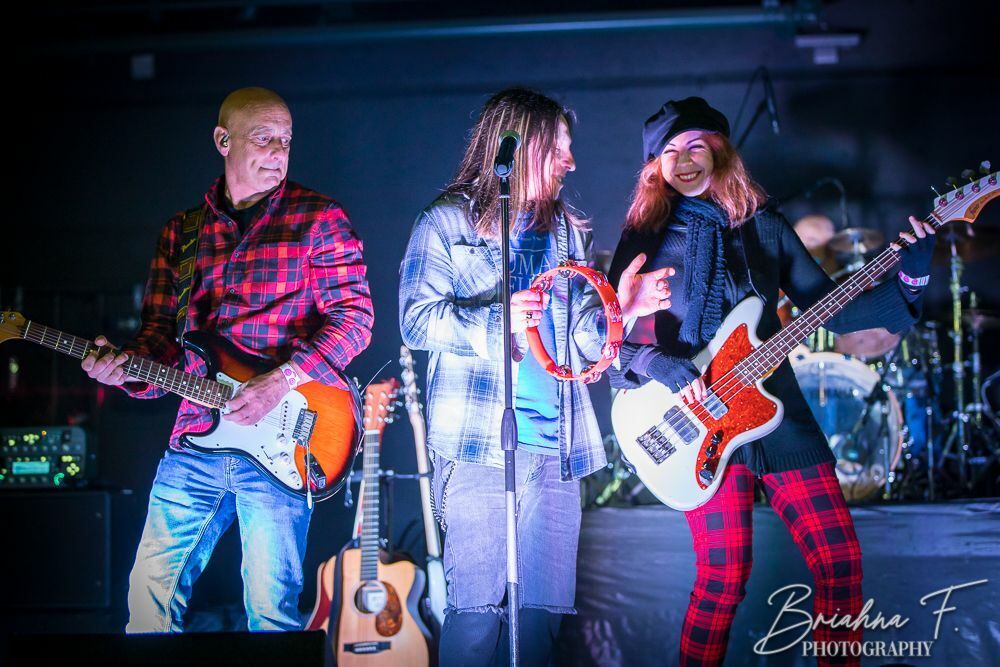 Photo: 90s Rock Show
Whether you're hosting a 90s-themed party or a 30th birthday bash for a 90s kid, take your party up a notch by booking a 90s band to perform or hiring a DJ to cue up the tracks and please the crowd. 
READ MORE:
Here are the best 90s party songs to add to your 90s music playlist.
U Can't Touch This - MC Hammer
Gettin' Jiggy Wit It - Will Smith
Genie In a Bottle - Christina Aguilera
Crush On You - Lil' Kim, Lil' Cease
Good Riddance (Time of Your Life) - Green Day
Friday I'm In Love - The Cure
Jump Around - House Of Pain
Alright - Supergrass
I'll Be There For You (Theme from Friends) - The Rembrandts
Kiss Me - Sixpence None The Richer
Only Wanna Be With You - Hootie & The Blowfish
Steal My Sunshine - Len
This is How We Do It - Montell Jordan, Wino
Groove is in the Heart - Deee-Lite
Mo Money Mo Problems - The Notorious B.I.G., Mase, Diddy, Puff Daddy
Smells Like Teen Spirit - Nirvana
Buddy Holly - Weezer
Fly - Sugar Ray, Super Cat
Good Vibrations - Marky Mark and The Funky Bunch
Come On Over (All I Want Is You) - Christina Aguilera
Livin' la Vida Loca - Ricky Martin
MMMBop - Hanson
Jumpin' Jumpin' - Destiny's Child
Vogue - Madonna
Can I Kick It? - A Tribe Called Quest
Waiting for Tonight - Jennifer Lopez
(You Drive Me) Crazy - Britney Spears
Truly Madly Deeply - Savage Garden
All Star - Smash Mouth
What Is Love - Haddaway
Lovefool - The Cardigans
Barbie Girl - Aqua
As Long as You Love Me - Backstreet Boys
Wannabe - Spice Girls
Always Be My Baby - Mariah Carey
Wonderwall - Oasis
Bye Bye Bye - *NSYNC
... Baby One More Time - Britney Spears
Say My Name - Destiny's Child
You Make Me Wanna... - Usher
If You Had My Love - Jennifer Lopez
Fantasy - Mariah Carey
It's Gonna Be Me- *NSYNC
Ghetto Superstar - Pras, ODB, Mya
Summer Girls - LFO
Doo Wop (That Thing) - Ms. Lauryn Hill
Bring It All Back - S Club 7
Learn to Fly - Foo Fighters
Can't Get Enough Of You Baby - Smash Mouth
I Touch Myself - Divinyls
Together Again - Janet Jackson
Let's Talk About Sex - Salt-N-Pepa
Walkin' On The Sun - Smash Mouth
Step by Step - New Kids On The Block
Ice Ice Baby - Vanilla Ice
I Love Your Smile - Shanice
No Diggity - Blackstreet, Dr. Dre, Queen Pen
U Got It Bad - Usher
Real Love - Mary J. Blige
The Boy Is Mine - Brandy, Monica
Waiting For Tonight - Jennifer Lopez
At Your Best (You Are Love) - Aaliyah
If I Ever Fall In Love - Shai, Bill Appleberry
Saving Forever for You - Shanice
Hey Mr. D.J. - Zhané
Creep - TLC
Motownphilly - Boyz II Men
Shackles (Praise You) - Mary Mary
Crush On You - Lil' Kim
All About You - 2Pac
If It Makes You Happy - Sheryl Crow
The Hardest Thing - 98 Degrees
Loser - Beck
Around the World - Daft Punk
End Of The Road - Boyz II Men
I'm Every Woman - Whitney Houston
Have a listen to our 90s Music Playlist on Spotify: 
Tips for booking a 90s band or DJ:
On The Bash, you can search through a list of top-rated, bookable decade bands and DJs in your local area. While browsing, be sure to review vendor profiles and check out their photos and videos.
When preparing a request for one of our

musicians or DJs

, keep in mind that the more details you can provide, the more accurate the price quote you'll receive. If you receive a price quote that seems like it needs clarification, don't hesitate to reach out to the vendor directly to find out more.

Make sure you have discussed what supplies the vendor will need for their performance. You'll want to know what they can provide, and what you'll need to have on hand at your event.

Communicate your expectations and special requests to any prospective musicians, and make sure to ask about their repertoire — especially if you have a particular song that you would like them to perform.

If you're planning an outdoor event, be sure to discuss where the vendor will be situated for the best acoustics and conditions for them to perform.

Discuss what kind of atmosphere and mood you are hoping to set for your event. The more they know, the better they'll meet your expectations.
There are tons of benefits to booking through The Bash. Our guarantee ensures that our vendors are held to the highest standard of professionalism. All deposit and balance payments made online through our secure EventPay system are backed by a 100% money-back guarantee. You'll also have hands-on support from our Account Services team who is available to help with any event needs, including a last-minute replacement.
For more advice on hiring musical entertainment, here are helpful tips on how to book a band — and be sure to check out these 10 questions to ask before signing a vendor contract.