Everything You Need for a Disco Bachelorette Party
Breakout the bell bottoms and get groovy with these disco bachelorette party ideas.
The big question was popped and boom, now you're a maid (or matron) of honor planning a bachelorette party! Exciting times are on the horizon, but before this new chapter begins, it's time to break out the champagne and party like there's no tomorrow. You're bestie and bride-to-be will love nothing more than a fun disco bachelorette party.
It doesn't matter whether the bride is a '70s pop culture expert or a fashionista with a hankering for bell bottom pants, this disco theme is more popular than ever. Follow this guide, and your gal pals will be raving about this bachelorette party for years to come. 
Keep reading for groovy disco bachelorette party ideas…
Disco Bachelorette Party Entertainment
'70s Band
Photo: The Chiclettes
Is it even a disco party without a '70s band banging out groovy tunes? Hire a local 70's band to revive the greatest pop era, putting you and your friends in the mood for a boogie. If a band is too big, consider a singer or one man band who can perform classic disco hits.
Photo Booth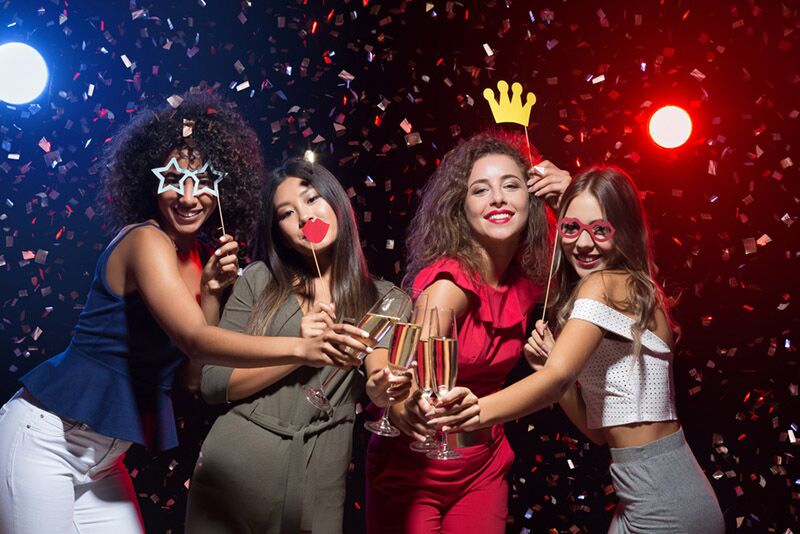 Photo: Prostock-studio/shutterstock.com
If you go to the effort of organizing an epic disco-themed party, you're going to want to show it off, let's be honest. A photo booth is perfect for capturing all your silly moments, as well as your more flattering ones (because you're all killing it in those platform boots, and you know it). 
DJ
Photo: Ground Picture/shutterstock.com
If you're going to commit to the disco theme, why not go big and hire a DJ? These professionals will be able to make a killer disco playlist that will jazz up the atmosphere. The best DJs are great for livening up bachelorette parties with entertainment, and if you get the best of the best, they might even host a few party games. 
Disco Bachelorette Party Creative Details
Disco Balls and Lights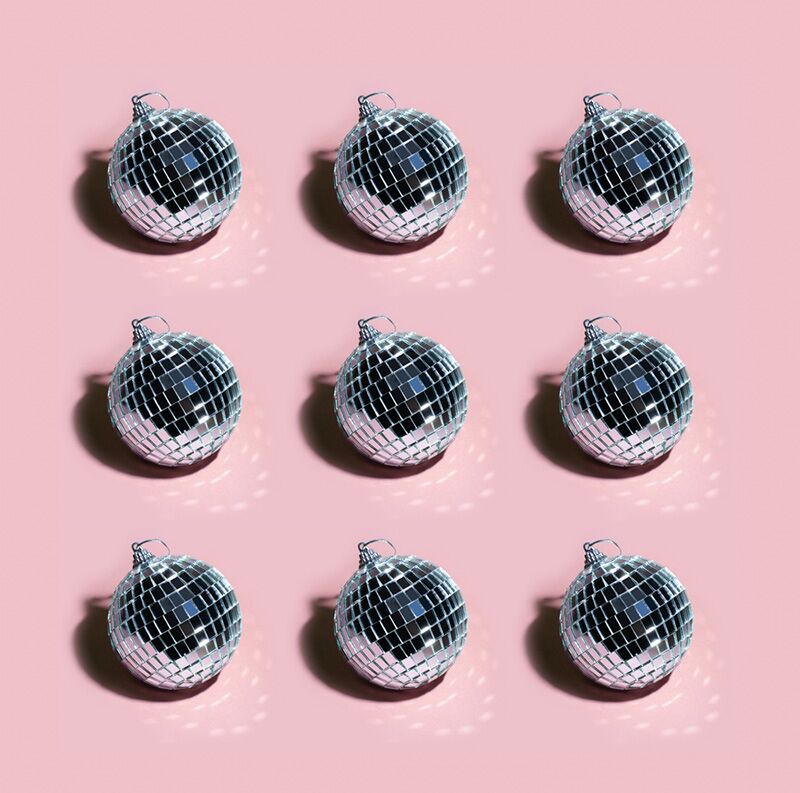 Photo: Nadezda AUDIGIE/shutterstockk.com
Have you even got your groove on if there isn't a disco ball? Hit up your local lighting and decor company to explore their party packages. A retro disco light will take you right back to your childhood, sparking nostalgic memories that will have you and your guests reminiscing in no time. You might even throw in a few traffic lights, a strobe, or a projector with a personalized message to honor your bachelorette party in style.
Hanging CDs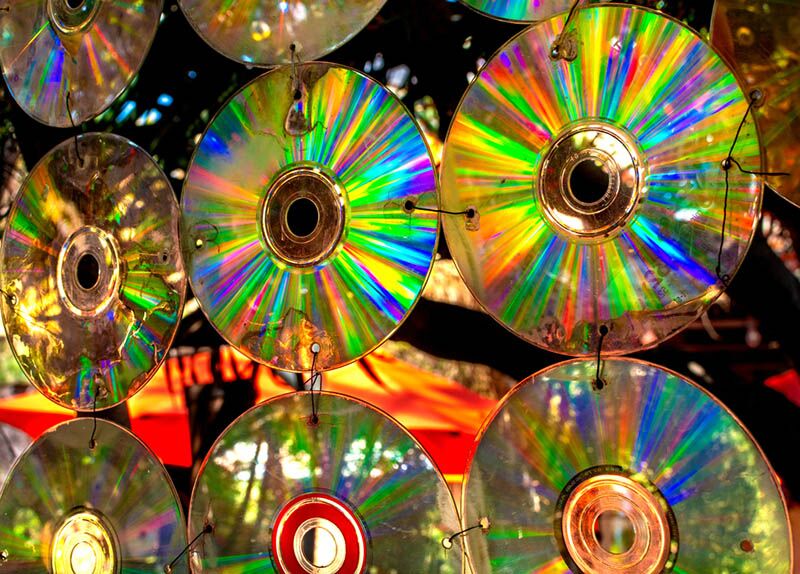 Photo: Debbie Eckert/shutterstock.com
Nothing catches the light like a good old-fashioned CD, so why not visit your childhood bedroom and dig out your personal collection? The next step is easy - string them together with ribbon or twine and suspend them from your ceiling using tape or thumbtacks. With the right light source, they will dance and dazzle in holographic splendor, putting even your disco ball to shame.
Tinsel Curtain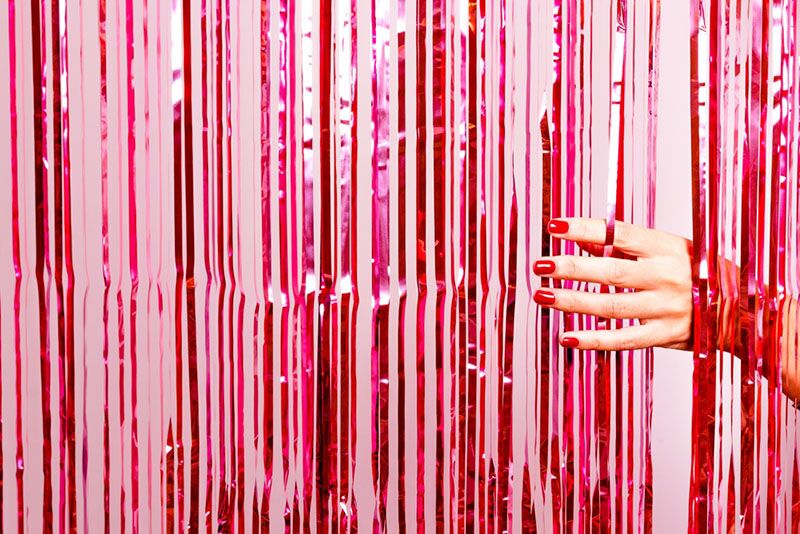 Photo: asife/shutterstock.com
Tinsel curtains are making a comeback, and these bad boys will bring just the right amount of razzle dazzle to your bachelorette party. You can purchase them easily on Etsy or Amazon, and they come in a range of colors, from silver and gold to unicorn rainbow. You can use them as room dividers or wall decor, the latter making an excellent photo backdrop.
Balloon Arch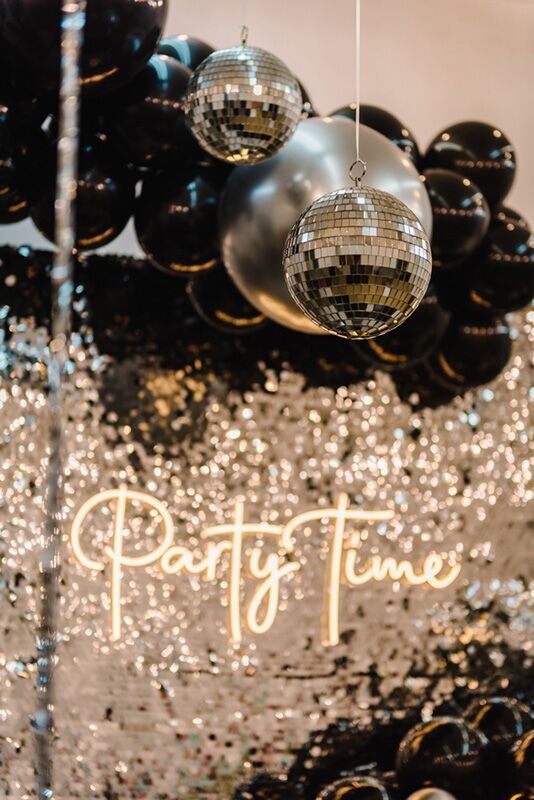 Photo: Sergii Sobolevskyi/shutterstock.com
What's a party without balloons? Choose deep, warm colors like orange and yellow with hints of cool blue to match your 70s disco vibe. You can place the arch above your food station, at your entrance, or wherever it takes your fancy. They look great in pictures and are a fantastic way to set the festive tone for this bachelorette party. 
Neon Dance Floor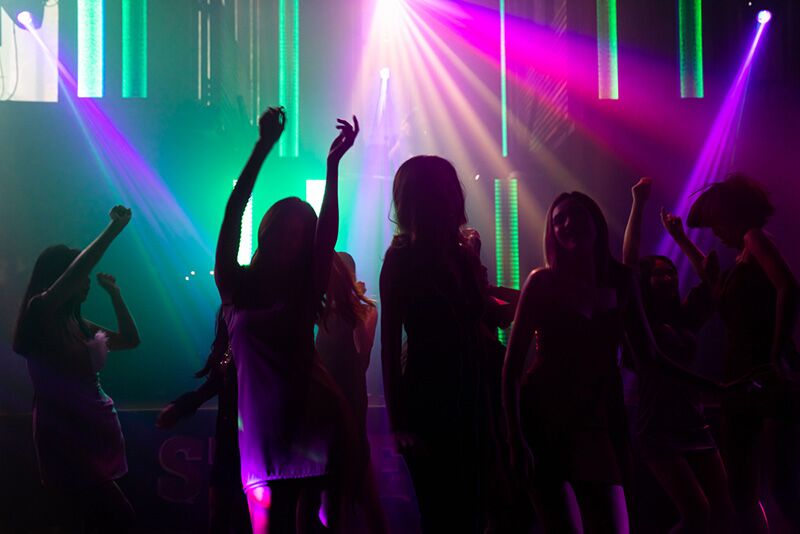 Photo: Blue Planet Studio/shutterstock.com
It's not a disco without dancing, so get yourself a neon dance floor and show your guests what you're made of. Dance floors are usually available for rent at a reasonable price from lighting and decor vendors and possibly even your local DJ. Modern versions are often installed with smart technology that allows their colors to change to the beat of your music. 
Disco Bachelorette Party Games & Activities
Trendy Disco Costumes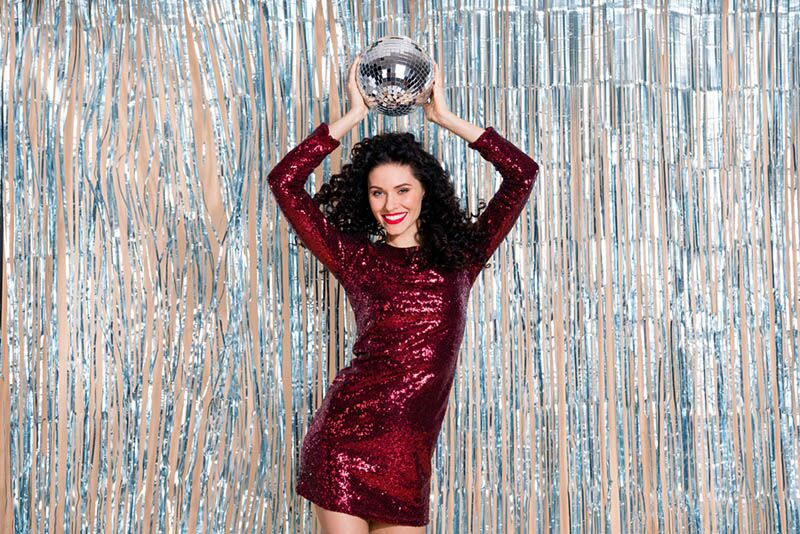 Photo: Roman Samborskyi/shutterstock.com
Costumes are arguably the most fun thing about a themed party. You don't have to look far to find a pair of bell bottoms or disco pants these days, and if you're on a budget, you never know what you will find at your local charity shop. Platforms are equally easy to find, and who knows, you might never want to take them off. 
Disco Dance-Off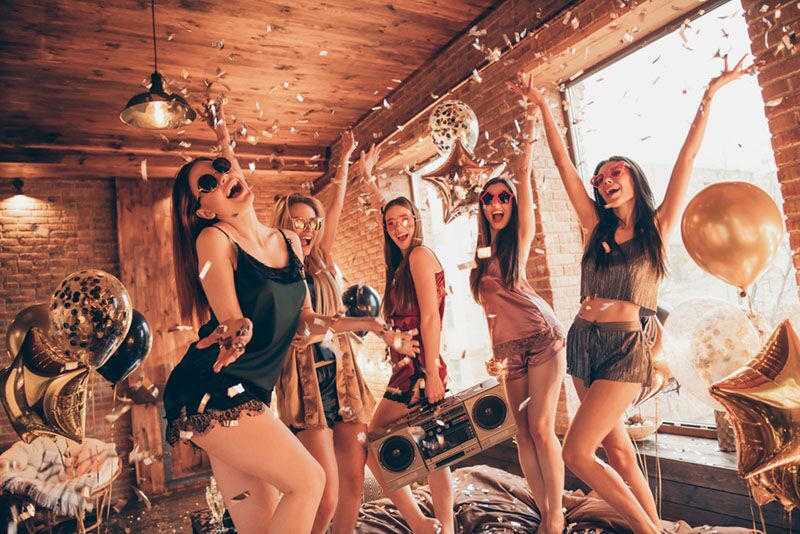 Photo: Roman Samborskyi/shutterstock.com
Show your bachelorette squad you mean business by arranging a Saturday Night Fever-style dance-off. After an evening of sugary snacks and cocktails, everyone will be ready to turn into a dancing queen. To mix it up, you could try learning a routine, like The Hustle, or The Bump, maybe even choreographing a few moves of your own.
'70s Pop Culture Trivia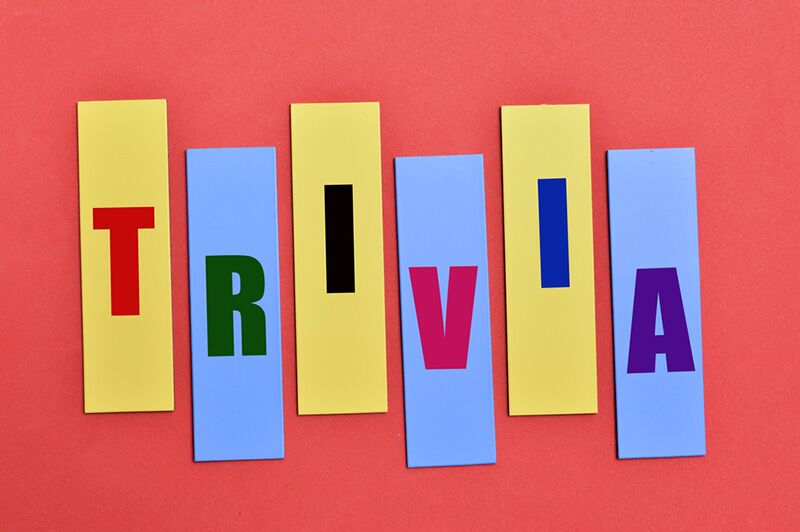 Photo: Teacher Photo/shutterstock.com
Your guests will be twirling their cocktail umbrellas trying to win the highest score on your '70s pop culture trivia. Find pre-made questions online (or come up with your own 70s music trivia), and get ready for a little friendly competition. You can even have a fun disco themed prize for the winner. 
Movie Screening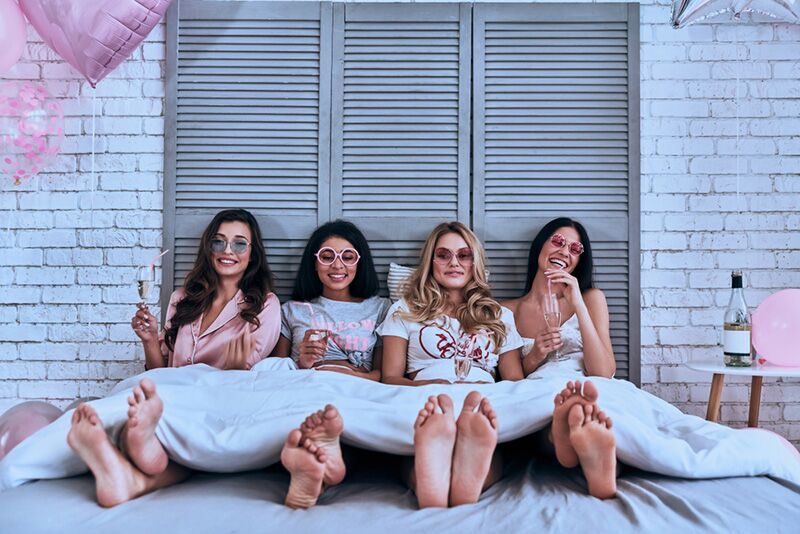 Photo: G-Stock Studio/shutterstock.com
If you're celebrating for the weekend, a movie screening night will be a nice change of pace. There is nothing like a nostalgic movie screening to facilitate a bonding experience, and with all the streaming services these days, there's nothing you won't find online. 
If you want to immerse yourself in a '70s party atmosphere, you could use a projector and watch a singalong classic like Grease or the Rocky Horror Picture Show.  
Roller Disco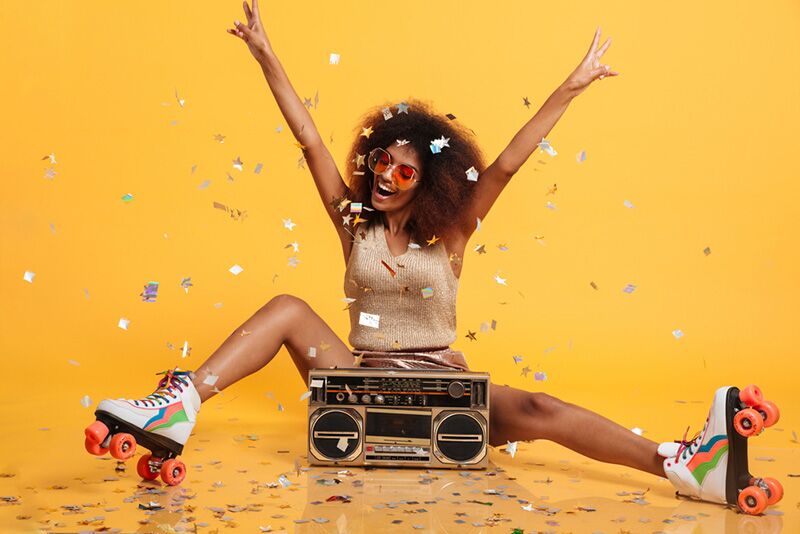 Photo: Dean Drobot/shutterstock.com
It would be remiss not to suggest lacing up your skates for a 70s roller disco. It would require a venue compatible with roller skates, so consider doing some research on local event venues, or setting up a roller rink in your backyard could potentially do the trick. You might need to grease up your knees and elbows if it's been a while, but once you're out there, your inner child will take you flying through the air.
Disco Bachelorette Party Food & Drink Ideas
Disco Bachelorette Cupcakes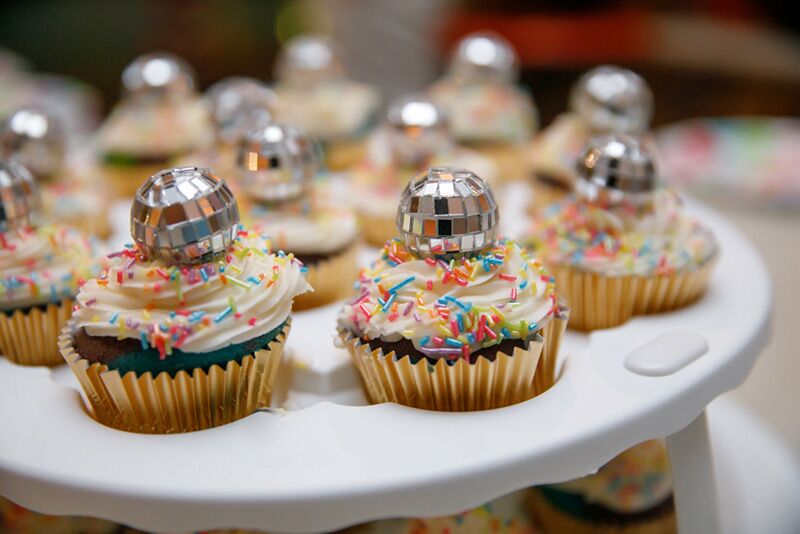 Photo: Ursula Page/shutterstock.com
Every bachelorette deserves some fun theme cupcakes to celebrate her upcoming nuptials. Picture a bright colored cupcakes, with sprinkles, and glittering mini disco balls on the top. You can act cool if you want, but we know your inner party princess is already scrolling through Pinterest. 
Sliders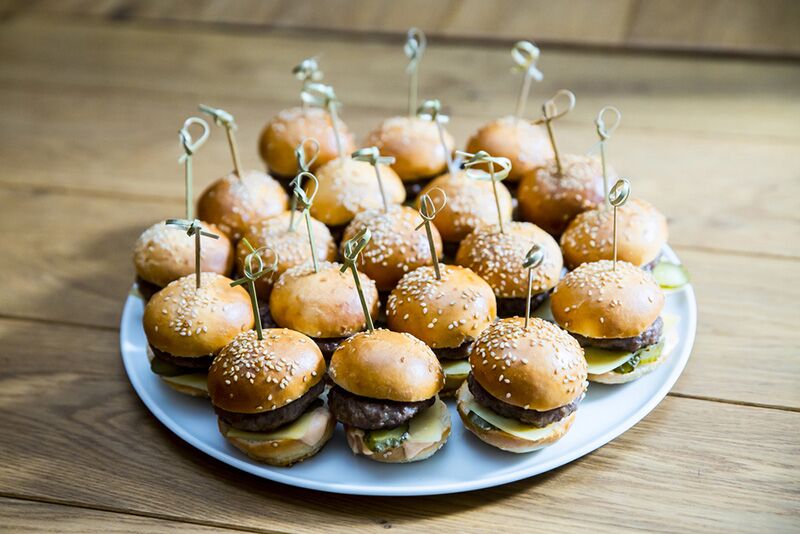 Photo: Fotosr52/shutterstock.com
Sliders are bite-sized burgers available in beef, chicken, and plant-based alternatives. Your lipstick will stay intact when you pop them into your mouth, and honestly, the only complaint you will have is how quickly they disappear from your table. 
Veggie Cups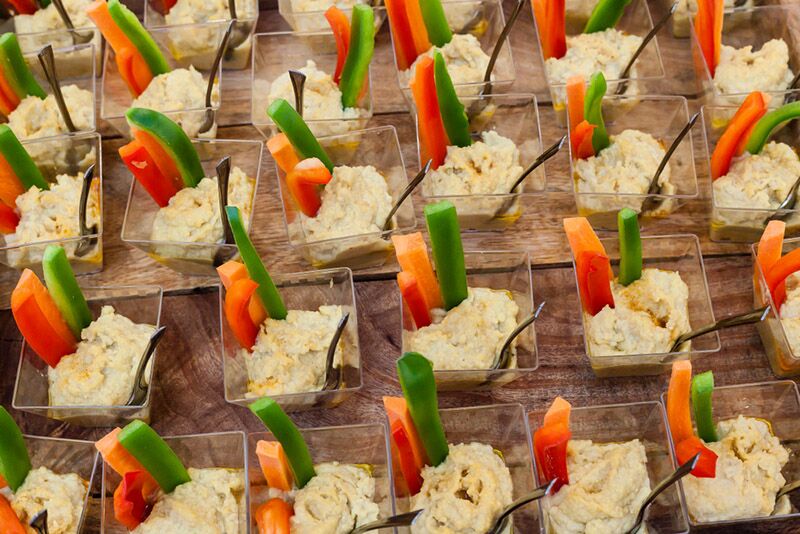 Photo: Moha El-Jaw/shutterstock.com
Just because the theme is disco doesn't mean you can't be healthy. Nothing speaks of the '70s party lifestyle more than celery and carrot sticks in transparent cups with a tasty blue cheese dip or a zesty hummus. If you want to go down a more extravagant route, you could order an entire grazing table, providing much-needed fuel to get your boogie on. 
White Russian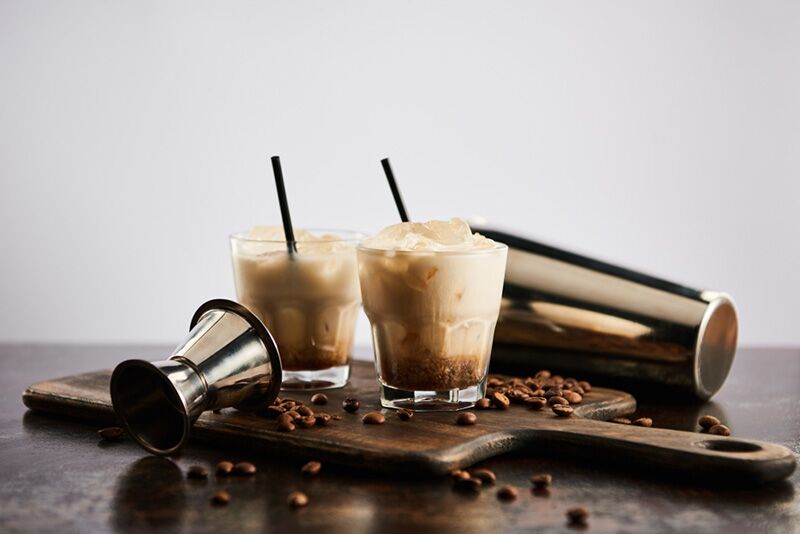 Photo: LightField Studios/shutterstock.com
If you want to really lean into that '70s disco vibe for your bachelorette party, then you've got to put White Russians on the menu. These creamy vodka concoctions were a party staple back in the day, and let us tell you, they pack a punch. Ideally served in classic tumblers, you can add straws for fun or go that extra mile, adorning them with festive umbrellas. 
Piña Colada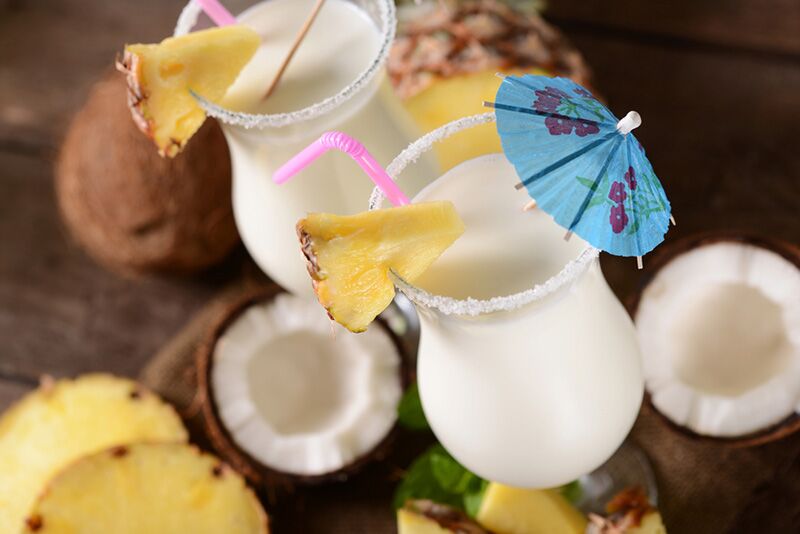 Photo: Piotr Krzeslak/shutterstock.com
The Piña Colada is an all-time favorite that features in almost every movie and music video from the '70s disco era. You can serve this rum and coconut cream cocktail in a curvacious daiquiri glass for a retro look or in a hollowed-out pineapple for an exotic holiday vibe. 
Bubbly Options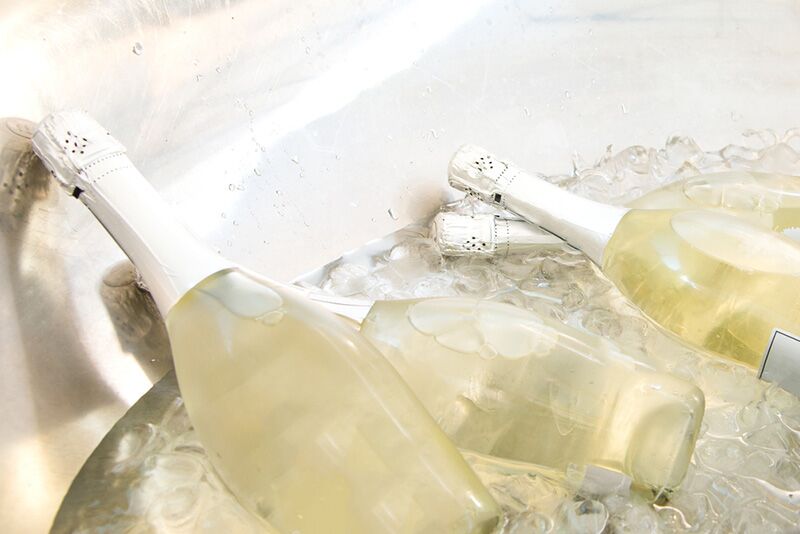 Photo: tommaso79/shutterstock.com
No wedding events (especially bachelorette parties) are complete without champagne. You can also fill a cooler with seltzers, canned cocktails and mocktails, and let you guests choose which type of bubbly they'd like to cheers with.
Pro Tip: Not sure what type of cocktails or mocktails to make? Hire a local bartender to craft custom drinks and even create a theme drink that represents the bride.
Candy Bar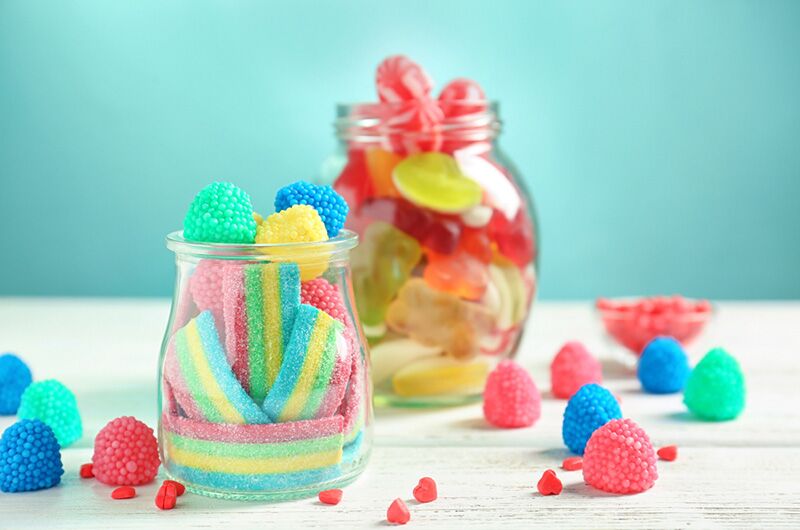 Photo: Africa Studio/shutterstock.com
What's a party without snacks, and what snack screams disco more than zingy candy that glows in the dark? You can get crafty and make your own display table with everything from jelly beans to sour worms, and a variety of different lolli pops for old times' sake. 
Find more bachelorette party ideas here on The Bash.