Super Bowl Party 2023: A Step-By-Step Guide
Getting ready for this upcoming Super Bowl? Same! Check out this guide to help you plan.
Brittany Barber
Contributor
Believe it or not — February is right around the corner, along with NFL's Super Bowl 57! You know what that means? It's time to start planning a killer 2023 Super Bowl party.
If you've been waiting all year for the Super Bowl, it's time to plan your big celebration! Even if you don't have Super Bowl tickets, we guarantee that you can still have a blast! From setting up your space to food and drinks ideas to entertainment, we've prepared a step-by-step guide on how to plan a super fun Super Bowl party.
READ MORE: 
Here's how to throw a stellar Super Bowl party on February 12, 2023: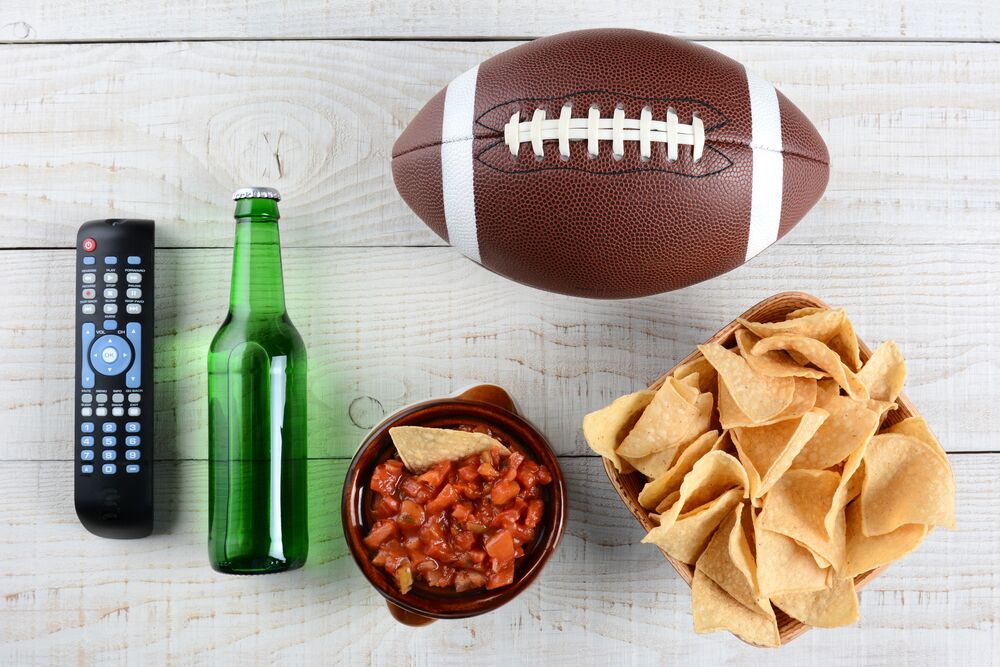 Photo: Steve Cukrov/Shutterstock.com
Send Invitations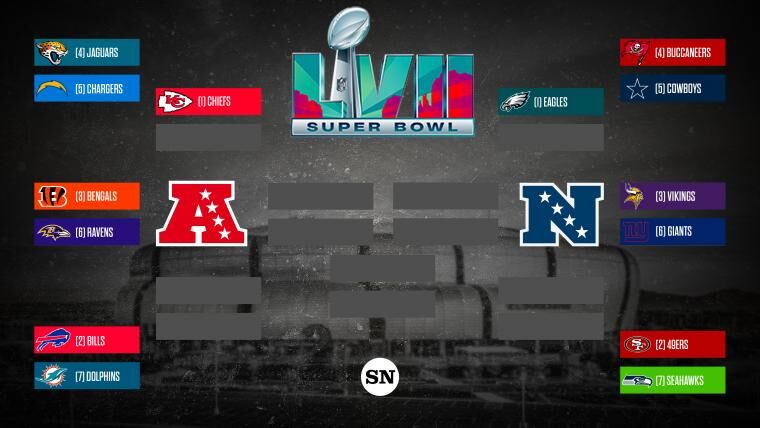 Photo: Sporting News
Once you've figured out your guest list, it's time to send invitations! Now, don't be afraid of channelling some uber cheesy energy here — in fact, we encourage you to go over the top. This is the football game of all football games here! DIY football inspired paper invitations? Ridiculous football-themed e-cards? A flippin' singing telegram letting your pals know they're invited? Why! Not! Also include this 2023 NFL Playoff bracket for your guests to predict the winner.
Pro tip: Make sure to ask your guests to RSVP. Knowing an exact number can help you properly prepare.
What time is Super Bowl LVII kickoff?
Super Bowl LVII will be played at State Farm Stadium in Glendale, Arizona on Sunday, February 12, 2023. Pregame coverage will start at 2 pm ET and kickoff is scheduled for 6:30 pm ET. 
How to watch Super Bowl LVII
Super Bowl LVII will be broadcast on TV on Fox in 2023. For a virtual Super Bowl party, the Zoom host can stream and screen share the game or your guests may prefer to watch on their platform of choice and use the video calling app to chat and cheer together.
Party Snacks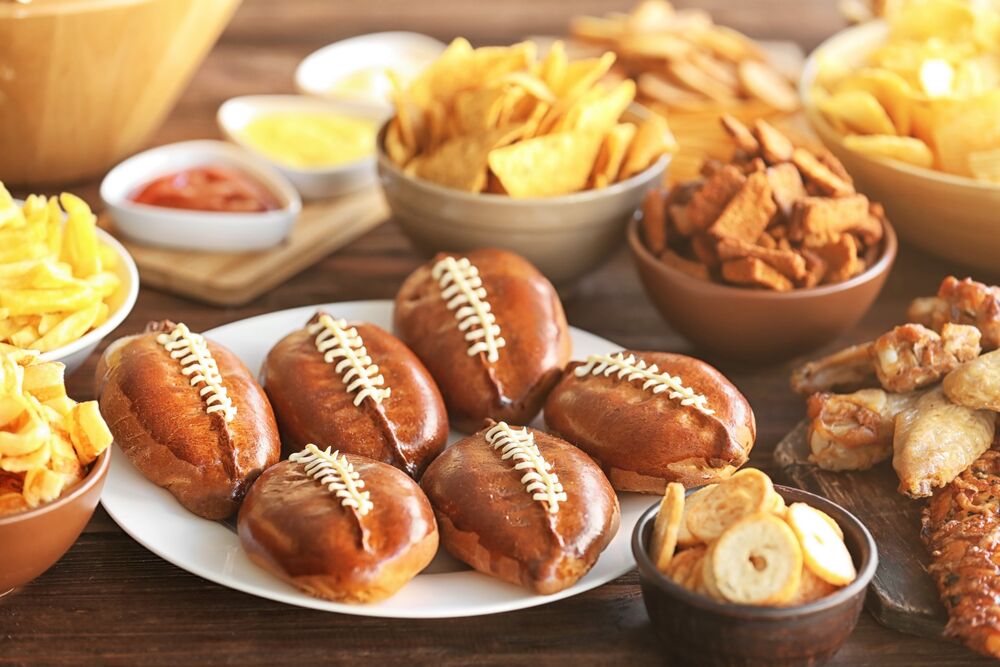 Photo: Africa Studio/Shutterstock.com
Along with the usual chips and dip, get a few football-inspired snacks onto the table too! Take a look at these football-shaped oreo treats, or this football rice crispy recipe for inspiration. 
In terms of social distancing, you'll want to skip any big sharing platters and opt for individual servings instead. Making a few dishes and plating them ahead of time will help to avoid any unnecessary food handling and cross-contamination. 
If you need help organizing and handling all the food, consider ordering from a local restaurant or caterer instead. Doing so will help manage individual servings, as well as support local businesses.
Party Drinks
If there's one thing you'll want to have plenty of on game day, it's beer. Easy-to-drink lagers seem to be the go-to for football watching, but feel free to stock up with an assortment. Don't forget to get some non-alcoholic beverages you can offer to guests who are underage, pregnant, or simply not drinking alcohol these days.
If you plan on doing cocktails (like Bloody Marys, for example) — make sure you're not playing bartender the entire time. Consider prebatching and storing the mix in pitchers, or hire a bartender to make sure your drinks are handled professionally. 
Decorate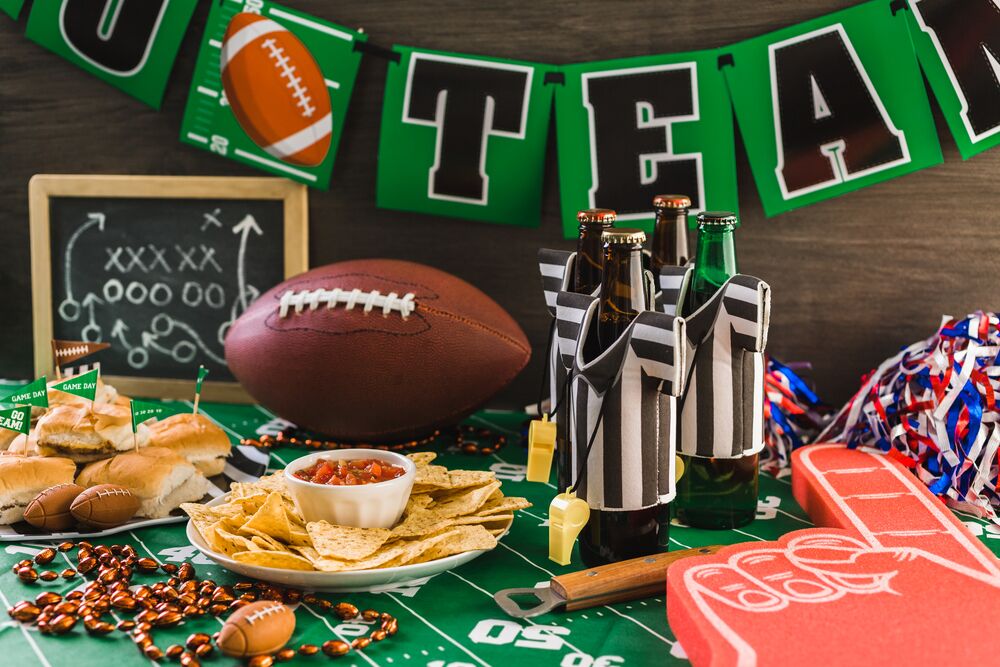 Photo: Arina P Habich/Shutterstock.com
Get your Super Bowl party space ready by hanging banners, streamers, and busting out the foam fingers! You can find awesome "Super Bowl Sunday" banners, decorative appetizer toppers, and other hilarious Super Bowl-themed decor on Etsy. If you don't already have a pair of pom-poms, try making your own with this DIY pom pom tutorial.
 Seating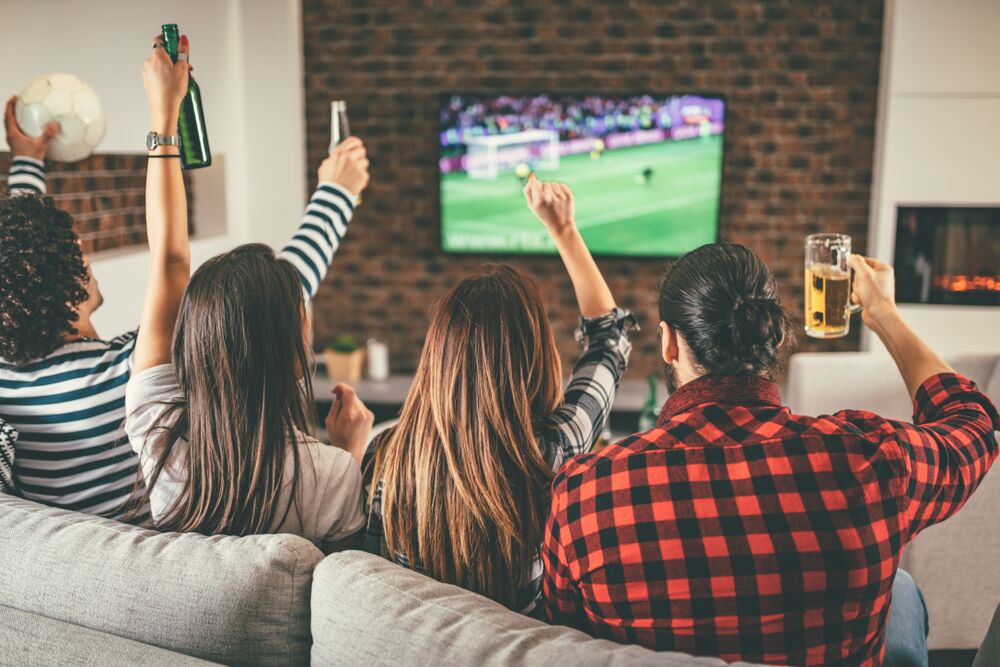 Photo: MilanMarkovic78/Shutterstock.com
Once your guests have RSVPed, make sure you have enough seating to accommodate everyone around the television. We recommend using whatever you have, even if that means bringing the patio furniture inside (or indoor furniture outside, if you're hosting in the backyard). If you're worried you won't have enough, consider renting a set or asking your guests to bring some portable, collapsable chairs! 
Plan for Entertainment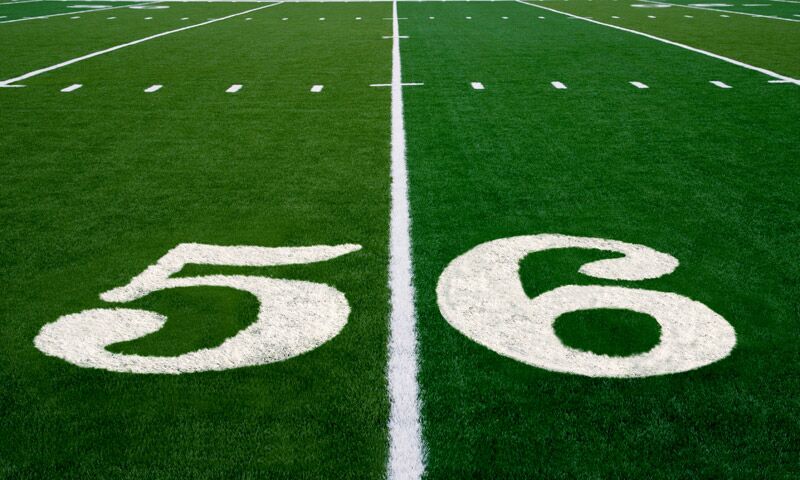 Photo: Saje/Shutterstock.com
Even though the big game (ahem, and the Super Bowl halftime show) are the main source of entertainment, it's never a bad idea to plan for a little extra fun. If the weather behaves, games like Cornhole or Bocce Ball are great options for people to play before the game actually starts. 
Consider even hiring some entertainment, like a caricaturist to draw portraits that your guests can take home. If kids will be present, a balloon twister, magician, or even a costumed character are great options too. Check! Them! Out!
Get Outside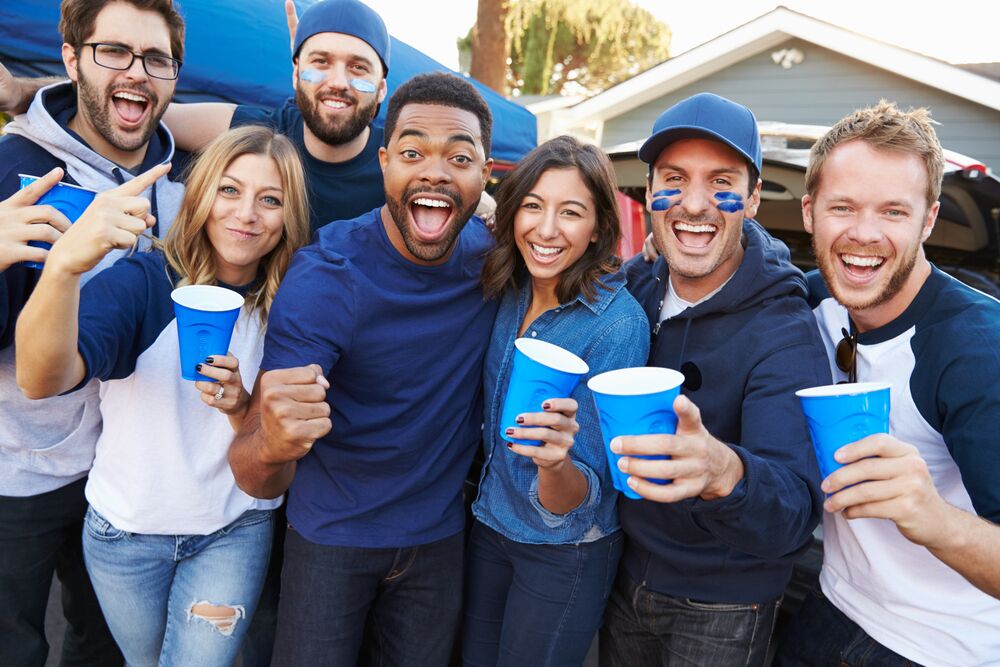 Photo: Monkey Business Images/Shutterstock.com
If the weather is temperate where you live in February, a great way to host your Super Bowl party is to have it outside. You can even watch the game outdoors if you have space and a projector. Check out our advice on how to host a party outdoors if you're interested in an in-depth guide. 
Take Photos
Don't forget to commemorate the big day with lots of photos! Whether that means pulling out your phones for selfies, hiring a photographer to snap some shots of the whole event, or even renting out a photo booth — make sure you get some good ones. 
Make it Virtual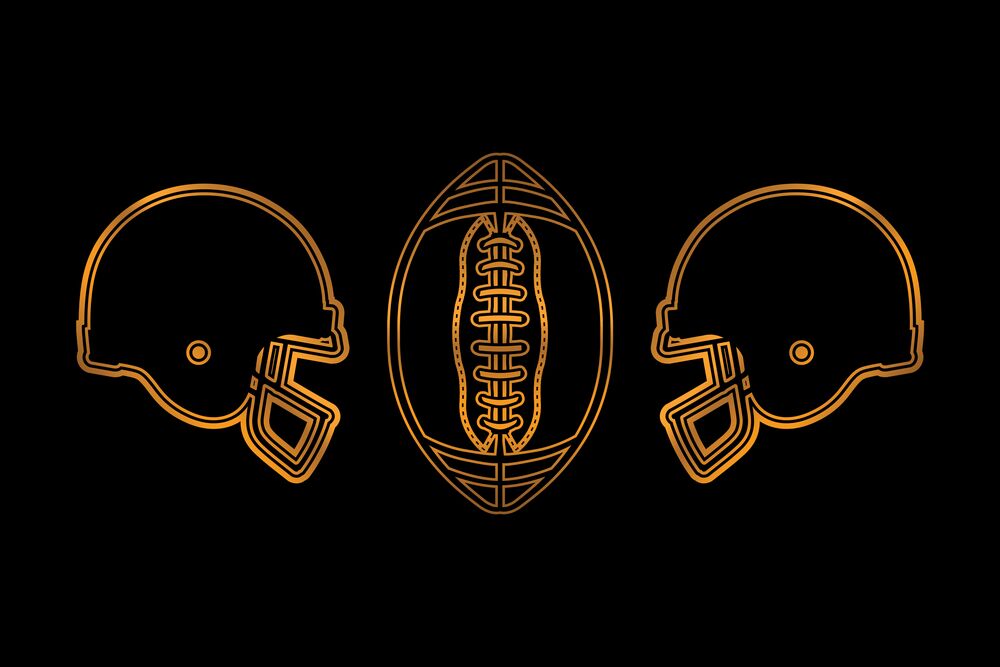 Photo: Enterlinedesign/Shutterstock.com
If you have football fan friends scattered across the country and abroad, you may want to throw your Super Bowl party on Zoom, Google Hangouts, or whichever online platform you prefer. This is also a great option if the COVID-19 situation in your area is not conducive to social gatherings. You can still watch the game, enjoy a few drinks, eat plenty of snacks, and have lots of fun with virtual entertainment (like a virtual caricaturist or magician). We have tons of tips on how to throw a virtual event —  if you're interested, go and check them out! 
Bonus: We've got 23 Super Bowl Zoom Backgrounds for 2023 for you and your guests to decorate digitally.
Find more Super Bowl party ideas and inspiration on The Bash!
About Brittany Barber
Brittany Barber, lover of books, dogs, and romance, graduated from Bishop's University with a Communications and Theatre degree. After spending some time working abroad in the theatre world, she is now a freelance writer covering a range of lifestyle topics including event planning for The Bash, WeddingWire, 2life and Fluttr, and shopping for BuzzFeed and Narcity.