How to Host a Virtual Party: a Step by Step Guide
Celebrate together! Virtual parties are more popular than ever.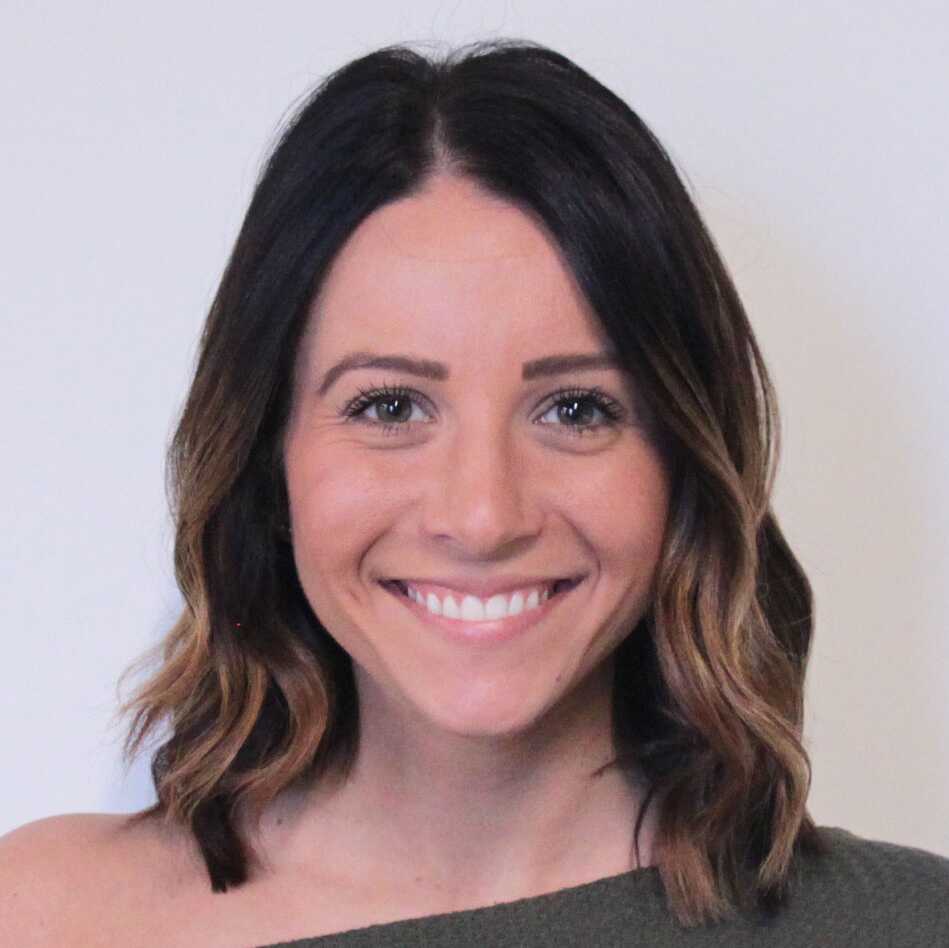 Maintain relationships and have fun with friends and family members by planning and hosting a virtual party while social distancing during COVID-19.
Not sure where to start? From picking a video call platform to sharing on social media, here are all the essential steps for hosting a party online to stay connected with loved ones near and far.
Here's how to host a virtual party step by step.
1. Pick a Video Call Platform
Whether you're planning a virtual happy hour or hosting an online dinner party, your virtual event requires the appropriate video chat app. Zoom, Google Hangout, Houseparty and FaceTime are some of the most familiar (and free!) group chat platforms. Hosting a Zoom party has become the most popular choice for large groups because of the app's features and ease of access for participants from desktop and mobile devices.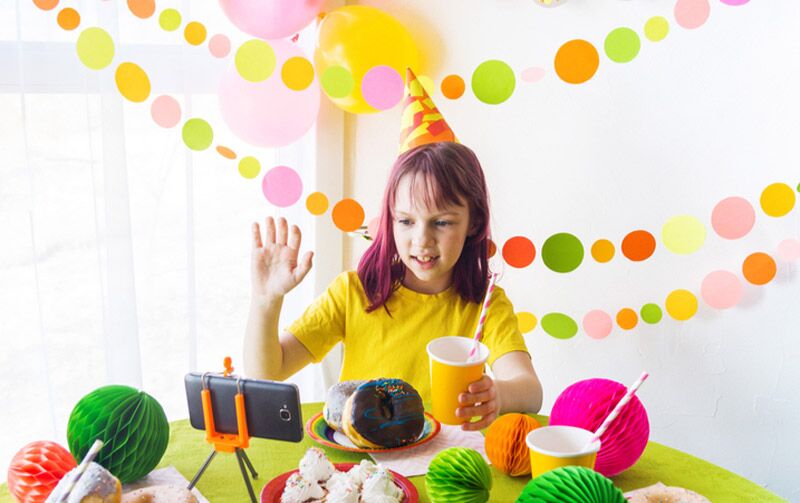 Photo by Kolpakova Daria/Shutterstock.com
2. Choose a Theme
Is this a virtual birthday party or another milestone event like a baby shower? Whatever the occasion, choose a party theme and order party decorations to spruce up your space. After all, guests will see these fun details on-screen.
Require a themed dress code and suggest guests upload one of these Zoom backgrounds to put everyone in a party mood. Check out these creative theme ideas and online party tips for inspiration:
3. Send Digital Invites
Make it official with online party invitations! Sites like Evite and Paperless Post have various invitations designed for every type of virtual party. Choose the best fit for your event and customize it with the necessary event details (like the menu and dress code details). Include the specifics of how to join virtually, whether that's via Zoom, Google Hangouts, or FaceTime.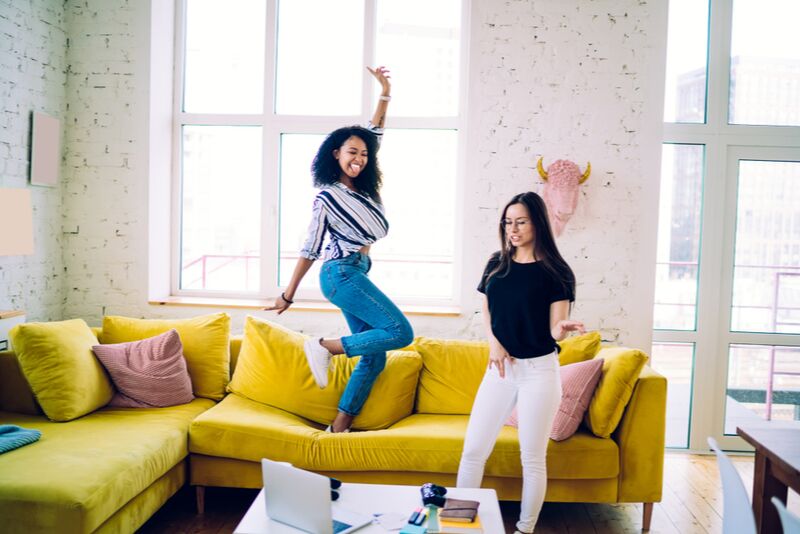 Photo by GaudiLab/Shutterstock.com
4. Plan an Activity
With every party, games and activities are always key, and that's no different for a virtual party! We've found a couple of interactive options that will be a perfect fit for kids and adults alike.
Virtual Party Ideas
A virtual cocktail party, talent show, karaoke or game night with friends are just a few of the noteworthy ways to keep guests engaged and entertained. Check out these 35 Virtual Party Ideas for even more inspiration.
Virtual Entertainment
Here's a novel idea! Hire a talented entertainer to put on a virtual show. An Elvis impersonator, fortune teller, or even a virtual singing telegram to sing happy birthday are all available these days. Browse a full list of vendors offering virtual services here.
Virtual Party Games
Xbox Live and Nintendo Online are great if all the guests pay for subscriptions, but there are also free online multiplayer game options. Virtual Uno, Pogo and Monopoly allow party-goers to play board games together virtually. 
The Houseparty app offers free games for a small group of up to eight people to play. Virtual games include Chips and Guac (word association), Heads Up! (charades), plus, trivia and quick draw (similar to Pictionary).
Virtual Dance Party
Adults and kids love to dance, so this activity is sure to be a big hit. Prior to the party, invite the kids to take a Disney dance tutorial and perform their favorite dance (also fun for any Disney-loving adults!). Adults can turn to YouTube for dance tutorials on everything from line dancing to the latest TikTok dances. Or, put the formalities aside and simply put on this virtual dance party playlist and bust some moves together.
Netflix Party
This feels just like having a birthday party at the movie theater! Guests will need a Netflix subscription and a Google Chrome extension—add some popcorn and candy, and you're ready to go!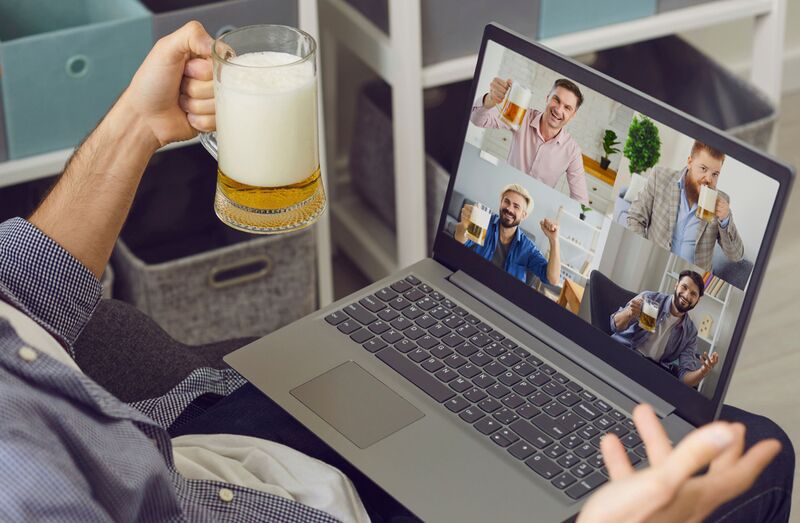 Photo by Studio Romantic/Shutterstock.com
5. Order Food and Drink
Since it is a special occasion, you can utilize curbside pick-up or delivery options from your favorite local restaurant, brewery, liquor store or caterer. Encourage party guests to do the same—this way you can all enjoy the same party drinks and food together.
Hosting a birthday party? Be sure to reach out to your favorite bakery and have the necessary birthday cake (or cupcakes!) on-hand for the guest of honor.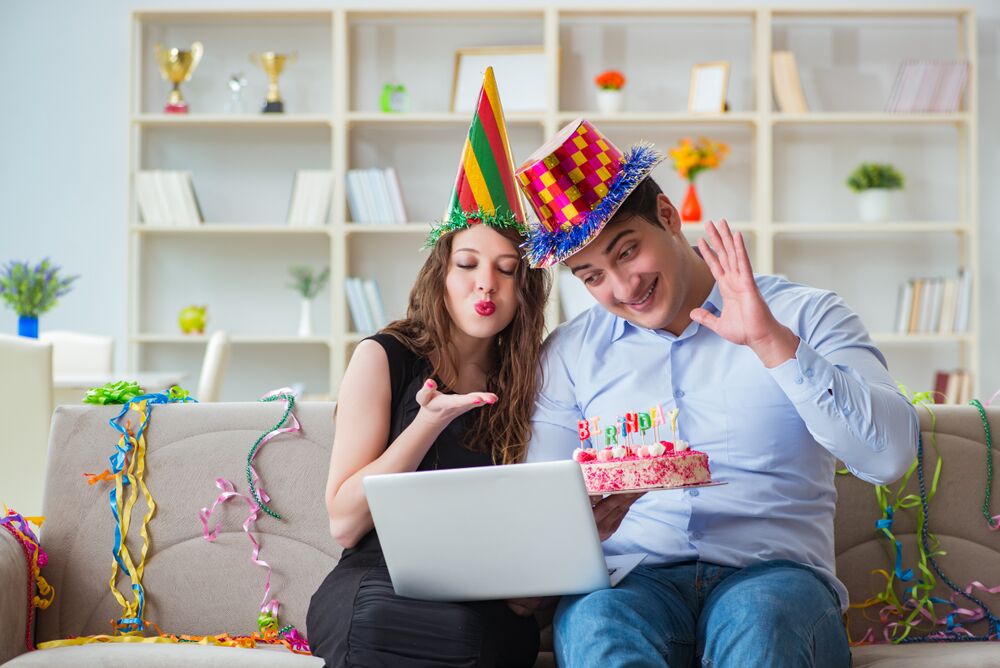 Photo by Elnur/Shutterstock.com
6. Do a Technical Check
For a successful event, you're going to want to test out your online activities, devices, WIFI and video chat app. Here are 5 Technical Checks for Hosting a Virtual Party.
7. Share on Social
Spread the love and share the experience! Inspire others to still celebrate their special moments together and host virtual parties.
During the Party
Facebook or Instagram Live are perfect mediums to share a behind the scenes look at your virtual party. Create a #hashtag and encourage your guests to share too!
After the Party
Use a Facebook Photo Album or Carousel Instagram Post to share pictures of each virtual party detail (theme decor, activities, food and drinks). Don't forget to include various screenshots of virtual party guests engaging in the fun.
Find more virtual party planning tips from The Bash here.