How to Plan a Virtual Prom in 2020
Has your prom sadly been cancelled due to COVID-19? Here's how to plan a virtual prom to make up for it!
Alice Prendergast
Contributor
Prom is a major milestone event that nobody wants to miss out on. Sadly, due to the spread of the COVID-19 coronavirus, you may be stuck social distancing instead of slow dancing. But don't stress! All is not lost if your prom is cancelled! You can still throw an epic virtual prom in 2020, it'll just be online instead of at a ballroom or banquet hall. From decorating your space to getting all your classmates in on the action, we've rounded up a few tips on how to create a fun and awesome celebration without even leaving the comfort (and safety) of your own home. That's right, prom is on!
Here's how to plan a virtual prom in 2020.
Pick a platform and invite everyone
First thing's first: the prom committee or your friend group (if your planning a small event) should choose a video chat app to livestream your virtual prom and send out the invites including date and time to join (ideally this will be the originally scheduled prom date). For a large scale event, Zoom is probably the best platform as it can accommodate up to 1000 participants and has programs for educational institutions that the prom committee may be able to tap into through your school. Pro tip: we've put together these technical tips to help you make sure your equipment is ready.
Stick to your prom theme
There's a good chance you and your classmates voted on a theme for your prom. If that's the case, don't give it up if your prom is cancelled! You can totally follow through with it for your virtual prom. If you haven't decided on a prom theme just yet, create an online poll and ask everyone who will be attending your online soiree to pick their favorite. Pro tip: though more complex themes, like, say, "under the sea", may be tempting, you may want to stick to something simpler so that everyone can easily makeover their spaces to fit the bill.
Plan a virtual prom itinerary
If you are prom committee members planning a virtual event for your entire class, your virtual prom 2020 is going to need a little structure. We recommend approaching it like a school assembly—assign 2 to 5-minute entertainment slots and invite classmates to submit a video for a segment. Think Glee meets TikTok meets American Idol. Try to include as many clubs, sports teams, and talent as possible to represent your class of 2020. These segments can be produced and submitted ahead of time so you can plan everything out in advance. We suggest alternating these performance segments with full out dance sessions including real-time prom selfies to keep everyone engaged and participating. Attendees will want to have two devices on hand—one for live streaming the event and one for socializing with your friend group.
Hire some professionals
To keep a larger scale virtual party running smoothly, you're going to want an MC. This person will need to have good technical skills and resources to virtually host the event, as well as, the ability to keep the festivities rolling along and some backup material for any hiccups that may occur as the event unfolds. While one of your classmates or a teacher could do the job, if you have the budget, you should seriously consider hiring a professional emcee—ideally one with experience in hosting large-scale virtual events, along with a DJ for a quality virtual prom dance experience. You can also browse this list of over 2,000 vendors offering virtual services from The Bash.
Make a playlist
Your prom deserves an epic soundtrack! Create a collaborative playlist with your classmates on a music app (like Spotify) where everyone can add their favorite songs. Because it'll stay on the app, you'll be able to revisit it long after your prom night has drawn to a close. If you hire an MC and/or DJ, this will give them plenty of material to work from.
Decorate your space
If you're attending a virtual prom, give your home a little makeover. You don't have to go overboard and decorate every room of your house, just work on the space that you'll be having your virtual prom in, be that your bedroom, basement, or living room. You can order decorations that fit your prom theme off Amazon or party sites, or, If you feel like flexing those creative muscles, you can DIY your own with stuff from around your house. You can even stick with the virtual theme and make a digital backdrop using Canva's virtual backgrounds (it has a Zoom specific version)—no house cleaning or decorating required!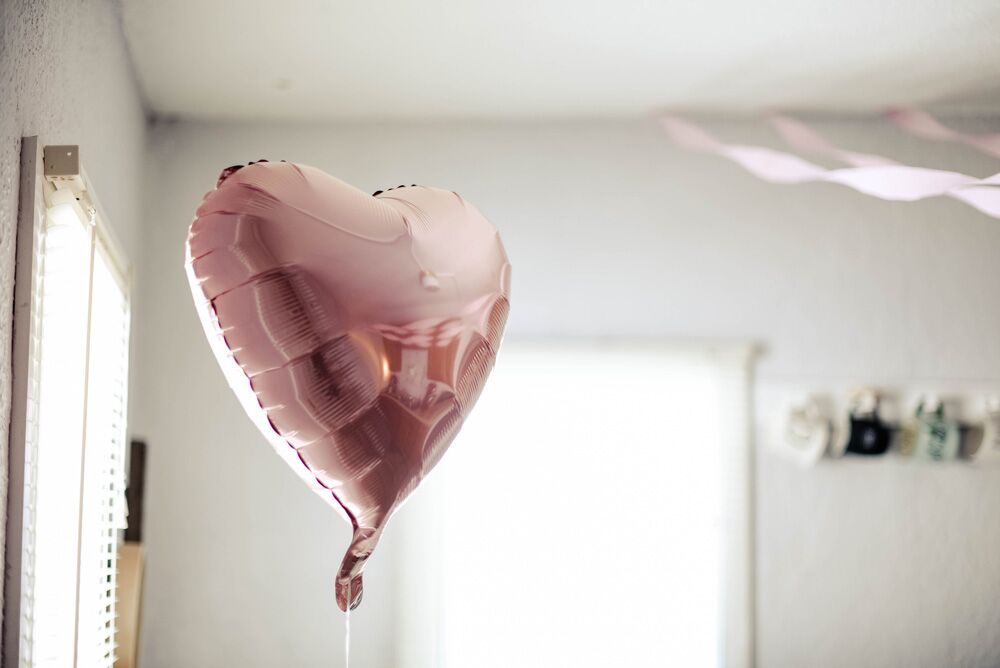 Get dressed up
So, you already got your getup before prom was cancelled and quarantine began? Congratulations, you've got your outfit for the big event covered! If not, you can dig through your closet and create a look with stuff you already own or you can do a bit of retail therapy and buy your dress or tux online. Remember, if you are online shopping, take your measurements, the last thing you want is to purchase a pricey ballgown or suit only to find out it doesn't fit.
Make a hair and makeup appointment at home
OK, you probably planned to get your hair and makeup professionally done for prom, but you can't exactly have a glam squad come to your house while you're social distancing. Instead, spend some time on YouTube surfing through beauty guru channels to see what looks they have on offer (it's seriously a treasure trove of easy hair and makeup looks for every style). If you're not particularly blessed at hair or makeup, you may be able to recruit your parent or sibling do it for you (you may have to tip them in chores, though).
Plan a pre-prom getting ready party
Getting dressed up for prom is one of the highlights of the day, so make it a group video chat with your best buds. Sync up a playlist and get busy getting gussied up. This could involve some virtual activities like having an updo and makeup tutorial by the beauty queen in your crew, taking turns lip-syncing to a song or making a DIY glambot video for TikTok (inspired by the red carpet at the 2020 Grammys).
Order flowers
Now let's talk flowers! Some florists are still taking online orders, so go ahead and get a boutonniere or corsage and bouquet delivered to your date's house to mark the occasion. Remember to coordinate with them so that the two of you match during your virtual prom!
Dance it out
What's a prom without dancing? While you won't be able to slow dance with your date, you may be able to rope one of your family members into dancing with you on your virtual prom night. If not, you can totally dance it out alone. There's no shame in shimmying and shaking around your bedroom while you virtual chat with all your besties. Pro tip: See if you can all learn the same routine (TikTok has a million) so you can all dance together at some point in the night! It's bound to make you feel more connected as a group.
Create an epic meal (or order in)
Almost every prom has a dinner portion, but here's the cold hard truth: the meals aren't always great. Luckily, since you're dining at home, you can make your prom dining experience everything you want it to be. If you're a low-key chef, go ahead and make your own dinner, or if you're obsessed with one of your local restaurants, order a meal from there. This is a special occasion, so you deserve a fancy dinner for one! Pro tip: time dinner so that everyone eats together - it'll be like one giant mukbang (you've probably seen those on YouTube).
Document it
If your prom committee goes the professional route, you can ask the event planner to record the entire Zoom party to share with the class as a keepsake. If you're an attendee, you'll want to remember every detail of your prom, so take pictures, video, and screenshots of your entire prom experience. Afterward, put together a digital album with your materials and request photos from your friends too. It may seem silly since you're at home, but trust us, you'll want those memories later in life!
Bonus: You can celebrate graduation while social distancing too! Here are 8 ways to celebrate while social distancing.
Find virtual services and entertainers in the United States and Canada on The Bash now.