Everything You Need for an 80s Theme Party
These 80s party ideas are totally rad!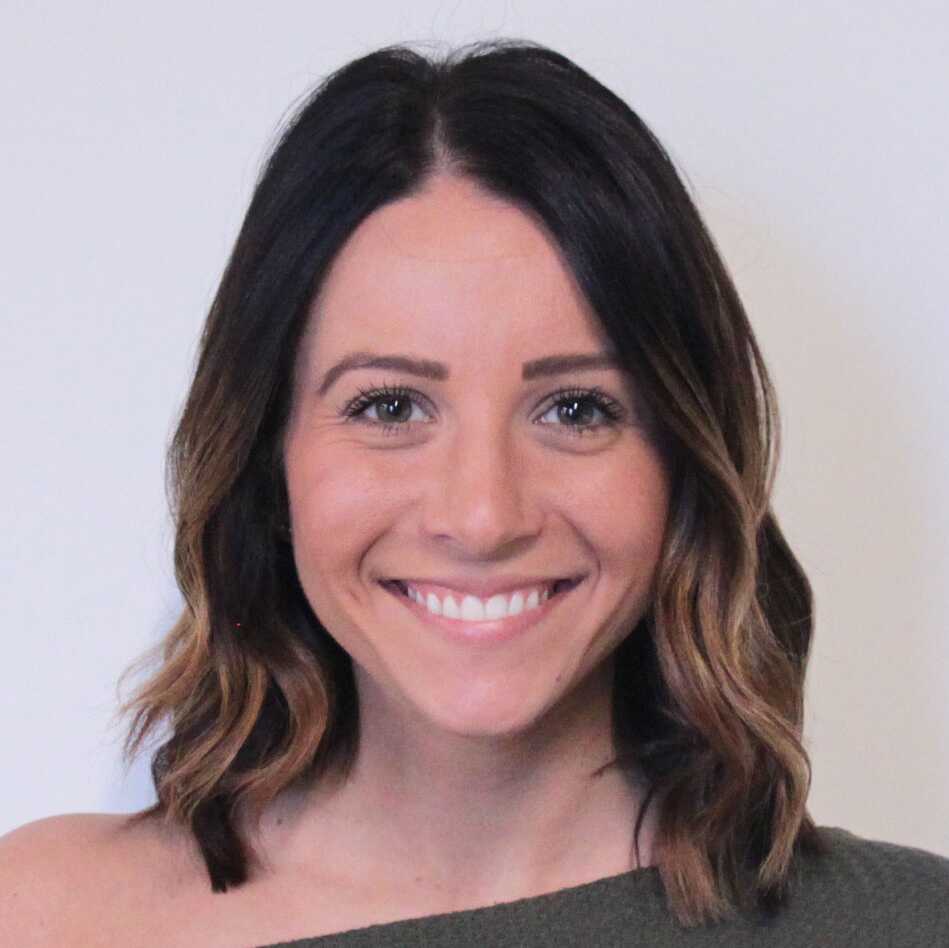 When it comes to an 80s theme party, fun and vibrant elements are the key to bring this nostalgic vibe to life.  An 80s themed party is perfect for milestone birthdays, bachelorette parties, or just a good old celebration with friends and family. 
From music to outfits, and everything in between, these 80s party ideas are sure to help you plan an event your guests will never forget. Everyone loves a good theme party and you can't go wrong with tribute to an iconic decade.
Here's everything you need to throw an epic 80s theme party:
Invitations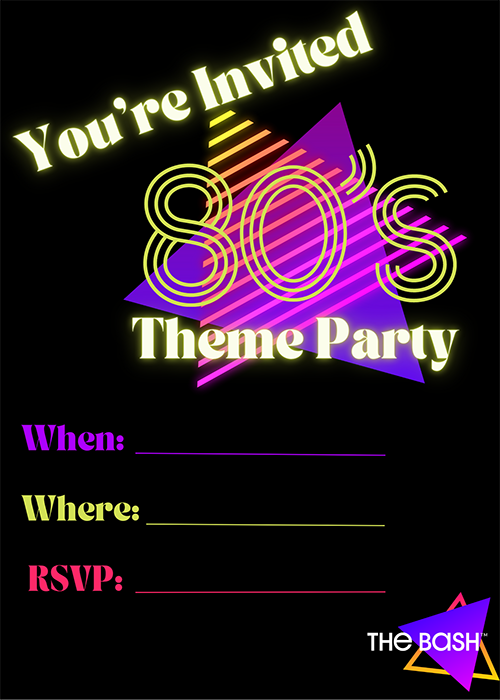 80s themed party invitations can be so fun to create. You can use neon colors, geometric patterns, iconic 80s imagery like cassette tapes or Rubik's cubes, and references to popular movies and tv shows. This can easily be done with a site like Canva, and can be printed and mailed out —there would be no evites in the 80s!
Music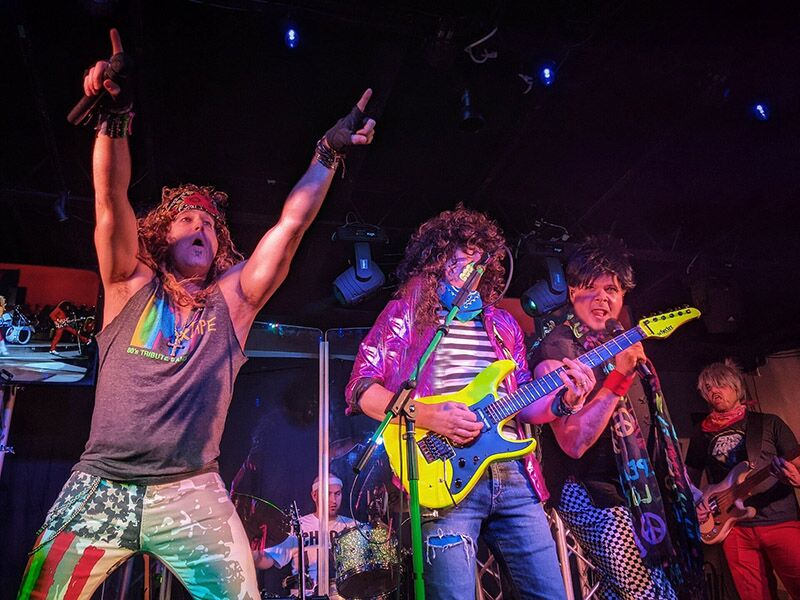 Photo: Mixtape
Create a playlist of popular 80s songs from various genres like pop, rock, new wave, and hair metal. Include hits from artists such as Michael Jackson, Madonna, Prince, Queen, Bon Jovi, and Cyndi Lauper. You can also hire a DJ to handle the music or book an 80s cover band to rock out to all the popular hits.
Pro Tip: Here is an 80s party playlist set and ready to stream on Spotify.
Photo Booth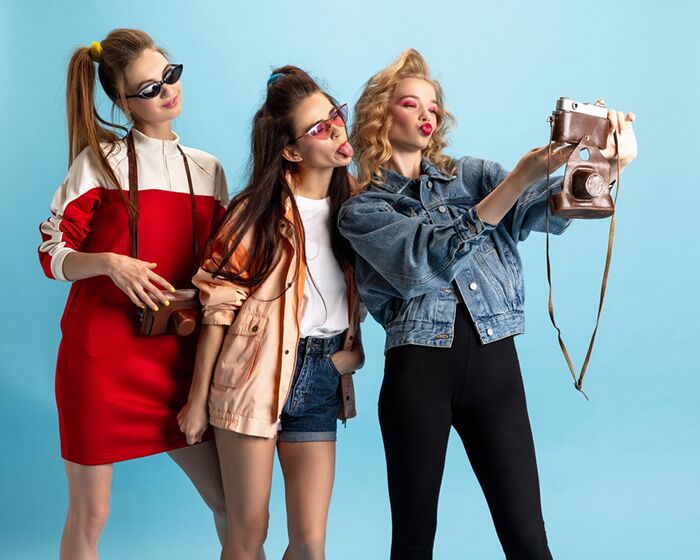 Photo: Master1305/shutterstock.com
For an 80s themed party, it's easy to create yourn a DIY photo booth area with props like oversized sunglasses, wigs, and inflatable guitars. Use a backdrop that resembles an '80s neon cityscape for that extra retro touch. You can also book a photo booth vendor to handle the set up and props!
Karaoke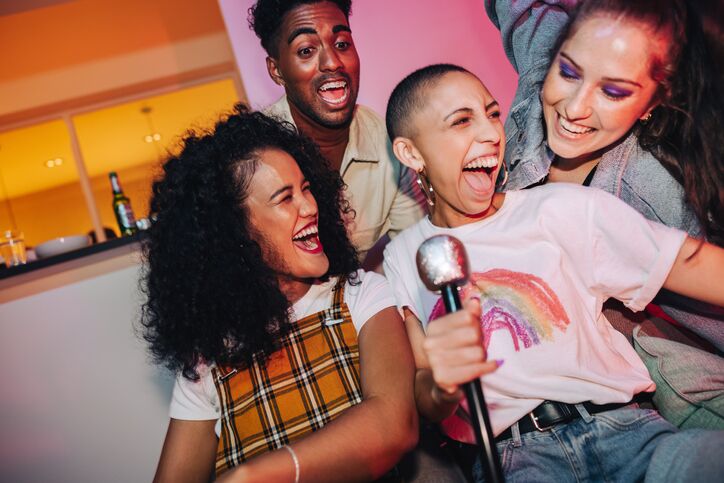 Photo: jacoblund/Getty Images
Set up a karaoke machine or hire a karaoke DJ that offers a selection of 80s songs. Party guests will love to sing their hearts out to hits like Don't Stop Believin', Hit Me With Your Best Shot, and I Wanna Dance With Somebody.
80s Themed Party Outfits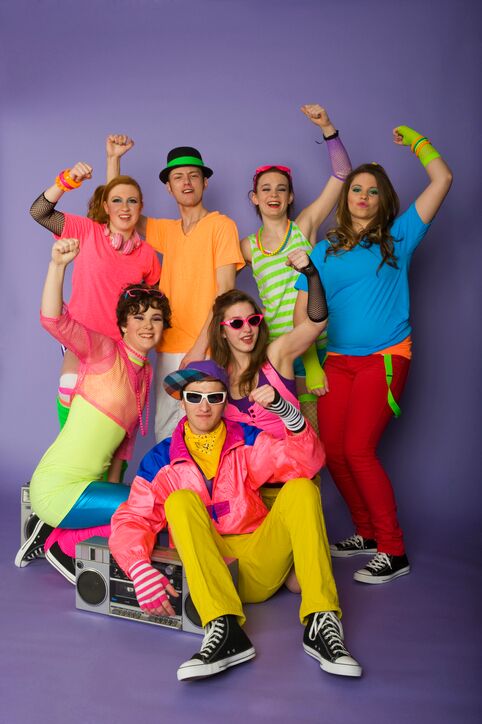 Photo: Jason_V/Getty Images
Outfits are key when it comes to an 80s theme party. Have guests come dressed in their best 80s outfits—think leg warmers, neon spandex, big hair, and shoulder pads. 
Some other popular 80s themed party outfits can include off-the-shoulder tops, acid-washed jeans, headbands, fingerless gloves, and accessories like sunglasses, chunky jewelry, and scrunchies
DIY Fashion Station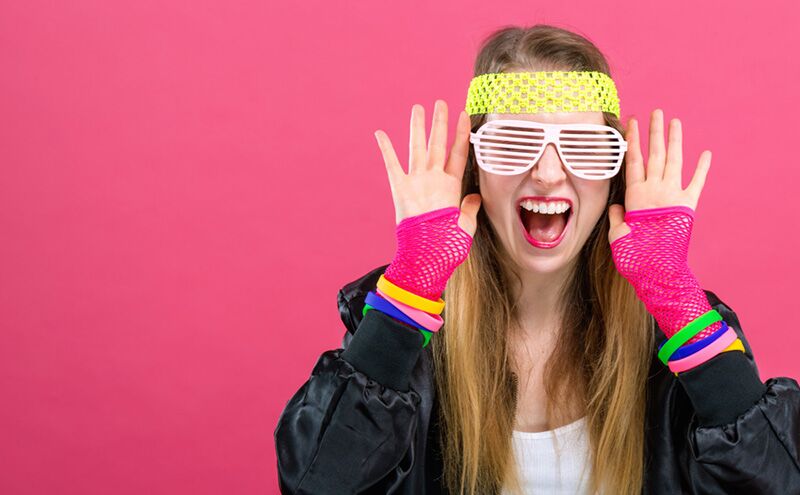 Photo: TierneyMJ/shutterstock.com
Set up a DIY fashion station where guests can create their own 80s-inspired accessories. Provide materials like neon fabric paint, iron-on patches, buttons, and safety pins. Guests can design their own T-shirts, headbands, or bracelets.
80s Theme Party Decorations
Photo: Amazon
VHS Vibes
Embrace the nostalgia of VHS tapes by using them as decorative elements. Hang VHS tape garlands, and set up a cozy lounge area with vintage VCRs and a collection of 80s movies on VHS.
Neon Everything
Use neon tablecloths, streamers, and balloons to create a vibrant atmosphere. You can also scatter neon balloons throughout or make a neon balloon arch that doubles as a photo station.
Posters
Display posters of iconic 80s movies, music bands, or celebrities on the walls or print out for other decor throughout the party. Movies like The Breakfast Club and Ferris Bueller's Day off will be a hit with guests. Don't forget to showcase iconic musical stars like Madonna or AC/DC for some run rock vibes.
Rubik's Cubes & Boom Boxes
Place Rubik's cubes as centerpieces on tables or use them as decorative accents. You can also set up vintage-style boomboxes as props or buy some inflatable boom boxes from Amazon.
Classic Party Snacks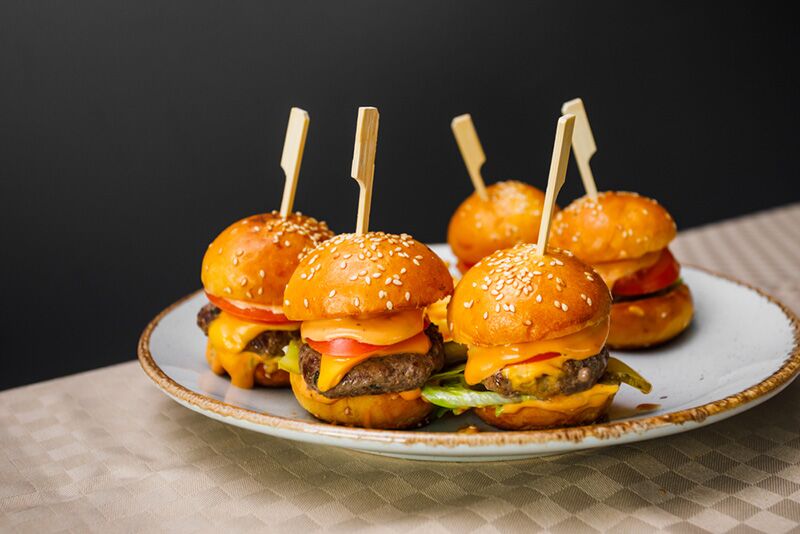 Photo: Oksana Shufrych/shutterstock.com
For your 80s theme party, you can offer classic party snacks like pigs in a blanket, mini burgers, and cheese balls. For some sweet options, serve colorful and wobbly Jello molds in various flavors.
DIY Candy Bar
Set up a candy bar with nostalgic treats like Pop Rocks, Nerds, and Pixy Stix. Other sweet snacks like Gushers and Fruit Roll-Ups will be a hit too.
Signature Cocktails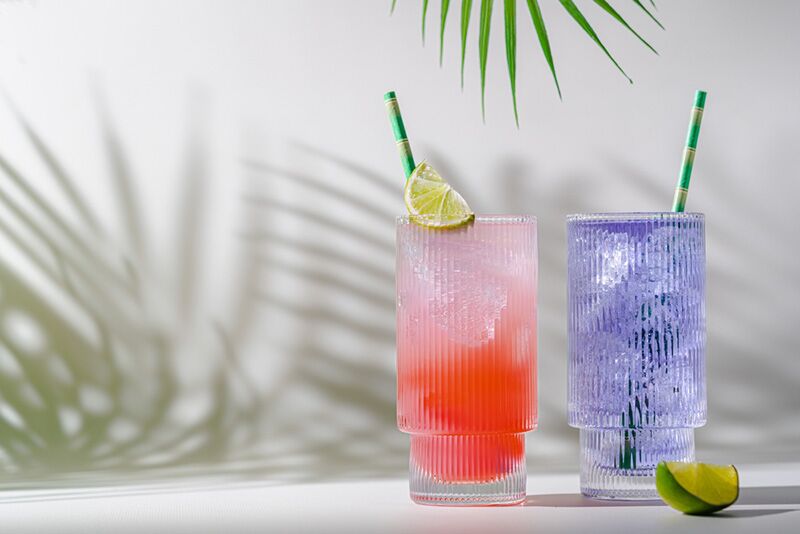 Photo: Goskova Tatiana/shutterstock.com
Create 80s-inspired cocktails with names like "Electric Lemonade", "Radical Raspberry Mojito", "Purple Rain" or "Material Girl Martini." You can be creative with ingredients and also opt for mocktail versions as well. 
Pro Tip: Hire a bartender to curate and craft these signature cocktails.
80s Games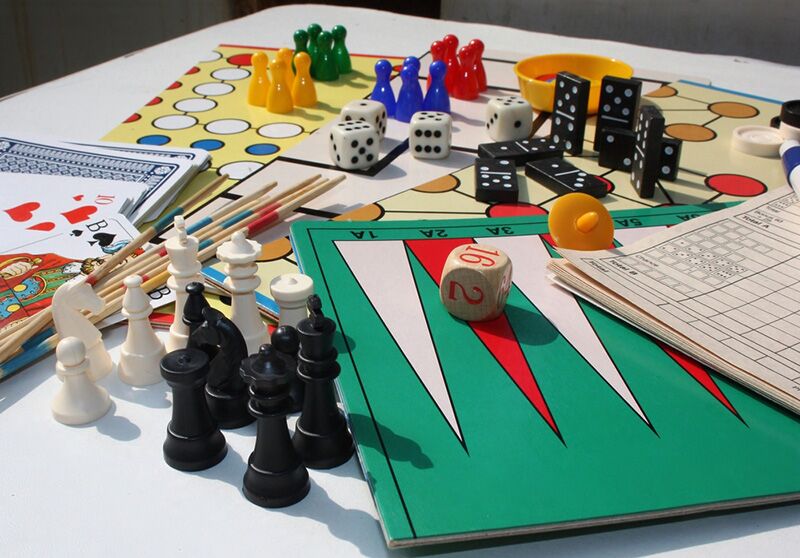 Photo: Solitaire/shutterstock.com
Set up classic board games and video games from the 80s. Have games like Twister, Operation, Simon Says, or the original Nintendo available for guests to enjoy. Games like Pac-Man, Donkey Kong, or Space Invaders will have guests feeling nostalgic in no time.
Dance Floor
Set up a dance floor with colorful flashing lights reminiscent of the '80s disco era. Teach guests some iconic '80s dance moves like the Moonwalk, the Robot, and the Electric Slide.
Party Favors
Send guests home with some awesome 80s themed party favors like mixtapes, Rubik's cubes, or personalized items featuring popular '80s slogans or catchphrases. You can also make candy bags from the DIY candy bar mentioned above.
More 80s Party Ideas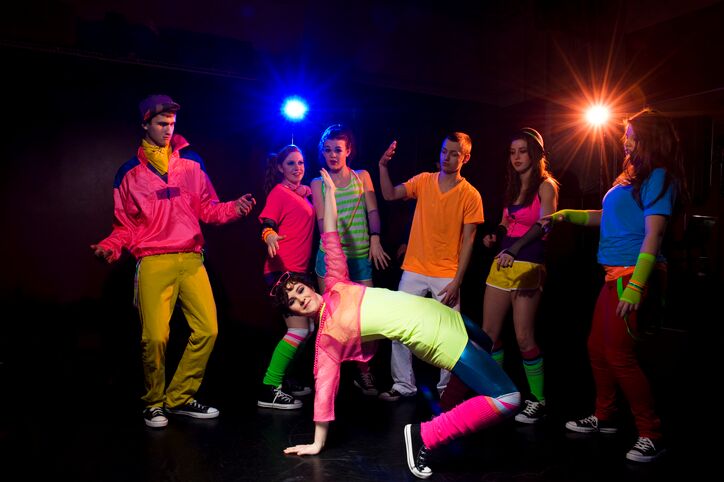 Photo: Jason_V/Getty Images
Movie Marathon
Host a movie marathon featuring iconic 80s films like The Breakfast Club, Back to the Future, Ghostbusters, or Ferris Bueller's Day Off. Set up a cozy viewing area with bean bags and neon-colored blankets. Serve popcorn and classic 80s movie snacks.
Glow-in-the-Dark Dance Party
Transform your party into a neon extravaganza by incorporating glow-in-the-dark elements. Provide neon face and body paint, glow sticks, and fluorescent decorations. Dim the lights and let guests dance to their favorite 80s hits while glowing under blacklights.
80s Trivia
Test your guests' knowledge of 80s pop culture with an entertaining trivia game. Prepare a mix of questions about music, movies, TV shows, and fashion from the 80s. Offer fun prizes for the winners, such as 80s-themed merchandise or gift cards.
Dance-Offs
Host a dance competition with popular 80s moves like the moonwalk or the worm.
Find the perfect themed party ideas for your next event here on The Bash.