Kids Birthday Party Checklist: A Simple Guide For Planning
This step-by-step checklist will ensure you don't forget anything on this special day!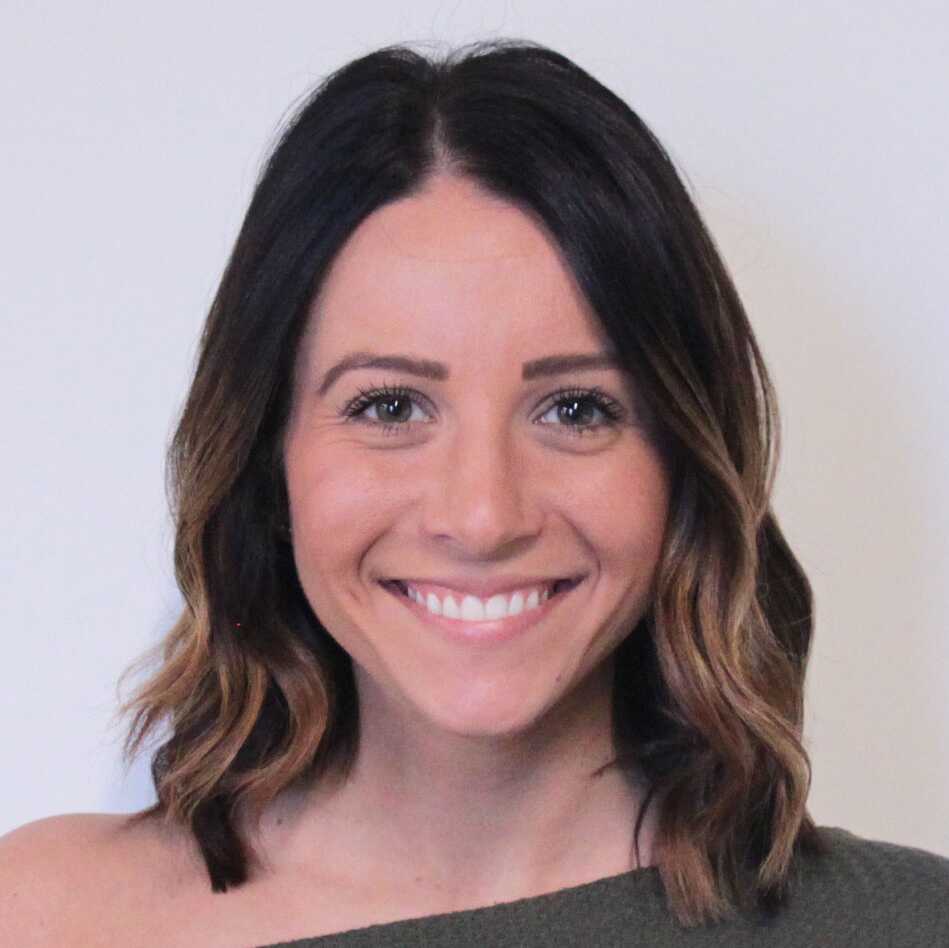 When it comes to planning a kids party, you don't need to be a professional party planner to throw an exciting celebration for your little one. We put together this simple kids birthday party checklist to make sure you have everything you need to pull it all together.
From themes to thank you notes, and everything in between, throwing a kids party doesn't have to be stressful. Follow this kids birthday party checklist below and you'll be sure to pull this event off without a hitch. 
Here is a simple kids birthday party checklist to help you plan like a pro: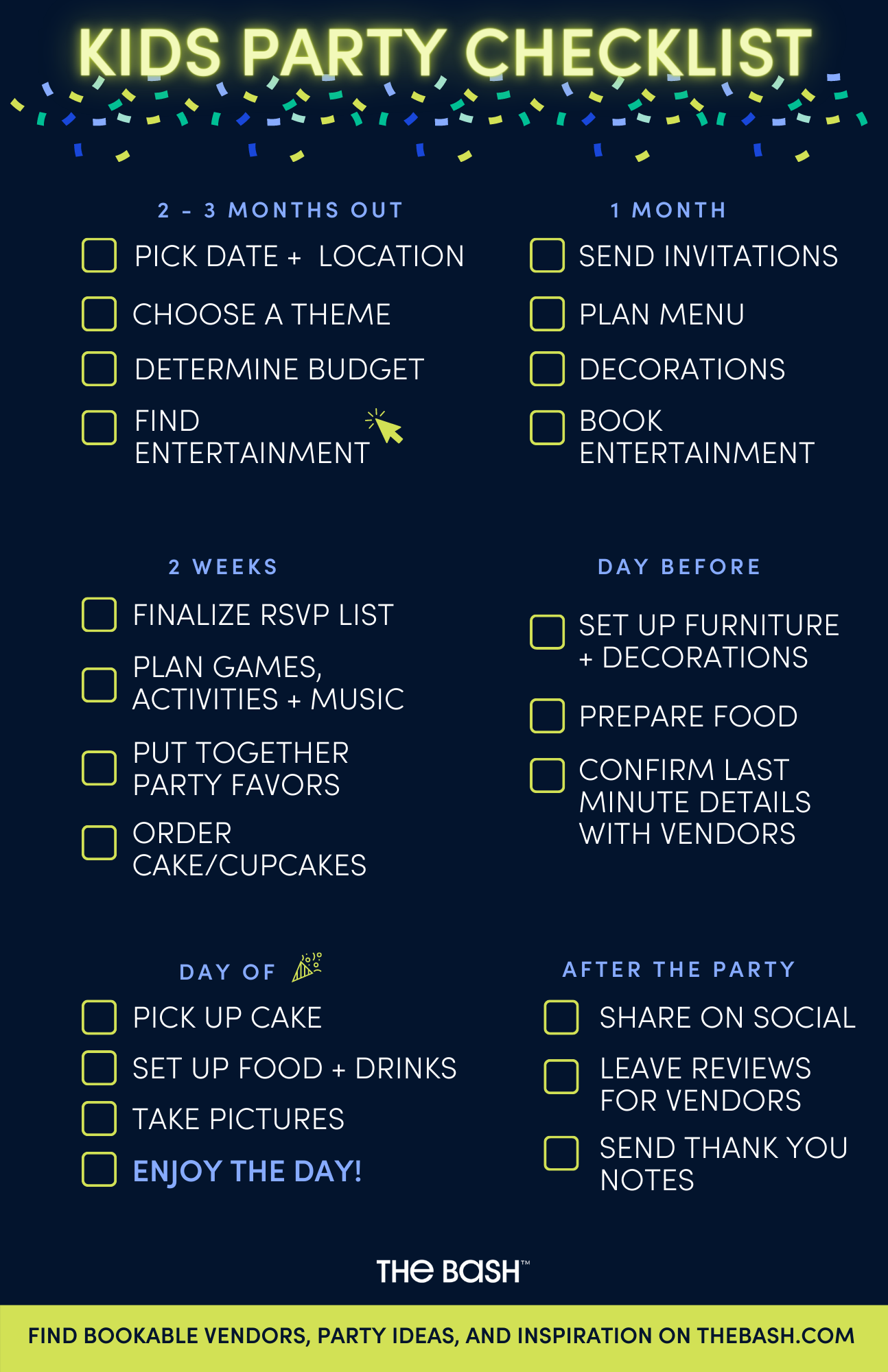 Pro Tip: You can download our our checklist PDF here our use our printable kids party checklist!
Follow this step-by-step kids party checklist:
Step 1: Choose a Theme

Photo: Arina P Habich/Shutterstock.com
First things first, when it comes to planning a kids party, it's always a great idea to have a theme. A theme acts as the backbone of your party plan and helps pave the way for the rest of the creative details. 
When choosing a theme, you can consider things like your child's favorite tv show or their favorite sport. You can also keep in mind a theme based on their favorite color or other interests like books or movies.
Some popular kids party themes include this wild one for a first birthday, rainbow for any age or classic superheroes. Once you decide on the perfect theme for your kids party, you can start planning out decorations needed and coordinating the rest of the items on this kids party checklist to make sure they fit with the theme.
Pro Tip: Browse this list of over 100 theme ideas and be creative when making the theme kid friendly too.
Step 2: Finalize Guest List & Send Invitations

Photo: piixypeach/Shutterstock.com
Creating your own invitations can be a fun activity for you and your tiny guest of honor. Make sure you have the guest list finalized (grab a class list from their teacher as well as family & friends) and double check it. Make sure to send invitations out about 3 weeks before the event. Don't forget to include an RSVP date!
Consider offering a virtual aspect to the party too—this way guests from near and far can join in on the celebration. Make sure to include the virtual party information on the invitation as well. If you've never hosted a virtual party, read these tips for hosting.
Step 3: Find a Venue

Photo: Gorodenkoff/Shutterstock.com
A lot of time and effort goes into finding the perfect kids' birthday party venue. Many people go searching out and about at local venues close to home and talking to friends and family for recommendations. 
Our favorite venue, and most cost effective, is to host from the comfort of your own home.  Depending on the weather and time of year, it's always fun to have an outdoor party in your own backyard.  
Pro Tip: If you do need a venue, here are 8 things to consider before booking.
Step 4: Book Entertainment

Photo: Prostock-studio/Shutterstock.com
You can't have a kids' birthday party without some entertainment! Whether this means booking a kids party vendor or planning games and activities (or both), this might be the most important element on this kids party checklist. 
Try to coordinate the entertainment with your party theme. Here are some ideas for kids party entertainment: 
Costumed characters 
The little ones will love a visit from their favorite princess, superhero or movie character. The moment this special character walks in the door will be priceless.
Face painters 
One of the most popular entertainment ideas for a child's birthday—a face painter will brighten up the day when transforming little party goers into their favorite animals, princesses, or characters.
Magicians 
Party guests of all ages will be in awe of all the tricks performed by a magician. Whether it's a show or a strolling magician, this type of party entertainment will be a hit for all party goers. 
Clowns
Not only are clowns funny and entertaining, they're also multipurpose! Some clowns will do tricks, play games with the kids, do balloon art, and even paint faces.
Bounce houses 
No kids can resist a big, bright, bounce house! Not only are they tons of fun—a bounce house will engage the whole group, while adding a little physical activity too.
Photo booths 
All you need is some kid-appropriate props and the party entertainment will be set with a photo booth! Plus, they kiddos will love to take their printouts home with them.
Games and Activities
Along with kids party entertainers, we suggest to include some kids' party games such as relay races, scavenger hunts, or a bean bag toss to really make sure every guest is having fun. 
Pro Tip: These are some kids party ideas that are totally worth the money.
Step 5: Decide on Food & Drinks

Photo: Photographee.eu/Shutterstock.com
For a kids party, the food and drinks can be simple (they may already be on your grocery list!). Things like hot dogs and hamburgers, pizza, or even a chicken nugget bar with different dips will be a hit with the little ones. 
If ordering a cake or cupcakes, make sure to do so about 2 weeks in advance. On the dessert front, a fan favorite will always be ice cream. You can always have an ice cream truck stop by as an extra treat. 
Pro Tip: Don't forget about the adults in attendance. Providing some themed cocktails and mocktails will be much appreciated by older guests.
Step 6: Buy (or Make!) Party Favors

Photo: TobinCStudio/Shutterstock.com
This might be later on the list but it doesn't mean it's not important. Every little guest will be thrilled to leave with a special party favor to take home. Whether this is a photo from your photo booth, a goodie bag, or even a customized cake pop, it's sure to put a smile on their face. A special party favor will make them remember the party forever.
Step 7: Prepare Thank You Notes

Photo: Yuliya Evstratenko/Shutterstock.com
Something as simple as a handwritten thank you note may seem a bit outdated or old school, but is truly appreciated by all party attendees. The thought behind a personal thank you note goes a long way! It's also a great way to sit down with your young one, reflect on the party, and do one final project together. 
Bonus Step: And most importantly, don't forget to enjoy the day! After all, your little one only turns this age once.
Find more kids party ideas, inspiration, and planning tips on The Bash.