14 Best Outdoor Venues in Houston to Host a Party
Looking for an outdoor party venue in Houston where you can host a birthday party, anniversary or private event? We've got you covered with this list.
Alice Prendergast
Contributor
Let's Get This Party Started!
Find event inspiration, themes, and unique party vendors here on The Bash. We'll share customized ideas, personalized tips, and recommended vendors to help bring your celebration to life!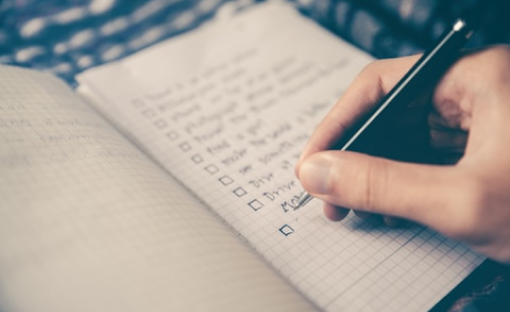 Party Planning Checklist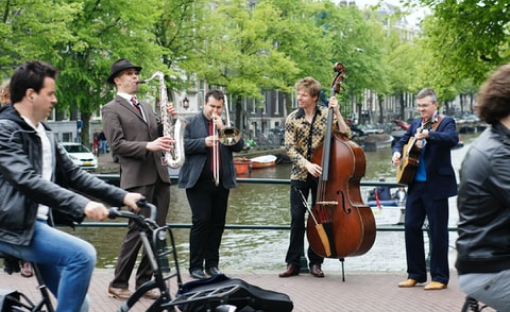 Recommended Vendors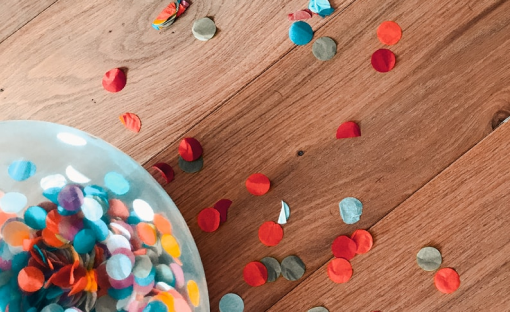 Party Trends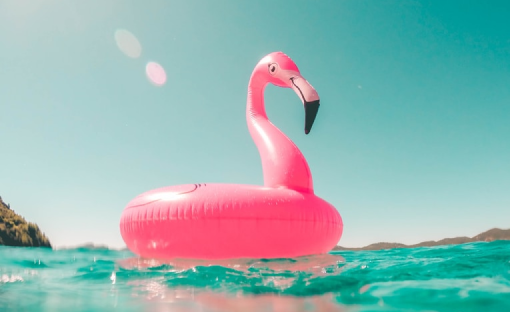 Party Themes
So, you're celebrating a birthday, anniversary, or another milestone in Houston? Well, we're here to help make sure your soiree is more memorable than ever. How you ask? By helping you find the perfect outdoor venue in Houston for your big event!  
Whether you're on the hunt for something low key and casual, like a bier garten, or a chic terrace with modern furniture, there's something on this list that'll check all your party planning boxes. 
P.S. These outdoor party venues in Houston offer great wedding event spaces for your special day, too (we're talking rehearsal dinners, bridal showers, bachelorette parties and wedding receptions). If you've got one of those on the horizon, also check out these amazing outdoor wedding venues in Houston.
READ MORE: 
Here are the best outdoor venues in Houston to host an amazing party.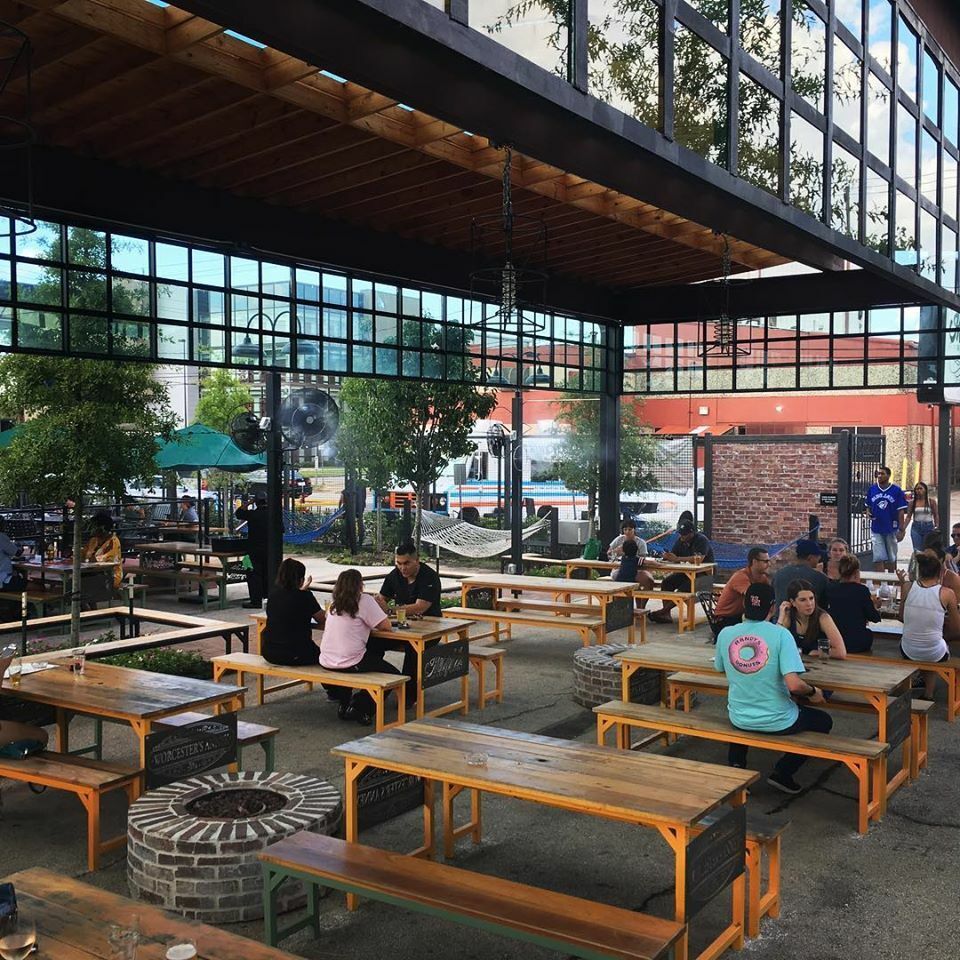 Heights Bier Garten, 1433 N Shepherd Dr #1
Let's kick things off with something casual: Heights Bier Garten. The cool, low-key spot is located in the Houston Heights neighborhood and is known for its awesome selection of brews (there are 96 on tap), pub grub, and massive 20,000 square foot patio space.  
The space is decked out with hanging egg chairs, hammocks, and picnic tables, offering ample seating for you and your guests. There are also cornhole games, flat screen TVs, and plenty of space to bust out your favorite dance moves, so you won't have to supply any extra entertainment. It can accommodate a whopping 450 people, so you can make your guest list pretty lengthy.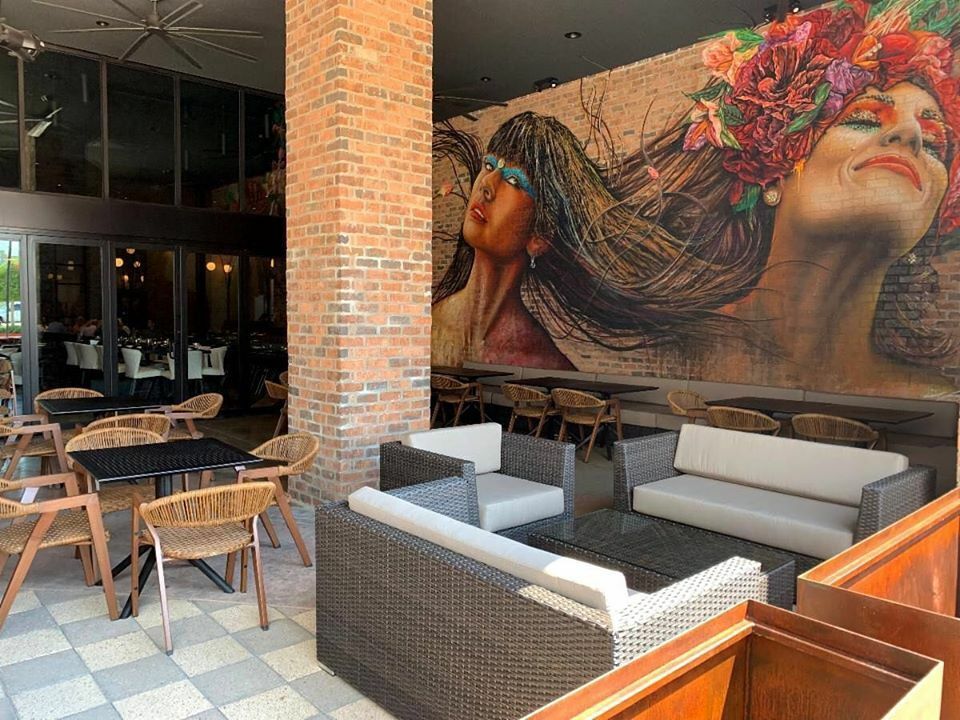 Warehouse 72,
7620 Katy Fwy #305
Warehouse 72 is a Mediterranean-style eatery with plenty of party potential in the heart of Space City. It's definitely on the more petite side, offering 350 square feet of space and enough room to fit up to 35 guests, making it best suited for more intimate events.  
As for style, it has an industrial-chic design with exposed brick walls, massive murals, distressed concrete flooring, and simple patio furniture (which can be removed if you're more into the idea of a standing cocktail party). Oh, and its menu is stacked with delicious Italian and Spanish fare, which really doesn't hurt, either.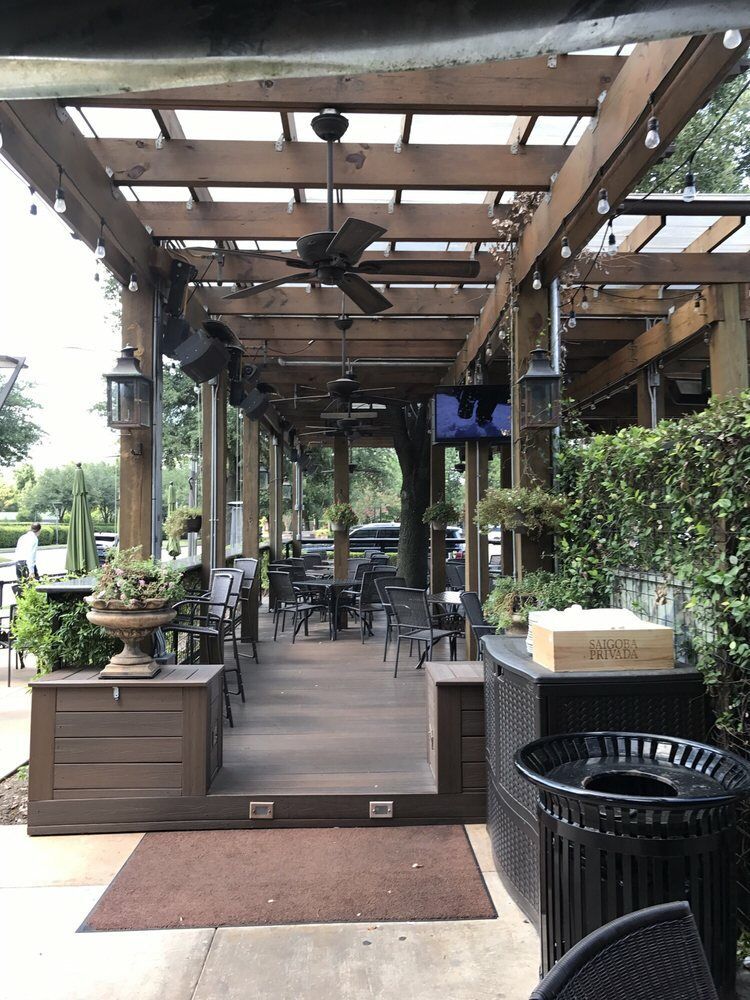 The Tasting Room,
1101 Uptown Park Blvd
The Tasting Room offers a truly idyllic outdoor venue in Houston's Uptown Park. The patio space features a wooden pergola, a healthy dose of greenery, and a mix of tables and lounge seating for you and your guests. It covers 1,100 square feet of space and has enough room to fit between 50 and 100 guests. Oh, and thanks to its proximity to the shopping center, you can treat yourself to a little retail therapy before or after your event.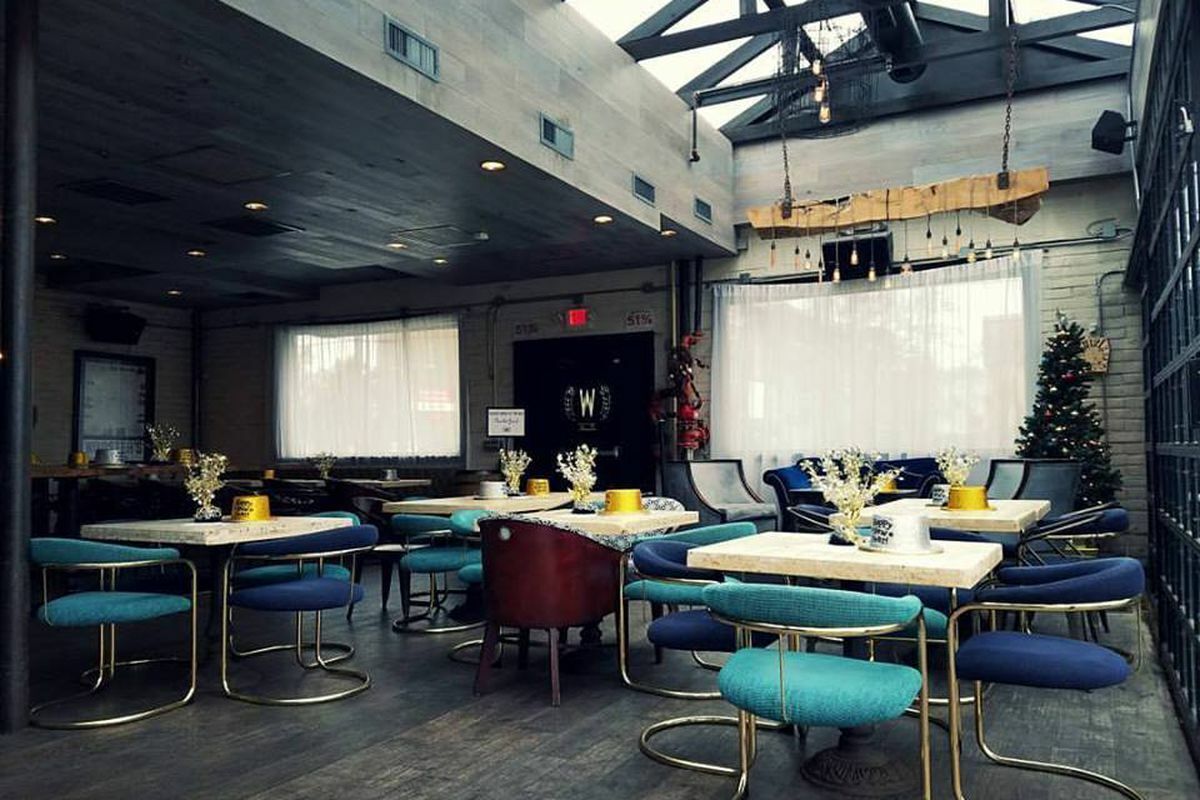 Wooster's Garden,
3315 Milam St
Head to Midtown and you'll find Wooster's Garden, a beautiful, industrial spot that's known for its delicious drinks, elevated pub grub, and killer patio space. It's definitely edgier than your typical cocktail bar, flaunting rustic benches, vintage seating, and pendant lighting.  
If you're having a massive milestone event, you may want to book the indoors, as well, to give yourself more room to party. The massive floor-to-ceiling windows can be pushed open to give your guests easy access to both reception spaces. As for capacity, it can accommodate up to 150 guests. 
Holman Draft Hall,
820 Holman St
Holman Draft Hall is another Midtown gem that's definitely worth checking out. It's a restaurant and bar venue that has an industrial-chic interior with high ceilings and modern furnishings. Its covered patio has a similar vibe as the interior and features a mix of high top tables and plush lounge furniture, (all with an edgy, industrial twist, of course).  
It's definitely not one of your average banquet halls. The entire restaurant is a whopping 9,000 square feet and can fit up to 400 guests. Could also be perfect for an outdoor wedding day!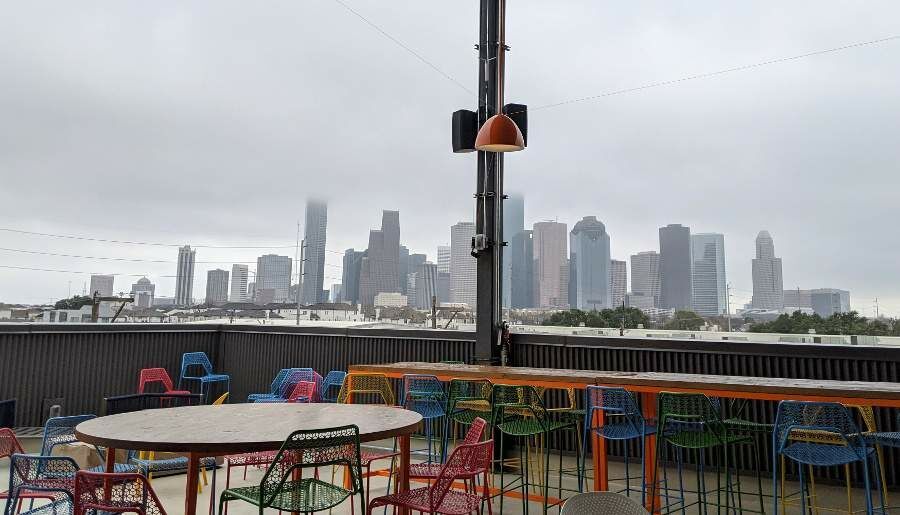 Buffalo Bayou Brewing Company,
2101 Summer St
If you're on the hunt for an event venue with a view, Buffalo Bayou Brewing Company will be right up your alley. It's located in the heart of the city and offers a laid back atmosphere for your event and unparalleled skyline views of downtown Houston. It's large enough to accommodate 300 guests and is decked out with a mix of colourful and rustic furniture.  
Worried about the weather? The space is covered by a roof, so it can be put to use, rain or shine, and there's also a ton of indoor space that you can put to use if Mother Nature acts up, too.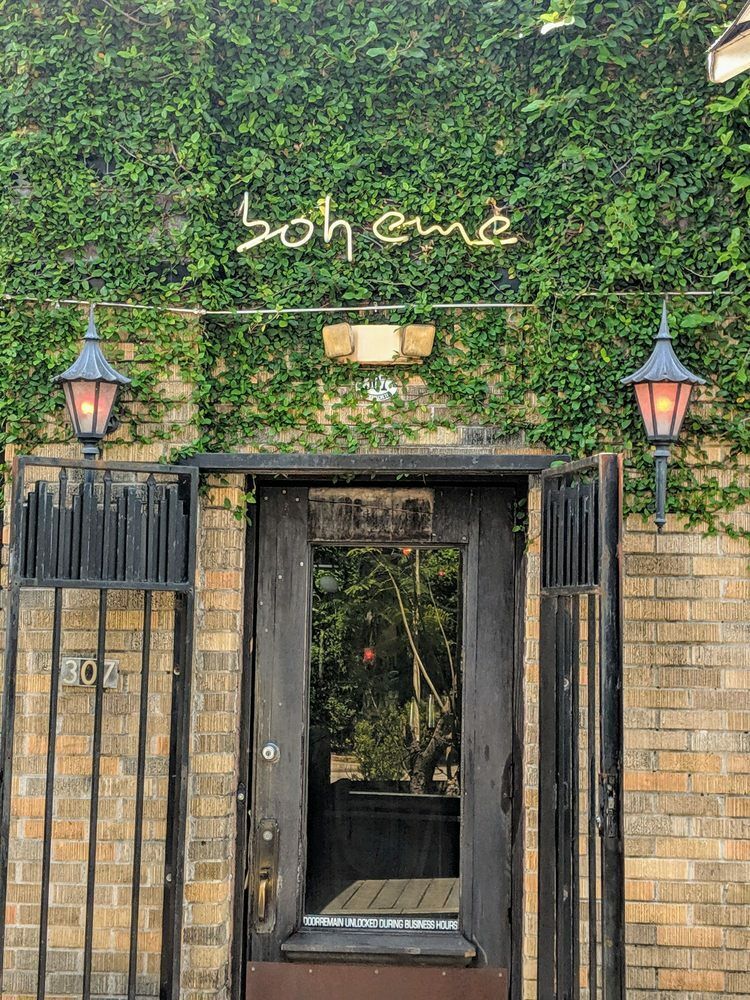 Boheme,
307 Fairview St
The Backyard at Boheme is an ultra-casual outdoor space perfect for more relaxed private events and birthday parties. It's located in the Montrose area and is tucked away behind a historic building, so you won't be distracted by the hustle and bustle of downtown Houston.  
It's filled with a rainbow of rustic benches, a colourful geometric mural, and an ivy-covered wall, so it basically takes care of the decorations for you. It covers 3,000 square feet of space and can fit up to 140 guests. You can book the inside of the restaurant if you need more event space, too.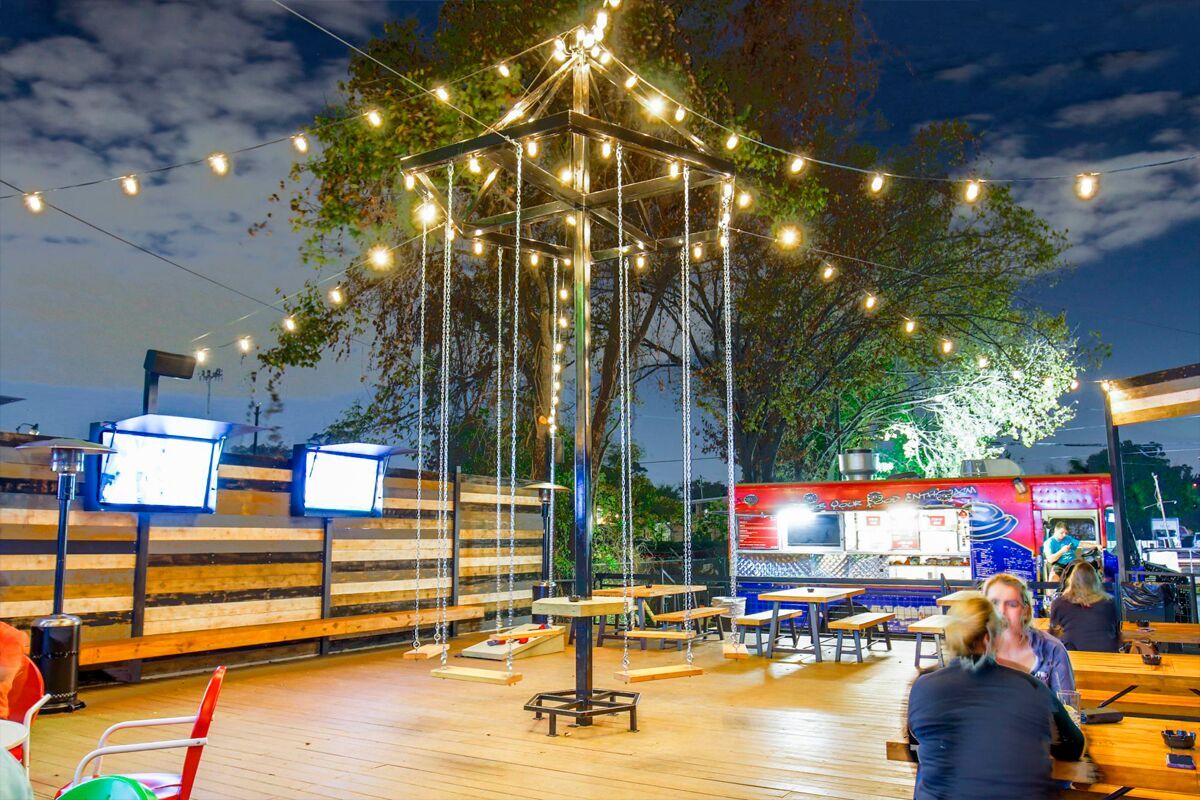 McIntyre's Heights,
1230 W 20th St
McIntyre's Heights, located in the Heights area of Houston, is a trendy bar with an industrial twist. It has a marble bar, HD TVs, a mix of porch swing and table seating, and plenty of amenities. There's even a full arcade inside, for all the gaming enthusiasts in your inner circle! The entire venue (indoor and outdoor) covers 7,000 square feet and can fit up to 500 guests. 
Bonus: the patio allows dogs, if you and your friends want to bring your four-legged friends along to your event (something that only a few spaces offer).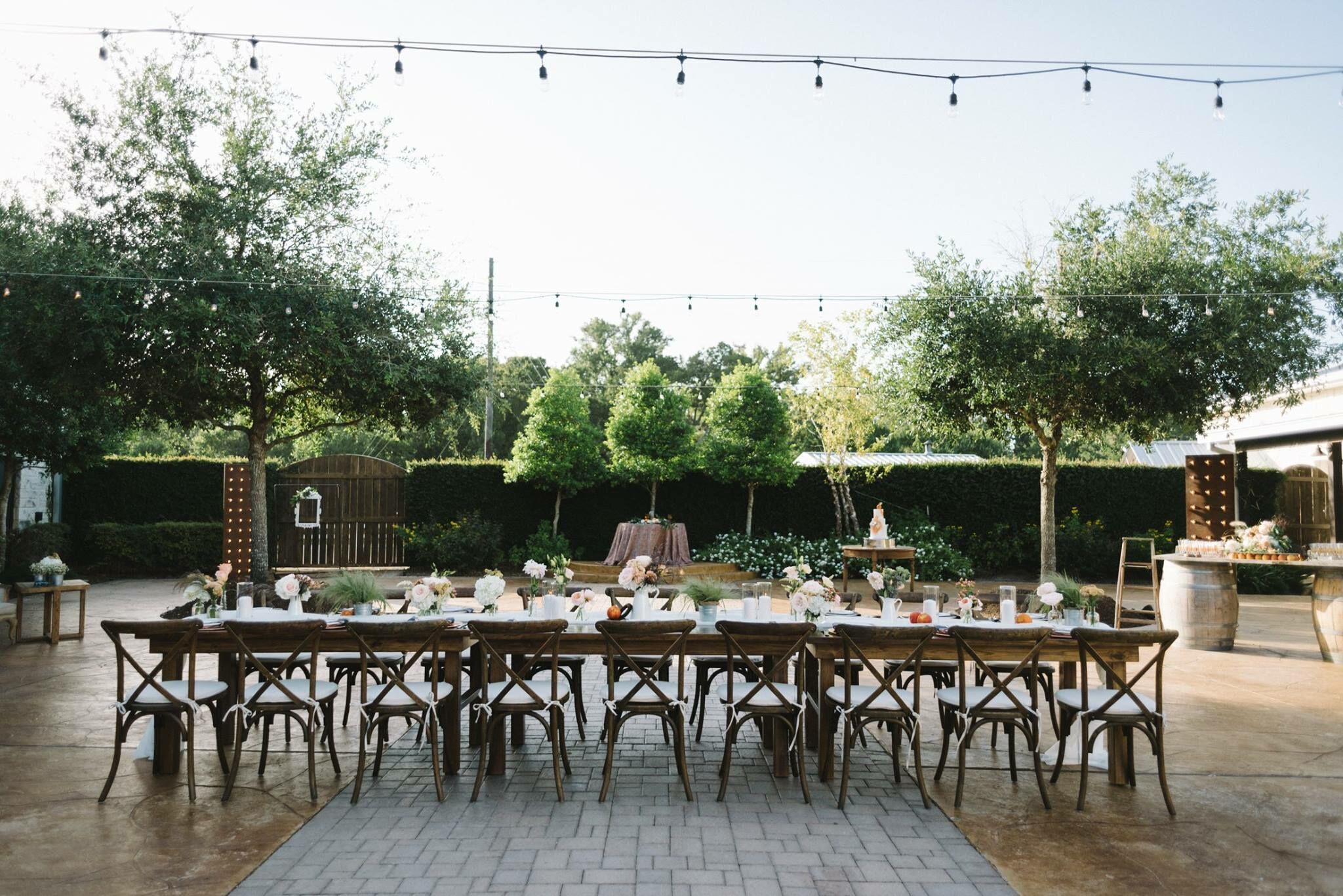 Briscoe Manor, 5801 Farm to Market Rd 723, Richmond
If you're looking for a venue that offers a one-of-a-kind experience along with an elegant and whimsical feel, Briscoe Manor is the one for you. Situated on 55 acres of land, this expansive location offers both outdoor and indoor arrangements, serene backdrops, and can accommodate up to 400 guests. 
The space is adorned with chandeliers, greenery, and has a gorgeous courtyard for guests to enjoy. Briscoe Manor also offers a day-of event manager and event staffing to make the execution of your event as easy as possible. This private ranch is located just 25 miles outside of Houston, allowing a secluded country setting for visitors.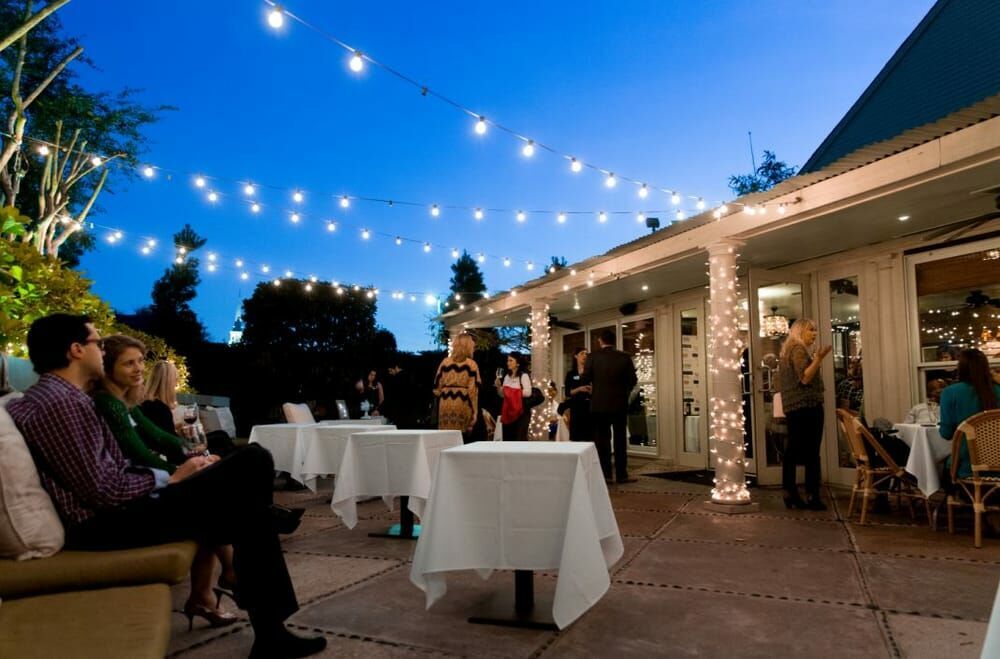 Ouisie's Table - The Bear's Garden, 3939 San Felipe St
This 1,100 square foot restaurant is the perfect place to host a small, intimate event for you and close friends. Accommodating between 60 to 80 guests, the Bear's Garden at Ouisie's Table is known for its tranquil garden charm and picturesque scenery. 
Enjoy the eclectic menu offered from the on-site catering services featuring dining options of a buffet, chef station, family style, or plated meals. Whether you choose to celebrate a small wedding, birthday party, retirement party or corporate function, Ouisie's Table will offer a soothing, relaxed feel that all guests will enjoy.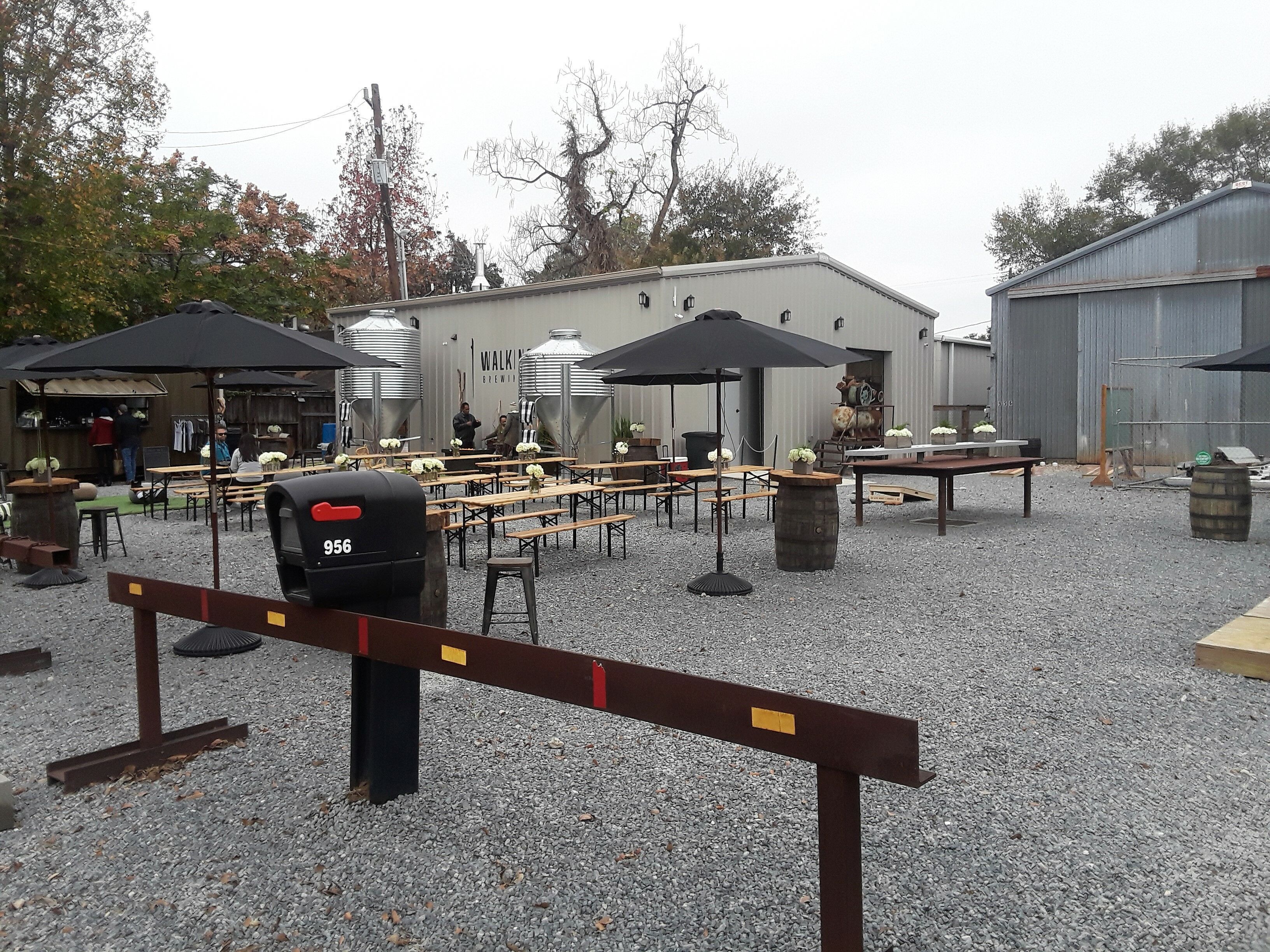 Walking Stick Brewing Company, 956 Judiway St
If you haven't heard by now, breweries are all the rage. Sip on a delicious IPA, lager, or draft beer during your next celebration at Walking Stick Brewing Company.The 2,000 square foot venue can fit between 50 and 250 guests, making it a versatile location for any type of casual event. The outdoor area is adorned with bistro-style lighting and rustic wooden benches that create a great family-friendly atmosphere.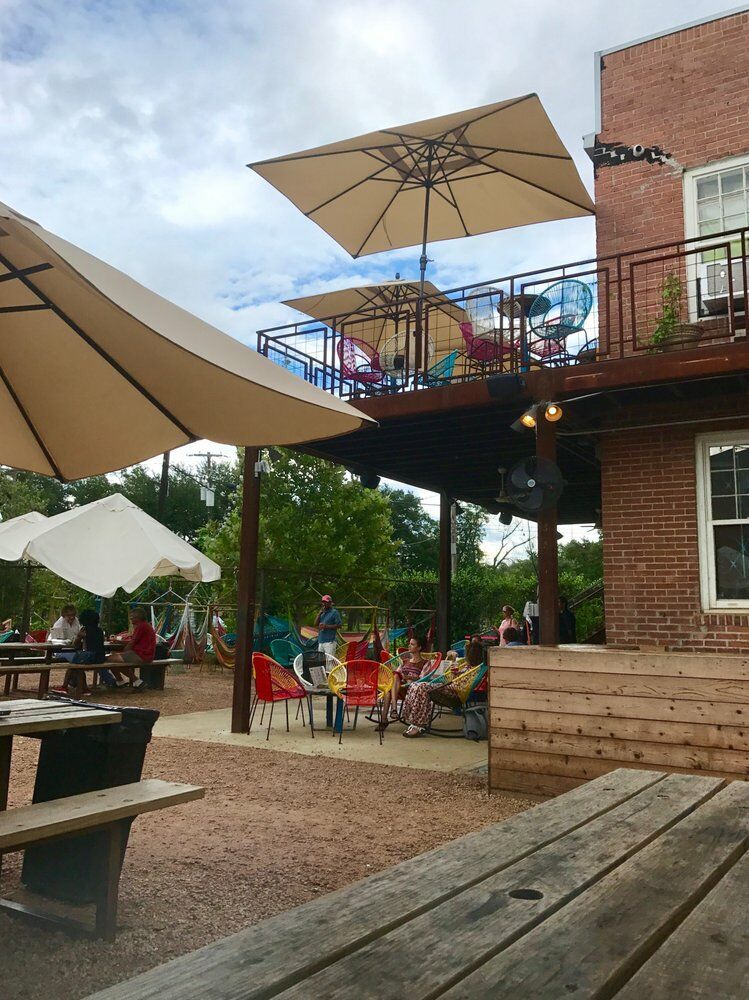 Axelrad, 1517 Alabama St
Plan your summertime celebration at Axelrad Beer Garden in Houston, Texas. This 900 square foot outdoor space can accommodate up to 150 guests for the ultimate, cozy, laid back celebration. The charming location features hammocks throughout the outdoor patio for guests to relax and enjoy themselves. Choose a drink from the extensive selection of beer as well as different dining options for any type of event. Axelrad gives off a bohemian and artsy vibe that makes a great backdrop for a birthday, live music performance, or office get-together.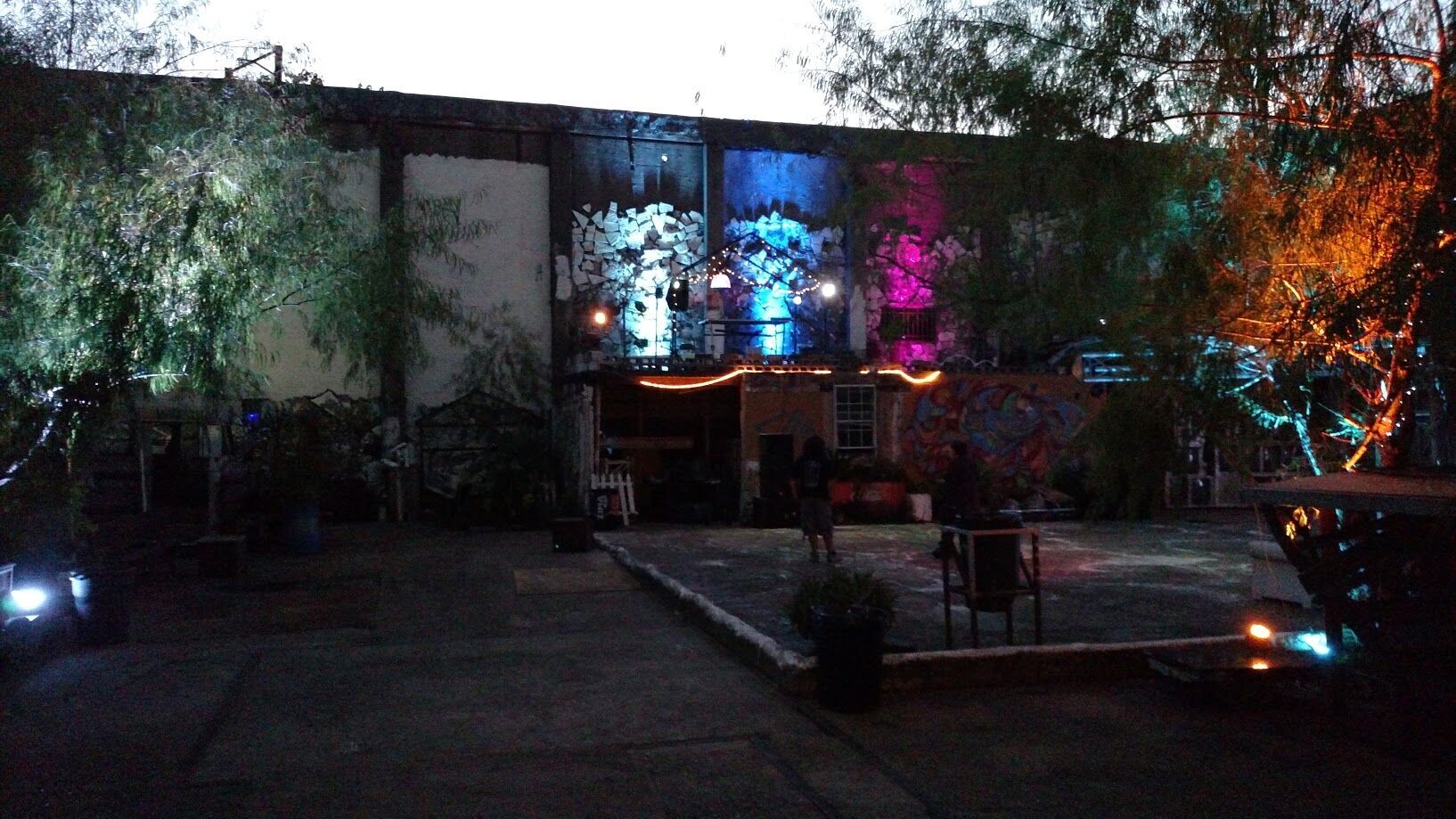 The Silo, 421 Schweikhardt St
What's more unique than an abandoned warehouse aesthetic with an artsy vibe? Not much else! The Silo is a one-of-a-kind venue that creates an industrial setting for parties, movie viewings, photoshoots, and much more. Colorful graffiti lines the concrete walls that help contribute to the funky urban vibe and act as natural decor for your event.
The 20,000 square foot space can hold up to 500 guests for a large event and has the opportunity to be enhanced with seating, stages, tents, lighting, fog machines, and much more. If you want to plan an eclectic event with an alternative and edgy feel, The Silo is for you.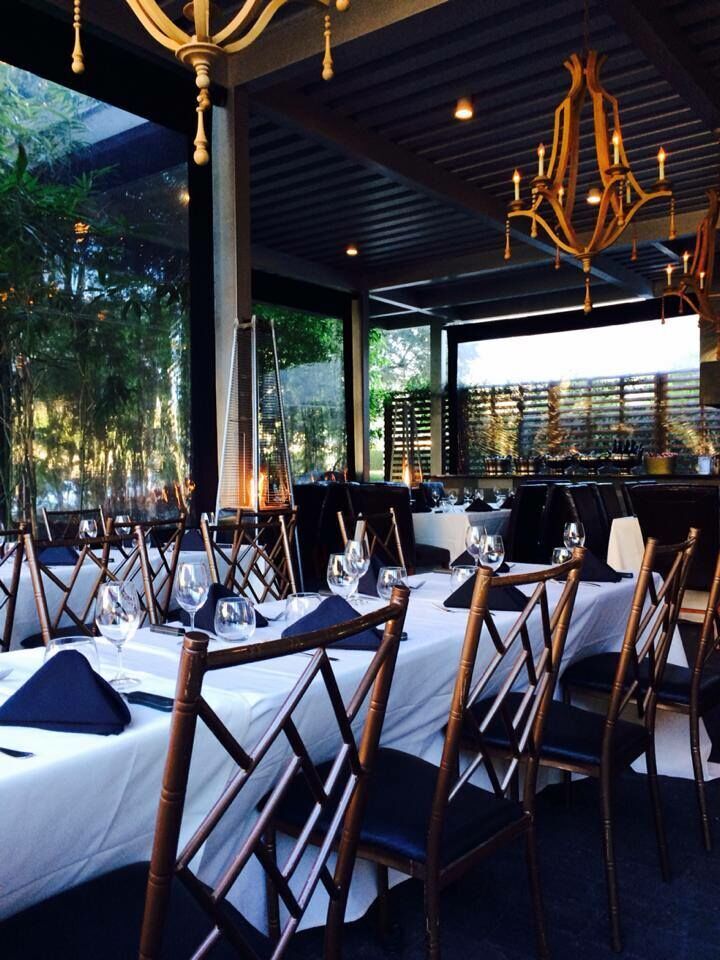 The Tasting Room (City Centre) - Sonoma Terrace, 818 Town and Country Blvd Suite 100
Sonoma Terrace at The Tasting Room (City Centre) is a stylish outdoor event space that offers an exceptional dining experience for any type of celebration. The patio can be enclosed during the cooler weather so you can still enjoy the sunshine year round. Host up to 70 guests in this private space for an upcoming birthday, anniversary, or shower.
Work with the dedicated event manager to help bring the vision of your event to life! A range of enhancements are available upon request including florals, decor, photography, and more. Guests will love the laid-back feel of the cocktail reception inspired space during the private event.
Find more party venues in Houston here on The Bash.