10 Amazing Outdoor Venues in Philadelphia to Host an Event
Lauren Miolene
Contributor
One of the most important parts of planning any event is the venue selection process, especially when planning an outdoor celebration. From mansions, to museums, to cafes, there are a number of outdoor venues in Philadelphia that make ideal backdrops for any type of large event or intimate get together.
No matter how big or small, when planning your event, the first thing you'll want to do is find the perfect venue.
Here are some amazing outdoor venues in Philadelphia to host your next event.

Morris House Hotel - Courtyard Garden, 225 S 8th St
The Morris House Hotel Courtyard Garden will immediately make you feel like you've crossed the ocean and arrived in the south of France. Surrounded with exposed brick, twinkling lights, and floral decor, the feeling at Morris House Hotel is truly magical. 
Invite up to 128 guests in the 4,800 square foot space to celebrate a romantic wedding, anniversary party, milestone birthday, bridal or baby shower. Take advantage of the venue's catering services that include everything from appetizers to dessert, served family style, plated, or a buffet.

The Mann Center - Acclaim, 5201 Parkside Ave
The Mann Center - Acclaim is a new event space at the popular Philadelphia performing arts center. The latest addition includes a 2,000 square foot tented area that boasts breathtaking views of the city skyline. Take advantage of the versatile space that can be arranged in different layouts, so you can bring the vision for your event to life. 
With room for up to 200 guests, you can host weddings, corporate gatherings, galas, and other private events at The Mann Center. This venue is fully equipped with professionals to make any event run smoothly. Work with the event manager, staff, and food and beverage services to bring your celebration to life.

American Swedish Historical Museum, 1900 Pattison Ave
If you're looking for an outdoor venue in Philadelphia that is elegant, sophisticated, and vintage, the search is over! The American Swedish Historical Museum combines all of these vibes for the ultimate private space that you'll want to book as soon as possible. 
This location blends together indoor and outdoor spaces while also featuring cultural and historical pieces of Swedish-American art in different galleries. Up to 200 guests can have the opportunity to explore the museum during the event and enjoy delicious cuisine made by the exclusive caterer, beverage services, and food services.

Front Street Cafe - Garden, 1253 N Front St
Plan a smaller and more intimate birthday party, bridal shower, or corporate event at the Garden of Front Street Cafe. Invite up to 100 guests in the outdoor space to enjoy brunch, dinner, or classic comfort food at this Philadelphia restaurant. 
Offering a dynamic variety of vegan, vegetarian, and meat dishes, Front Street Cafe offers options that everyone will be able to enjoy. Its exposed brick, wooden structures, and cobblestone features bring together urban and rustic aesthetics for a one of a kind venue. The modern, bohemian, and whimsical cafe will make the perfect backdrop for any small event.

Welkinweir Estate, 1368 Prizer Rd, Pottstown
Host an upcoming engagement party, wedding, or anniversary party in the romantic event space of Welkinweir Estate. This mansion located in Pottstown, Pennsylvania sits on 197 acres of natural land that features ponds, brooks, and an arboretum. 
With freshly manicured gardens and a spacious tent, Welkinweir Estate is an ideal property for any type of outdoor event. From food and beverage services to equipment setup and breakdown to an event manager and staffing, this location offers a multitude of features and amenities to create a memorable time for up to 150 guests.

Curtis Arboretum, 1250 Church Rd, Wyncote
Known as the Renaissance Revival mansion, Curtis Arboretum sits on 45 acres in Wyncote, Pennsylvania. The grounds are surrounded by natural beauty that include over 50 different types of trees, winding pathways, and tranquil ponds that make perfect backdrops for photos. 
Suitable to accommodate up to 175 guests, Curtis Arboretum is ideal for weddings, anniversaries, and fundraising events with its elegant, sophisticated, and vintage ambiance. Work with the different staff, services, and amenities during the planning process to ensure that everything runs smoothly on the big day.

Anthony Wayne House, 2049 Waynesborough Rd, Paoli
Ideal for larger events, Anthony Wayne House can accommodate up to 250 guests for a grand celebration. The picturesque property also includes a historic mansion, so the party can easily transition between indoor and outdoor. 
Lush greenery maintained by the Philadelphia Society for the Preservation of Landmarks, the carriage house, and the expansive lawn are just a few of the many elements that help make this an extremely unique venue for any occasion. In the event of inclement weather, there is a large marquee tent available to keep the outdoor party going.

Fonthill Castle, 525 E Court St, Doylestown
Whether you are celebrating a large outdoor wedding with 200 guests or hosting an intimate get-together with 40 people, Fonthill Castle will make a gorgeous and one-of-a-kind setting for events of all sizes. The expansive property includes rolling hills and a vibrant natural beauty that creates a whimsical and fairytale feeling to the space. 
This elegant mansion is also equipped with an event manager, event staffing, as well as food and beverage services to help the celebration run smoothly.

In Riva - Main Patio, 4116 Ridge Ave
Travel to the beautiful coast of southern Italy without ever leaving Philadelphia. The Main Patio at In Riva is the perfect venue for hosting any type of celebration from rehearsal dinners to birthday parties. Dine on their signature Italian dishes that include antipasti, wood-fired pizza, and traditional desserts.
Invite up to 70 guests for a seated meal on the Main Patio, or up to 125 for a cocktail hour or buffet style event. This vibrant restaurant brings together urban and rustic elements including red furniture, large umbrellas, and natural greenery to create a unique backdrop for your event.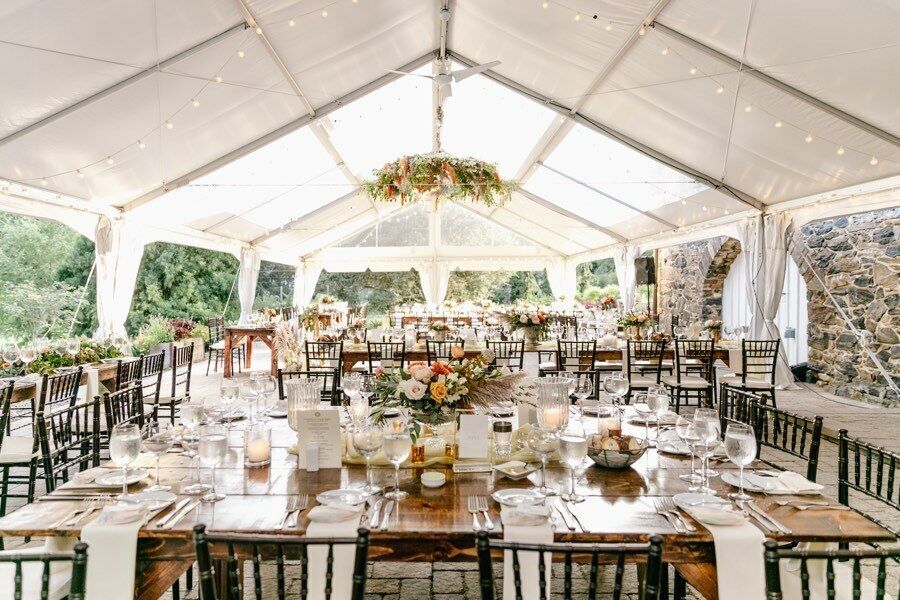 Tyler Arboretum - Terrace, 515 Painter Rd, Media
Whether you are celebrating a wedding, anniversary, or graduation, the Terrace at Tyler Arboretum is a gorgeous private garden location in Pennsylvania you're going to want to book. Just 30 minutes away from Philadelphia, this venue is in an ideal location for guests traveling to and from the city.
Invite up to 45 guests in this magical setting to enjoy the natural beauty and sweeping views of the property. The outdoor space is covered with a spacious tent that allows natural light to flood in year round and take in the scenery. Work with the event manager, use their food and beverage services, as well as event staffing to help plan the event of your dreams at this rustic yet glamorous venue.
Find more event and party venues in Philadelphia here on The Bash.