23 Christmas Birthday Party Ideas to Celebrate Both Occasions
Merry Christmas and happy birthday!
Mary-Anne Desai
Contributor
Ho, ho, ho and happy birthday! While it's everyone's favorite time of year with twinkling lights and joy in the air, there's no better way to celebrate than a birthday and a Christmas party together wrapped into one! Whether you receive two presents or one under the tree this year, you can add to your wish list and end-of-the-year plans with these Christmas birthday party ideas. 
From your grand arrival to showing off your moves on the dance floor, you and your loved ones can have a blast celebrating you and your favorite holiday. Thanks to the seasonal glow and entertaining vendors, you can eat, drink, and have the celebration you've always wanted. 
Grab those old Christmas decorations in the attic and find a flawless, fun outfit because it's time to start planning your Christmas theme birthday to make it the best party yet! 
Here are 23 ideas for a Christmas birthday party:
Host at a Hotel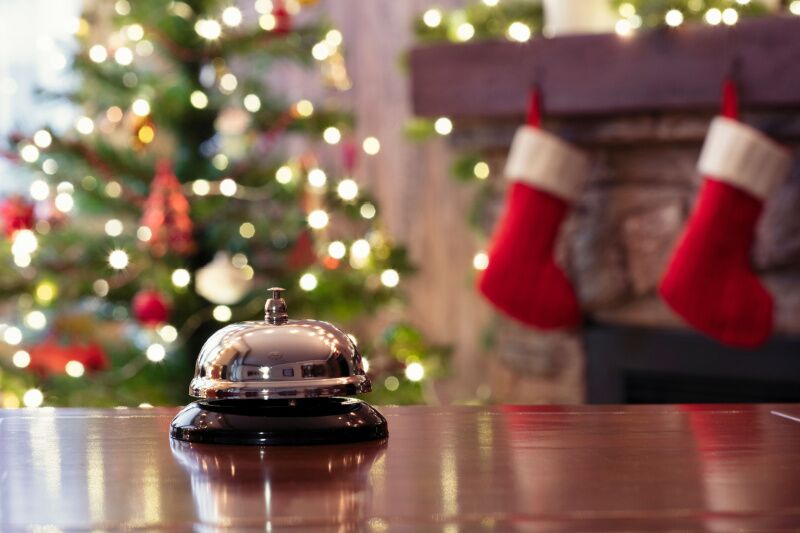 Photo: FTiare/shutterstock.com
Between the glitz and the glamor, hotels are luxurious party venues that have the tools, services, and space to host any big celebration. Find out how many guests your favorite hotel can accommodate and the types of event spaces they provide. 
Some hotels offer spacious indoor and outdoor spots, which means plenty of space to take photographs and celebrate with all your favorite people. You can also travel and party the night away at a destination hotel to experience an authentic white Christmas, or a day at the beach if you prefer!
Christmas Birthday Cake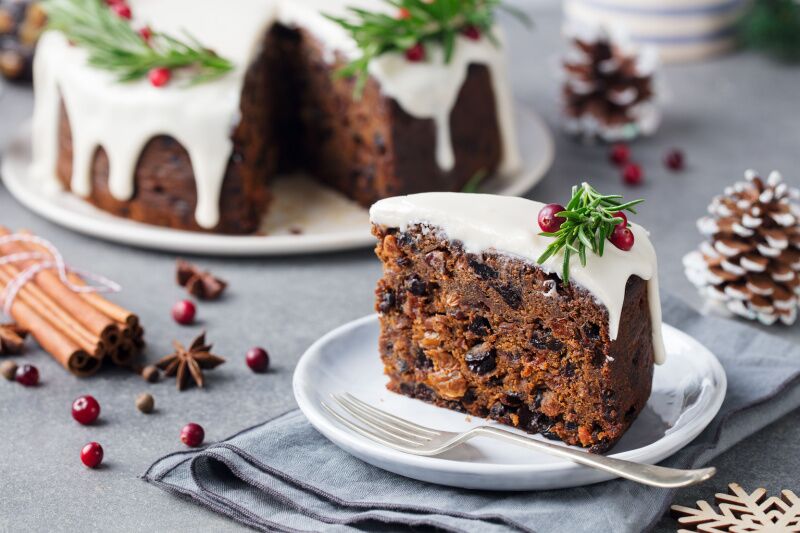 Photo: Anna_Pustynnikova/shutterstock.com
Passed down from generation to generation, Christmas fruit cake is a legendary (and somewhat infamous) dessert given to friends and family throughout December. For your birthday party, you can disguise your birthday cake with a touch of Christmas! 
It can look and taste traditional with thick white frosting and fresh fruit sprinkles. But if you're not a fan of this seasonal blend, try picking one fruit like strawberry, banana, or even pineapple to create a natural and personalized taste.  
Signature Cocktails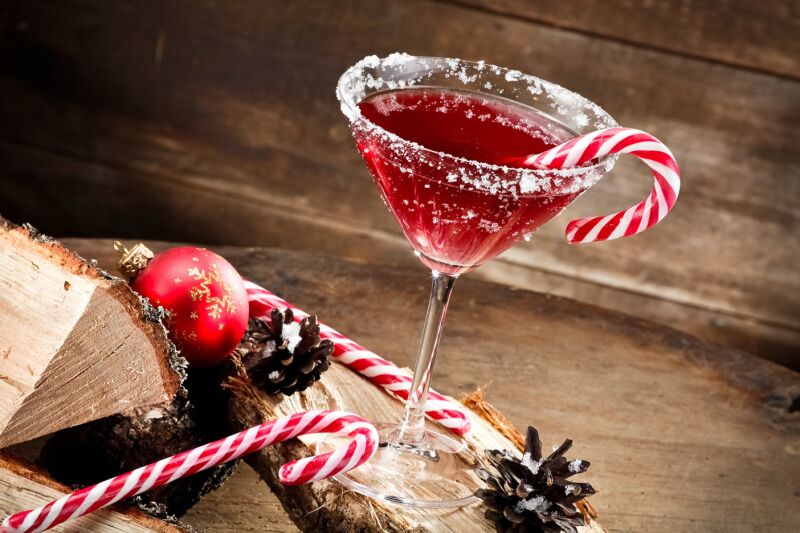 Photo: Mariyana M/shutterstock.com
Cheers to being another year older and celebrating with all your friends and family. This year, you can share a toast that's chilled, refreshing, and delicious by hiring a local bar service. Book a local bartender to help you serve a wide selection of drinks to your guests, from signature cocktails to sweet champagne. 
Photo Booth
Make your Christmas birthday party a celebration to remember with big or small photo booths. Guests can get together to take funny videos or adorable pictures with fun Christmas theme birthday props. 
Some booths come with unlimited prints, so you can keep taking photos and receive them immediately! Others can send your favorite images and clips via social media, so you can share them on Instagram, TikTok, and more.
Hire a Caterer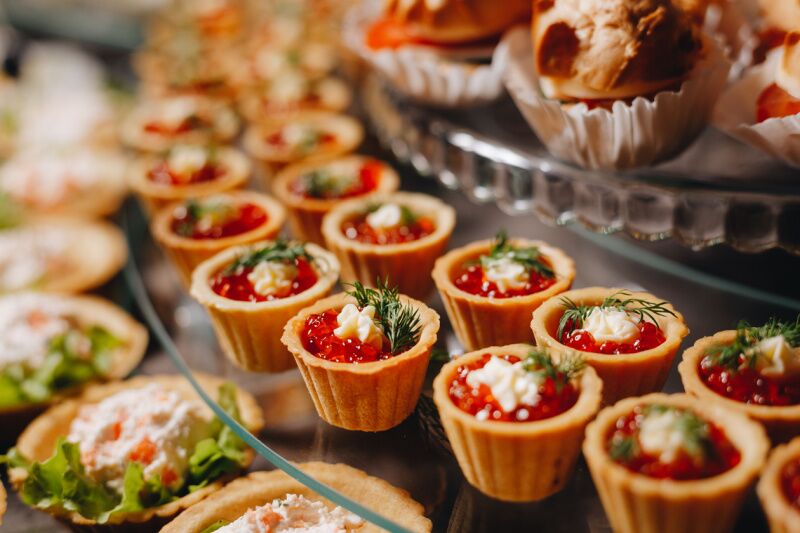 Photo: kirill guzhvinsky/shutterstock.com
Remove your oven mitts this holiday season because you deserve a treat that only a caterer can create. Hiring a professional caterer for your birthday party can be a gift to you and your loved ones, with a variety of cuisine delivered right to your front door! 
You can take your time to taste and choose between your favorite hot food, cold snacks, and, let us not forget, birthday cake. Some caterers may even help by providing staff to serve your appetizers to your guests—and this season is all about giving! 
Book a Holiday Band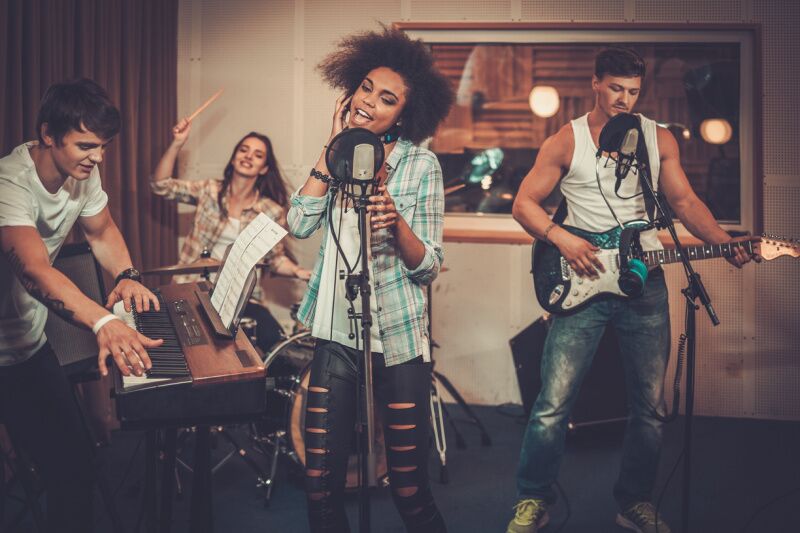 Photo: Nejron Photo/shutterstock.com
From the sweet sound of jazz to the jingle of Santa's sleigh bells, a holiday band is just what you'll need to get your birthday into the Christmas spirit! Depending on how many musical groups are in your area, you'll likely find trios, duos, and even soloists to perform your favorite Christmas tunes too.
A Visit from Santa Claus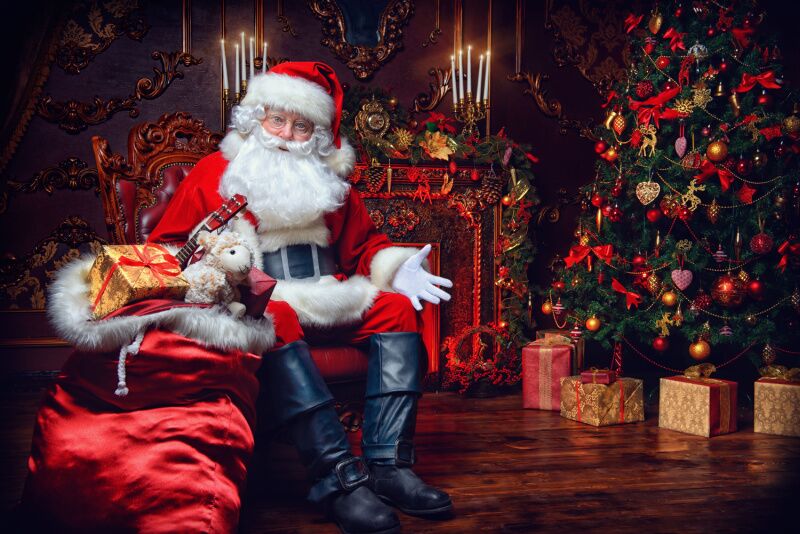 Photo: Kiselev Andrey Valerevich/shutterstock.com
Professional Santas will pose for silly photos, make all your friends laugh, and be by your side until your celebration ends. These party entertainers can also bring props like everyone's favorite reindeer (yes, we're talking to you, Rudolph!), a giant chair, and much more. 
Snow Machine
Help your party feel and look like a winter wonderland! Whether it's super hot or freezing cold outside, your party can be filled with the magic and awe of crystal-white snow. This snow shower can be sprinkled from your rooftop or lightly sprayed from the corner of your chosen venue. 
With an event or decor hire, you can also find a machine that can blow delicate dashes of snow—that may or may not smell like sweet bubble bath. 
Visit from Carolers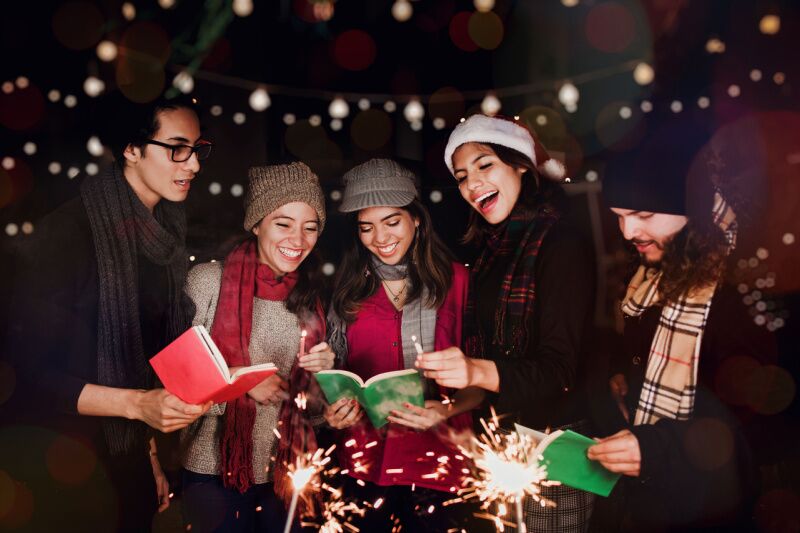 Photo: Marcos Castillo/shutterstock.com
'Tis the season for all of your favorite Christmas songs and carols! Dive into the holiday spirit by booking carolers in your area to sing holiday tunes and jingles. The traditional costume and beautiful sound will transport you and guests into a classic Christmas movie.
Candy Cane Race
No matter your age, candy canes will never get old. These delicious sweet treats were made for the holiday season and for fun games with friends. In this candy cane race, you and your guests can get into two teams, with one candy cane for each group. 
The goal is to get to your teammate on the other side without dropping or breaking the candy cane. You can decide on how the candy cane must be held, hanging from on your ear to on your nose—the more creative, the better! 
Make Gingerbread Houses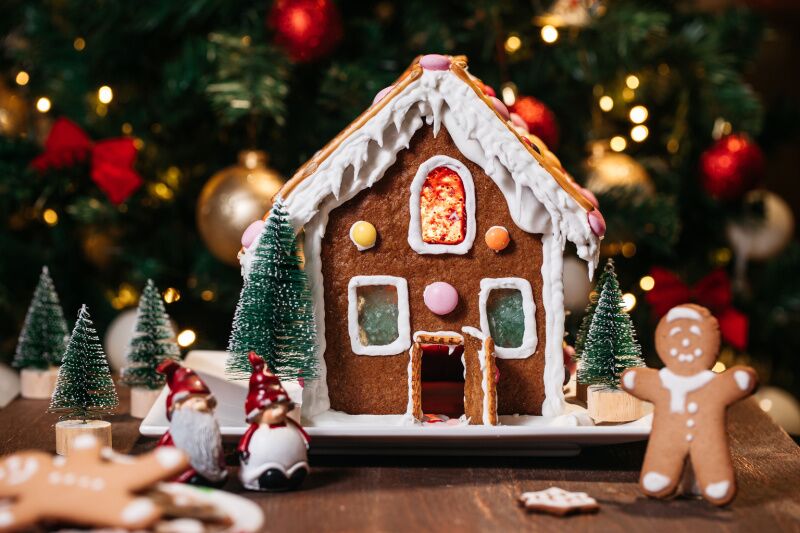 Photo: harexape/shutterstock.com
Grab your icing, favorite colorful candy, and large slabs of gingerbread because you and your guests are going to be making the ultimate gingerbread house! In teams of two or three, let your friends build their dream house within seconds. 
They can also add to the competition by creating gingerbread men to live in these gorgeous homes. The group with the best-looking and best-tasting house wins. 
Limbo Dancing
Put on your dancing shoes and get ready to do the limbo. All you'll need is an upbeat playlist and a rod or long stick placed on a stand. The stand will need to have different levels, so you can change the rod's height for each round. 
Christmas Punch
Bring out the punch bowl this happy hour! Your Christmas and birthday party can go out with a bang with a fruity punch bowl. You can put a spin on your regular strawberry punch with adding tropical flavors or even spike it with liquor. This punch may include a dash of your favorite rum or fruity cranberry gin alongside orange and pineapple juice. Once you've made your drink, it's time to complete the look with a red and white striped straw.
Hot Cocoa Bar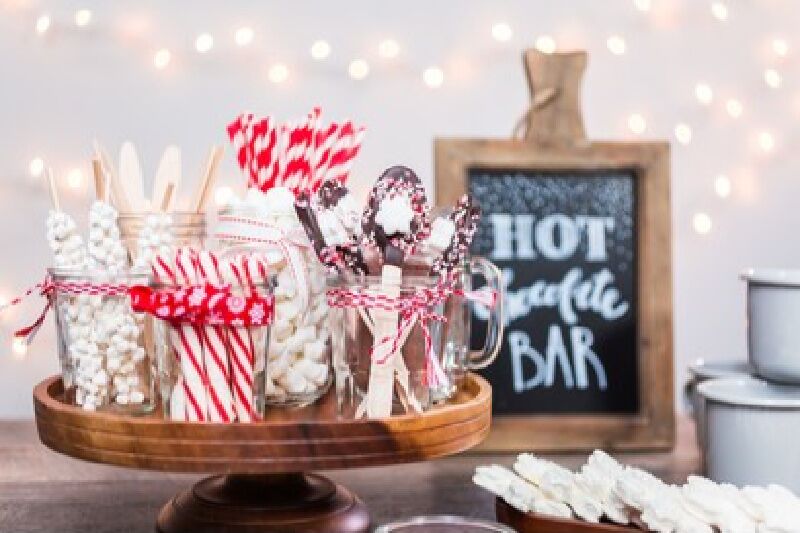 Photo: Arina P Habich/shutterstock.com
This seasonal beverage may be your best Christmas birthday party idea yet, as it's a staple to most winter wonderlands. Whether you're making your own or hiring a hot chocolate machine from a local vendor, this beverage will turn heads. Decorated with a ton of whipped cream and smooth chocolate flakes, you can customize your hot drink to match your birthday style.
Christmas Lights
Now that you've created a showstopper with your popcorn garlands, you can continue to wow your guests with an array of string lights. The best part of these lights is that they're not too bright and not too dim. They can also light up every table, make your centerpieces shine, and add a glow to your Christmas themed party. 
Christmas Tree
You've heard all the songs, and you've probably got a few decorations of your own, but what you may need to get this year is an enormous Christmas tree! Whether you venture out into the woods to find your picture-perfect tree or use the same tree that's been passed down through generations, your venue wouldn't be the same without one. 
If you're hoping for a more glamorous Christmas birthday theme, you can spray-paint your tree white and gold. Add glittery Christmas ornaments, a few ornaments with pictures of the guest of honor, and you'll be ready for a winter wonderland party.
Popcorn Garland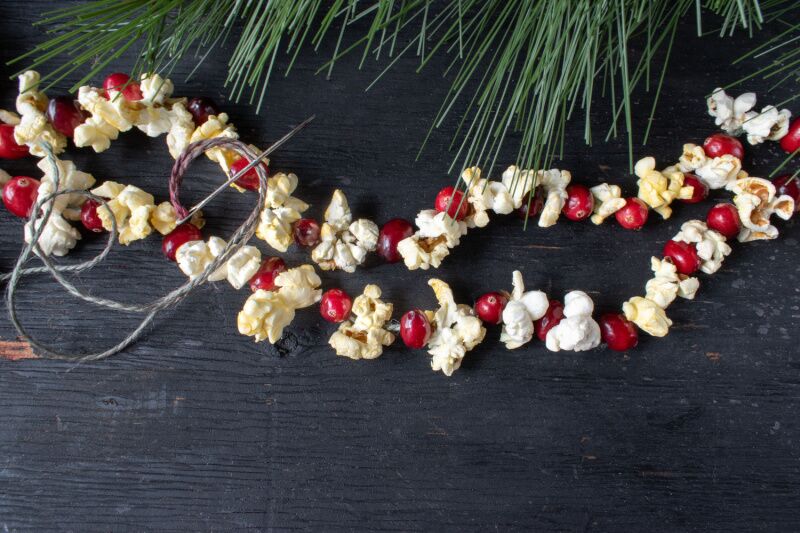 Photo: Lynne Ann Mitchell/shutterstock.com
You might've watched a couple of movies over the years where the main character is not eating the popcorn but using it to make streamers for the tree. So this year, to celebrate you and the Christmas season, you can have your own popcorn decorating party. 
You'll need delicious kernels, cranberries, a needle, and a bit of thin string. Once you've popped your kernels and they've cooled down, you can begin assembling. 
Seasonal Backdrop
It's time to set the scene for your December birthday with a large seasonal backdrop. From winter wonderland to a cozy log cabin, your personalized backdrop can transport your guests from your home to your dream birthday party destination. 
These large settings may also be used for mini photoshoots with your friends and family. If photoshoots aren't your style, you can set up these tall backgrounds behind your delicious buffet or head table. 
Christmas Balloon Wall Decor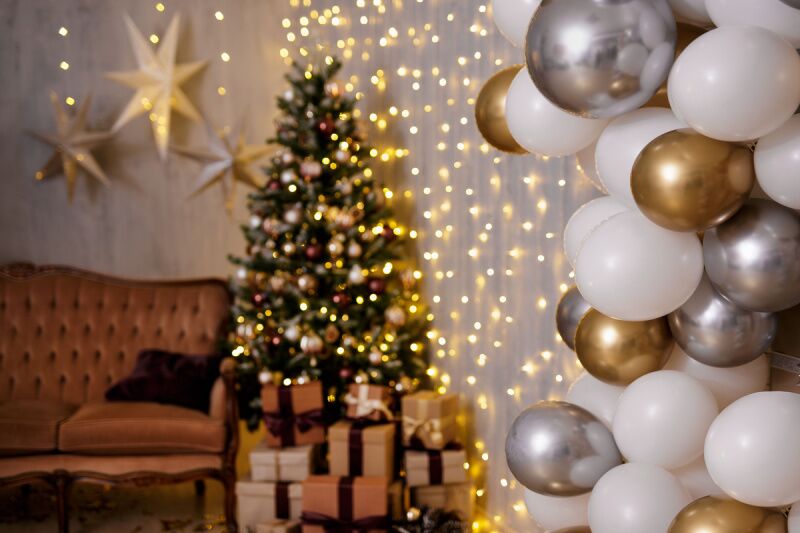 Photo: Di Studio/shutterstock.com
While snowflakes are a dream come true, balloon arches are equally as exciting. These dramatic, colorful arches can be made to fit your theme and venue. Whether you create one yourself or hire a professional to design one for you, these balloons can brighten up your Christmas birthday party decor. 
While arches are fun and easy to set up, you can also wow guests with a Christmas tree, candy cane, or a giant present, all made from big, round balloons! 
Eggnog Bar
For those who haven't had the joy of tasting Christmas in a glass, introduce your friends to eggnog. This creamy alcoholic beverage is great to share around a warm, cozy fire. If your guests are not a fan of alcohol, you can turn these rich drinks into a creamy milkshake with vanilla, sugar, spice, and a few other incredibly lovely ingredients. 
Reindeer Cookies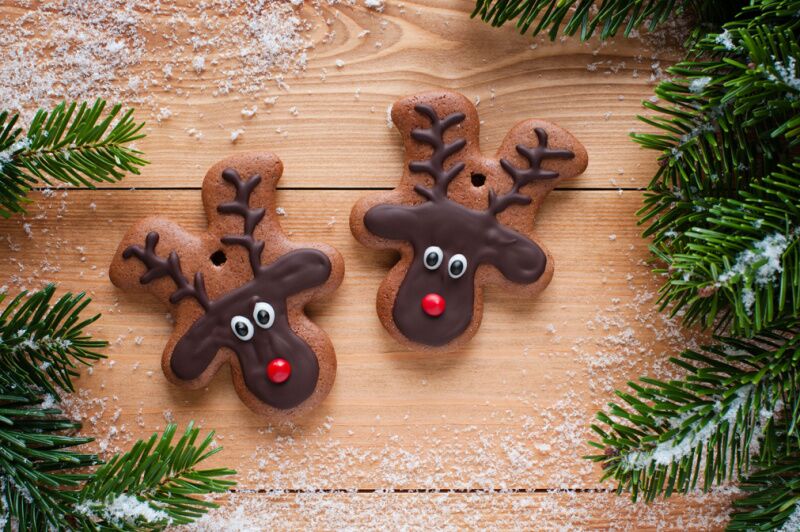 Photo: aliasemma/shutterstock.com
Since Santa's reindeer are busy this season, you can substitute this Christmas birthday party idea for tasty reindeer cookies. Served hot out of the oven or nice and cold, you can offer a tray of these treats at any time of the day. You can also pick between chocolate, peanut butter, vanilla, and other excellent cookie flavors. 
Turkey Subs
Since you will all be mingling and dancing the night away, you won't have much time to have a full turkey dinner. So, why not make a mini Christmas feast with delicious turkey subs? Layered with your favorite cranberry or hot sauce, your little roll can be wrapped with green lettuce, juicy tomato, grilled onion, fresh cucumber, and other tasty delights. 
Celebrate at Home
Whether you live in a mansion, townhouse, or apartment, your home is probably the best place for a festive Christmas birthday party. With the Christmas cheer buzzing through the halls, you can decorate each room and your backyard to match your theme and style perfectly.
Find more birthday party ideas here on The Bash.