8 Exciting Party Venues in Miami For Every Celebration
From baseball stadium to iconic skyscraper, it's safe to say these Miami venues are true hot spots.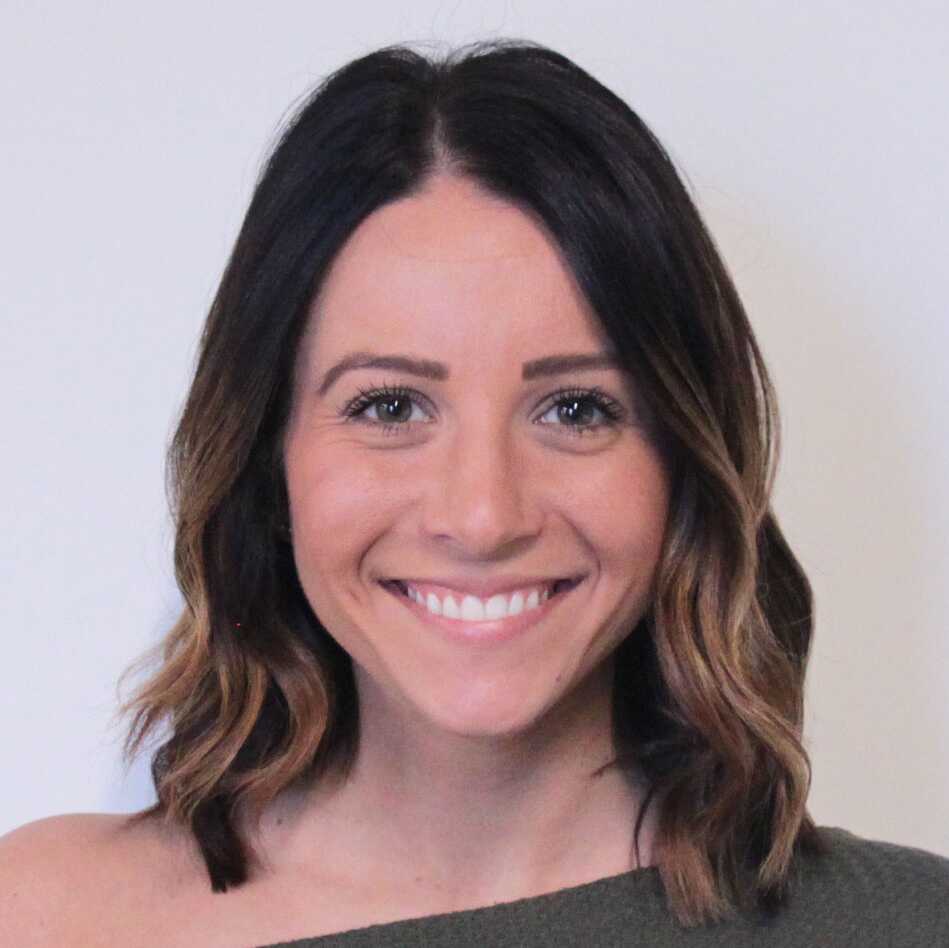 Birthday parties, baby showers, private events, and more—whatever the occasion, exciting party venues in Miami will take your celebration to the next level. Whether you're looking for a unique venue in downtown Miami for cocktail parties or a centrally located venue for dinner parties, these hot spots will be the ideal location for your private party needs. 
Here are 8 exciting party venues in Miami to host your next special event or occasion.
Planta South Beach - Barn, 850 Commerce Street, Miami Beach
Planta South Beach is a trendy, chic restaurant venue located in Miami Beach. Serving locally sourced, 100% plant-based cuisine and speciality cocktails with fresh fruit grown on their rooftop garden, Planta celebrates menu options that refrain from using any animal products. 
The Barn's interior has vaulted ceilings with rustic soft wooden paneling on the walls. The flooring has black and white tiling with  tropical greenery and palm leaves sprinkled through the space. Party goers won't forget celebrating life's special moments at this trendy and stylish event space. The Barn is available for private celebrations of up to 335 guests.

Marlins Park - Infield Skin, 501 Marlins Way, Miami
Are you a sports fan? More importantly a baseball fan? Marlins Park makes the party host's dreams come true with the ability to celebrate events right on its baseball diamond—otherwise known as Infield Skin. Home to the Miami Marlins baseball team, guests can enjoy seated dinners or cocktail hours right under the field lights in the heart of the stadium.  
Guests will get exclusive access to Marlins Park, with the ability to mingle throughout the entire infield. The field can accommodate up to 550 guests and has a variety of layout options to suit different event styles and needs. Infield Skin can be rented for corporate events, weddings, fundraisers, galas, and any other large celebration!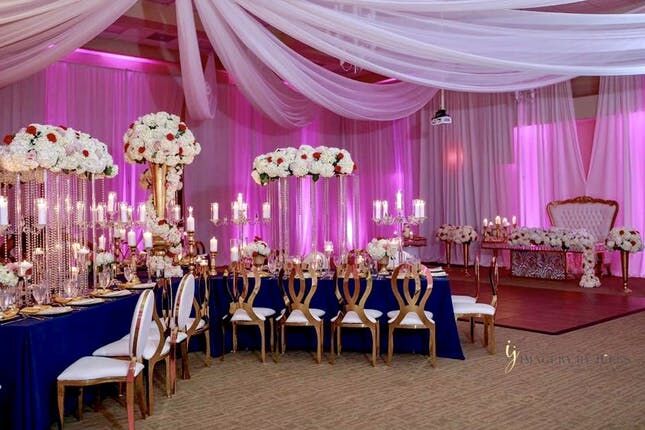 Germack Event Venue, 4860 Griffin Road, Davie
Located in South Florida is the elegant and extravagant Germack Event Venue. With both indoor and outdoor event spaces, this 5,000 square foot venue has tons of amenities including an onsite event team, a variety of rentals including furniture, linen, glassware, and flatware, and full service catering.  
The interior is regal with gorgeous chandeliers and wall sconces as well as a fabric draping covering the ceiling. Outside is a wooden pergola with optional bistro lights and tiki torches.  Germack Event Venue has the capacity to host 265 guests seated and 500 guests standing. This venue is suited for any type of event entertainment and has the equipment (and capacity) to accommodate anything from live bands to fashion shows.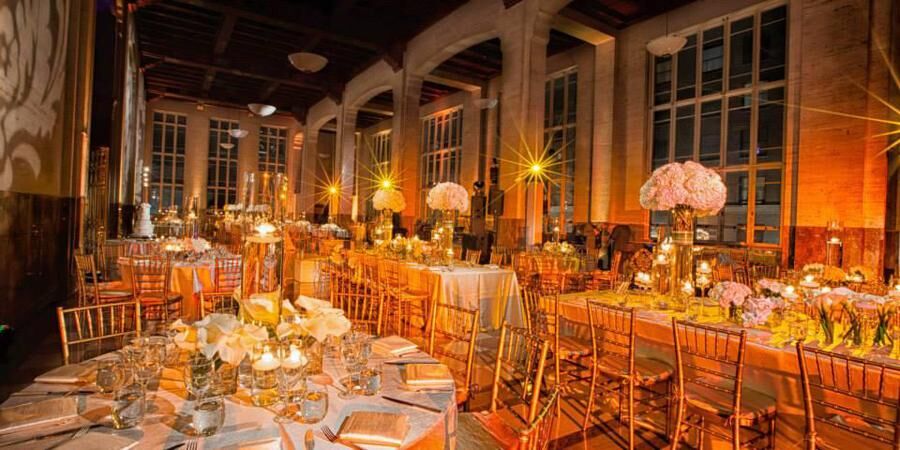 The DuPont Building - South Ballroom, 169 E Flagler Street, Miami
Based out of a 1930s bank, The Alfred I. DuPont Building is a historic skyscraper that has been preserved over the years and combined its original features with modernized fixtures. The South Ballroom spans 6,500 square feet and can host events with up to 550 guests.  
The inside of the ballroom features marble flooring and columns with vaulted ceilings, as well as floor to ceiling windows streaming in natural light. This space is regal and romantic, and when set up for events is absolutely breathtaking. Guests can enjoy grabbing a drink from a bartender situated out of the old bank teller window or a cocktail hour in the original bank vault. Hosting your special celebration at The Alfred I DuPont building will be an experience you and your guests will never forget!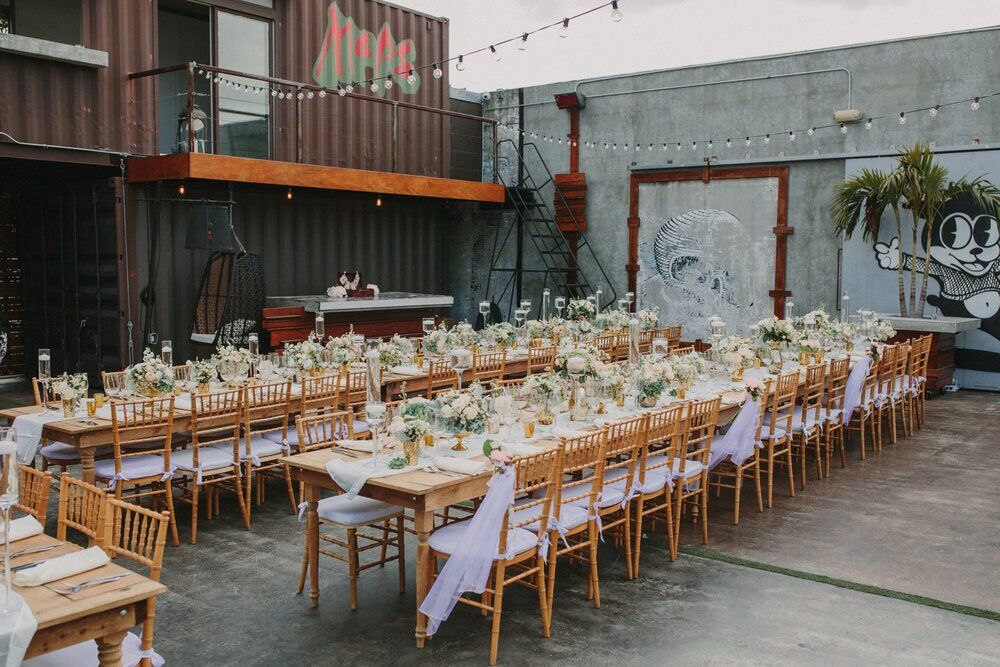 MAPS Backlot, 342 NW 24th Street, Miami
Located in Miami's Wynwood Art District, MAPS Backlot is a private outdoor event space boxed in by concrete walls.  It has a chic, industrial ambiance that leaves room for party hosts to transform into their perfect event vision.  This modern venue features an outdoor bar, bistro lights, and a variety of art deco murals that cover small and large portions of the surrounding walls.  
MAPS Backlot is a massive open-air space, with 15,000 square feet of flex room and the capacity to host up to 1,000 guests. It is an adaptable space that can accommodate many amenities such as dance floors, banquet tables, photo booths, live bands, trendy furniture, floral decor, wet bars, and more! MAPS Backlot is suitable for weddings, product launches, weddings, galas, fundraisers, concerts, and more.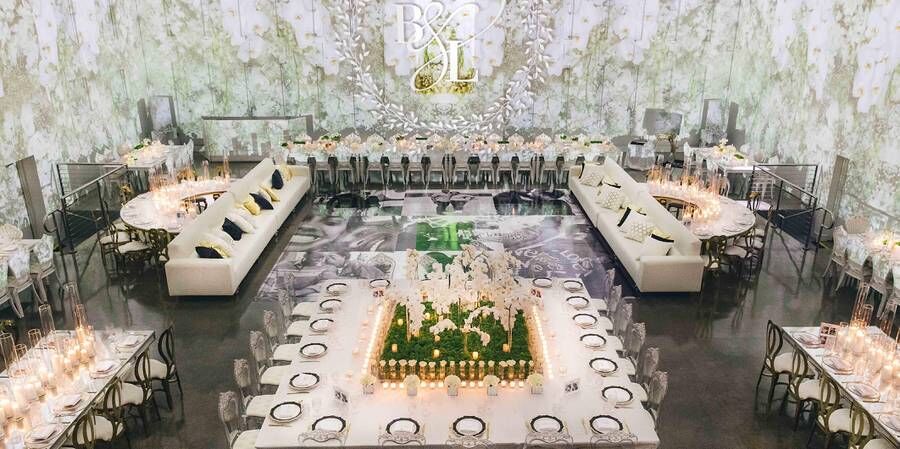 The Temple House, 1415 Euclid Avenue, Miami Beach
The Temple House is not only a grand ballroom but a breathtaking venue that is completely transformable, each event different from the next. The Temple House has the unmatched ability to project any type of image or art all over the walls and ceilings, essentially creating a personalized event backdrop.  
Offering a variety of event spaces to suit large and small guest counts, The Temple House is able to accommodate any type of event or celebration. The Grand Room is the most highly requested space with 8,000 square feet of convertible area, that can host up to 673 attendees. It is a high-catching, trendy facility that will make any occasions one-of-a-kind.
Island Gardens - The Wood Event Deck, 888 MacArthur Causeway, Miami
Island Gardens is an open air event venue, with unobstructed views of the Miami marina.  It stays true to the tropical, chic vibe that Miami is known for, and provides guests with unprecedented views of the city skyline too.  
The Wood Event Deck is versatile, and an extremely popular option for any event host looking for a location with classic Miami vibes. Island Gardens is available to be rented for corporate events, weddings, cocktail receptions, galas, fundraisers and more—with the ability to accommodate up to 800 guests.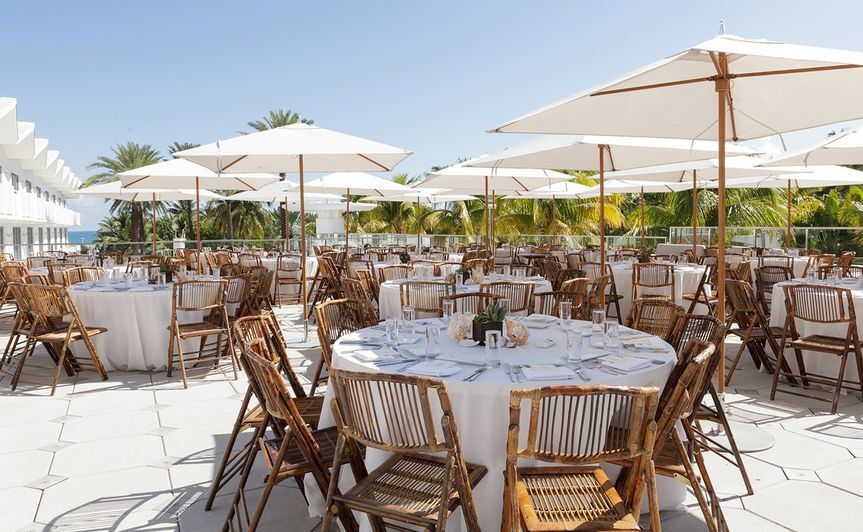 Shelborne South Beach - Sky Terrace, 1801 Collins Avenue, Miami Beach
Looking for a venue to wow your guests? The Sky Terrace at The Shelborne South Beach is an elegant event space and the perfect option to host your next grand celebration. With sweeping views of the Atlantic Ocean and 3,700 square feet of event space, Sky Terrace will not disappoint.   
This elevated and open air event space is located on Shelborne South Beach's iconic pool deck. It can accommodate social gatherings of up to 240 party patrons. This beachfront venue is luxurious and a blank canvas that can be transformed to suit any event theme.  
Explore more event venues in Miami here on The Bash.