14 Unique Baby Shower Venues in Chicago
From rooftops to patios, and everything in between.
Lauren Miolene
Contributor
Every party host knows that finding and choosing the right venue is one of the most important parts of planning any type of event. When it comes to an upcoming baby shower or sprinkle in Chicago, you're going to want to do your research. Don't choose just any restaurant or event hall in the Windy City! We put together some of the best baby shower venues in Chicago to help welcome this new little one. 
Browse through unique restaurants, rooftop patios, and outdoor spaces that make ideal locations for any type of celebration, especially a baby shower.
READ MORE: 
Here are some of the top baby shower venues in Chicago: 

Taureaux Tavern - Patio, 52 W Elm St
How perfect is a little French bistro for a baby shower? Celebrate the bundle of joy at Taureaux Tavern - Patio located in The Loop district of Chicago. This sophisticated location features an outdoor patio with a retractable cover so you don't need to worry about actual rain showers on the day of your baby shower. 
The light colored wicker furniture replicates the looks of a French café that makes it feel like you are walking down Parisian streets. Host a slightly larger group of between 72 and 100 guests to dine on the restaurant's breakfast, lunch, or dinner specials and have the ability to customize the menu for your event.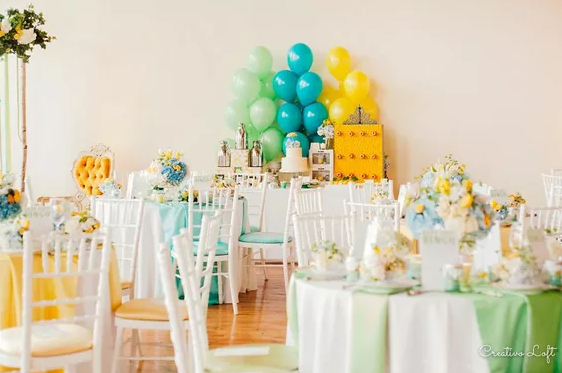 Creativo Loft, 1105 W Chicago Ave
Creativo Loft is an intimate private event venue in Chicago that seems like it was designed to host the ultimate baby shower. The 3,000 square foot space acts as a blank canvas to customize and enhance to your liking. The venue features an open floor plan, tall ceilings, and numerous windows to allow natural light to pour into the space. 
Use the hidden kitchen and prep area to whip up treats for the celebration or leave it to the professionals and book a caterer for the special day. This space can accommodate up to 74 guests and is bright, fun, and eclectic.

Tack Room, 1807 S Allport St
For a fun western-themed baby shower in Chicago, consider hosting the celebration at Tack Room. Exposed brick walls, antique decor, and western artwork help contribute to the warm and rustic feeling at this restaurant and cocktail bar venue. 
Invite between 45 and 75 guests to dine on selections from a curated food and drink menu created just for the celebration. Move the baby shower outside under umbrellas on the open air patio, or stay inside and enjoy the natural light with the floor-to-ceiling windows.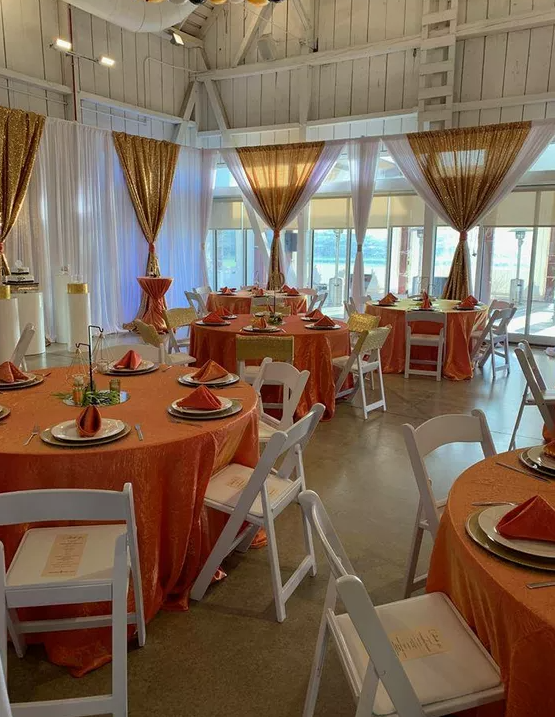 The Bradford Barn, 20712 Western Ave B, Olympia Fields
This isn't your typical barn venue, The Bradford Barn blends together a rustic atmosphere and sophisticated ambience to create a one of a kind experience, making an ideal location for a baby shower. 
The barn includes white walls, vaulted ceilings, and tons of windows to bring in natural lighting, and also acts as a blank canvas to bring your vision to life. Use this spacious indoor room and outdoor area to host up to 250 guests to shower mom-to-be.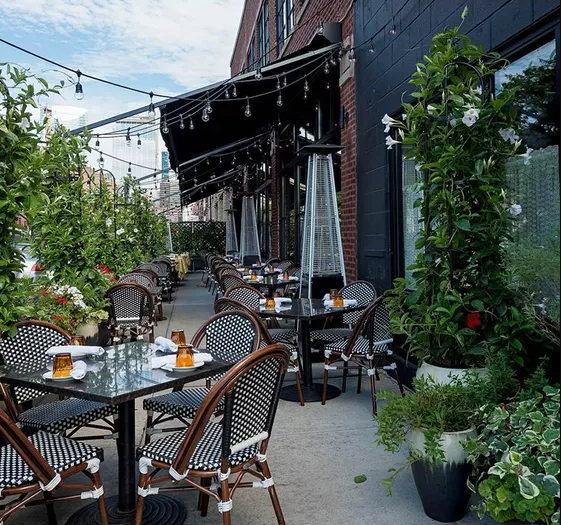 Formento's - Patio, 925 W Randolph St
Formento's - Patio is an authentic Italian eatery located in the heart of Chicago that serves classic cuisines with a contemporary approach. The menu boasts a selection of over 600 varieties of wine and features Italian favorites including crostini, eggplant parmigiana, and chocolate truffle cake. 
Invite up to 85 guests in the outdoor patio space that will make it feel like you are walking the streets of Italy. String lights, greenery, and heaters are placed throughout the space to give the patio a warm and cozy feeling at the Chicago restaurant.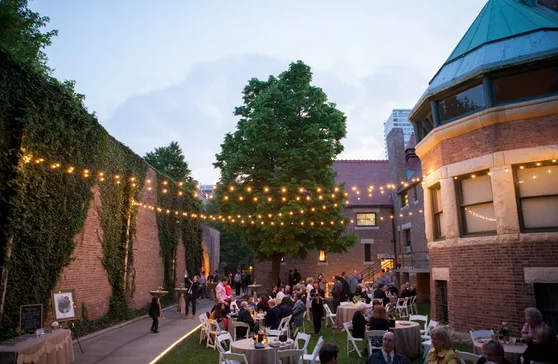 Glessner House - The Courtyard, 1800 S Prairie Ave
Elegant only begins to describe the atmosphere of The Courtyard at Glessner House. The Chicago mansion sits on a picturesque estate that makes a gorgeous backdrop for any type of event, especially baby showers. 
The immaculately manicured lawn, ivy draped brick walls, and sunshine creates a whimsical atmosphere to celebrate the mom-to-be. Host a larger shower of up to 100 guests in the 4,700 square foot space and even opt for the event tent to offer shade during the event.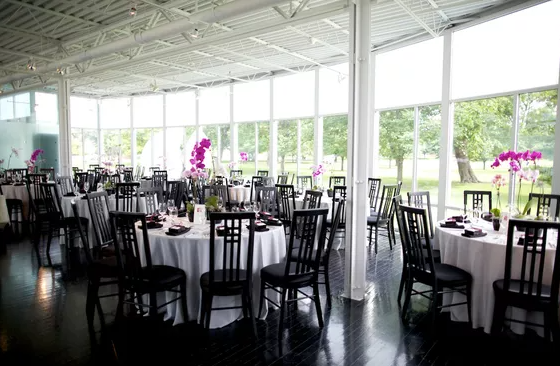 Elmhurst Art Museum,
150 S Cottage Hill Ave, Elmhurst
For an artsy mom, there is no better way to celebrate baby's arrival than by having the shower at Elmhurst Art Museum. This gallery space is known for its clean, versatile design and ever-changing collection of artwork that acts as decor for any type of event. 
The floor-to-ceiling windows flood the indoor space with natural light, and the provided tables can be decorated to the host's liking. This one of a kind baby shower venue in Chicago will be a memorable and unique location.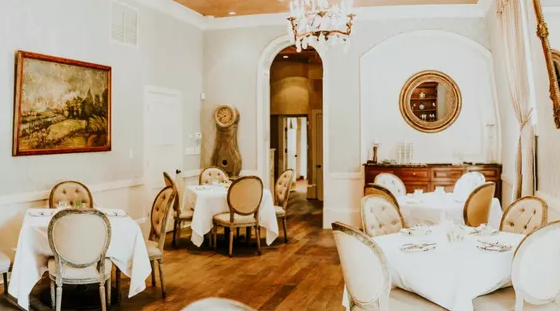 Blue Door Kitchen And Garden - The Cottage
Host a vintage tea party baby shower at the french-inspired restaurant, Blue Door Kitchen And Garden - The Cottage. This classy and intimate space can host between 14 and 50 guests, making it an ideal location for brunch or luncheon. The Cottage boasts a vintage aesthetic with European refinement to create a unique and memorable experience. 
Dine on delicious and locally-sourced farm-to-table cuisine at this classic venue that is reminiscent of a French country estate.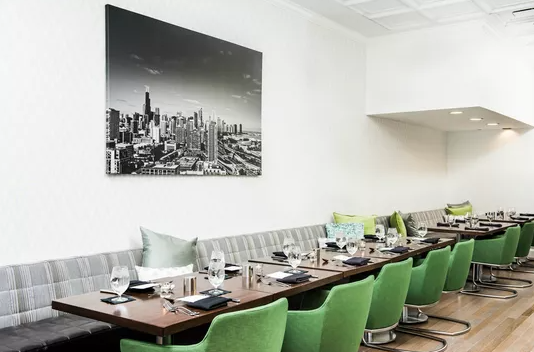 The Collection - Derailed Bar, 425 S Financial Pl
Modern, sleek, and classy are the vibes at The Collection - Derailed Bar located in The Buckingham Hotel. The intimate and private event space is ideal for small get-togethers of between 20 and 40 guests in its warm and welcoming atmosphere. The minimalistic yet vibrant venue features wooden tables, colorful chairs, and various layouts that can be customized.
Choose from a cocktail-style reception or a seated meal depending on the feeling of the baby shower. Work with the catering director to create a customized menu that can accommodate multiple allergies and dietary restrictions as well.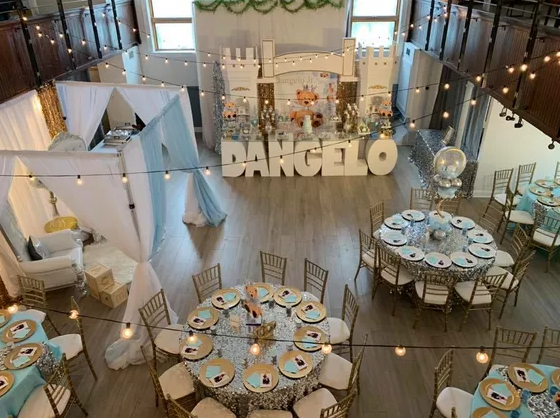 Assemblea, 1350 W Erie St
If planning a larger baby shower for your little bundle of joy, consider booking Assemblea. This warehouse style venue includes 4,500 square feet of open concept space and can accommodate up to 100 guests for any private event. The area also features 24-foot tall ceilings, an upper balcony, and even an outdoor patio and garden for guests to explore. 
The 19th-century building includes modern amenities such as professional audiovisual equipment and an on-site kitchen to prepare any snacks or meals ahead of time. When planning a grand baby shower in the Chicago area, look into booking Assemblea.

Morgan MFG - Skylight, 401 N Morgan St
The Skylight at Morgan MFG is a gorgeous industrial space to host private parties and baby showers. The 12,000 square foot space can accommodate up to 1,000 guests, offering the ability to host small or large celebrations. 
This industrial venue features exposed brick walls, wooden beams, and skylight windows that allow an abundance of natural light into the event space. Customize the venue to your liking with the provided wooden tables, couches, lounge chairs, and more so you can bring your vision to life.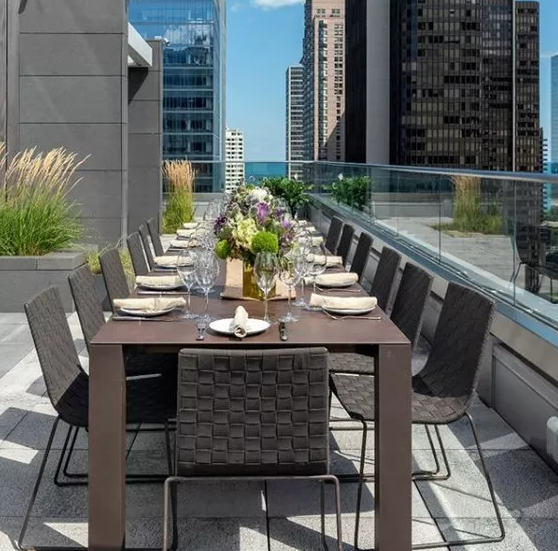 Woodwind - Birch Rooftop Garden, 259 E Erie St 18th Floor
Located in the Streeterville neighborhood of Chicago is The Birch Rooftop Garden at Woodwind. The patio on the 18th floor features sweeping views of the city skyline, chic patio furniture, and chrome detailing to complete the industrial-modern look. 
This open, outdoor space can accommodate up to 70 guests to dine al fresco on the restaurant's one of a kind dishes. The New American meals at Woodwind can be served as a buffet, family style, a DIY food bar, and more. This unique baby shower venue in Chicago is customizable to fit your party needs.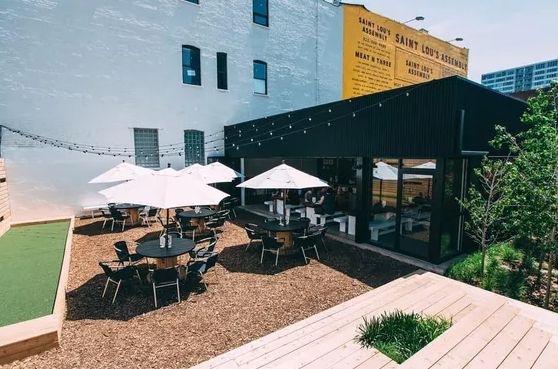 Saint Lou's Assembly - Backyard, 664 W Lake St
The Backyard at Saint Lou's Assembly is a perfect location for a sprinkle or casual baby shower. Take a break from the fast-paced city because this modern restaurant has an open backyard space for private events and gatherings. The contemporary patio design is equipped with modern amenities, a covered dining space, and retractable umbrellas to provide shade and comfort for you and guests. 
This casual backyard area can accommodate between 25 and 65 guests depending on the season and creates a picturesque backdrop for a fun and exciting baby shower.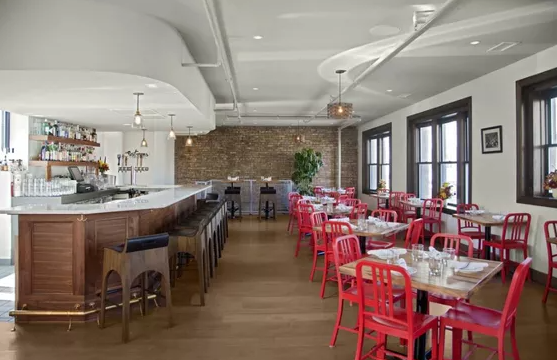 Chop Shop - The Butcher's Brother Dining Room,
2033 W North Ave
This 100 year old building offers the perfect rustic aesthetic with pops of metropolitan charm. Host an upcoming baby shower in The Butcher's Brother Dining Room at the Chop Shop for a one of a kind menu and experience to welcome baby. Dine on fresh meals with ingredients from local Chicago farms including seafood, meat, hand-crafted cocktails, and mocktails. 
The space also includes a lighting and sound system as well as a stage to book live entertainment during the celebration. Invite between 25 and 75 guests to your baby shower at this intimate venue.
Find more party venues in Chicago here on The Bash.