39 Exciting New Year's Eve Party Ideas to Ring in 2022
Hosting a NYE party? Check out these awesome ideas for planning inspiration.
As the holiday season comes into full swing, you'll want to start making plans for how you'll ring in 2022. We've rounded up lots of New Year's Eve party ideas to help you host an amazing soiree with friends and family.
Whether you're celebrating with an intimate dinner party at home, a kid-friendly affair or a full-fledged party at a venue, we've got New Year's Eve party decorations, themes, food and drink ideas, entertainment and more to make your countdown to midnight fun for everyone in attendance.
READ MORE:
Here are our favorite New Year's Eve party ideas for 2022.
1. Send a digital New Year's Eve party invitation
The holiday season can be a busy time, so you'll want to send out your New Year's Eve party invitation well in advance (at least 3 weeks). While you could go old school with a paper invitation, the details could get lost in the stack of holiday cards. We recommend sending a digital invitation from a site like Evite instead (or in addition to a paper invite). They have several New Year's Party invitation templates and offer additional functionality like RSVP management, email reminders and messaging, allowing you to manage your guest list and build anticipation in the days leading up to the event.
2. Book a party venue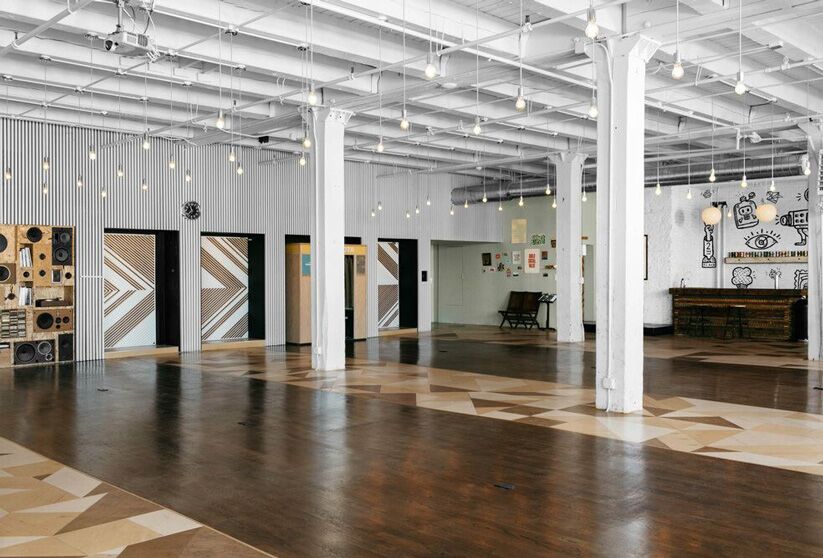 Last year, party options were pretty limited. In 2022, you may be excited to go out rather than stay at home. If your guest count is on the larger side, look into booking a venue to host your celebration. A private party room, theatre space, loft or banquet hall will help you make this year's event memorable and safe, and save you from the post-party clean-up.
Pro Tip: The Bash can help you find the perfect party spot in major cities across the U.S.
3. New Year's Eve Party Theme
While New Year's is a theme in itself, choosing a theme can help get everyone in a party mood and add an element of interest. Use it to inspire your decor, food and dress code. Here are some of our favorite New Year's Eve party themes:
Find Murder Mystery Entertainment
4. Dress code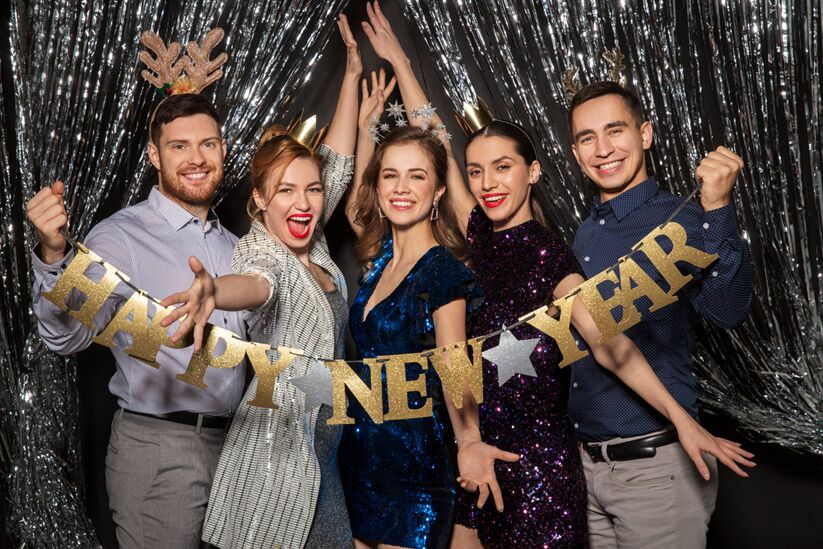 Photo: Syda Productions/Shutterstock.com
Whether you have a theme or not, establish a dress code for the evening. New Year's Eve is a great excuse to get dressed up in glittery frocks and dress shirts. Be sure to include the details on your invitation so everyone can get in on it.
5. Book a party bus
Transportation to and from your party is an important part of hosting a New Year's Eve party. Ensuring you have non-alcoholic beverages for the designated drivers in attendance is a start, but for those relying on an Uber or taxi, it can be difficult to get home on the busiest night of the year. Hire a party bus or limo service to shuttle guests to their homes or to public transport stations so everyone can get home in a timely and safe manner.
6. New Year's Eve music
Depending on your theme and the scale of your event, the choice of music will set the tone for the evening—consider hiring a dance band, jazz ensemble, acoustic duo or tribute act. A music professional will be able to read the crowd and help MC the evening to make your event a big success. 
7. Communal New Year's Eve playlist
Planning to go the playlist route? Be sure to research and plan the song selections well in advance so that there are no awkward gaps in your party's soundtrack. We suggest asking each guest to submit their favorite songs for you to include to make a communal playlist. The last thing you want is dualling devices with guests trying to hijack your Bluetooth speakers to play their favorite tracks. 
Bonus: Need help getting your playlist started? Here are 46 Songs to Add to Your New Year's Eve Playlist. For a larger event, hire a DJ to keep the vibe going.
8. Festival vibes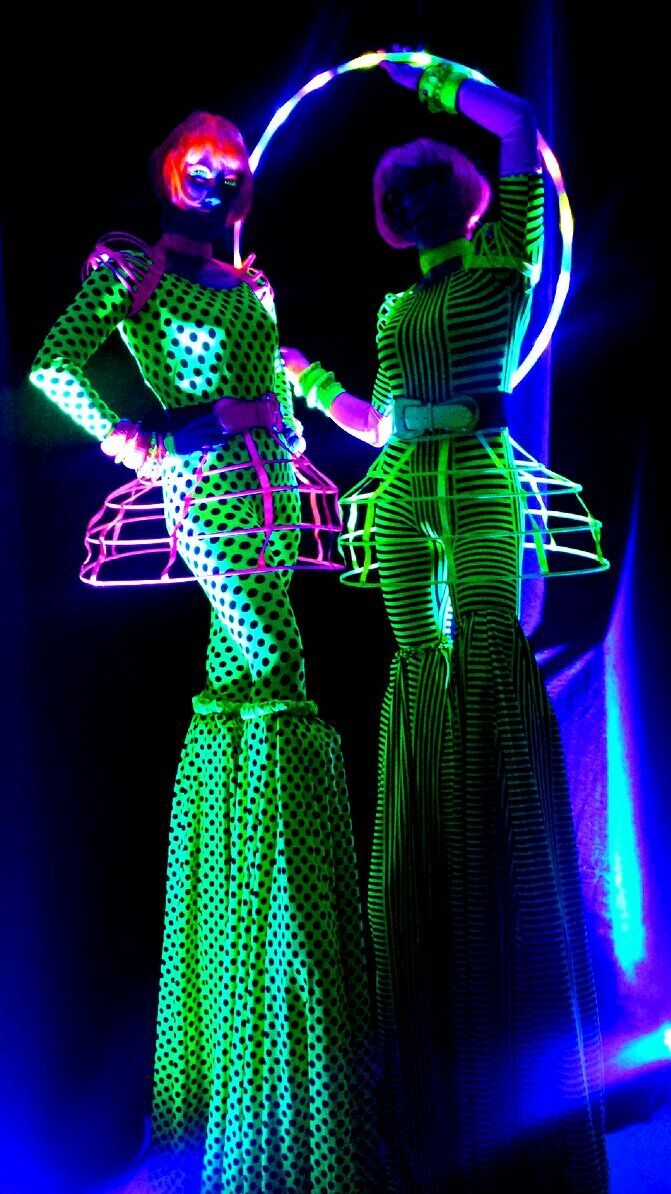 Keep the energy high with a line-up of live performances. Talented musicians and variety acts will wow the crowd and create excitement throughout the evening. Here are some of our favorite entertainers for a New Years' Eve party. 
Pro tip: The Bash can help you find and book the perfect entertainer in your area.
9. Shiny decorations
Gold, silver, black and white are the traditional colors for New Year's Eve party decorations, but don't let that limit you—feel free to introduce more colorful shades into your decor. Regardless of color scheme, make it glamorous and glitzy with metallic and glittery finishes and don't be afraid to go OTT. 
10. Display a big clock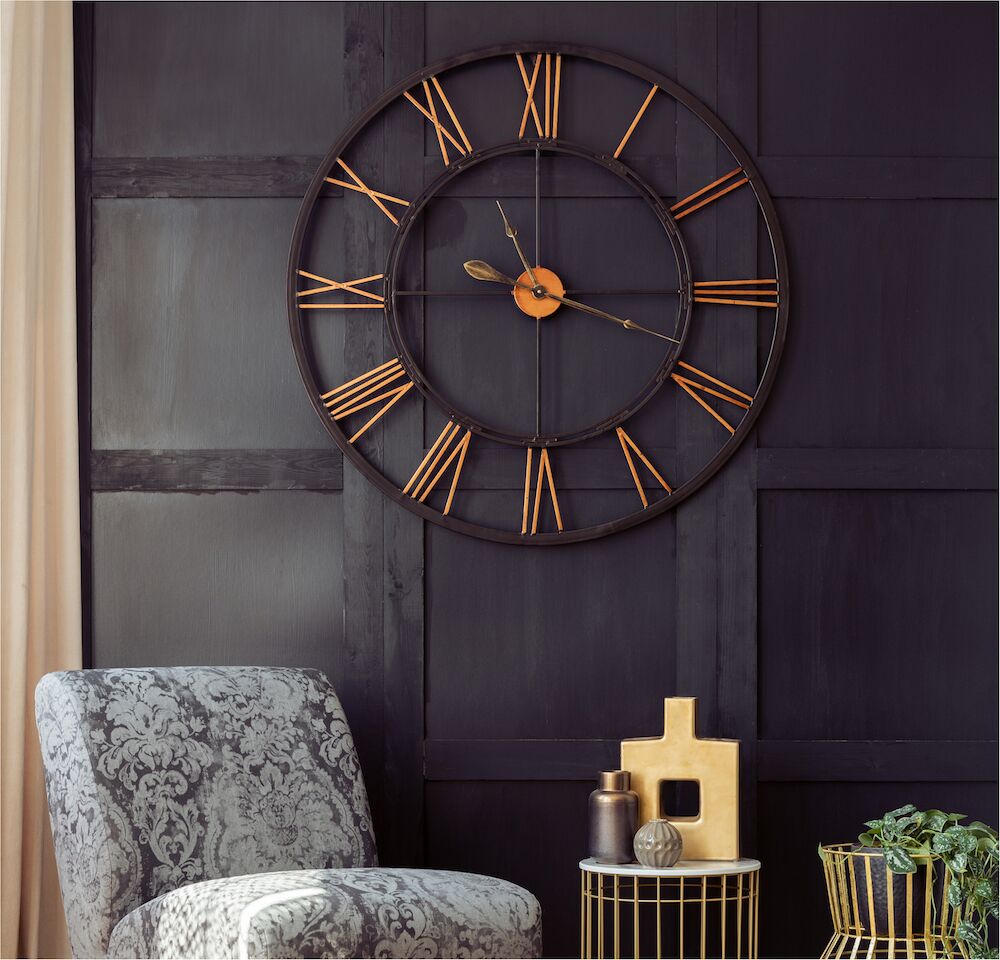 Photo: Photographee.eu/Shutterstock.com
Keep the countdown top of mind by featuring a clock as part of your decor. Display it over your bar area or go really big with this oversized one displayed on a feature wall.
11. Set up a photobooth
Creating an Instagram-worthy backdrop can add an exciting decor element to your event and let your guests capture some great photos. You can make it DIY or take a more professional approach and hire an event photographer to fully document the event and set up a state-of-the-art photobooth. Encourage your guests to share their photos with a party hashtag or upload them to the Evite wall for all your guests to enjoy the day after.
12. Hang a disco ball
Nothing screams party like a disco ball. Even if dancing isn't the focus of the evening, the swirling spots light up the room for an evening of celebration.
13. Distribute party gear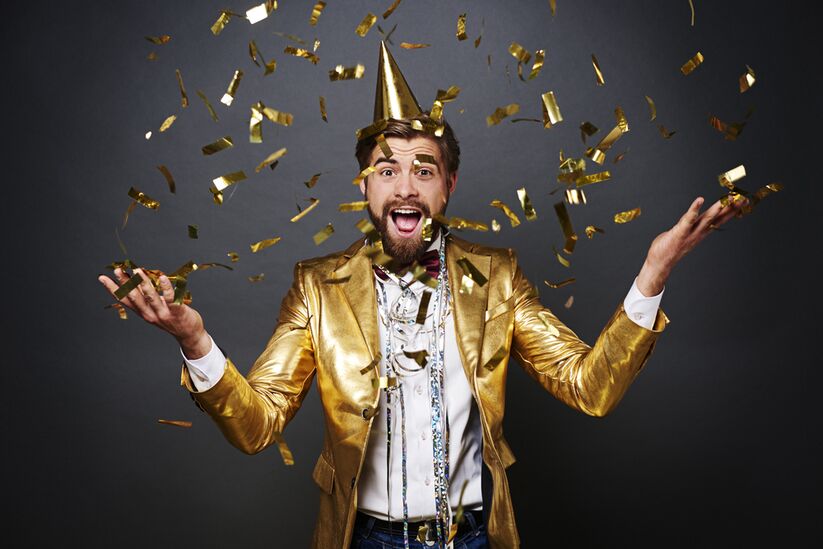 Photo: gpointstudio/Shutterstock.com
Take your guests' outfits up a notch with some party gear. It's fun to dress up the crowd with some beads, tiaras, hats, neon necklaces, etc. 
15. Craft station
If you have children in attendance, this is a great activity, but adults will enjoy it, too! Buy some plain party hats and decorate them with feathers, beads, glitter and confetti so that everyone has a one-of-a-kind hat.
14. Glitter bar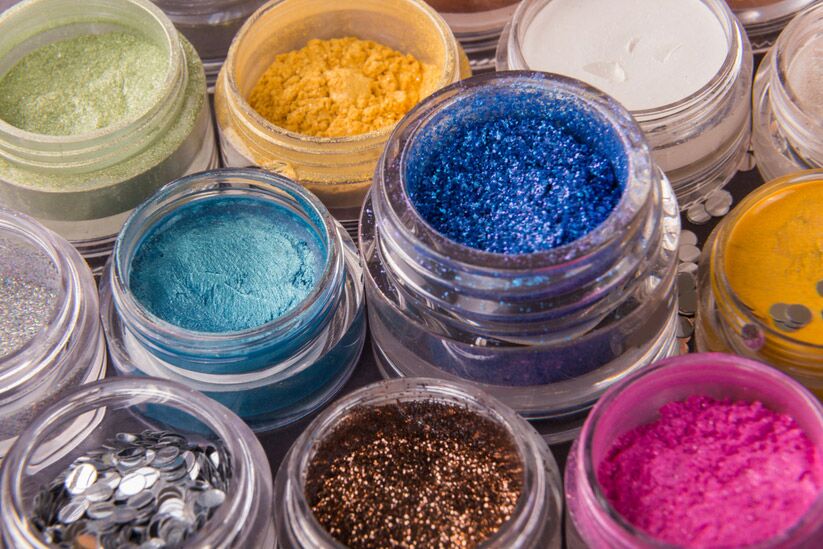 Photo: Alexander Lukatskiy/Shutterstock.com
Take this idea one step further and hire a makeup artist to add a little glitter to the evening. Even if not every guest wants to take a seat in the chair for a glitter makeover, watching a pro work their magic is entertainment in itself.
16. Make a time capsule
Another family-friendly idea is to invite your guests to put items into a time capsule. Use an old trunk or decorative box to hold photos, objects, news clippings, digital files and even store some of the party gear, decorations and photos from the evening. Save it to open at future New Year's Eve parties in the decades to come—2032, 2042, etc.—you won't regret getting this tradition started. 
17. Who am I? game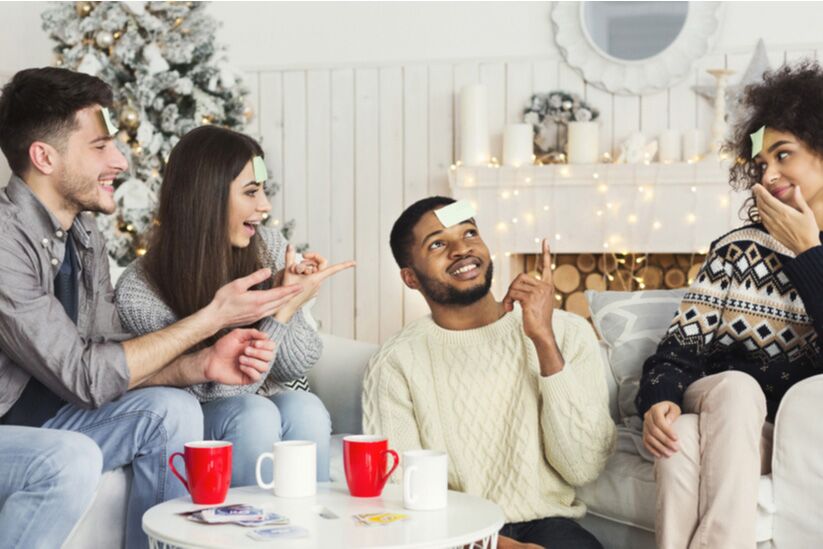 Photo: Prostock-studio/Shutterstock.com
Get your guests mixing and mingling! The premise of this party game is to put the name of a famous person on each guest's forehead—actor, musician, politician, sports personality, historical figure, etc. Guests circulate around the room for around 15 minutes asking one or two questions (with "yes" or "no" answers) to the other guests until they guess the name. To set it up, grab some post-it notes and have each guest choose a famous person to put on someone's forehead. Alternatively, the host can come up with all the labels ahead of time.
18. 2021 trivia game
Recap the pop culture and news events of 2021 with a trivia game. ​Feel free to get creative and make your own trivia game with inside jokes and fun facts about your guests.
19. Caricatures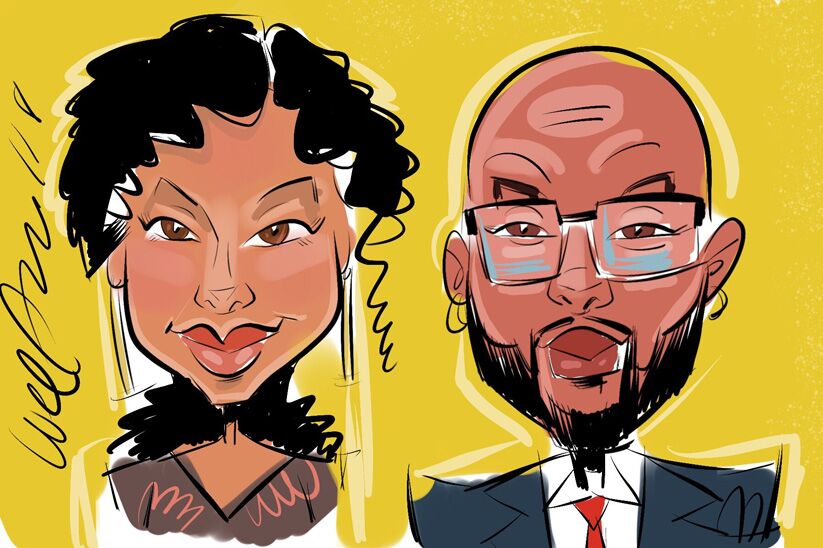 Photo: Jason Wilkins, caricaturist from Toronto.
Hire a caricaturist to draw each of your guests (these days many artists offer a digital file). Mount or project the drawings onto the wall to give everyone a good laugh. Gift them to each guest at the end of the evening as a memorable party favor.
20. Share 2021 highlights
For a smaller crowd, we love the idea of asking each guest to share a highlight from the past year. As the saying goes, sharing is caring and so getting a little sentimental at the close of 2021 will make your event more emotional and meaningful.
21. Make New Year's resolutions
Photo: Vesna Cvorovic/Shutterstock.com
Set up an area where guests can make a New Year's resolution and put it in a jar or box. This can be a great ice breaker that leads to a deeper conversation as individuals share a personal goal for 2022.
22. Fortune teller
If you're reflecting on the past and making predictions for the future, why not hire a professional fortune teller, psychic, or tarot card reader to give your guests a reading. Provide a sign-up sheet with approximate time slots so your guests can mix and mingle while they're waiting their turn.
23. Fancy cocktails
You can certainly make your party BYOB and call it a day, but we love the idea of offering up a New Year's Eve signature cocktail or two. You can hire a bartender or mobile bar if you'd like to make the cocktails a focus for the evening or prepare batched drinks for a self-serve bar. Make your drinks extra special with patterned straws, fun cocktail sticks and fancy garnishes.
P.S. Here are 26 Holiday Cocktail Recipes to get you inspired.
24. Bubbly bar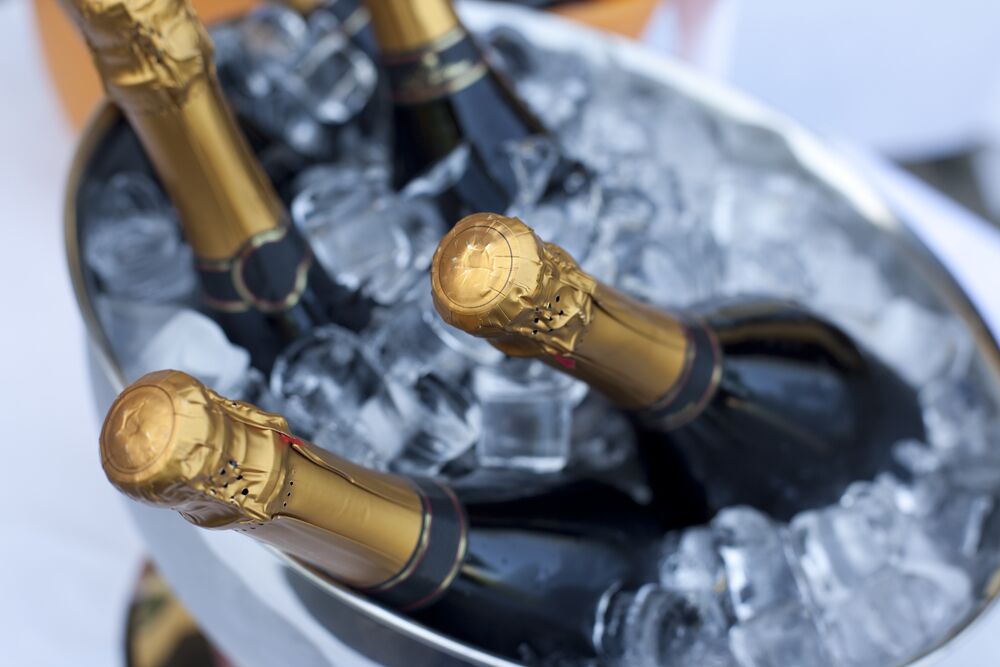 Photo: Andreas Prott/Shutterstock.com
Sparkling wine and New Year's Eve go hand-in-hand, so set up the bar with a large bin filled with bottles of bubbly and ice. Many guests often bring a bottle of Champagne or prosecco to a New Year's Eve party and so you can invite them to add it to the bar. 
25. Midnight toast
While some guests might enjoy sipping champagne throughout the evening, we think having a group toast at midnight is a wonderful way to ring in the New Year. Serve all your guests a glass of bubbly (include a non-alcoholic offering) just prior to midnight so you can all raise a glass together.
26. Champagne tower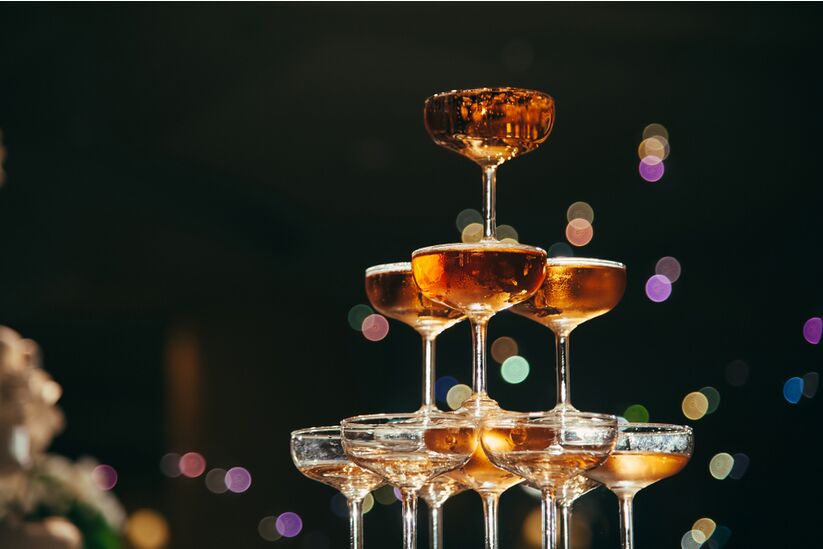 Photo: Pornanun K/Shutterstock.com
Make that shared toast even more spectacular with a champagne tower. This can be a little tricky to pull off, but with some champagne glass rentals and the help of a professional caterer or bartender, it could be an Instagram-worthy moment of the evening.
27. Food stations
Unless you're hosting a sit-down dinner party, food stations work well for a New Year's Eve party at home or at a venue. Whether you place food in different areas of the event space or serve it all on one table, dividing it into zones is an interesting way to go. An oyster bar, a platter of hors d'oeuvres, charcuterie board, veggies with dips, cheese fondue and bowls of snacks will ensure you have something for every palate and craving. Don't forget to mark vegan options with some signage.
28. Communal charcuterie board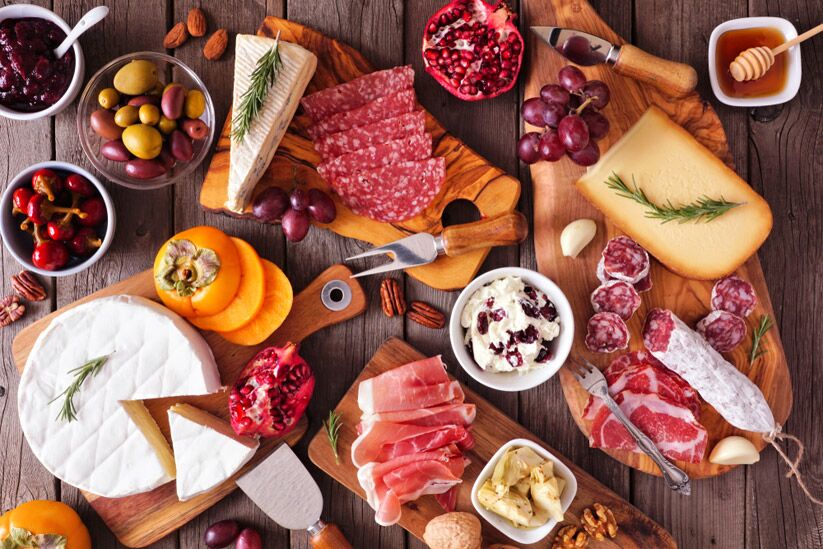 Photo: JeniFoto/Shutterstock.com
If your guests ask what they can bring, here's an idea. Suggest they contribute a favorite item to a charcuterie board. The result is always delicious as a mixture of cheeses, meats, spreads and toppings come together for everyone to enjoy. As host, make sure you have extra crackers on hand, along with knives and spoons for serving.
29. New Year's Eve dinner party
Speaking of a dinner party, if you do decide to go this route, we love the ideas of a multi-course potluck. Assign dishes with a wine pairing for each course versus serving a buffet of contributions. This way, dinner becomes the focus of the evening and you can enjoy each course over several hours with time to digest before the big countdown.
30. Late night snacks
If you expect your party to go into the wee hours, plan to serve some late-night snacks. At this point in the evening, you can keep it casual and serve pizza, sliders, samosas, fries or noodles. Restocking the charcuterie board might also do the trick. 
31. Dessert ideas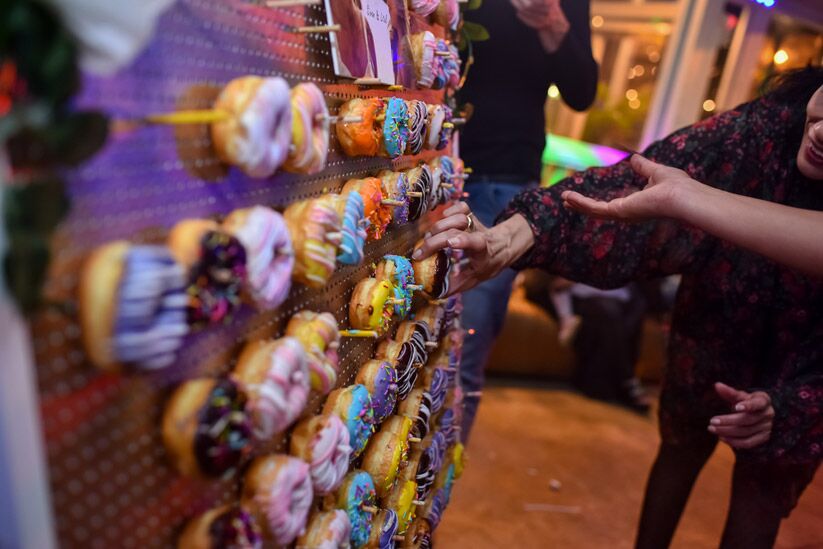 Photo: Lital Israeli/Shutterstock.com
After days of indulgence over the holidays, your guests may need yet another sugar fix to fuel their dance moves. Now is the chance to serve up all the holiday Christmas cookies, chocolates and squares you have leftover. However, we love the idea of supplementing these with an eye-catching display of sweets such as candy jars, caramel popcorn bar or a donut wall.
32. Outdoor lounge
If you need to clear out some furniture to make room for guests, put it outside on a porch or patio—weather permitting, of course. This will create a comfortable space for guests that need to cool off for a bit or the smokers on your guest list.
33. Dance-off
The only thing we love more than a dance party on New Year's Eve is a dance-off. Invite your friends to strut their stuff to a top song of 2021 or give a lip-sync performance based on a popular music video. Staging this performance just prior to midnight is a great way to unite the crowd and get them pumped up. 
Pro tip: for a larger venue, hire a party robot or professional dancers to bring energy to the dance floor.
34. Livestream the countdown
Now let's turn our attention to the highlight of the evening—midnight! At this point in the evening, it can be fun to feel connected to the outside world and so livestream the countdown at Times Square or another public celebration in your time zone. This might also be a good time to invite friends to join in the festivities by Zoom if you plan to have a virtual component to your party.
35. Noisemakers and confetti poppers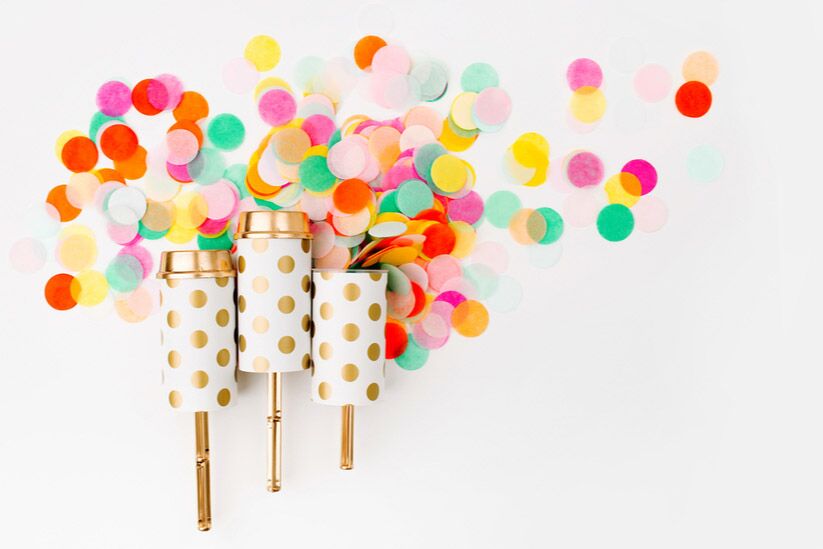 Photo: Igisheva Maria/Shutterstock.com
Distribute some noisemakers and confetti poppers just prior to midnight to create some excitement when the clock strikes 12.
36. Balloon drop
For a playful midnight celebration, we love the idea of a balloon drop over the crowd, especially at a venue with high ceilings. If you're working with a smaller space, even 20 balloons falling can be a really fun moment for children and adults alike.
37. Fireworks and sparklers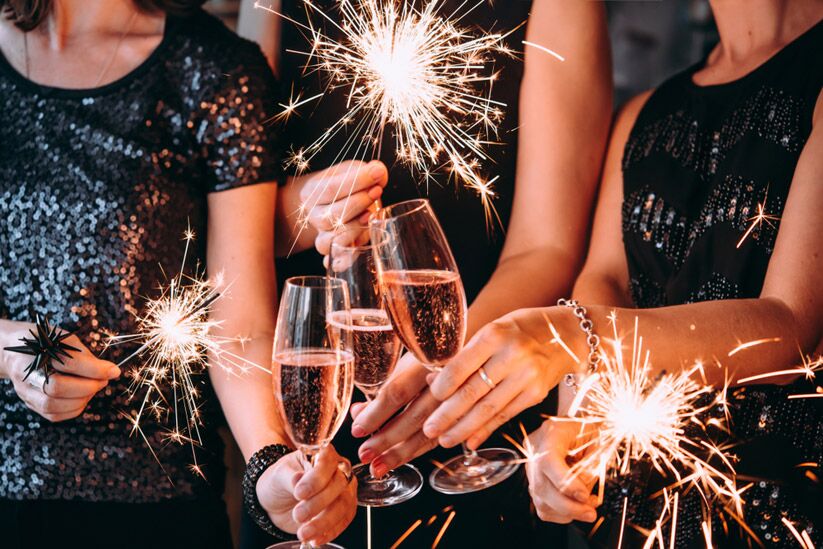 Photo: Yulia Grigoryeva/Shutterstock.com
Light up the night at midnight with fireworks or sparklers. Along with a glass of champagne, it's a dazzling way to kick-off 2022.
38. Sing Auld Lang Syne
Uniting the crowd with the singing of Auld Lang Syne is a tried and true New Year's Eve tradition. Whether you cue the band, play the song on Spotify or ask a talented guest to lead the singalong, distribute the lyrics to your guests so everyone can join in.
39. Make it virtual
If getting together IRL with friends and family isn't in the cards for you this year, we've got you covered. We've put together this complete guide on how to host a virtual New Year's Eve party.
New Year's Eve party entertainment booking tips:
Find more New Year's Eve party ideas on The Bash.