5 Unique Ideas for Holiday Party Food and Drinks
More than just your regular holiday party apps and cocktails.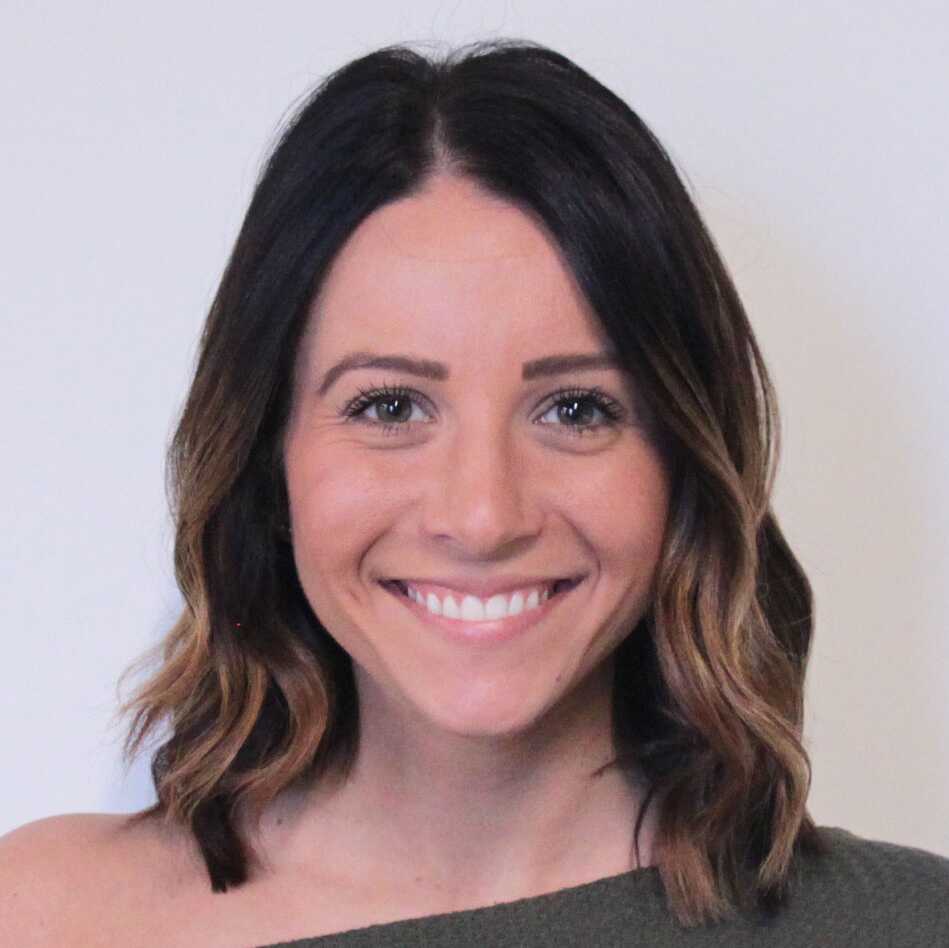 When it comes to planning a holiday party—or any party for that matter—we're always looking for new food and drink ideas to impress our guests. Holiday party food and drinks are no exception! 
We've rounded up new trends and unique ideas for holiday party food and drinks from some professionals in the events industry. "There are so many fun ways to celebrate the holidays with custom cocktails and food displays! Cocktails with a little bit of color and holiday flavor are always our favorites!" shared HoneyFitz Events. 
Here are 5 unique ideas for holiday party food and drinks.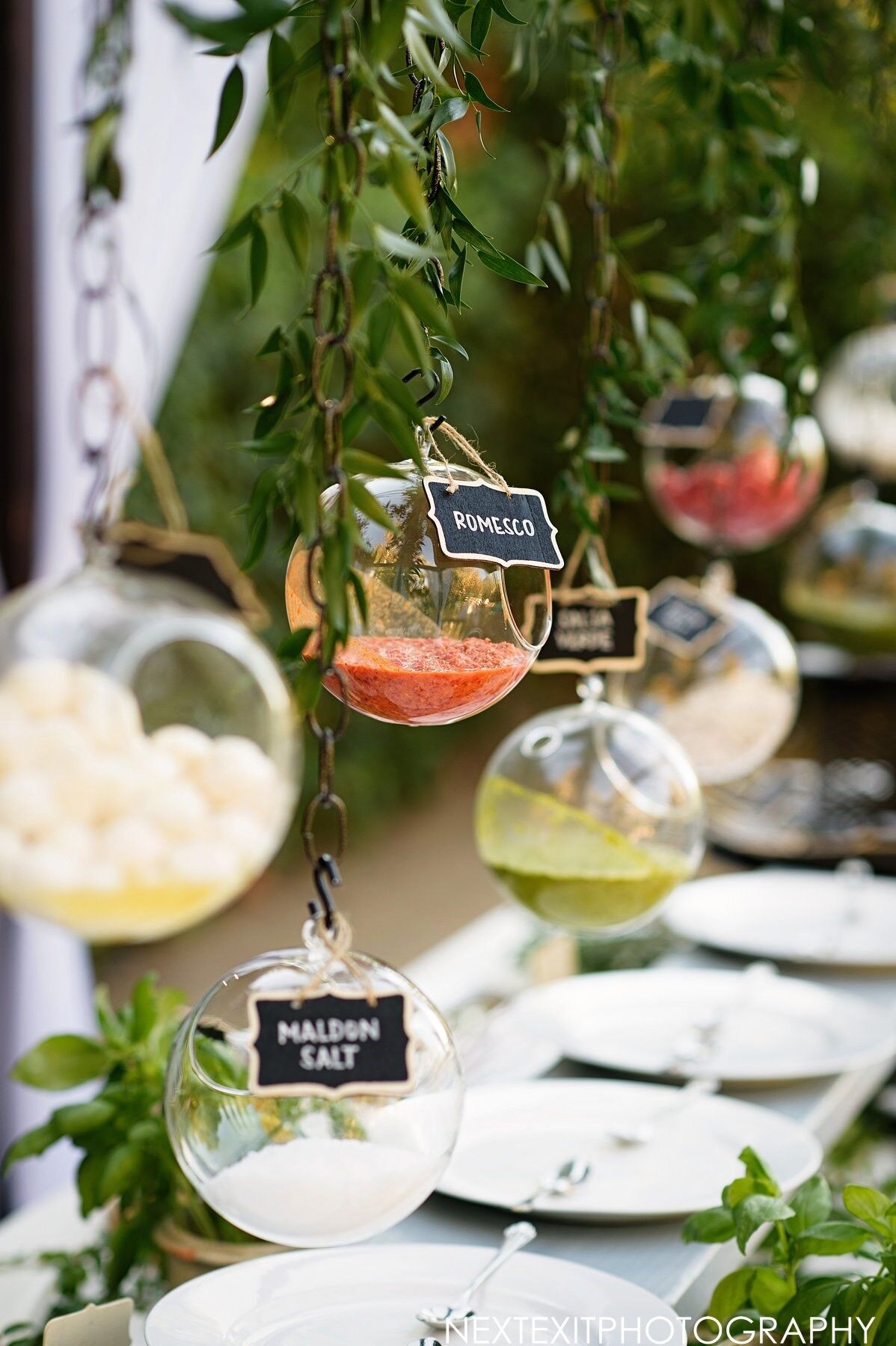 Decorative Food Bars 
When it comes to a food bar, Brooke Avishay of Orange Blossom Special Events has one particular idea in mind. "LA-based Command Performance Catering makes an awesome burrata bar that can easily be dressed up for a holiday party. The catering pros hang bulbs of burrata and accouterments from a tree or beam so guests can have an interactive experience with their appetizers. 
"It's certainly a showstopper and I can imagine the bulbs having a holiday-feel when hung among strings of twinkle lights! We've also used In-n-Out for appetizers but cutting standard sized burgers into fourths. It was a huge hit!" shared Avishay. 
Along with the burrata bar, you can't go wrong with various cheese dips featuring seasonal favorites like cranberry brie or goat cheese for an additional party appetizer. Other decorative food bars like a cookie station or pizza bar with creative displays will be a hit too.

Photo: 
Yasmin Khajavi Photography
Mini Comfort Foods
With any Christmas party, holiday appetizers and finger foods are always a great idea. This is where mini options of classic foods come in. "Nothing is more festive than fancy apps and cocktails! Elevated comfort food minis like tomato soup and grilled cheese, or mac + cheese bites are always a fave and will fill up bellies," shared Nora Sheils, Founder at Bridal Bliss. 
Rather than cocktail party appetizers featuring ingredients like smoked salmon, puff pastry, or butternut squash, these classic comfort foods will be an easy appetizer that even the pickiest guests will love.
"Incorporating childhood favorites like these, or boozy Otter Pops are always a win! Cocktail-wise, the sky limit. Bubbles are always festive, or get cheeky with the times and create a Corona cocktail! Want to serve a classic but turn it up a notch? Order custom ice to start a memorable night off right" say Sheils.
Pro Tip: For Christmas appetizers, HoneyFitz Events shared, "Depending on how you are entertaining this year, you may want to consider individual servings and portions!" 

Photo: Feather + North Photography
Leave it to the Pros
As the host, you'll already have plenty to worry about. A great holiday food and drink idea is to leave it to the pros! Hire a bartender and caterer to handle the holiday party food and drinks. 
These professionals will be able to come up with unique holiday party food and drink ideas, and handle everything from the preparation to the serving. When you hire a professional they'll create the menu and craft custom cocktails that align with the theme of your holiday event.

Photo: Jessica Hill Photography
Personalized Touches
Ashley Lachney, Owner and Lead Planner at Alston Mayger Events shared, "Staying within a holiday theme is fun, but my favorite guest experiences come when the event hosts make a personal nod with their menu or cocktail offerings. Naming an appetizer or cocktail after a pet, or creating a menu based off of a part of your (or your organization's) story will never go out of style."
"Always bring donuts into the office on Fridays? Let's incorporate that as a dessert option, or partner with your caterer to create a savory option for appetizers. Always head to "that one bar" for "that one drink" with the same crew? Serve it, but put a fun spin on the name," shared Lachney.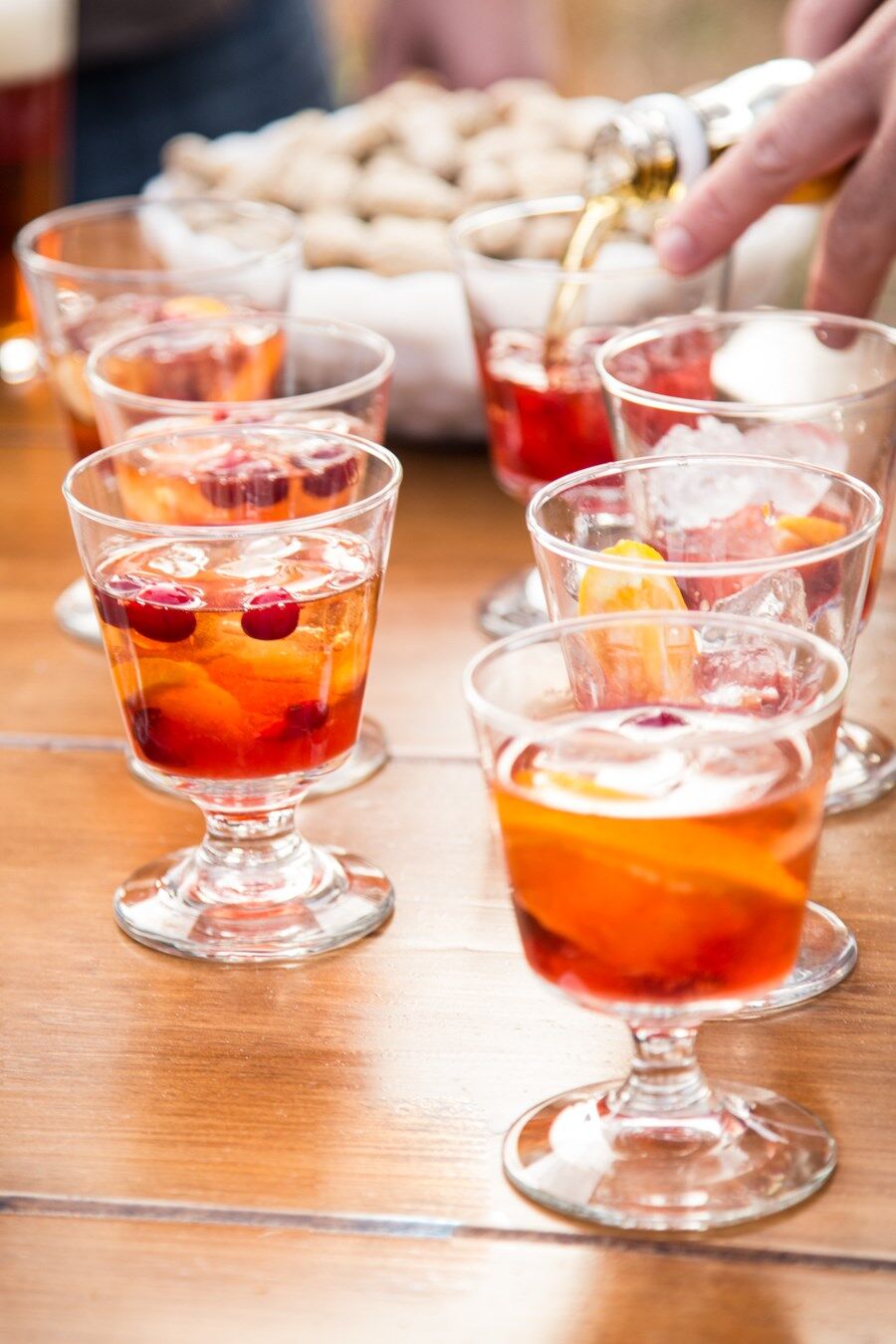 Photo: Keslie Corbett Photography
A Twist on Classics
With holiday party food and drinks, you can't go wrong with the classics—kick it up a notch by putting a spin on some traditional favorites.
Hot Cocoa
"What's better than a hot cup of cocoa during the holidays?! Red wine in your hot cocoa! I promise, your guests will love this boozy treat! Be sure to bring in fresh elements to your appetizers. No matter the time of year, your guests will crave vibrant and delicious bites!" shared Susie Spensiero of Susie Marie Photography.
Old Fashioned
"We love an old fashioned, and we took a Cape Cod twist with our version. Enjoy a cranberry old fashioned this holiday season by replacing the sugar or simple syrup in a recipe with slightly cooked down cranberries with sugar. Beautiful color and very delicious!" shared Jamie, Owner at Cape Cod Celebrations.
Find more holiday party ideas and inspiration on The Bash.