24 Exciting Holiday Party Venues in NYC
Lauren Miolene
Contributor
There is nothing quite like celebrating the holidays in the most magical city on earth, New York. As we all know, it can be tough to find holiday party venues in NYC. Save a little stress this holiday season because we have the top event venues you're going to want to book now. 
With the Rockefeller Center Christmas tree, Rockette Christmas Spectacular, and snow covered sidewalks, New York City truly makes a perfect winter wonderland backdrop for the holidays. 
Choose from enclosed rooftop bars, award-winning restaurants, and cozy lounges that are perfect for a company holiday party, casual get-together with friends, or classy Christmas dinner.
Here are 25 of our favorite holiday party venues in NYC for your next private event:
Glasshouse Chelsea - 21st Floor,
545 W 25th St
There is nothing more iconic than the NYC skyline at sunset. Enjoy this breathtaking view during your holiday festivities when you book space at Glasshouse Chelsea - 21st Floor. The 3,600 square foot versatile party venue can accommodate up to 200 guests, making it an ideal location for a corporate or office holiday get-together.
Glasshouse Chelsea features neutral decor, making it a blank canvas to host any type of special seasonal event. The area features floor-to-ceiling windows that offer sweeping views of the Hudson River, Downtown, and Midtown Manhattan.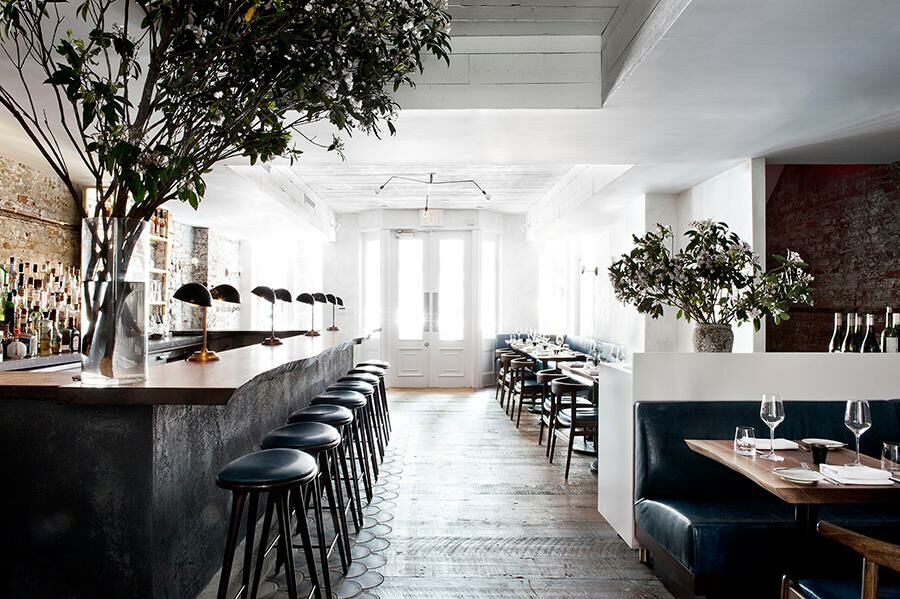 The Musket Room, 265 Elizabeth St
Located in the Nolita neighborhood is The Musket Room, a perfect location for a high-class, upscale Christmas soiree. The trendy eatery is known for its New Zealand inspired design and authentic Oceania themed cuisine. Invite between 60 and 80 guests for a small and intimate dinner party for friends, family, and coworkers.
This venue is characterized by its unique, rural meets urban style, that includes exposed, lime-washed brick walls, brass chandeliers, floral decor, and padded chairs. Not only is this location picture perfect, but they also serve out of this world food. Choose from New Zealand ribeye steaks, Wellfleet oysters, and signature cocktails.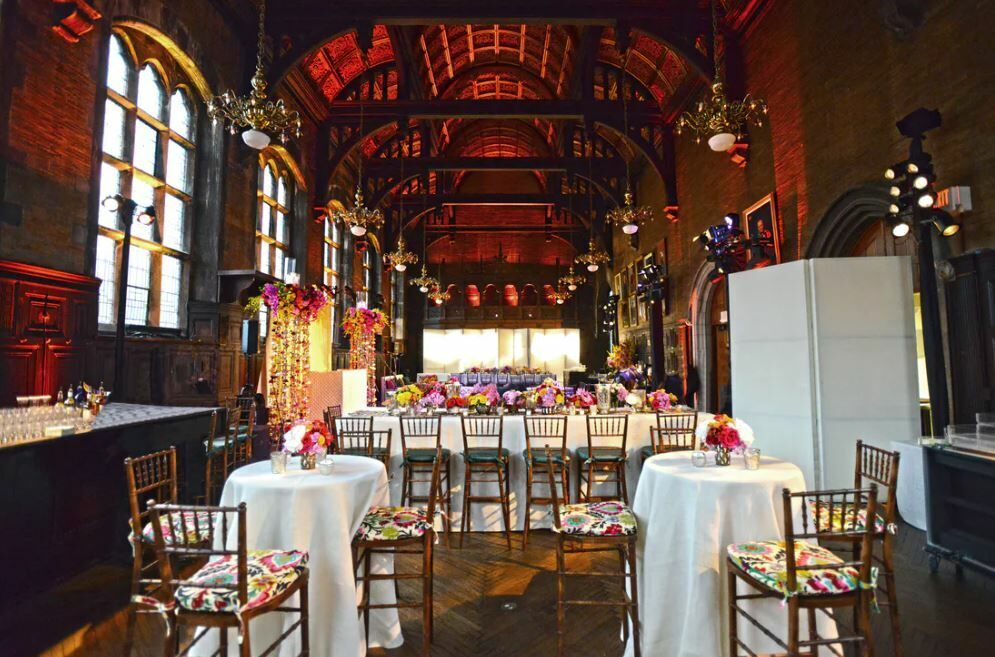 The High Line Hotel - Refectory, 180 10th Ave
An elegant holiday ball sounds good to us! If you're searching for a large, upscale venue that can host up to 300 coworkers and colleagues for an upcoming holiday party, The High Line Hotel - Refectory is for you. Located in the heart of the Chelsea Gallery District, this sophisticated venue was constructed in a Collegiate Gothic architectural fashion, making the perfect setting to celebrate the holidays. 
The 3,300 square foot space includes soaring ceilings, stained glass windows, and delicate chandeliers suspended overhead. Decorate the space with evergreens, twinkle lights, and candles on each table to enhance the Christmas coziness of this holiday party venue in NYC.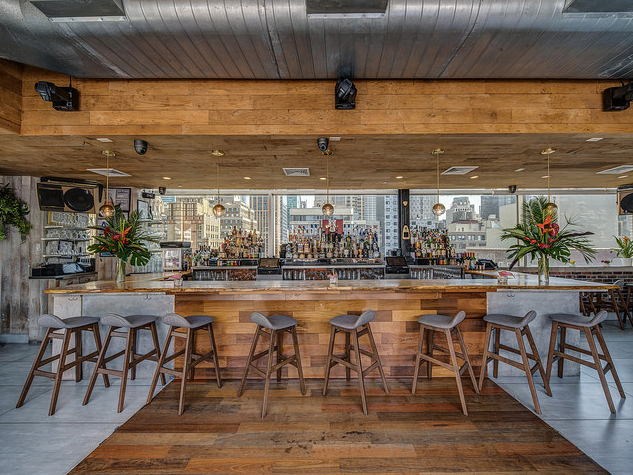 Monarch Rooftop, 71 W 35th St
When you think of holiday party venues in NYC, a rooftop bar probably isn't your first idea. Monarch Rooftop will change your mind because you're going to want to host your upcoming wintertime celebration here. Nestled on the 18th floor of a hotel in Harold Square, this rooftop bar and indoor lounge is a social hub in the city.
The enclosed rooftop is lined with glass windows so you can feel like you are outside even in the coldest of months. Enjoy the captivating scenery that features views of the Empire State Building and Downtown Manhattan during the holiday festivities.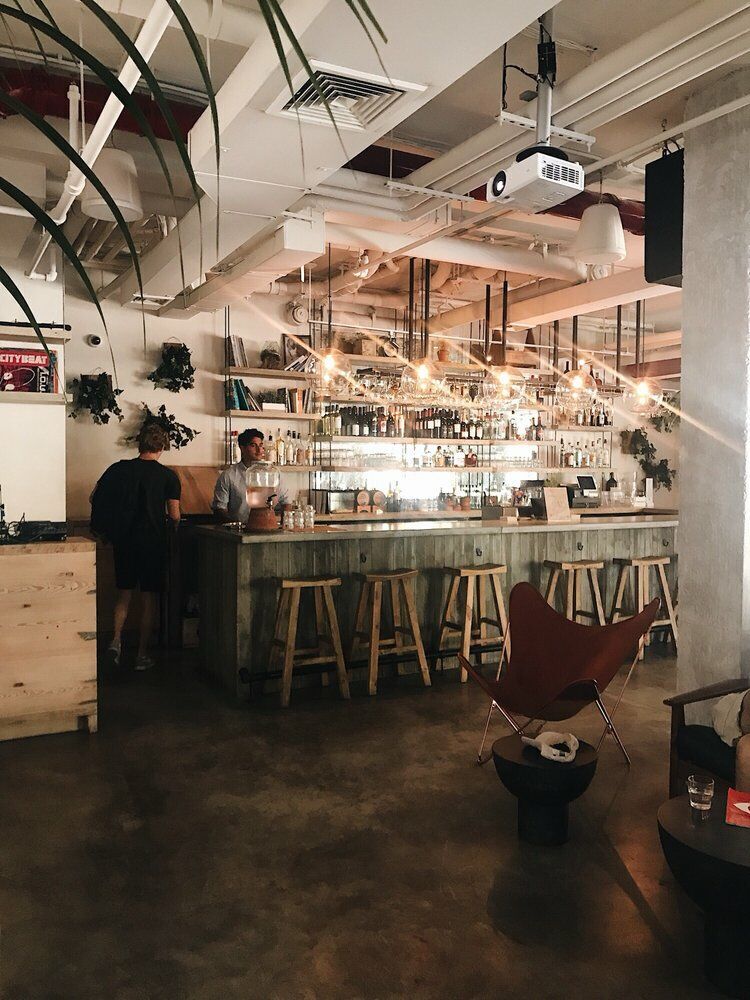 Greca - Private Room, 452 Washington St
Located in northwest Tribeca is the Greek-inspired bakery turned upmarket lounge and event space, Greca. Just off of the Hudson River, this location offers divine Mediterranean cuisine, a trendy urban environment, and a minimalistic space that acts as a blank canvas for events.
Along with the Mediterranean aesthetic, the private room includes a bohemian flare, fashionable decor, and a relaxing atmosphere. Make your holiday party unique with cultural experiences for guests to enjoy such as their feta bar, specialty coffees, and organic teas. Host up to 100 guests in the private room of Greca for your next holiday party.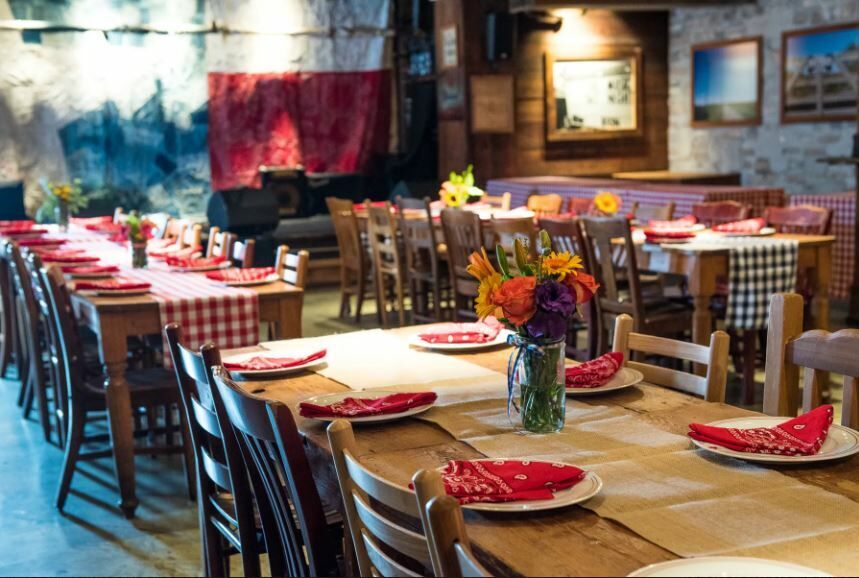 Hill Country Barbecue Market - Boot Bar, 30 W 26th St
The Boot Bar at Hill Country Barbecue Market combines all of the best aspects of Texas Hill Country to create a one of a kind atmosphere complete with expertly crafted barbecue food. This eclectic event space features overhead beams with recessed lighting to cast a warm and welcoming glow throughout the area. 
Use the stage and state of the art AV equipment to feature a festive country band, comedian, or maybe a special visit from Santa Claus. Invite up to 225 standing guests or 110 seated for a huge Texas-style holiday celebration.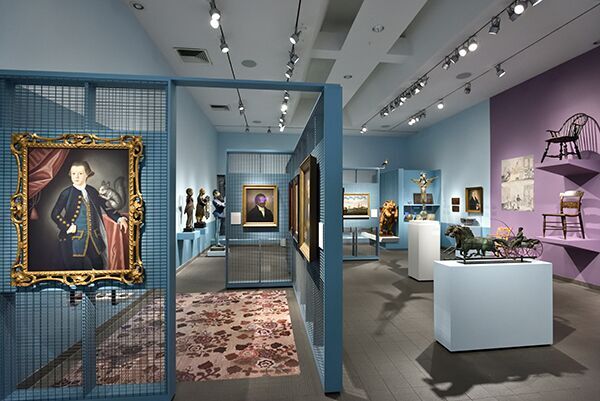 American Folk Art Museum, 2 Lincoln Square
For a classy and unforgettable holiday party experience, consider booking American Folk Art Museum. This eclectic event venue is dedicated to preserving and presenting both traditional and contemporary works of folk art that partygoers will enjoy viewing. You'll be transported back in time as you admire unique pieces dating back to the 18th century.
The American Folk Art Museum can host up to 200 guests for a holiday party. This banquet style space is complete with high ceilings, modern light fixtures, and a large stage area—perfect for some live music or visit from Santa. 


Madame X - The Bedouin Lounge, 94 W Houston St
This trendy cocktail bar is a cozy event venue with the ultimate vintage feel. The Bedouin Lounge at Madam X features a Middle Eastern-inspired entrance way leading into a glass atrium lounge filled with abstract seating. This makes a gorgeous setting to celebrate the holiday season or ring in the New Year.
Madam X features a main DJ booth, entertainment station, and manual sound controls throughout the space so you can host the ultimate holiday dance party with up to 60 guests. Hosts can arrange their own food or organize catering services with the venue staff upon request.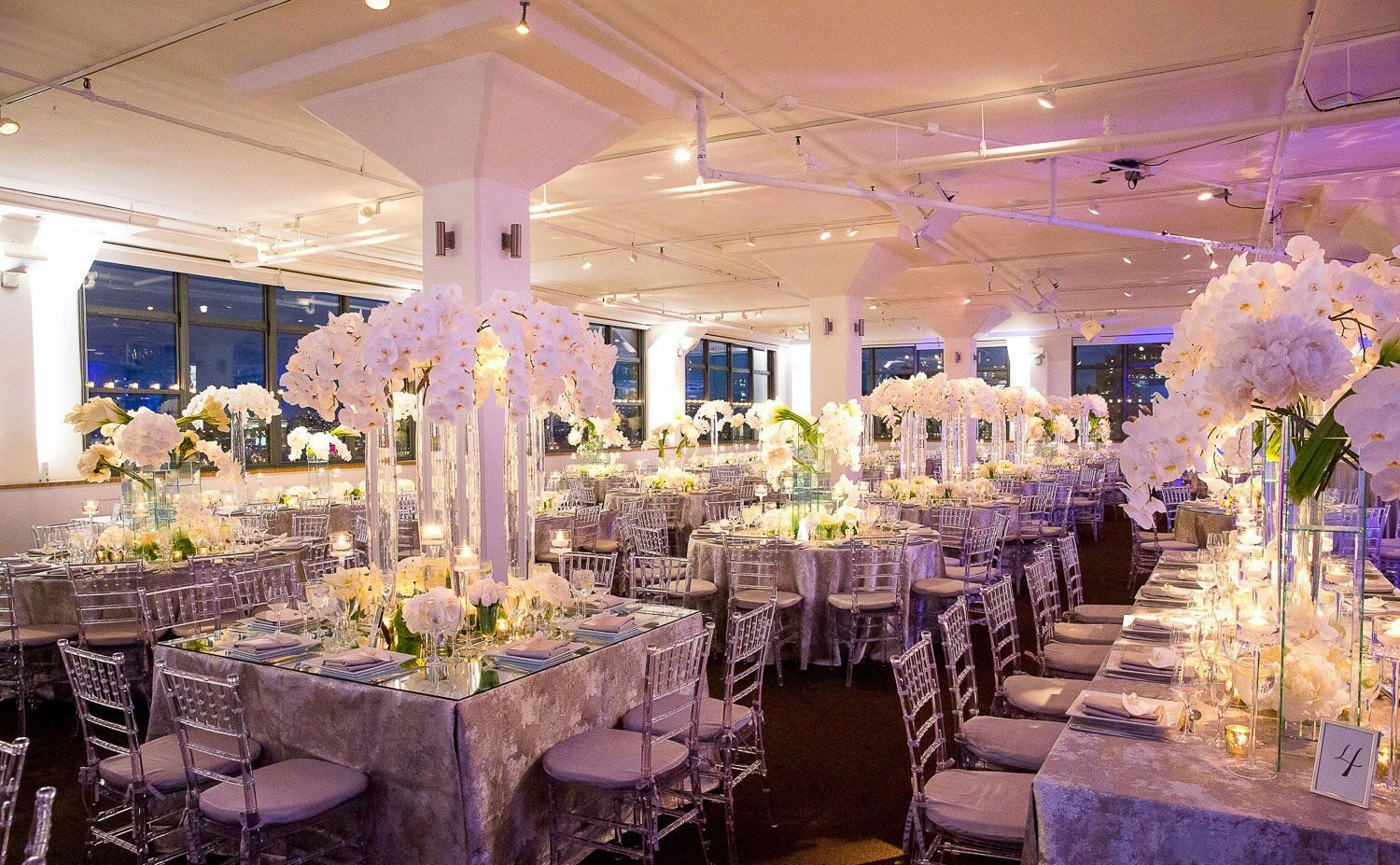 TR+360 - Tribeca 360, 10 Desbrosses St
Fashionable, classy, and elegant only begins to describe the aesthetic of TR+360 - Tribeca 360. This rooftop bar and loft space has a very minimalistic design that will be the perfect backdrop to bring the vision of your holiday event to life. The 2,000 square feet of space can host up to 720 guests for a grand wintertime celebration.
The interior is filled with white walls, exposed pillars, and plenty of windows to allow guests to take in the beauty of New York City. Decorate the space to your liking and be as creative as possible with the holiday theme. With lighting, a sound system, and other amenities, TR+360 is suitable for bookable entertainment.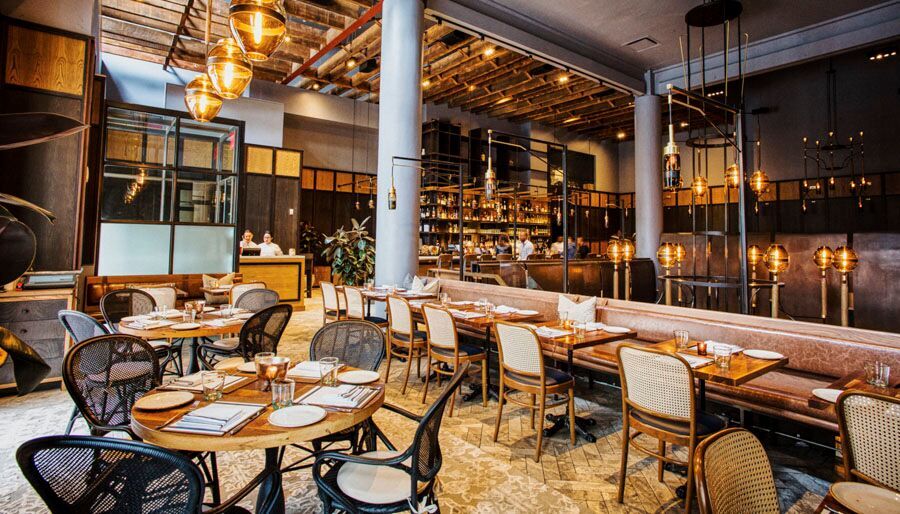 Library of Distilled Spirits, 80 E 13th St
Library of Distilled Spirits is an enchanting bar and restaurant located in the Union Square neighborhood. This venue offers an array of mouthwatering cuisine and hand-crafted cocktails, blending modern and old-fashioned decor. The Library of Distilled Spirits also features an impressive collection of over 1,000 different liquors made by distilleries around the world.
This sophisticated and classy venue can host between 50 and 150 guests for a buffet dinner or meal served via chef stations. Take advantage of the restaurant's flexibility and dietary accommodations that feature dairy-free, gluten-free, vegan options and more.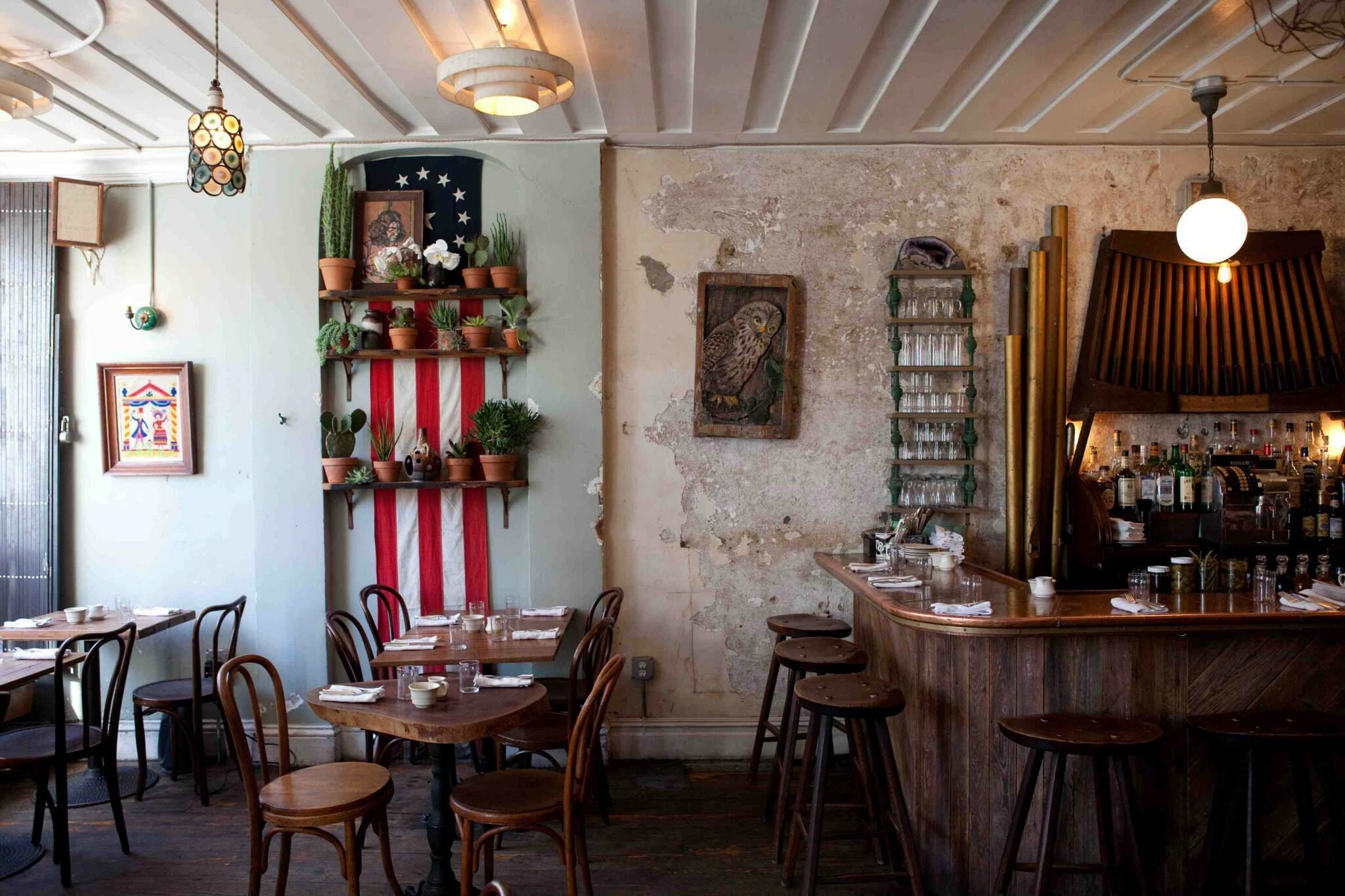 Vinegar Hill House, 72 Hudson Ave, Brooklyn
For a relaxed and serene holiday dinner party, Vinegar Hill House is for you. This restaurant features an inviting ambience that was made for intimate get-togethers of up to 50 guests. Soft lighting casts a warm glow on rustic decor and wooden furniture throughout the space. 
Exposed brick and concrete walls accent potted greenery, an open fireplace, and stained glass windows giving the venue a country-like feel and warm atmosphere. As a Michelelin recommended restaurant, Vinegar House promises quality dining from an expertly-crafted menu that guests will enjoy during the holiday festivities.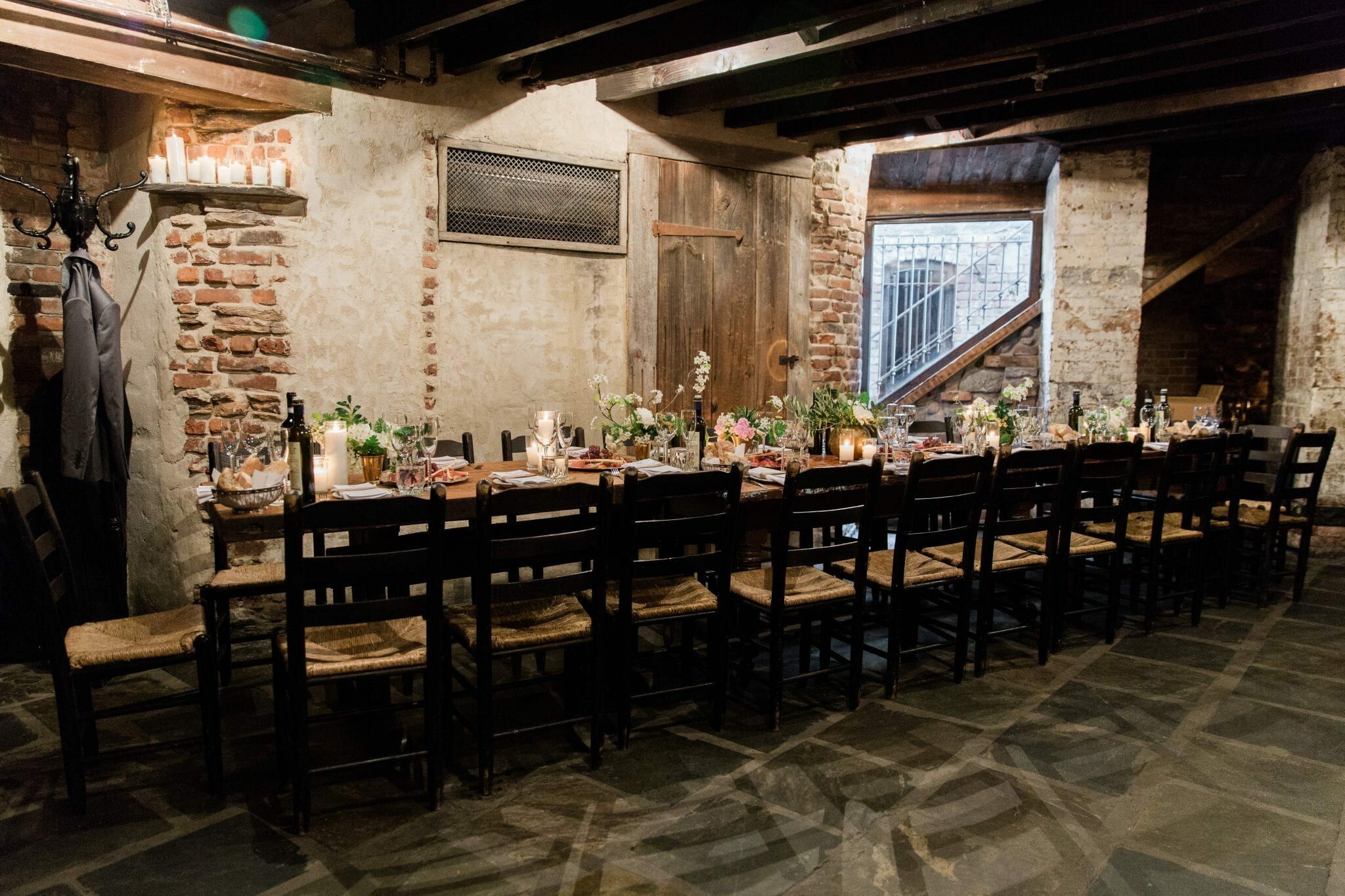 Bacaro, 136 Division St
You can never go wrong with a large Italian dinner party to celebrate the holidays. Bacaro is tucked away on Division Street creating a rustic and intimate setting. The restaurant's goal is to make guests feel like they are dining in Italy while remaining in the heart of New York. 
Inside, candlelight helps illuminate brick walls that create a cozy atmosphere. The bar area features soft lighting and long wooden tables for an inclusive dining experience.
Invite up to 100 guests for an authentic Italian meal with traditional dishes ranging from spicy meatballs, zucchini lasagna, to tiramisu.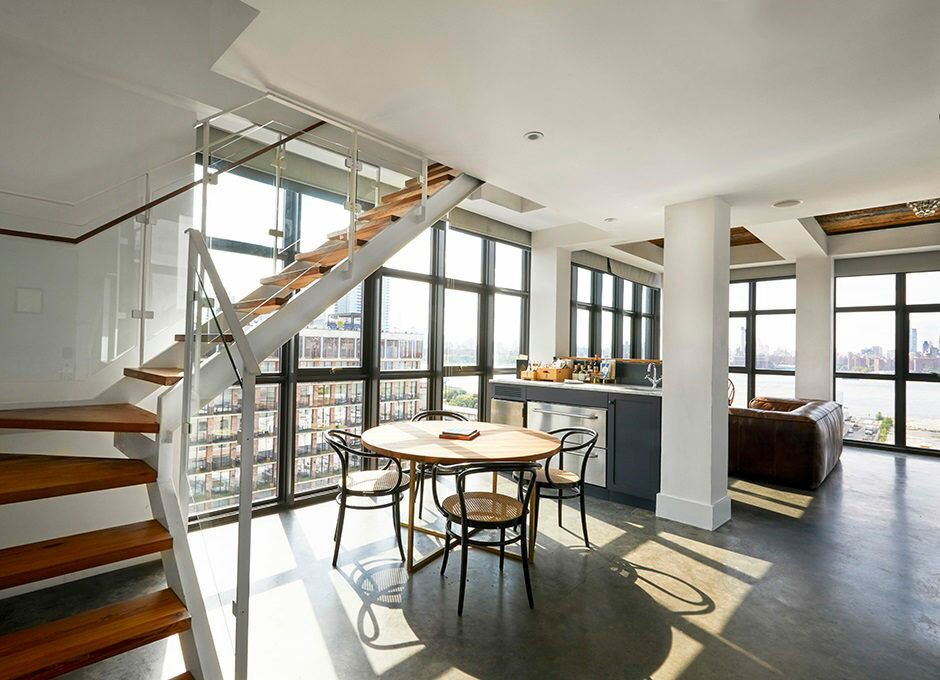 Wythe Hotel - Lofts, 80 Wythe Ave, Brooklyn
Celebrating in a waterfront venue is special no matter what time of the year. The Lofts at Wythe Hotel will bring this same feeling to your wintertime party. While in the 120 year old building, take in views of the Manhattan skyline that blend history and contemporary features together.
This stylish yet relaxed space makes an ideal location to host a holiday celebration. Invite up to 40 guests in the 900 square foot space for an intimate holiday party. Mid-century furniture complements marble topped bars and floor-to-ceiling windows so guests can admire the beautiful city.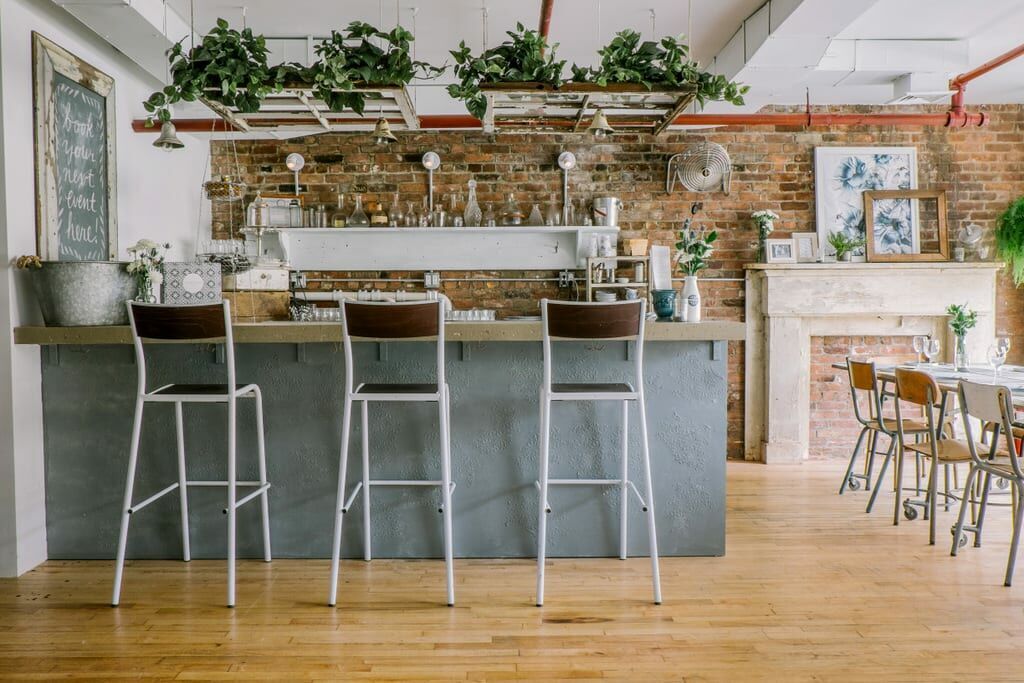 Maman (Greenpoint), 80 Kent St, Brooklyn
This family-run local eatery makes a charming location to celebrate the holidays with friends and loved ones. Maman (Greenpoint) specializes in French and North American cuisine made by their award winning staff. Invite between 10 and 20 guests for a private dinner party in this cafe that whisks you away to an enchanted garden, right in the city.
The rustic space is filled with floral decor, vintage charm, and stylish artwork. Get a taste of France during the holiday season while you dine on classic dishes like truffle Croque Maman or their seasonal soup. You can also visit their bakery that boasts inventive lighting displays to spotlight their sweet creations.

Terrace On The Park - Penthouse Suite/Rooftop, 52-11 111th St, Queens
Skip the tacky and repetitive Christmas decorations this year and use the New York City skyline as a backdrop during your corporate holiday party. With views of Flushing Meadows Park, the Terrace On The Park - Penthouse Suite/Rooftop makes an elegant setting for any type of event, especially a holiday celebration.
Up to 350 guests can attend your event in the 3,000 square foot flexible space. Take advantage of the ambient lighting on the walls to create the ultimate atmosphere to celebrate the holidays.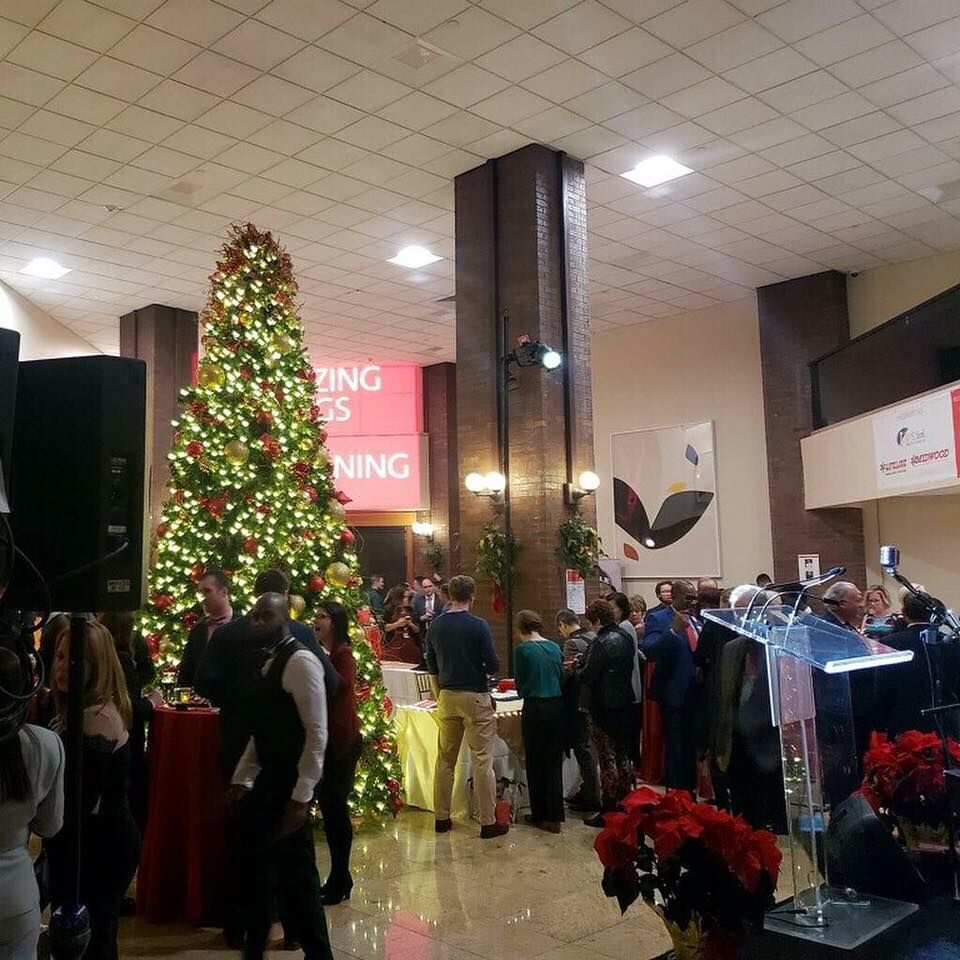 Palo Santo, 652 Union St, Brooklyn
This renovated old-fashioned townhouse makes a charming location for a festive holiday party. Palo Santo flaunts an urban aesthetic that features exposed brick walls, industrial lighting, and wooden accents that give it a cozy and rustic feel.
The dynamic layout can host between 25 and 60 guests for a smaller holiday celebration. Dine on seasonal cuisine inspired by Latin America and the Caribbean for a unique dinner selection.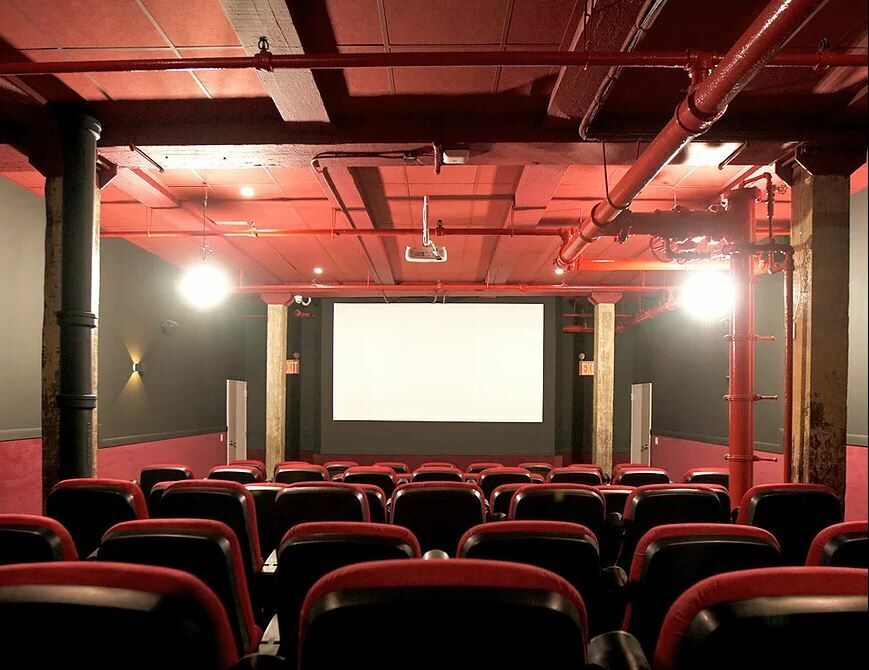 100 Sutton - Screening Room, 100 Sutton St #2fl, Brooklyn
There is no better way than to celebrate the holidays by watching your favorite Christmas movies on the big screen. Invite up to 70 guests for a private viewing of all your favorite winter films at the 100 Sutton - Screening Room. 
The screening room brings together classic cinematic pieces with an industrial aesthetic to create a one-of-a-kind space. Red carpets line the floor and the ceiling is made of exposed wooden beams and paneling. Classic red cinema seats are lined up facing the screen for you and guests to sit back and relax.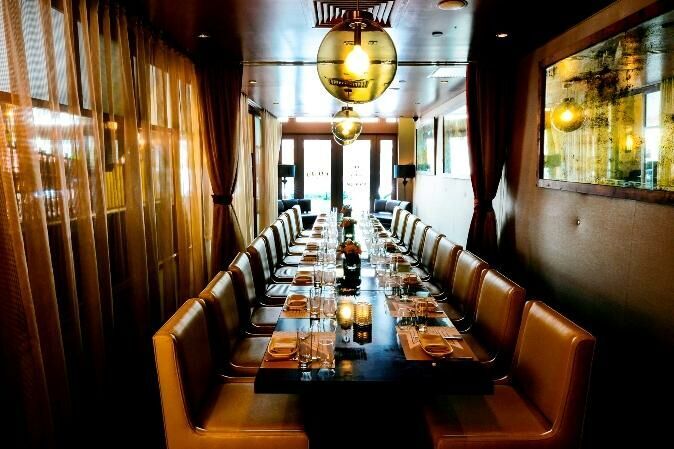 Pera Soho - The Star Room,
54 Thompson St
The Star Room at Pera Soho offers a unique private dining experience in New York City. This intimate space can host up to 50 guests for a sophisticated and classy holiday dinner party. The room is softly lit by warm overhead lighting that illuminates timeless artwork displayed on the walls. 
Separate the rooms and customize the space to your liking with sheer drapery that splits the floorplan to allow for privacy. The modern restaurant is known for their wide range of mezes, sharing plates, and lite bites that showcase creative Mediterranean flavors and infusions.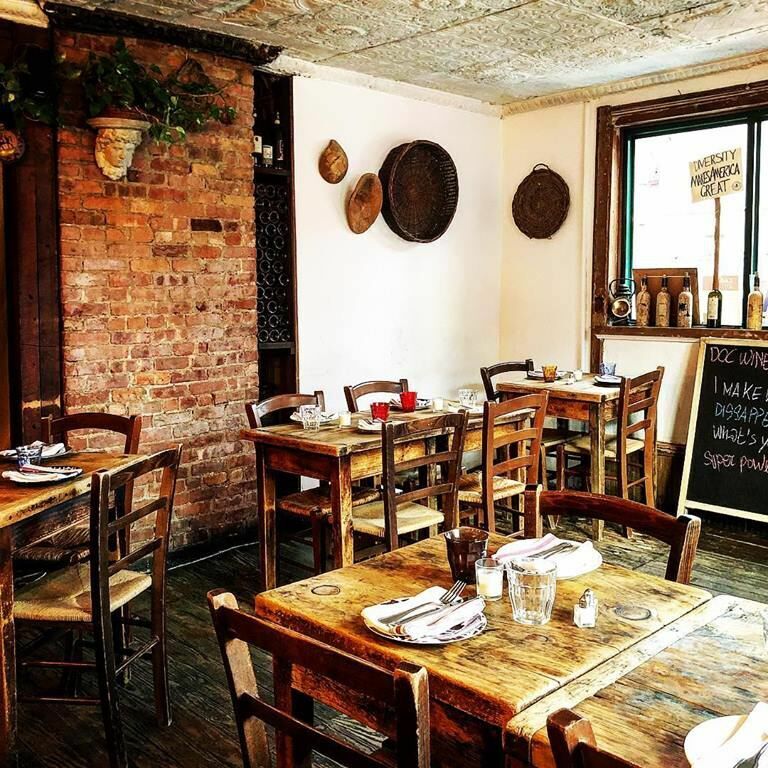 D.O.C Wine Bar, 83 N 7th St, Brooklyn
Italian restaurants and wine bars are common in New York City, but D.O.C Wine Bar is unlike the rest. The modern room can hold up to 25 guests while party-goers enjoy homemade bread, seasonings and oils, and choose from the restaurant's expansive selection of wine.
The interior is very organic with wooden furniture, natural elements, and exposed brick. Warm lights illuminate the walls to enhance the rustic feel and decor. D.O.C Wine Bar brings a little taste of Italy to Brooklyn, and is a great venue in NYC for a holiday party.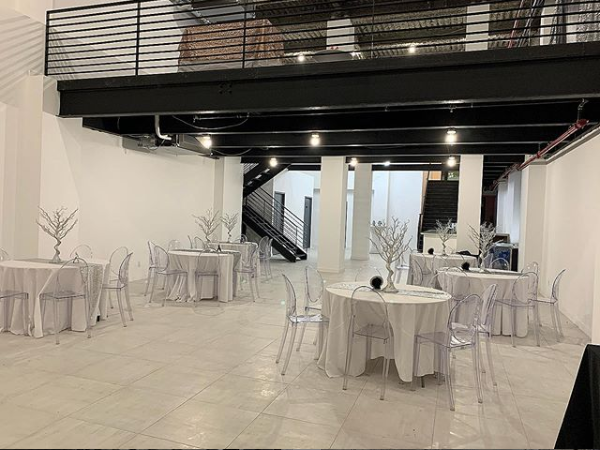 Premier 718, 253 Nostrand Ave, Brooklyn
Premier 718 is a multifunctional event space with minimalist design including corrugated iron stairs, exposed ceilings, and crystal chandeliers to create a modern and trendy atmosphere. Color changing LED lights are featured throughout the space so you can get creative with the holiday theme.
The 3,500 square foot space can accommodate up to 150 people so you can include friends, family, and co-workers on the guest list. The artsy atmosphere comes with a plethora of staff and services to ensure your holiday party runs smoothly.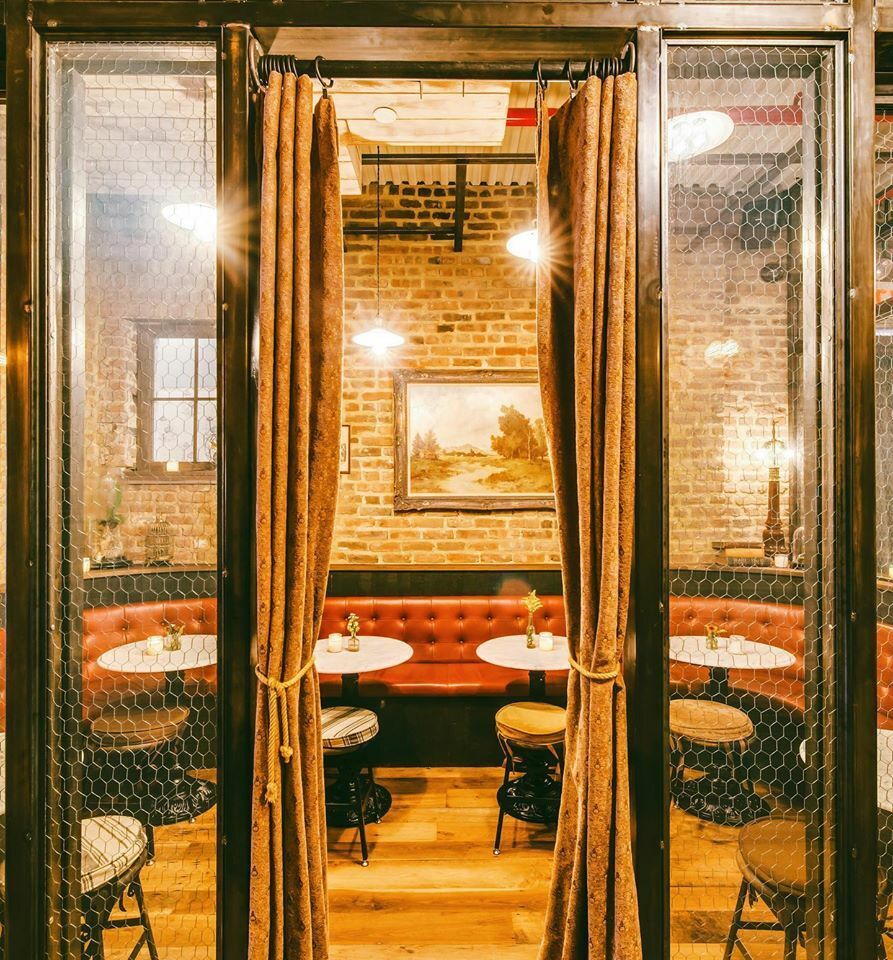 The Bonnie - The Snug, 29-12 23rd Ave, Queens
The Bonnie - The Snug is a fashionable eatery and sophisticated event space perfect for informal holiday get-togethers and celebrations. This private room in Astoria offers a tranquil setting for a small gathering of up to 20 guests.
The cozy atmosphere is known for its glass panel walls, French drapes, and antique paintings. The Bonnie is famed for their eclectic menu featuring a variety of American food as well as an extensive cocktail menu. Celebrate the holiday season with loved ones at this vintage and comfortable restaurant.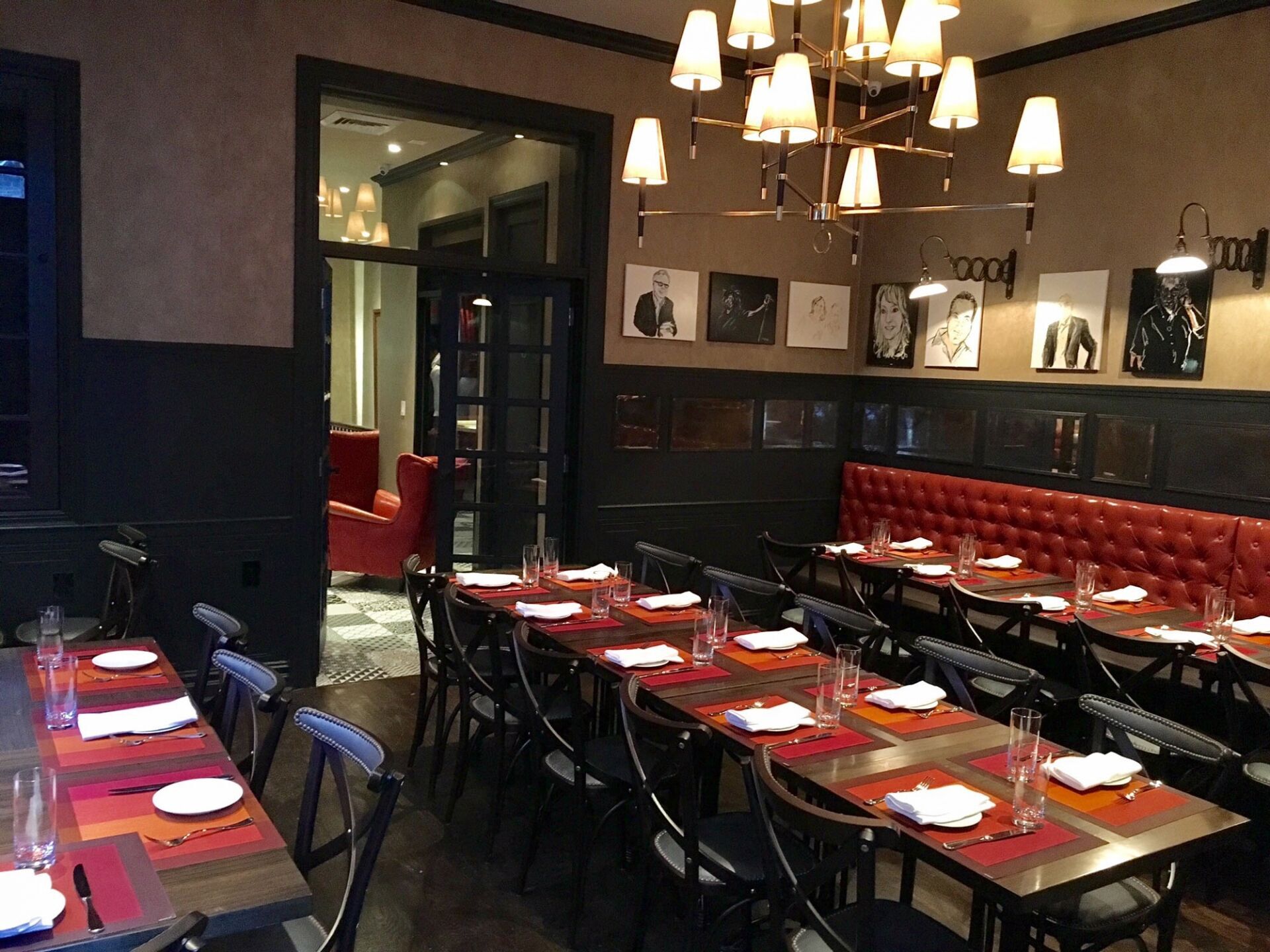 David Burke Tavern - North Dining Room, 135 E 62nd St
Host your holiday celebration in an Upper East Side townhouse also known as David Burke Tavern. Owned by celebrity chef David Burke, the room is warm and inviting featuring dark wood furniture, heavy red drapes, and a large fireplace that makes a perfect focal point for a winter party. 
David Burke Tavern can accommodate up to 50 guests to celebrate the holidays together. Dine on classic cuisine with a contemporary twist featuring duck and lobster dumplings, roasted branzino, celery root ravioli, and an impressive wine list.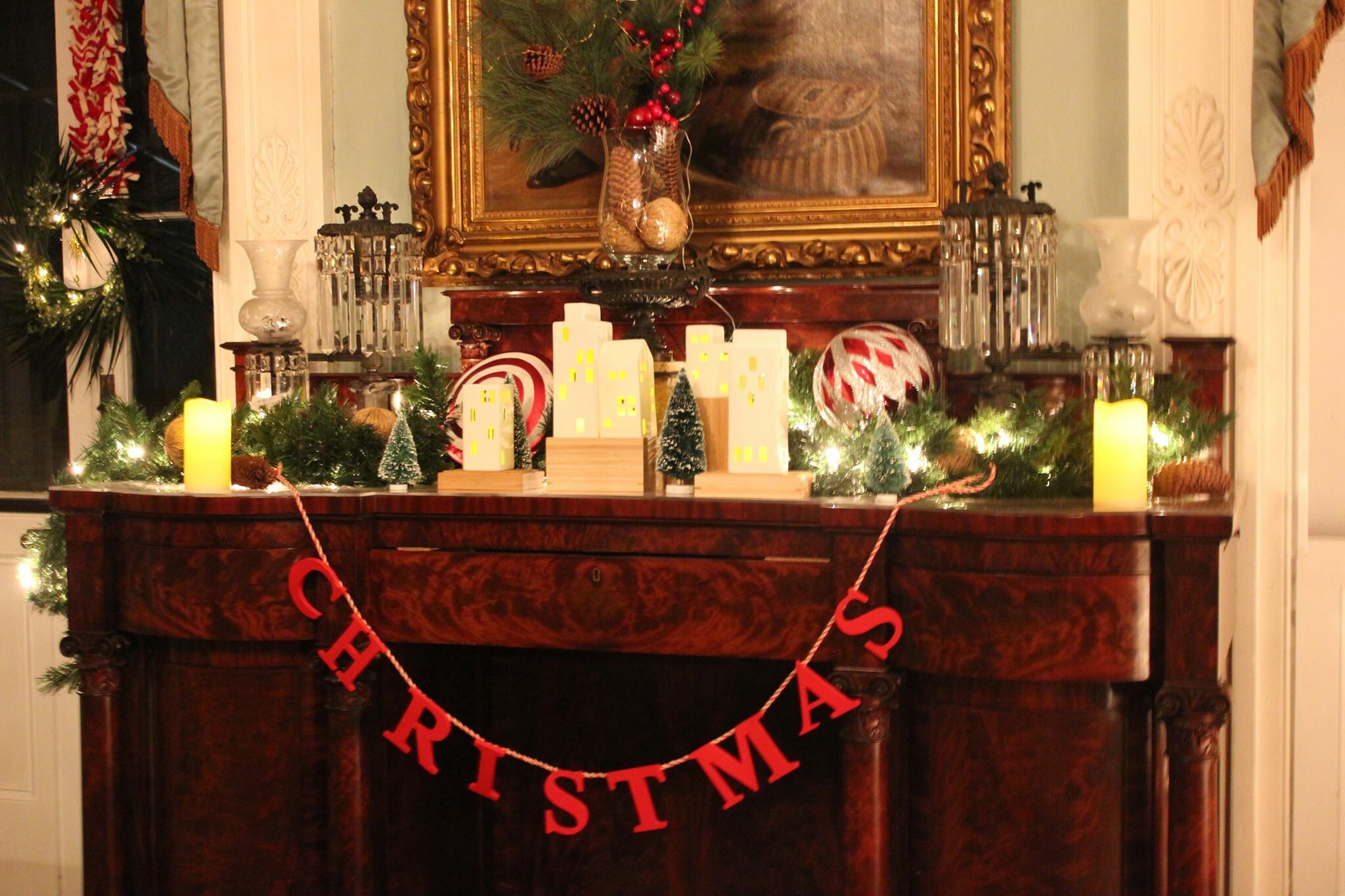 Bartow-Pell Mansion Museum, 895 Shore Rd
The Bartow-Pell Mansion Museum in the Bronx is known as the hidden gem of Pelham Bay Park. The 19th century estate features expansive gardens, a conservatory, and is a serene setting to celebrate the holidays this year. Not only is this a stunning venue that will leave guests in awe, but it will transport them back in time with its history and preservation.
Known for hosting upscale events, the property is meticulously maintained to keep the venue in tip-top shape. Host up to 125 guests at the mansion for a grand holiday party.
Find more holiday party venues in NYC here on The Bash.