20 Fun Pool Party Ideas for Summer 2023
This won't be your average pool party.
Sunshine and warm weather is finally here which means that pool party season is officially in full swing. Get the sunscreen, beach balls, and flip flops ready because these pool party ideas, decorations, and activities are sure to make a splash this summer.
Whether you're planning a birthday party, small get-together, or summer holiday, there is always a reason to host a pool party. While you can never go wrong with a classic poolside BBQ, it's time to change things up this year with these fun pool party ideas.
Here are some fun pool party ideas to make a splash this summer:
Choose a Theme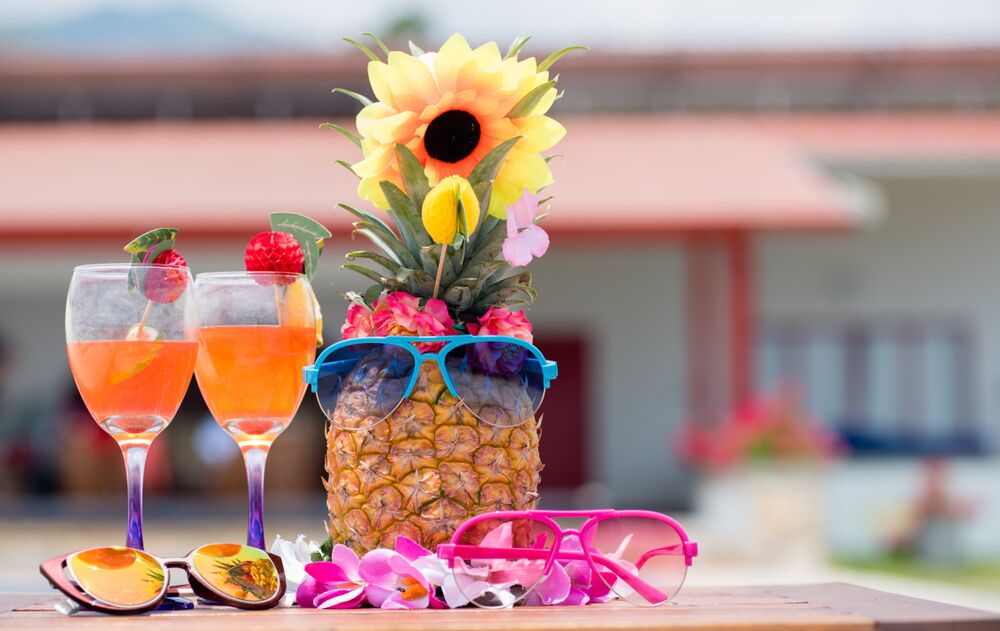 Photo: Norbey Tarazona/shutterstock.com
All of the best parties have themes (that's our motto here on The Bash!) and a pool party is no different. Go for something summer inspired like tropical or  Margaritaville, or something nostalgic like an 80s or 90s theme.  
Pro Tip: Incorporate one of these party themes for adults at a pool party this summer.
Steel Drummer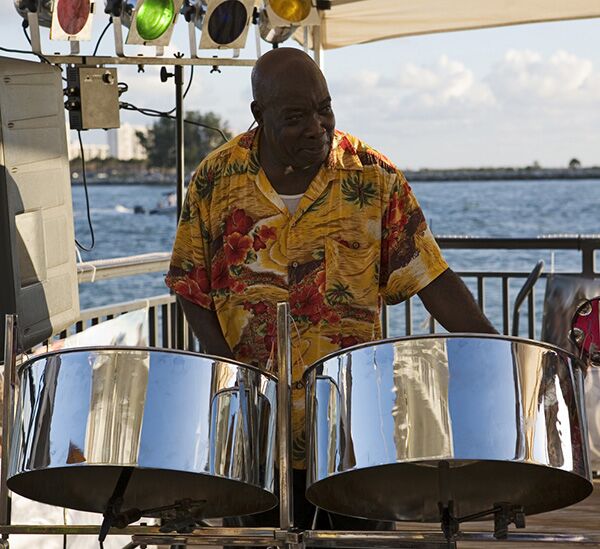 Photo: Lisa F. Young/shutterstock.com
Bring laid-back island vibes to your pool party when you hire a steel drummer. This solo musician (or full band if that's what you're looking for!) will provide mellow background music that will have all pool party guests feeling like they've been transported somewhere tropical.
Book an Ice Cream Truck
Photo: OlTarakanov/shutterstock.com
The jingle of an ice cream truck is a signature sound of summer. Who doesn't love getting an ice cream cone or popsicle delivered right to them? Find a food truck available to make a special appearance during your upcoming pool party.
Bring Your Own Board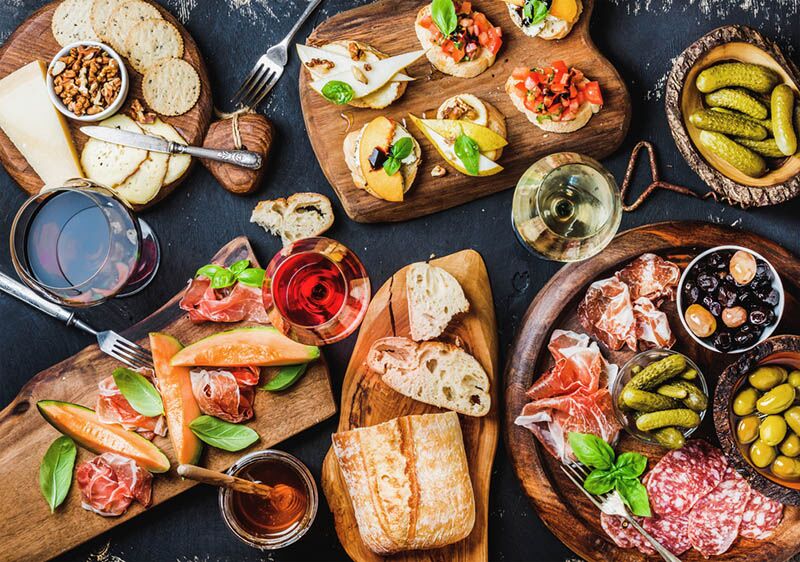 Photo: Foxys Forest Manufacture/shutterstock.com
Based on the TikTok trend, bring your own board is a perfect pool party idea. Think of this as a charcuterie board, but made up of different snacks and foods that go together or align with a theme. This can be like potluck but for a pool party, where guests can bring their favorite type of snacks to share. Maybe it's a traditional charcuterie board, or a board full of fresh fruits and veggies. Someone may opt to bring a board full of chips and dips, or maybe mini desserts.
Hula Lessons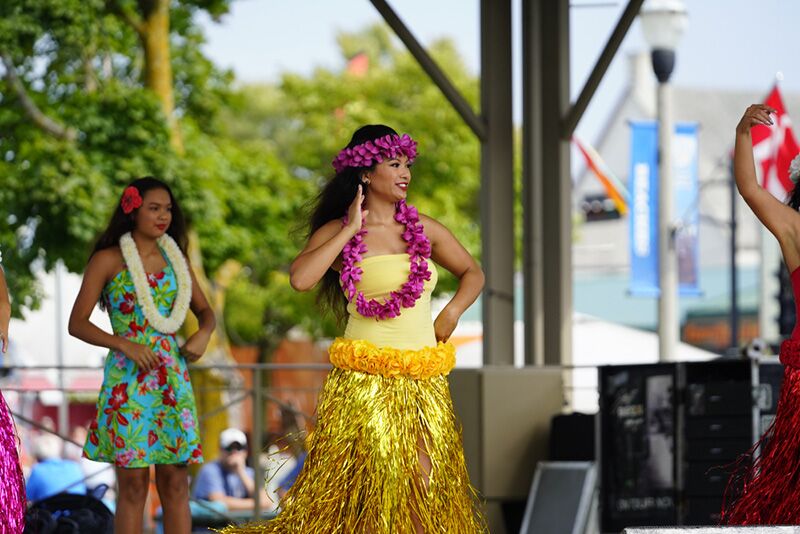 Photo: Aaron of L.A. Photography/shutterstock.com
Get everyone out of the pool and moving and grooving with some hula lessons. Hire some professional hula dancers to come entertain guests and teach traditional hula. This will be a great pool party idea if you're having a tropical theme.
Cocktail Making Contest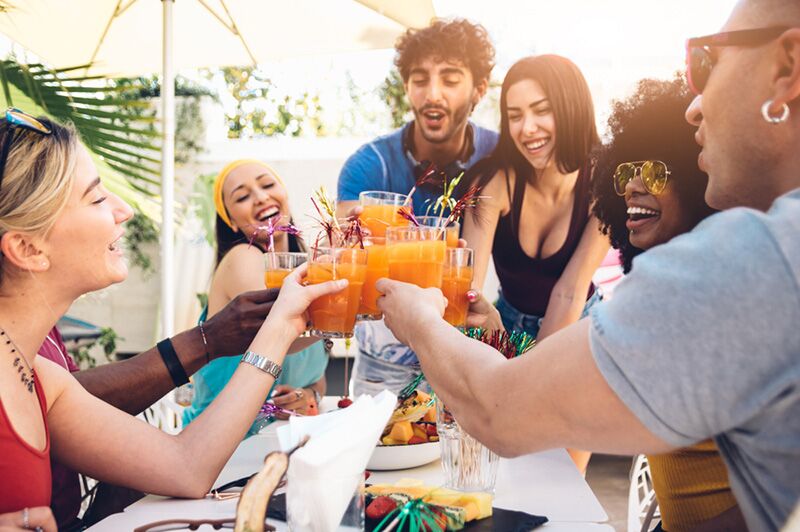 Photo: DavideAngelini/shutterstock.com
Have guests create their favorite summer cocktails (and mocktail versions) and craft them on the spot. Everyone will share why their cocktail is their favorite along with ingredients. Have someone be a judge for different topics like presentation, taste and flavor, delivery, and more. Party guests will enjoy sipping different drinks while lounging poolside.
Incorporate Nautical Vibes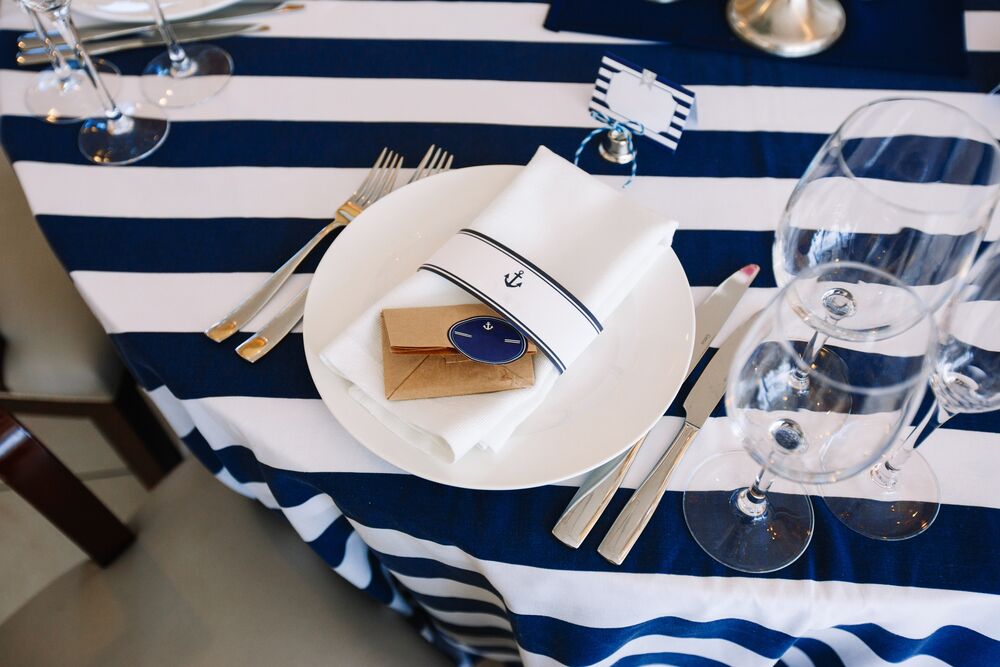 Photo: Andrey_Vasiliskov/shutterstock.com
If a tropical aesthetic isn't the vibe for your summer pool party, seas the day with a more sophisticated nautical theme filled with anchors, seashells, and other marine decor. Incorporate pool toys as decoration by using floats and retro life preservers in the outdoor area, and prepare a raw bar to help enhance the ocean feeling.
For this theme, stick with a traditional red, white, and blue color scheme for a classic, New England summer feel.
Balloons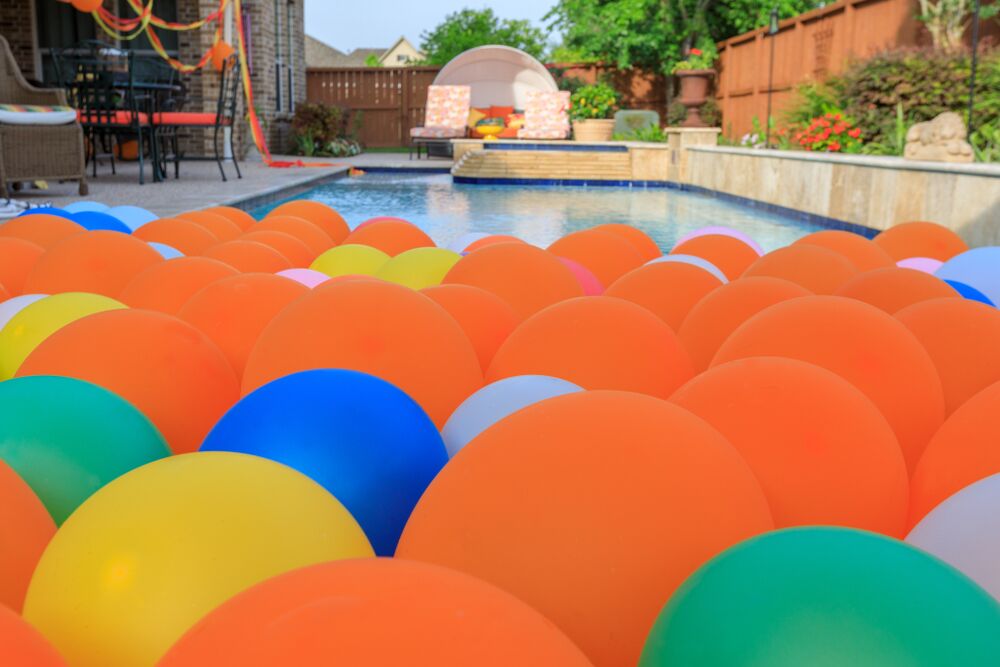 Photo: Jacqueline Azur/shutterstock.com
Balloons are one of the most affordable and fun decor options available that will definitely amp up a pool party. Select balloons to match your color scheme and tie them together to create floating garland. Balloons not only act as simple decor, but also make a fun and colorful backdrop for photos.
Brunch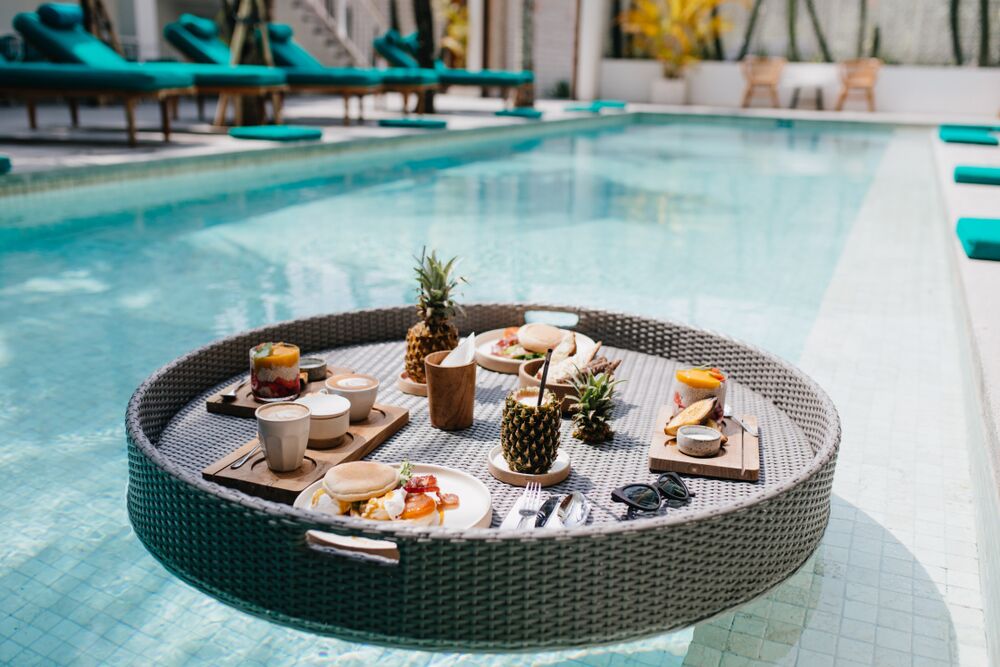 Photo: Look Studio/shutterstock.com
What can beat a poolside brunch? Keep things simple by hosting your next pool party in the late morning and serve mimosas, a DIY bagel spread, and an assortment of pastries. Consider booking a florist to fill the pool area with floral arrangements and centerpieces for a classy pool party.
Have a Glow in the Dark Party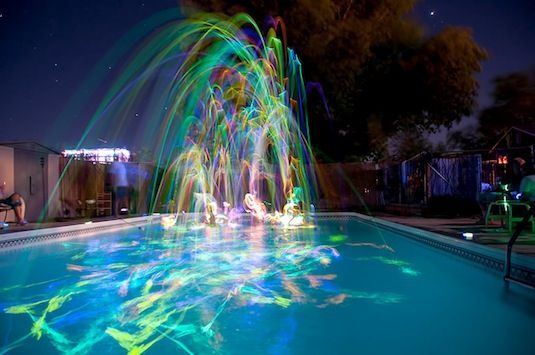 Swim under the stars and enjoy a beautiful summer evening by adding glow sticks to your swimming pool area. Most likely available at your local dollar store, stock up on glow sticks with different bright colors to light up the night—literally. Kids and adults of all ages will have fun diving to pick up the glow sticks or just enjoy a summery night.
Pro tip: To add to the glow theme, decorate the pool area with paper lanterns and twinkling lights too.
Make Pool Noodle Garland Decor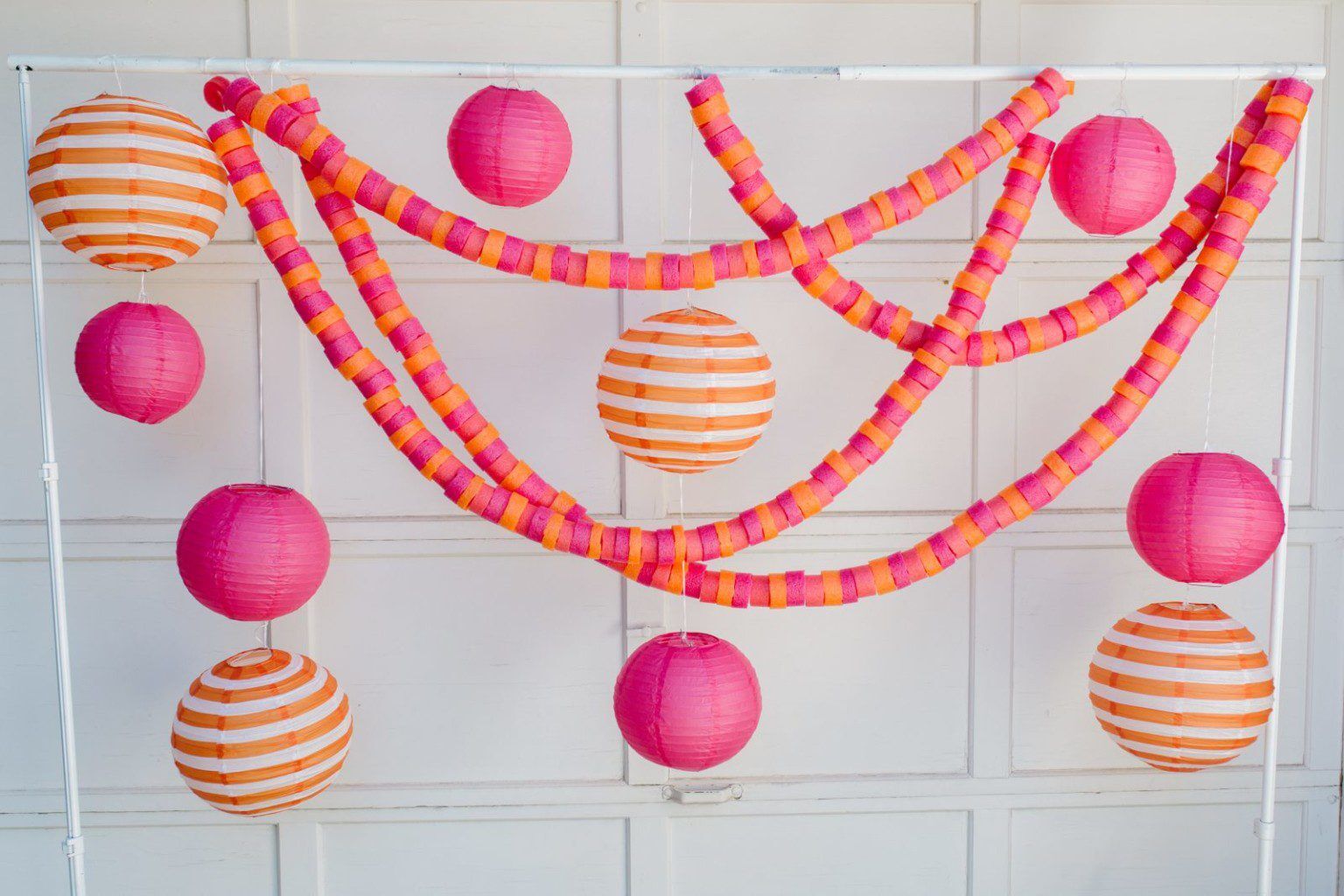 Photo: Pretty Life Girls
A fun pool party decoration idea for the summertime is this pool noodle garland that uses supplies you probably already have. All you need to do is find colored noodles to match your theme, cut carefully using a knife, and string them together like giant beads. This DIY decoration is quick and adorable to display this summer. 
Classic Summer Activities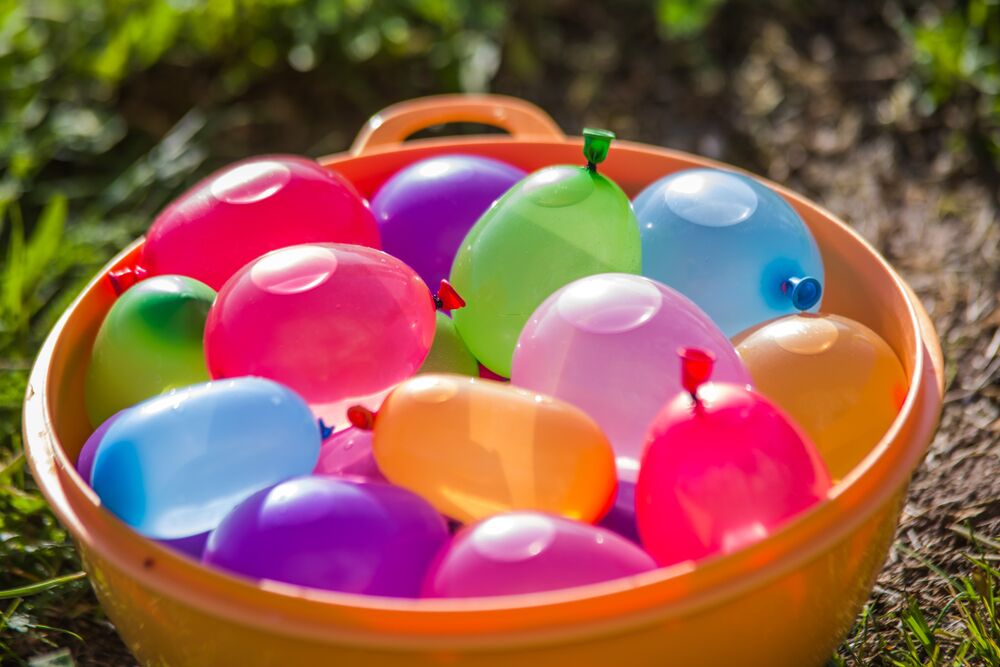 Photo: Sirle Kabanen/shutterstock.com
Whether it's a get-together for the kids or adults, everyone will have fun with different pool party games and activities. Fill up water balloons, load water guns, and book party inflatables to encourage a little friendly competition.
Outdoor Movie Night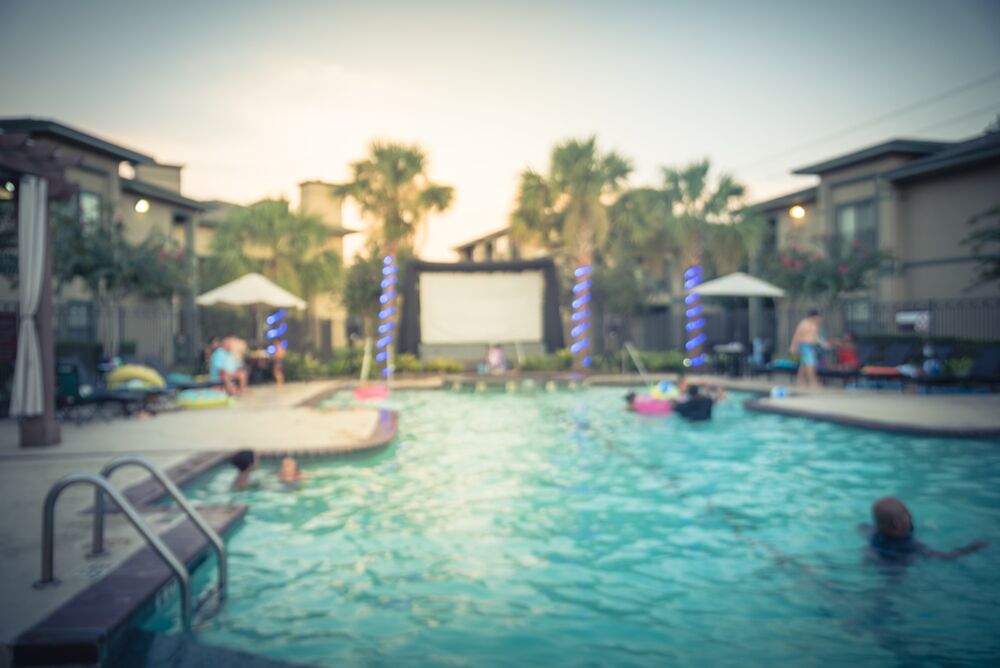 Photo: Trong Nguyen/shutterstock.com
An outdoor movie night is an oldie but a goodie. Find an outdoor movie screen rental available in your area or use a projector on a white sheet to view your favorite summer film. To add to the pool party theme, we recommend watching summery or beachy movies including Mamma Mia, Moana, or Jaws to help set the tone.
Pro tip: If you have the space, set up a bonfire or fire pit, a s'mores station, and popcorn for the ultimate movie viewing experience.
Make Ocean Slime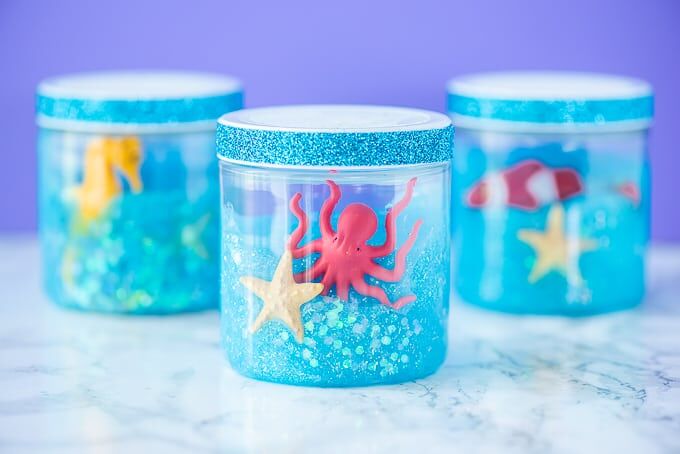 Any kid's pool party needs at least one activity to keep the little ones occupied, and DIY slime is always a crowd pleaser. All you need to create this under the sea activity is glitter glue, contact lens solution, baking soda, jars, and little plastic sea creatures. 
For the full instructions on how to create ocean slime pictured above, check out A Pumpkin & A Princess.
Hire a DJ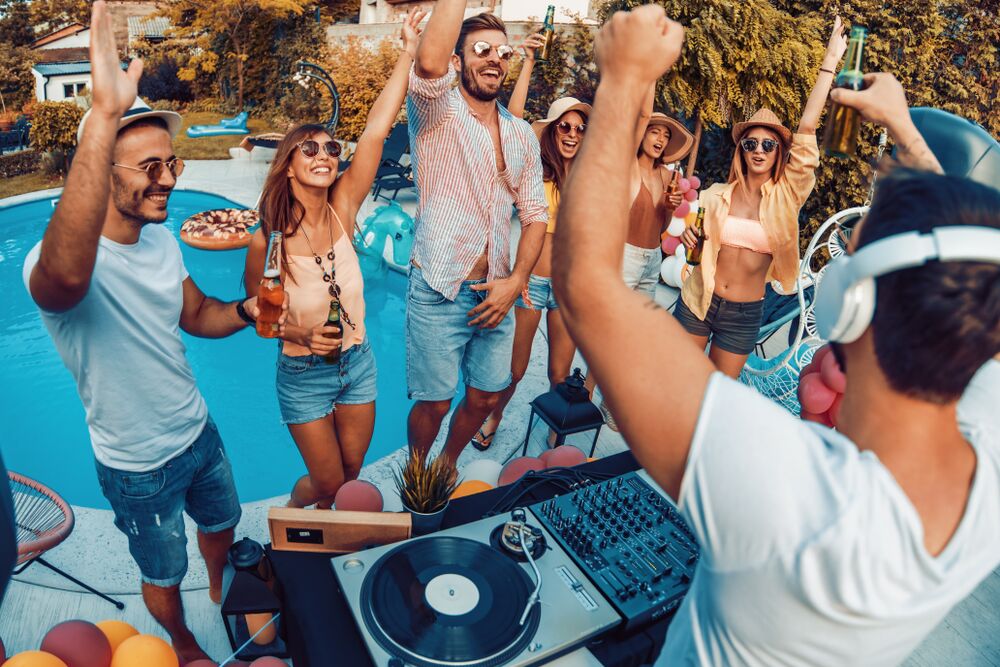 Photo: Ivanko80/shutterstock.com
Sometimes pre-made playlists just don't cut it for a party. Depending on the energy and ambience you want to create for your backyard pool party, consider booking a DJ to spin all your favorite tracks. For inspiration on song requests, check out our ultimate summer playlist.
Floatchella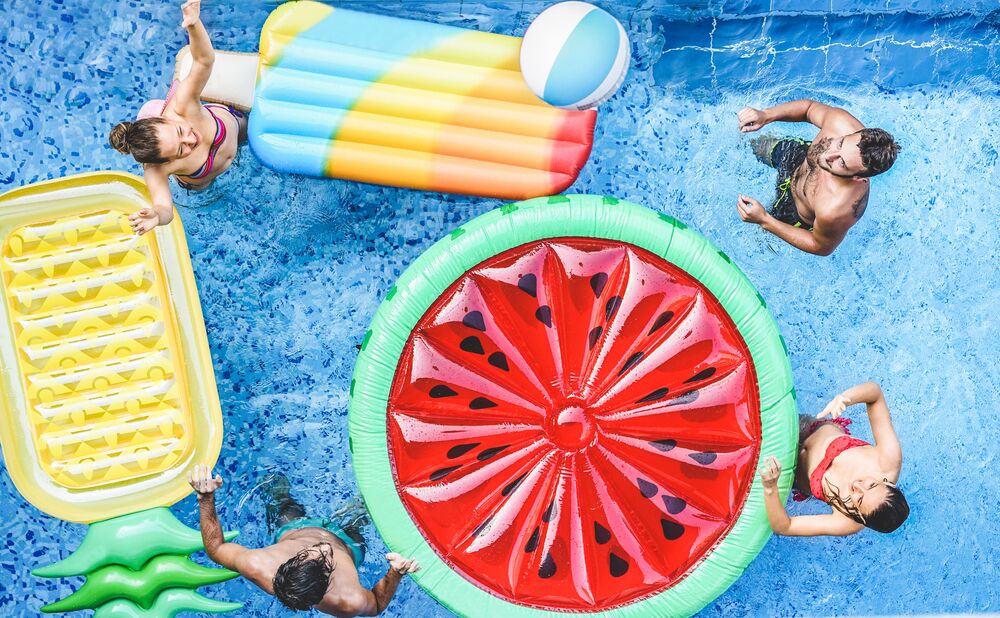 Photo: DisobeyArt/shutterstock.com
For a totally Instagrammable pool party, the more pool floats, the better. Search online for bright and colorful floats that guests will want to use as a prop in their next post. A few of our favorites include this watermelon inner tube, unicorn, and balloon animal float.
Pro tip: Book an open-air photo booth to help capture the memories of the pool party and all the photo ops.
Pirates and Mermaids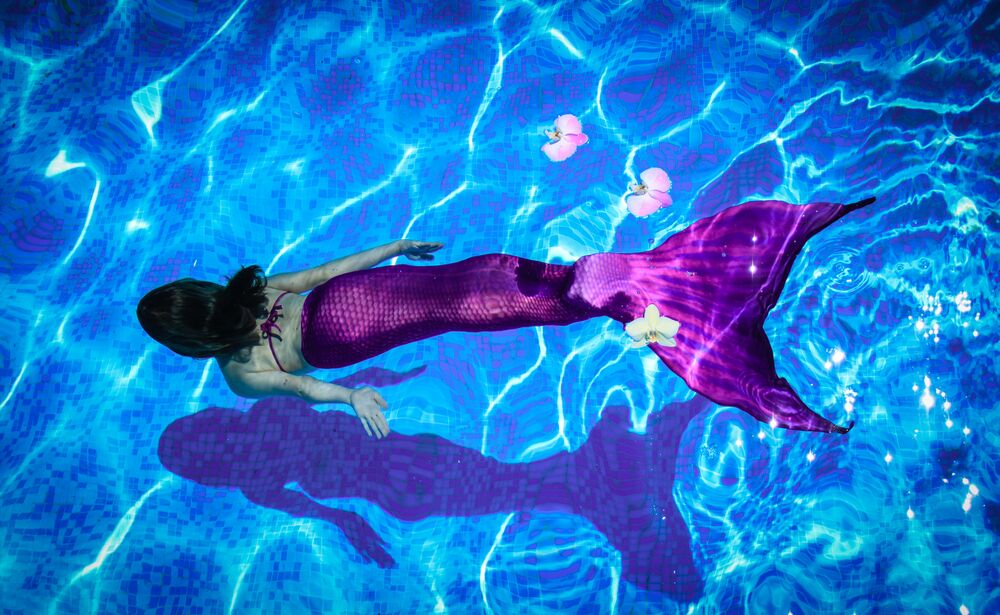 Photo: Verena Geis/shutterstock.com
A summertime costume party is highly encouraged, especially when it's a pirates and mermaids theme. Channel your inner Jack Sparrow or Ariel for a one of a kind pool party that will make the whole neighborhood jealous. Take things to the next level by hiring professional costumed characters to interact with guests and set the tone.
If there are pirates, there must be buried treasure! Host a treasure hunt leading to a chest filled with a prize, drinks, or other pool party favors to guarantee a swashbuckling good time. For treasure hunt inspiration, tips, and ideas, visit Playdates to Parties.
DIY Giant Cooler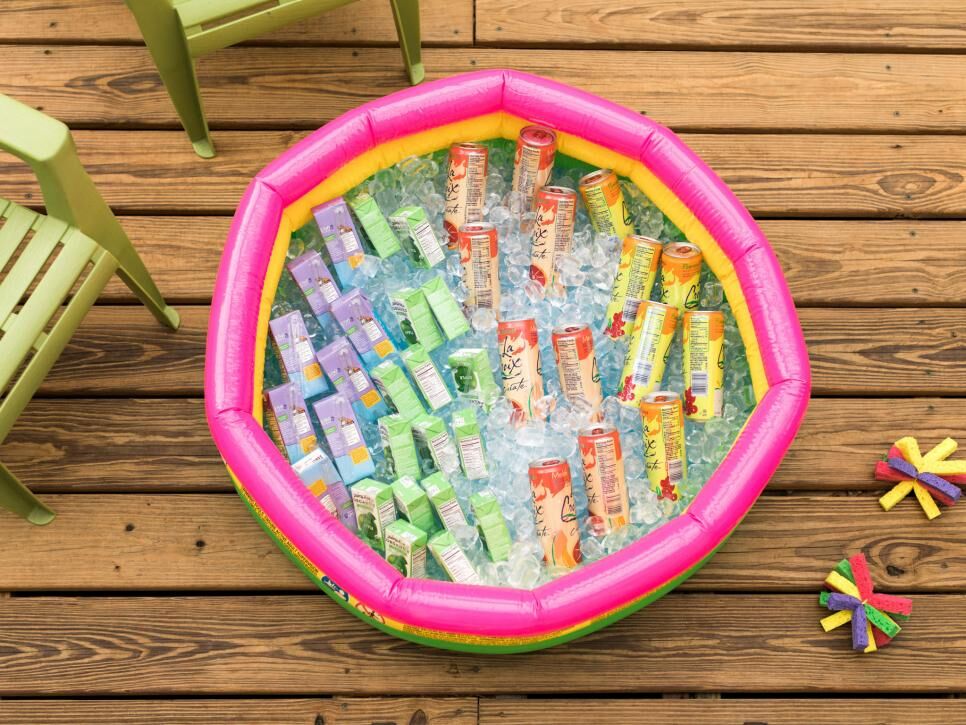 Photo: HGTV Home
Sometimes filling and using coolers for a pool party is more of a hassle than it seems. Prevent the awkward cooler search by allowing guests to view their drink options with ease. All you need is a mini inflatable pool, ice, and your drinks of choice to create a giant cooler. One of the best parts is that it also doubles as decor!
We also recommend using something fun like a wheel barrow to act as a bar cart filled with ice and your favorite beverages.
Poolside Dinner Party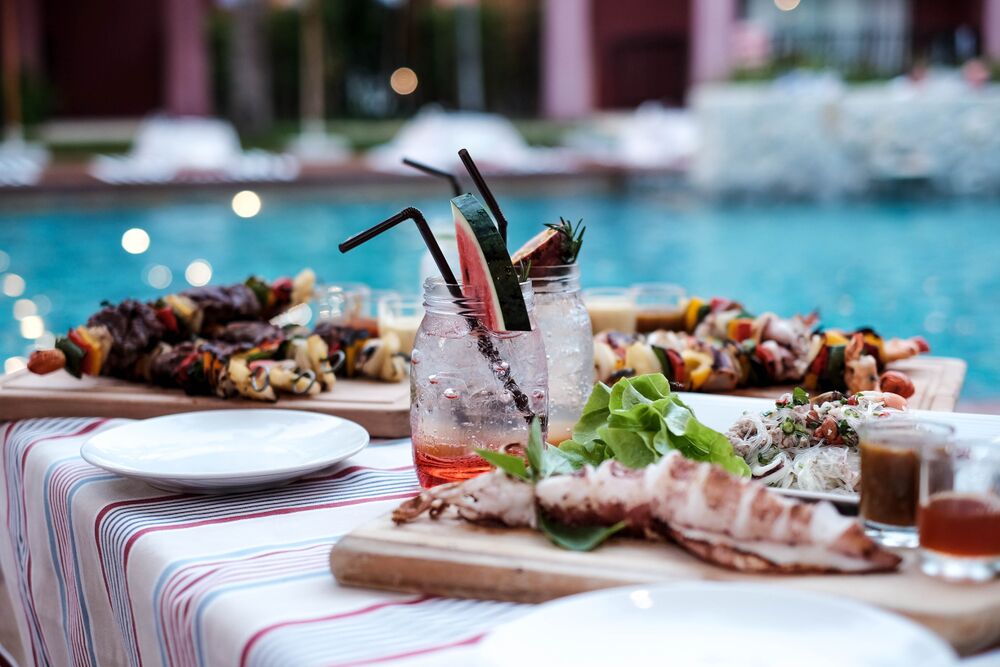 Photo: mpbboom/shutterstock.com
Dinner with a waterfront view is always a good idea for the summer. Whether you order pizza from your favorite restaurant, host a clambake, or create a DIY taco bar, guests are sure to enjoy eating their meal poolside.
Don't know what to serve? We've got you covered! Visit Recipe Girl for the ultimate Summer Entertaining & Pool Party Menu for more pool party food ideas.
Beach Party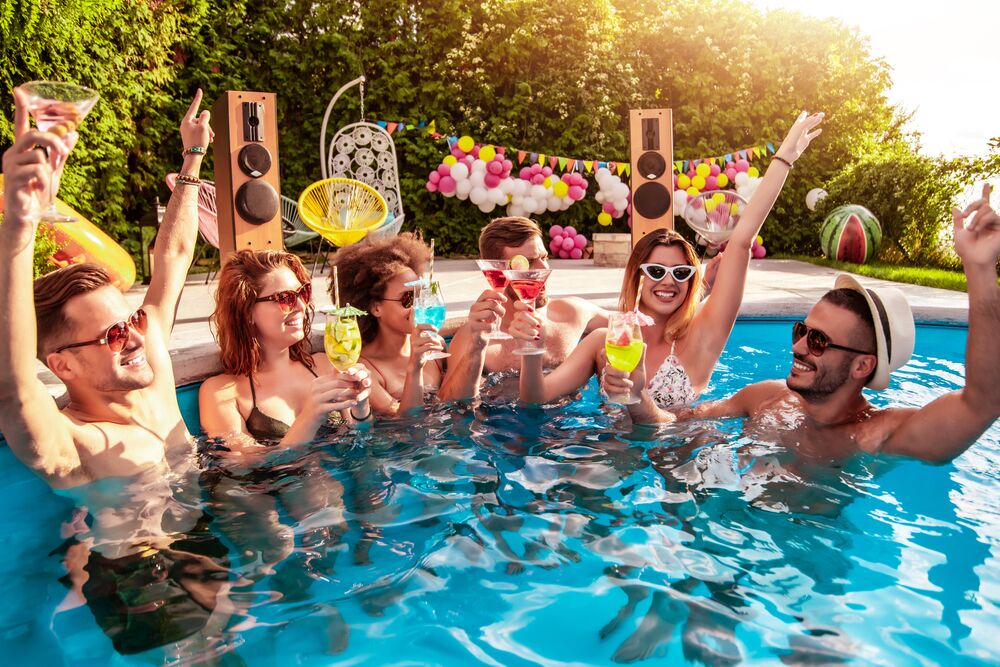 Photo: Ivanko80/shutterstock.com
Bring the excitement of the beach right to your pool without the sticky sand, seagulls, or seaweed. Set up umbrellas in the surrounding area, lay beach towels underneath them, and make these adorable drinks served in pails with straws to match the theme. For the full recipe and instructions, visit Lake Life State of Mind.
Find more summer party ideas and inspiration here on The Bash.