How to Host a Virtual Bachelorette Party
Calling all friends and fam of the bride-to-be!
Brittany Barber
Contributor
Whether you're the maid of honor, best friend, or cool aunt — you're going to need to figure out how to throw the bride-to-be a virtual bachelorette party! Let's face it, one of the best parts about planning and preparing for a wedding is getting to unwind and have a blast at the bachelorette party. Even though celebrations have been pretty darn different lately, there's no chance of passing up the opportunity to gather with the bride's dearest humans for a big ol' bash. 
If you're wondering what to do at a virtual bachelorette party, read on! From hiring virtual entertainers to throwing a killer virtual dance party, we've put together a guide to help you host a memorable (and super fun) virtual celebration. 
READ MORE: 
So, here's how you can throw a virtual bachelorette party: 
Choose a Platform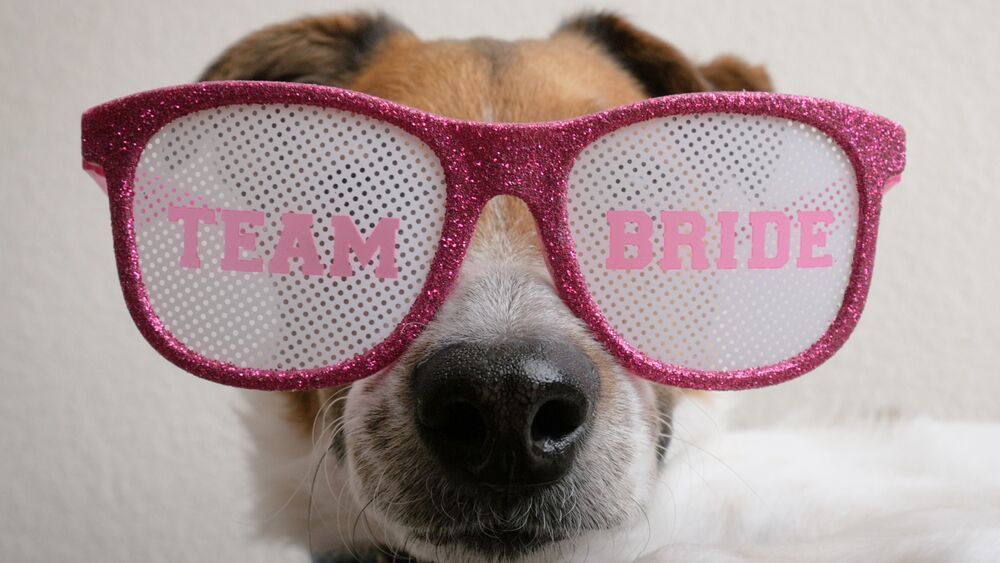 Photo: Stockpot Videos/Shutterstock.com
Realistically, Zoom or Google Hangouts will probably be your best bet when it comes to choosing a virtual platform. Zoom is usually my go-to virtual party space because of its ability to create break-out rooms.
What are break-out rooms? They're basically mini video calls within the entire chat that allow you to have more personal interactions with your virtual guests. What's great about them is that the host can control who goes where (kind of like assigned table seating), or they can be left totally open so your guests can roam from room to room.
You can even title the rooms, so your guests know what to expect in each. You can categorize them by family, activity, themes — whatever you like! You can set a time limit, too, so when you need to make an announcement or move on to the next virtual activity, it'll automatically close the rooms and bring everyone back together. 

If you're still looking for more information about the pros and cons of alternative platforms, take a look at our breakdown of the best video chat apps for group calls. 
Guest List 
Once you've figured out your platform, you've likely figured out how many people you can actually host on your call. Keep in mind that even though this virtual bachelorette party is going to be online, you'll want to make sure your guest list isn't too big. If you invite, like, 80 people, it can become quite difficult to communicate with everyone. So keep it intimate, or set it up so people can "drop by," which will ensure a steady flow of virtual guests coming and going. 
Hire Virtual Entertainment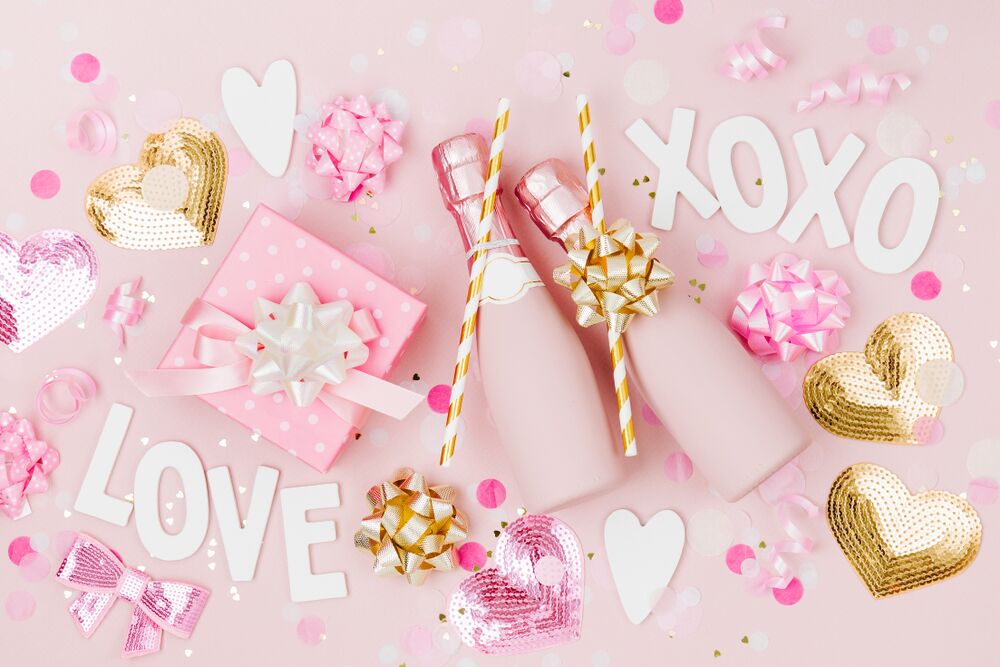 Photo: Igisheva Maria/Shutterstock.com
As far as virtual bachelorette party ideas are concerned, hiring virtual entertainment is an excellent way to make the most out of your digital celebration. Make it memorable with one of these awesome vendors: 
Virtual Dancers 
What better way to get a party groovin' than with a group of professional dancers? Some of our favorites for a virtual bachelorette party include cabaret dancers, fire dancers, and belly dancers — just to name a few. Check! Them! Out! 
Virtual Caricaturist
Invite a caricaturist to draw funny portraits of your virtual guests, so everyone has something special to remember this virtual event by. You can organize it so the artist will email the drawings at the end of the party, giving each guest a party favor to end the call with.
Live Music
Hire some live music to play virtually for your guests — it could be a great way to get the virtual dance party started! 
Virtual Fortune Teller
Slot in a fortune teller to tell you and your guests what the future holds for the future newlyweds!
Virtual Impersonator 
Marilyn Monroe, Cher, Elvis? Check out our extensive list of impersonators and invite one to join your virtual bachelorette party. 
Virtual Comedian
Hire a virtual comedian to crash your bachelorette party and get your guests laughing. Roastmasters, stand-up, impressionists — we've got it all.
Plan a Virtual Activity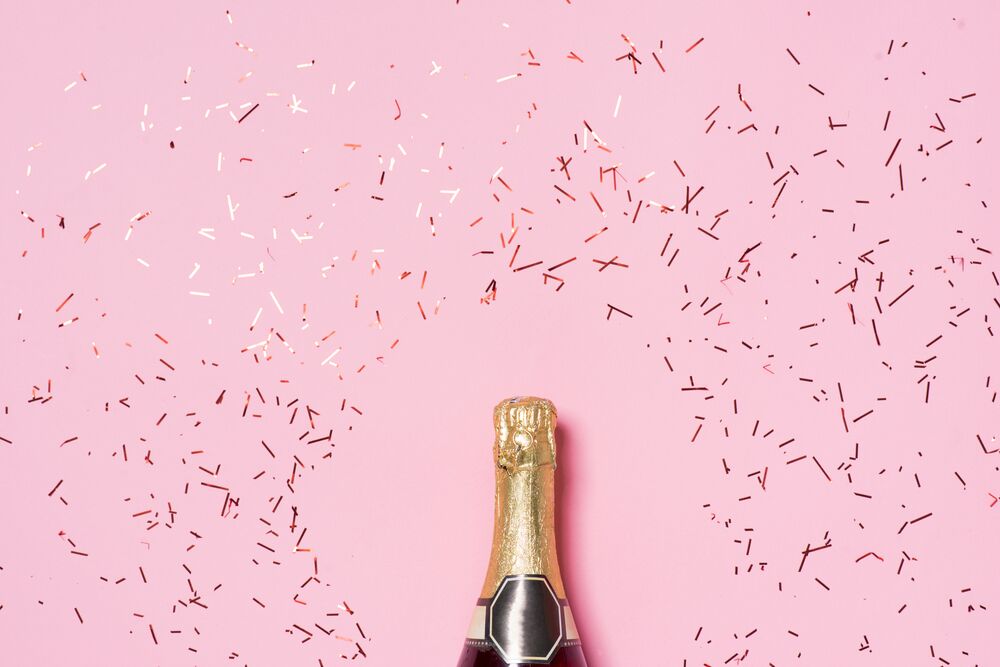 Photo: Makistock/Shutterstock.com
Alright, now you've got to figure out the ~fun~ stuff. You'll want to choose a few virtual activities everyone can participate in, in order to keep everyone entertain and engaged! This is a virtual bachelorette party after all, so feel free to go over the top a little. Some of our favorite virtual activities include: 
Virtual Cocktail Workshop
Hire a bartender to lead you and your virtual party guests in a cocktail workshop. It'll be a fun learning experience for everyone — and make it feel like your sipping something fancy together at an upscale cocktail bar. 
Virtual Dance Party
Once the drinks are flowing, a celebratory dance party is in order. If you've never participated in a virtual dance party, we have a whole article on how you should go about planning an awesome one. You can check out our guide here!

Bonus: Here's a bumpin' party playlist to get everyone up and moving. Or, better yet, check out our list of musicians who can perform virtually at your bachelorette party! 
Slideshow
Set up a collection of hilarious, endearing, and probably a few embarrassing photos of the bride-to-be (including some with their fiancée, too). Don't forget to include some memories of the guests who will be attending, and be sure to mention it in your invites and ask if anyone has any photos they'd like to add. 
Personalized Trivia
Party games are always a hit at virtual gatherings. Try a trivia game to see how well everyone knows the bride-to-be (trust me, it'll make 'em feel special). You can create your own game with a super-cool site called Typeform. Just sign up and use their trivia quiz template to create your own questions and answers, and share it with your guests via email. We recommend replacing the questions that are already included in the template — it'll be easier than starting from scratch. It's free to use and share, too! 
Murder Mystery Game  
If the bride-to-be loves a good game night, you could turn the entire bach party into a virtual game of murder mystery (and perhaps make the victim their beloved fiancée, if they've got a good sense of humor). An evening of mystery-solving will certainly get your virtual guests thinking, mingling, and in the mood to party. Check out our guide for tips on how to throw murder mystery party.  Make sure you tell your guests to dress up, dim the lights, and get into character.
Looking for even more virtual activity ideas? Check out these 35 Virtual Party Ideas for even more inspiration. 
Set a Schedule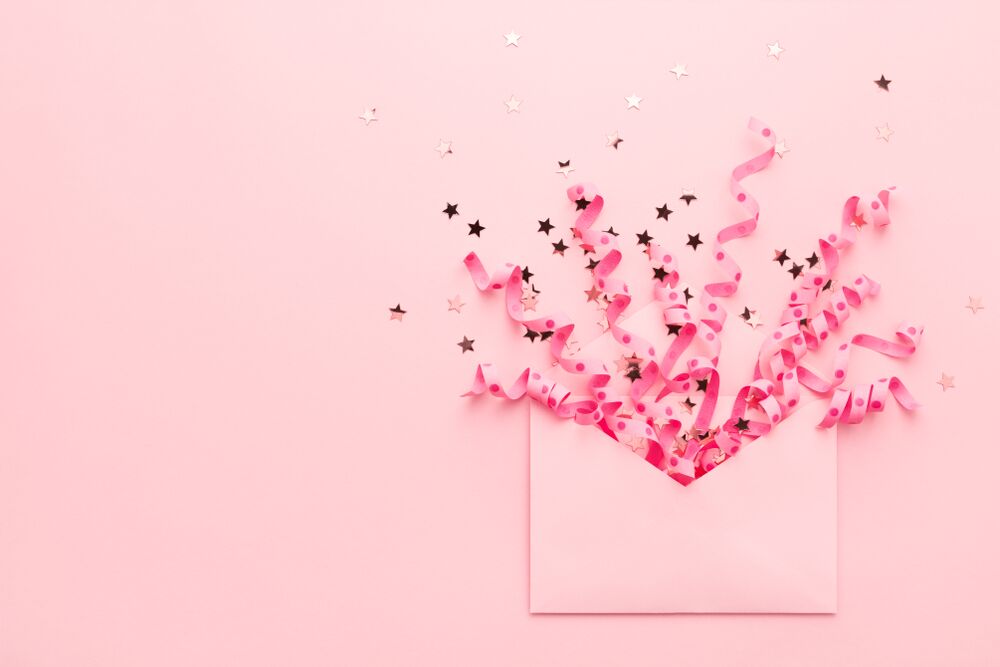 Photo: Julia Manga/Shutterstock.com
Now that you have figured out what you'll be doing at your virtual bachelorette party, you should create an agenda to make sure it all runs smoothly. Unlike an IRL party, virtual gatherings tend to require a little more structure.
Break your virtual bachelorette party into sections, like: 
7:00-7:30 pm: Catch up while guests "arrive" (this is when you can use the Zoom breakout rooms if there are a lot of guests)
7:30-8:00 pm: Play trivia 
8:00-8:30 pm: Slideshow 
8:30-9:00 pm: Virtual cocktail workshop
9:00-9:30 pm: Virtual dance party 
And Send Invitations
How you send your invitations is totally up to you. An old-fashioned paper invite? An e-card? A virtual singing telegram? Whatever you decide, just make sure you include your start and finish times, virtual platform link, a general schedule of what you'll be doing, and, of course, the dress code.
Decorate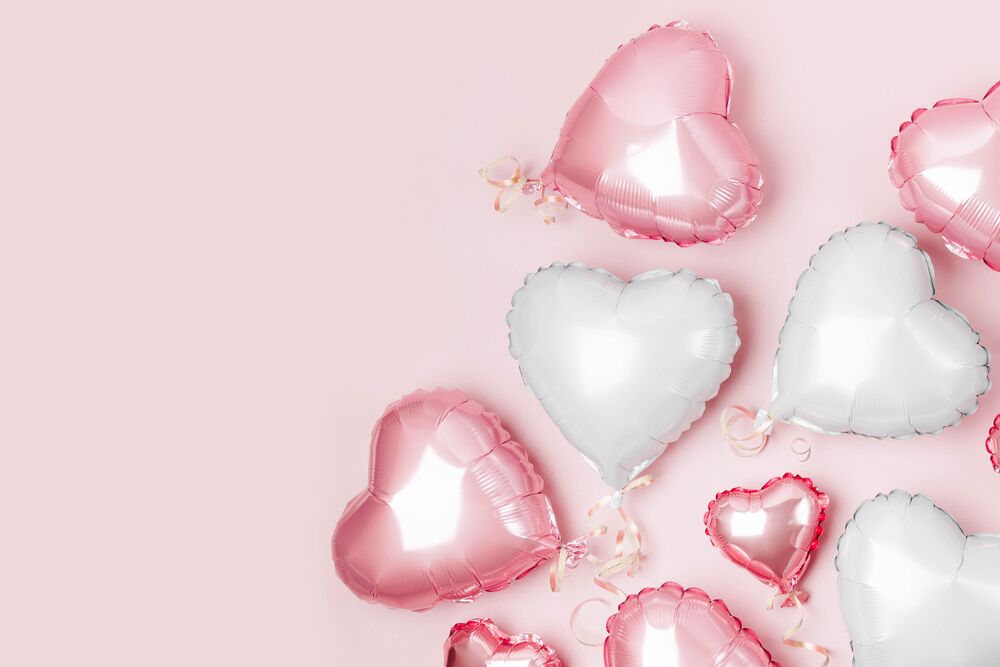 Photo: Igisheva Maria/Shutterstock.com
Even though you're celebrating virtually, you'll still want to make your space worthy of a virtual bachelorette party! Go wild with it! We're talkin' balloons, streamers, unicorns — the works. Anything in view of your webcam ought to be celebratory, right? You can even send little decorations for your guests to put up, too, or recommend one of these wedding-themed Zoom backgrounds so they can decorate digitally instead.
Dress up!
This is a party after all, right? So get your best party outfits on (full beat, included), and make sure your guests do the same. It is not a night for sweatpants, people! 
Happy Hour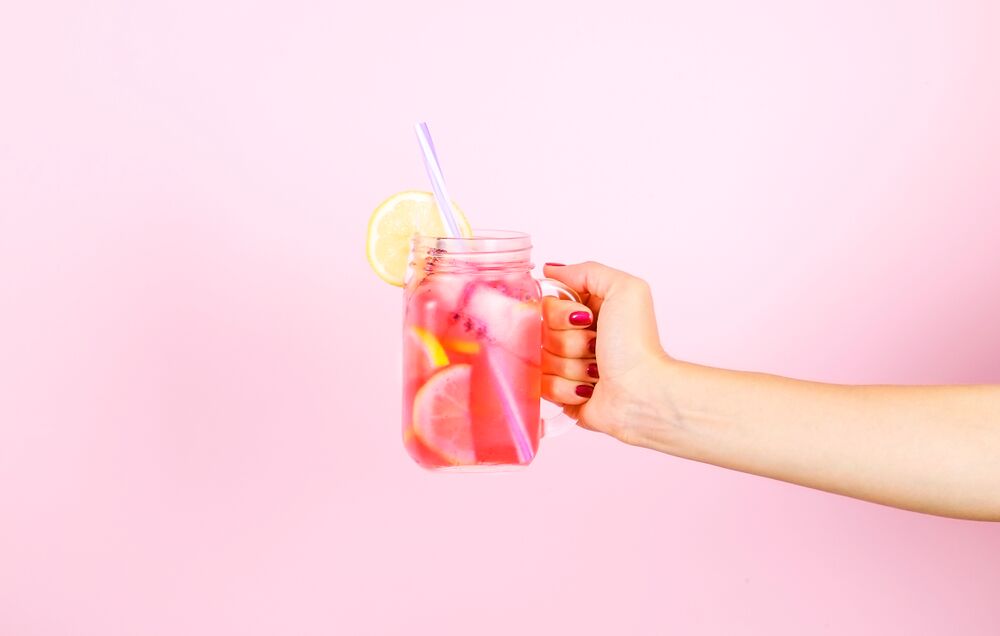 Photo: evrymmnt/Shutterstock.com
Whether you chose to hire a bartender to help you and your virtual party guests get mixin' or not, you'll want to make sure everyone has some sort of beverage so y'all can toast to the bride-to-be all night long. Pick the bride's favorite drink or a signature cocktail the bridal party can make together virtually. Ideally something fun and bright like a cosmo, raspberry mojito, or a frothy pink lady. 
Bonus: Check out our complete guide on how to host an amazing Zoom party. Plus, The Bash has more than 6,000 vendors nationwide providing online services for virtual events. 
About Brittany Barber
Brittany Barber, lover of books, dogs, and romance, graduated from Bishop's University with a Communications and Theatre degree. After spending some time working abroad in the theatre world, she is now a freelance writer covering a range of lifestyle topics including event planning for The Bash, WeddingWire, 2life and Fluttr, and shopping for BuzzFeed.