How to Throw a Bumpin' Virtual Dance Party
Wondering how to host a Zoom dance party? Use this step-by-step guide to help you plan!
Brittany Barber
Contributor
Whatever the occasion might be, having a virtual dance party at your next socially distanced gathering is always a fun way to celebrate! Whether you're planning a virtual birthday party or your next Zoom holiday celebration, take your online festivities to the virtual dance floor. We've made a step-by-step guide for you to follow to make sure your virtual dance party is one to remember. From figuring out your guest list to hiring a virtual DJ, we've got you covered! 
READ MORE:
So, how do you throw a virtual dance party? Follow these steps: 
1. Create Your Guest List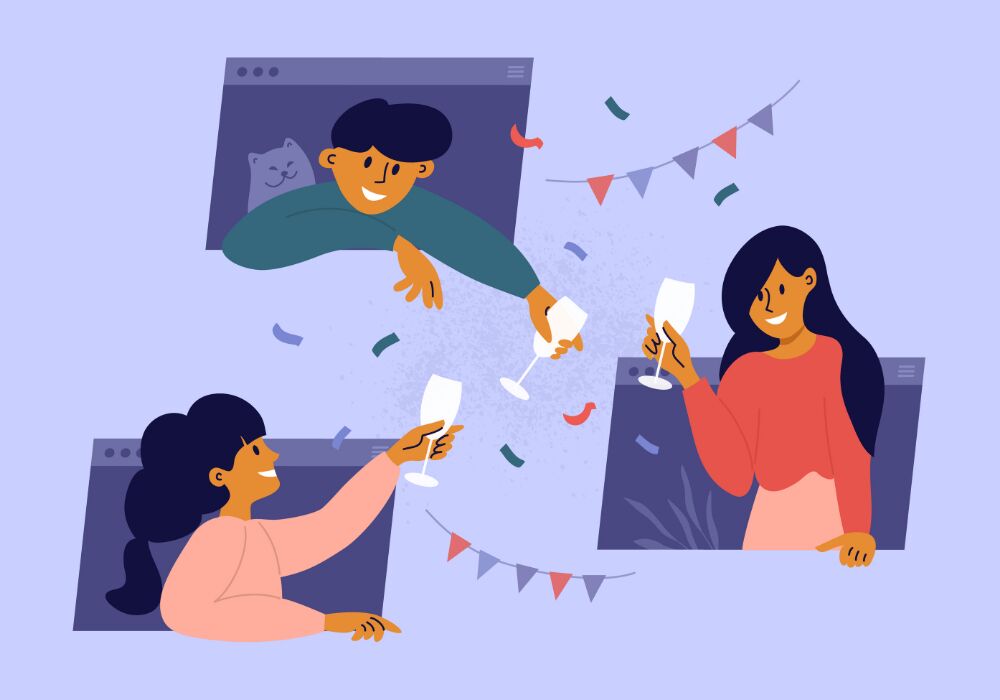 Photo: Olga Strelnikova/Shutterstock.com 
Figure out who to invite to your virtual dance party by writing out a list of pals who love to dance! Don't worry too much about numbers — as a default on all Zoom plans, you can invite up to 100 participants, so there's plenty of space for plus-ones. If somehow, you know more people than that, you can invite up to 1000 participants with the Large Meeting add-on and throw a truly legendary virtual rave. 
Pro Tip: If you're expecting a huge turnout, encourage your guests to use the chatbox when they have something to say. It'll save yourselves (and your lungs) from attempting to scream over the party music (and each other)! 
2. Send Invitations 
Whatever the occasion might be, make sure to include the details of your virtual dance party in your invitations. Date, time, dress code, the Zoom link, and what to expect should cover all your bases. You can send them simply via email or text, get creative with snail mail, or even send custom virtual singing telegrams! 
3. Choose a Theme
If you're hosting a virtual dance party simply for the sake of dancing, choose a theme your guests can look forward to. Choose a decade or a genre, and base the music and party outfits on that! Try one of our favorites, like 2000s hip-hop, 70's disco, or an electronic rave — with glowsticks of course. 
4. Download a Zoom Background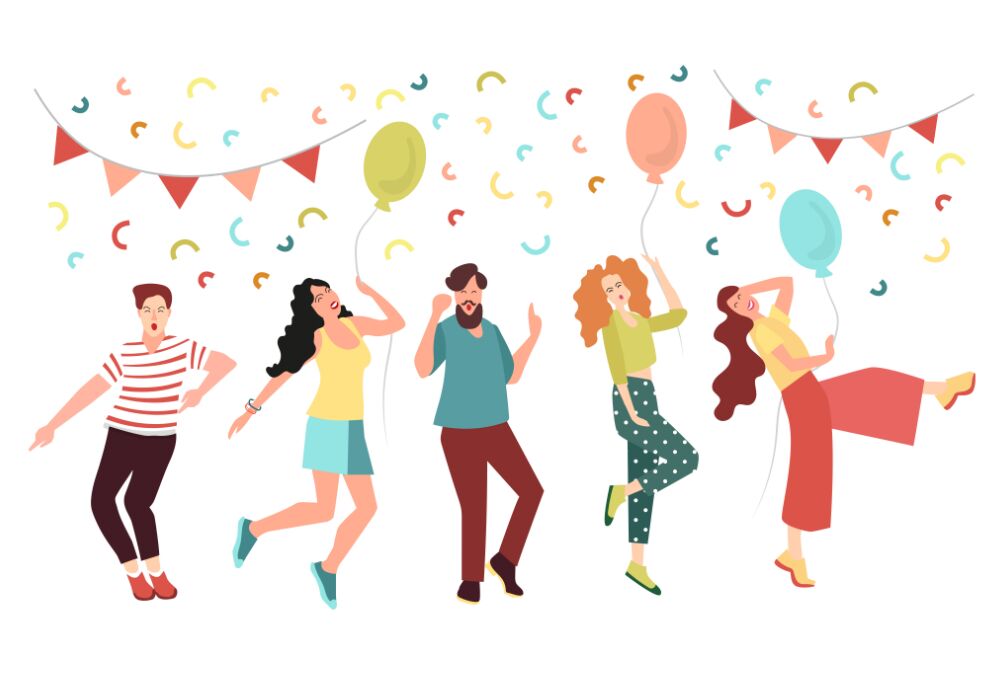 Photo: Irina Shumikhina/Shutterstock.com
Take advantage of the digital world with a fun Zoom background to feature at your virtual dance party! Lucky for you, we have quite a collection of high-resolution Zoom images you can download for free, for any occasion! Have a look at these: 
5. Use a Pro Zoom Account
Make sure whoever ends up being the host has a Pro Zoom account. A basic Zoom account only allows for 40 minutes a session — while Pro allows up to 30 hours of call time. This will avoid having to interrupt the virtual dance party to re-send call links for rejoining. 
6. Choose the Party Music
The most important thing to consider is how you're going to sync up your virtual dance party tunes. A great option is to create a dance party playlist (or use the one we made on Spotify), and choose just one person to share their screen and audio so you're all in sync.
As an alternative, decide on a livestream set everyone can listen to. Doing so will probably be the better option for higher quality sound, because you can each play it yourselves without worrying about being synced up. You could even hire a DJ to organize it all for you, making sure your virtual dance party goes just as you'd like. 
7. Party Drinks!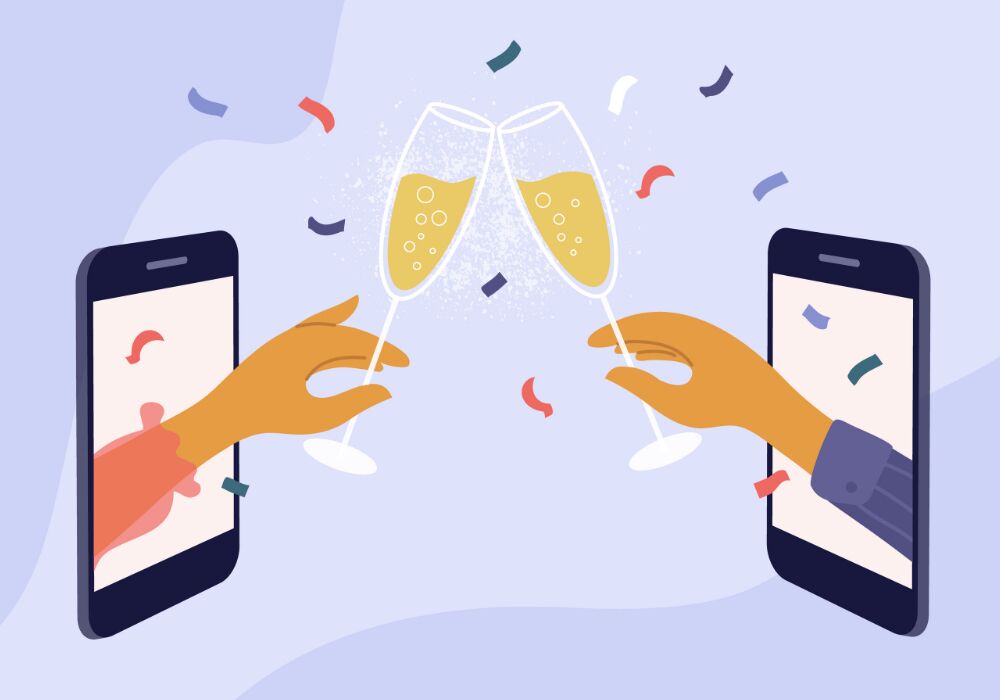 Photo: Olga Strelnikova/Shutterstock.com 
What's a dance party without a few party drinks? Include a cocktail recipe in your invitation so your guests can join in on the action! If you're in need of inspiration, check out these delicious cocktail recipes. 
8. Set Zoom to Gallery View
The best way to enjoy your Zoom dance party? Make sure to set your screens to Gallery View. You can view up to 49 participants on your Zoom screen using the Gallery View, which will give you a great view of everyone's dance moves. This is a great tip to add to your invitations, especially if your guests haven't mastered the virtual party scene just yet! 
9. Get Dressed Up
Regardless of the theme or occasion, make sure to encourage your friends to get their best dancing shoes on. Whether that means putting on your fanciest attire, or busting out some neon leggings — have fun with it! 
10. Take Photos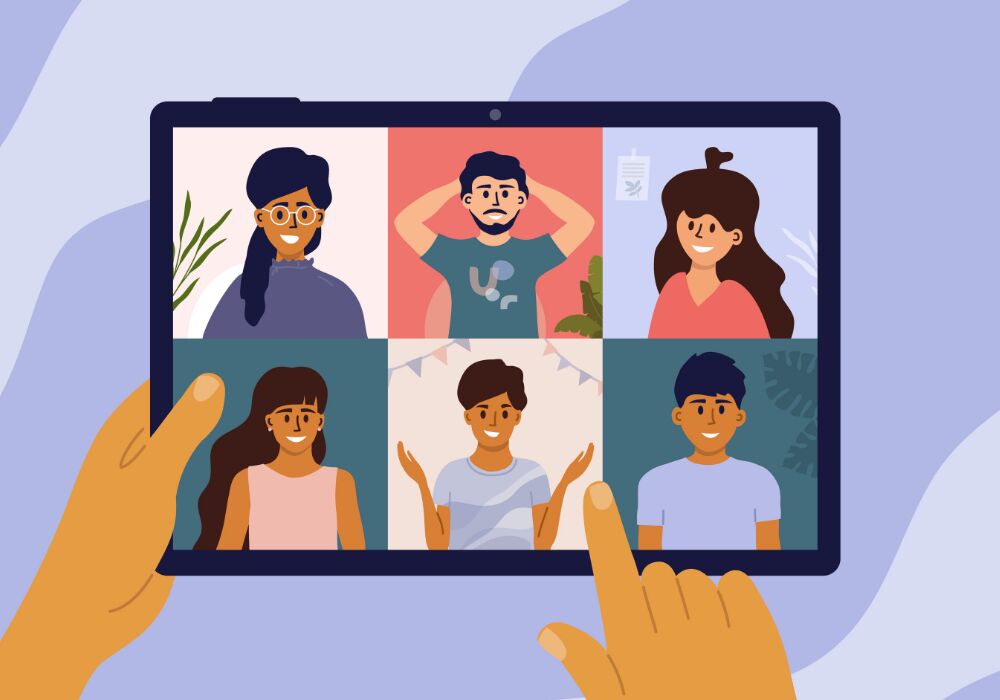 Photo: Olga Strelnikova/Shutterstock.com 
Last but not least, make sure to snap a few screenshots of your virtual dance party! Despite having to stay in, you'll still want something to remember the good times too.
Bonus: Find more virtual celebration ideas on The Bash. 
About Brittany Barber
Brittany Barber, lover of books, dogs and romance, graduated from Bishop's University with a Communications and Theatre degree. After spending some time working abroad in the theatre world, she is now a freelance writer covering a range of lifestyle topics including wedding and event planning for The Bash, WeddingWire, 2life and Fluttr.