How to Plan an Awesome Virtual Birthday Party for Kids
Planning for your child's virtual birthday party? Take a look at these fun ideas for inspiration!
Brittany Barber
Contributor
If you're planning on throwing your child a virtual birthday party, you've come to the right place!  Whether it's your first or fifth time planning a social distancing virtual event, you'll want to take a look at these super fun virtual birthday party ideas to help celebrate your kid's special day. 
From hiring virtual entertainment to decorating digitally with a kid-friendly birthday Zoom background, we've got you covered. 
Bonus: This is our kid's virtual birthday party guide — but if you're planning for an adult, check out our virtual birthday party guide for grown-ups! 
READ MORE: 
Here's how to host a virtual birthday party for kids:
Make Super-Cool Invitations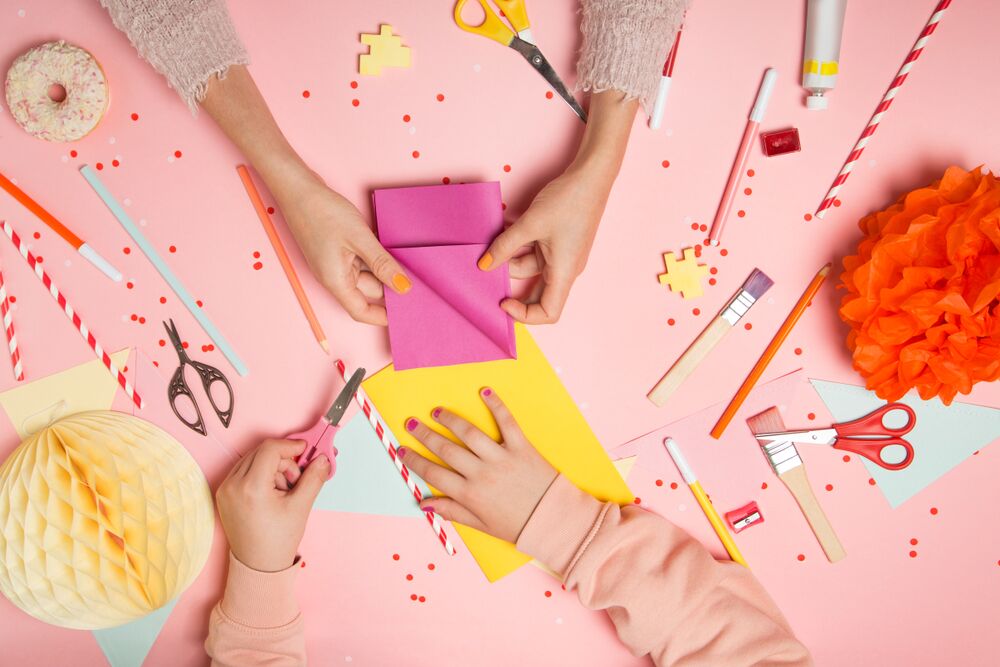 Photo: Kate Aedon/Shutterstock.com 
It's important to make sure your child feels celebrated on their birthday this year, even if most of the celebrating is happening virtually. Hype up the virtual birthday party by making awesome, homemade party invitations together! Include all the info needed, along with whatever creative flair your kid wants to add. 
If your child is too young to make physical paper invitations, you could always opt for a unique e-card. Consider even sending a few virtual singing telegrams to invite family members who wish they could be with you IRL to the virtual bash. 
Choose a Platform 
Whether you use Zoom, Google Meet, or Skype — pick a platform everyone can agree on and use it for the virtual birthday party. We've got the lowdown on the best video chat apps to use for groups, if you're looking for more insight on what platform to choose! 
Pro Tip: If Zoom is your go-to virtual party platform, make sure you use a Pro account — so you're not limited to 40-minute sessions.
Choose a Party Theme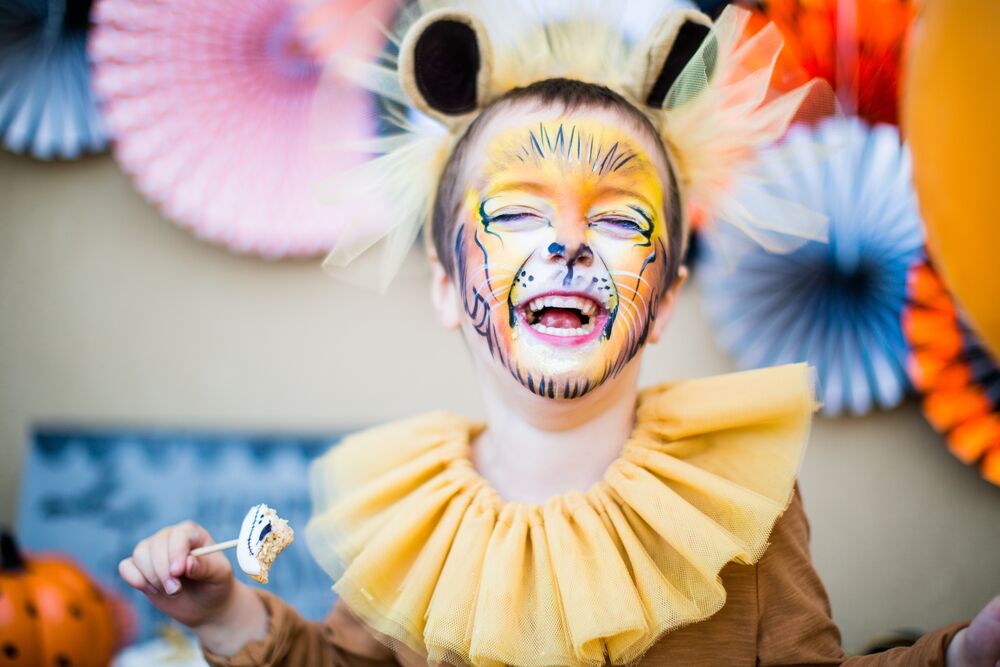 Photo: Rosie Parsons/Shutterstock.com 
Choosing a party theme for your child's virtual birthday party will surely amp up the virtual festivities. Some awesome choices to consider are:
Animals: Ask all the virtual party guests dress up as their favorite animal, including face paint. 
Dinosaurs: Get your child's virtual party guests to dress up as their favorite dinosaur! Be sure to use jungle-inspired decorations for the party space.
Mermaids: Braided hair, shimmering face paint, and funky outfits are mandatory. 
Circus: Encourage clown makeup, hilarious outfits, and colorful wigs. 
Magical Forest: You'll definitely want some fairy wings, woodland face paint, and a whole lot of glitter. 
You could even send out mini packages to all of the virtual guests ahead of time, to help them prepare for your chosen theme! They'll double as party favor bags, too. 
Decorate your Space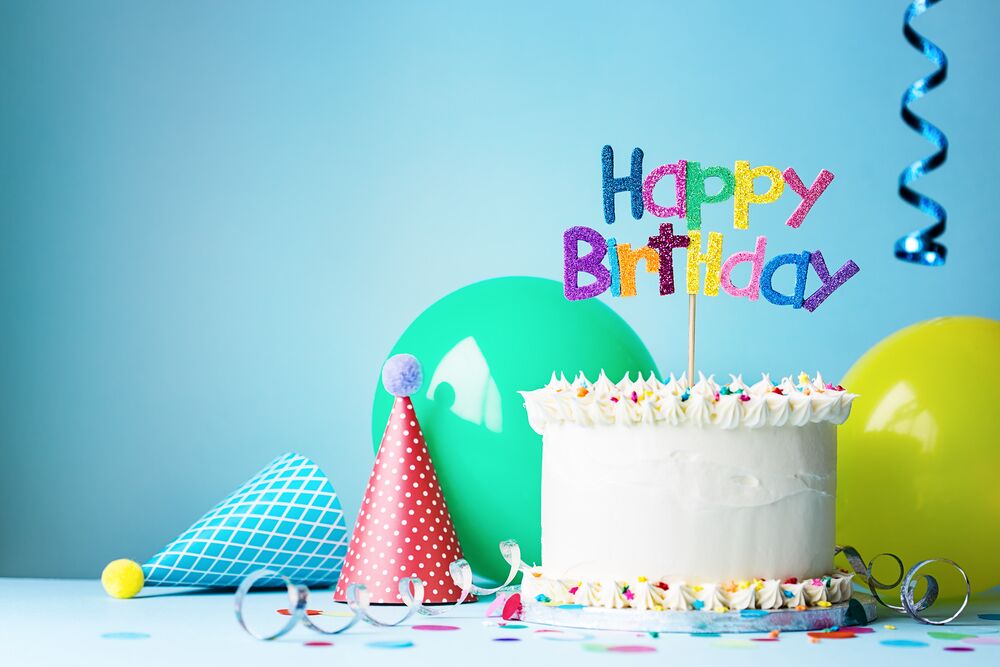 Photo: Ruth Black/Shutterstock.com
Your decorations will largely depend on what kind of theme is chosen — but don't forget to fill the house with the regular birthday party stuff too. Helium balloons, colorful streamers, confetti, and party hats are an absolute must. Your child will be so excited!
Don't forget to decorate digitally with one of our birthday Zoom backgrounds for the event, too. 
Birthday Cake
Even if there won't be a bunch of kids around to chow down on a cake, you know you have to get one anyway. If you're worried about there being too much, consider making a few cupcakes for the household, and putting candles on only the designated birthday cupcake. Get the whole Zoom party to sing happy birthday with you, and make sure your child faces the camera as they blow out their candles.
Virtual Party Entertainment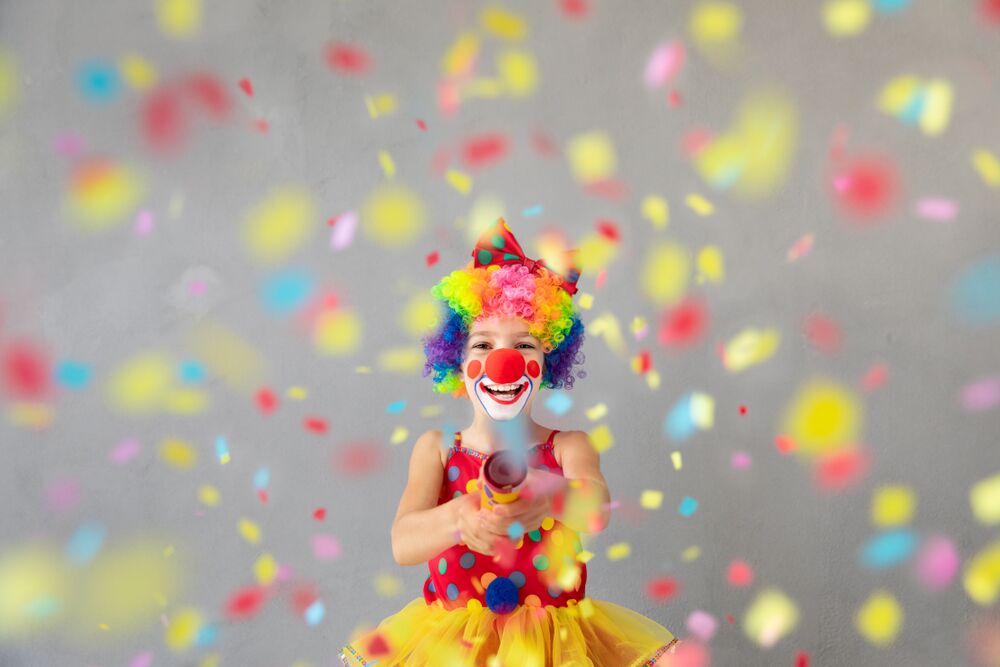 Photo: Sunny studio/Shutterstock.com
Along with a fun game to play, you might want to consider hiring virtual party entertainment to really kick things off! Take a look at some of our favorite birthday party vendors: 
Virtual Magician
Invite a virtual magician to perform a couple of mystical tricks at the party. The kids will love it, and the adults will be entertained, too. 
Virtual Storyteller
Hire a virtual storyteller to tell a funny story, or even a spooky story (if they're old enough) to the kids at the virtual birthday party. 
Virtual Costumed Character
Depending on how old your child is turning, you might want to consider hiring a virtual costumed character to make a guest appearance at their virtual event! They're always a big hit with younger children.  
Virtual Clown
A virtual clown will liven up the party and certainly make it a memorable birthday for your little one. 
Virtual Caricaturist 
Hire a virtual caricaturist to draw each of the guests at the party. Once everyone says goodbye, you can email everyone their caricatures so they can keep them as party favors. 
Find Virtual Entertainment Vendors
Play a Virtual Party Game Online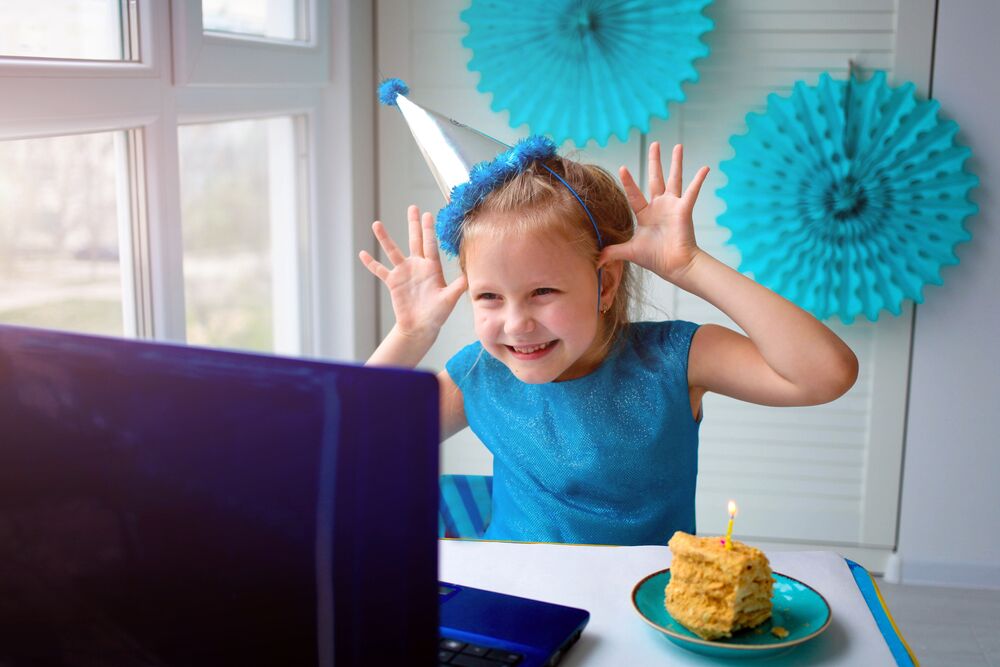 Photo: smile23/Shutterstock.com
One way to fill up a fun schedule at your child's virtual birthday party is to make sure they have games to play! Consider one of these online, multi-player options:
Decurse
Decurse is a cute farming game that allows players (ages 4 and up) to create and uncurse their land. You can download the app for free here!
Drawful 2
Drawful 2 is a super fun drawing based game that requires 3-8 players. It's meant for ages 9 and up, takes around 15 minutes per round, and it's only $10 to purchase. 
Quiplash
Answer funny prompts in a group of 3-8 players, on Quiplash's family mode setting that makes it suitable for children 5 and up. It's $10 to purchase and totally worth it!
Super Mega Mini Party
If you're keeping the virtual party to a minimum this year, Super Mega Mini Party is a great option, and only requires up to 4 players. With up to 20 mini-games to play (like Tennis 3000 and Tic Tac Toe), it's geared toward kids 4 and up. Keep in mind that you'll need Apple Arcade to download it. 
Pro tip: Be sure to pay attention to the maximum number of players each game can have — you don't want anyone to feel inadvertently left out! 
Birthday Talent Show

Photo: Yuganov Konstantin/Shutterstock.com
Get all of your virtual birthday party guests to prepare a short presentation of one of their talents. That means musical performances, handstands, spelling a super-long word, or even a magic trick.
Don't forget to mention that pets are allowed to participate, too! It can be helpful for kids who are a little shy to show off their pet's tricks instead of their own. We recommend including all of the details in the invitation, and giving everyone a time limit so no one hogs the show!
Don't Forget Music!
Make sure you save a little time to really get the party started and rock out to some fun jams! You could even hire a virtual cover band and have a virtual dance party segment toward the end of the call. 
Movie Night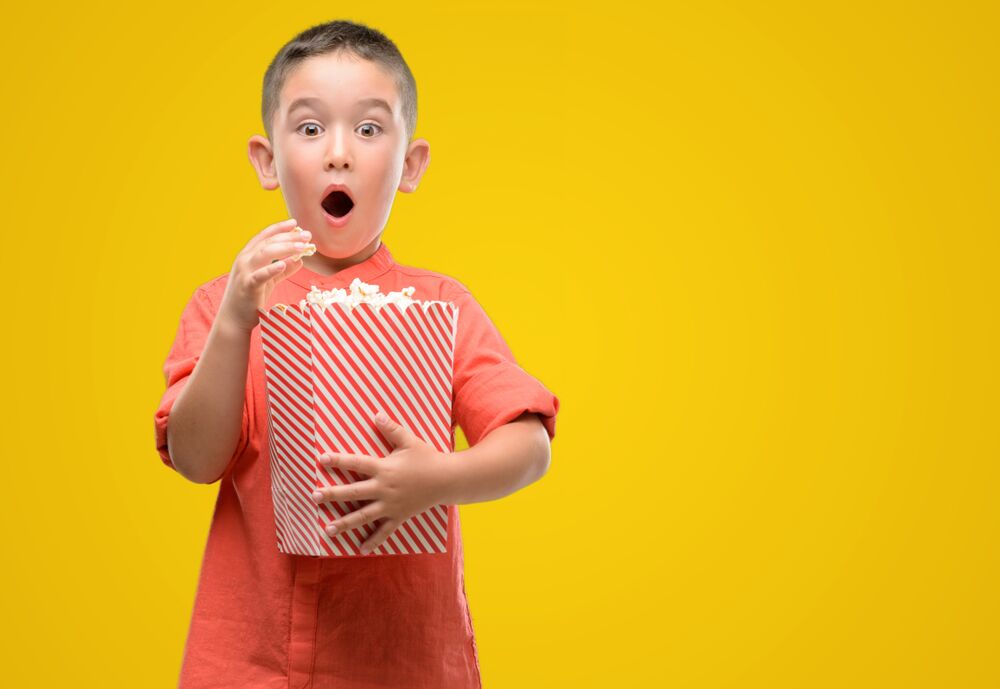 Photo: Krakenimages.com/Shutterstock.com
Center the virtual birthday party around a movie everyone can watch together, virtually. Let your birthday boy or girl decide on what they want to watch, and send everyone an invite to watch via Netflix Party. Make sure to remind everyone that popcorn and candy are absolutely mandatory — you can even include them in their loot bags if you'd like! 
Virtual Scavenger Hunt
As far as virtual birthday activities go, a virtual scavenger hunt is always a hit. You'll want to create a list of household items the players have to find. Give them 60 seconds or so (depending on their age) to find each item. The first to bring their item back to the screen wins 3 points. Anyone else who brings the item within the 60 seconds gets 1 point. Create a scorecard to keep track of points, and play until you've exhausted your list! They'll have an absolute blast. 
Create a Happy Birthday TikTok
Create a thoughtful TikTok (or simply a homemade video) of your friends and family wishing your child a happy birthday. Get everyone to record a ten-second clip of themselves saying a nice thing about your child, have them email you the file, and then stitch it all together to present during the call. Your kid will love it! 
And Of Course, Loot Bags!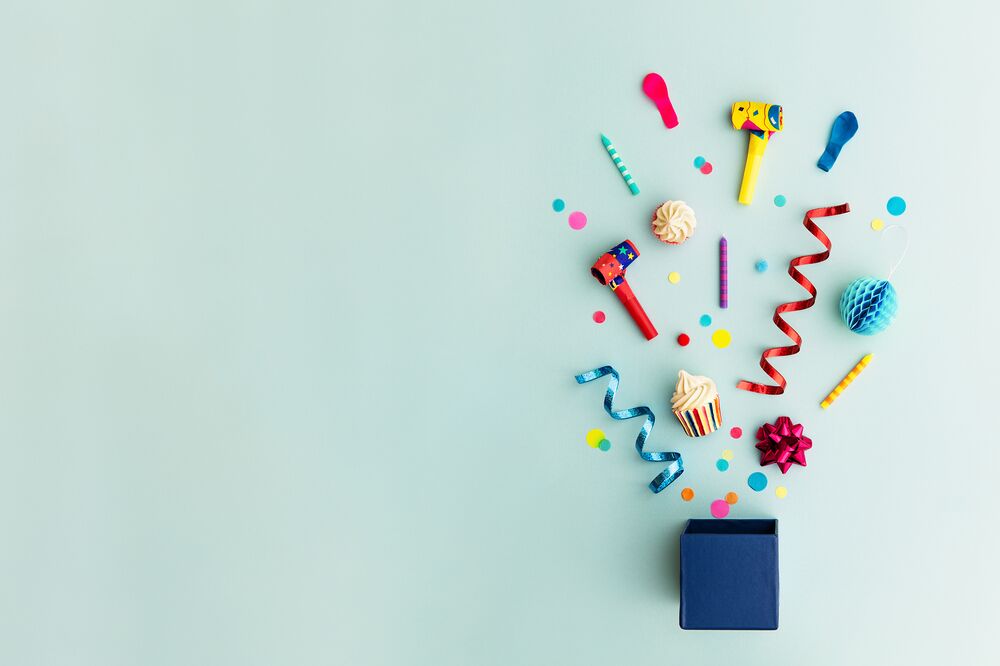 Photo: Ruth Black/Shutterstock.com
Just because this party is virtual, doesn't mean there shouldn't be loot bags! One of the best things about a kid's birthday party is that everyone invited gets a little gift, too. If you're pressed for time, you can always find pre-made loot bags at your local party supplies shop. But if you can, we recommend making your own!

Some of our fave items to include are face stickers, scrunchies, temporary tattoos, drawstring bags, and some fun superhero costumes! It'll give the other kids something to do while your child opens their presents. 
Bonus: Find more birthday celebration ideas on The Bash. Plus, we've got more than 6,000 vendors nationwide providing online services for virtual events. 
About Brittany Barber
Brittany Barber, lover of books, dogs, and romance, graduated from Bishop's University with a Communications and Theatre degree. After spending some time working abroad in the theatre world, she is now a freelance writer covering a range of lifestyle topics including event planning for The Bash, WeddingWire, 2life and Fluttr, and shopping for BuzzFeed.