13 Wedding Trends for 2021
Get inspired for your upcoming wedding with these trends from the pros.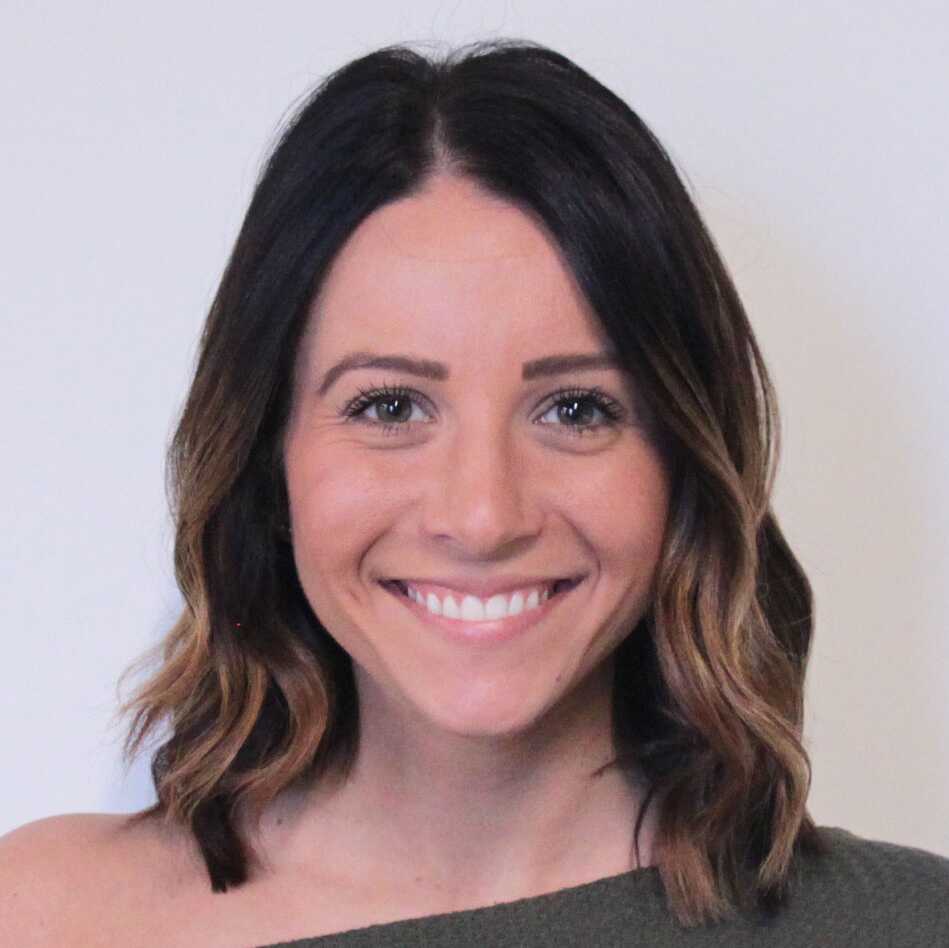 The new year is officially here, and if getting married is in your future, these 2021 wedding trends will help you start to plan your big day. Like everything we've learned in the past year, changes are to be expected. At the end of the day, this is one of the most important days of your life, and you want to make sure it's everything you've dreamed of.
These wedding trends are not your typical trends—we're not talking about wedding dresses, cakes, or flowers. These trends will cover COVID-19 safety, food and drink ideas, venues, and of course, entertainment.
Here is a round up of 13 wedding trends for 2021 from event professionals and industry experts.
Finding & Paying Your Vendors Virtually
"More and more vendors are getting on board with introducing tech into their companies to streamline and simplify the planning process for all parties. Finding, contracting, and paying vendors locally or from a distance has never been easier," says Molly Corr, Bridal Bliss Senior Planner.
Pro Tip: Here at The Bash you can easily find, book, and pay your wedding vendors—all in one place.
Find Wedding Entertainment Vendors
Entertainment Throughout
This trend comes from us here at The Bash. While weddings in 2021 may have smaller guest lists and venues, we're predicting that the entertainment aspect will be at the forefront. Each section of a 2021 wedding will have some kind of entertainment or special vendor. 
With a beautiful harpist for the ceremony, an acoustic guitarist for cocktail hour, and a digital caricaturist for the reception, having multiple vendors throughout creates a unique and memorable experience. Let's also not forget the rest of the traditional wedding vendors like DJs, live bands, and photographers who help make this special day. 
Bye-Bye Buffets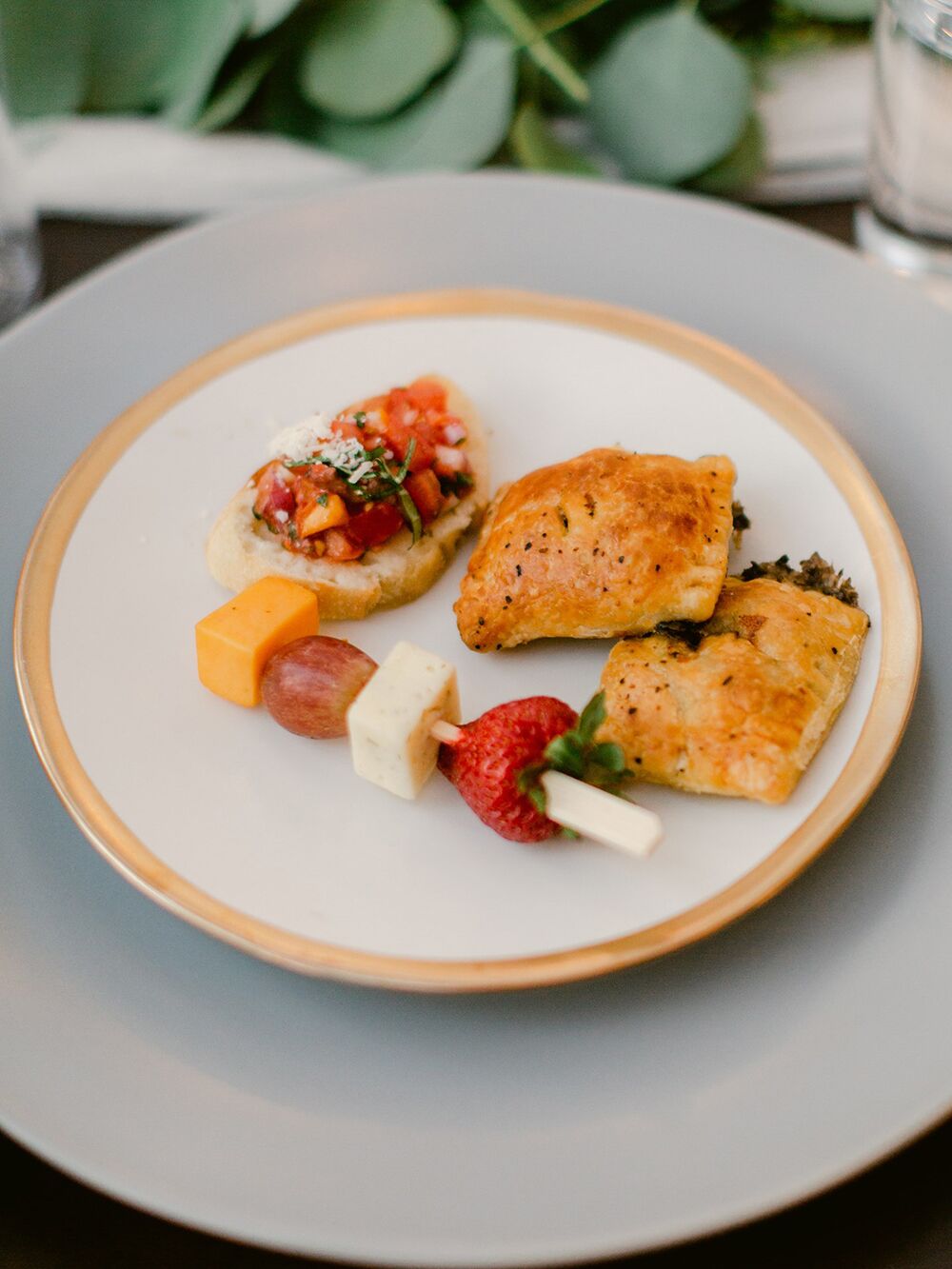 As we mentioned in our 2021 party trends, with COVID-19 safety precautions top of mind, individual servings are key. "Many or all couples will opt out of serving their dinner buffet or family style and instead do served style for every guest, both for dinner and dessert," shared Valarie Falvey of Kirkbrides Wedding Planning & Design. 
"We are definitely seeing more weddings take place at home in tents, instead of inside a large ballroom! Lastly, a safety tip and eco-friendly idea is to opt for beautifully designed displayed boards for the ceremony program and dinner and drink menus instead of distributing to each guest," says Falvey.
Creative Food Offerings 
"Stimulate your guests with creative, fun and interactive DIY appetizers. An Un-Oaked Chardonnay pippette skewered in a flavorful cheese like a crusted fruit Brie is one of our favorites!" shared Michelle's Catering.
Creative foods like individual charcuterie boards, mini desserts, and small pre-plated appetizers will be a top wedding trend of 2021. 
Keeping it Small & Safe 
"As we move into the New Year, celebrations may continue to echo some 2020 sentiments in the beginning of the year! Couples will likely continue to be mindful of the safety and comfort of their guests," shared HoneyFitz Events.
Wedding planners at HoneyFitz Events also predict "Trends for the beginning of the year will continue to include smaller celebrations, live streams and personalized dining experiences!" These days we like to refer to this as the micro wedding trend.
Carefully Curated Cocktails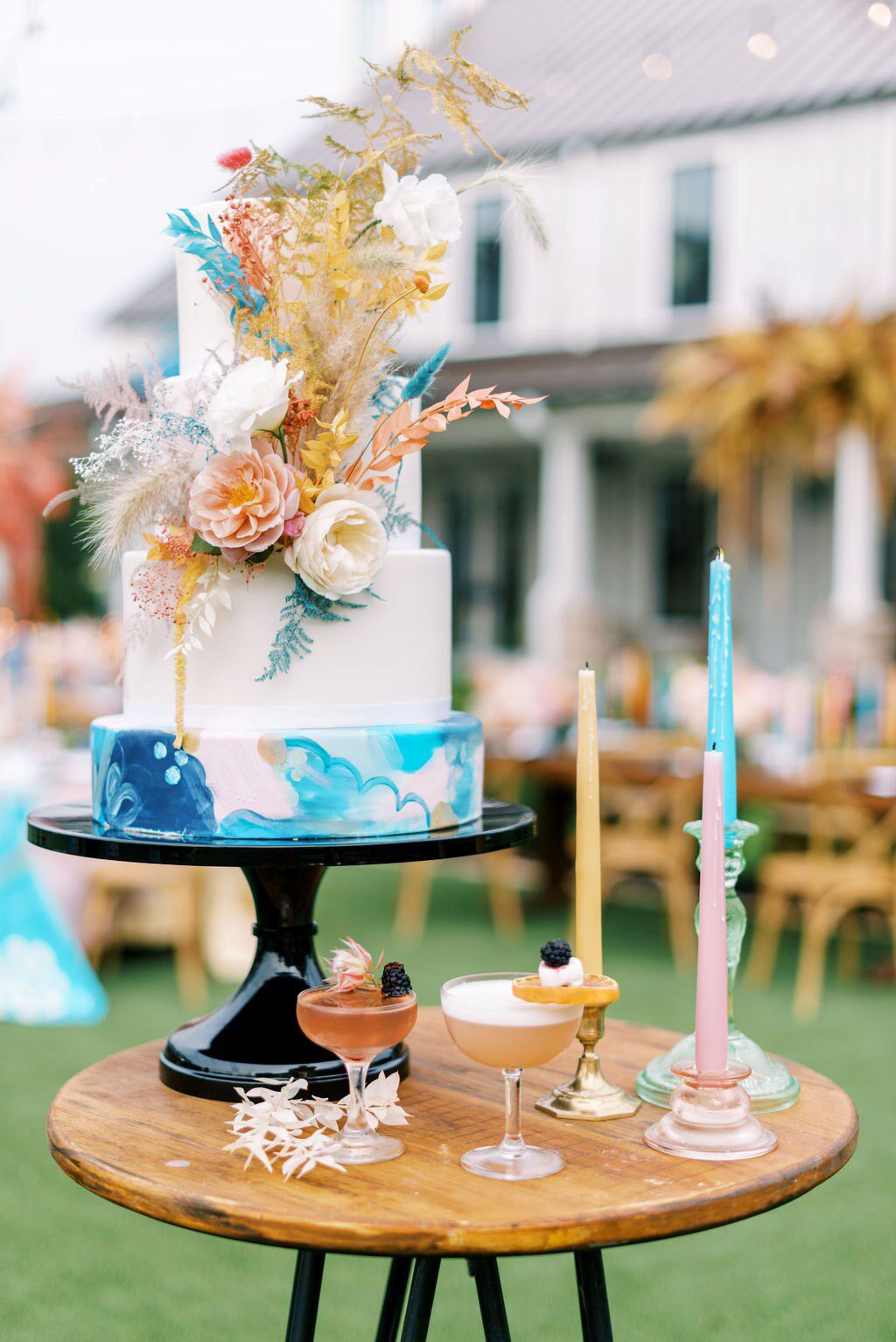 "Cocktail hour will be less about lawn games and more about treating your guests to thoughtfully curated and delicious appetizers + drinks that accompany the menu they'll be consuming later," shared Ashley Lachney, Owner of Alston Mayger Events. A wedding bartender can create a custom cocktail menu to perfectly fit with your wedding vision.
Giving Back to the Community 
"After a 2020 none of us soon will forget, 2021 looks to be one of gratitude and filled with a desire to give back. As we have already started laying the groundwork for these celebrations, we have noticed a shift in what is important to our couples," shared Molly Corr.
"Specific areas of focus include both food—locally sourced (ideally) and based on seasonal menus, as well as flowers, coming from local gardens. Our couples have a desire to give back to the community in which they are getting married, many even asking where the flowers can be donated to following the celebration. This consciousness is even stretching into attire, as brides are looking to purchase ethically sourced gowns," says Corr.
Hybrid Events
"Hybrid events are here to stay for a while. Once live events resume, expect a hybrid of in-person and virtual attendance to become the norm. Why not make them immersive in-person/virtual event experiences? Take your in-person guests for an experiential journey while your remote guests are Zoomed in or live-streamed into your wedding," shared AJ Williams, Founder & Creative Director of AJ Events. This allows remote guests to feel as if they are standing alongside you.
Williams says, "The remote guests will view the journey live with you and connect with you via Zoom Chat. Several will have the opportunity to speak directly or give a live toast through live-stream and audio. Send them a custom wedding in a box delivered to their homes to include your wedding background, visual props, a mini wedding cake, and a mini bottle of champagne to celebrate with you." 
"With a great AV partner, you can set up monitor stations for the ceremony and/or reception and for the main event, you can project the remote guests with your themed graphic elements. Video the entire experience for an amazing wedding production keepsake that can also be sent to others that missed your wedding," Williams shared.
Marry Now, Celebrate Later

Photo: Wild Whim Design + Photography
According to AJ Williams, "2020 and 2021 couples are opting to marry now and celebrate later! Couples are either opting to elope or planning a small intimate wedding for close friends and family. They're celebrating later with a wedding party which will be a larger-scale party for those who celebrated their vows and their extended friends and family." 
"The reception-style party will include wedding elements and traditions along the way but in a more relaxed and celebratory format with safety measures in place of course. During the party, the bride and groom will incorporate a special short program with some traditions like stating their vows ending with a kiss, cutting the cake and a first dance," says Williams.
Private Home or Estate Weddings

Photo: Lauren Gabrielle Photography
When it comes to a wedding venue, Williams shared, "We have received increased demand for intimate weddings at private homes or estates in exclusive local destinations where guests can have multi-day weddings with close friends and family." Cue the destination wedding trend!
"The best part is on their wedding day, there are less time restrictions so couples can end their wedding with a courtyard-style backyard after-party and lounge out with their besties!" says Williams.
Pro Tip: Another 2021 wedding trend we anticipate is the popularity of outdoor weddings. Check out this outdoor wedding checklist for more details.
 A Lavish Dinner Experience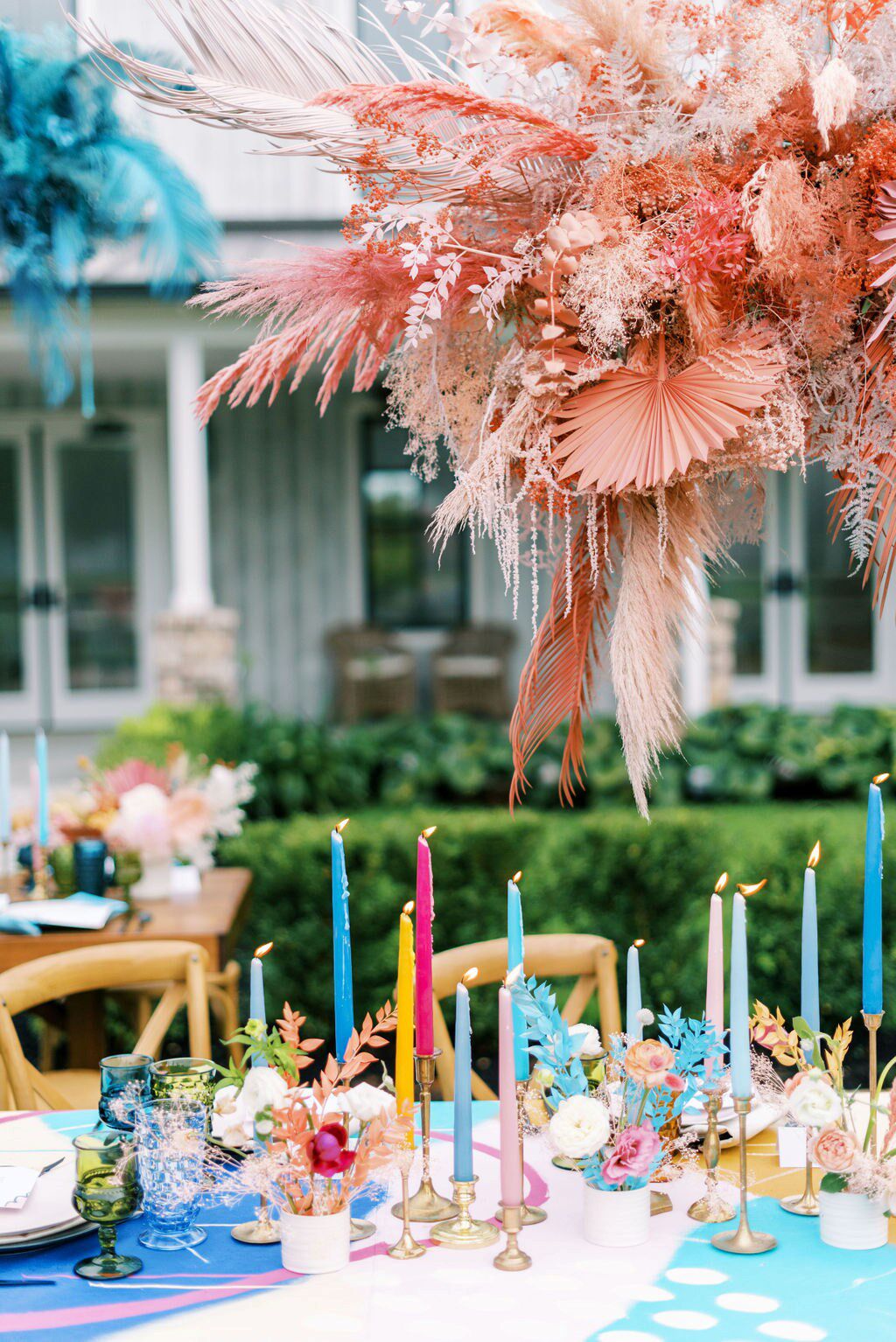 Photo: Courney Leigh Photo
While navigating the pandemic, aspects like guest lists and food have had tons of restrictions. According to AJ Williams, "Couples in 2021 will want to have a formal dining setting and lavish tablescapes with custom personalized details like a place card." Williams predicts these personalized details can also double as a gift for guests. 
"Menus can get creative and make the experience even more special for the guests. This is a great opportunity to wow your guests, make them feel special and create a lasting memory," says Williams.
Embrace New Color Trends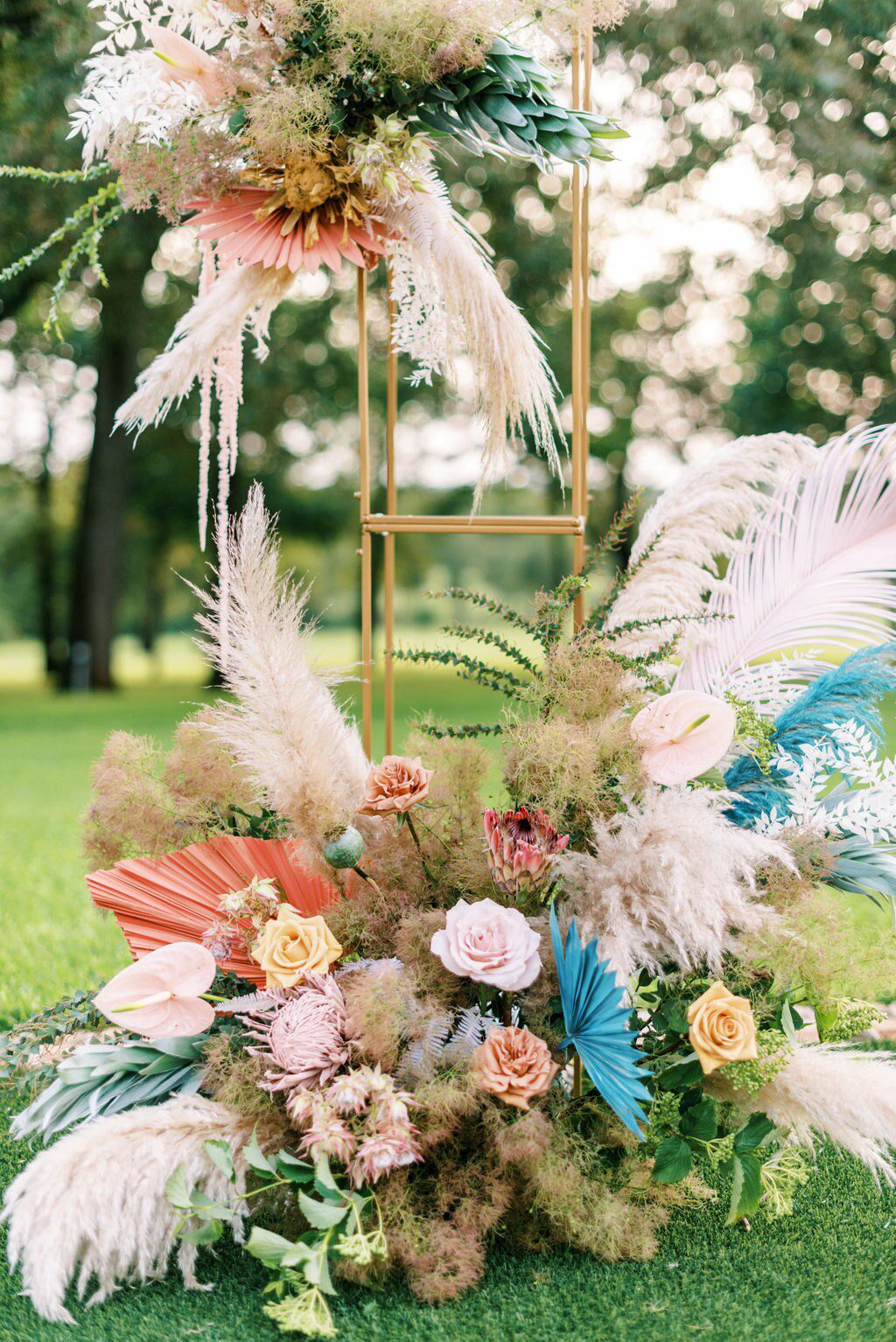 Photo: Courney Leigh Photo
What we can assume will be overall trends of 2021 in general, colors that are both calming paired with fun and exciting will be a theme. "Wedding planning in 2021 will continue to challenge the traditional process," shared Michelle's Catering.
"Embrace these changes and incorporate color trends of 2021 like Cinnamon Rose, Terracotta, and shades of gray for decor within your palette, creating an elegant, soothing and calming environment!"
Colorful Palettes & Patterns
Looking to make their wedding day unique to the couple, while steering away from traditional neutral color palettes is a 2021 wedding trend according to Heather Alana of Epoch Co+. The colorful palettes can be incorporated into floral design as well as the overall wedding styling.
"Colorful weddings and pattern play will be here to stay in 2021! From bright, vibrant blooms, to colorful stationery, place settings, custom linens, and more—couples are finding new and exciting ways to infuse color and patterns into the wedding day," says Alana.
Find more wedding inspiration and planning tips here on The Bash.