Unlock the Magic with an Alice in Wonderland Themed Party
Make your world a wonderland!
Marcella Breglia
Contributor
A party where nothing would be what it is, because everything would be what it isn't! A celebration of wonder and imagination, perfect for everything from an Alice in Wonderland themed tea party to an Alice in Wonderland party theme sweet 16. You could also throw together an Alice in Wonderland themed birthday party, or even an un-birthday party! 
Let your party be an event where nothing is ordinary and everything is extraordinary. There's no place like Wonderland, so if you don't get to planning soon, you might be late for a very important date! Get ready to lose yourself in the magic of this enchanting world with these Alice in Wonderland themed party ideas.
Keep reading for Alice in Wonderland Themed Party Ideas:
"Down the Rabbit Hole" Entrance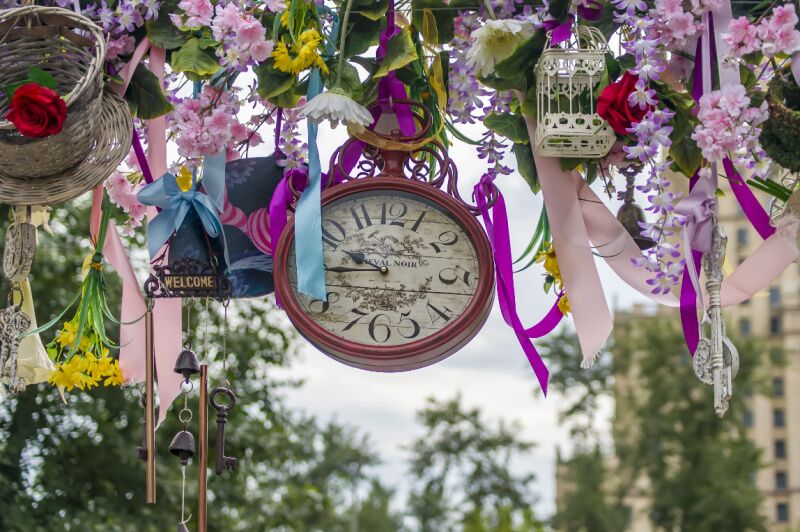 Photo: Irina Kvyatkovskaya/shutterstock.com
Welcome your guests into the extraordinary with a portal at the threshold to a whimsical world! From the start, they will be welcomed on an enchanting journey, just like Alice with this magical and mysterious entrance.
Talking Flowers Garden Venue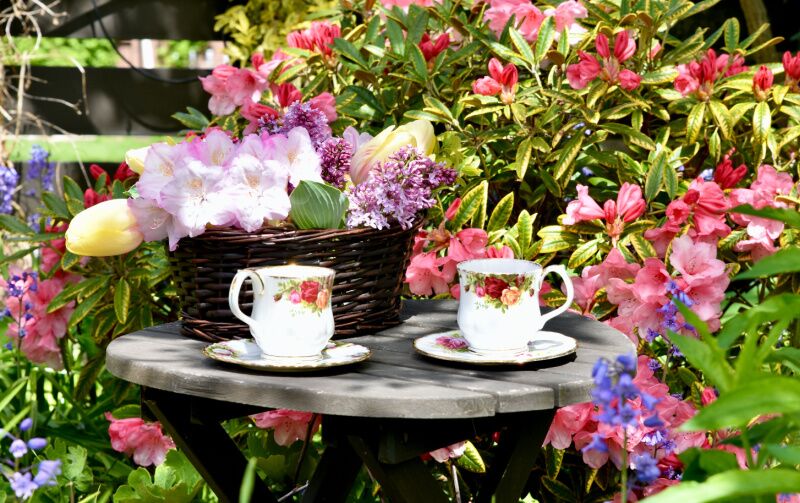 Photo: Klem Mitch/shutterstock.com
Embark on a journey just like Alice by hosting your venue outside and naming it "The Garden of Talking Flowers." Alice explores the world of Wonderland; a beautiful and colorful place, where imagination has no bounds. Recreate this feeling and connection with nature by hosting in a garden inspired venue. 
Un-Birthday Party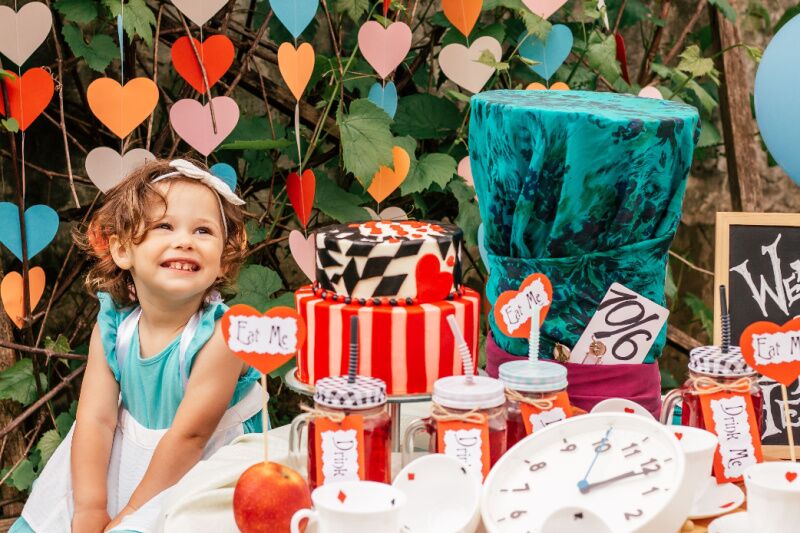 Photo: JeannieR/shutterstock.com
Party like it's your birthday, or not! Honor every guest with an un-birthday party—celebrating each moment that passes that is not your birthday. After all, like Alice says, "If I had a world of my own, everything would be nonsense" and an un-birthday party is just that! 
Alice in Wonderland Movie Screening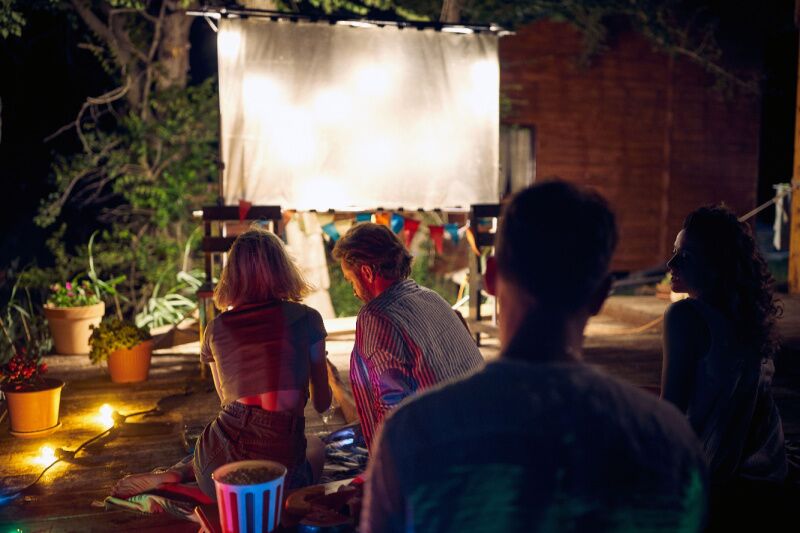 Photo: Lucky Business/shutterstock.com
Imagine, your guests nestled within a Wonderland-inspired setting while watching the movie. This party detail will offer a magical opportunity to immerse guests in the magical world Alice created. To bring this movie magic to life, you might want to consider renting a movie screen for an even more special touch. Choose between the 20th century classics or Tim Burton's 2010 adaptation.
Alice in Wonderland Themed Party Entertainment
Entertainment will guarantee a magical touch to your Wonderland celebration. Start your search on The Bash for unique vendors in your area.
Tea Leaf Readings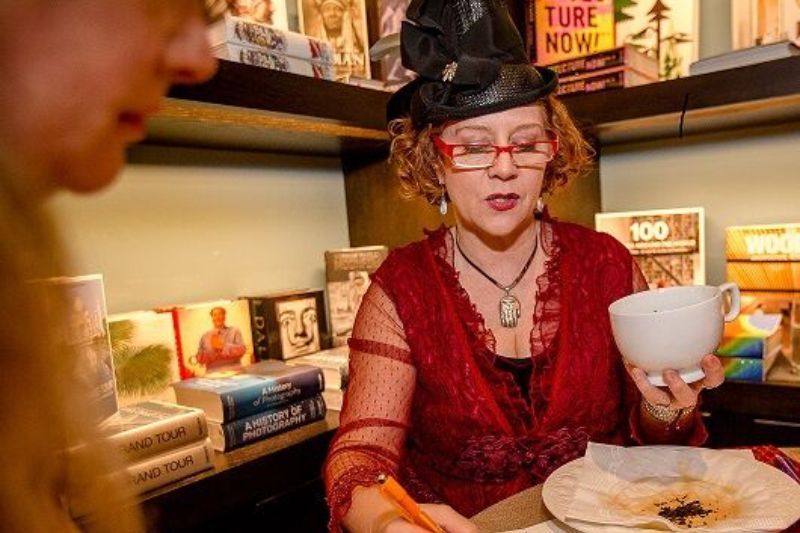 Vendor: Laura E. West, Fortune Teller & Lipsologist
Delve into the depths of your teacup and uncover the hidden symbols and patterns that may reveal secrets of the past, present, and future. Channel Alice's curiosity by hiring a tarot card reader or a fortune teller that specializes in tea leaf reading to uncover the unimagined destinies of your guests! 
Victorian Inspired Music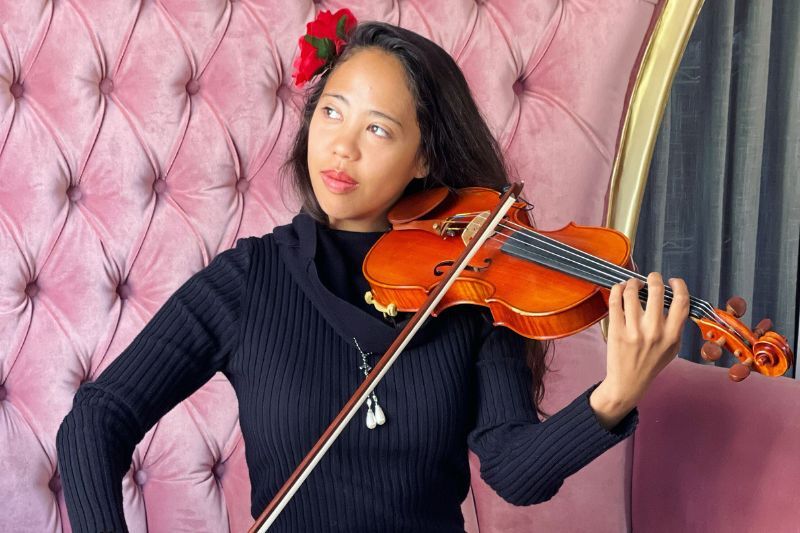 Vendor: Baethoven The Violinist
An Alice in Wonderland themed party needs fantastical ideas to bring it to the next level. From period-inspired musicians to versatile bands, The Bash has a wide variety of live musical acts to choose from. Start your search for violinists, pianists, or even a jazz band to enhance your celebration. 
Story Characters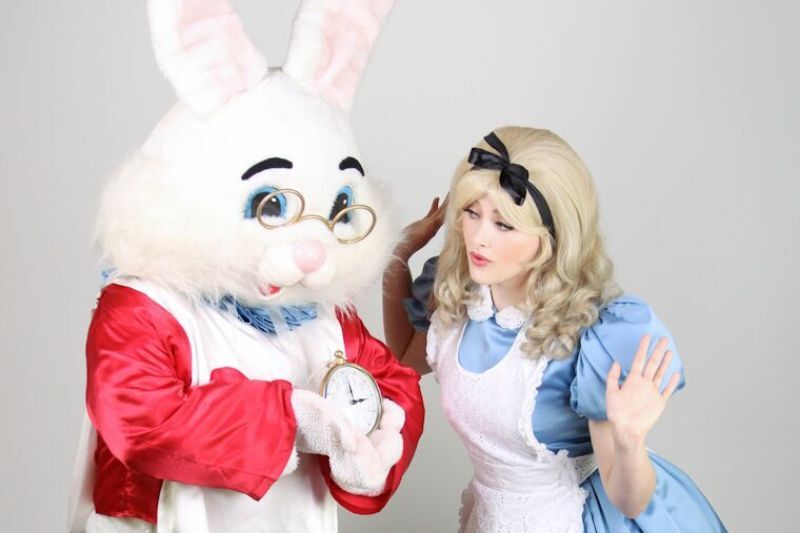 Vendor: Your Magical Party INC
Call in inspiration for Alice in Wonderland themed party outfits with professional costumed characters. Browse characters including everyone from the Mad Hatter, the Cheshire Cat, to Alice herself! Hiring professional costumed characters is sure to help bring this Wonderland to life! 
Magician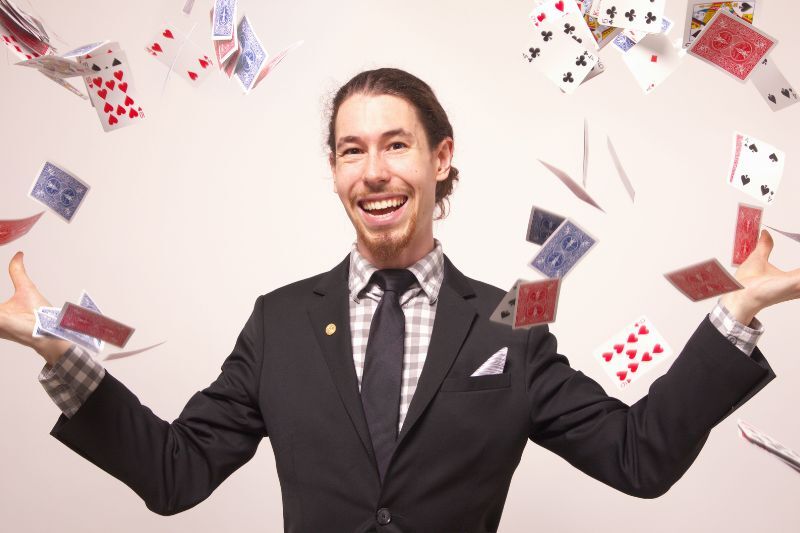 Vendor: "Magic John" Benewald
Dazzle the audience with sleight of hand and mind-bending tricks by booking a talented magician to echo the spirit of Wonderland. Afterall, "'what it is, it wouldn't be, and what it wouldn't be, it would. You see?'"
Alice's Wonderful Photo Booth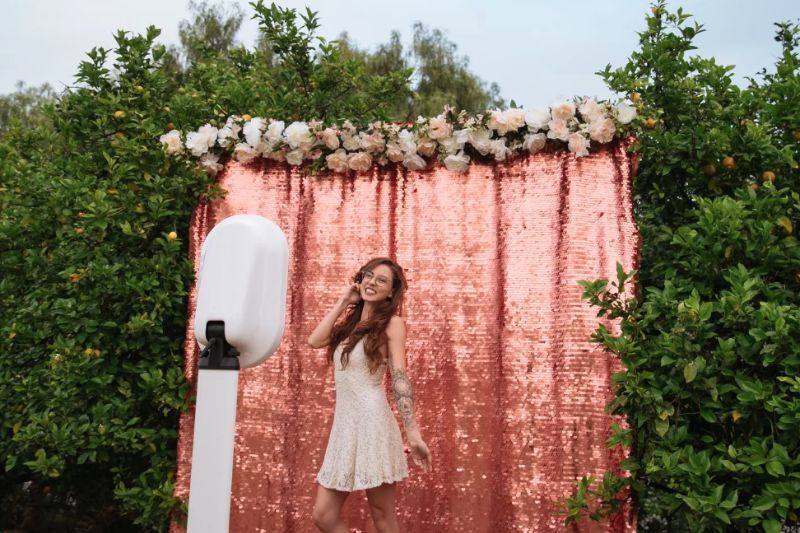 Vendor: Annapolis Photo Booth Co.
An Alice's Wonderland photo booth is not just a picture taking opportunity, but a portal to a world where the extraordinary becomes the norm. With an adorable backdrop, props, and photo booth rental, you can transport your guests and send them home with a keepsake to remember their magic in Wonderland! 
Alice in Wonderland Themed Party Food Ideas
Let your tastebuds travel to Wonderland during the party with these Alice in Wonderland food ideas. 
"Eat Me" Cookies
Photo: g_dasha/shutterstock.com
These are not just any cookies, they are magic cookies. Let everyone's excitement grow as they taste the delicious snack that magically made Alice grow. But beware, as Alice discovered, for too much of a good thing can lead to curious consequences.
Caterpillar Bites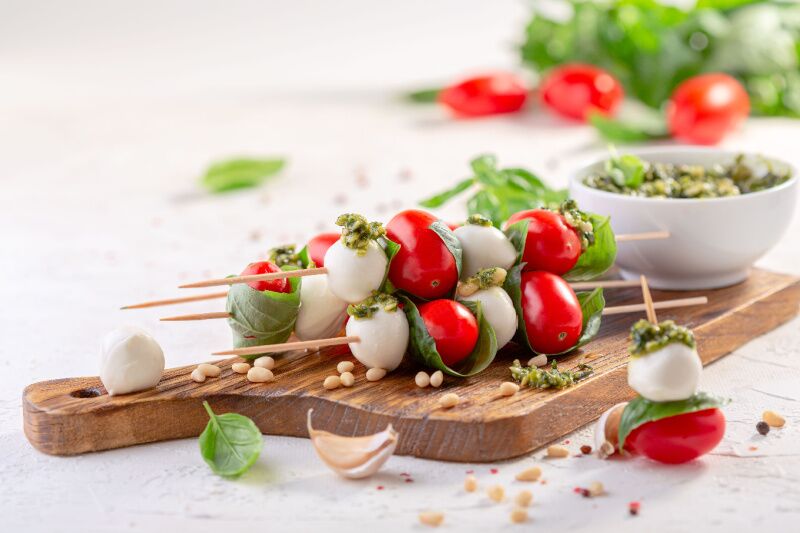 Photo: SMarina/shutterstock.com
Bring the character of Absolem to life with caterpillar bites. Poke mozzarella cheese balls and tomatoes, or grapes and watermelon, on to a toothpick to resemble the iconic character. These make a delicious handheld snack at your Alice in Wonderland theme party. 
Chess Board Sandwiches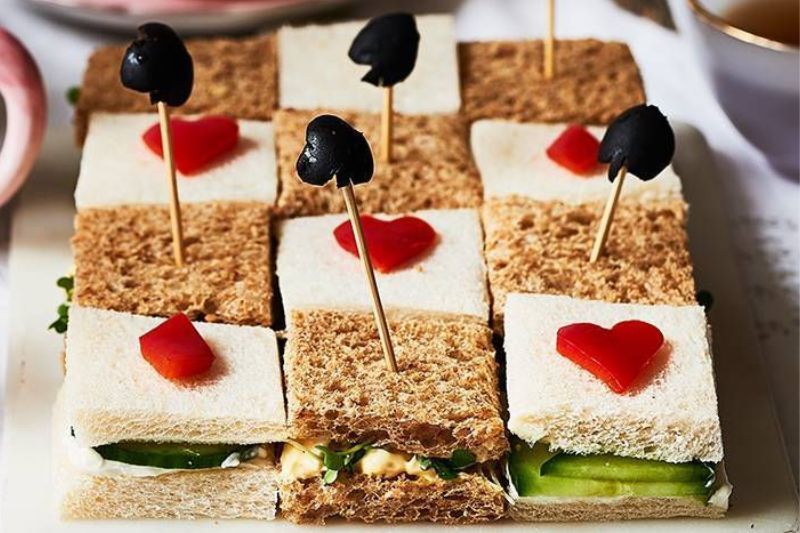 Bring these chess board sandwiches to your elegant Alice in Wonderland themed party, all you'll need are black olives to resemble the spades, red peppers for hearts, and whole wheat and white bread to recreate the game board. Fill the sandwiches with whatever your world of nonsense thinks up, and enjoy these snacks at your event! Check out Asda Good Living for the full recipe and instructions.
Pro Tip: Consider booking a caterer to whip up magical snacks and treats for this Alice in Wonderland themed party.
White Rabbit Carrots and Veggies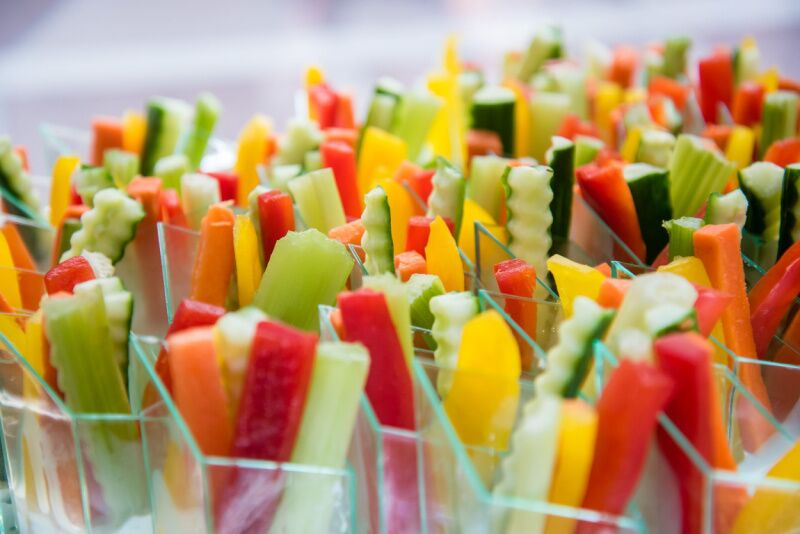 Photo: jyurinko/shutterstock.com
If this event is for the little ones, or even if it's an Alice in Wonderland themed party for adults, these White Rabbit inspired apps are a fun way to sneak some veggies into your celebration! Inspired by the classic White Rabbit character, everyone will love this creative and simple touch. You can also add all the favorites like celery, broccoli, hummus to this spread.
Alice in Wonderland Themed Party Drink Ideas
Choose from these wonderful elixirs to bring an extra magic touch to your Alice in Wonderland theme party! If you're feeling extra fancy, why not book a bartender to mix up delicious cocktails and mocktails?
"Drink Me" Potion Bottles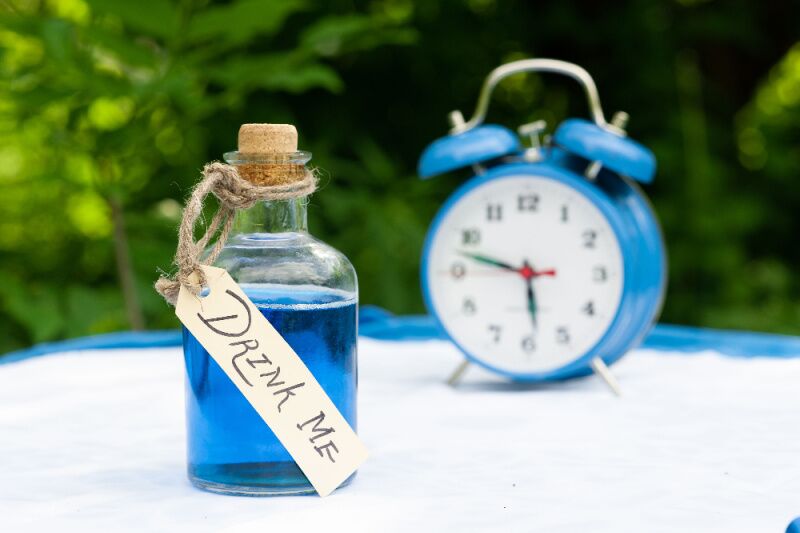 Photo: SewCreamStudio/shutterstock.com
For a whacky twist and fun touch, add whatever drink you wish to a small glass bottle with a "drink me" label. Guests may shrink or grow, you never know! Everyone will feel just like Alice drinking the movie inspired beverages. 
Mad Hatter Tea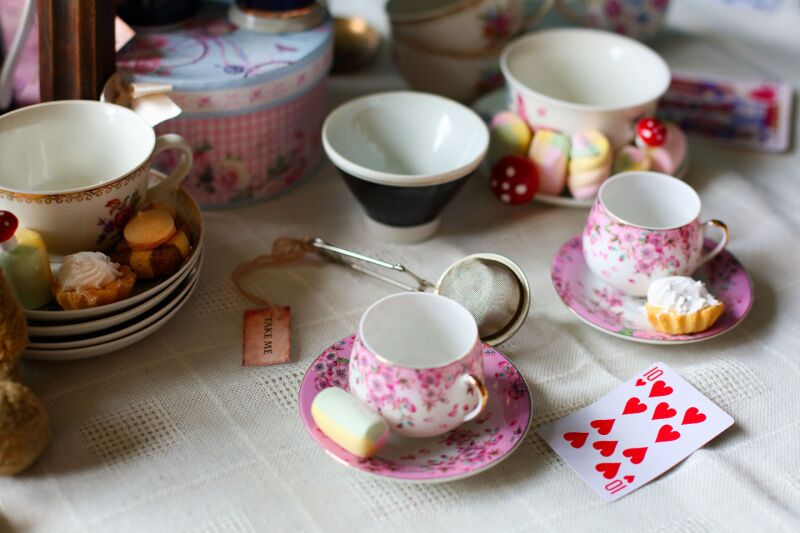 Photo: Nemova Oksana/shutterstock.com
You're definitely going to want to serve Mad Hatter-approved tea at this elegant Alice in Wonderland themed party. Choose your selection of brews for guests to sip on during this tea party. Incorporate Alice in Wonderland themed party decorations like tea kettles and cups to make this drink extra magical.
Queen of Hearts Red Wine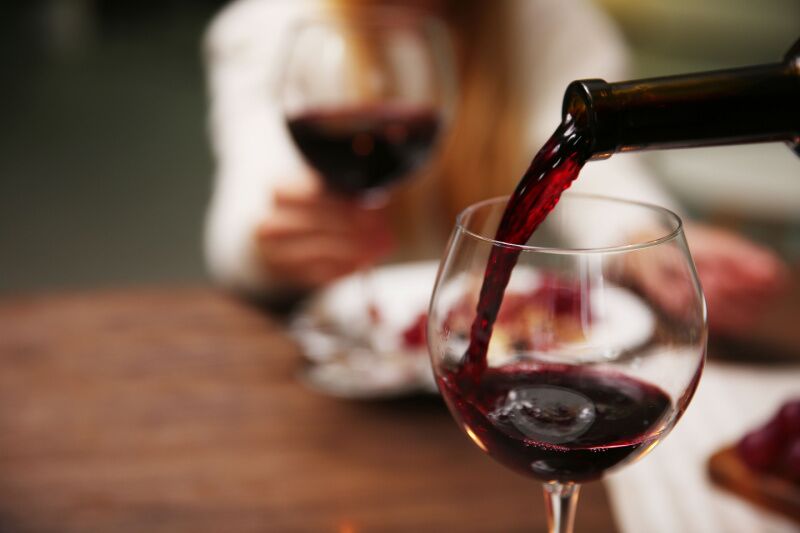 Photo: Africa Studio/shutterstock.com
Indulge in the regal sophistication of the Queen of Hearts by serving red wine during the festivities. From the very first pour, its deep red tones will transport your guests into the heart of Wonderland. Cater to the queens and kings of the family with this Alice in Wonderland themed party idea for adults.
The Absolem Cocktail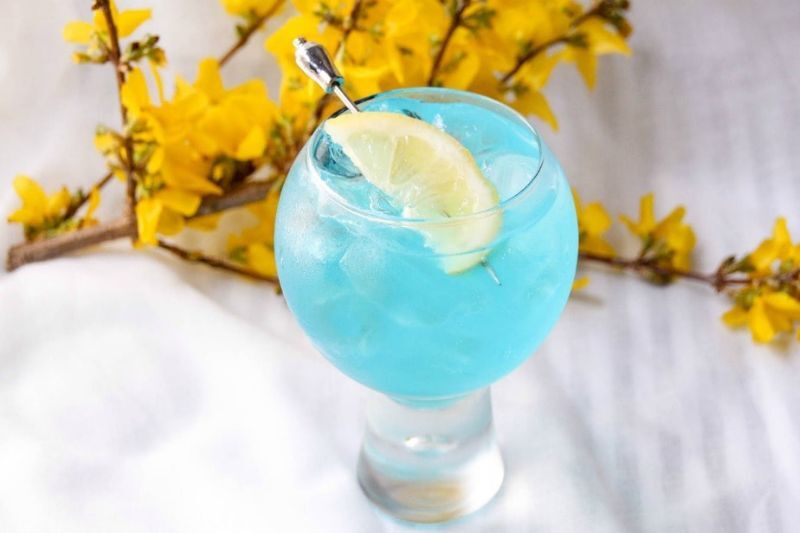 The wise and philosophical Absolem, everyone's favorite caterpillar, inspires the perfect whiskey sunshine cocktail recipe to indulge on. The beverage is the perfect blend of tangy and sweet, concocted with fresh citrus lemon juices. Get the full recipe from Whiskey + Sunshine to start mixing up this cocktail.
Alice in Wonderland Themed Party Games and Activities
Just as Lewis Carroll's Alice in Wonderland invites you to embark on an extraordinary adventure, The Bash invites you to a playful world of party games and activities that fit the magical world of Alice in Wonderland. 
Mad Hat Decorating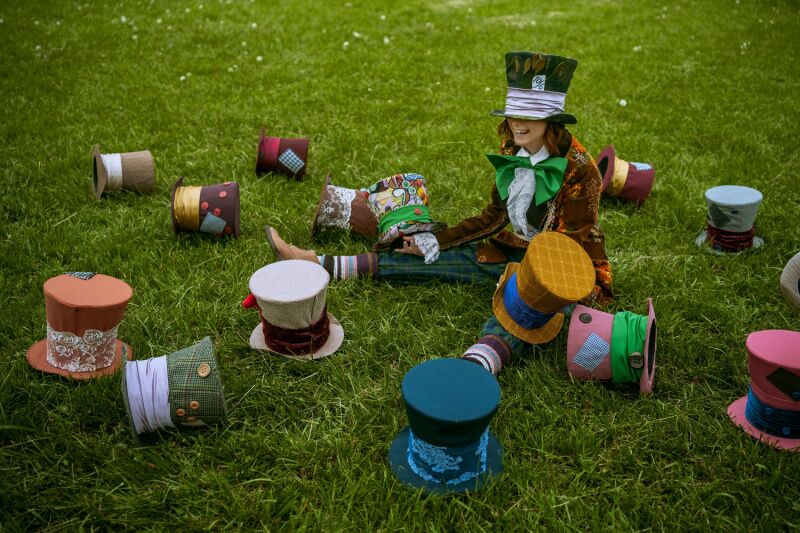 Photo: Alexei Vladimir/shutterstock.com
Allow your guests to unleash their inner artist in a world of wonder with a Mad Hatter decorating activity. Line your station with a collection of top hats, ribbons, feathers, buttons, fabric scraps, and an assortment of crafting supplies to awaken your guests imagination. Everyone will be able to leave the party with their own unique hat for their next tea party adventure.
Pin the Grin on the Chesire Cat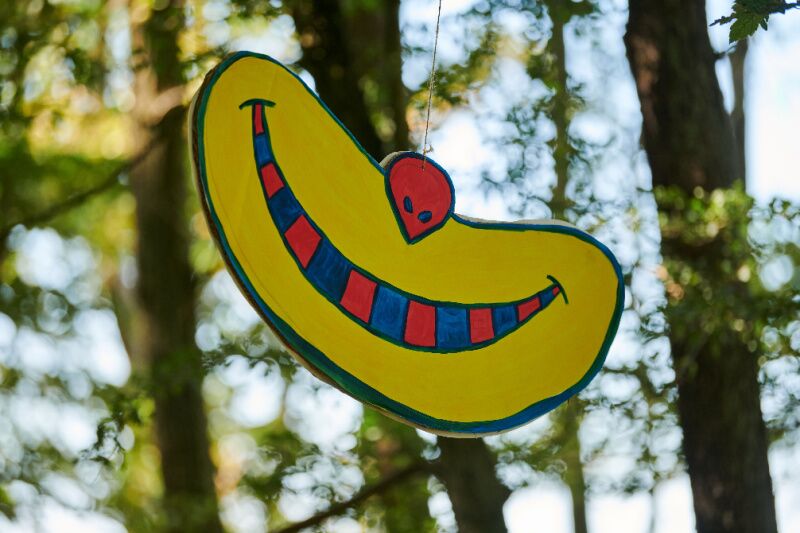 Photo: travelarium.ph/shutterstock.com
Enthusiastic participants can take turns blindly attempting to place the Cheshire Cat's iconic grin on a large poster of its face. Since "we're all mad here," each player will be spun gently to disorient them, and leave them to rely on intuition and wonder to aim for the perfect spot.
Wonderland Karaoke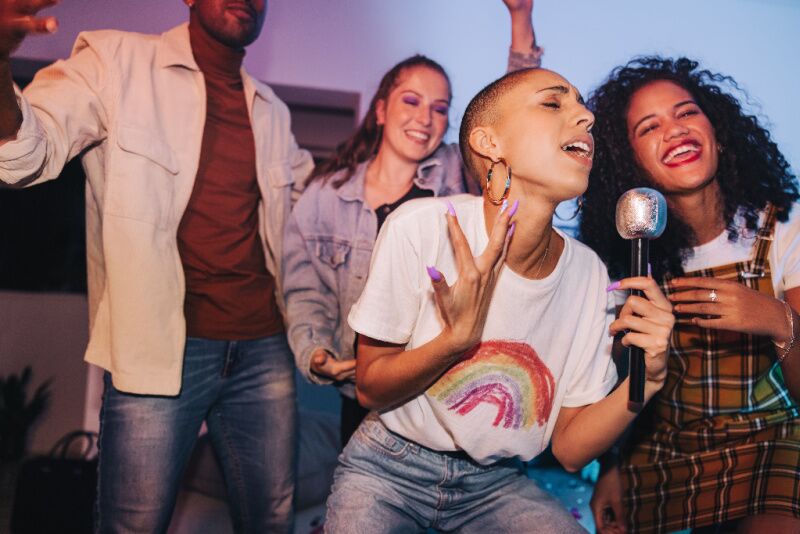 Photo: Jacob Lund/shutterstock.com
Whether belting out tunes from the classic Alice in Wonderland soundtrack or singing other catchy melodies, hiring a karaoke DJ is sure to be a wonderful idea. If it's an Alice in Wonderland themed party for adults, this party idea will be a great way to showcase the courage from some of the elixirs throughout the night! Start planning your karaoke party now.
Croquet Match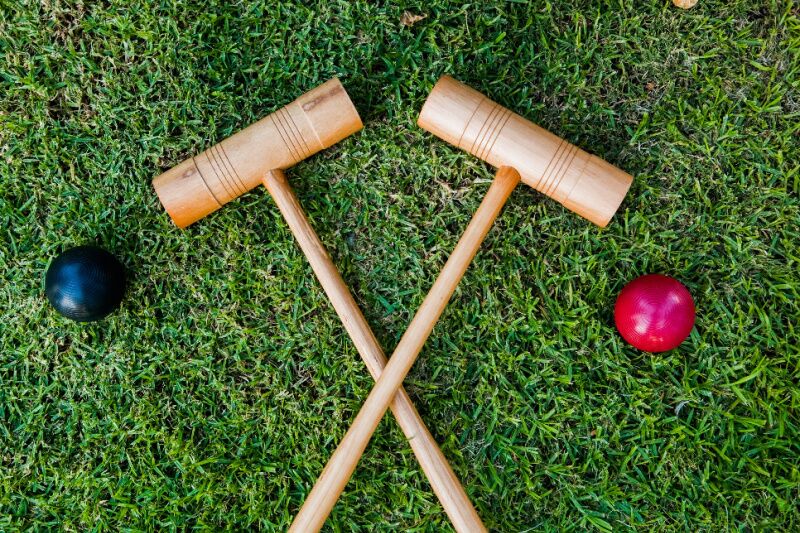 Photo: ianmitchinson/shutterstock.com
This croquet match may not be against the Queen of Hearts, but it will be just as fun! Guests can take their turns navigating through the obstacles, much like the challenges faced in the Queen's garden! 
Painting the Roses Red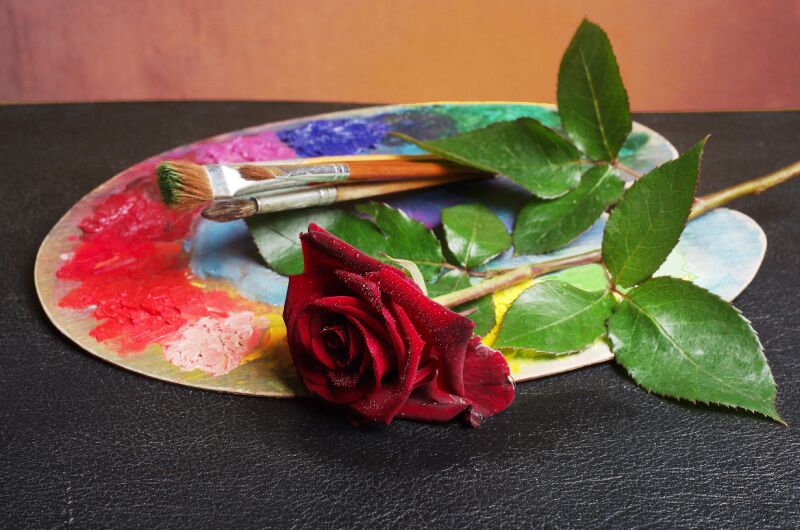 Photo: Zheltyshev/shutterstock.com
Transform white roses into dazzling red blossoms, just like the bumbling cards in the story! This fun activity adds the perfect touch of Wonderland to your Alice in Wonderland theme party. You'll want to get fake white roses from your local craft store and make sure there is plenty of red paint, "not pink. Not green. Not aquamarine. We're painting the roses red."
You could also use this themed party idea for a paint and sip activity! Guests can sip on red wine and unleash their inner artist to paint a gorgeous rose on their personal canvas.
Alice in Wonderland Themed Party Decorations
From enchanting tea party settings to iconic symbols like playing cards and pocket watches, each of these ideas captures the essence of Wonderland's charm.
Mushroom Lanterns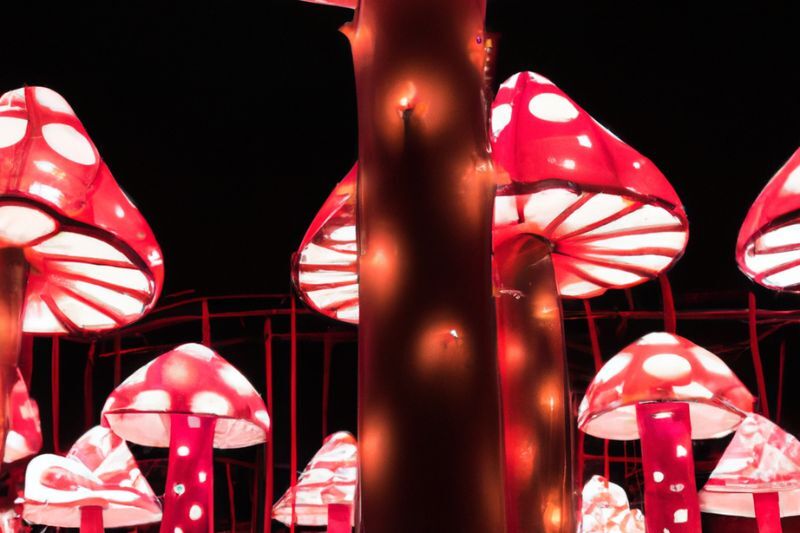 Photo: Canva
Mushroom lanterns will make for perfect Alice in Wonderland themed party decorations! Hang these mushroom lanterns from tree branches, ceilings, or place them on stands around the venue for a dreamlike ambience. This will make your guests feel like they are wandering through a mystical forest, just like Alice! 
Pocket Watch Decorations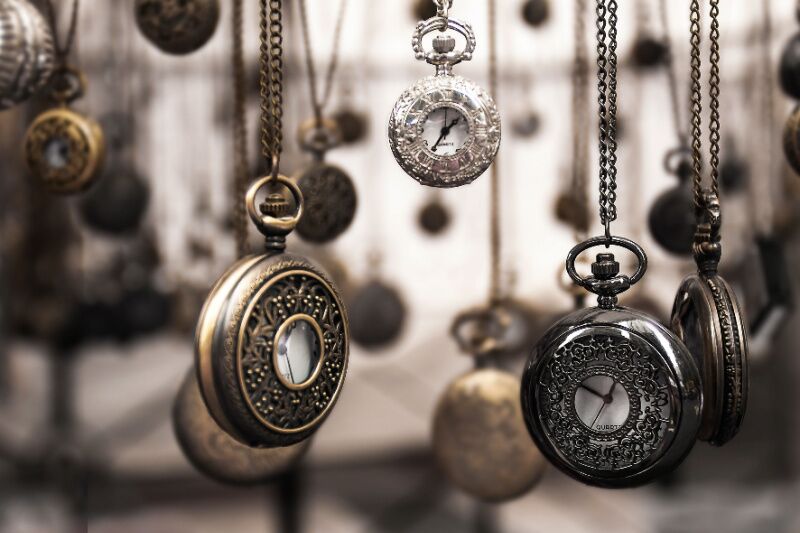 Photo: abid707/shutterstock.com
Adding pocket watch and clock decorations is a timeless touch to Alice's Wonderland. The ticking of clocks can be reminders that everyone has time traveled into Wonderland, and a nod to the White Rabbit's obsession with time.
Vintage Tea Sets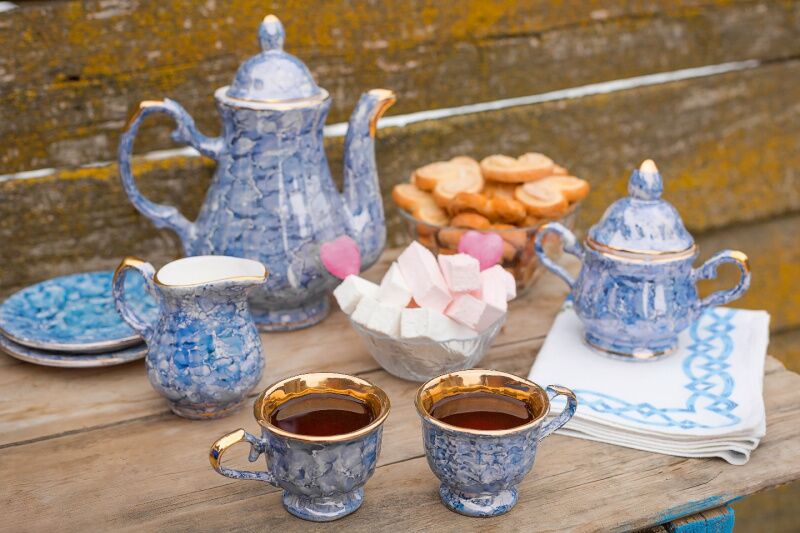 Photo: Anastasia Badmaeva/shutterstock.com
A vintage tea set will create the perfect tone for an elegant Alice in Wonderland themed party! The homage to the Victorian era and recreation of the Mad Hatter tea party make for the perfect addition to an Alice in Wonderland celebration.
Playing Card Decorations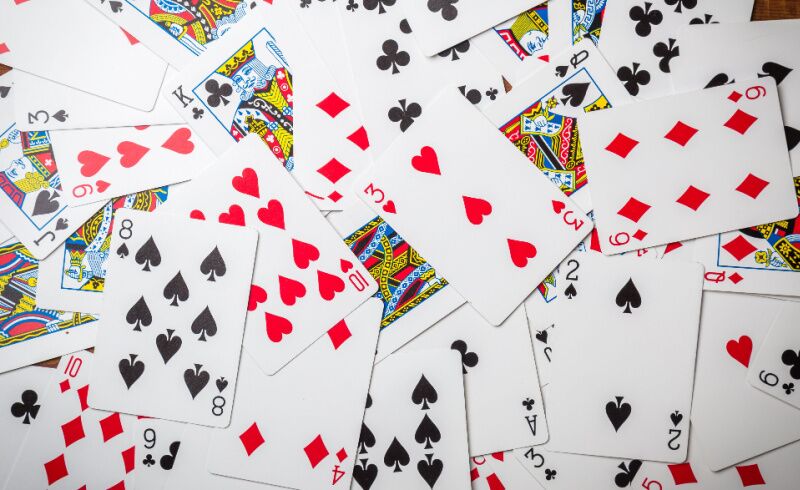 Photo: Gilmanshin/shutterstock.com
From hearts and spades, to diamonds and clubs, playing card decorations promise a full house of fun! Imagine oversized playing cards scattered across walls or used as part of table settings create an atmosphere reminiscent of the Queen of Hearts' royal court. This also doubles as another party activity for guests!
Find more party ideas and inspiration here on The Bash.