19 Amazing Baby Shower Venues in Los Angeles
Are you searching for the perfect place to celebrate your bundle of joy? Then look no further than these beautiful baby shower venues in Los Angeles! Beachside soirées, garden parties, and bistro afternoons are just a few of the ways you can host your baby shower in Los Angeles.
The vibrant city offers a wealth of stunning spots that are ideal for parents-to-be from all backgrounds. From lively Italian restaurants to contemporary-chic outdoor settings, you're sure to find the perfect venue that aligns with your unique vision.
READ MORE: 
Here are some amazing baby shower venues in Los Angeles:
Santuari, 6711 Forest Lawn Dr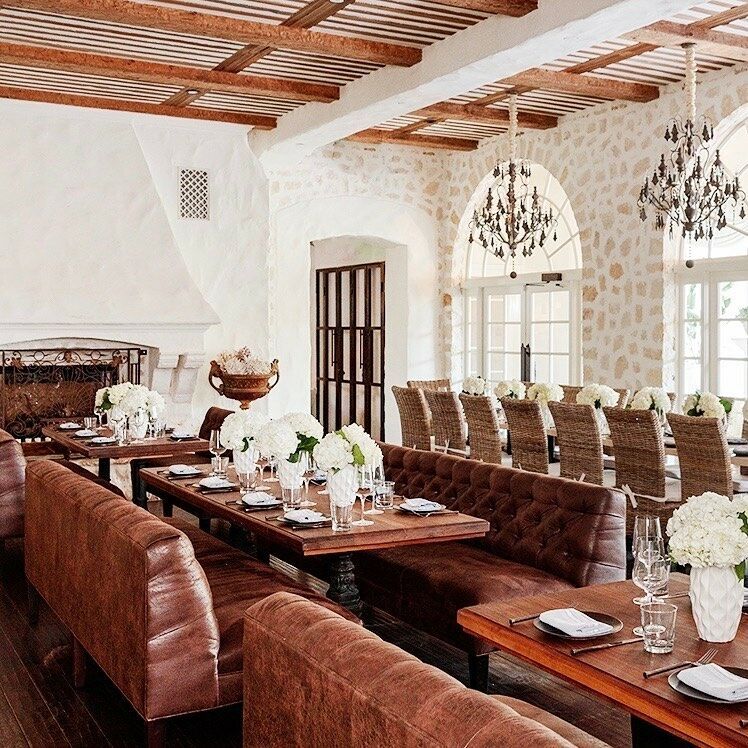 Host a distinct celebration in Santuari, a restaurant imbued with Moroccan influences. In this beautiful baby shower venue, you and your guests can sit comfortably on white leather banquettes and soft brown couches. Rustic chandeliers and exposed wood beams add to the interior's captivating ambience.
Dine on coastal Californian cuisine infused with Mediterranean twists as you savor special time with loved ones here. The restaurant even includes a courtyard so that you can enjoy alfresco culinary experiences. The eye-catching venue can accommodate up to 250 guests for memorable gatherings. No matter the size of your party, this setting is sure to delight and dazzle.
Republique, 624 S La Brea Ave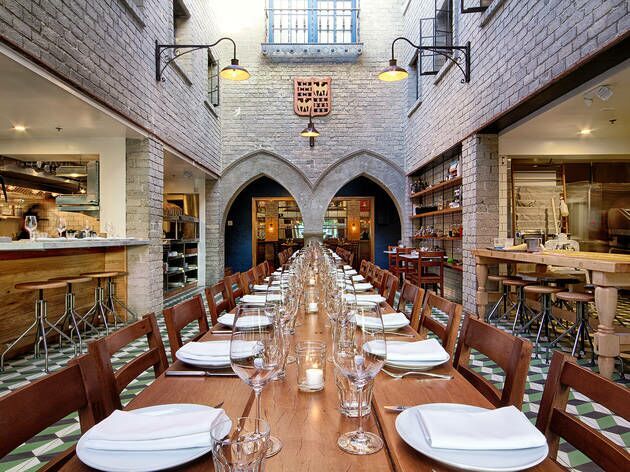 At the Republique, you can embrace l'art de vivre in the midst of Mid-City. The French-inspired restaurant specializes in modern plates served within a communal setting. Up to 34 friends and family members can gather around the lively dining room's long tables making the space perfect for a unique baby shower.
In this enchanting interior accented by historical architecture, you can enjoy exquisite French dishes, thoughtfully prepared with seasonal ingredients. Collaborate with Chefs Walter and Margarita Manzke to curate a bespoke menu that's unique to your event. The restaurant's building was initially designed to be Charlie Chaplin's office in 1928, so you're sure to share plenty of laughs and memories here!
Alimento, 1710 Silver Lake Blvd
Though the restaurant's menu appeals to upmarket tastes, you're sure to love the relaxed atmosphere at Alimento. The simple, modern aesthetic instills a serene vibe throughout the restaurant. Floor-to-ceiling windows, modern furnishings, and polished concrete floors fill the space, creating a familiar yet chic ambience in Los Angeles, CA. 
The venue's organic tones and textures will not only look great on the day, but they'll also make for beautiful backgrounds for timeless photos. While here, you and up to 75 loved ones can enjoy Chef Zach's contemporary Italian cuisine. Dishes such as thoughtfully crafted pasta and grilled seafood bring the robust flavors of Europe to Los Angeles' Silver Lake neighborhood.
Bexx Secret Garden, 5113 Bakman Ave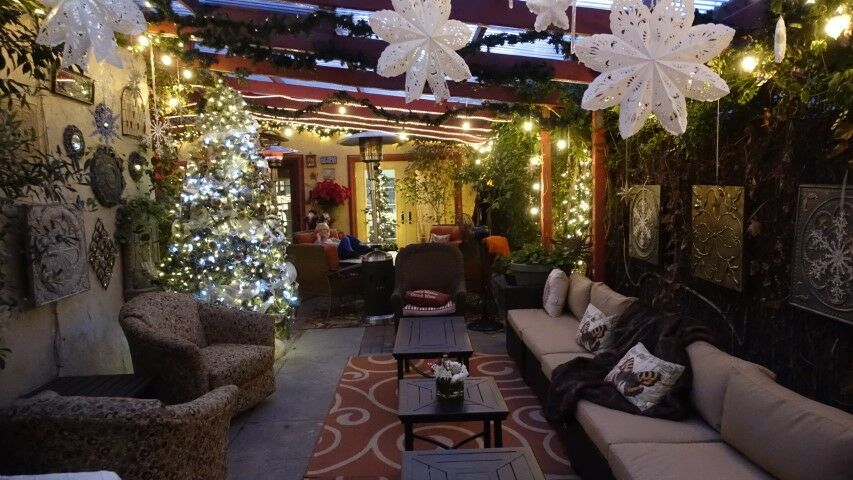 Located in the heart of North Hollywood's Art District, Bexx Secret Garden is ideal for mothers looking for a secluded retreat in the center of Los Angeles. Host anywhere between 10 to 80 guests here as you anticipate your bundle of joy. You and your loved ones are sure to enjoy the cozy couches and vibrant rugs, which offer a home-like atmosphere.
The venue's eclectic ambience can be enhanced to reflect your desired aesthetic, resulting in an event that's 100% you. Not only is this open space perfect for a baby shower, but keep it in mind for a birthday party or some fun dinner parties with friends.
Elephante, 1332 2nd St, Santa Monica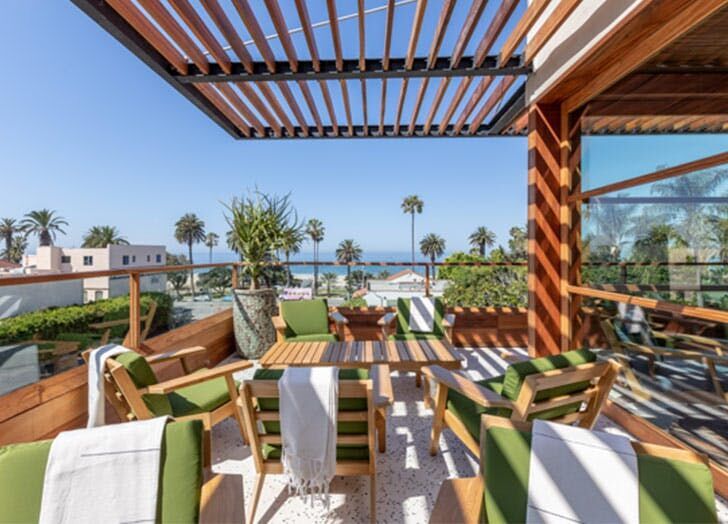 Treat yourself to the sights and sounds of the shoreline at Elephante, a Mediterranean-inspired bistro and outdoor patio in Santa Monica. Located just minutes from Venice Beach, the baby shower venue offers a relaxed yet stylish setting for special occasions. Inside, you'll love the brightly lit interiors that are accented by fashionable beach house furnishings. 
At Elephante, you can host a shower for anywhere between 15 to 300 loved ones. Highlighted by a neutral color palette and subtle Continental charm, this soothing spot is sure to be a hit with your guest list. While spending time with each other, you and your crew will be able to enjoy tantalizing menu options inspired by coastal European and North African flavors.
Dal Rae Restaurant, 9023 Washington Blvd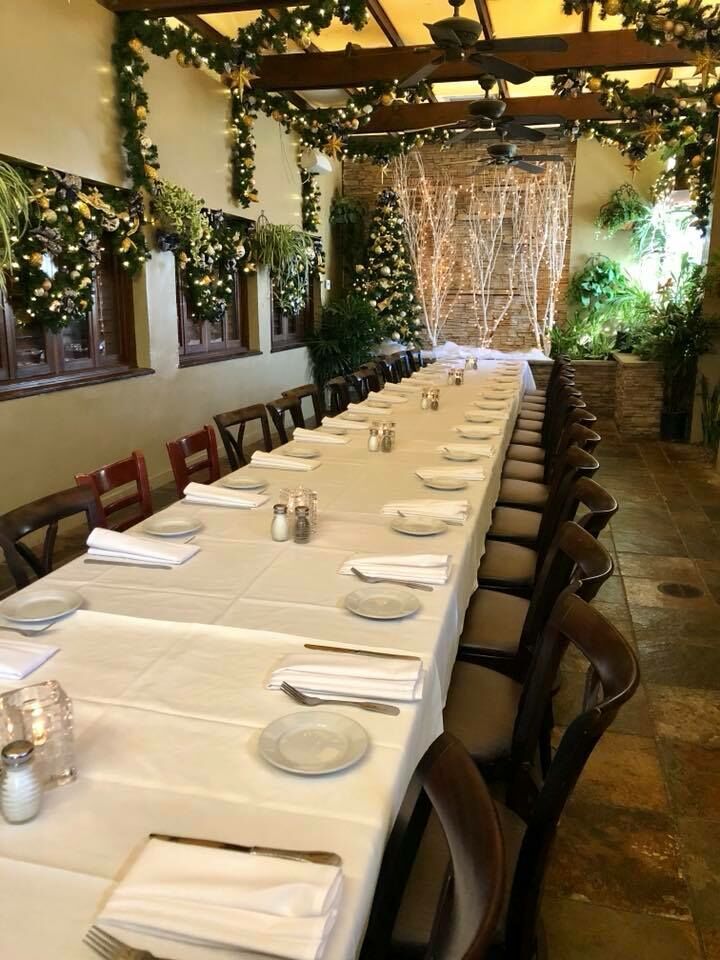 Share lively conversations and family-style meals while pampering yourself and your bump at the Dal Rae Restaurant's Garden Banquet Room. Leafy plants, exposed wood beams, and a beautiful waterfall wall create a naturally tranquil atmosphere, allowing you to focus on what's important on the special day.
Invite up to 34 guests to dine on tantalizing menu selections as you mingle, reminisce, and look to the future. Linens, décor, and floral accents can be provided by the restaurant to further enhance banquet room experiences. Whether you're hosting a morning meal or an evening soirée, this baby shower venue is sure to dazzle.
L'Opera Ristorante, 101 Pine Ave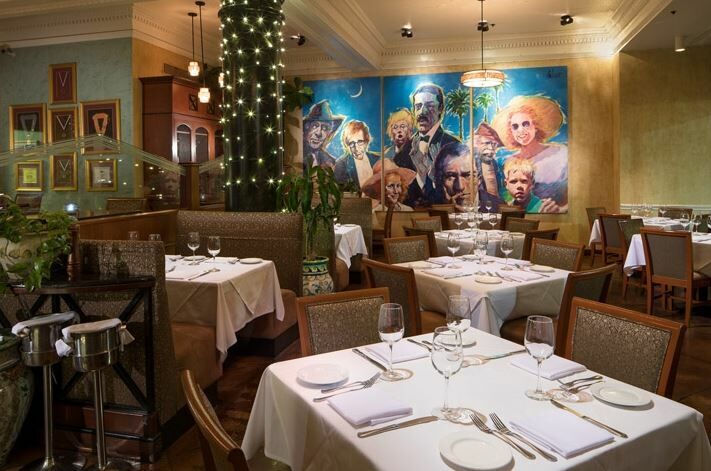 For more than 20 years, L'Opera Ristorante has been dedicated to providing the community with authentic Italian cuisine. So why not make this charming, family-oriented restaurant the setting for your baby shower? The Aldo Luongo Dining Room offers a semi-private space where you can share your day with up to 54 guests.
The Dining Room features a vibrant mural painted by Aldo Luongo and the ambience is made warm and inviting through glowing string lights. Choose from event catering packages or customized menus for a truly unique dining experience. To align with your one-of-a-kind vision, the space can be arranged to include a banquet setup or a long table. 
AWA Oasia, 608 Mateo St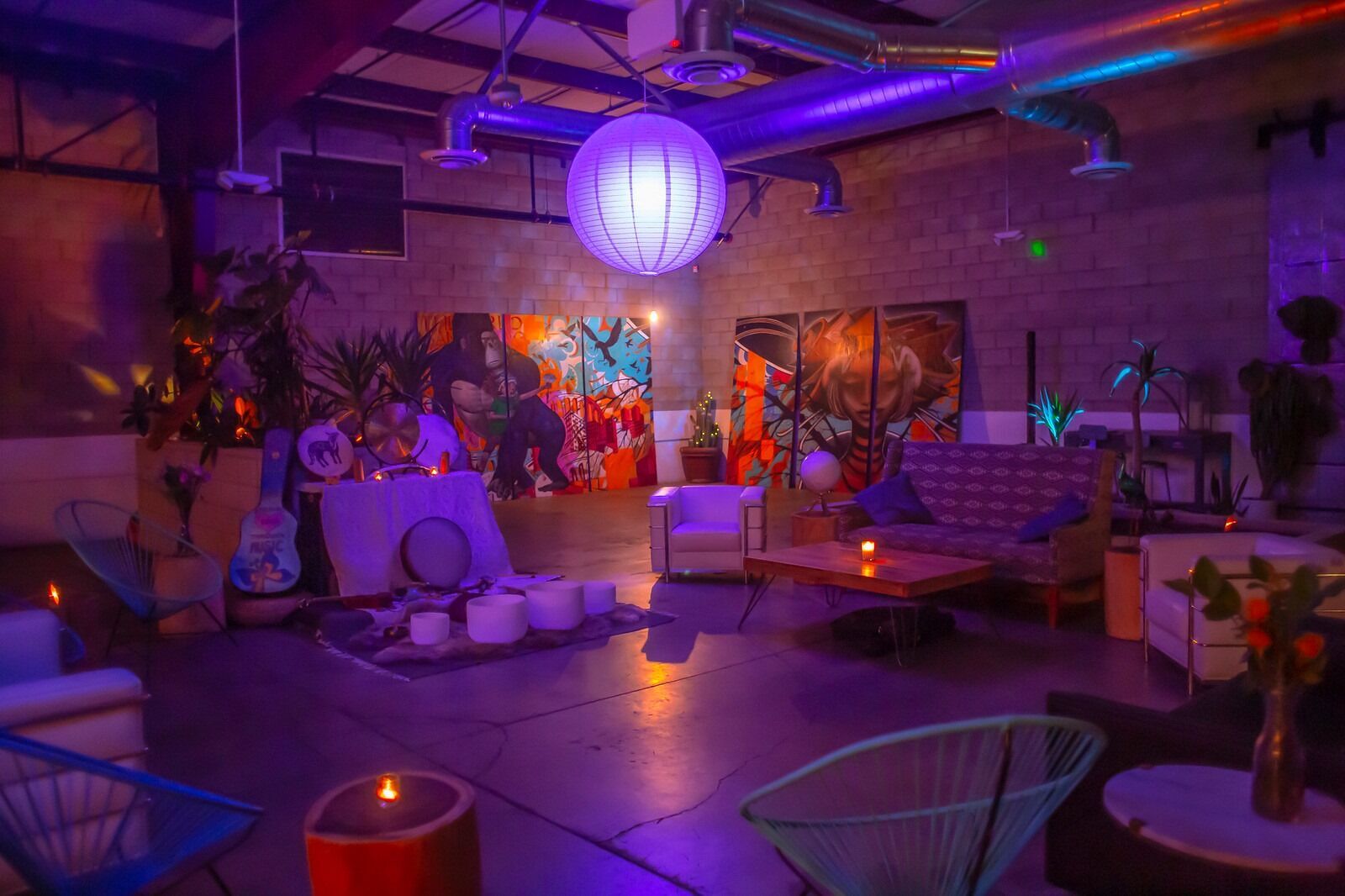 Celebrate your bundle of joy within an industrial-chic ambiance at AWA Oasia. Situated in the Art District, the interior reflects the area's vibrant energy. Hand-painted murals, various skylights, and art-covered walls define the space, resulting in an enlivened atmosphere. This baby shower venue even includes indoor gardens, highlighting its concrete architecture with natural elements.
Create new memories with up to 300 guests here as you and your bump are showered with love and joy. The versatile 14,000 square foot interior will allow you to curate the event of your dreams. Using the venue's on-site commercial kitchen, your preferred catering team can even whip up tasty treats or savory hors d'oeuvres for you and your loved ones.
Pretend City Children's Museum, 29 Hubble, Irvine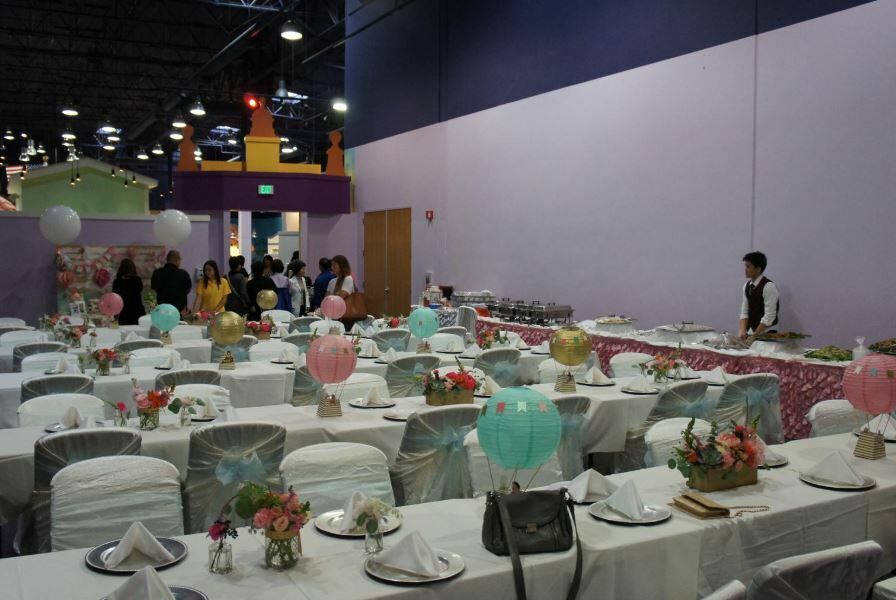 Just because your baby is still on the way doesn't mean you can't tap into your childlike wonder! Embrace your inner kid at the Pretend City Children's Museum located in Irvine. The fascinating venue is home to a charming miniature city that will spark joy for all ages. While mingling with loved ones, admire the museum's playfully detailed structures. 
From intimate gatherings to elaborate soirees, the children's museum can comfortably host a diverse range of events. Up to 900 guests can celebrate your baby with you here. The venue's 15,000 square feet allow ample room for banquet setups, gift tables, interactive stations, and more.  Whimsical, quirky, and engaging, the venue is sure to spark joy. 
Shade Hotel Redondo Beach, 655 N Harbor Dr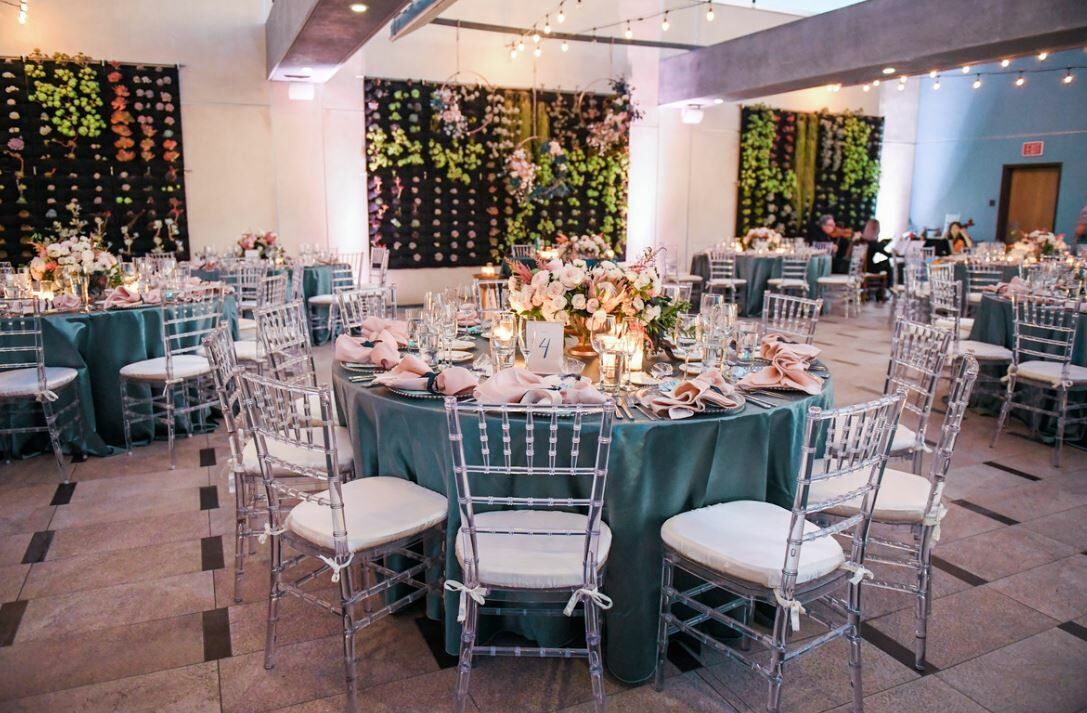 Create lifelong memories in sun-dappled bliss at the Shade Hotel Redondo Beach any time of year. Moms-to-be planning special days can book the hotel's Sky Level for a scenic view of Malibu that's sure to impress and inspire relaxation. Panoramic views paired with elegantly modern décor is a match made in party heaven!
With 2,500 square feet of alfresco event space, the Sky Level can fit up to 250 guests for beautiful baby showers. Arrange and decorate the versatile setting in a way that speaks to your distinct vision. No matter your desired theme, the ocean will make for a spectacular backdrop at this venue.
Lanea, 217 Broadway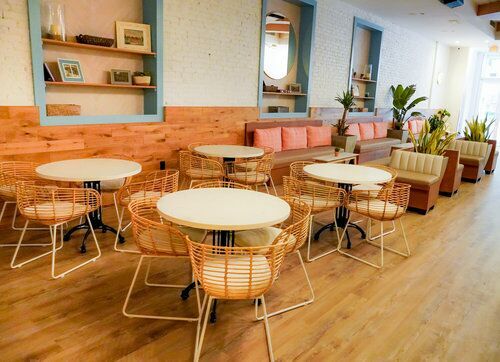 Savor flavorful Mexican dishes in the heart of Santa Monica at Lanea. Contemporary, chic, and full of culture, the distinct setting is ideal for baby showers. The bright space features modern furnishings and home-style trinkets, creating a charming atmosphere that's sure to leave a lasting impression.
Lanea's culinary team delights in preparing authentic Mexican recipes. Menu selections include quesadillas, nachos, burritos, tacos, and many other nourishing plates that are sure to please your palate. Vegetarian and gluten-free options are available for those celebrating with dietary restrictions. In the restaurant's relaxed interior, you can share your joy-filled day with up to 150 guests.
The COOP, 11118 Ventura Blvd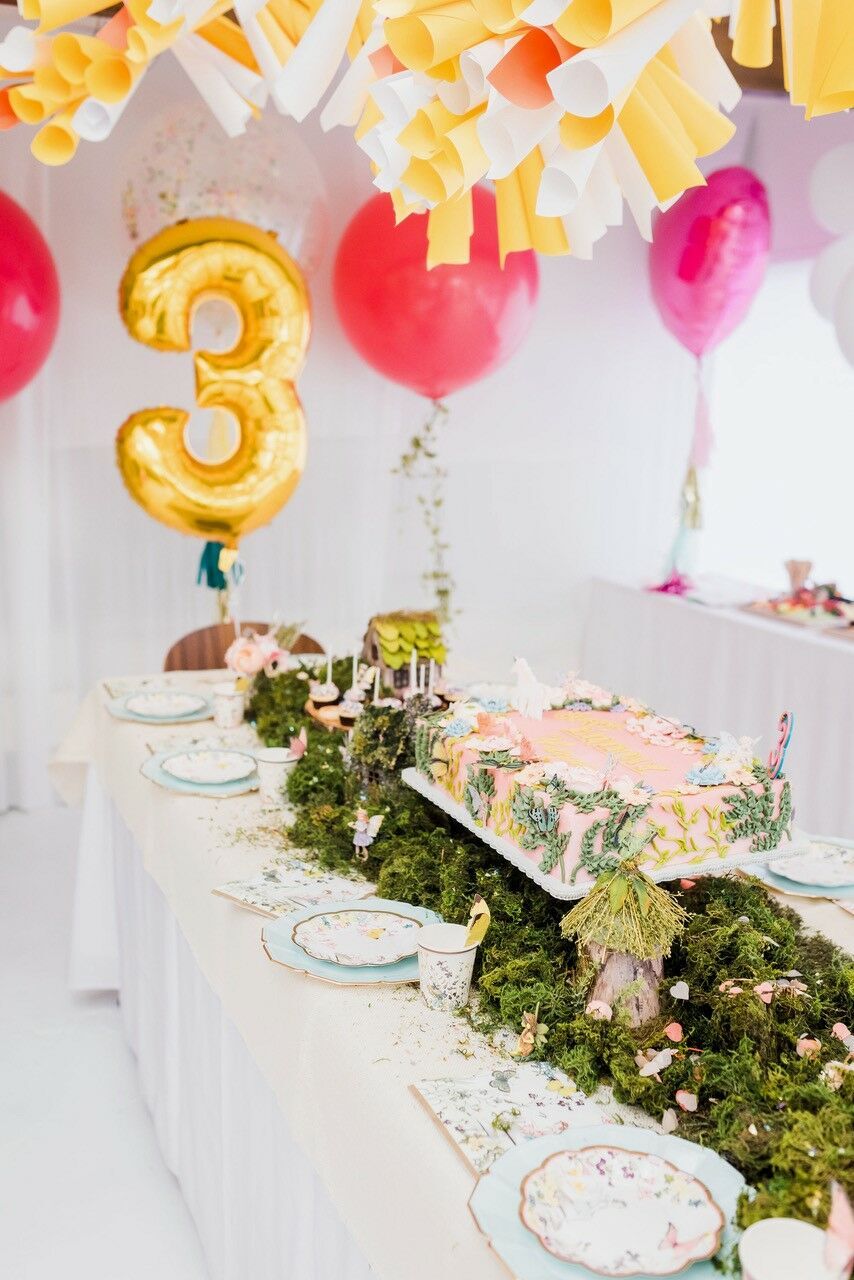 The COOP in Studio City is an ideal baby shower venue for guests of all ages. The interior consists of a children's play area and a party space, allowing your adult guests to relax while their kids have fun. The bright, lighthearted environment features interactive games that were designed to stimulate and inspire.

Personalize the event space with colorful signage, boho-chic table settings, eye-catching decor, or anything else you've been envisioning. At this venue, the only limit is your imagination! Relive the heartfelt details from your shower even after your baby is taking their first steps by booking a talented photographer for the day. 
Alta Adams, 5359 W Adams Blvd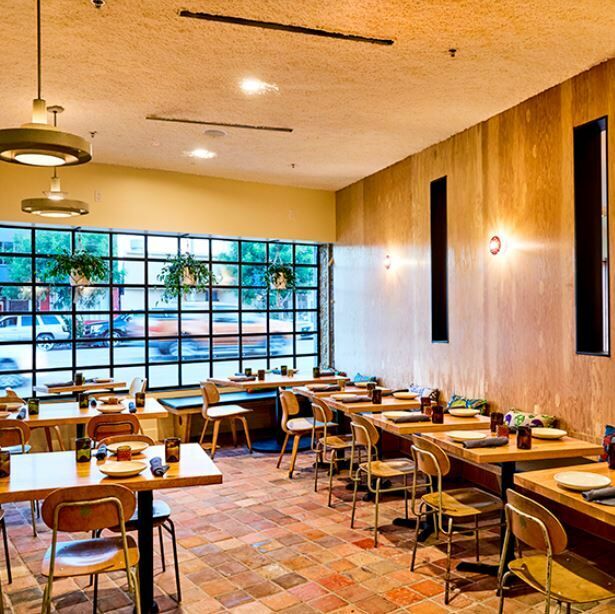 Alta Adams is a restaurant that stylishly combines functionality and hospitality. These sentiments are expressed in the restaurant's warm interior design scheme, which is highlighted by wood furnishings and glowing light fixtures. Within this delightful atmosphere, you can host up to 120 loved ones for your baby shower.
Inspired by flavorful Southern recipes, Chefs Keith Corbin and Daniel Patterson have created a menu that features distinct renditions of classic soul food. With a diverse selection of dishes, everyone is sure to find something that pleases their palate at this restaurant. Those celebrating here will especially love the venue's inviting, memorable ambience.
City Market Social House, 1145 San Pedro St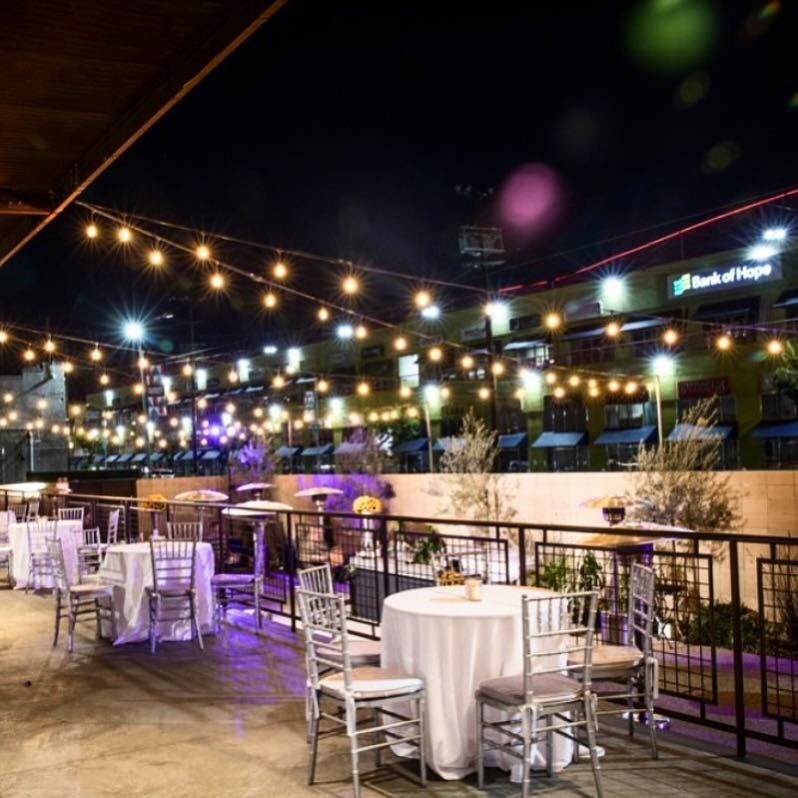 Moms-to-be dreaming of celebrations in the fresh air will love the Patio at City Market Social House. Whether you're planning a morning brunch or an evening soirée, the outdoor space will offer a secluded, enchanting ambience. The sleek concrete flooring reflects the setting's versatility, which allows you to customize the layout to your liking.

From guest lists of 60 to 200 people, the space can accommodate a wide range of event sizes so that your baby shower can be just as you envisioned it. The venue's event team has even curated a list of local businesses that you can refer to when planning to help bring your concept to life.
Office Party, 4514 N Figueroa St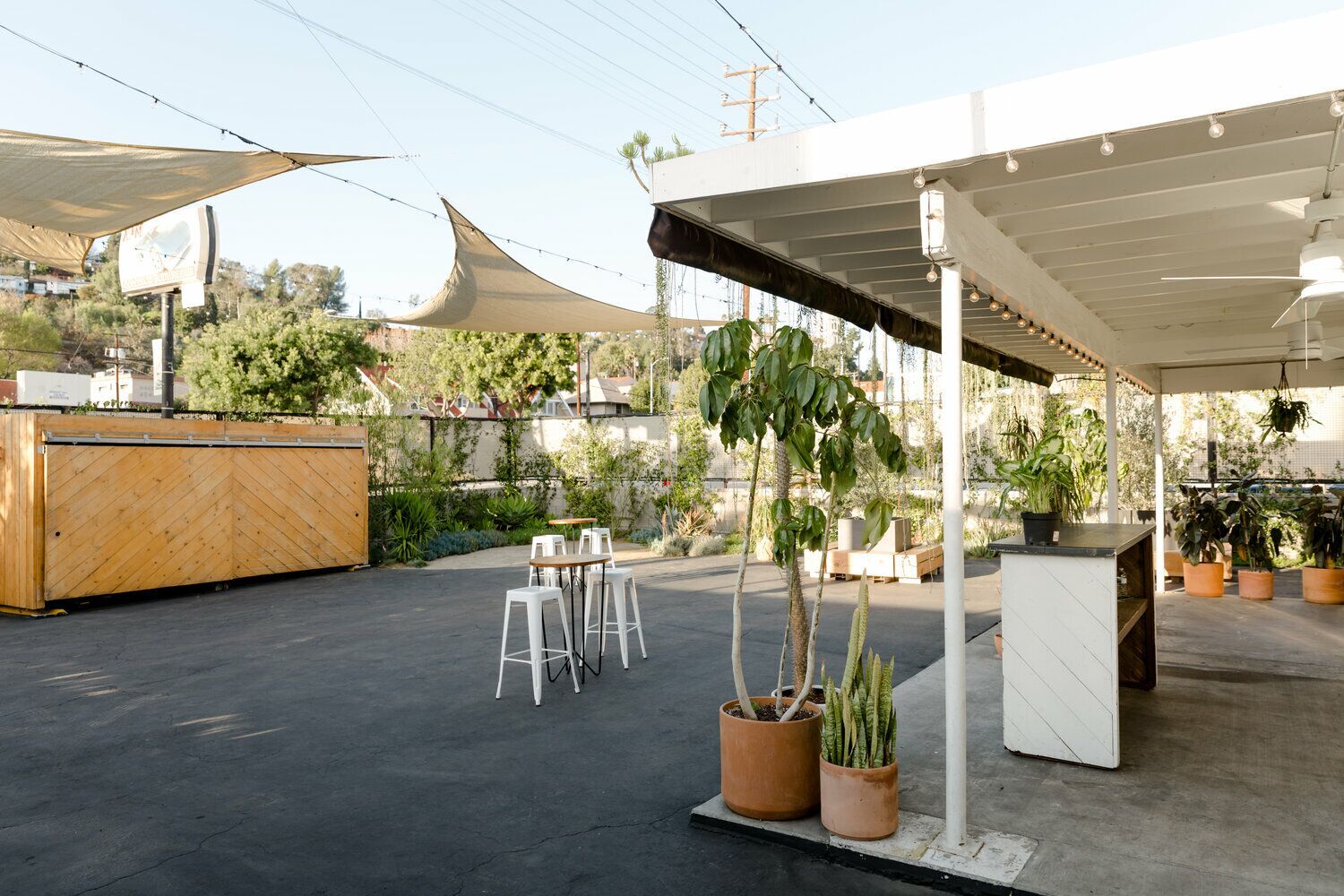 Situated near the heart of Los Angeles, Office Party offers an adaptable open-air setting for milestone occasions. Minimalist architecture pairs with lush, leafy plants in this garden event space, creating an aesthetically pleasing atmosphere. This venue exudes enchanting tranquility for intimate and elaborate gatherings alike.
To enhance the space's laid back ambience, book one-of-a-kind local vendors to put your stamp on the event space. Whether you're envisioning a steel drum band playing by the shrubbery or a lively DJ amidst the potted plants, this blank canvas of a venue will allow you to curate an event that's uniquely you.
CHEZ TEX, 218 Main St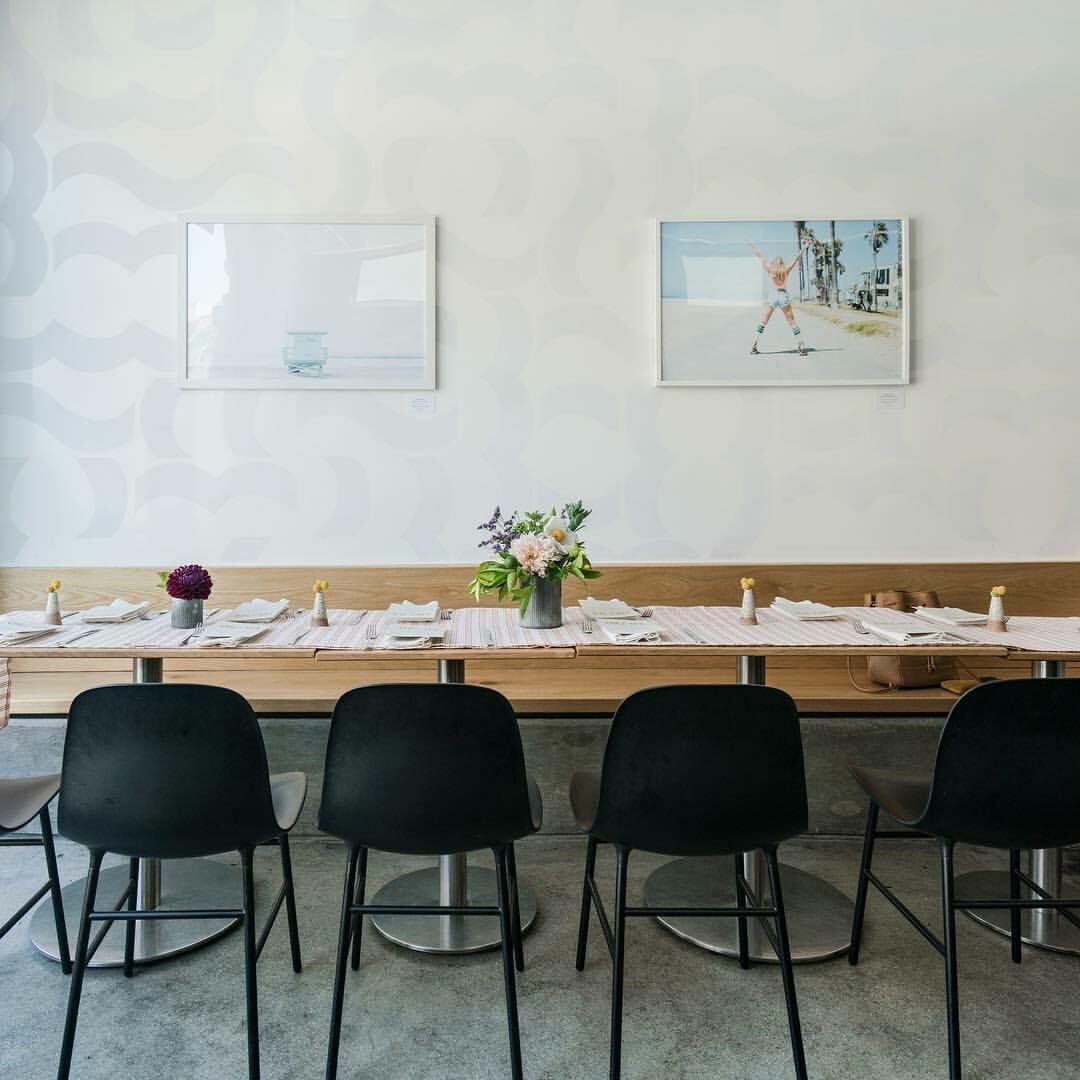 CHEZ TEX is a chic bistro just steps away from Venice's shoreline. Thanks to its picturesque setting and charming interior, the venue offers a serene atmosphere for special celebrations. The intimate setting is ideal for events with guest lists that range between 15 to 50 people. 
Connect with your loved ones while enjoying bites from CHEZ TEX's carefully curated menu that features options for all taste buds. Though the celebration may go by faster than you'd like, you'll be able to preserve its highlights through timeless photos. The bistro's minimalist aesthetic is sure to make a beautiful backdrop for your photos.
Chevy Chase Country Club, 3067 E Chevy Chase Dr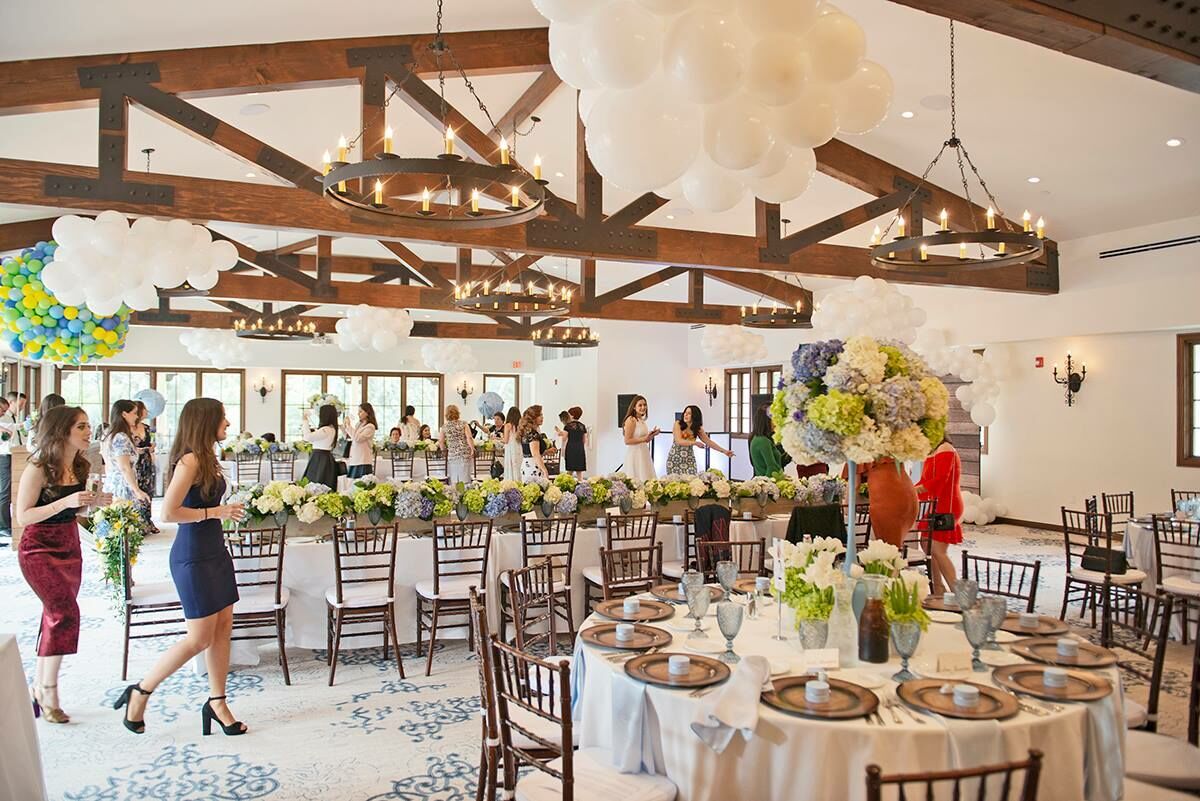 If you're searching for a baby shower venue that's full of timeless charm, then the Chevy Chase Country Club is sure to check all of your boxes. Cypress Hall is the club's largest setting and it's brimming with inviting opulence. Wrought iron chandeliers, exposed ceiling beams, and floor-to-ceiling windows all combine to create the interior's ornate appeal.
Add to the country club's sophisticated ambience by hiring a talented harpist or another elegant live musician for your baby shower. Up to 300 guests can join you as you celebrate your special day, and the banquet hall can be customized to fit your layout needs and vision.
Muzeo Museum And Cultural Center, 241 S Anaheim Blvd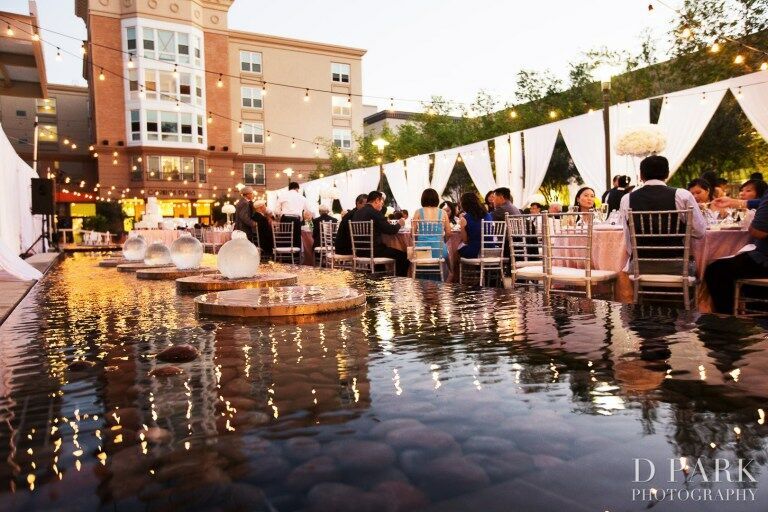 Ideal for mothers-to-be who love the arts, the Muzeo Museum And Cultural Center's expansive Plaza can be used for bespoke baby showers. Olive and palm trees border the outdoor setting creating a semi-private atmosphere for special events. At the space's center sits a cascading waterfall which adds a touch of tranquility to the lively city surroundings.
Celebrate with up to 400 guests here in the Museum's Plaza. Decorations, furnishings, and floral arrangements that align with your unique vision can be set up to embellish the open-air setting. Looking for a fun, interactive way to document precious moments throughout the day? Renting a photo booth will surely be a hit with guests of all ages.
Madeline Garden, 1030 E Green St, Pasadena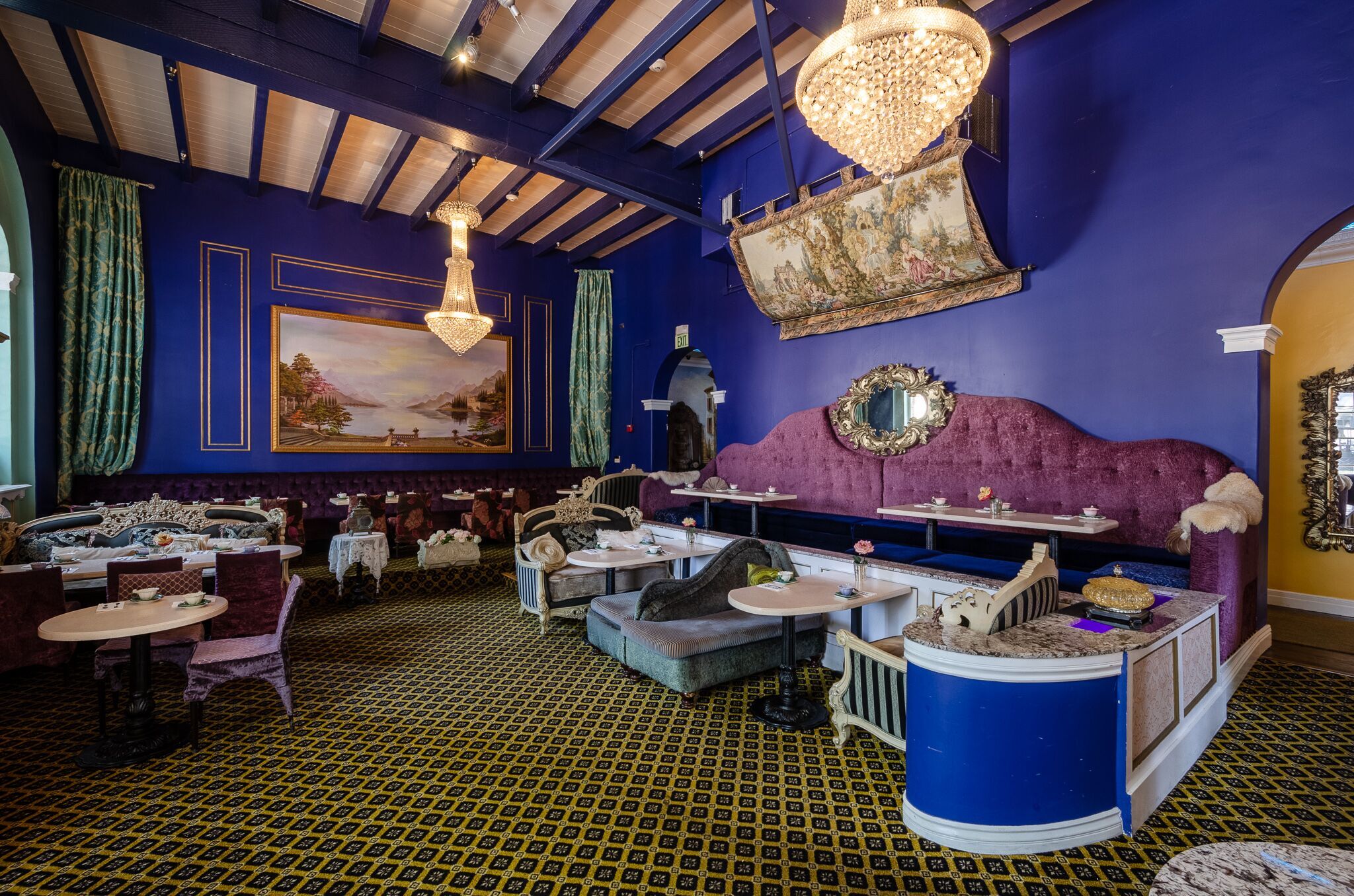 Madeline Garden offers an eclectic setting for milestone celebrations taking place in downtown Pasadena. The interior is packed with ornate, eye-catching details such as glittering chandeliers, velvet banquettes, and clawfoot loveseats. Deep purple walls paired with geometric green carpets create an eye-catching contrast throughout the space. This baby shower venue is ideal for those infatuated with all things vintage.
The Grand Room can fit up to 150 guests for joy-filled festivities. Mingle with loved ones here while tasting a robust combination of Italian and French dishes. Menus are crafted with fresh, seasonal ingredients in mind, resulting in tantalizing selections for celebratory meals.
Find more venues in Los Angeles here on The Bash.