Your Big Apple Guide to a New York Themed Party
The city that never sleeps makes the perfect party theme.
Doesn't it just make sense to throw a party inspired by the city that never sleeps? The Big Apple is home to some of the best food, entertainment, and sports in the world, so it's guaranteed to make your special event extra memorable. Plus, so many shows and movies take place in this iconic city like Friends, Sex and the City, and Gossip Girl. Bring the excitement of the culture, landmarks, and other New York City staples to your next celebration.
New York City is bright and bold, making it the perfect backdrop for an upcoming birthday party, bar or bat mitzvah, or even wedding reception. Whether you tap into the details of iconic tourist locations or choose a more historic Manhattan aesthetic, this city offers it all. Celebrate your next milestone Big Apple style with our tips and tricks for a New York City themed party.
Keep reading for New York themed party ideas...
New York Pizza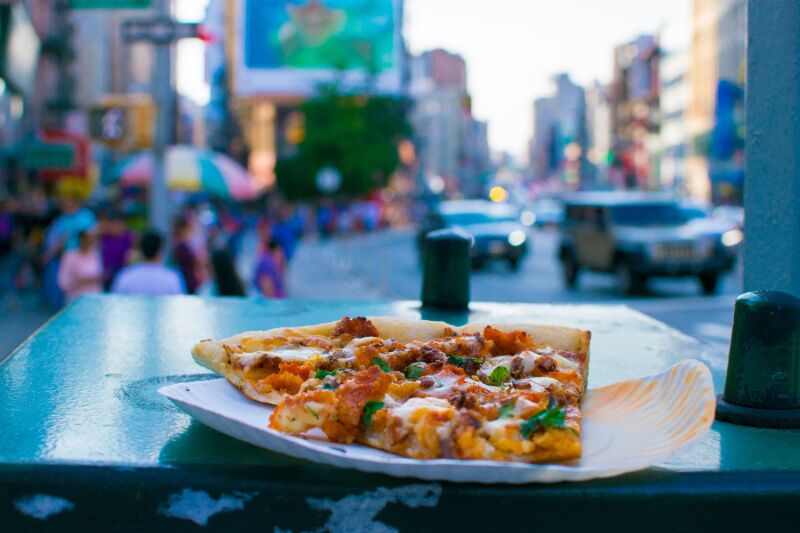 Photo: maleo113/shutterstock.com
New York is known for their pizza, so you're going to want to serve this up at your New York themed party. Order plenty of pies beforehand so guests can grab slices throughout the celebration. Include the classics like cheese and pepperoni, but don't be afraid to get creative like penne alla vodka pizza or even cheeseburger pizza!
Live Music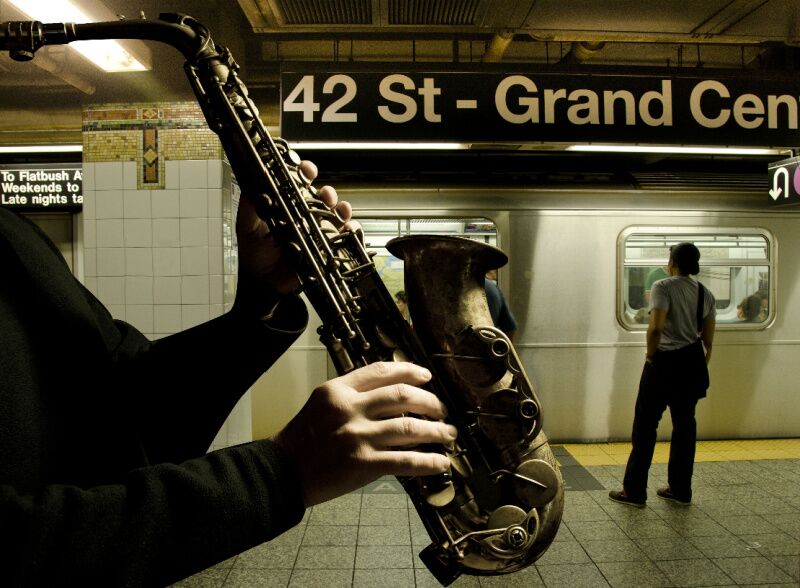 Photo: Laurentlesax/shutterstock.com
If you've ever been to the city, you know there is music on almost every corner. Bring the excitement of a live performance to your New York theme party with talented musicians featured on The Bash. Browse different categories including steel drum bands, saxophonists, guitarists, and much more.
I Heart NY Attire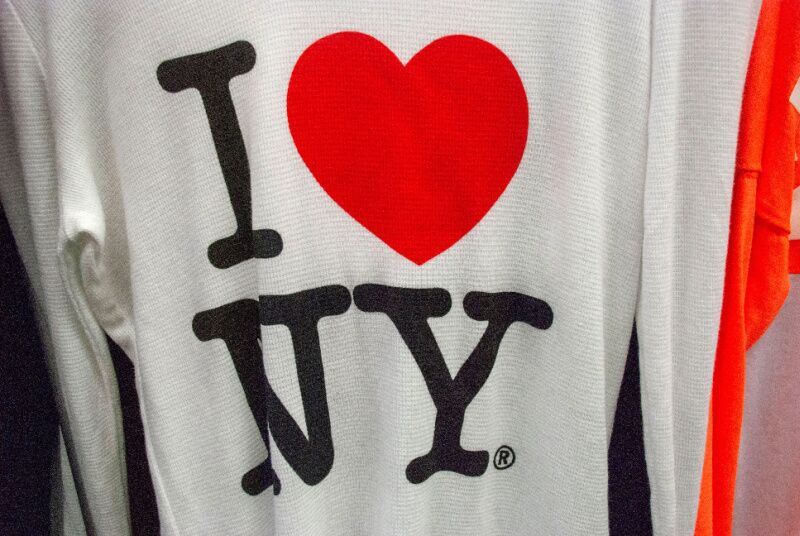 Photo: Alexander Reitter/shutterstock.com
If you're taking the stereotypical New York City route for this party theme, invite guests to wear their cheesiest, tackiest NYC souvenirs. From the classic heart t-shirts and hats, to tote bags and accessories, go all out with your New York themed party outfits to celebrate in style.
Appletini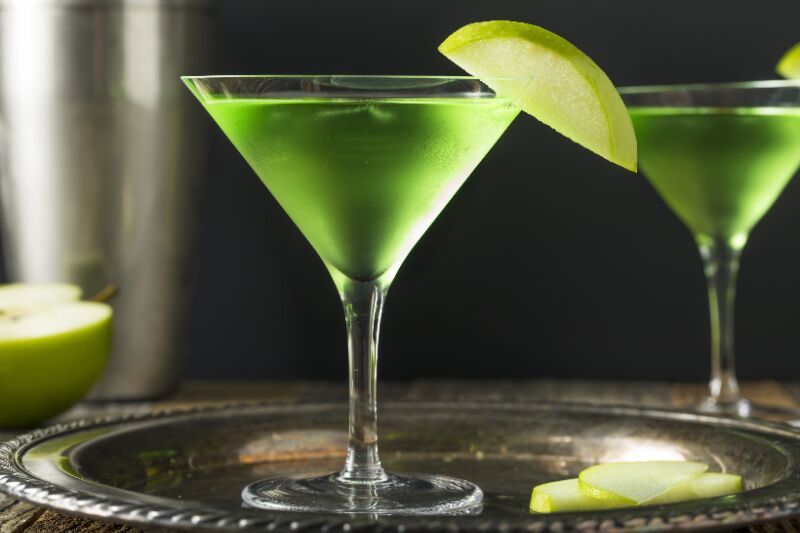 Photo: Brent Hofacker/shutterstock.com
A martini fit for the Big Apple, obviously! Mix up vodka, green apple schnapps, lemon juice, and serve over ice with a fresh slice of apple as garnish. This sweet cocktail will make the perfect signature drink for your New York theme party. Plus, who doesn't love a classic appletini? For a fun mocktail option, you can always serve sparkling apple cider to keep on theme.
Skyline Backdrop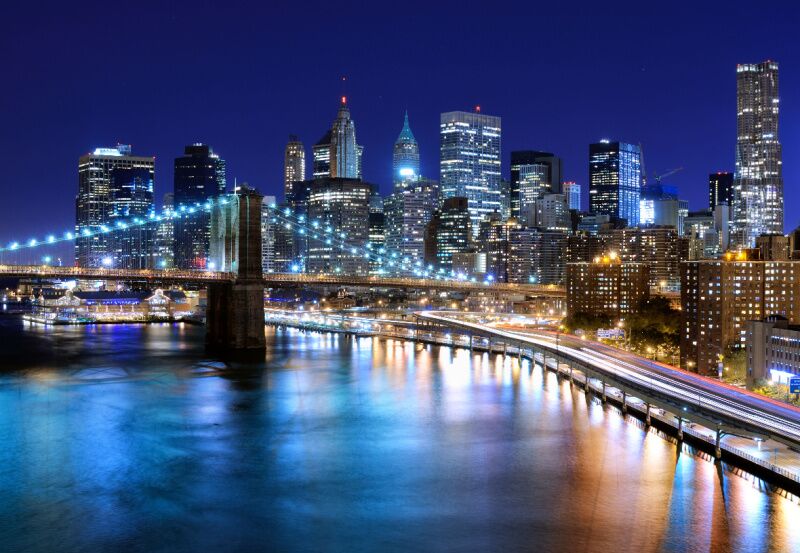 Photo: Sean Pavone/shutterstock.com
When you hear "New York City," you probably imagine the iconic skyline of famous buildings and skyscrapers, so you'll need to incorporate it into the party decor. Hang a city inspired tapestry or poster to use as a backdrop for pictures and other party festivities. Browse affordable skyline backdrops on Amazon to find your favorite burrough.
New York Street Food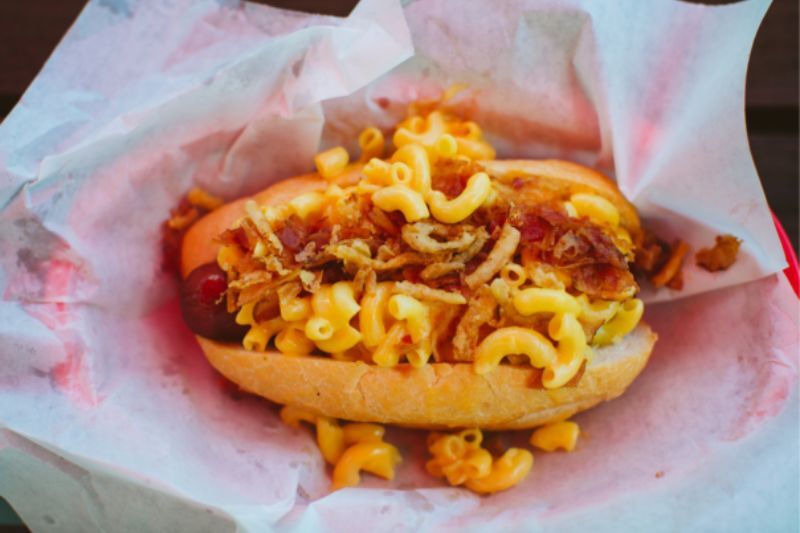 Vendor: Steve's Hot Dogs
Food carts with all the classic NYC treats are a must for this party theme, especially since they're incredibly easy to find and book on The Bash! You'll want to include all the typical street snacks like hot dogs and pretzels, so guests can get a taste of New York City during your party. Choose from food trucks, caterers, and more.
Newspaper Print Outfits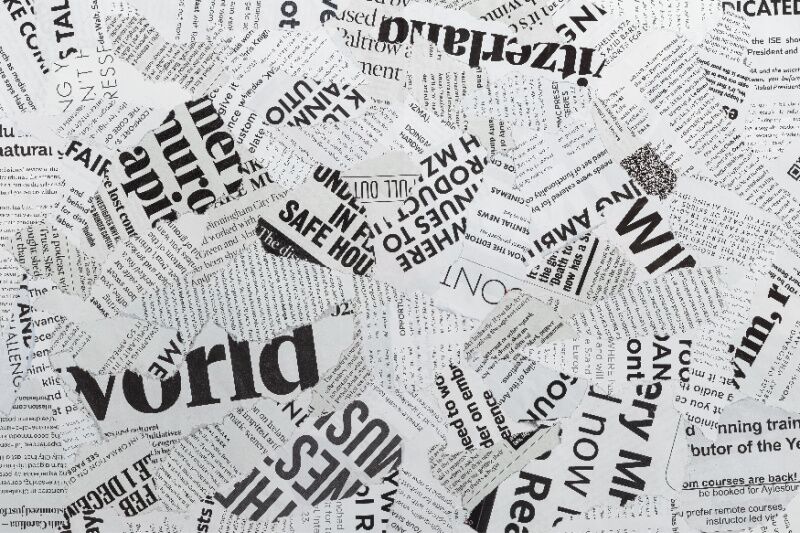 Photo: Mint Pixels/shutterstock.com
The New York Times is a Manhattan staple, so as an ode to this famous paper, invite guests to dress in classic newspaper print. This black and white pattern is iconic and unique, adding the perfect touch to your New York themed party outfits.
Cosmopolitans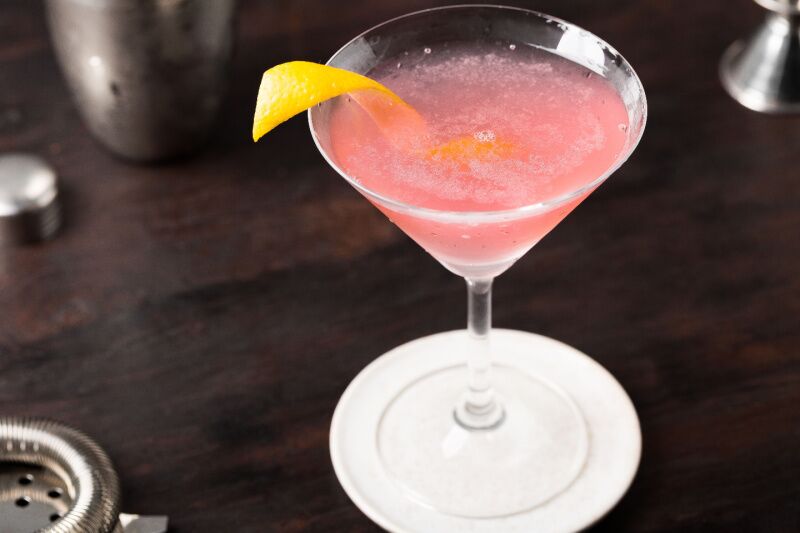 Photo: Heleno Viero/shutterstock.com
As a nod to the '90s show Sex and the City, enjoy a few cosmopolitans, Carrie Bradshaw style. You'll need vodka, triple sec, lime juice, and cranberry juice to whip up this perfectly pink cocktail that is just as sophisticated as it is aesthetic.
M&Ms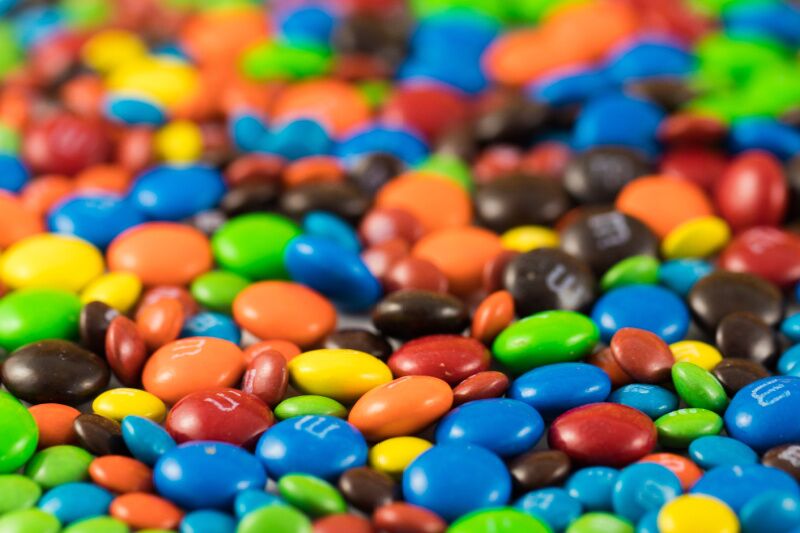 Photo: Amy_Michelle/shutterstock.com
Chances are, if you've ever visited Times Square, you most likely went to M&M World for a sweet treat. This tourist attraction offers all the classic colorful chocolate candies that will add a subtle and delicious touch to your New York theme party. Serve M&M cookies, give out mini bags of M&Ms as party favors, or create an M&M inspired cocktail.
Photo Booth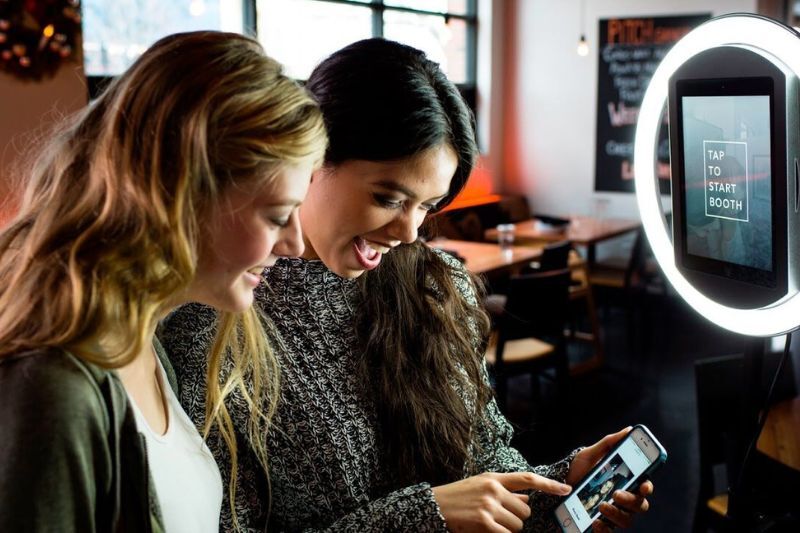 Vendor: All Generations Photo Booth
You'll want to capture the vibrance and essence of this New York themed party in every way possible. One of the easiest and most memorable ways is by decking out your photo booth! You can feature different backgrounds like a picturesque city skyline backdrop, subway station stops, graffiti walls, or even the Brooklyn Bridge. Incorporate props including subway maps, I love NYC signs, and Broadway playbills for a playful touch.
String Lights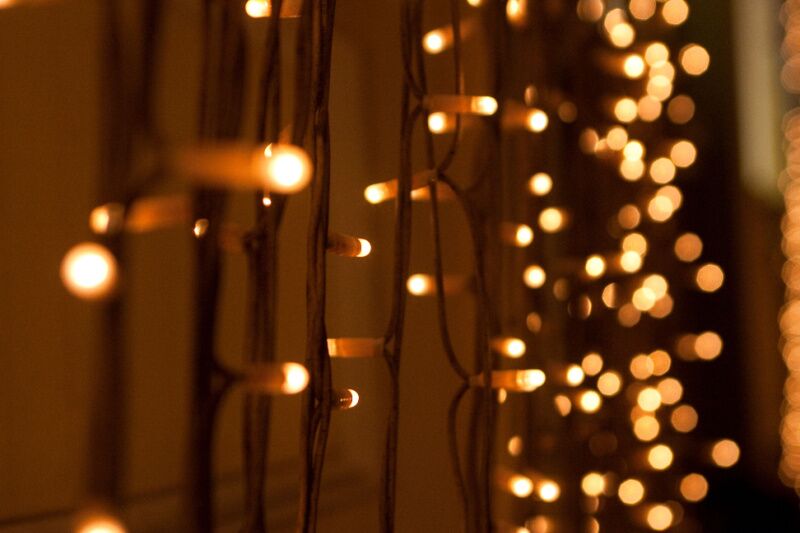 Photo: OlenaBilyk/shutterstock.com
No matter what time of day or night you step out in the city, there are lights from buildings, billboards, cars, and street lamps everywhere. Mimic the look of city lights with string lights to accent your space. This will help set a cozy ambient atmosphere in your New York theme party space.
New York Bagels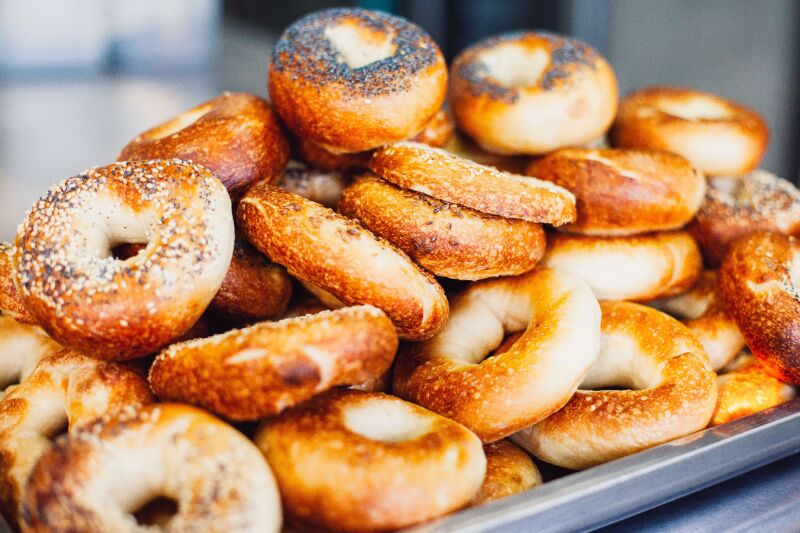 Photo: mattburchell/shutterstock.com
You don't get better bagels than New York bagels, but we're definitely biased. Incorporate this New Yorker breakfast favorite by including a DIY bagel spread at the New York themed party. Get a variety of bagels and make sure to include all of the fixin's like cream cheese, lox, onions, tomatoes, and more.
Human Statues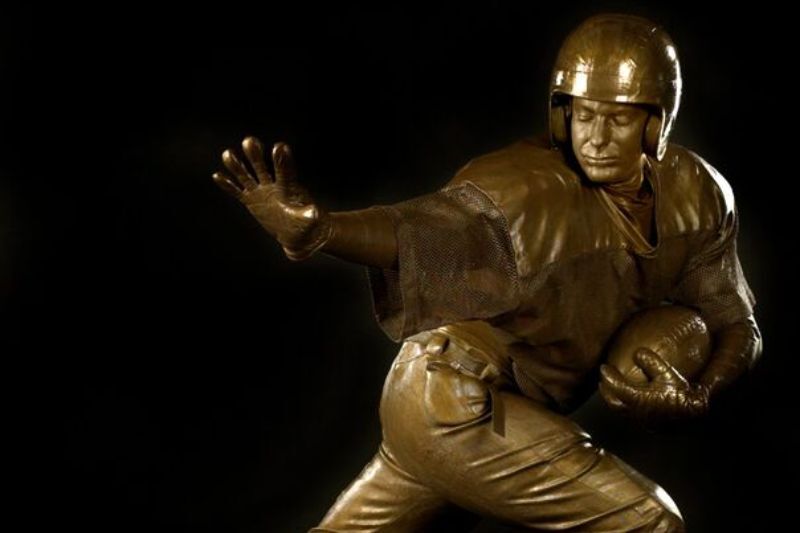 Vendor: Statue Guy
There are iconic statues scattered all throughout the city, so if you really want to create an authentic ambience, consider booking a few human statues. These event professionals can dress in different statue styles like marble or bronze so they'll look like the real thing.  Human statues are so convincing, they'll have guests second guessing if they're entertainment or decor!
Manhattans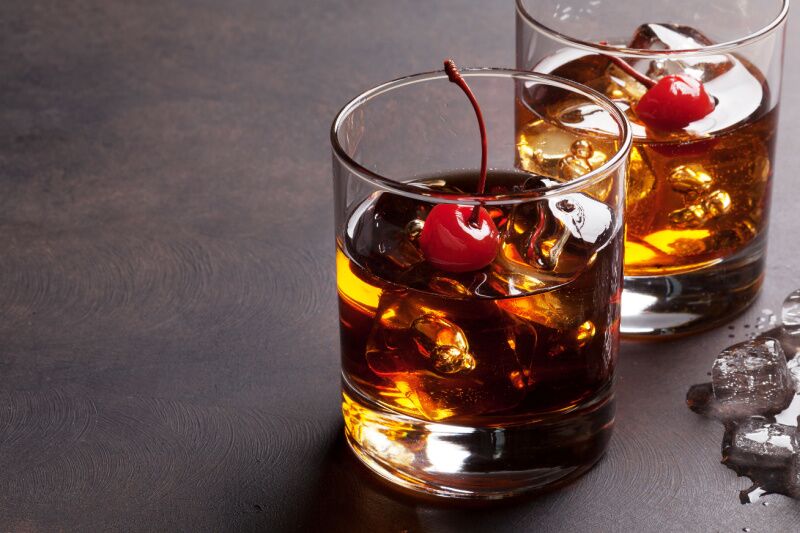 Photo: Evgeny Karandaev/shutterstock.com
You need to serve Manhattans at your New York themed party, we don't make the rules! To make this classic cocktail, mix together whiskey or bourbon, sweet vermouth, and bitters, and garnish with Maraschino cherries and orange peel. If you want to transport guests to a New York City bar, consider booking a bartender.
Costumed Charcaters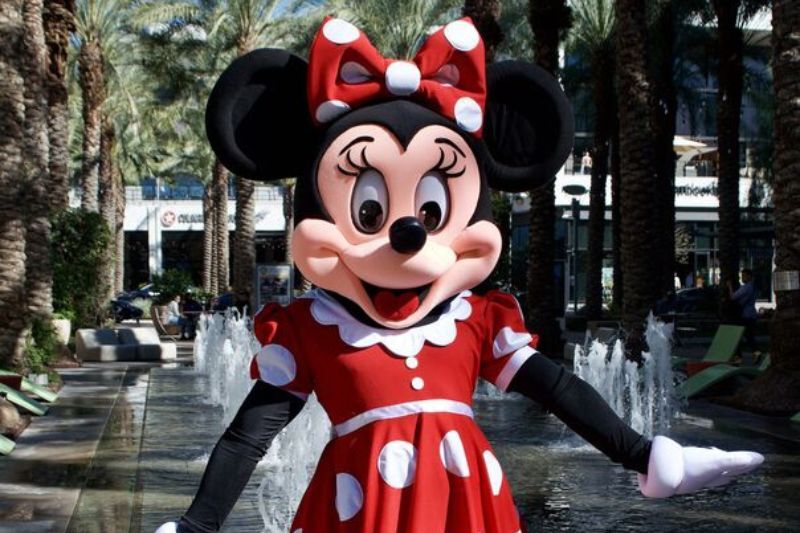 Vendor: Arizona Showboat Entertainment
If you've ever been to Times Square, you know there are costumed characters everywhere. From superheroes and animals, to princesses and movie characters, you can snap a photo with everyone in the heart of the city. To guarantee an authentic experience, book costumed characters to recreate this tourist attraction.
Marquee Signs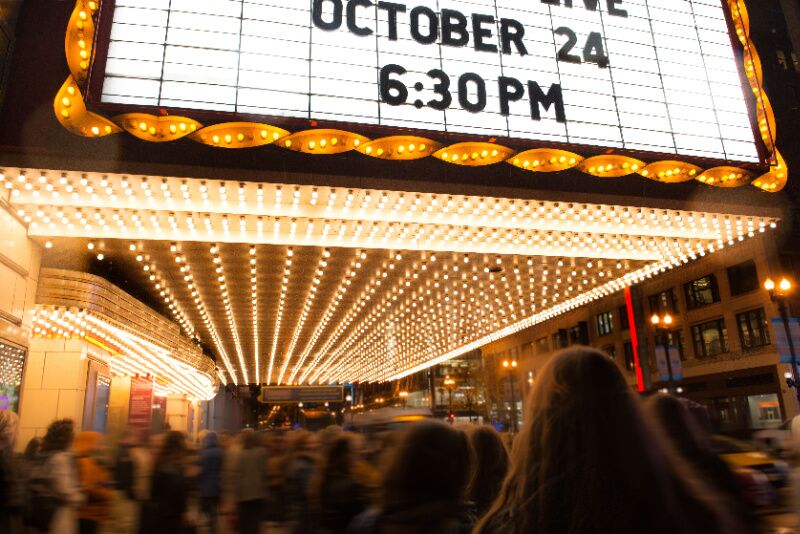 Photo: Nick Starichenko/shutterstock.com
New York is home to many historic theaters including The Gershwin, Radio City Music Hall, and Carnegie Hall. Take inspiration from these iconic venues by featuring bright and bold marquee signs at the New York theme party. This is a perfect decor option to celebrate the guest of honor for a birthday party or even wedding.
Candy Apples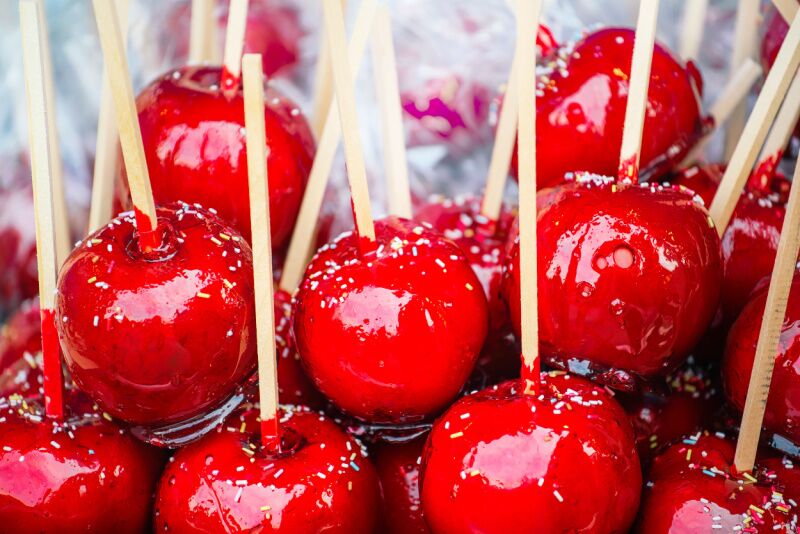 Photo: Bits And Splits/shutterstock.com
For this New York themed party, any sort of apple related dessert or beverage is perfect to honor The Big Apple. Add a big tray of shiny, red candy apples to your dessert spread for guests to enjoy. Not only is this on par for the theme, but who doesn't love a candy apple?
New Year Countdown
Photo: Ryan Rahman/shutterstock.com
New Year's Eve is one of the most well-known events that takes place in Manhattan, but who says it needs to be December 31st to celebrate? For a fun New York themed party idea, you can host a countdown before the newlyweds enter their reception, the time the birthday boy or girl was born, or a countdown before dinner is served. There are plenty of ways to incorporate this NYC tradition into your party.
Broadway Karaoke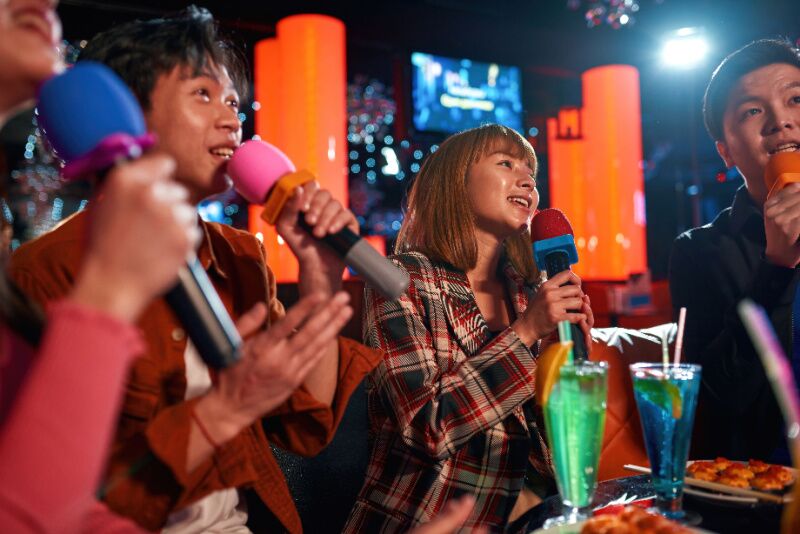 Photo: BAZA Production/shutterstock.com
Channel your inner Broadway star with a few rounds of Broadway inspired karaoke. Book a karaoke DJ to bring the screens, microphone, and song selections, so all you have to do is pick what musical you want to reenact! You can never go wrong with the classics like Mamma Mia, Hamilton, or Wicked.
Street Performers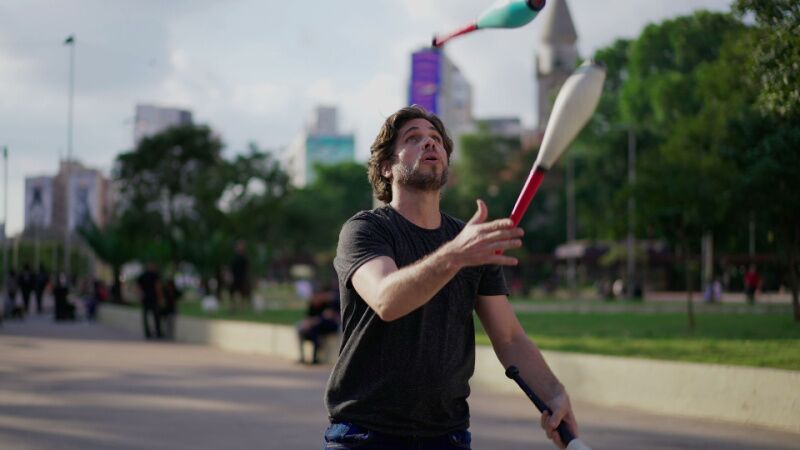 Photo: Bricolage/shutterstock.com
Between the music and variety acts, there are a ton of street inspired performances you can use for New York theme party ideas. Don't forget to include jugglers, caricature artists, or even magicians in your celebration to help bring the streets of New York City to life.
Food From Around the World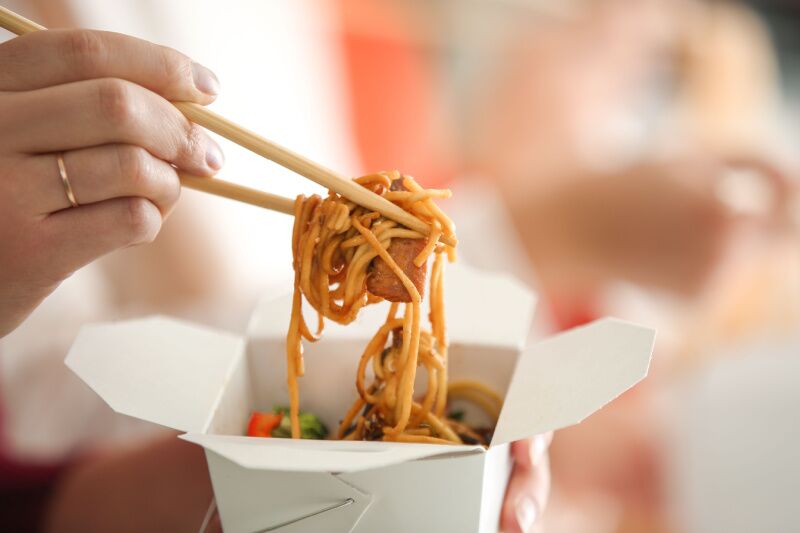 Photo: Aquarius Studio/shutterstock.com
New York City is truly a melting pot of all different cultures. Take inspiration from the neighborhoods' delicacies for delicious appetizers at your New York themed party. Serve options like Chinatown dumplings and Little Italy cannolis so guests can have a little taste of everything.
Street Sign Decor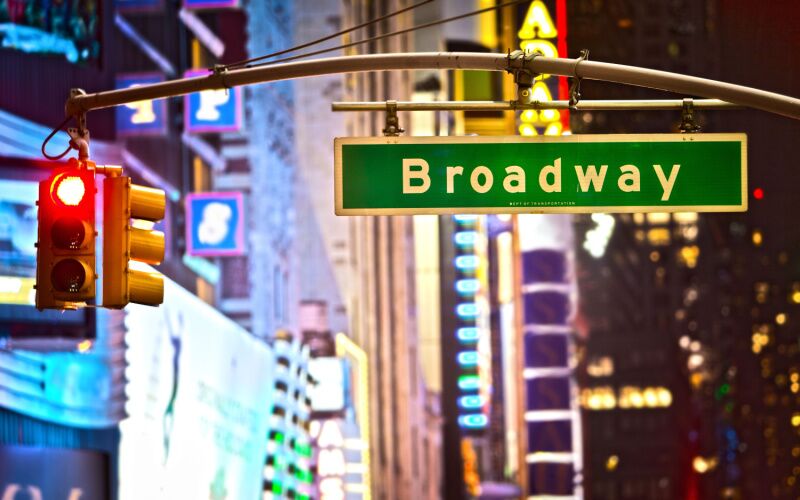 Photo: Stuart Monk/shutterstock.com
Manhattan is home to some of the most famous streets in the world: Wall Street, Broadway, and Park Avenue, just to name a few. Depending on the size of your event, you can use these street names to label tables that will help with seating. This is perfect if using this theme for a wedding reception, sweet 16, or bar/bat mitzvah. If you're having a more intimate celebration, you can order replica street signs to just hang as decor in your event space.
DJ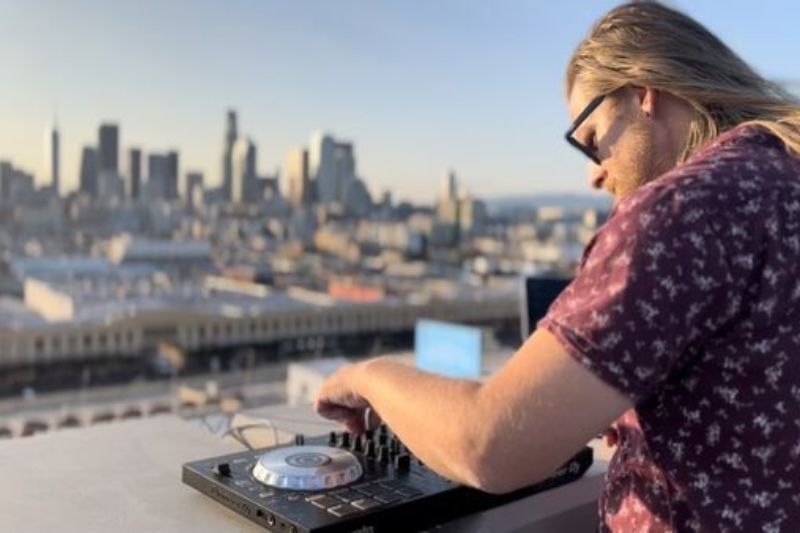 Vendor: ATUNE Productions
There are tons of songs about New York that perfectly capture the excitement and culture, so why not book a professional DJ to spin these tracks? Of course you'll want to include hits like "Empire State of Mind" by Jay-Z and Alicia Keys, and "New York, New York" by Frank Sinatra. In addition to these city songs, a DJ will be able to play the perfect mix of music that will fit your party's vibe perfectly.
NYC Sports Attire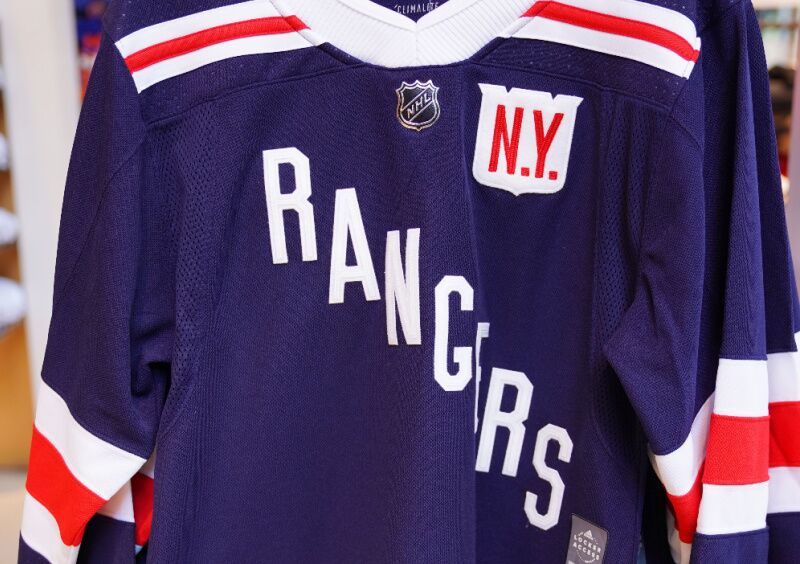 Photo: Leonard Zhukovsky/shutterstock.com
Whether you're rooting for the Giants, Yankees, Jets, or Mets, there are a ton of sports teams to choose from for this celebration. For a more casual New York themed party outfit, invite guests to dress in their favorite New York sports jersey. If you're not a fan of football or baseball, you can always represent the Nets, Knicks, Rangers, or Islanders, too!
Graffiti Wall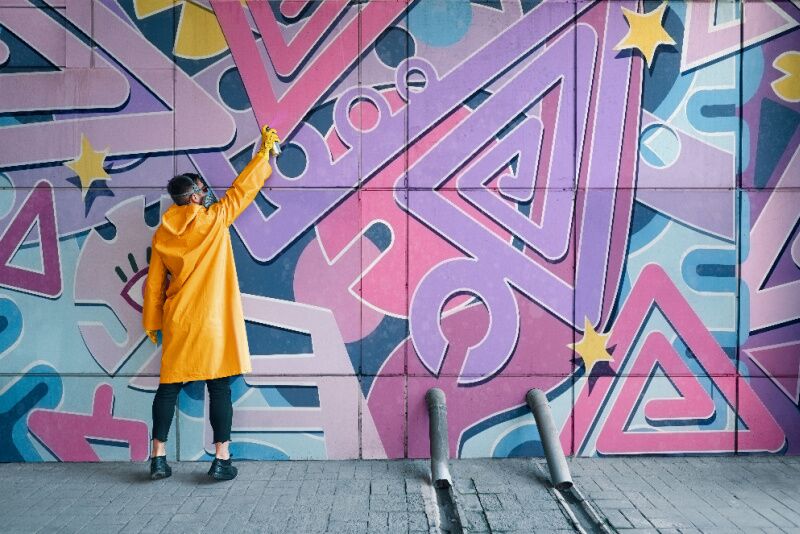 Photo: Viktor Gladkov/shutterstock.com
There is street art on every corner, avenue, and road in The Big Apple. If you're looking for unique New York theme party ideas, set up a white sheet with plenty of spray paint and markers to let guests unleash their inner artist. This will be a fun party activity that will double as decor, and even be a memento from the special occasion. Guests can leave little notes, drawings, or even words of encouragement depending on the celebration.
Magnolia Bakery Treats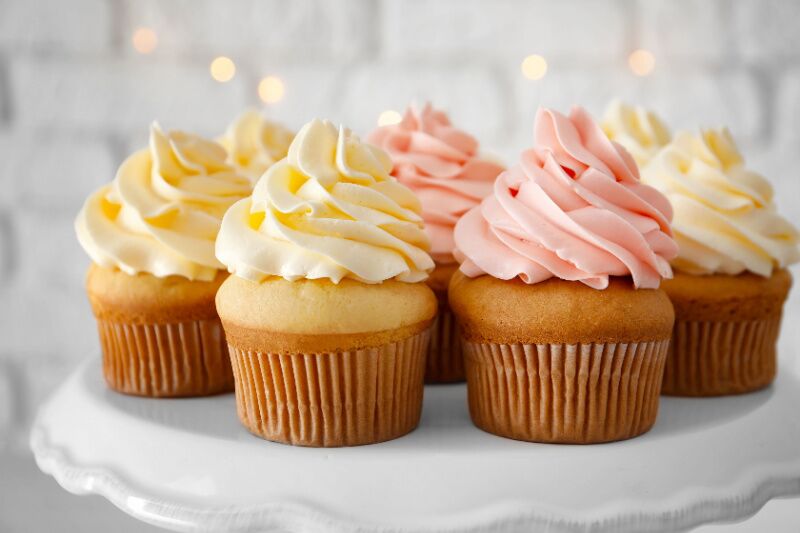 Photo: Africa Studio/shutterstock.com
Magnolia Bakery is a staple in New York City. If you can't travel to Manhattan to pick up treats for your dessert spread, whip up some of their most famous recipes or order from your local bakery. Magnolia Bakery is most well known for their banana pudding, black and white cookies, and classic cupcakes.
Comedian
Vendor: Anthony LeDonne
Comedy clubs are everywhere in The City, and you can easily bring this Manhattan culture to your event. Browse The Bash to find local comedians that will make guests laugh out loud during the New York theme party. Choose from a variety including stand up comedians or clean comedians to find the perfect one for your occasion.
Flatiron Flatbreads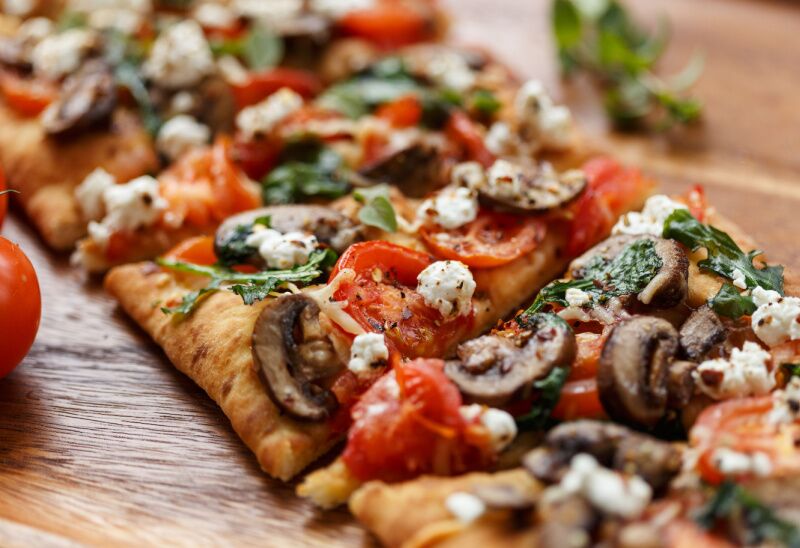 Photo: AnnapolisStudios/shutterstock.com
The Flatiron Building is a landmark in NYC, plus, who doesn't love a flatbread? Get creative with these toppings by serving Greek flatbreads, vegetarian flatbreads, and even buffalo chicken flatbreads. This light pizza make a great party snack because they are easy to make, serve, and eat!
Find more party ideas and inspiration here on The Bash.