10 Virtual Birthday Party Ideas to Celebrate Under Quarantine
Host an epic birthday celebration while social distancing.
Alice Prendergast
Contributor
Celebrating your birthday under quarantine due to the COVID-19 coronavirus outbreak isn't ideal, but you gotta do what you gotta do, especially when it's for your (and everyone else's) health. Luckily, we have the internet, so you can still host your event, it'll just be a virtual party in a chat room instead of IRL. To help you create an awesome online bash, we've put together this guide with virtual birthday party ideas so that you can keep social distancing and have some fun on your big day. From making your space worthy of a celebration to hosting a second event later down the line, these are a few tips you should keep in mind!
Here are a few virtual birthday party ideas that'll help you celebrate under quarantine.
Choose a theme
OK, not every birthday party needs a theme, but having one is never a bad idea, especially if you're hosting your celebration online. You can decorate your space accordingly (anything for 80's throwback to island party would be awesome) and give your friends a dress code to abide by to take your event to the next level. Again, a theme is not totally necessary, but it may make your virtual birthday party feel like more of an event.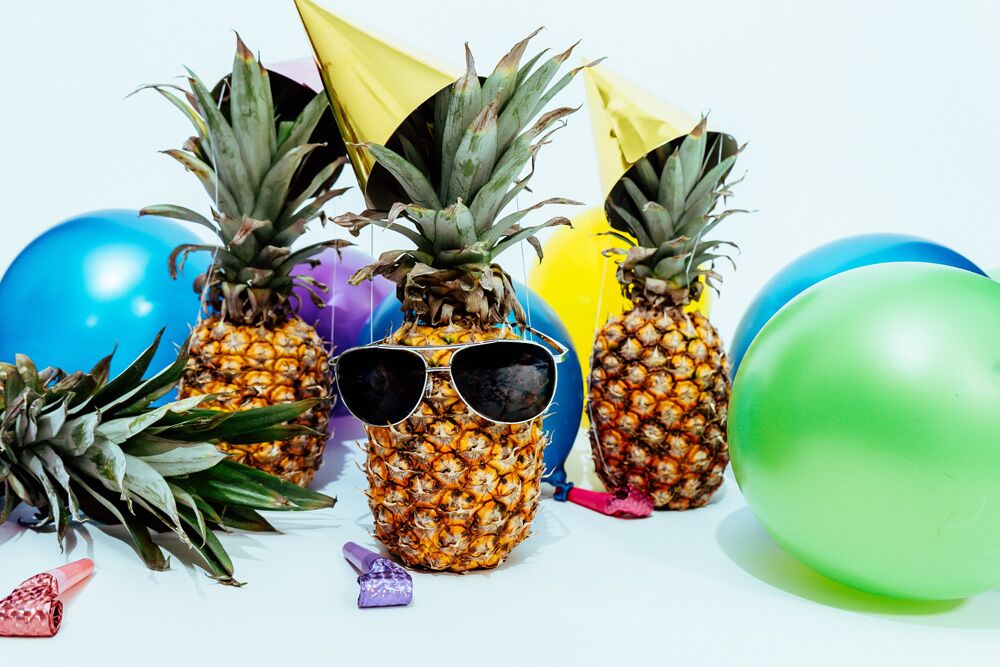 Photo: Pineapple Supply Co./Unsplash
Pick a platform and send out invites
Pick a video chat app like Skype, Google Hangouts or FaceTime that your friends and family can access. Send out an invite with the date, time and link for your party guests to join in. Pro tip: Check out our technical tips for a virtual party to make sure your event goes off without a hitch.
Make your space worthy of a party
Once you've chosen the theme for your virtual birthday party, it's time to dress up your space. Even though you're celebrating at home, you want to create that party atmosphere, so go ahead and order some decorations. If you're in a crafty mood (or are just looking for ways to kill time while social distancing) go ahead and make your own decorations from scratch. Bunting, banners, and faux floral arrangements don't require too many supplies and are pretty darn foolproof to make (Pinterest has plenty of how-to guides, so we definitely recommend checking it out).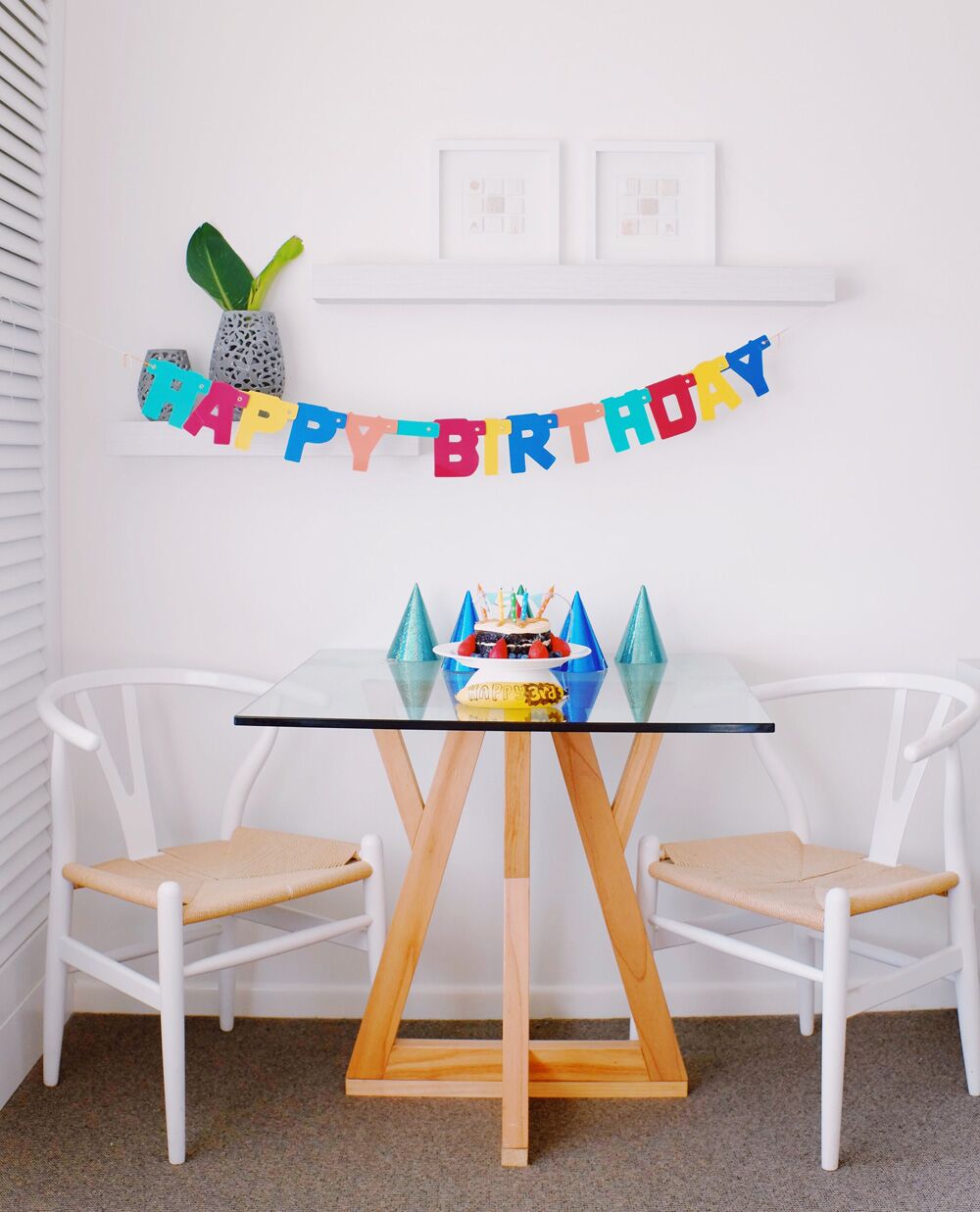 Photo: Bambi Corro/Unsplash
Order yourself some presents to your doorstep
What's a birthday without presents? To mark the occasion, do a bit of retail therapy at your favorite online boutiques. Oh, and if your friends and family want to send you stuff, provide them with your mailing details and you can open all your prezzies on camera. Who doesn't love a little birthday brag sesh?!
Get dressed up
Got a party theme? Naturally, you want to dress to suit it, even if it seems silly to do in your own home. If you haven't gone the theme route, we still suggest changing out of your sweatsuit or PJs and putting on something fun, be that a glittery party dress or your favorite jeans and t-shirt combo. Not only will getting dressed make it feel more like you're going out for your celebration, but putting yourself together will make you feel better, especially if you've been rocking the same thing for days.
Do your own glam
If you've got a killer outfit planned, obviously you need the hair and makeup to match! Fire up your computer, find a beauty guru on YouTube with looks you love, and get to testing them out. This is a great chance to take your hair tools and makeup palettes out of retirement for a hot sec (because let's face it, they've been gathering dust during your quarantine). Who knows? You may even find your new favorite look.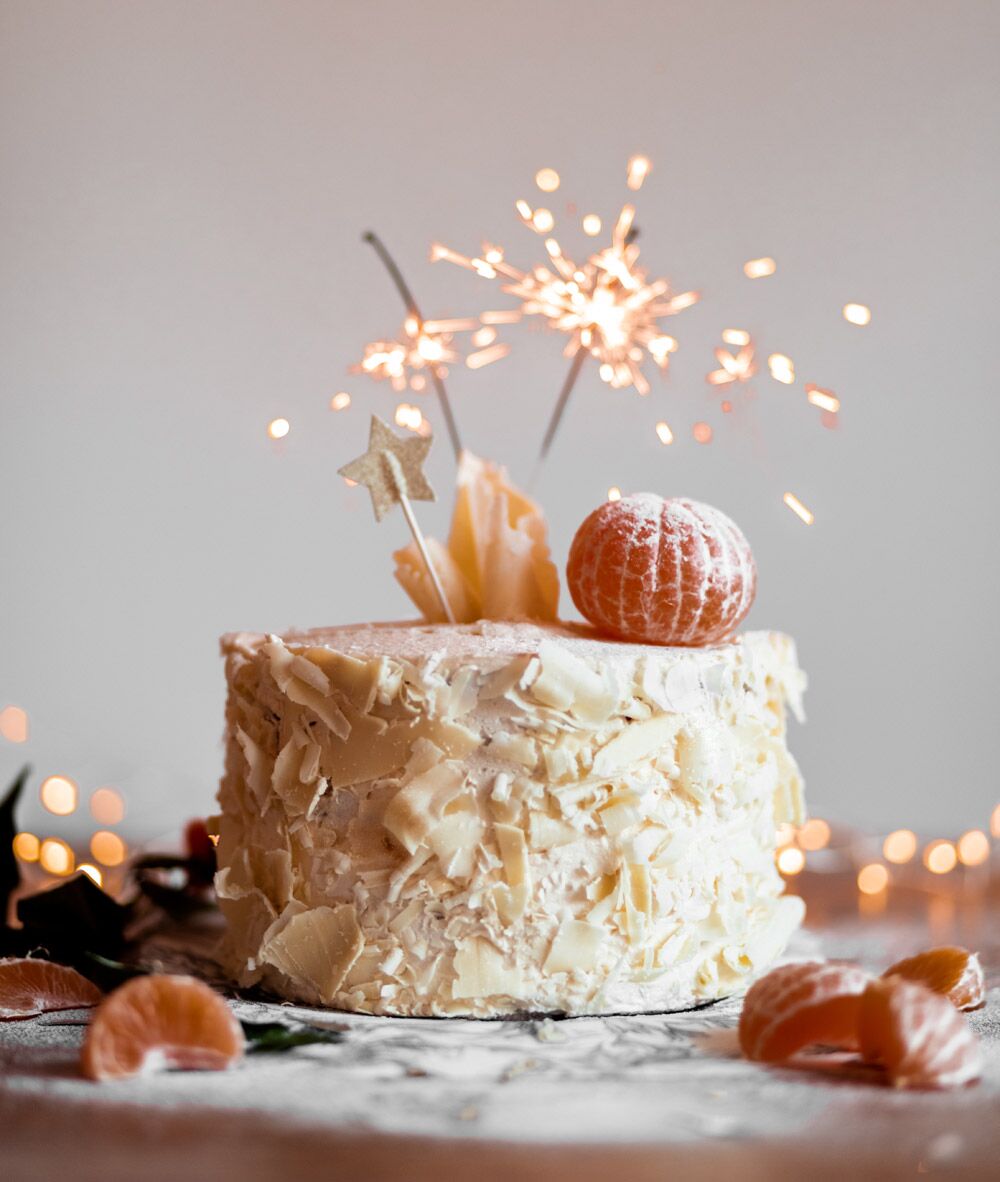 Photo: Esther Wilhelmsson/Unsplash
Create an epic meal (or order in)
It's your birthday, so you deserve to eat whatever the heck you want. Choose your favorite cuisine and either try to recreate it at home with your quarantine partner or buddies or, if cooking isn't your thing, order in from your favorite restaurant. Don't forget about dessert - you need a birthday cake or sweet treat to finish things off!
Do something you love
Got an activity you love to do? Come up with virtual party idea and ask your friends to join in on the fun. You could all do the same yoga class, learn the same TikTok routine, attempt a Pinterest craft, or just watch a movie together on Netflix Party (you could even make a drinking game out of this one). The options are pretty much endless when it comes to the internet! P.S. some video chat apps, like Houseparty, allow you to play games together, so you may want to look into those, too.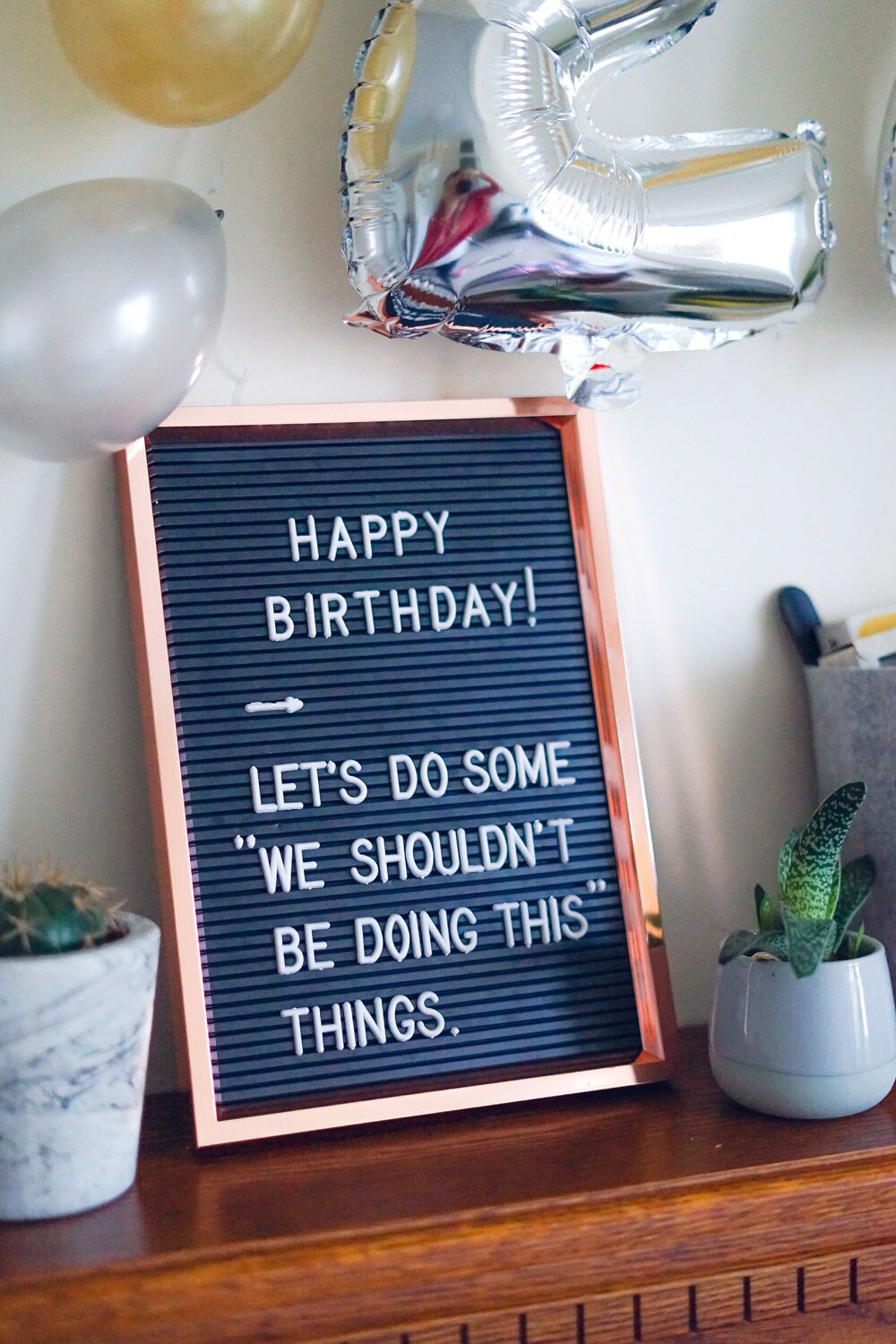 Photo: Toa Heftiba/Unsplash
Document it
Even though you aren't going out, you'll want to hold onto the memories of your birthday! Take screencaps, photos, and videos so that you remember your digital birthday. You'll probably want to look back on it later in life and reminisce about the craziness of quarantining.
Make plans for later
Even if your virtual birthday party is a total smash hit, you'll probably want to make some plans for when social distancing comes to an end. You've got plenty of party planning time to figure out exactly what you want to do during your quarantine, so get creative!
Find virtual services and entertainers in the United States and Canada on The Bash now.