How to Host an Adult's Social Distancing Birthday Party
Planning a socially distanced birthday party for an adult in your life? Check out these tips for inspiration.
Brittany Barber
Contributor
Wondering how to plan an adult's birthday party while social distancing? While we continue to deal with COVID-19, you probably shouldn't count on throwing a wild birthday party rager. But take a deep breath, relax, and remember you can still celebrate!
At this point in the social distancing game, you might already be used to adjusting your celebrations to follow the regulations of the pandemic. Even if that's the case, we've drawn up this guide to help you plan a super fun birthday party for the adult you are celebrating.
From party entertainment to hiring a caterer for safe food handling, we've got you covered.
READ MORE:
Here's how to plan for a socially distanced grown-up birthday party: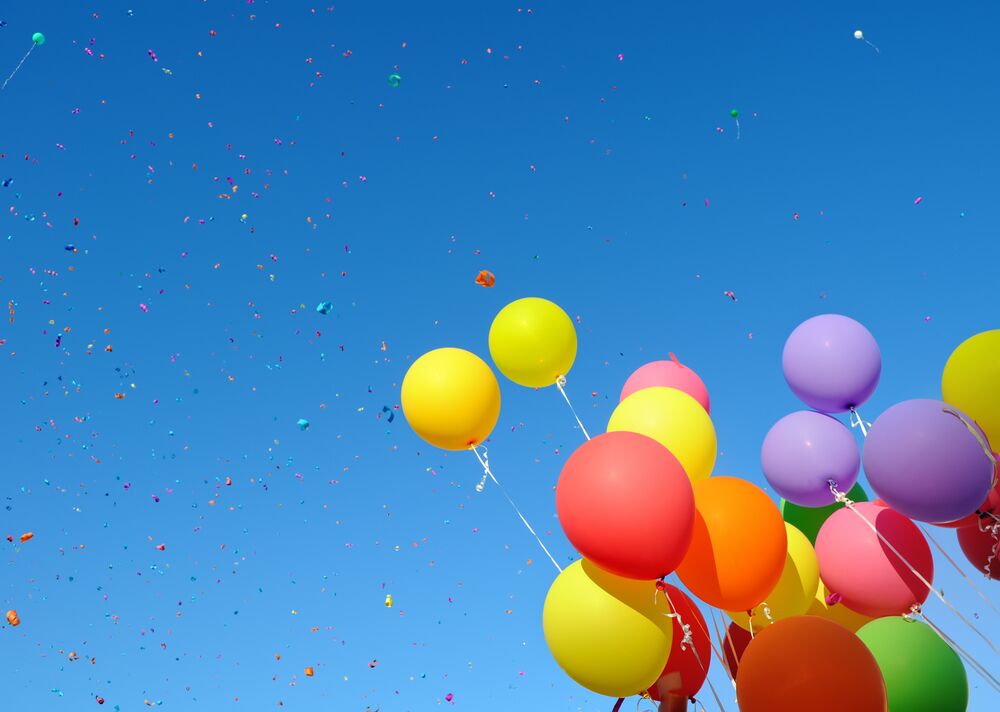 Photo: Yuris/Shutterstock.com
COVID-19 Updates
The best thing you can do while you plan your socially distanced birthday celebration is to be informed. Make sure you're up to date with the latest COVID-19 news in your area. Check out organizations like WHO and CDC — they offer legit information and recommendations to help you and your guests stay safe.
Keep it Small
An effective way to make sure your birthday celebration keeps up with social distancing measures is to make your guest list as small as possible.
Now, smaller doesn't necessarily mean any less fun! Throwing a smaller birthday party can leave room for more elaborate entertainment, games, fancier cocktails, and less clean-up. So yes, embrace the pros!
Send Birthday Invitations
Once you've decided on your guest list, it's time to send invitations! Our favorite option is to send virtual singing telegrams to let your family and friends know they're invited. Just make sure to include any extra information they may need to know about what's required of them to keep it safe and socially distanced.
Pro tip: Make sure your guests RSVP as soon as possible. Knowing an exact number can help enormously in how you prepare — as well as ensure any COVID-19 regulations are being met.
Hand Out Birthday Masks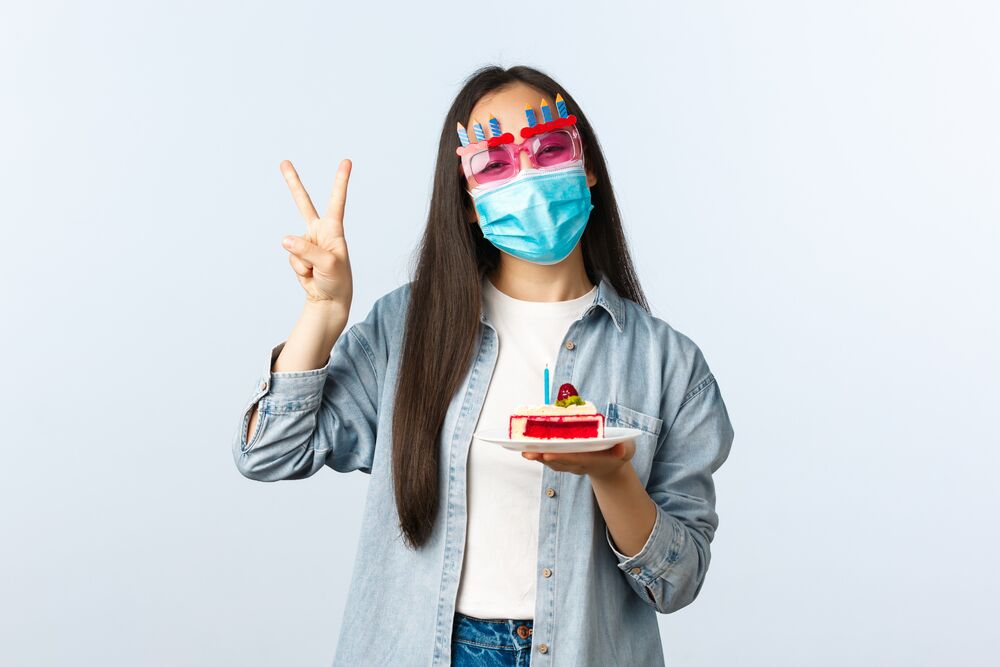 Photo: Mix and Match Studio/Shutterstock.com
As an added source of protection, encourage your guests to wear a mask. We recommend buying or making some birthday party themed masks ahead of time, and handing them out upon arrival. Check out these cute masks on Etsy for inspiration!
Sanitize
An absolute must at a social distancing birthday party is to make sure your guests have lots of access to hand sanitizer. Set up stations in each area you expect your guests to be in, particularly entranceways, and in and outside of bathrooms. Don't forget to get some disinfectant wipes too!
Plan a Birthday Activity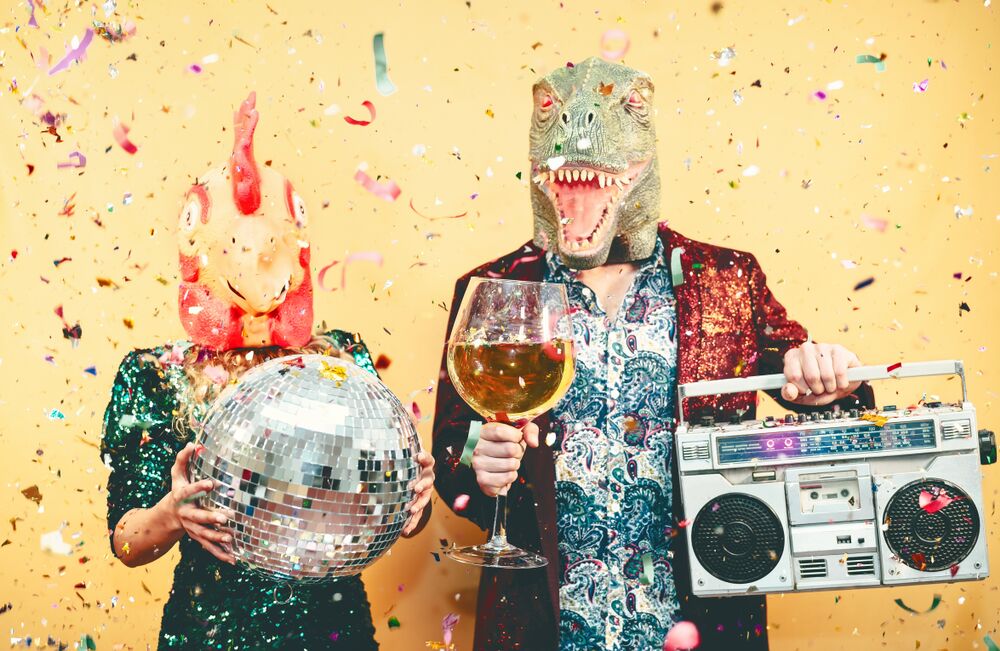 Photo: AlessandroBiascioli/Shutterstock.com
Since your birthday party is going to be smaller this year, you might want to up the ante in terms of doing something fun. Plan something you can do together while maintaining social distancing standards, like:
Get Outside: Depending on the weather, get outside to do something! Games like Bocce Ball and Cornhole are always fun, or even a beer pong table set up. If it's snowy out on the day of the birthday party, get bundled up and make a snowman together. 
Birthday Slideshow: Gather a collection of photos of the birthday celebrant, and put them together to present in a slideshow. Embarrassing childhood photos are always a hit.
Photoshoot: Whether you hire a photographer, rent a photo booth, or simply take your own pictures, you'll want to snap a few to commemorate who ever's birthday you'll be celebrating!
Murder Mystery Game: If y'all are into solving mysteries, why not turn this social distanced birthday party into a murder mystery party? Check out these sources for awesome murder mystery entertainment!
Birthday Cake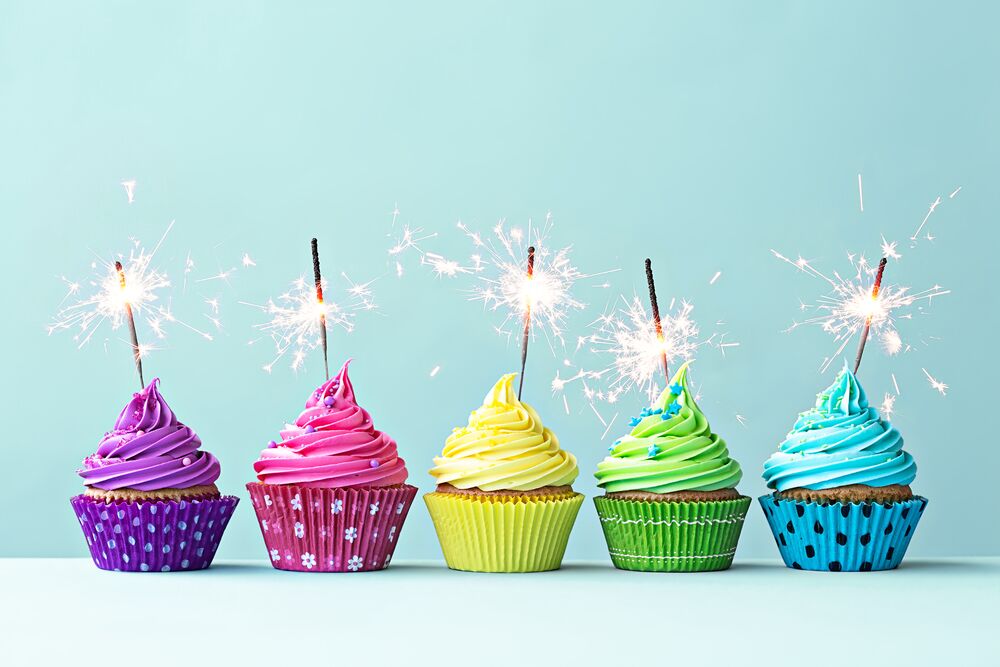 Photo: Ruth Black/Shutterstock.com>
Consider your options for a birthday cake. Instead of candles, opt for sparklers, so no one has to physically blow onto the cake.
Cupcakes are great for giving everyone their own individual serving, plus it'll let the one y'all are celebrating blow out their candles without worry. Check out your local bakery if you're not particularly confident in your baking skills.
Birthday Food
A safe and easy way to prepare the birthday grub is to make sure only one person is handling the food. An easy way to sort that out is to order in from the celebrant's favorite restaurant, or look to a caterer instead.
Birthday Drinks
As with safe food handling, you'll want to make sure your birthday cocktails are in order too. Consider hiring a bartender to make sure your drinks are handled safely — they'll help to avoid any drink mix-ups, and keep it sanitary.
Bonus: Check out these delicious cocktail recipes for inspiration on what to serve!
Virtual Birthday Party Backup Plan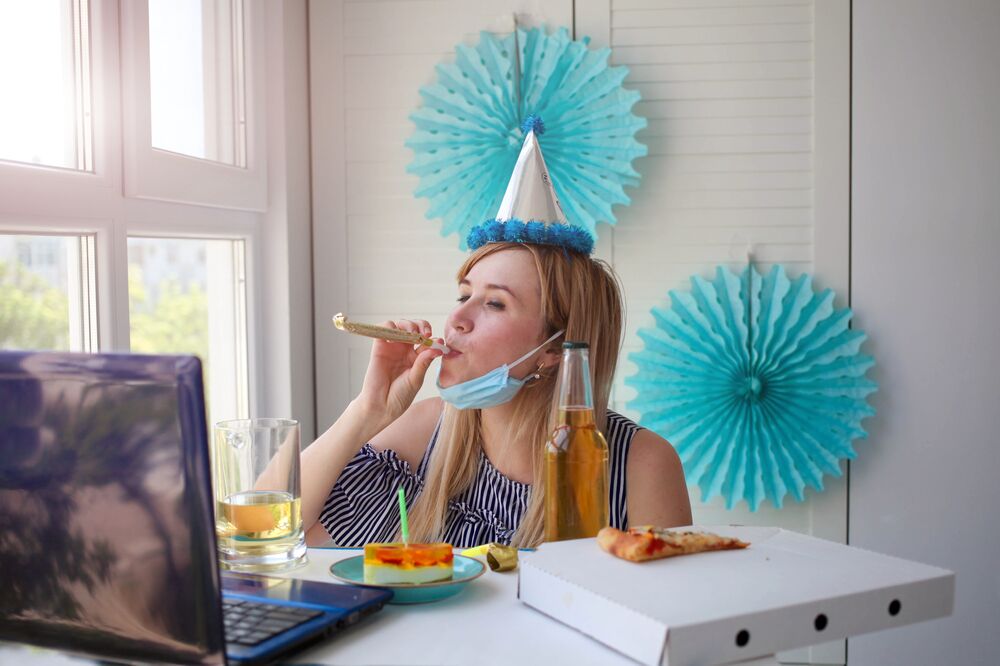 Photo: Smile23/Shutterstock.com
If celebrating IRL can't happen for some reason, don't panic. As long as you've prepared for a virtual birthday party alternative, you can still celebrate an awesome birthday! Choose your favorite video calling app and check out our guide on how to host a virtual birthday party for adults.
Pro tip:Include a virtual option on the invitations for guests who can't make it to the party, but who still want to join in on the fun. Pick a time slot people can virtually drop by, so all of the celebrant's loved ones can say happy birthday! 
Backyard Party

Photo: KeyStock/Shutterstock.com
If it's not absolutely freezing outside, why not host the entire socially distanced birthday party outdoors? Doing so can help minimize the possibility of COVID-19 transmission, and in turn, ease some of your guests' hesitations or concerns.
Make use of blankets and space heaters if you're worried about getting chilly, and be sure to tell your guests ahead of time so they can dress appropriately. For more tips on how to throw a party outdoors, check out our step-by-step guide!
Hire Party Entertainment
Aside from throwing a rager, a great way to throw a memorable birthday party is to hire entertainment. There are plenty of options available on the Bash, whether you're looking for virtual entertainment or a vendor to join the social distancing festivities. Some of our favorite options are:
Caricaturist
A caricaturist is a great source of entertainment for a birthday party, plus it gives your guests a small party favor they can go home with.
Interactive Game Show
Enjoy a unique game experience with interactive game show entertainment.
Live Band
Hire a band to play the birthday celebrant's favorite songs. Opt for a soloist or a DJ if you're worried about space or guest list limitations!
Magician
Add an air of mystery to your birthday bash with a guest appearance from a professional magician!
Comedian
Whether you're looking for a clean comedian, a stand-up artist, or something raunchier like a roastmaster, we've got tons of comedians on the Bash.
Bonus: For virtual party entertainment options, check out these 23 talented vendors that offer virtual services!
Require Guests to Get Tested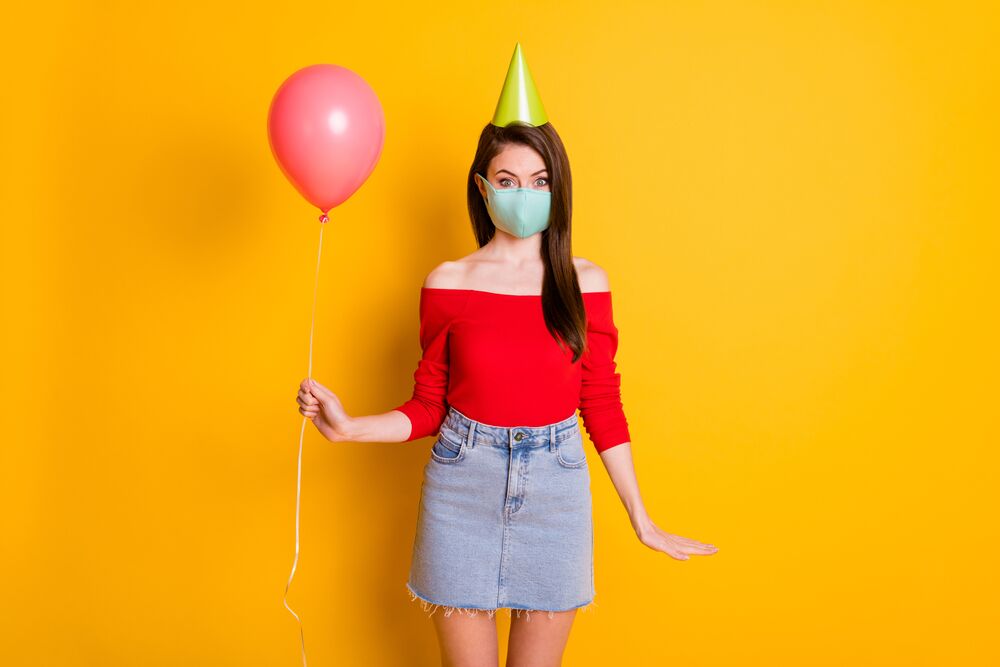 Photo: Roman Samborskyi/Shutterstock.com
As an added precaution, ask your guests to get tested a day or two before the birthday party if that's a possibility in your area. This will ensure everyone is healthy, safe, and anxiety-free!
Find more birthday celebration ideas on The Bash.
About Brittany Barber
Brittany Barber, lover of books, dogs, and romance, graduated from Bishop's University with a Communications and Theatre degree. After spending some time working abroad in the theatre world, she is now a freelance writer covering a range of lifestyle topics including wedding and event planning for The Bash, WeddingWire, 2life and Fluttr.