22 Christmas Party Ideas for Kids to Make the Holidays Magical
Bring the holiday magic to life!
The holiday season is a magical time for people of all ages, especially the little ones! With the hustle and bustle that comes with party planning, why not host a mini Christmas party just for the kiddos? You don't need to worry about perfecting an elegant place setting or making sure you've curated the perfect cocktail and appetizer pairing. These Christmas party ideas for kids will bring the holiday magic back this season.
From organizing plenty of reindeer games and food options, to booking festive entertainment and activities, you're not going to want to miss a detail for this heartwarming Christmas party. Sit back, relax, and get the festivities started with these Christmas party ideas for kids. Don't forget to use our helpful holiday checklist along the way!
Here are 22 magical Christmas Party Ideas for kids:
Polar Express Theme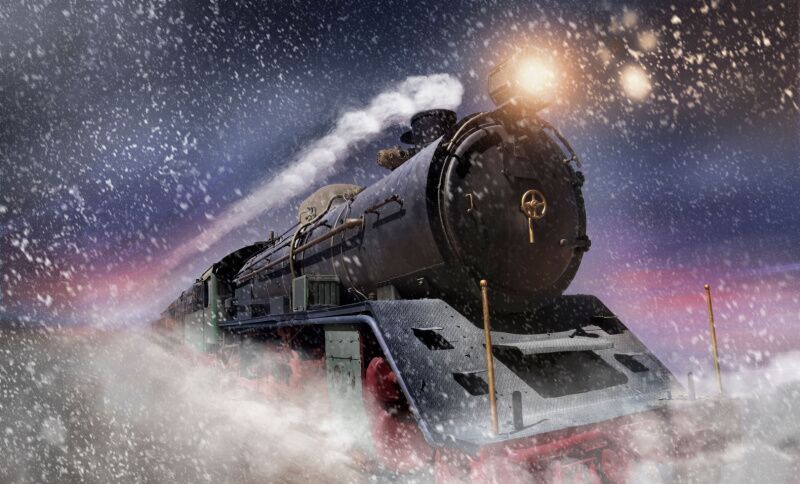 Photo: pixelschoen/shutterstock.com
Climb aboard to begin planning an unforgettable Polar Express Christmas party theme! The best part about this theme is that it's the perfect opportunity to host at home in an ultra cozy setting. Send train ticket inspired invitations with the classic gold lettering on the front and all the important party details on the back. Encourage guests to wear their holiday jammies, bundle up to watch the movie, and make sure to keep the hot chocolate flowing.
Polar Express Theme Party Guide
Letters to Santa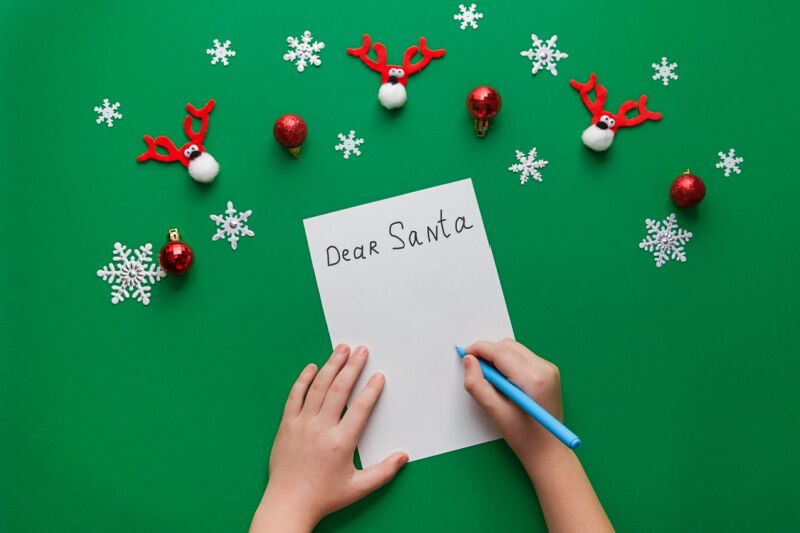 Photo: lp-studio/shutterstock.com
One of the best parts about Christmas time for the kiddos is making their wish lists and sending it straight to the North Pole. Set up a station at the party for guests to get creative and write their thoughts down. Make sure to include plenty of paper, markers, and other craft supplies so they can make their letters extra special. Next, you'll want to set up a big mailbox for the little ones to drop their envelopes in. Don't forget the stamps!
Santa Claus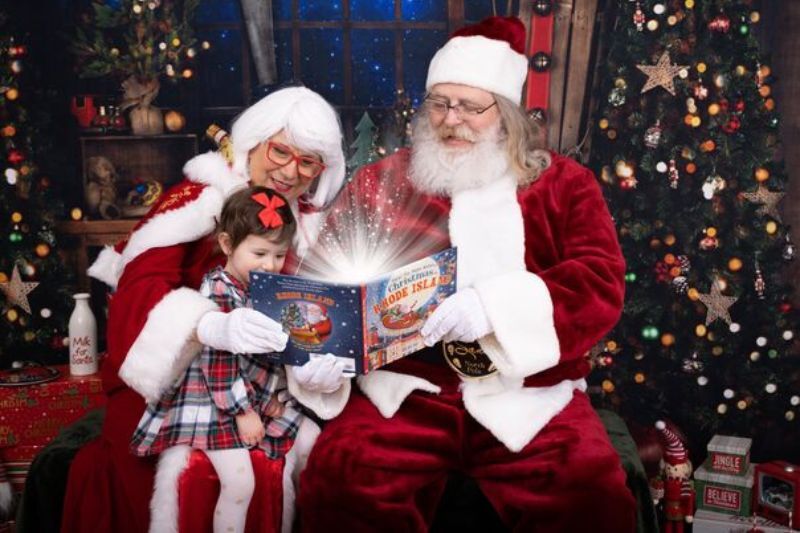 Vendor: Santa Phil, Mrs Claus And Their Magic Tesla 
Speaking of letters to Santa, no Christmas party is complete without a visit from the big man himself! Easily book a Santa character to surprise guests at the party for the ultimate touch of Christmas magic. Your child and their friends will be able to talk to Santa, share their holiday wishlist, and it also allows the perfect opportunity for parents to take pictures!
Pro Tip: You'll want to cherish this Christmas magic forever. Book a professional photographer to snap shots during this celebration.
Christmas Karaoke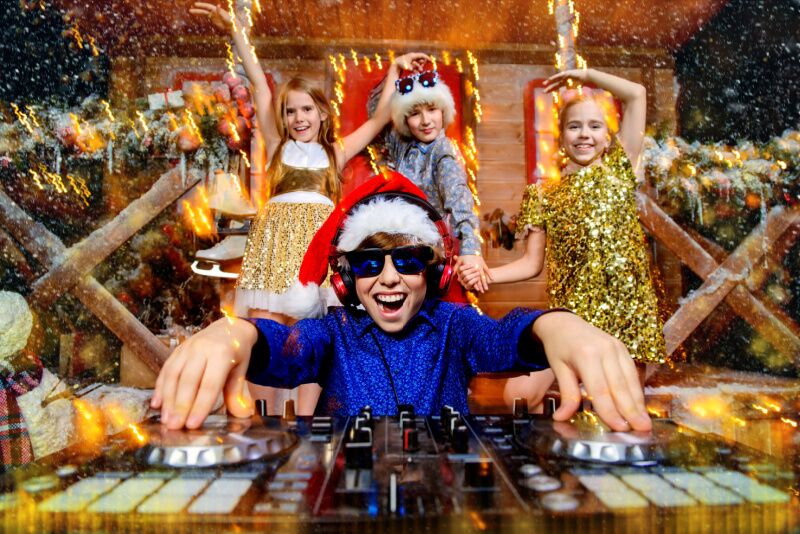 Photo: Kiselev Andrey Valerevich/shutterstock.com
Nothing beats the sound of Christmas music, and I'm sure the kids will agree! For a fun Christmas party idea for kids, host a karaoke party of holiday favorites. With the help of a karaoke DJ, your child and their friends will be able to sing hits like "Frosty the Snowman," "Rudolph the Red-Nosed Reindeer," and "Jingle Bells!"
Festive Mini Pizza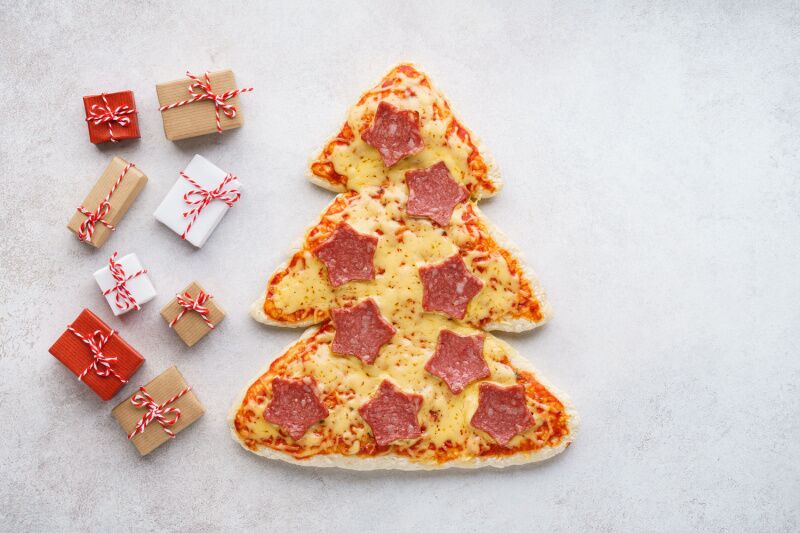 Photo: deryabinka/shutterstock.com
The tried and true kids party food is pizza—you can't go wrong! For a holiday touch, use cookie cutters and pre-made pizza dough to make shapes like stockings, snowmen, and santa hats. Then, guests will be able to dress their pizza with different sauces and toppings, so everyone gets what they want. One of the best Christmas party food ideas for kids is to keep it simple.
Hot Cocoa Bombs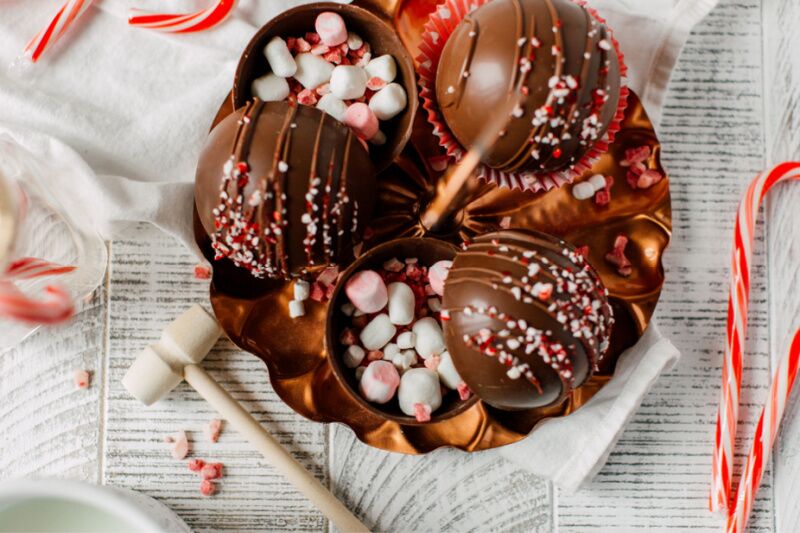 Photo: Katheryn Moran/shutterstock.com
You've seen them all over social media, but did you know they're incredibly easy to make? If you're looking for fun and festive ideas for a kids Christmas party, you'll want to DIY hot cocoa bombs. Start by melting a variety of chocolate, brush a thin layer into a sphere shaped mold, and let them chill in the refrigerator for a few minutes. Then let little guests fill their chocolate spheres with hot cocoa mix, crushed candy canes, mini marshmallows—the possibilities are endless.
Once the halves are filled, use a little bit of melted chocolate to bring both halves together. Guests can either wrap them and bring them home, or drop them in a cup of hot milk and watch them explode to make the perfect cup of hot chocolate.
Magician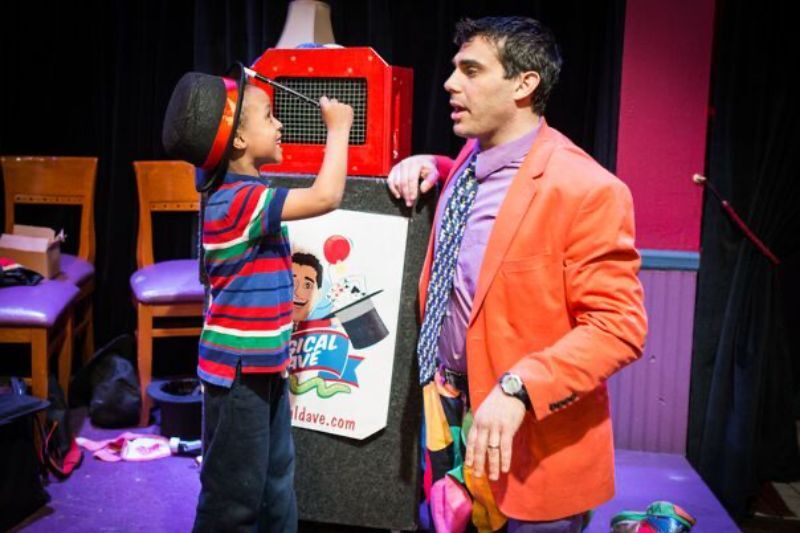 Vendor: Magical Dave
What better way to bring the holiday magic to the kids Christmas party than an actual magician? Browse local magicians to perform mind boggling tricks, incredible illusions, and maybe some Christmas themed acts that will leave everyone in awe.
How the Grinch Stole Christmas Theme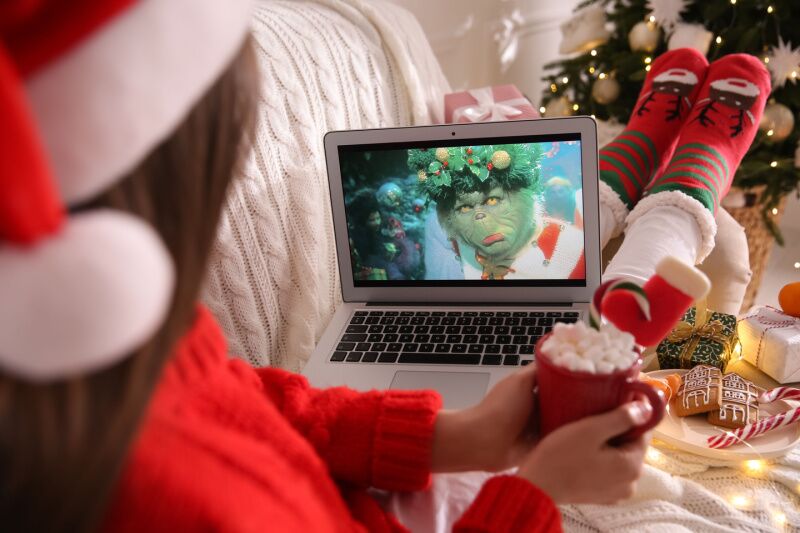 Photo: New Africa/shutterstock.com
If your kiddos are fans of The Grinch, they'll love diving into the world of Dr. Seuss for this unique Christmas party theme. Plan a Whobilation filled with colorful lights, a caricature artist to turn everyone into a Who, and of course, The Grinch himself! Browse local costumed characters to find a Grinch near you.
How The Grinch Stole Christmas Theme Party Guide
Candy Cane Catch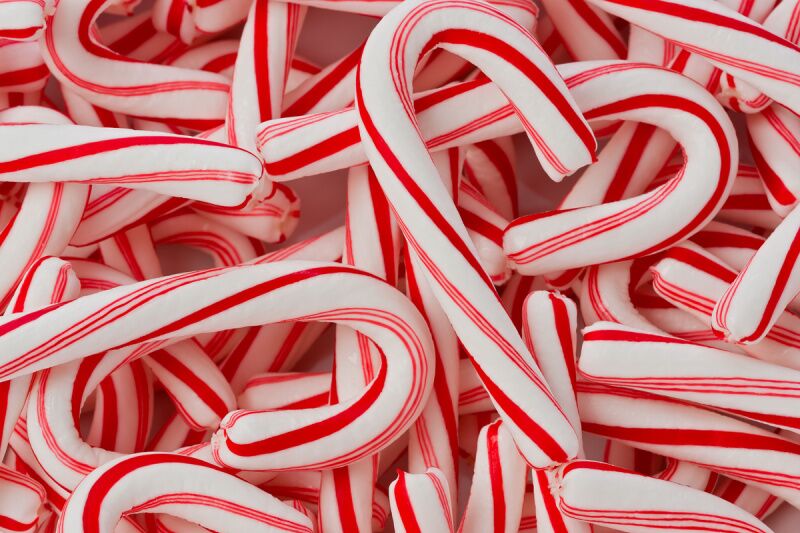 Photo: Glenn Price/shutterstock.com
Sometimes, the most simple things will keep the kiddos entertained, and we've got one of the best Christmas party games ideas for kids. All you'll need for this activity is plenty of candy canes, that's it! One at a time, guests will put a wrapped candy cane in their mouth with the hook at the bottom, with the goal to catch as many candy canes in one minute as they can. Make sure to have prizes on deck for the winners!
Reindeer Sloppy Joe Sliders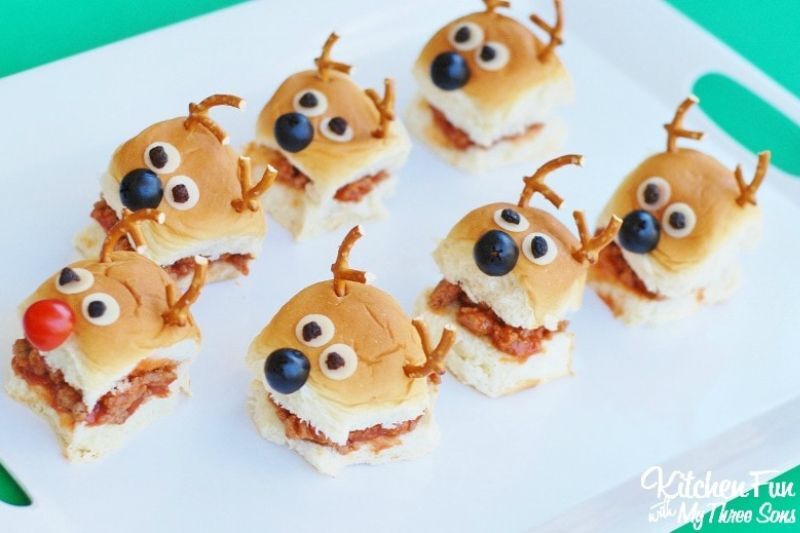 These reindeer Sloppy Joe sliders are going to be on top of your meal list this holiday season, plus they're one of the best Christmas party food ideas for kids. Decorating the buns with pretzels, olives, and other condiments to resemble reindeer, they will be the star of the party. Follow this recipe by Kitchen Fun with My Three Sons for an easy Sloppy Joe recipe. You can also do this with burger sliders too!
Snowman Donut Dessert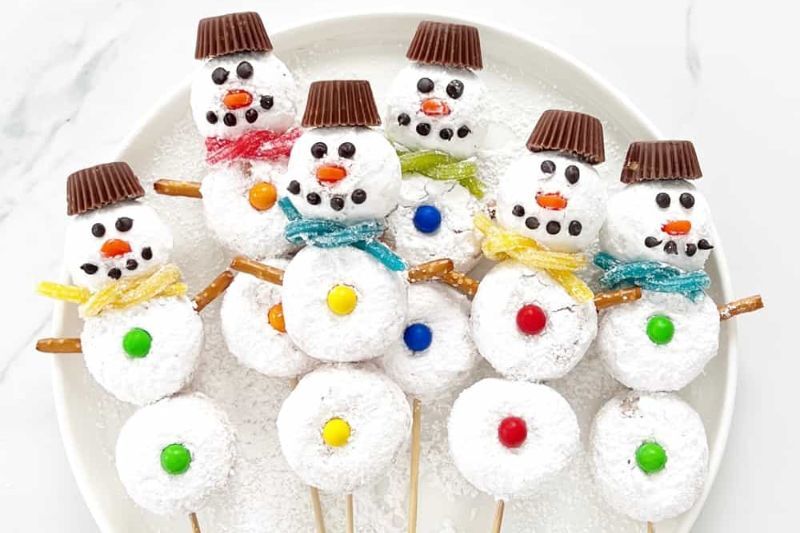 If you're on the hunt for creative food ideas for kids Christmas party planning, this dessert will be almost too cute to eat! You'll need skewers, powdered mini donuts and donut holes, mini peanut butter cups, black candy melts, and other sweet candy accessories. Assemble the snowman by putting two mini donuts and a donut hole on the skewer. Then dress them up with the peanut butter cup for a hat, pretzel stick arms, and other fun details. Visit Hello Yummy for inspiration.
Photo Booth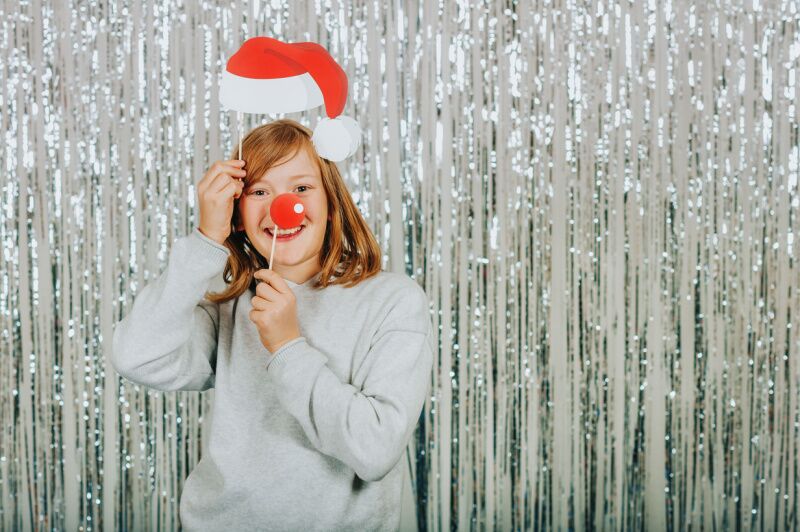 Photo: Anna Nahabed/shutterstock.com
A photo booth is sure to get the little ones excited and having fun at the party, plus it's the perfect way to incorporate the theme. Use festive backdrops, silly props, and some music to make a fun Christmas party idea for kids. Plus, everyone will be able to take home pictures to remember the magical party!
Frozen Theme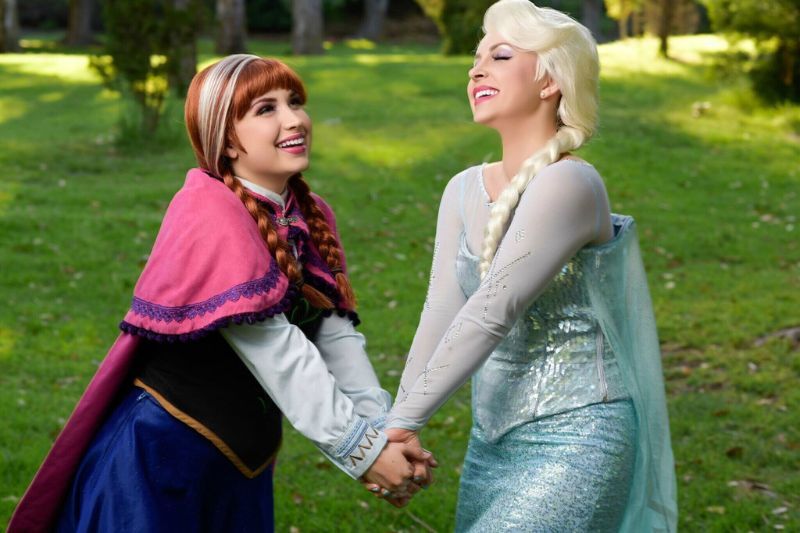 Vendor: Beverly Hills Princesses
The magical world of Arendelle will make one of the best Christmas party ideas for kids. To bring this Disney fairytale to life, you'll want to decorate your space with a blue, purple, and white color scheme, fake snow, and plenty of snowflakes. If you really want to elevate the winter wonderland experience, book Sven lookalikes, a face painter, and an appearance from Elsa and Anna themselves!
Reindeer Ring Toss
Get everyone involved in the holiday party fun with a reindeer ring toss game. Inflate the antlers and rings, and the kiddos will love taking turns to see who has the best aim. There are kits on Amazon, but this is also an easy DIY activity if you're feeling creative.
Food Cart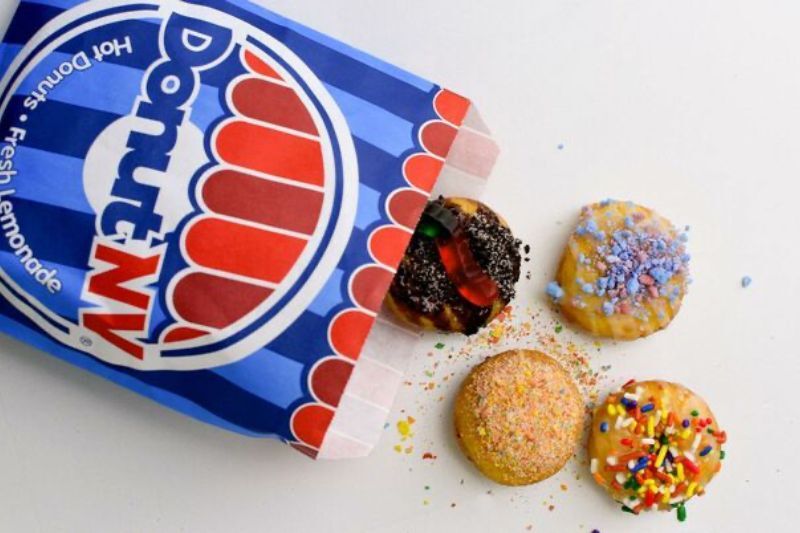 Vendor: DonutNV of Frisco/Plano
Rather than having a table of munchies and treats at the Christmas party, kids will love getting them from food carts instead. This unique Christmas party idea for kids is the perfect way for kids to grab a variety of food in an enjoyable experience. The Bash has food carts ranging from popcorn and soft pretzels, to ice cream and donuts. Start your search for local food carts now.
Gingerbread House Making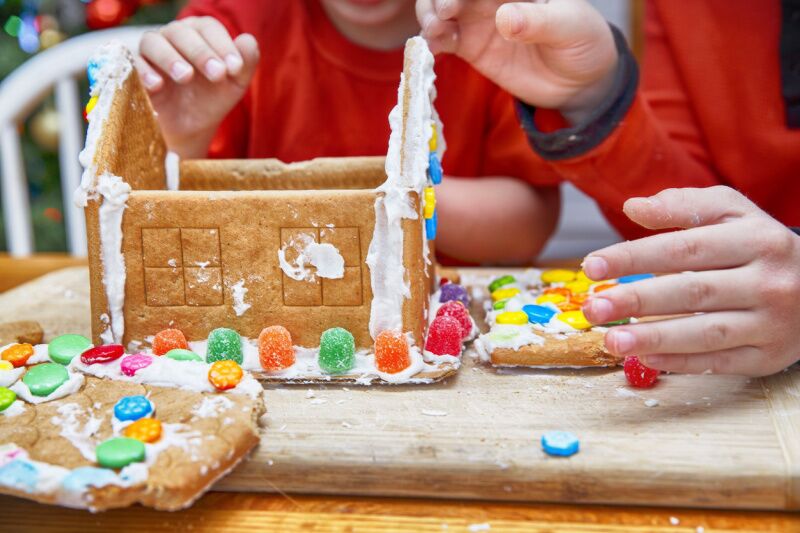 Photo: EvgeniiAnd/shutterstock.com
Gingerbread house or gingerbread men decorating is probably on your holiday bucket list, so why not do it as an idea for a kids Christmas party? You can either stock up on DIY kits, or you can always make mini houses out of graham crackers for a more cost friendly option. Make sure to have plenty of icing, gum drops, and other sweet treats to decorate!
Reindeer Bait
Reindeer bait is a definite way to make sure Santa Claus stops at your house on Christmas Eve, so you can never be too safe! To make reindeer bait you'll need uncooked oats, glitter, plastic bags, and creative labels with instructions on the best way to sprinkle it outside your home on Christmas Eve. Little guests can mix up their reindeer bait and take it with them to prepare for Santa's arrival.
Bounce House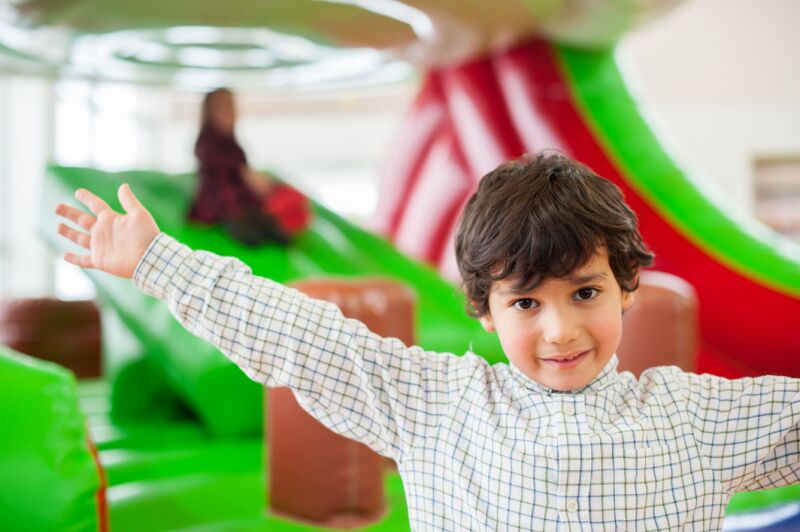 Photo: Zurijeta/shutterstock.com
The perfect way for kids to let out their energy at a party is a bounce house. If it's warm where you live during holiday time, this is a simple entertainment option to set up outside. If you'll be inside for this celebration, you can always rent a mini festive bounce house that will fit in your living room. Browse bounce houses for holiday inspired castles and buildings that will make an exciting Christmas party idea for kids.
DIY Ornaments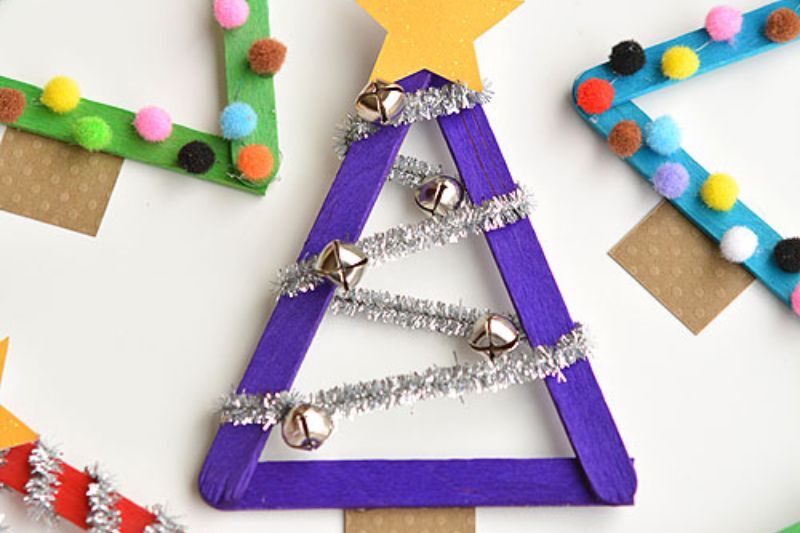 Christmas gives the perfect opportunity for crafts, plus, who doesn't love receiving a handmade gift? Using popsicle sticks, twine, and other crafts supplies, the kiddos will easily be able to make Christmas tree ornaments for a fun party activity. For the full list of instructions and inspiration, visit One Little Project.
Melted Snowman Oreo Balls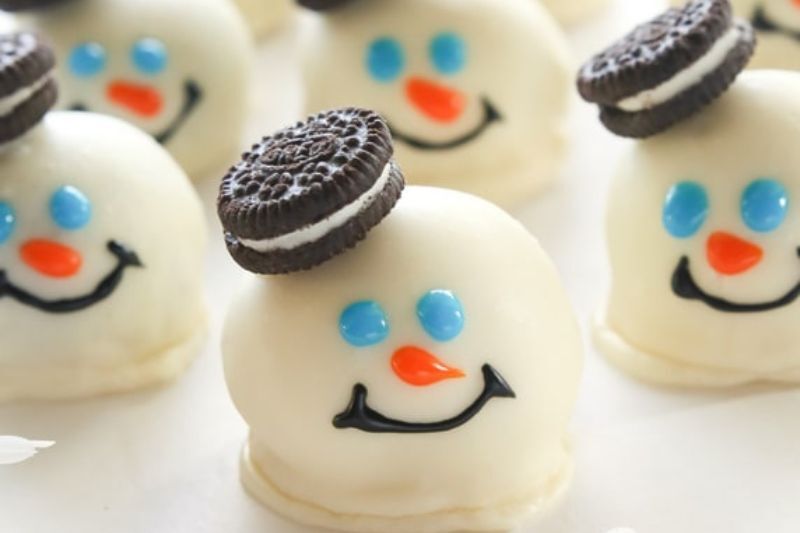 Oreos, cream cheese, vanilla candy melts, and mini Oreos will make an adorable Christmas party food idea for kids. Crush the Oreos, mix with the softened cream cheese, and form into balls. Next, dip each ball into the white candy melts and place onto wax paper to harden. You can then decorate the snowmen heads however you want to make a picture perfect dessert option for the kids. Get the full recipe from The Girl Who Ate Everything.
Christmas Carolers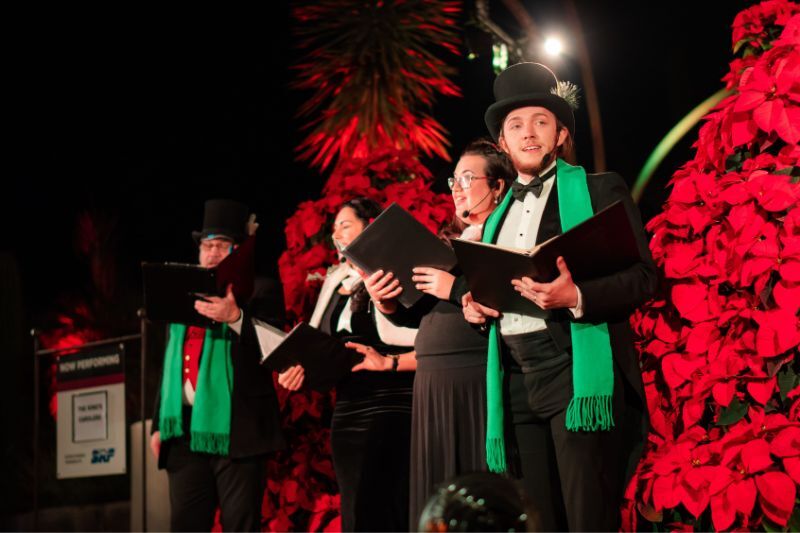 Vendor: King's Carolers - Tucson
Having carolers at a kids Christmas party can add a magical touch to the festivities. Not only will it entertain the children, but it'll also bring the holiday spirit to the adults in attendance. If you're considering booking Christmas carolers for your event, you'll want to determine a budget, browse groups on The Bash, and submit a free price quote.
Santa Crunch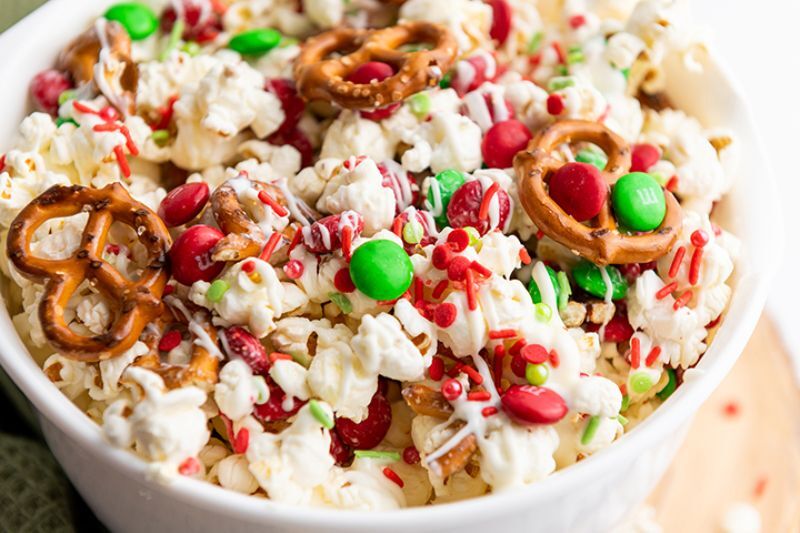 This sweet, salty, and colorful treat makes the perfect Christmas party food idea for kids to enjoy. With popcorn, pretzels, white chocolate, sprinkles, and M&Ms, this snack is not only delicious, but incredibly festive. Visit Artsy Fartsy Mamma for the full recipe.
Find more Christmas party inspiration on The Bash!