24 Nursing Home Entertainment Ideas For Seniors
Add these entertainment ideas to your activity calendar this year.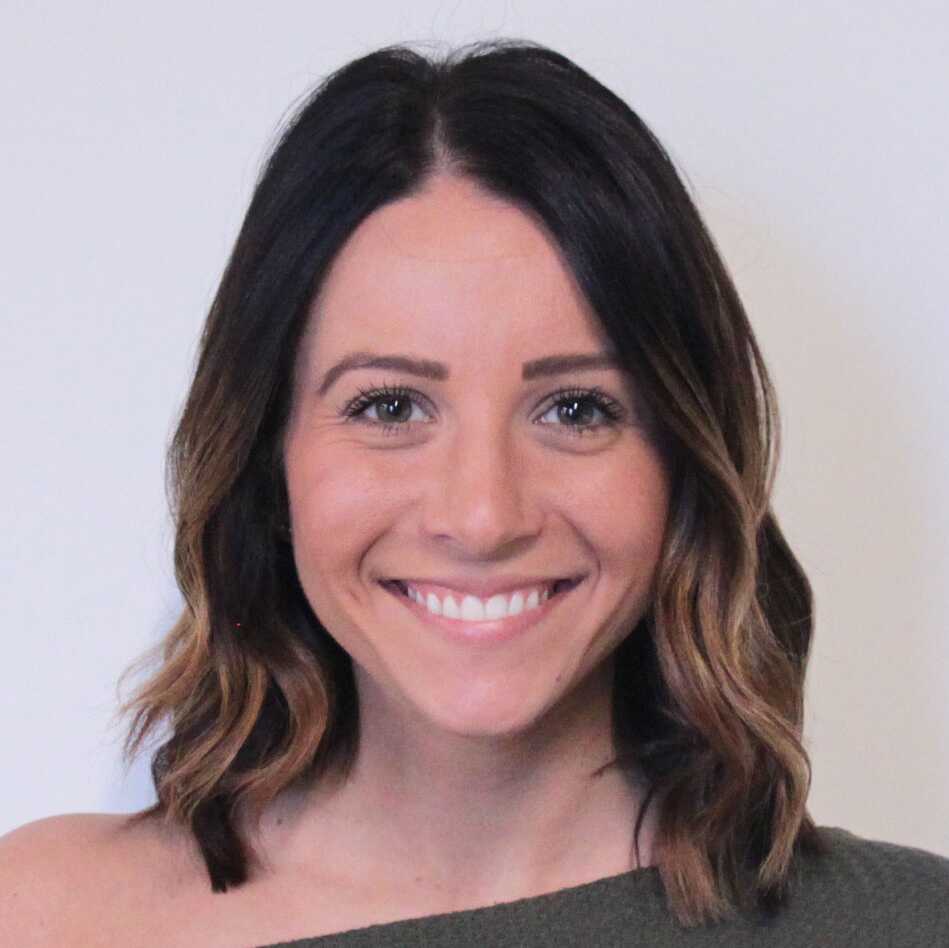 When planning your recreational assisted living calendar, you want to find new ideas to keep the seniors and residents excited and entertained. Activities that are seasonal or related to holidays are a great place to start with entertainment ideas for seniors.
We've put together a list of nursing home entertainment ideas, outlined monthly, that you can add to your activity calendar. Besides the classic board games and other physical activities, these entertainment ideas will be fun for nursing home residents, a retirement community, and their family members.
Download or print this assisted living activity calendar with nursing home entertainment ideas to keep on hand the next time you're planning.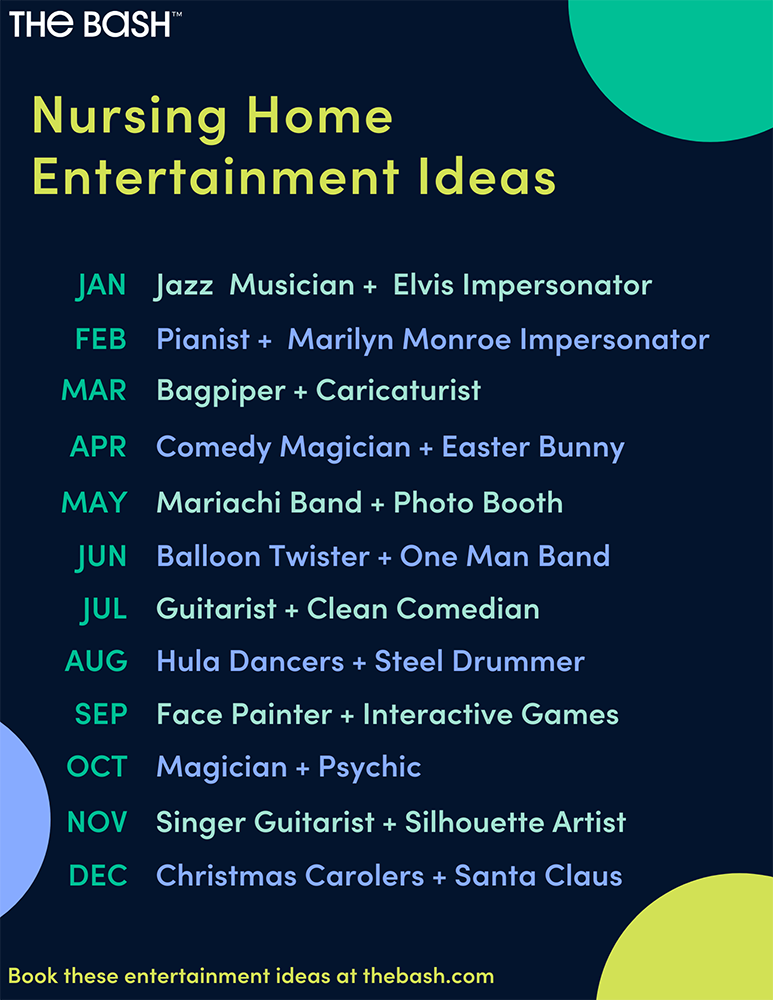 These 24 nursing home entertainment ideas will be the perfect addition to your assisted living activity calendar.
January

Jazz Musician
Ring in the new year with some classical live jazz music. With the horns and vocals, residents can dance to the hits of Ella Fitzgerald and Miles Davis and kick off the New Year in a memorable way.
Elvis Impersonator
Celebrate the king's birthday (January 8th)! Your residents will love the opportunity to hear their favorite Elvis hits. The appearance will make for a great photo opportunity too!
February
Pianist
Plan a sweet Valentine's Day celebration and let a pianist serenade those in attendance. Whether the seniors want to dance or sit back and enjoy the tunes, you know love will be in the air.
Marilyn Monroe Impersonator
Between the famous hit songs, interactions with the audience, and pictures that'll be cherished forever, you can't go wrong with a visit from a Marilyn Monroe Impersonator.
Find a Marilyn Monroe Impersonator
March
Bagpiper
Nothing screams St. Patrick's Day quite like a visit from a bagpiper. Have this traditional Irish music throughout your nursing home while the bagpiper plays from room to room.
Caricaturist
A couple of hours with a caricaturist will be exciting for all seniors and residents. Most caricaturists can draw individuals in a short time, and you have your own picture to take back with you.
April
Comedy Magician
No April fools jokes here! Residents will be transfixed on the magic tricks, while laughing through the comedy show—the best of both worlds! 
Easter Bunny
Whether it's for nieces, nephews, grandchildren (even great grandchildren), or just a quick visit for the seniors, the Easter Bunny is a great nursing home entertainment idea for all ages. 
May
Mariachi Band
You can't celebrate Cinco de Mayo without a real mariachi band. Bring in a mariachi duo or trio to walk through the assisted living facility and play some traditional mariachi music. You never know who might get up and dance!
Photo Booth
From Mother's Day to Memorial Day, there's plenty of days to bring in a photo booth. Coordinate props with the holiday or work with the vendor to have them supply what they have in stock. These days, you can even have an easy-to-use  open air photo booth.
June
Balloon Twister
While this may not seem like a traditional nursing home entertainment activity, balloon twisters can be fun for all ages! Plan to have this vendor attend on a weekend when friends and family will be visiting for extra fun.
One Man Band
Celebrate Father's Day weekend with a one man band. Find a performer who can play hits from all decades with various instruments to make sure there's something for everyone.
July 
Guitarist
Play some American classic hits for 4th of July. Set up outside, enjoy the sunshine, and have everyone listen to mellow, laid back music, together.
Clean Comedian
Liven up a night in with a clean comedian. A clean comedian will have seniors belly laughing without sharing anything too inappropriate.  
August
Hula Dancers 
The end of the summer is the perfect time for a luau. Hula dancers can perform and even teach some lessons to the nursing home residents.
Steel Drummer
Transport seniors to the tropics with the cool vibes of a steel drummer. We guarantee their quality of life will be improved after a few minutes of the steel drum tunes while sitting outside on a summer day.
September 
Face Painter
Cue the back to school vibes, invite family and friends, and let the seniors and residents spend time feeling nostalgic and reliving their youth.
Interactive Games
Host a casino or trivia night when you book an interactive game show! Split seniors up on teams and get ready for an afternoon or night of competitive fun.
October
Magician
Get into the spirit of the season with a magician! With many magicians you can choose whether they perform a show or strolling magic—both of which are a good idea to add to your assisted living facility activity calendar.
Psychic
Right before Halloween, bring in a psychic to talk with seniors and learn more about their lives. They'll enjoy talking about the past and future with a whimsical psychic.
November
Singer Guitarist
Serenade Thanksgiving dinner! Nursing home and senior residents will love listening to music during their meal together. A singer guitarist can play a wide range of music fit for any nursing facility.
Silhouette Artist
Seniors living in the nursing homes will love to frame and hang up a custom silhouette. This unique activity is perfect for older adults.
December
Christmas Carolers
A sing-a-long with classic holiday tunes and some professional Christmas carolers will be an unforgettable experience to add to the activity calendar.
Santa Claus
Nothing will get you into the holiday spirit more than a visit from Santa Claus (any maybe Mrs. Claus!). Whether it's the weekend before or a Christmas eve appearance, this will be a special moment the seniors will cherish.
Now that you have tons of nursing home activity calendar ideas, you can start booking the entertainment here on The Bash.