Bewitching Ideas for a Practical Magic Themed Party
"There's a little witch in all of us."
Magic, love, and sisterhood, what more can you ask for in a movie? If you're a fan of the 1998 classic, Practical Magic, this is your sign to bring the enchantment to life for your next get-together. Although this film isn't directly about Halloween, the witchy vibes are perfect to celebrate October 31st or just add a fun twist for your fall celebration. Regardless of the reason, a Practical Magic themed party is sure to be extra memorable.
If you enjoyed the story of Sandra Bullock and Nicole Kidman's characters finding love, discovering the power of their magic, raising a family, all while overcoming a family curse, you'll want to incorporate details from this nostalgic '90s movie in your next Halloween party, birthday celebration, or even bachelorette weekend.
Keep reading for Practical Magic themed party ideas...
Magician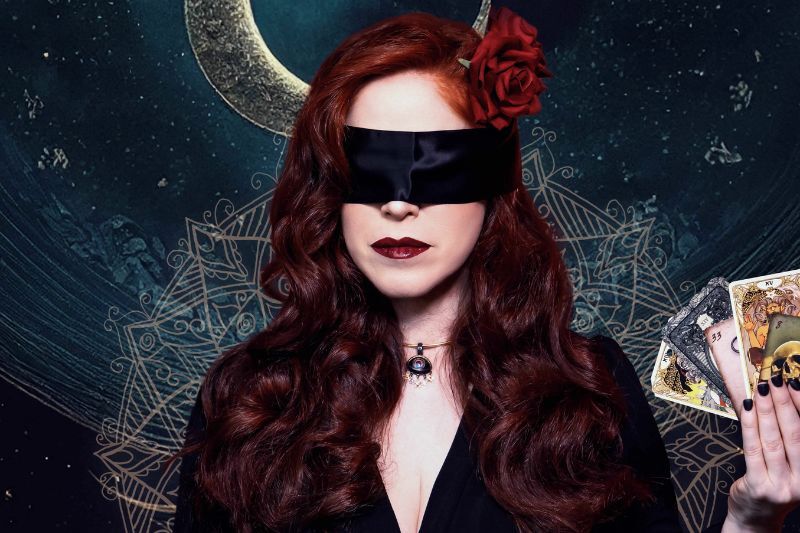 Vendor: Madam Zola And The Master 
Is it even a Practical Magic theme party without a few tricks? Book a magician to perform card tricks, sleight of hand, and maybe even incorporate a few magic spells. Many talented magicians can tailor their shows to fit a theme, so communicate with them beforehand to see what other Practical Magic tricks they have up their sleeve.
Midnight Margaritas
A Practical Magic themed party needs midnight margaritas, we don't make the rules! Whip up a big batch of your favorite margarita recipe including tequila, lime juice, orange liquor, simple syrup, and serve over ice with a salt rim. If you really want to make Sally, Gillian, and the aunts proud, swap the tequila for mezcal that will create a more smoky and herbal margarita. Don't forget to dance around the kitchen to "Put the Lime in the Coconut!"
Cactus Shaped Pancakes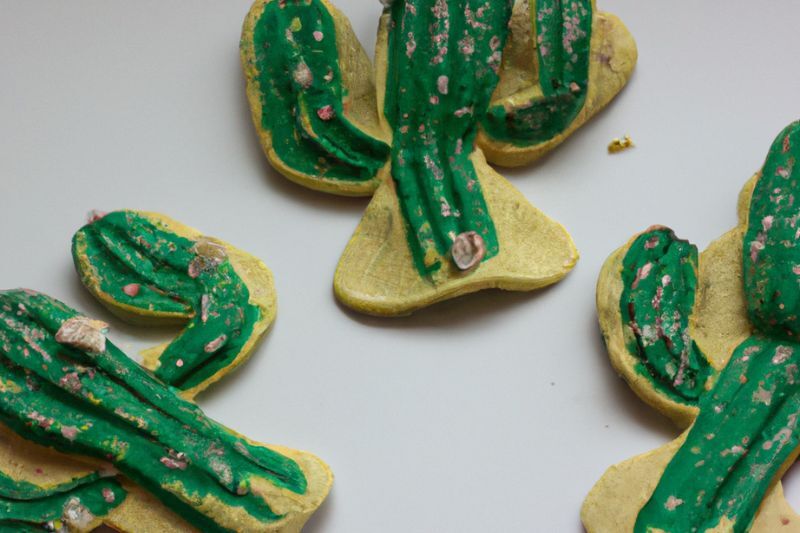 Photo: Canva.com
Who doesn't love a little breakfast for dinner? Fill your table with all of the morning classics: bacon, eggs, and of course, cactus shaped pancakes with fresh maple syrup. Bonus points if you can flip them in the air!
If you need to be under a spell to be in the kitchen, book a professional catering team to whip up plenty of Practical Magic themed party food and treats.
Roses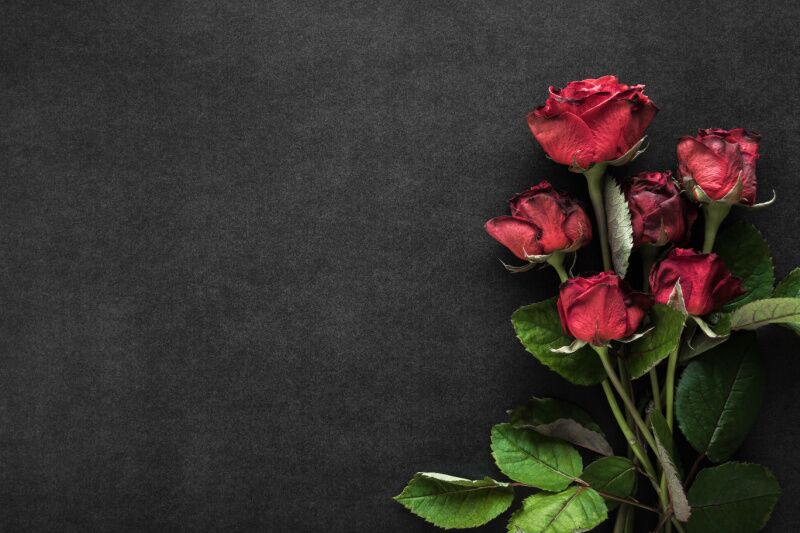 Photo: FotoDuets/shutterstock.com
Fill your space with gorgeous red roses for the perfect Practical Magic themed party decor detail. The combination of rich color from the petals, deep green leaves and stems, and their sharp thorns capture the dark tones of Practical Magic. Don't worry, decorating with these won't guarantee an appearance from Jimmy Angelov.
Lotions and Potions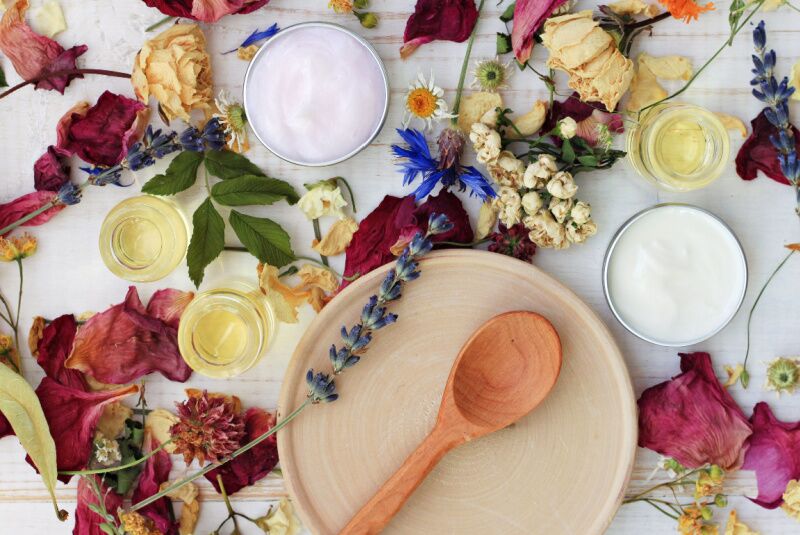 Photo: Anna Ok/shutterstock.com
If you've ever wanted to try some of Sally's shampoo and lotions from her store, now's the perfect opportunity to get creative with party activities. Gather materials and set up a station for guests to make their own body scrubs, perfumes, and other beauty products. Complete the DIY craft with essential oils like lavender, tea tree, and lemongrass.
Tarot Card Reader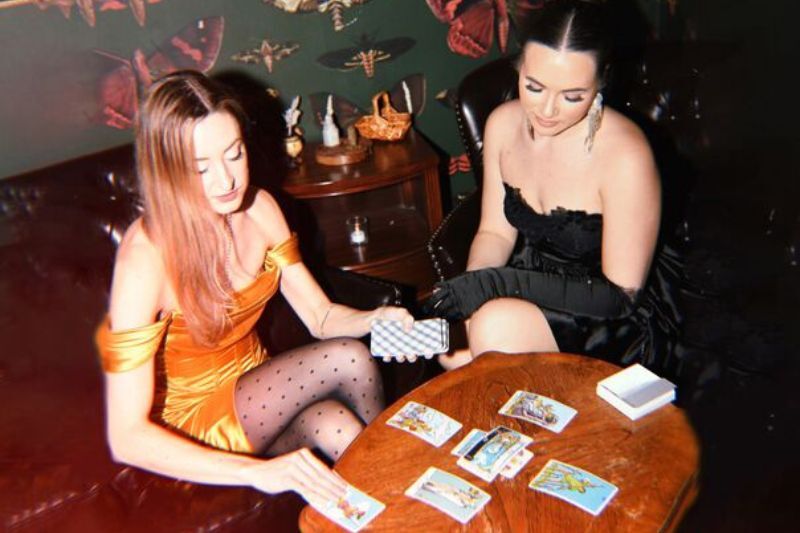 Vendor: Tinsley Tarot | Tarot Reader & Sound Bath Healer 
Create an authentic and bewitching atmosphere at your Practical Magic themed party with the talent and power of a tarot card reader. These entertainers have supernatural abilities and powerful insights that are sure to keep guests engaged during the interactive experience. Not only will tarot card readings be a conversation starter, but the candles, crystals, and deck of illustrated cards they bring will help channel the witchy vibes.
Chocolate Cake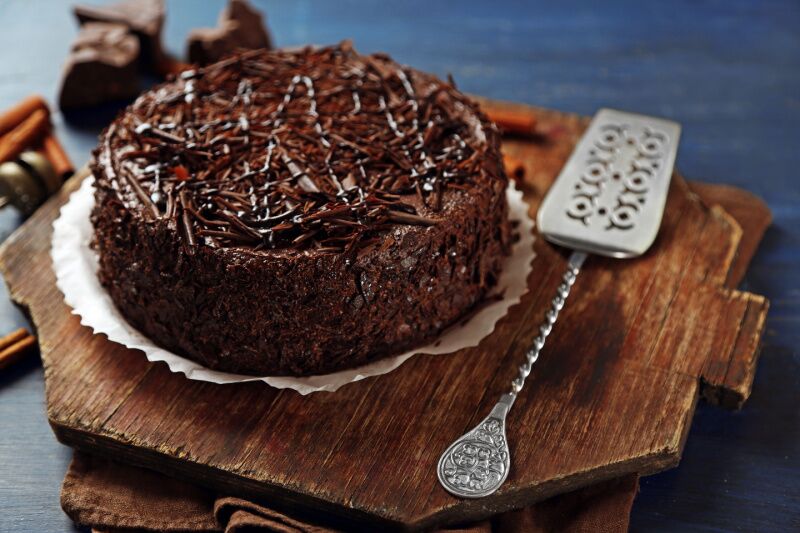 Photo: Africa Studio/shutterstock.com
If planning a Practical Magic themed birthday party, the guest of honor needs to blow out candles and make a wish on top of a delicious, sweet chocolate cake, just like the aunts are known to make. You could also incorporate this movie detail by whipping up a batch of chocolate cupcakes instead to make things a little easier. No matter what, you can definitely eat the leftovers for breakfast!
Tablescape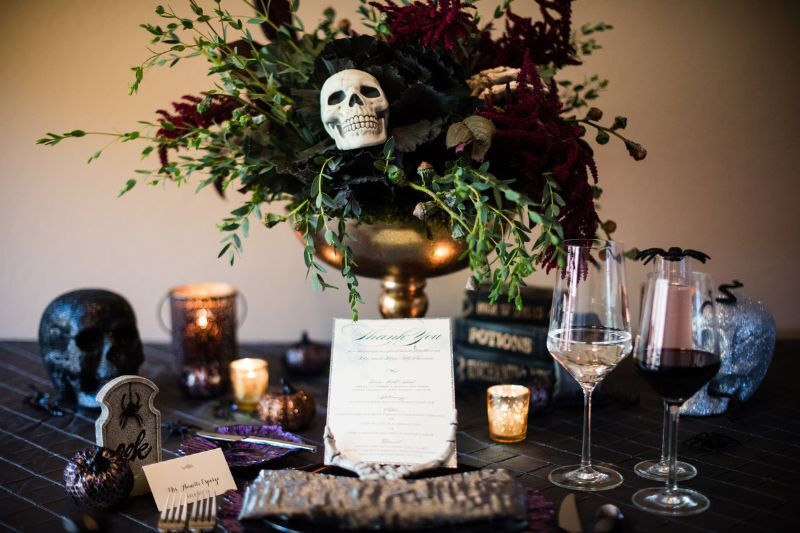 Photo: Julius Photography
Your Practical Magic dinner party's focal point is definitely going to be the tablescape, so don't be afraid to get creative. Start with a lace tablecloth as a base and thrifted, mismatched plates and glasses to channel old-world charm. Next, fill the table with a crystal ball, candles, fake moss, night blooming flowers, and calligraphy name cards for a rustic touch. Stick with earthy tones like greens, browns, and whites for other details.
Lavender Martini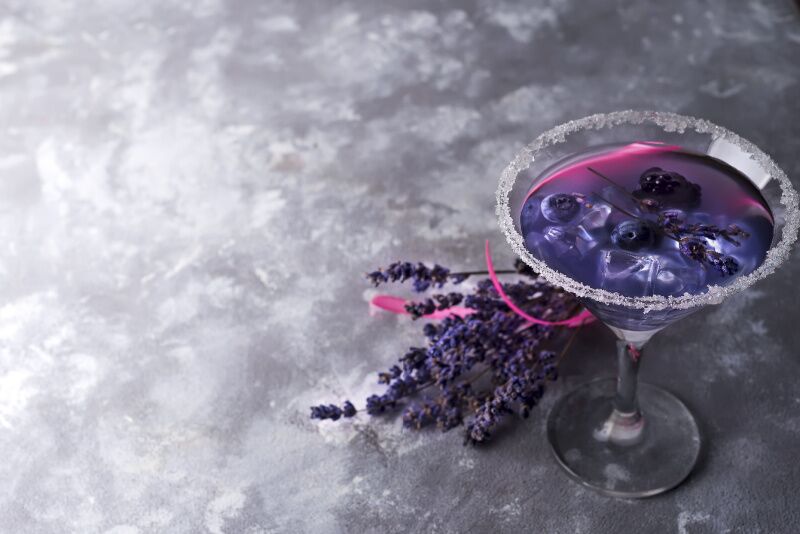 Photo: Yuliia Mazurkevych/shutterstock.com
Lavender is known to bring good luck and is also a delicious ingredient to incorporate into your favorite cocktail. Mix together vodka, lemon juice, and lavender syrup to make a refreshing floral drink that is sure to ward off evil.
Autumnal Grazing Board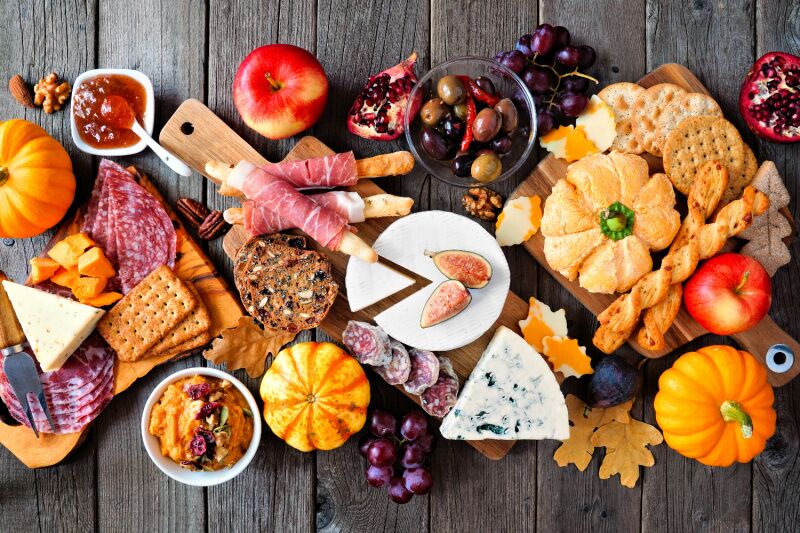 Photo: JeniFoto/shutterstock.com
Grazing boards are a staple appetizer at any type of party. For a Practical Magic themed celebration, tap into the fall feeling of the Massachusetts setting by including dried fruits, nuts, and gourmet cheeses. Serve with plenty of rosemary crackers and fig jam for the perfect party snack.
Candles and Lanterns
Create an ominous and glowy ambience by using white candlesticks with different heights, sizes, and shapes. Incorporate lanterns into this lighting display that make the space feel warm and mystical to illuminate your Practical Magic theme party.
Bewitching Music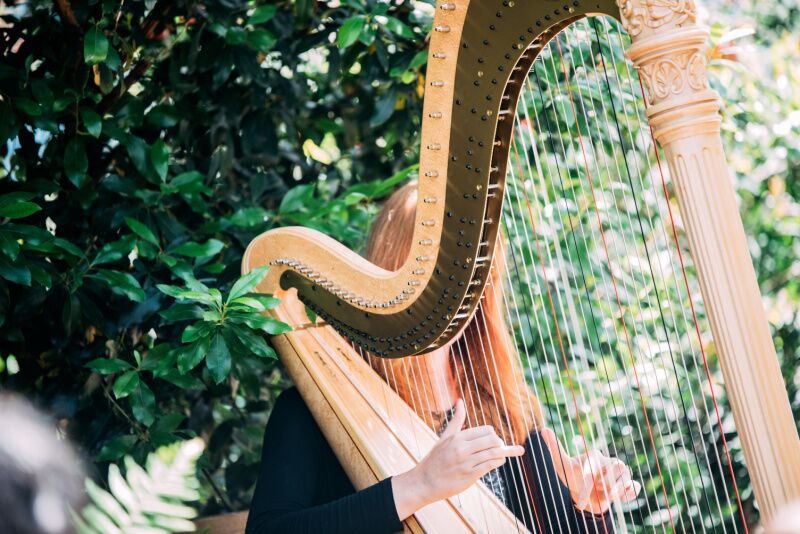 Photo: David Prado Perucha/shutterstock.com
In addition to all the candles and botanicals, the best way to capture the witching world of Practical Magic is with live music. Consider booking a DJ to play a mix of songs from the movie and other witchy tunes like Fleetwood Mac's "Rhiannon" or Stevie Nicks' "Crystal." If you would rather listen to a live musician, an acoustic guitarist, flutist, or harp player will help bring the magic to life.
Sheriff Star Cookies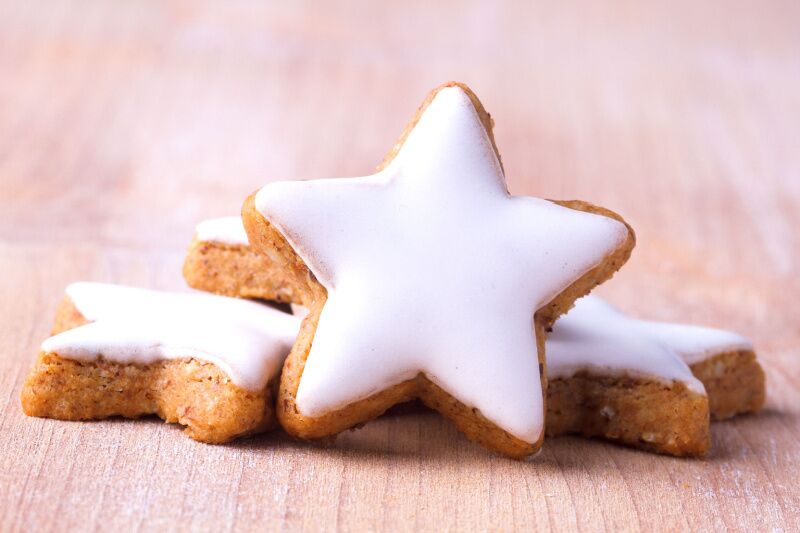 Photo: Tatiana Frank/shutterstock.com
Investigator, Gary Hallet, saved Sally and Gillian with his police badge that was shaped like a star. The best way to incorporate this movie detail into your party is by whipping it up into a delicious dessert. Make your favorite sugar cookie recipe and cut them into star shapes. Next, decorate them to resemble sheriff stars that will be a special addition to your dessert spread.
Apothecary Bar Station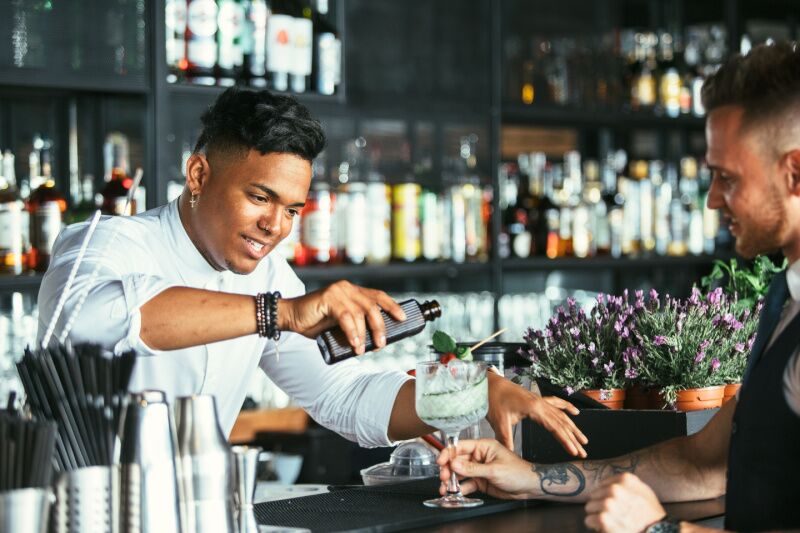 Photo: Click and Photo/shutterstock.com
Cocktails are some of the most important potions you'll be brewing at this get-together, so why not hire a bartender? A professional bartender will mix up the magic to make plenty of midnight margaritas, witches brew, and delicious mocktails for guests. Set up a space with rustic charm by decorating with glass vials, candles, and greenery. This will help make the bar area look like an old school apothecary station.
Floating Witches' Hats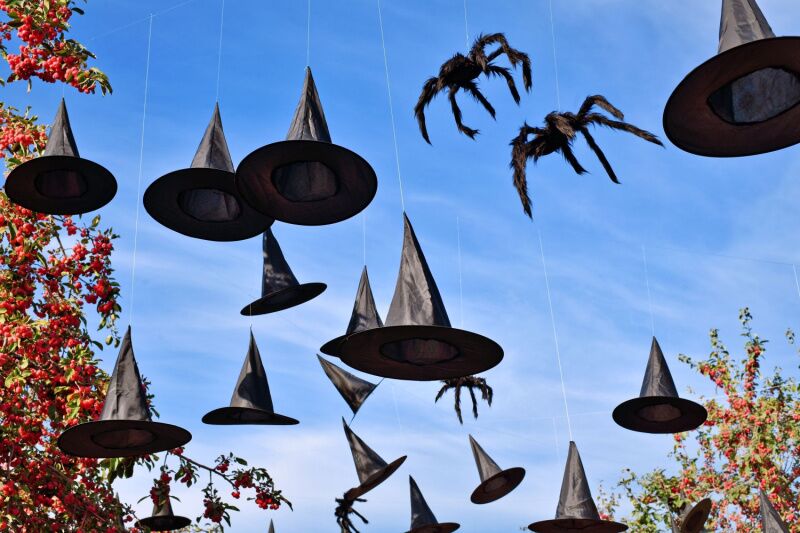 Photo: Firn/shutterstock.com
Decor details like this will help bring the magic of the movie to life. Get witches hats of all different sizes and suspend them from your ceiling using clear fishing line. This will set a magical scene and double as a perfect photo opportunity.
Fortune Teller
Vendor: Savannah Psychics
Guests will love to learn more about their fate and future at this bewitching party, and a fortune teller does just that. This interactive party entertainer can share a glimpse ahead into people's love life, careers, the possibilities are endless. The best way to bring the magic to life at this party is with an authentic fortune teller.
Herbal Tea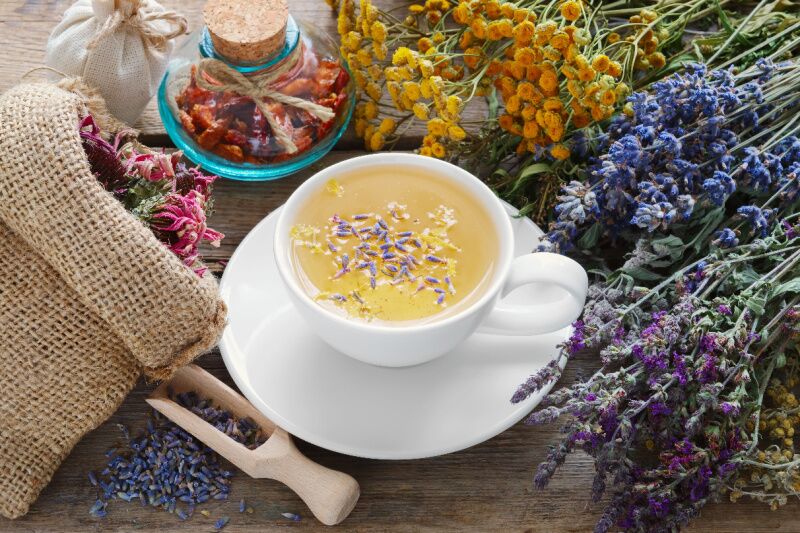 Photo: LN team/shutterstock.com
The Owens women are no stranger to the power of botanicals, so what better way to incorporate this magic than by ending the celebration with a delicious glass of herbal tea? Serve a variety of tea including elderflower, chamomile, or peppermint flavors in vintage tea cups. Guests can garnish their glasses with fresh herb sprigs, slices of dehydrated fruit, or even edible flowers if you set up a tea station.
Photo Booth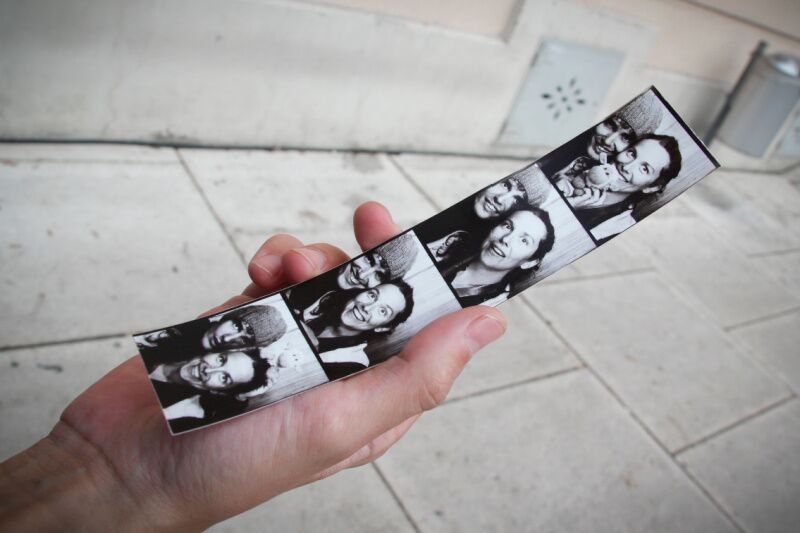 Photo: Jos Temprano/shutterstock.com
Capture all the magic and enchantment of this Practical Magic themed party with a witchy photo booth. Set up props including witch hats, brooms, and vintage frames that will make it look like the Owens' old Victorian home.
Wine Glass Painting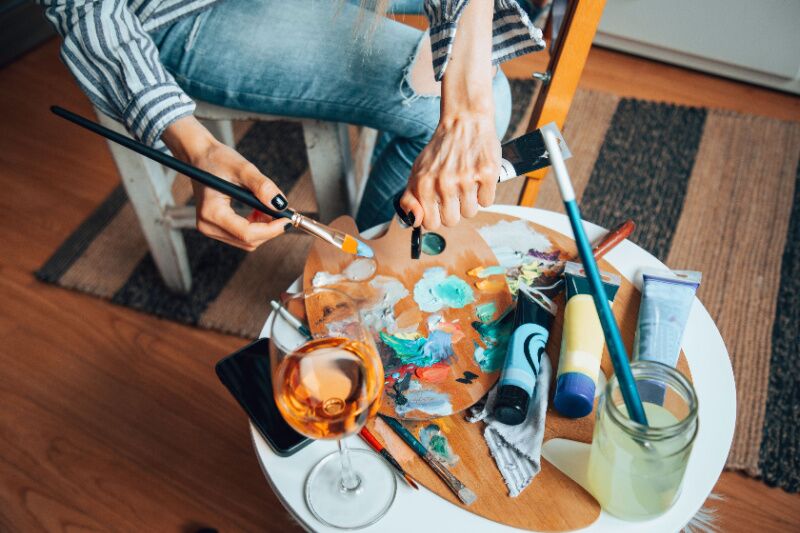 Photo: Kitja Kitja/shutterstock.com
Who doesn't love a party activity that doubles as a party favor? Get wine glasses from your local craft store and glass paint so guests can get creative. People can paint fall leaves, witch hats, or even write "beware of Belladonna."
Witchy Attire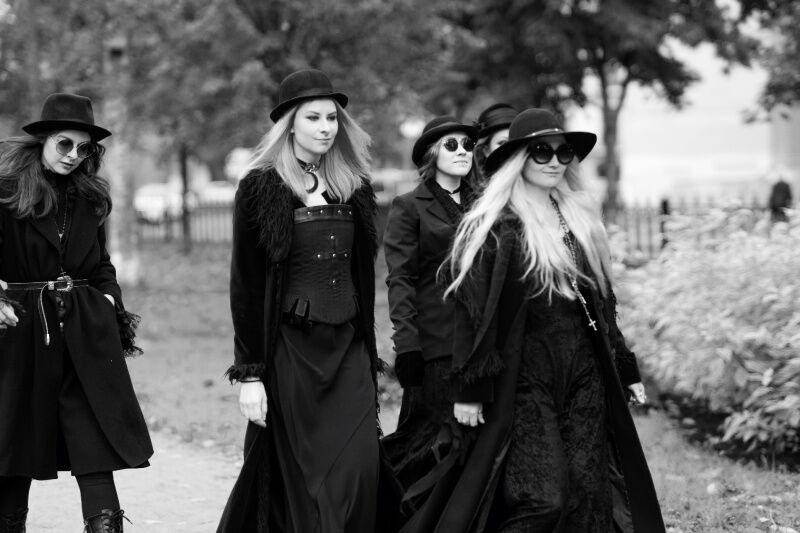 Photo: Trismegist san/shutterstock.com
Everyone has a little witch in them, so you'll probably have something in your closet to work for this party. Any type of flowy dress, black top, or scarves will help create a bohemian, witch inspired outfit. Don't be afraid to pull out your witch hat from your costume bag to complete the look.
Deathwatch Beetle Chocolate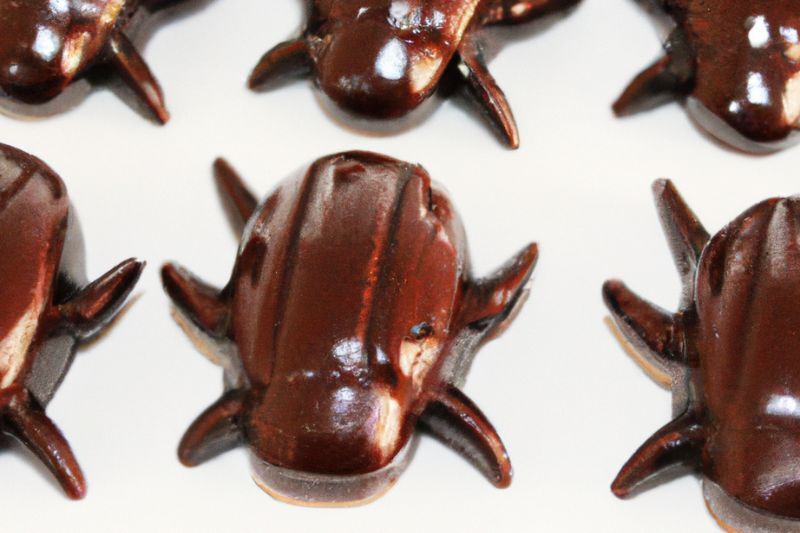 Photo: Canva.com
You won't have to worry about hearing the clicking of the Deathwatch beetle at this party. Incorporate this movie detail into your party in a much sweeter way, dessert. All you'll need is a beetle shaped mold and your favorite chocolate. Melt the chocolate down, pour into the mold, and let it solidify. Once these beetles are ready, you'll be able to plate them on the dessert table or add them as garnishes to other treats. You can also make beetle shaped ice for your midnight margaritas!
Witches Brew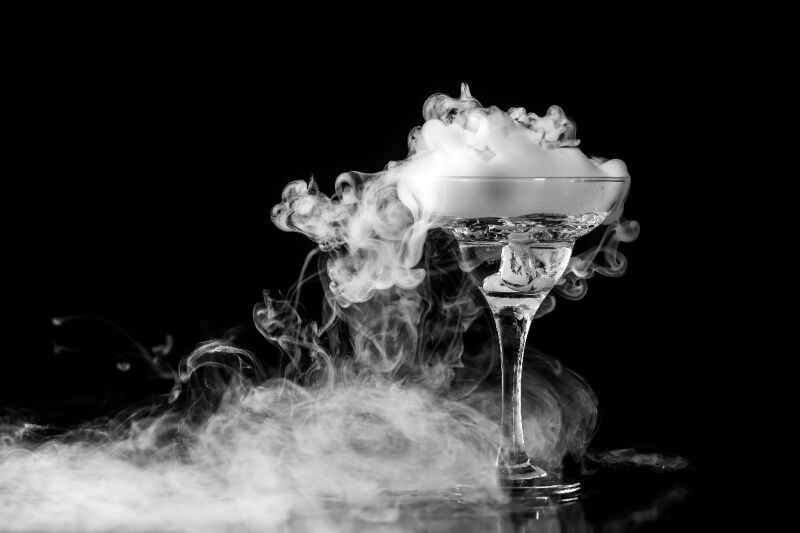 Photo: Andrei Mayatnik/shutterstock.com
Any type of party punch will make a delicious cauldron of witches brew. Mix up your favorite recipe using a blend of fruit juices, soda, and alcohol for a sweet Practical Magic themed drink. Sprinkle and Sprouts uses vodka, raspberry liqueur, and lime juice to make a gorgeous batch of purple witches' brew that will make everyone feel the magic.
Salt, Rosemary, and Lavender Party Favors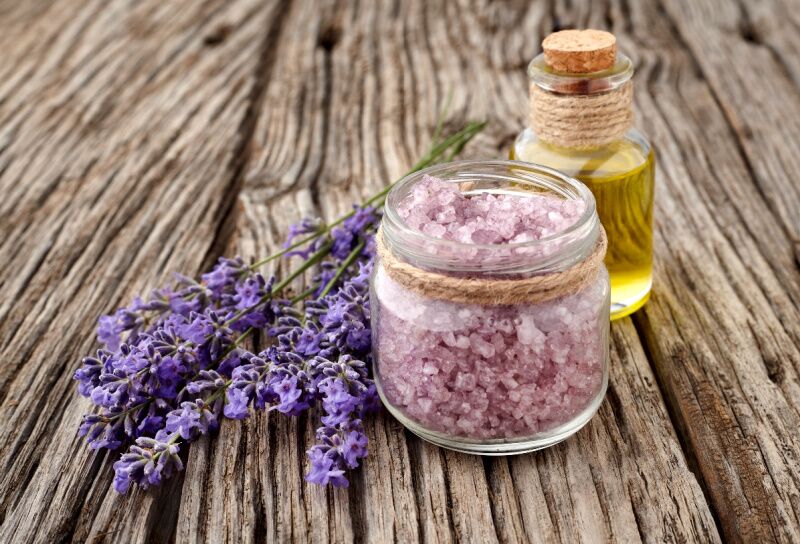 Photo: TatianaMishina/shutterstock.com
"There are some things I know for certain: always throw spilt salt over your left shoulder, keep rosemary by your garden gate, plant lavender for luck, and fall in love whenever you can." - Sally
You can never be too careful, or have enough luck. Arrange small gift bags for guests to take home complete with a small jar of flaky salt, a bunch of lavender, and rosemary oil. Guests will be able to use these supplies in their kitchen to mix up all kinds of delicious treats.
Find more party ideas and inspiration here on The Bash.