30 Thanksgiving Party Ideas for a Praise-Worthy Celebration
Spread gratitude with these Thanksgiving party ideas.
With dark nights, the crunching of leaves, and the smell of cinnamon in the air, you can already tell that Thanksgiving is around the corner. Why not show appreciation to the people who have made your year so far by hosting a gracious celebration filled with fun Thanksgiving party ideas?
Whether you're celebrating with family, friends, or even colleagues, you can show them how much they mean to you by giving back in the form of a fun celebration with these Thanksgiving party ideas. It can be either a chill gathering watching the Macy's Thanksgiving Day Parade or a large event with drinks and dancing. 
Here are 30 Thanksgiving party ideas to celebrate this year: 
Host at Home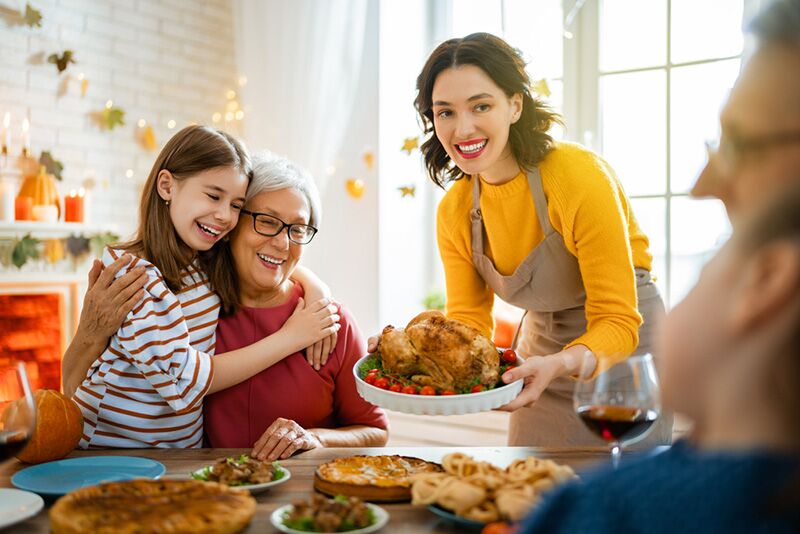 Photo: Yuganov Konstantin/shutterstock.com
Home Sweet Home! Thanksgiving is the time of year when relatives and friends arrive back in town for the holidays. Make them feel right at home again by planning your party at your house. Not only is it a cheaper alternative than renting an event space, but it also allows your guests to relax in a space they're comfortable in. Depending on the weather, you can even have a large tent in your backyard for an outdoor celebration and those friendly games of football. 
Celebrate at Work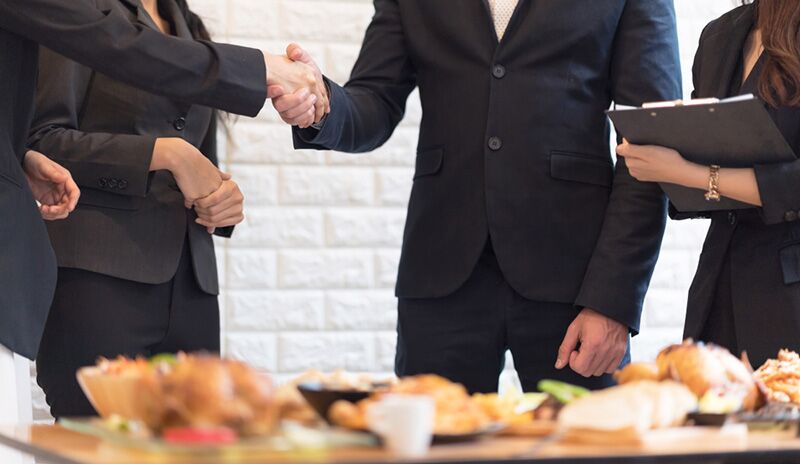 Photo: Little Pig Studio/shutterstock.com
Develop a strong work culture and get to know your colleagues better by having an office Thanksgiving party. Your event will be a great way to celebrate people's amazing work and acknowledge their achievements. It will also be an opportunity to show your peers that you're more than your responsibilities and professional role. So get your turkey hat on and reveal your fun and playful side!
Incorporate a Theme

Photo: Katia Seniutina/shutterstock.com
While thinking about decorations, food, and activities, it can be tough to bring a party together. When you choose a theme, it's easier to make it all work. For this year's Thanksgiving party, choose one of these easy themes to help bring your celebration to life.
Hire Local Vendors
When it comes to Thanksgiving party ideas, local vendors can help with anything from food and drinks to entertainment and more.
Caterer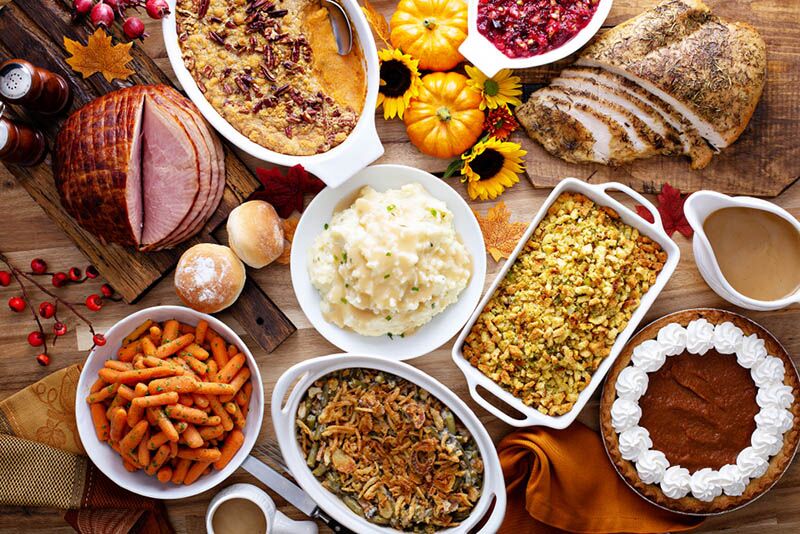 Photo: Elena Veselova/shutterstock.com
Having family around can sometimes be stressful enough, so by hiring a catering company, you can relieve some of that pressure. This means no hot kitchen, dirty dishes, or the smell of burning food in the air. On The Bash, there are many great caterers you can browse and choose from. You will be able to get all your holiday favorites delivered to your door while spending extra time with the ones you love most.
Live Band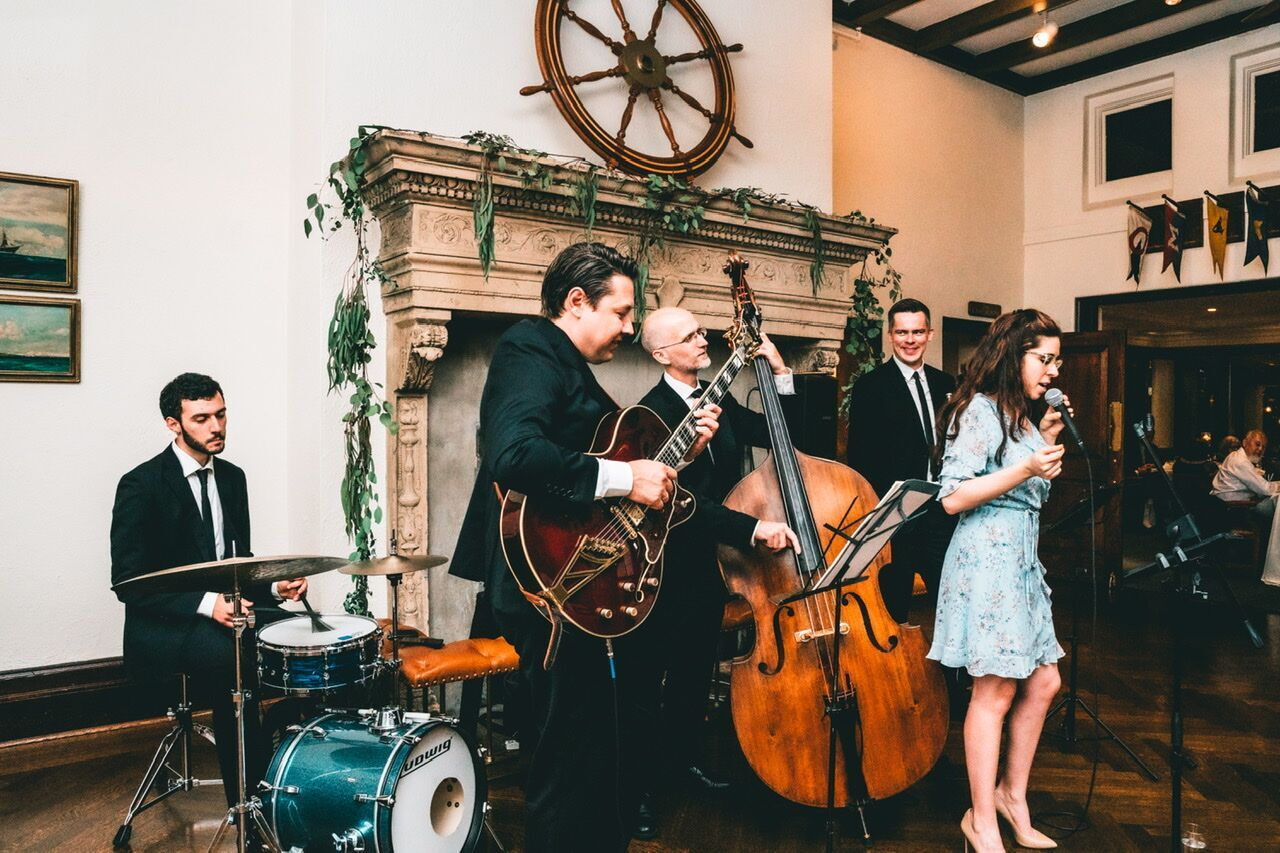 Photo: SpringLight Entertainment
To make your night more memorable, you can get a live band to be the soundtrack to your event. Whatever your musical preference, you will be able to find an upbeat band here on The Bash that can perform it. Guests can sit back, mingle and enjoy the music as the band showcases their talents. As the evening progresses, everyone can let loose and flaunt their best dance moves.
Photo Booth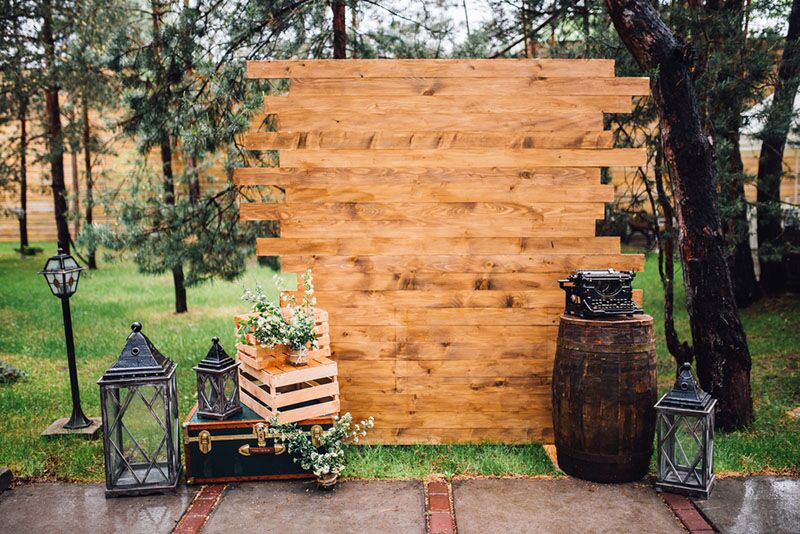 Photo: dfrolovXIII/shutterstock.com
Book a photo booth to keep a record of all the fun memories at your Thanksgiving party with fun  pictures that can double as party favors too. Every laugh, silly pose, and touching moment can be captured for you to look back on in years to come.
Bartender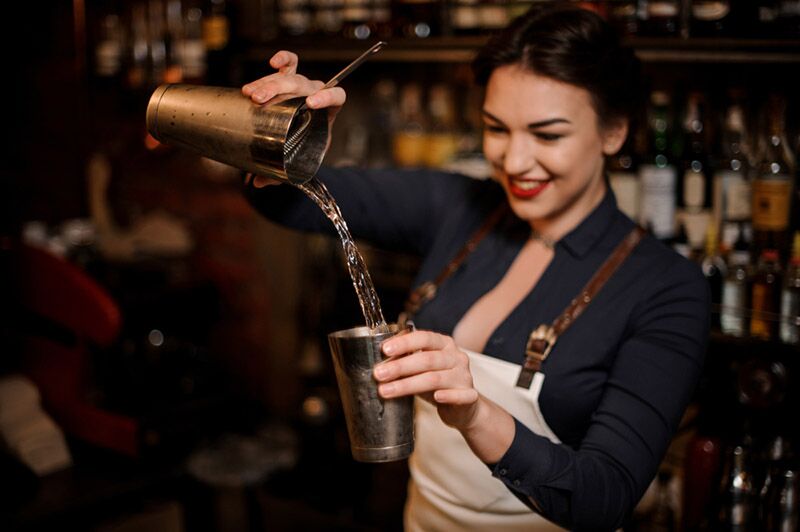 Photo: Maksym Fesenko/shutterstock.com
If you love a good cocktail but know nothing about mixing drinks, why not hire a professional bartender for your celebration? Having an expert at your event will save you and your guests time and worry about making your own drinks. Depending on the package, these bartenders can bring all the alcohol and garnishes needed for a refreshing night. From a fruity cosmopolitan to a classic old-fashioned, you can order whatever you want and enjoy the staff's sweet skills.
Thanksgiving Theme Game Ideas
Face The Pie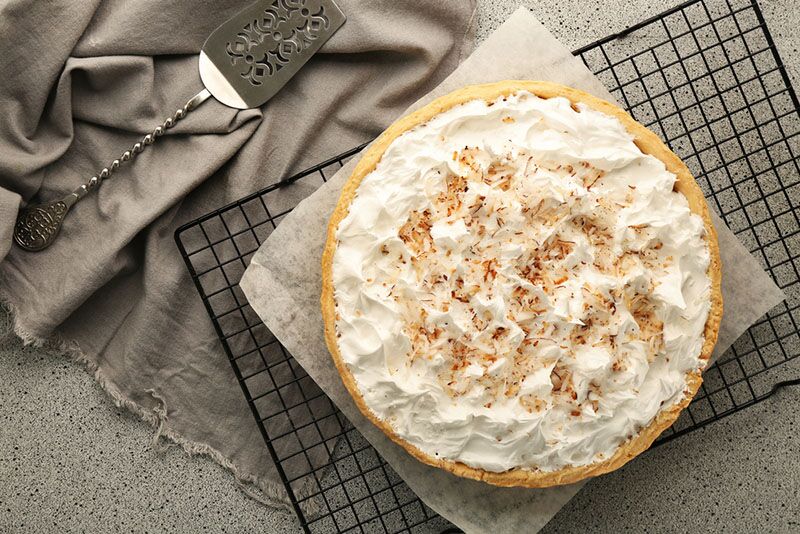 Photo: Africa Studio/shutterstock.com
If you don't mind getting a little bit messy, then a game of Face The Pie is a must. All you need are gummy letters, a pie tin, and a lot of whipped cream. The game involves a race between contestants as they stick their faces into pies to search for the letters P, I, and E. 
Players can only use their faces and mouth to locate the letters and arrange them to spell the coveted dessert. This game is also great for onlookers, who can sit back and watch their loved ones hilariously cover themselves in whipped cream.
Gratitude Game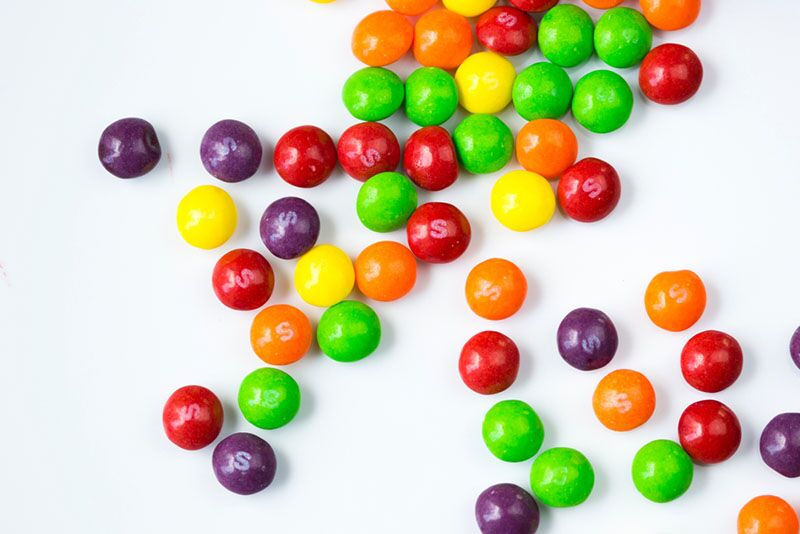 Photo: Justyna Troc/shutterstock.com
Although the food and decorations are nice, you can't forget what Thanksgiving is all about, which is the appreciation of others in your life. When everyone is gathered around the dinner table, you can play the gratitude game. For this, you will need a packet of colorful skittles and a piece of paper. 
On the paper, you should write down questions about what people are thankful for and allocate a color for it. For example, red skittles could mean "name a person you are thankful for." So if a person randomly selects a skittle from the bowl and it's red, they have to answer the question. 
Pumpkin Roll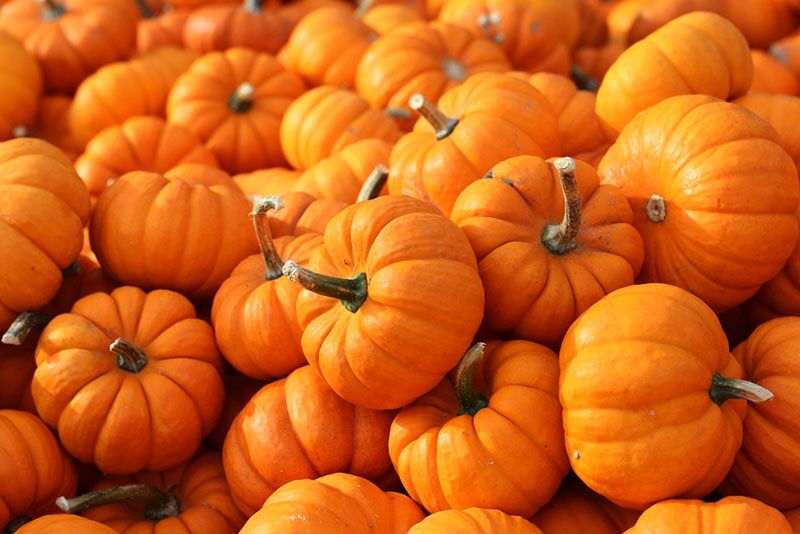 Photo: AN NGUYEN/shutterstock.com
Let's rock and roll for this next game — or more like pumpkin and roll! With this fun, simple, and festive game of Pumpkin Roll, all ages will be able to take part. To start, you have to line up all the players with a pumpkin. 
When the whistle blows, all contestants must race against each other from one end of the room or backyard to the other as they roll their pumpkins across the finish line. It sounds very easy, but players will be in for a surprise when their squash starts moving in different directions because of its shape! The first person across the finish line is victorious.
Turkey Tag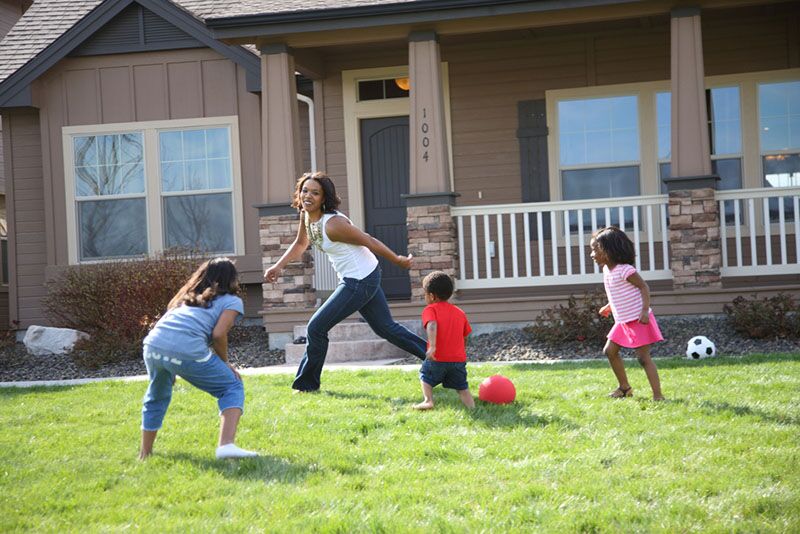 Photo: Hurst Photo/shutterstock.com
Why not take a pre-existing game and theme it around the holiday season? One example of this can be Turkey Tag. For this activity, you will need colorful clothespins that you can decorate with feathers to make the turkeys. Each player will be given three turkey clothespins to put on their shirt. 
When the game begins, the contestant's objective is to take other people's turkey pins while protecting theirs. If you would like more instructions about this entertaining game, you can read this article by Teach Beside Me.
More Thanksgiving Celebration Ideas
Make Hand Turkeys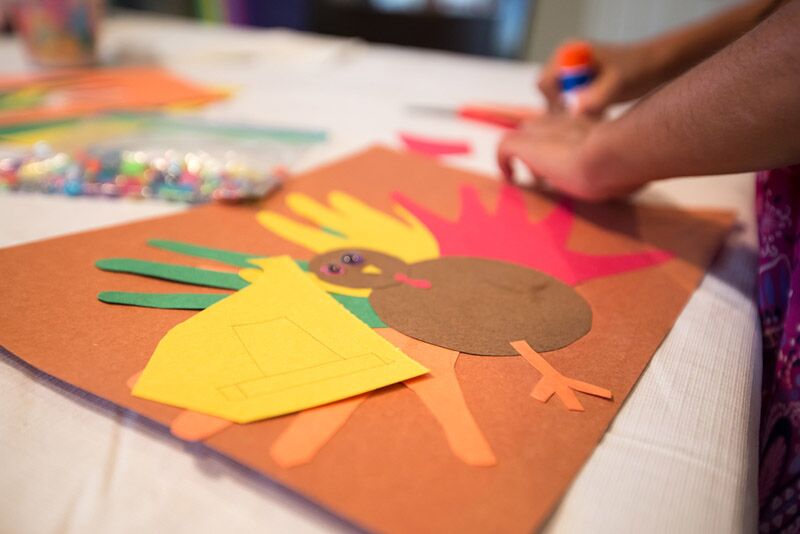 Photo: Aarti Kalyani/shutterstock.com
Drawing hand turkeys is almost a right of passage that everyone seems to go through as a kid in school. It's easy to see why as it's fun, requires minimal materials, and you end up with your own silly turkey. What's more, this activity is good for children as it shows them they can get creative with the tools they already have and make something unique. So get sketching, and afterward, you can decorate your space with lovely artwork!
Add Cozy Touches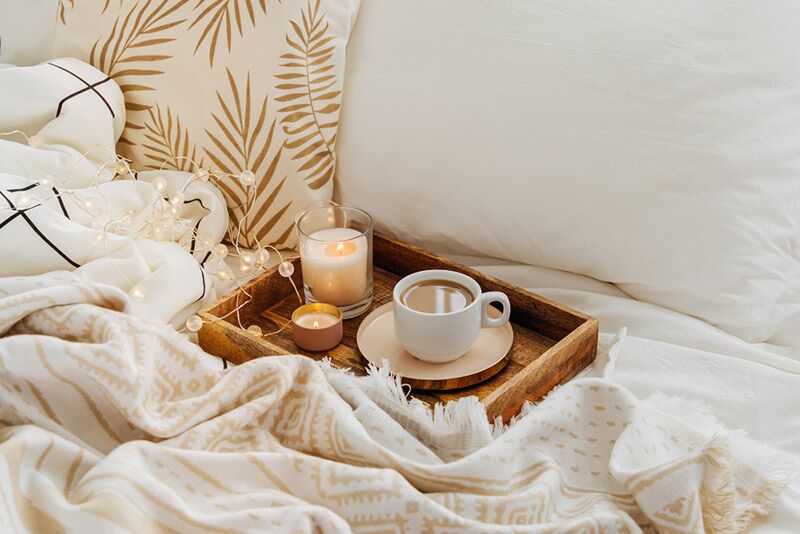 Photo: Igisheva Maria/shutterstock.com
Make your guests comfortable by throwing some cozy touches into your space. Items, such as blankets, pillows, and beanbags, will help give your space an inviting atmosphere. So gather your guests on the sofa at your Thanksgiving party and wrap them up in a warm blanket as you watch the parade or holiday movies on the TV. 
Make a Gratitude Tree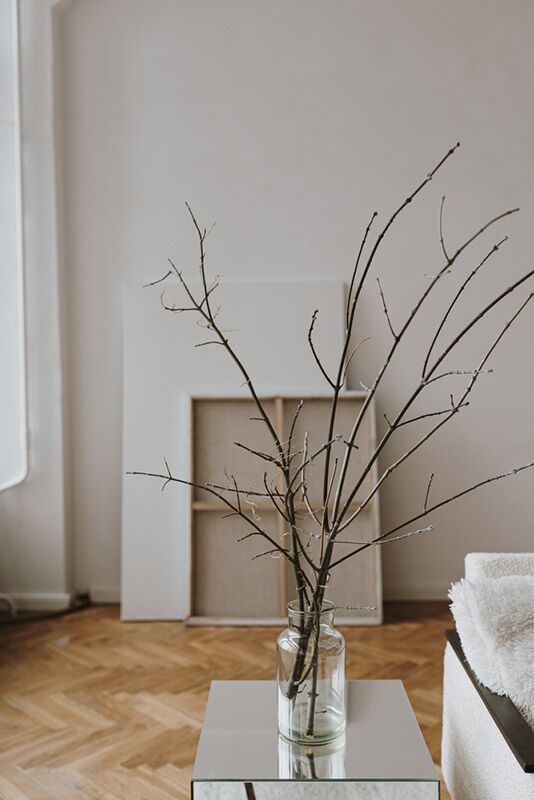 Photo: Floral Deco/shutterstock.com
If you're looking for a heartfelt centerpiece that encapsulates the spirit of Thanksgiving, you should make a gratitude tree. This simple yet meaningful decoration is easy to create and can be a fun activity for you and your guests. 
All you need is a bare branch like this one from Etsy, and decorate it with hanging leaf-shaped paper cutouts. Have the pieces of paper beside the "tree" with a pen, and let your guests write down what they're thankful for. When they're finished, they can place their leaf on the tree for everyone to see and read.
Sit by the Fire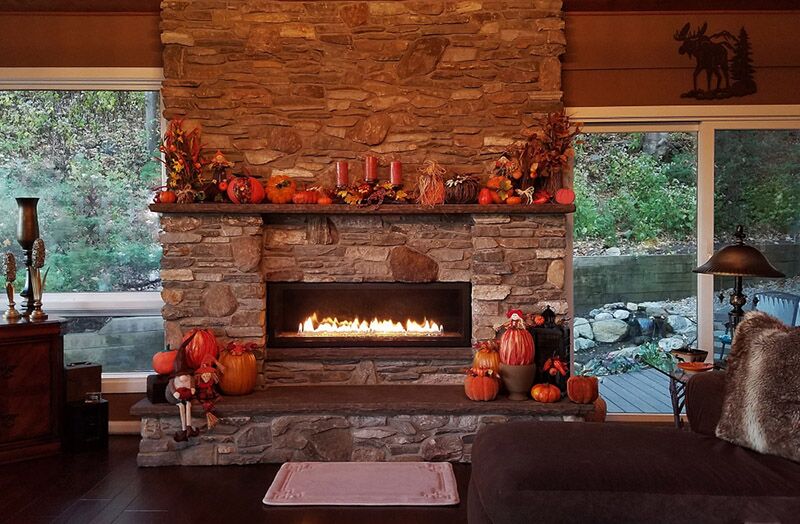 Photo: Anita Warren-Hampson/shutterstock.com
If you have a fireplace in your home, you can add to the evening's snug ambiance by lighting a relaxing fire. A festive hearth will keep your guests warm and provide a pleasant backdrop for the rest of your festivities (maybe even some toasted marshmallows). This idea is even better for outdoor celebrations, as you and your guests can circle around the firepit and watch the early sunset.
Decorate with Fall Leaves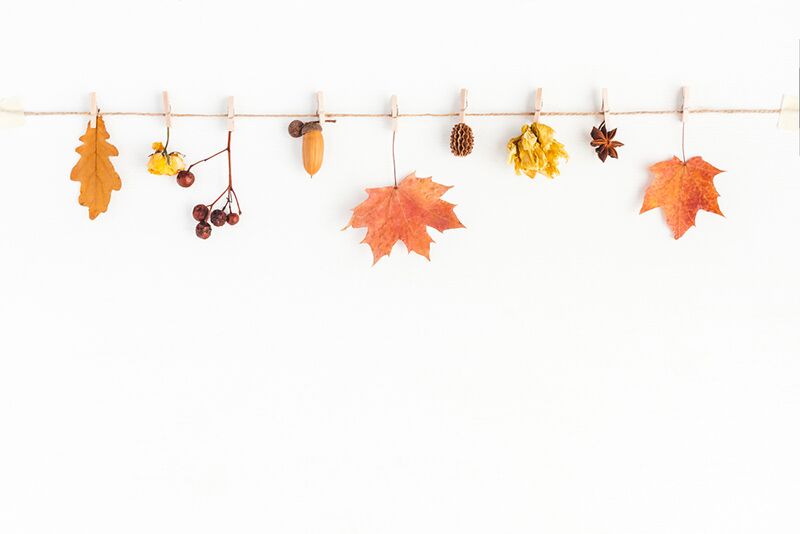 Photo: Flaffy/shutterstock.com
With their beautiful colors of yellow, orange, red, and brown, as well as the crisp sound of crunching beneath your feet, fall leaves are the signature feature of the season. Decorating your home or event area with fake leaves can enhance the space, giving it an autumnal appeal. You can have them as garlands around your fireplace or scatter the leaves on your dining tables and other flat surfaces for an extra pop of color.
Wear Cozy Sweaters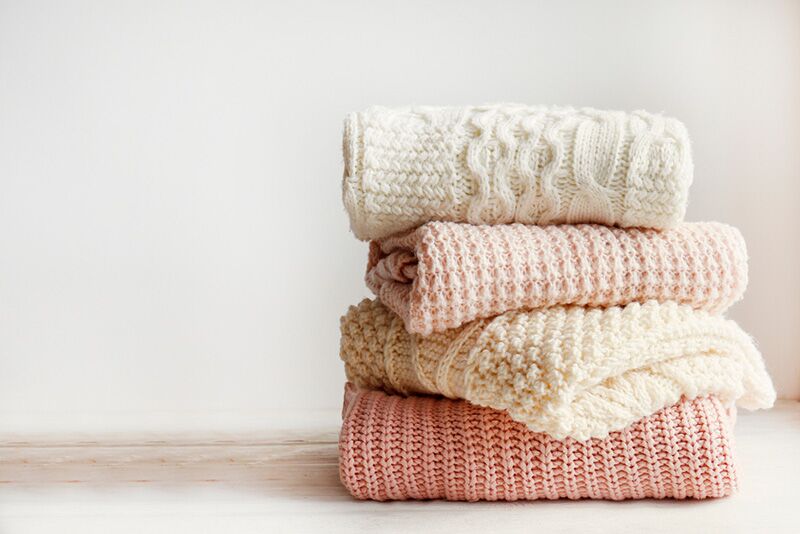 Photo: evrymmnt/shutterstock.com
During the colder months, it's important to stay cozy and comfortable as much as possible. Sweaters are a great way to achieve both of those things while still remaining cute. You can opt for a loose-knit sweater, a fashionable turtleneck, or even a relaxed crewneck. 
Whatever you decide to do, you have the choice of dressing it up or down. For a family gathering, get even comfier with sweatpants and slippers. However, for a formal party, you can go comfy-chic with a skirt or pants. 
Play Fun Music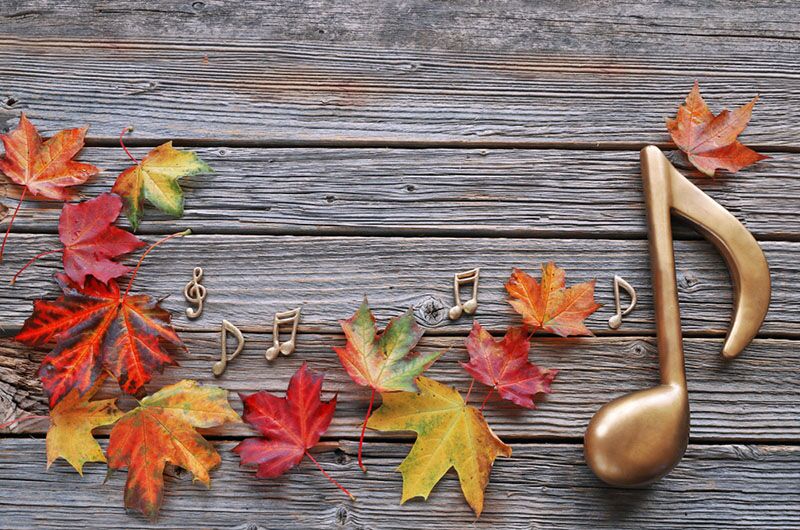 Photo: Jelena Yukka/shutterstock.com
Stream a free playlist on Spotify or your favorite service and let it play in the background throughout your Thanksgiving party. This playlist features some classic songs about gratitude and spending time with friends and family, while mixing in some of today's hits.
Thanksgiving Party Food Ideas
Turkey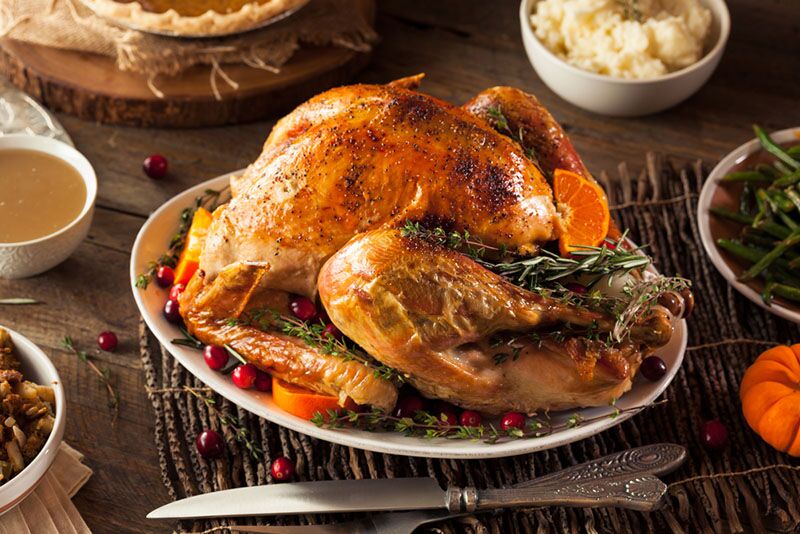 Photo: Brent Hofacker/shutterstock.com
Time to gobble up! Would it be a classic Thanksgiving feast without a delicious roast turkey with all the trimmings? If you said no, then keep the tradition going and have your guests FOWL in love with your main dish. So when the time comes, gather everyone around the table and show off your carving skills while serving up a feast they won't forget. For an extra treat, you can make yummy late-night sandwiches for people if you have Thanksgiving leftovers. 
Pumpkin Pie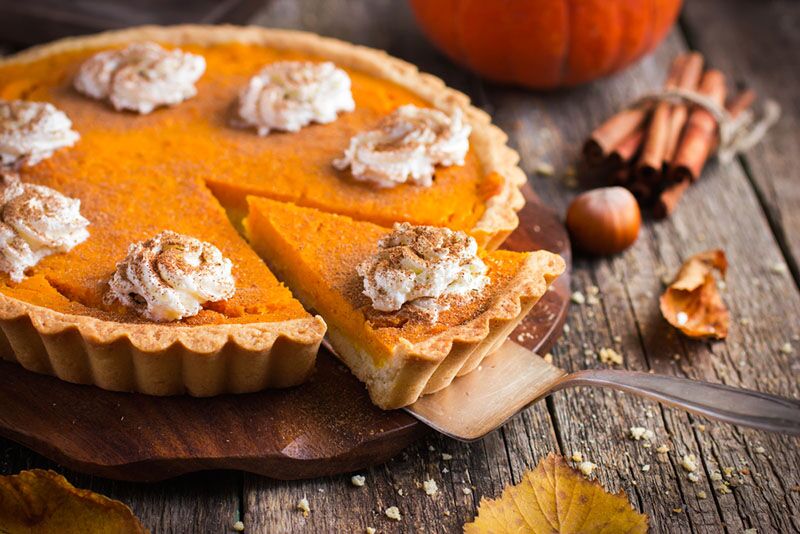 Photo: Anna Shepulova/shutterstock.com
There's apple, cherry, strawberry, and coconut cream, but nothing can beat a good old-fashioned pumpkin pie during fall. Eating pumpkin on Thanksgiving can be dated all the way back to the 1600s. 
Throughout the decades, many recipes evolved, and with a bit of experimentation, pumpkin soon became a staple pie option. No matter if you make it with fresh pumpkin, from the tin, or buy it pre-made, guests are sure to love their after-dinner treat.
Sweet Potato and Marshmallows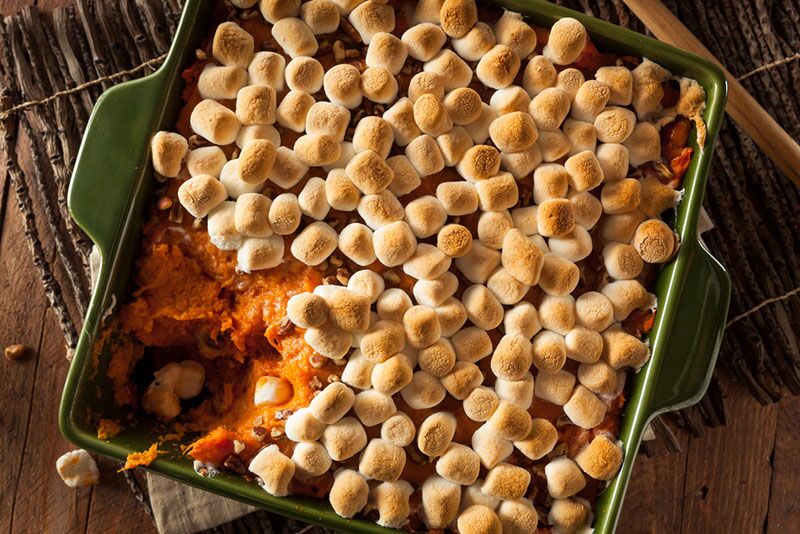 Photo: Brent Hofacker/shutterstock.com
For another traditional and tasty food option for your Thanksgiving dinner, you can make sweet potato casserole. Is it a side dish or a dessert? It's up to you to decide. 
If you would like to try it out, here's a recipe by Nigella Lawson that can get you started. Its sweet cinnamon and squash combination will have your guests coming back for more.
Pro Tip: When it comes to Thanksgiving food (who doesn't love mashed potatoes and cranberry sauce), the possibilities are endless. Here are 23 mouth watering recipes to make this year.
Make Festive Drinks 
Thanksgiving Punch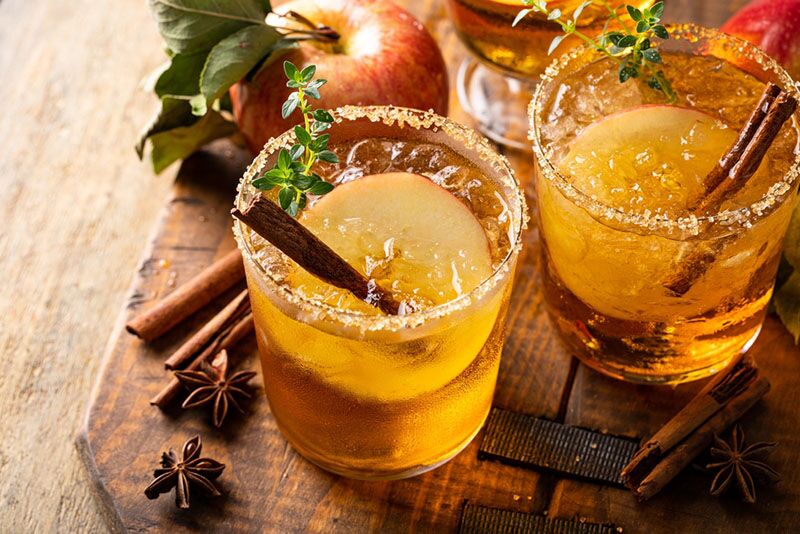 Photo: Elena Veselova/shutterstock.com
Want to make sure your guests are hydrated at all times? Making a large bowl of Thanksgiving punch will do the trick! Guests of all ages will be able to enjoy this refreshing drink, but you can spice it up, if desired. 
For a breakdown of all the ingredients and measurements needed, here's a great recipe you can follow by Thyme & Joy. So grab a large bowl, pour in your favorite juice, and sip on some fall flavors.
Mulled Wine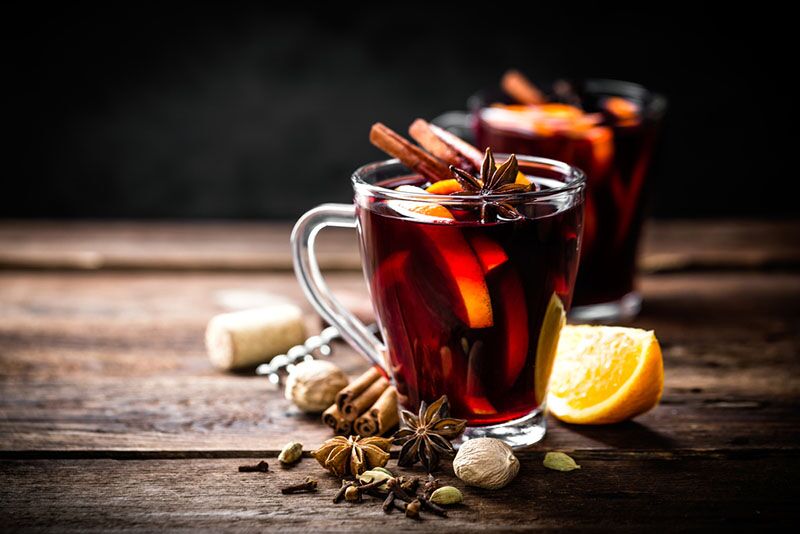 Photo: Sunny Forest/shutterstock.com
If you would like to try something different this Thanksgiving, how about making your guests a nice glass of warm mulled wine? This spiced wine can be spotted in many countries across the world during the fall and winter months. Made with red wine, brandy, and various spices, this drink will have you feeling cozy on those chilly evenings. You can find several recipes online, but here is one by Cookie and Kate to get you started.
Pro Tip: If you're looking for different cocktails and mocktails to make this year, check out these 15 Thanksgiving recipes.
Pumpkin Spice Latte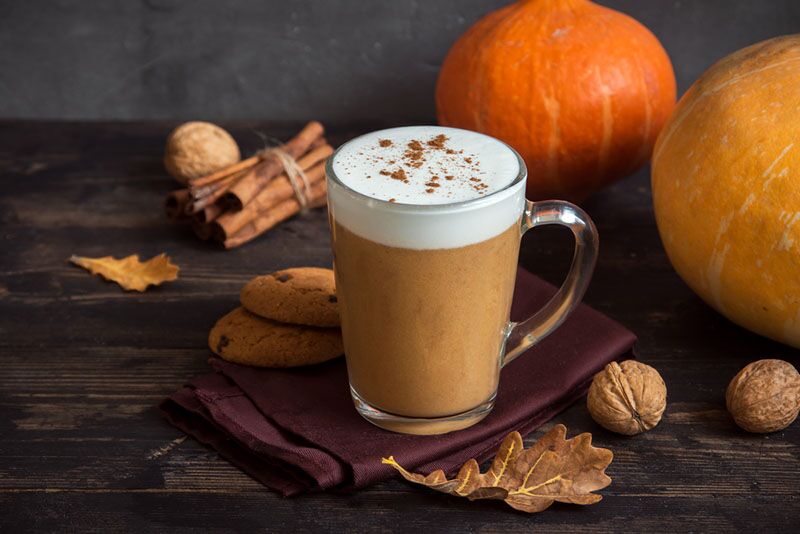 Photo: Oksana Mizina/shutterstock.com
If you're a coffee lover and can't get enough of pumpkin-flavored things, you'll enjoy sipping on the fan favorite: pumpkin-spiced latte. It can be the perfect after-dinner drink to help your guests relax into the night ahead. 
Although it isn't Starbucks, your DIY lattes will still taste amazing and can be tailored to your preferences. For an easy recipe, you can follow this article by ambitious kitchen. With real pumpkin purée, your seasonal hot cup of joe will be naturally sweetened and vegan-friendly. 
Even More Ideas for a Thanksgiving Party
Friendsgiving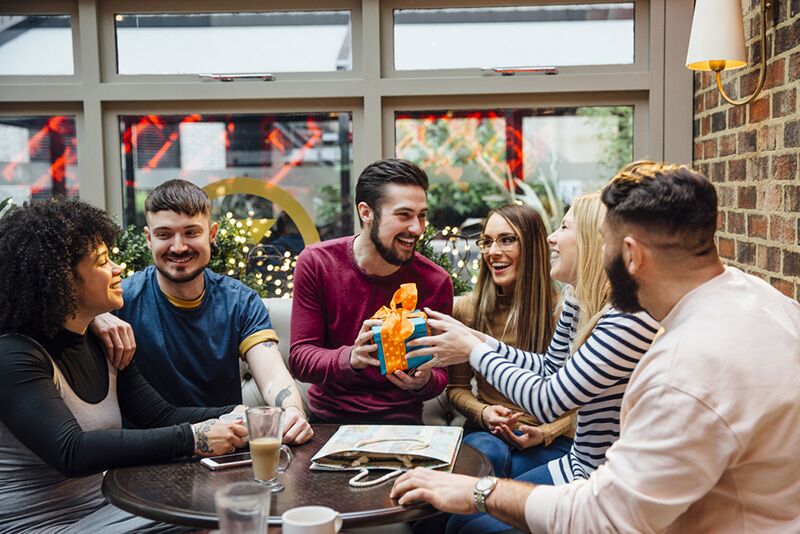 Photo: DGLimages/shutterstock.com
Host a Friendsgiving dinner with your closest pals. Friendsgiving is a more relaxed and casual version of Thanksgiving, where you can have a potluck-style meal, play games, and plan other fun activities.
Around the World Theme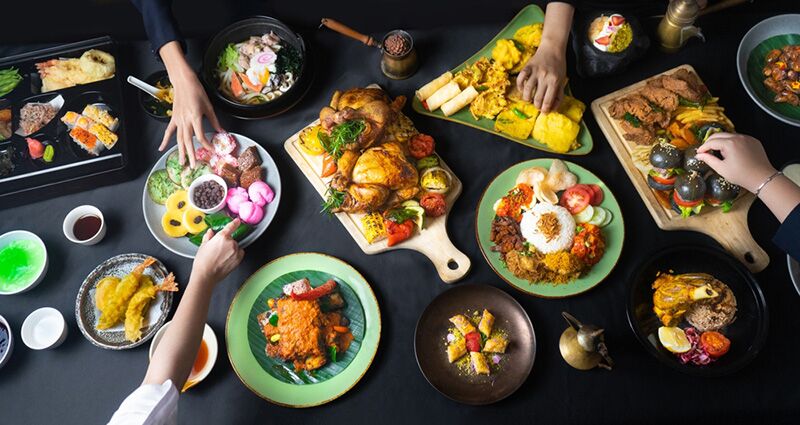 Photo: Mario Magido/shutterstock.com
Explore different Thanksgiving traditions from around the world. Serve dishes from various cultures, alongside your traditional American Thanksgiving foods. Guests bring sides or treats from a culture of their choice, so you can travel the globe without leaving home! Find more around the world theme party inspiration on The Bash.
Pumpkin Spice Everything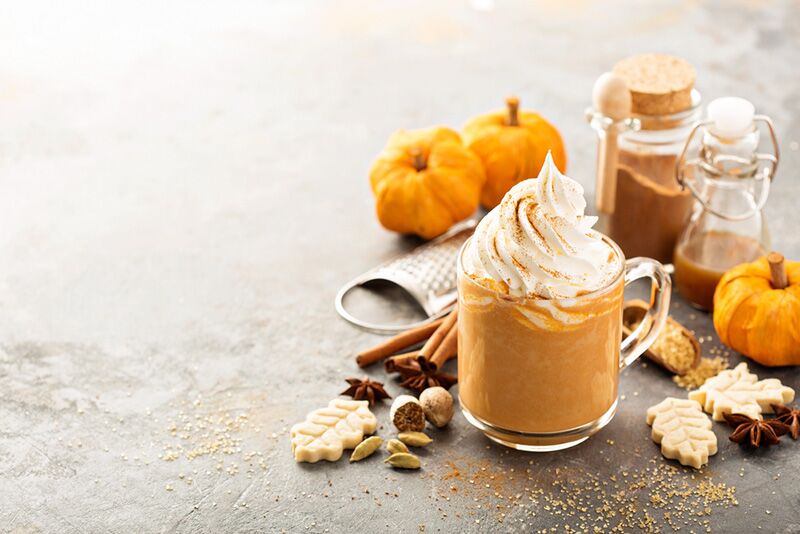 Photo: Elena Veselova/shutterstock.com
Who doesn't love pumpkin spice! When it comes to your Thanksgiving party, you can offer traditional things like pumpkin pie and pumpkin bread, while also crafting spice lattes and pumpkin spice cocktails.
Thanksgiving Potluck Challenge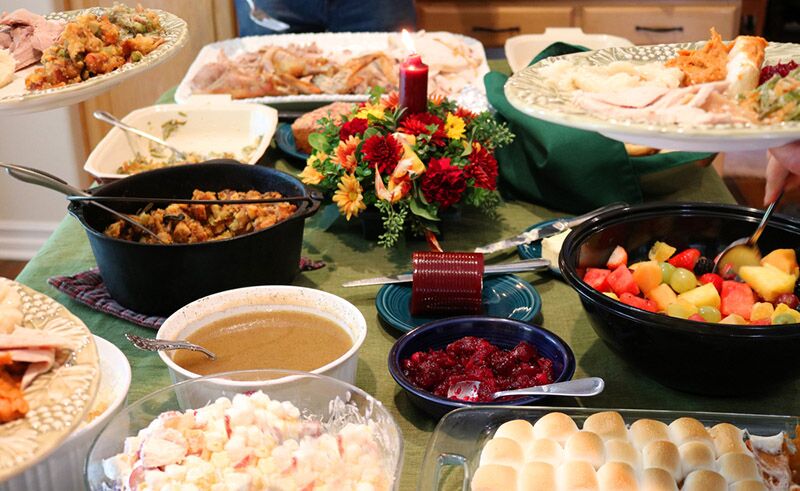 Photo: Erin Donalson/shutterstock.com
Make your Thanksgiving dinner a potluck challenge where guests compete to make the most creative and delicious dishes. Offer prizes for the winners in categories like "Best Side Dish" or "Most Creative Dessert."
Give Back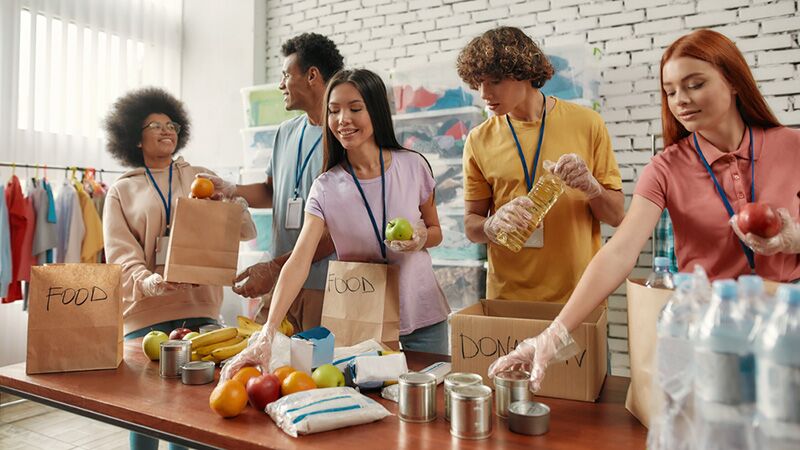 Photo: BAZA Production/shutterstock.com
Make Thanksgiving a time for giving back. Before your Thanksgiving dinner, gather some family and friends and attend a volunteer event at a local shelter or charity. Afterward, come together for a simple meal and share stories of your experiences.
Fancy Feast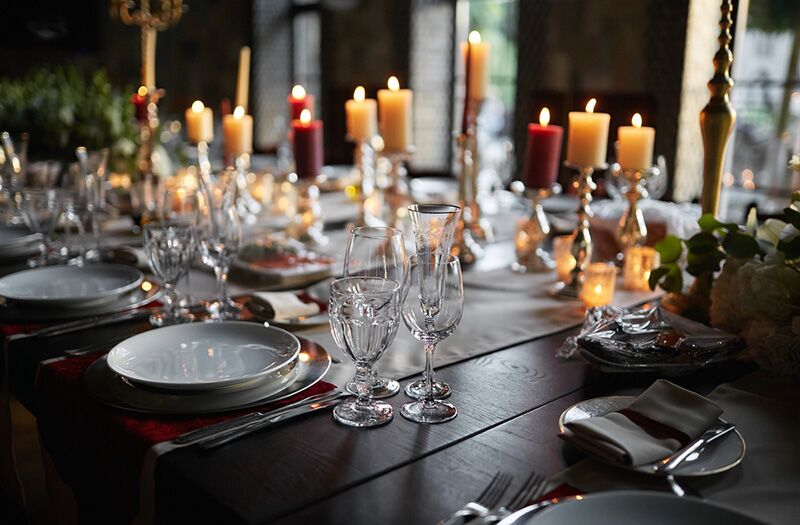 Photo: Gladius Stock/shutterstock.com
Elevate your Thanksgiving celebration with a formal and elegant theme. Encourage guests to dress in their finest attire, use fine china and glassware, and serve gourmet Thanksgiving dishes with wine pairings.
Find more ideas and inspiration for your next event here on The Bash.