A Thanksgiving Checklist for First-Time Hosts
Here's a roadmap for all the first-time hosts out there.
Lilly Blomquist
Contributor
Thanksgiving is the perfect opportunity to count your blessings, indulge in several pieces of pumpkin pie and catch up with distant friends and relatives. But, hosting your first Thanksgiving at your own home can certainly detract from the joy of the holiday, and Thanksgiving celebration (or Friendsgiving!) can be especially overwhelming for first-timers. From sending out invitations to cooking the dishes and decorating the table, throwing a Thanksgiving party can feel like you signed up for a full-time job. 
If you've volunteered to host the festivities for the first time, this Thanksgiving checklist and timeline for beginners will take some of the pressure off. These tips and tricks will help make the process feel effortless, organized and—dare we say it—fun! If there's anything you'll be thankful for this year, it's this guide. You're welcome.
READ MORE:
Use this easy Thanksgiving checklist to stay on track.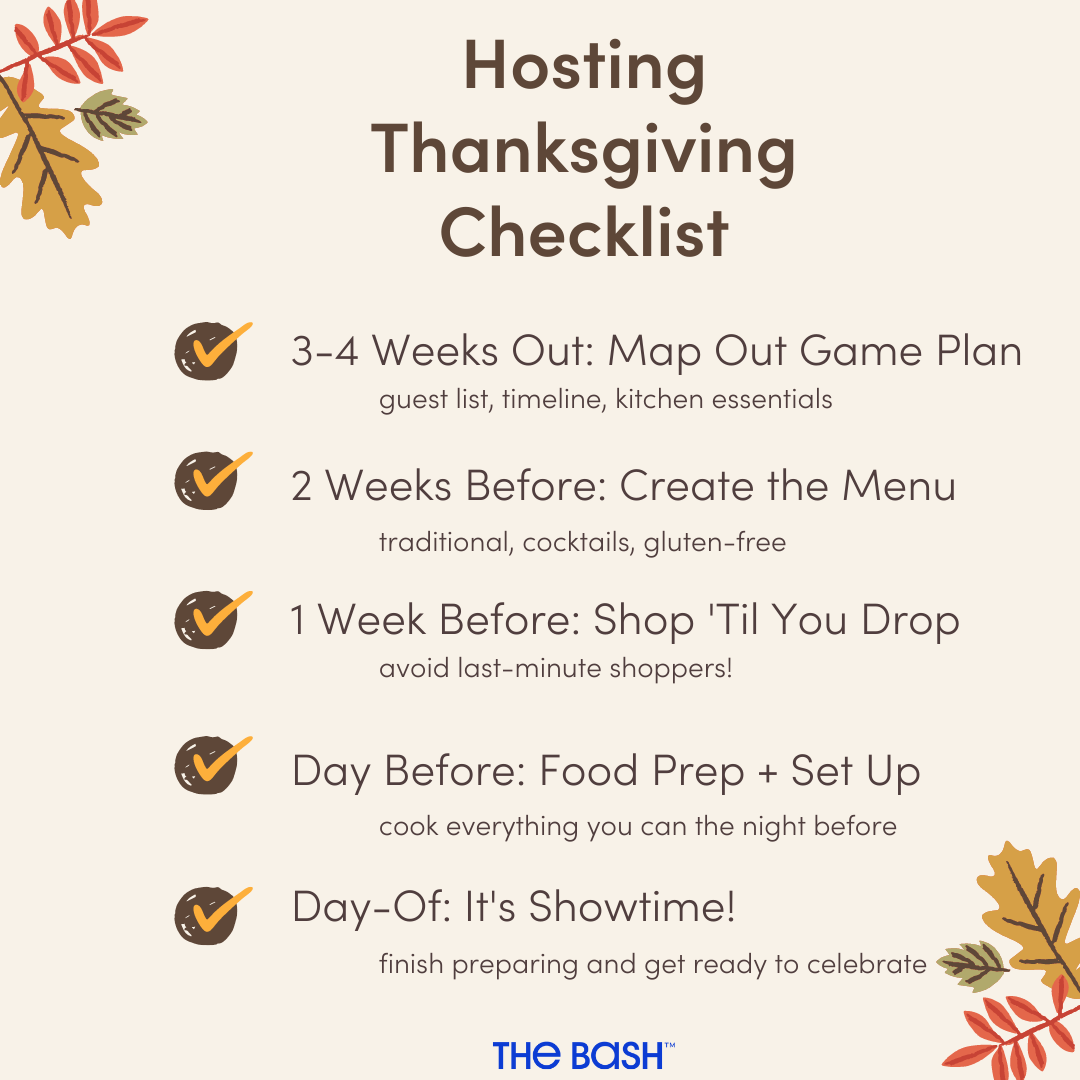 Here is a complete Thanksgiving checklist for first-time hosts.
3 – 4 Weeks Before: Map Out the Game Plan
Now that you've committed to hosting the big turkey dinner, jot down the names of people who you want to attend the party, and send out invitations to everyone on the guest list. You can go old school and mail handwritten invitations, or if the crowd is technologically savvy, you can send everyone an e-vite. Some important details to include in the invitations are the date and time of the party, your address and the best way to contact you for RSVPs and dietary needs. Feel free to infuse the invitations with creative wording or fun designs.  
After you send out the invites, it's time to get organized. Put a pen to paper and outline the following details: 
How many guests are attending? Think about where everyone will sit, and if there are enough place settings (plates, silverware, glasses and napkins) for each person. 
What will you cook, and when will you prepare each dish? Some dishes may overlap and need to be in the oven at the same time, others might need to be made the night before.
What kitchen essentials do you need? This includes all the pre-meal stuff like mixing bowls and spatulas, but also the serving dishes and platters for the table.
Taking the time to plan out the layout, decor, food and drinks in advance will help prioritize your time. Break down your to-do list into manageable sections, and conquer a few tasks each day so that you don't leave everything until the last minute. 
If you don't think you can cook the entire Thanksgiving meal on your own without losing your sanity, there's no shame in asking for help. Ask your close friends or family if anyone is available to come over early for prep, in exchange for say, early morning mimosas? Or, ask guests to bring an appetizer or dessert (something smaller) so you can focus on the big stuff.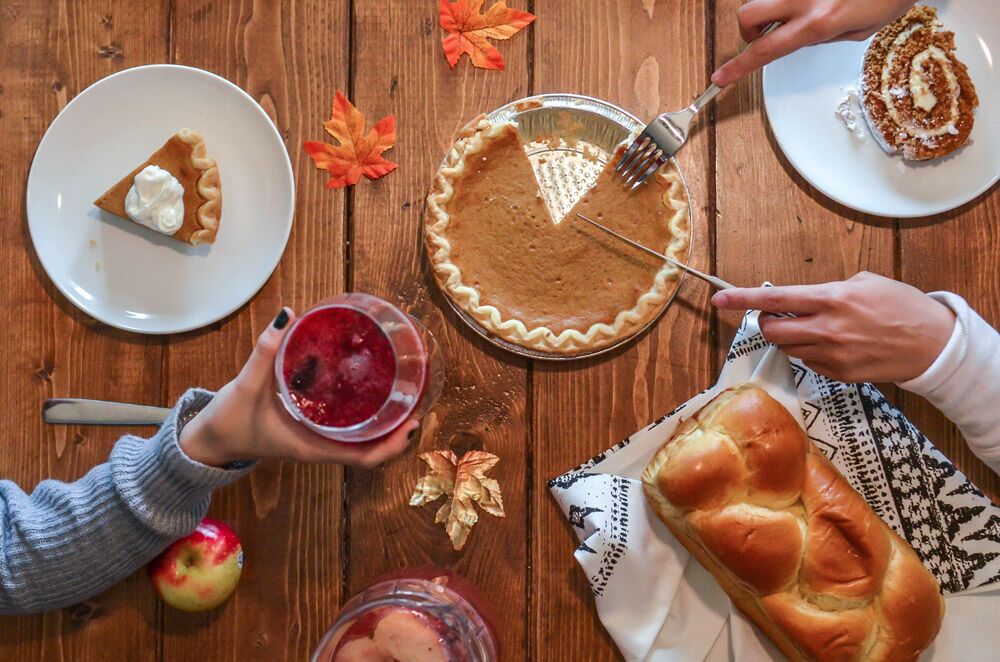 2 Weeks Before: Create the Menu
After mapping out all of the details for the big turkey dinner, start planning a delectable yet simple menu. If you're serving a traditional Thanksgiving meal, turkey, cranberry sauce, stuffing, mashed potatoes, sweet potatoes, green beans and pumpkin pie will probably be some of your menu specials. Bonus: we've assembled these top-rated Thanksgiving dinner recipes.
Now, here's where things can get tricky. You thought navigating politics this holiday season would be hard? That's nothing compared to the steadfast opinions held about fresh cranberry sauce vs. canned. Or in-turkey stuffing vs. oven-baked stuffing. Or mashed potatoes vs. twice baked potatoes. Will heads roll if a certain kind of gravy is missing from the table? If you can't make two of everything (which is probably the case unless you have superhuman time-stopping abilities) just give out assignments ahead of time.
Perhaps most important for menu planning: Ask guests if anyone has special dietary restrictions or allergies. There are plenty of ways to accommodate a range of diets from gluten-free to keto, and if there's a very serious allergy, it's important to know that ahead of any meal prep.
One menu item that's usually forgotten until the last minute? The drinks. For the grown-ups, there's always wine and beer, but a fun signature cocktail like cranberry and apple sangria would kick things up a notch. Make sure to offer non-alcoholic options too, such as apple cider, soda and fizzy water. Pro tip: mix up a batch of one of these delicious Thanksgiving cocktail recipes or hire a bartender to handle this for you.
1 Week Before: Shop 'Til You Drop
Now that your menu is all set, it's time to go shopping. Get to your grocery store a few days before Turkey Day (stores always sell out of the basics the closer you get to the holiday). That way, you'll also avoid the panic-stricken, last-minute shoppers, so you'll be able to grab your items without your blood pressure shooting through the roof.
Shopping in advance is not only a more pleasant experience, but it's also a surefire way to host a successful Thanksgiving party since you'll have all of the ingredients on hand to start cheffing early. Pro tip: Don't forget about your local farmer's market! Try to buy local what you can, like veggies and bakery items. 
Day or Night Before: Food Prep and Setup
It's time to get your chef on. Cook everything you can the day or night before Thanksgiving Day so you have time for other last-minute jobs that come up. Make appetizers, stuffing and casseroles beforehand, and store them in the refrigerator. Consider doing ingredient prep like washing and chopping veggies, or measuring out dry ingredients, to make day-of cooking easier. You can also set up a drink station the night before as well.
With the food taken care of, you're ready to move on to the table. Or rather, tables, if you're doing a grown-up and kid table, which we would recommend. (Do you remember being bored to death as a kid, having to listen to adult stuff like mortgages and car insurance rates? Spare the children…) 
Set up plates, silverware, napkins and glasses before the festivities begin. It's also a good idea to make place cards so that guests can easily find their seats. Plus, an assortment of pretty place cards will jazz up the tablescape. You can write the names of your guests on cutouts of leaves or turkeys and fasten them to a mini pumpkin using wire. 
Amidst all the meal prep and food focus, you might forget to actually clean your hosting space. Save time for a quick dusting job, running the vacuum and, whatever you do: Do. Not. Forget. The. Bathroom. Consider placing a lit candle and extra toilet paper rolls in the restroom so it's prepared for anything. 
Next, decorate! Festive decor will turn your home into a cozy autumn sanctuary and create a more festive atmosphere. Place pumpkin or cinnamon-scented candles in each room to fill your home with the sweet-smelling aroma of fall. You don't need to go over the top with the decorations to blow your guests away, so a few pumpkins, red and gold flowers and an autumn wreath on your front door are all you need. Need more decor ideas? We've got some theme ideas here.
Day-Of: It's Showtime 
The big day is finally here. Start prepping early in the day so that by the time everyone arrives, you can actually enjoy the celebration. While the turkey is roasting, finish preparing the vegetable dishes, heat up the sides and appetizers and arrange the drink station. Double-check that your house is still tidy and organized. When guests start to come, welcome them in, take their coats and offer them a refreshment. 
While everyone savors the appetizers and engages in conversation, you can finish up in the kitchen. Don't be afraid to ask others to chip in if the cooking becomes overwhelming. Once you've set up the food spread, give yourself a pat on the back.
You've worked hard, and now, it's time to enjoy yourself!
If you're celebrating Thanksgiving during COVID-19, check out our guide on hosting a virtual Thanksgiving, or our tips on how to social distance this Thanksgiving.