It's party time! So, you've got a major milestone or event to celebrate, like a seasonal holiday, birthday 0r anniversary? Well, just because all your friends and family can't come together in a ballroom, banquet hall or backyard, doesn't mean you should skip the celebration altogether. Nowadays, more and more people are jumping on the Zoom party bandwagon, throwing online events and lining up virtual entertainers. If you want to follow suit, here are a few holidays and parties you should probably be prepping for.
Here are a few holidays you can celebrate with an online party.
Cinco de Mayo (May 5)
If you regularly celebrate Cinco de Mayo with your friends and family, you can still do it—just not IRL! Bring your loved ones together online (there are plenty of video chat apps available) and enjoy all the glorious eats and festivities you would at an event, just in the comfort of your own home. Of course, you'll have to do all the decorating and cooking (or ordering) yourself, but that's a pretty fun way to spend your day—try your hand at a DIY Pinata and fill it with all your favorite treats. Take your virtual party to a whole other level, and book a surprise virtual performance by a mariachi band!
Mother's Day (May 10)
Show your mom some love on their day by throwing them a virtual soiree on the 10th of May. Ask their partner, your siblings, and maybe even your grandparents (if they're tech-savvy enough) to join in on the fun via Zoom, FaceTime or Skype. For Mother's Day activities that all ages will enjoy, check out these virtual family party ideas. Don't forget to order her a little something special, like a bouquet of flowers, have her favorite food delivered and even book a virtual music concert to show her just how much you care.
Memorial Day (May 25)
BBQs, potlucks, and picnics are popular Memorial Day celebrations that you can bring to the internet. Yes, you'll have to make sure the Wi-Fi in your house is strong enough to take your party to the backyard or patio, but if you can't make that work, you can always open all your windows to bring the outdoors inside. Create your perfect playlist, invite your friends and family, and prepare to have a virtual cookout to remember! You could even take turns having a professional caricaturist sketch each of your guests virtually. Bonus: check out these 5 Tips to Celebrate Memorial Day While Social Distancing.
Father's Day (June 21)
Your dad deserves some love on Father's Day, so think about hosting a virtual event with your family when June 21st rolls around. Get your dad's partner, your siblings, and your grandparents together to let your dad know how much he means to you. If you want to go the extra mile, have a little gift and card delivered to his place, maybe a bottle of his favorite wine, a book he's been dying to read, or something he can do to pass the time while social distancing. Want to add some dad jokes into the mix? Hire a comedian to deliver a virtual performance. Bonus: checkout these 9 Ways to Celebrate Father's Day While Social Distancing.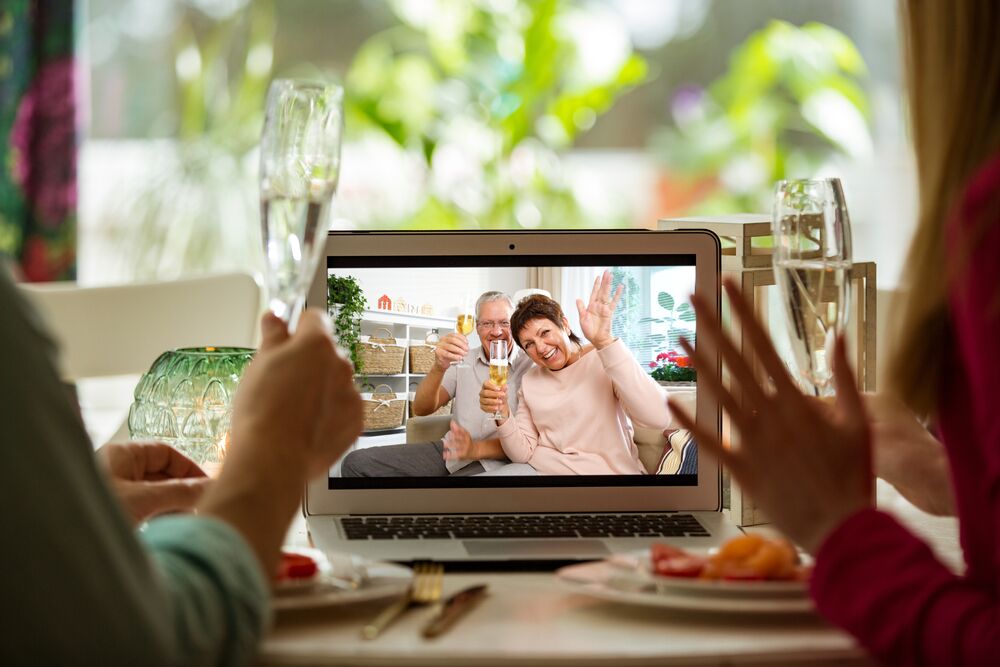 Photo: Aleksandra Suzi/Shutterstock.com
Independence Day (July 4)
July 4th is usually quite an event, but, sadly, you probably won't be able to host a ton of guests at your home or beach house this year if things keep going the way they are. That doesn't mean you should give up on the celebration, though! If you want to keep that Independence Day party spirit alive, deck your house out in red, white, and blue, mix up a solo punch bowl of sangria, and gather your pals in an online chat room to celebrate. P.S. don't forget to share a playlist with your whole squad so you can party to the same music.
Prom
Obviously, prom is a milestone event that needs to happen, regardless of where you're celebrating. Make sure everyone in your year is invited to the same Zoom chat (on the same date, of course!), get dressed to the nines, and make your prom night one to remember in the comfort of your own home. Sure, you may have to dance with your parents and siblings, instead of your date, but you can still have an insanely fun time. Bonus:we've put together this complete guide to How to Party Virtually if Your Prom is Cancelled.
Bar Mitzvahs and Bat Mitzvahs
Bar Mitvahs and Bat Mitzvahs are traditionally pretty grand events. Though your child's coming-of-age party is probably going to have to be postponed, you can still have an amazing bash at home on your original event date to lift their spirits up while they wait for the real deal to happen later. Get decorations, order their favorite foods and a cake, invite their friends to join via Zoom and dance around your living room with your quarantine crew (even it's just a handful of you). 
Birthdays
You're getting older and wiser, and, frankly, you deserve a virtual birthday party for that. Prep your house with balloons, streamers, and all the goodies you love and adore. Ask your friends and family to join you online and chat or do something you love. If you want to make things a little more interesting, you could do a class online together or stream a movie on Netflix.
Anniversaries
If you're celebrating your first wedding anniversary or have a party in the works for a milestone anniversary, don't cancel your plans just yet! Sure, you won't be able to leave the house, but you can have an epic event, just the two of you. Think about cooking a new dish together or order from the place you had your first date to get sentimental. If you're exchanging gifts, remember to order them well in advance so you can be sure they'll be there on time. Remember, you can always have a larger, more official event with friends and family when social distancing comes to an end.
Wedding
If you're getting hitched, why not throw a virtual wedding to celebrate? Bring your family and friends along to your ceremony via video chat and then have an online reception where you drink, dance, and get up to some debauchery in your home. The best part? Sweatpants are totally acceptable for the after party.
Retirement
If someone you love is kissing their work years farewell, it's time for some festivities. If they're tech-savvy a video party is the way to go, but if not you could always make a video with clips of them and messages from their nearest and dearest. Either way, they're sure to feel the love.
Find virtual services and entertainers in the United States and Canada on The Bash for your online party.