25 Virtual Christmas Party Ideas
Wondering how to get into the holiday spirit this December? Check out our tips on how to throw a festive Christmas Zoom party!
Brittany Barber
Contributor
With Omicron circulating in December 2021, you may be on the hunt for virtual Christmas party ideas to celebrate online with loved ones this year. Well if you're wondering where to start, you've landed on the right page.
Whether you're planning a get-together with loved ones near and far or a virtual office Christmas party, we've put together 25 virtual Christmas party ideas to make sure that you enjoy a festive celebration—virtually! 
From hiring a virtual Santa to choosing a festive Zoom background, you've got a few things to consider! Without the usual mingling of an IRL party, make sure to include virtual Christmas party games or an activity you can do together online! Planning virtual entertainment for your online Christmas party is a great way to make the most out of your digital experience.
Here are 25 awesome virtual Christmas party ideas: 
1. Use Christmas cards as virtual Christmas party invitations 
If you're sending Christmas cards this year, why not use them as invitations to your virtual Christmas party too? It'll be a nice surprise for your loved ones to receive it via snail mail, especially since the event is already virtual.
If you don't feel like getting yourself to the post office, however, another fun way to send an invite is with a virtual singing telegram! It'll be totally unexpected, and a memorable way to start the holiday season. 
2. Choose a Festive Christmas Zoom Background
Photo: Zamurovic Brothers/Shutterstock.com
A must-have for this virtual holiday season is a Christmas Zoom background! We have 75 festive Zoom backgrounds you can download here, along with instructions on how to change your Zoom background. Each Zoom image is hi-res and free to download, so don't hesitate to pick more than one! 
Bonus: Celebrating a different holiday this December? Check out our 60 free virtual Holiday Zoom backgrounds for a broader selection of images. 
3. Put Up Christmas Decorations 
Even if your virtual party guests won't be physically coming over to your house, it's no excuse not to decorate! Deck out the Christmas tree, line the railings with festive garlands, and put up those twinkling Christmas lights like all those years before! Oh, and if you're using a video chat platform other than Zoom, make sure to decorate the area you'll be making the call from, and get into the holiday spirit!  
4. Get Dressed Up
Whether you decide to dress up as Santa or one of his reindeer — mention what the dress code will be in your invitations. You could even make it a formal, black-tie virtual event, and require your guests to wear their best holiday outfits! 
5. Virtual Secret Santa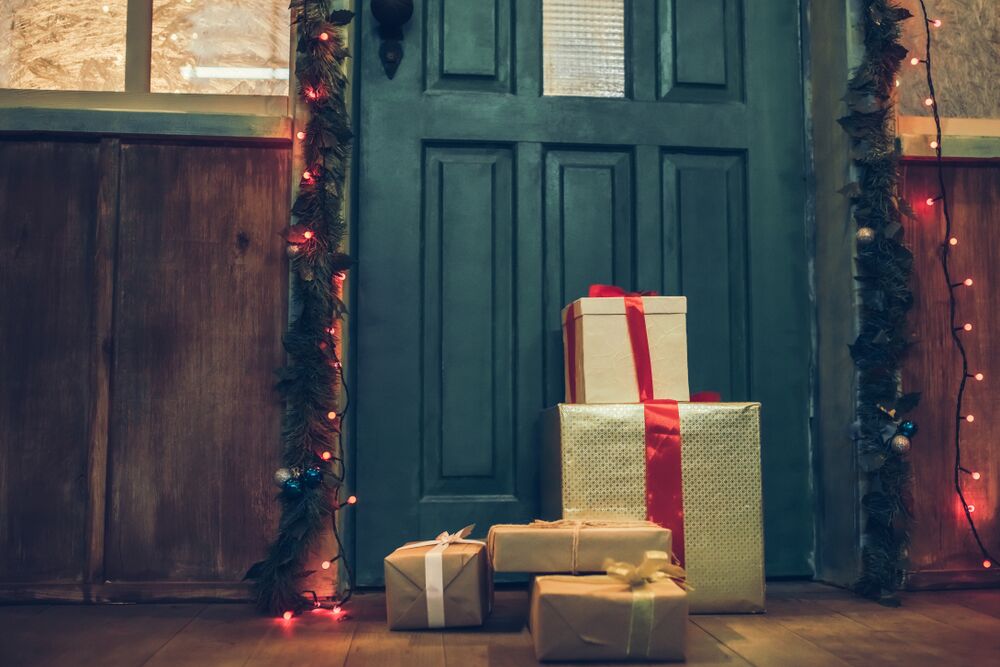 Photo: 4 PM Production/Shutterstock.com
If you haven't already organized your virtual secret Santa, make sure you do so in time for your Christmas Zoom party! Wondering how to go about it? It's simple.
Instead of pulling names out of a hat, use this awesome Secret Santa Generator online. It's free to use, and even allows you to customize exclusions — for example, you can make sure that couples or roommates won't get one another. It also lets you include a gift budget, mailing addresses, and decide on how you want your participants to receive their secret Santa names. 
Send your gifts in the mail ahead of time, and unwrap them during your Christmas Zoom party. 
6. Ugly Christmas Sweater Contest
One of the best virtual holiday party ideas of the century? An ugly Christmas sweater contest. Encourage participants to get creative and make their own ugly sweaters this year, then take a vote to decide on whose is the worst! 
7. Enjoy a Virtual Viewing of The Nutcracker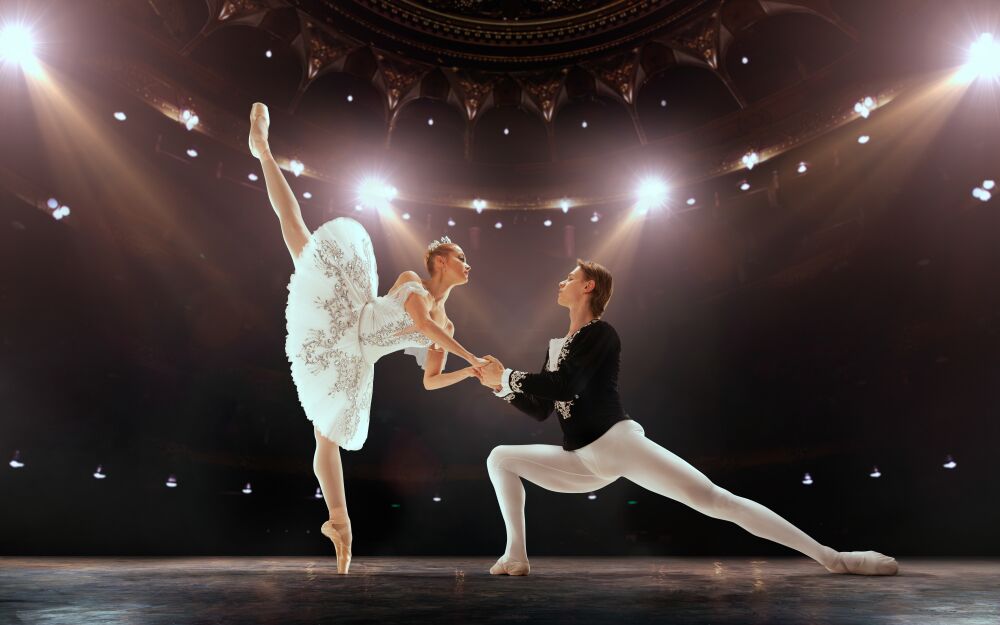 Photo: Artur Didyk/Shutterstock.com 
If one of your holiday traditions is to go out to the ballet, why not host a virtual viewing of The Nutcracker at your Christmas party? You can still help support the performing arts by buying digital tickets here!
8. A Virtual Telling of Dickens' A Christmas Carol
If the ballet isn't your thing, how about a virtual telling of Charles Dickens' A Christmas Carol? You can hire a virtual storyteller here.
9. Watch a Christmas Movie
Choose your favorite holiday film, and watch it together! Some great classics include Rudolph the Red-Nosed Reindeer (the stop-motion, obviously), A Christmas Story, It's A Wonderful Life, or The Grinch. Take your pick! 
10. Virtual Dance Party
What's a holiday party without dancing? Share a Christmas playlist (or this specially curated virtual dance party playlist) with your guests, and get moving.
11. Virtual Christmas Scavenger Hunt
Never hosted a virtual scavenger hunt? No problem, it's simple. First, decide on a leader. The leader will create a list of household items the other players have to find. Give the players 60 seconds to find each item. The first to bring their item to the screen wins 3 points. Anyone else who brings the item within the 60 seconds gets 1 point. Create a festive scorecard to keep track of points, and play until you've exhausted your list! 
Pro Tip: Choose a mix of easy and obscure items — this will help bump up the competition and keep players interested. Make sure to use Christmas-themed items too! (Like a star-shaped Christmas ornament, a candy cane, a red ribbon, etc.) 
12. "When I was a kid, Christmas..."
Go around in your virtual circle to tell one another what Christmas was like when you were a kid. And if there are kids playing too, ask them which Christmas was their favorite, and why!  
13. Family Christmas Slideshow
Gather a selection of your favorite family photos (ideally from previous Christmas get-togethers), and present them on Zoom at your virtual Christmas party! 
14. Hire a Virtual Visit from Santa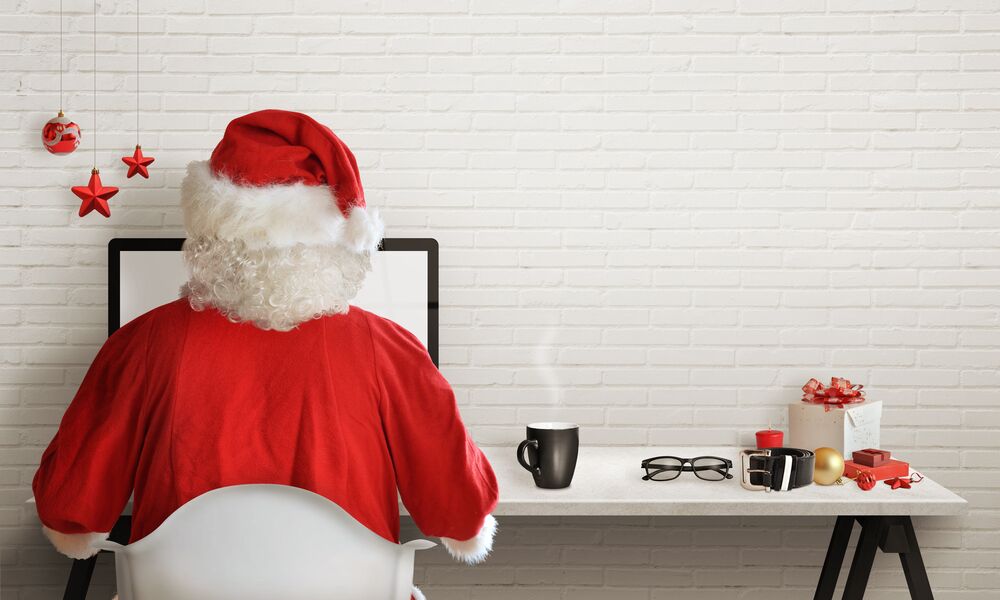 Photo: Stanisic Vladimir/Shutterstock.com 
Hiring a Virtual Santa to make an appearance at your Christmas party is especially fun if there will be small children participating too!
15. Virtual Storytelling of a Children's Book
A virtual storyteller can tell a dramatic rendition of a children's Christmas book that Zoom party guests of all ages will enjoy.
16.  Gift your Guests with a Caricature
Invite a caricaturist to draw portraits of your virtual guests, so your guests have something special to remember this Christmas by!
17. Virtual Holiday Happy Hour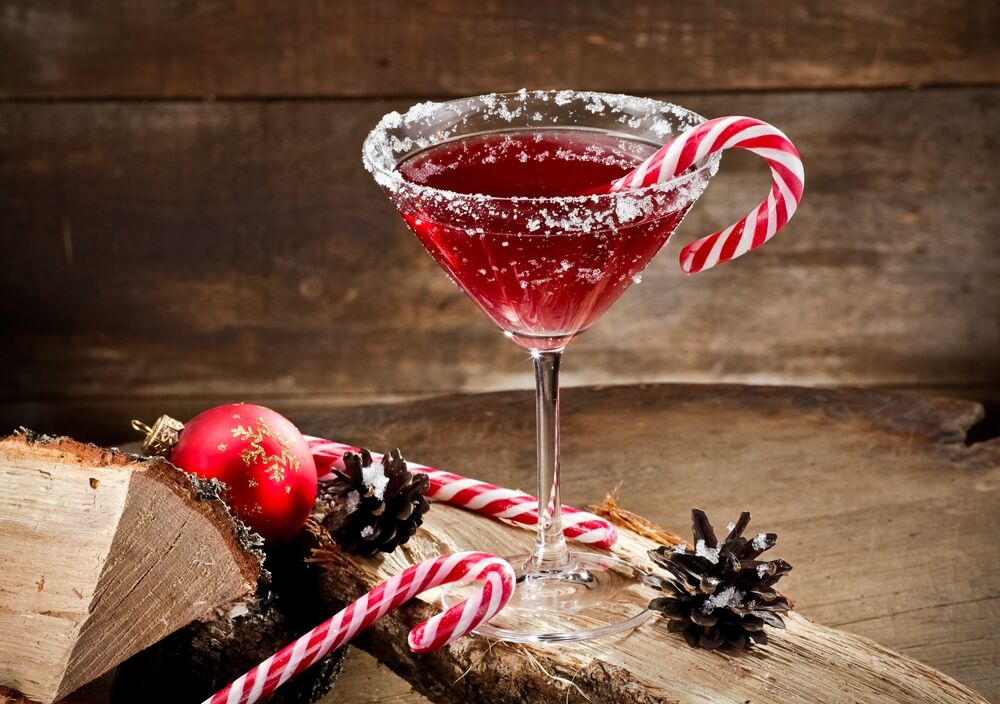 Photo: Mariyana M/Shutterstock.com
Get the cocktails flowing at your virtual Christmas party with one of these delicious holiday cocktail recipes. You could even hire a bartender to host a mini workshop, so your guests can learn a little mixology during your festive Zoom gathering. Don't forget to pair your drinks with a festive snack, and enjoy each other's company while you sip and snack together, apart! 
18. Sing Christmas Carols
Hire virtual Christmas carolers or an acoustic duo to lead your group in a singalong. Or if you prefer listening to singing, sit back and watch a virtual Christmas carol concert. 
19. Make a Christmas Craft
Choose a craft to do together, or go ahead and venture into separate projects—just keep the video chat rolling while you create. This can take place with one online party or set a date to be finished so you can present your final products to each other in a follow-up session, or even mail them out as gifts!
20. Christmas Cookie Exchange
Set up an online baking session to make Christmas cookies together. You could all make the same recipe, but we love the idea of each participant baking their favorite cookies and exchanging recipes. You could even ship boxes of treats to one another for the full cookie exchange experience.
21. Play Games
Looking for a casual Christmas party idea? Download card game apps like  Euchre 3D, Hearts+ and Crazy Eights to your phones or tablets and set up a video chat on another device while you play a virtual game of cards together. If charades or Pictionary is more your thing, try the Houseparty video chat app—it has built-in games that eight people can play together on their devices.
22. Christmas Tree Lighting
Cap off your tree decorating with this virtual Christmas party idea. Each take turns lighting up your tree and giving your friends a virtual tour of the decorations and the story behind them.
23. Charity Auction
You and your guests can do a little Christmas shopping while raising money for a good cause. Gather up items to auction off or invite each participant to donate something. If you can, send out a list of items ahead of time so you can get some healthy competition going and raise as much money as possible.
24. Virtual Gift Game
If you plan on exchanging gifts with your virtual guests, turn it into an online white elephant gift exchange game. P.S. This is a great virtual office Christmas party idea.
25. Put on a Christmas Concert
Invite each of your guests to share a special talent at your very own Christmas concert. For children on the call, this could be a ballet recital or a highlight from their school Christmas concert. For the adults in attendance, it can be a musical performance, dance routine, poetry reading or whatever they'd like to share with the group.
Bonus: Find more Holiday celebration ideas on The Bash. Plus, we've got more than 6,000 vendors nationwide providing online services for virtual events.
About Brittany Barber
Brittany Barber, lover of books, dogs, and romance, graduated from Bishop's University with a Communications and Theatre degree. After spending some time working abroad in the theatre world, she is now a freelance writer covering a range of lifestyle topics including event planning for The Bash, WeddingWire, 2life and Fluttr, and shopping for BuzzFeed and Narcity.