How to Host a Virtual Engagement Party
A step by step guide on how to virtually celebrate a couple of lucky lovebirds.
Brittany Barber
Contributor
Even though celebrations have been a little different lately, that doesn't mean your virtual engagement party will be any less memorable. We might not be able to throw a big event or go out dancing, but you'd be surprised by what some people have achieved on Zoom. Sure, it might take a little more creativity to get the party started — but rest assured, with these tips, your virtual engagement party will be a blast. 
From throwing a virtual dance party to hiring entertainment (like a virtual caricaturist or musician) — we've put together a step-by-step guide to help you throw an unforgettable engagement party,  whether you're hosting in honor of the happy couple or you and your fiancé(e) are planning it for yourselves. 
READ MORE: 
So, here's how to throw a fun virtual engagement party:
Choose a Platform
Photo: Patchii/Shutterstock.com
Whether you use Zoom, Google Meet, or Skype — pick a platform you enjoy and use it for your virtual engagement party. If, somehow, you're still new to the world of digital gatherings, here's the lowdown on the best video chat apps to use for groups.
Pro Tip: If Zoom is your go-to virtual party platform, make sure you use a Pro account. Why? Because without it, you're limited to 40-minute sessions, and it's a total pain to try to round everyone up to rejoin time and time again. You'll also have access to "breakout rooms," which allow large groups to break off into smaller ones, so people can mingle a little easier (without screaming over 50+ other guests). 
Make a Guest List
Just like any other party, you've got to curate a guest list for your virtual engagement party. Even though it's online, you'll still want to be selective about how many people you invite. It can become overwhelming to manage 100 people on a video call, even with the help of Zoom's breakout rooms. If you really can't narrow it down, consider hosting in waves — so the happy couple can actually get the chance to connect with all the guests. 
Create an Agenda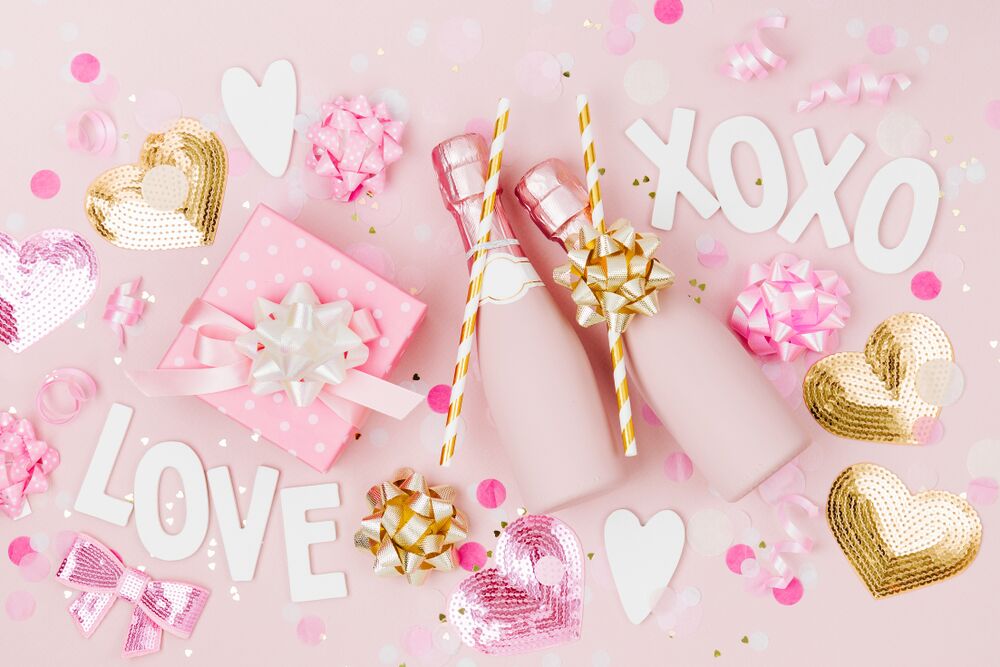 Photo: Igisheva Maria/Shutterstock.com
One of the biggest differences between hosting a virtual party and an IRL event is the need for structure. It's much easier to let people just do their own thing when they're wandering around with a drink in their hand, bouncing from person to person, face to face. Leave your guests to their own devices at a virtual party? Well, let's just say it can turn into a whole lot of talking over one another — including questions about what y'all should be doing.
We recommend breaking your virtual engagement party down into sections. Reserve a block for mingling and catching up, but have a plan for activities. For example:
7:00-7:30 pm: Mingle with cocktails
7:30-7:45 pm: Make a toast
7:45-8:00 pm: Slideshow 
8:00-8:30 pm: Couple's trivia
8:30-9:30 pm: Virtual dance party! 
You'll want to be fairly strict with your schedule, to keep it engaging for your guests and to make sure the party moves along smoothly. You'll probably want to include it in your invitations too, so everyone can be on the same page. 
Send Invitations
How you send your invitations is totally up to you. An old fashioned paper invite? An e-card? A virtual singing telegram? Whatever you decide, just make sure you include your start and finish times, virtual engagement party link, a general schedule of what you'll be doing, and the dress code.
Decorate
Even though you're celebrating virtually, you'll still want to make your space worthy of a virtual engagement party! You don't have to go wild, but some balloons and a banner in view of your webcam is a must. You can even send little decorations for your guests to put up, or recommend one of these wedding-themed Zoom backgrounds so they can decorate digitally instead. (You might want to check them out for your screen, too!)  
Dress Up
Get out your favorite cocktail dresses and party outfits, because a celebration isn't complete without the right ~lewk~. A lot of us haven't had a reason to get dolled up lately, so use this special virtual celebration as an excuse to go all-out. 
Reserve a Moment for a Toast 
Make sure you leave some time during your virtual engagement party to let people congratulate you and say their bit. Bust out the bubbly and let it be a big deal! This is your engagement party after all!
Plan a Virtual Activity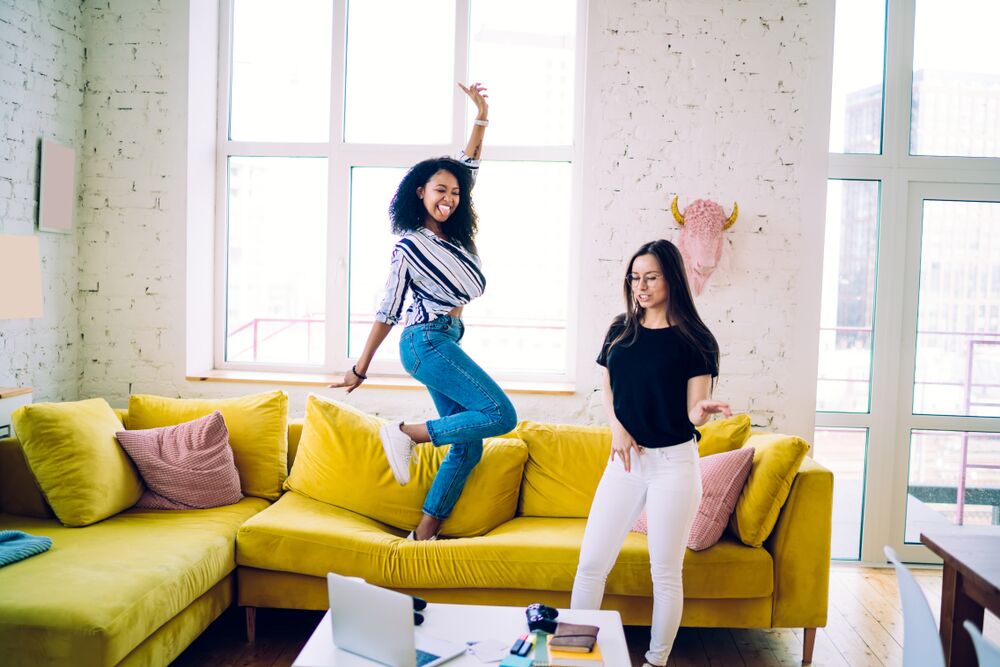 Photo: GaudiLab/Shutterstock.com
Like we said before, structure is essential to a successful virtual engagement party. A virtual cocktail party, talent show, karaoke or game night are just a few of the noteworthy ways to keep guests engaged and entertained. Check out these 35 Virtual Party Ideas for even more inspiration, or consider planning something like: 
A Slideshow
A surprisingly awesome source of entertainment at a virtual party is to host a slideshow. This one should be focused on you and your new fiancée, but don't forget to include some memories of your guests, too. Be sure to mention it in your invites and ask if anyone has any photos they'd like to add. 
Personalized Trivia
Play a game of trivia to see how well your guests know the newly engaged couple. You can create your own game with a super-cool site called Typeform. Just sign up and use their trivia quiz template to create your own questions and answers, and share it with your guests via email. We recommend replacing the questions that are already included in the template — it'll be easier than starting from scratch. It's free to use and share, too! 
Virtual Dance Party
Once the drinks are flowing, it's time for a celebratory dance party! If you've never participated in a virtual dance party, we have a whole article on how you should go about planning an awesome one. You can check out our guide here. 

Bonus: Here's a bumpin' party playlist and get everyone up and moving. 
Play an Online Game  
Unwind together with a fun online game. Games like Among Us, Avalon, Skribbl, or any of the Jackbox Party Packs are great options that are easy to learn and fun for all ages. 

You could also spice it up with a virtual interactive game show, or even a murder mystery game! If you're looking for something besides the typical party games for your virtual engagement party, we have some awesome virtual entertainment for you to check out. 
Hire Virtual Party Entertainment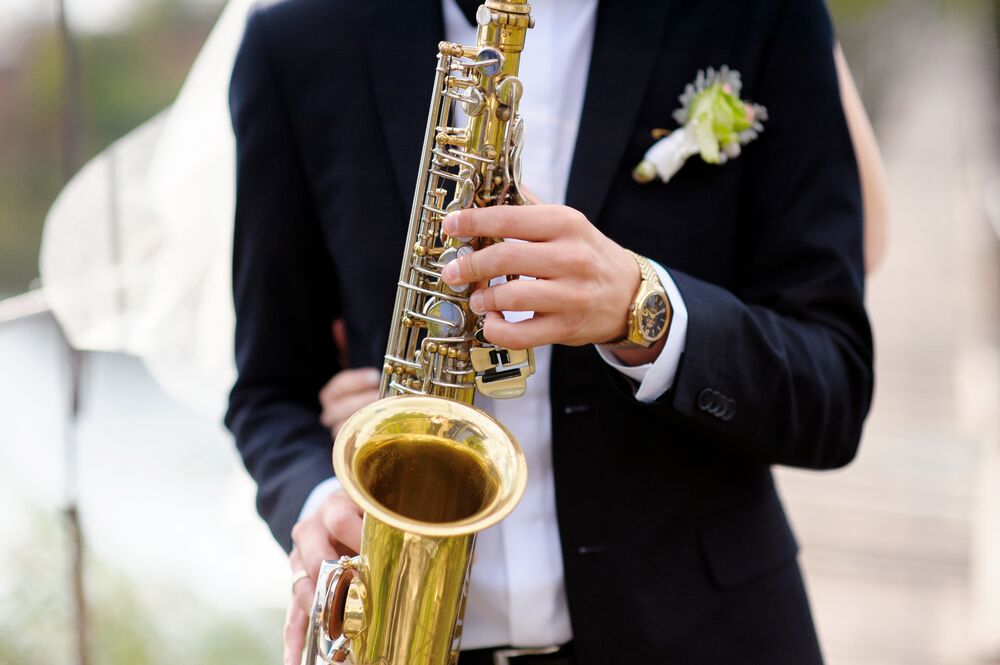 Photo: Tymonko Galyna/Shutterstock.com
Hiring virtual entertainment for your virtual engagement party is a great way to make the most out of your digital celebration. Make it memorable with one of these awesome virtual vendors: 
Virtual Caricaturist

 - Invite a caricaturist to draw portraits of your virtual guests, so you and your guests have something special to remember this special party. You can organize it so the artist will email the drawings at the end of the party, giving each guest a party favor to end the call with.

Virtual Fortune Teller

 

- Slot in a fortune teller to tell you and your guests what the future holds for the future newlyweds!
Virtual Elvis Impersonator - If you're into Elvis — hire a virtual Elvis impersonator to make a guest appearance at your virtual engagement party — it'll definitely be something to remember. 
Virtual Band - Hire some live music to play virtually for your guests — it could be a great way to get the virtual dance party started! 
Well that's that folks! We hope this helps with your virtual engagement party planning. You can find even more wedding ideas on The Bash. 
Bonus: Check out our complete guide on how to host an amazing Zoom party. Plus, The Bash has more than 6,000 vendors nationwide providing online services for virtual events. 
About Brittany Barber
Brittany Barber, lover of books, dogs, and romance, graduated from Bishop's University with a Communications and Theatre degree. After spending some time working abroad in the theatre world, she is now a freelance writer covering a range of lifestyle topics including event planning for The Bash, WeddingWire, 2life and Fluttr, and shopping for BuzzFeed.