Travel the Globe with an Around the World Party Theme
Get your passports ready!
Marcella Breglia
Contributor
Who says you ever have to leave your house to be a globetrotter? Explore diverse cultures, savor international cuisine, and immerse yourself in international fun with an around the world themed party! Let The Bash be your tour guide and get ready to embark on a worldly journey filled with everything from food and drinks ideas, entertainment, decorations, and much more. 
Setting up an around the world themed party with designated stations for different countries or regions is a fantastic way to immerse your guests in a worldwide adventure. Whether this celebration is a classroom party or just a unique birthday party theme, it's the perfect opportunity to learn about your guests and their cultures. So, fasten your seatbelts and get ready to stamp your passports as we embark on these around the world themed party ideas.
Bonus: Keep scrolling for Christmas around the world party ideas for this year's festivities!
Keep reading for Around the World themed party ideas:
Passport Invites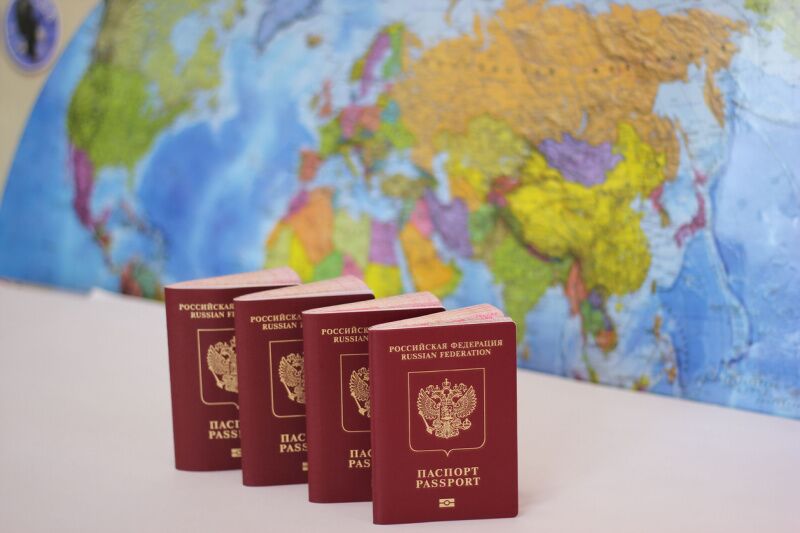 Photo: YULIYA Shustik/shutterstock.com
Transport your guests into the world of travel from the very beginning of the party—the invites. With a passport themed invitation, you can literally give your guests a ticket to an around the world themed party adventure. Encourage guests to bring their passport invitations so you can use them for a fun party game. 
Stamp your Passport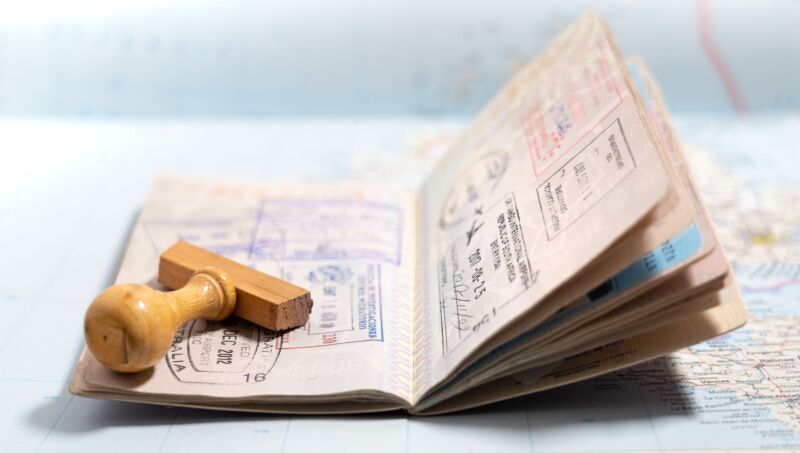 Photo: maramade/shutterstock.com
The best part about traveling internationally is getting your passport stamped! Travel around the world and stamp guest's passports at each country station for an authentic feel. With themed stamps or stickers for every location, these passports can be a creative take-home item for guests to remember their travels and party. 
Potluck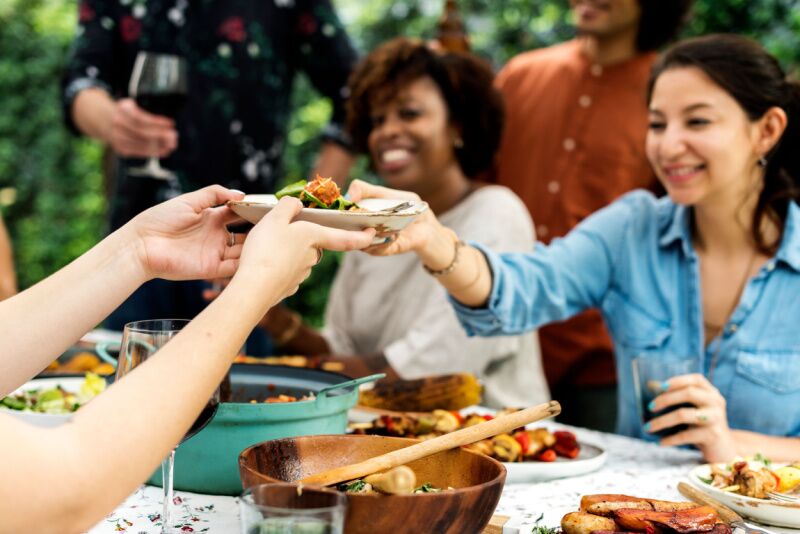 Photo: Rawpixel.com/shutterstock.com
In an effort to take some stress away from the host and a great way to learn about your guests, host an around the world party potluck! Encourage guests to bring a traditional dish that represents their heritage and share a piece of themselves with the party. Not only will you check food off of your party planning list, but you will also create memories and connect with your guests. Pizza, tacos, and gyros sound delicious to us!
Currency Exchange Photo Booth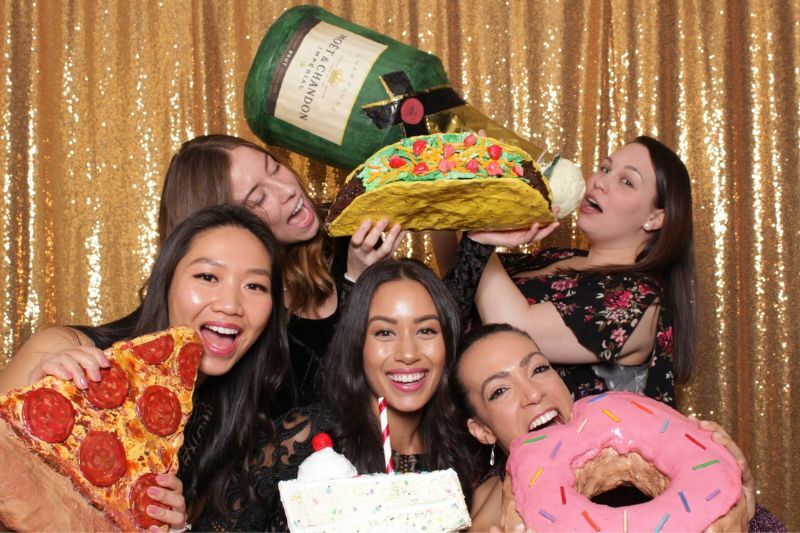 Vendor: 321 Photo Booth (Handmade Props) 
Combining a photo booth and around the world party decorations will add a creative and interactive element to your celebration. Allow guests to place fake currency, like yen, dollars, or euros into a photo booth where they can enter to capture memories. This is a delightful blend of finance and fun, and every click of the camera will commemorate your around the world party adventure. 
Country Stations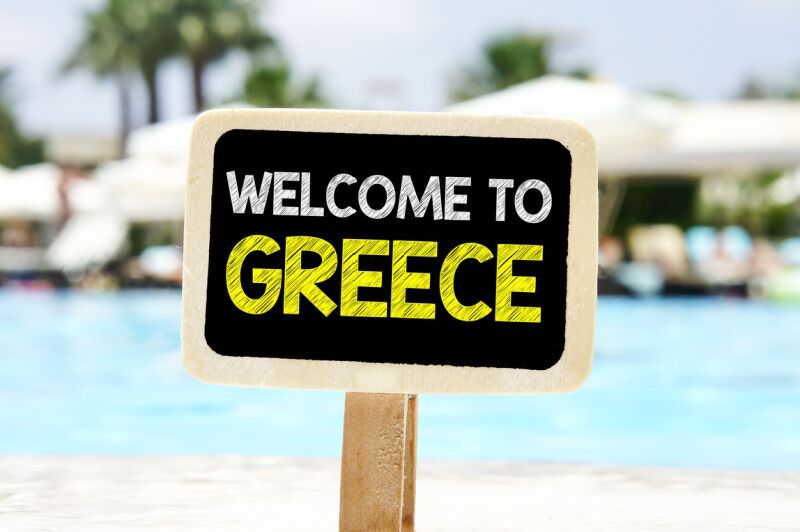 Photo: Robert Plociennik/shutterstock.com
The easiest way to achieve world traveler status for this around the world party is to set up stations for different countries. Guests can travel between countries to try different food, listen to cultural music, and maybe even learn a dance. If you want to bring your country stations to the next level, consider booking live music like Irish bagpipes, Italian singers, or even a Latin DJ.
Night in Paris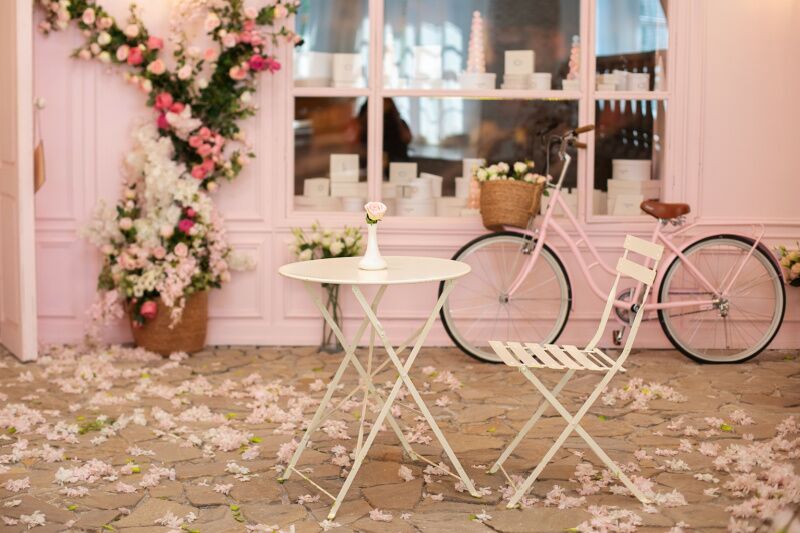 Photo: stock_studio/shutterstock.com
You're definitely going to want to include the City of Lights for a Paris station. Transport your guests to a Parisian cafe with delicious pastries, cheese, and macarons. Hire an accordion player for some added romance and decorate this destination with twinkly lights and an Eiffel Tower centerpiece.  
Las Vegas Casino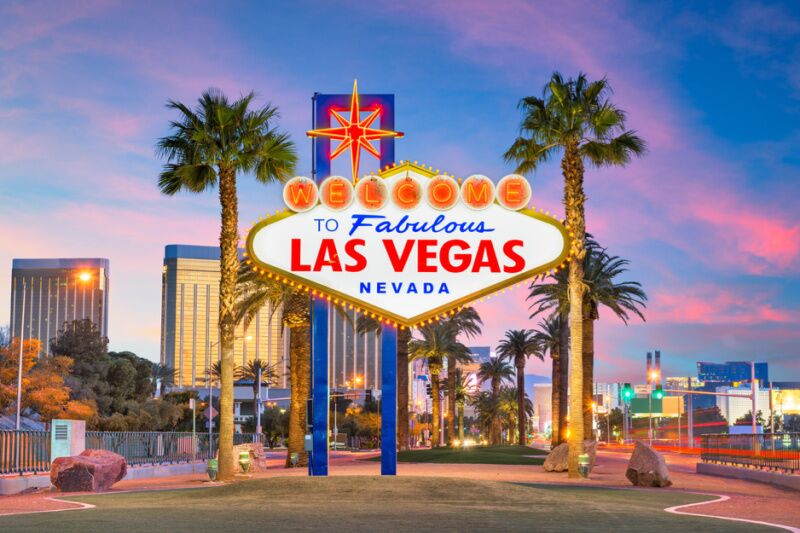 Photo: Sean Pavone/shutterstock.com
Just because this is an around the world themed party doesn't mean you can't stay domestic! Use glittering lights, oversized playing cards, and neon signs to recreate the high-energy ambiance of the famous Las Vegas strip. Set up a cocktail bar staffed with a bartender to make classic cocktails like martinis and cosmopolitans, and bring the Las Vegas magic to life by renting casino games, hiring a magician, mentalist, fortune teller, or a tarot card reader. 
Arabian Nights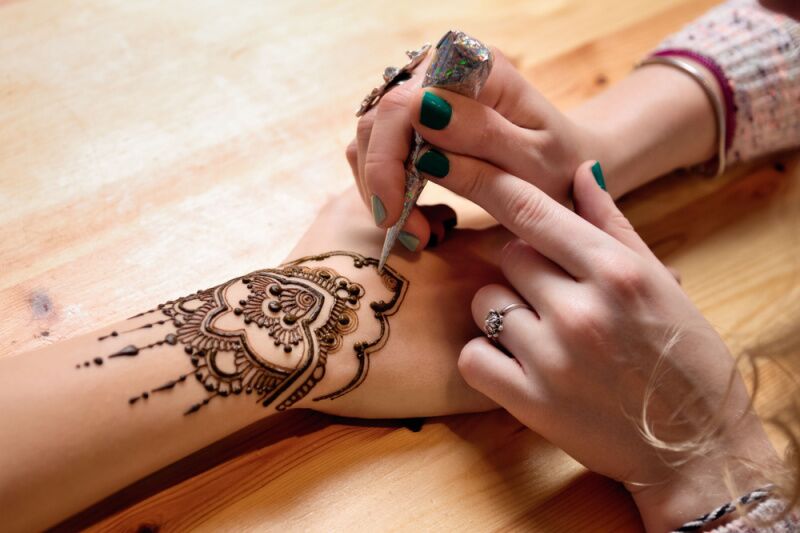 Photo: sokolander/shutterstock.com
Take a magic carpet ride to the Middle East with details from an Arabian nights party theme. Guests can enjoy shawarma and hummus, watch professional belly dancers, or even get a temporary tattoo from a talented henna artist.
Mexican Fiesta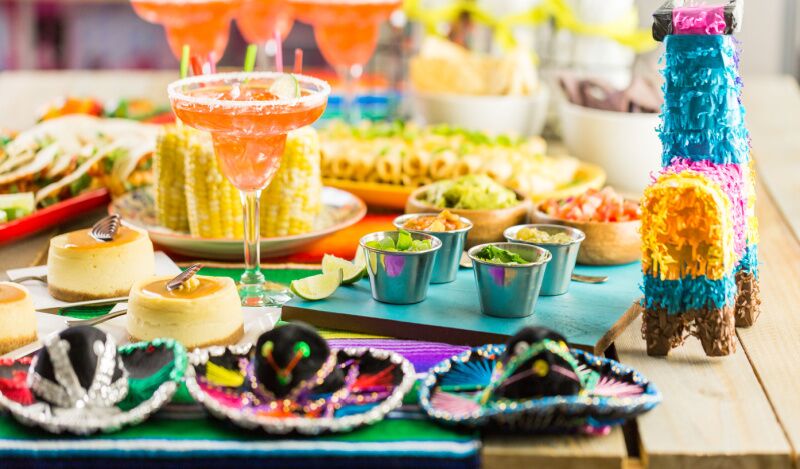 Photo: Arina P Habich/shutterstock.com
Infuse your around the world party with the vibrant energy and flavors of Mexico by incorporating Mexican fiesta details! Turn this station into a colorful area with bright papel picado banners, piñatas, sombreros, and a mouth watering spread of traditional Mexican dishes.
African Safari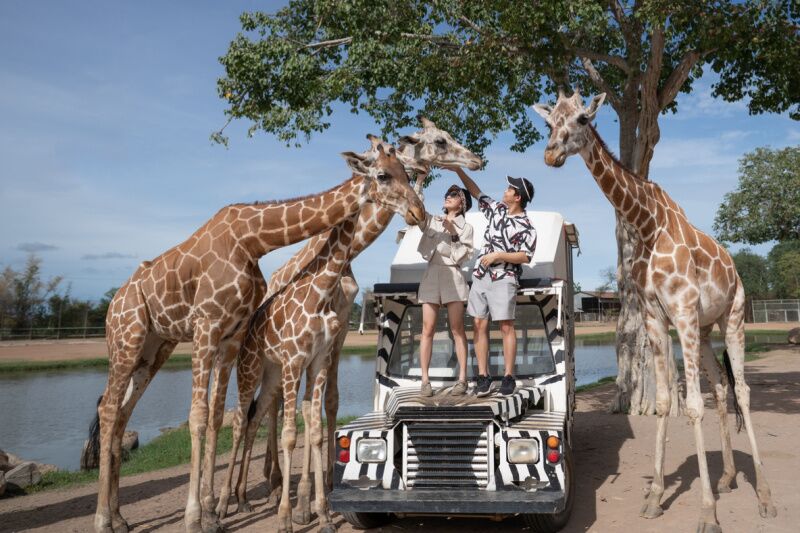 Photo: MBLifestyle/shutterstock.com
As you embark on your party all around the world, explore the untamed beauty of an African safari for an adventurous touch. Wrangle your station into an African savanna decorated with earthy tones, animal prints, and you could hire a face painter to transform your guests into wild animals or book an African band to delve into the culture.  
British Tea Party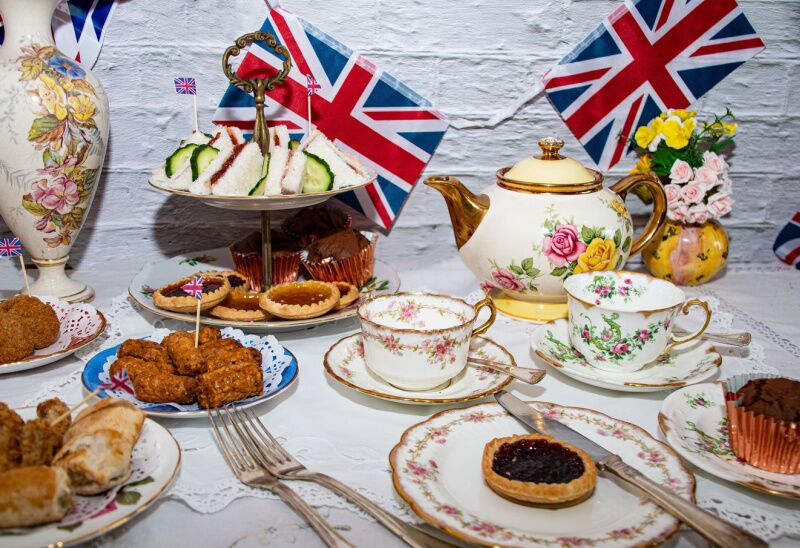 Photo: Debra Angel/shutterstock.com
This station will be everyone's cup of tea—literally. Take part in the refined tradition of a British tea party at your around the world themed party. With floral centerpieces, fine china teacups and saucers, this tea time playlist, and a pastel color scheme, your guests will have their pinkies up, Bridgerton style. 
Western Party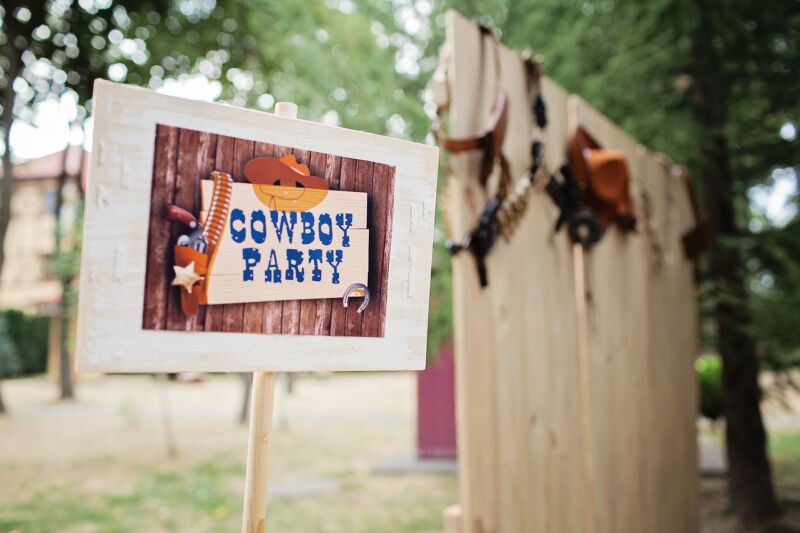 Photo: Gerasia/shutterstock.com
Saddle up and get ready for a rootin'-tootin' good time as you add a thrilling wild west adventure to your around the world themed party. Create an authentic western atmosphere by incorporating hay bales, wooden barrels, and decorating cowboy hats. Set the stage with a country playlist or a live country band to make for some good old-fashioned country fun. 
Pro Tip: If western isn't your style, you can always take a coastal cowgirl take on the western theme.
Luau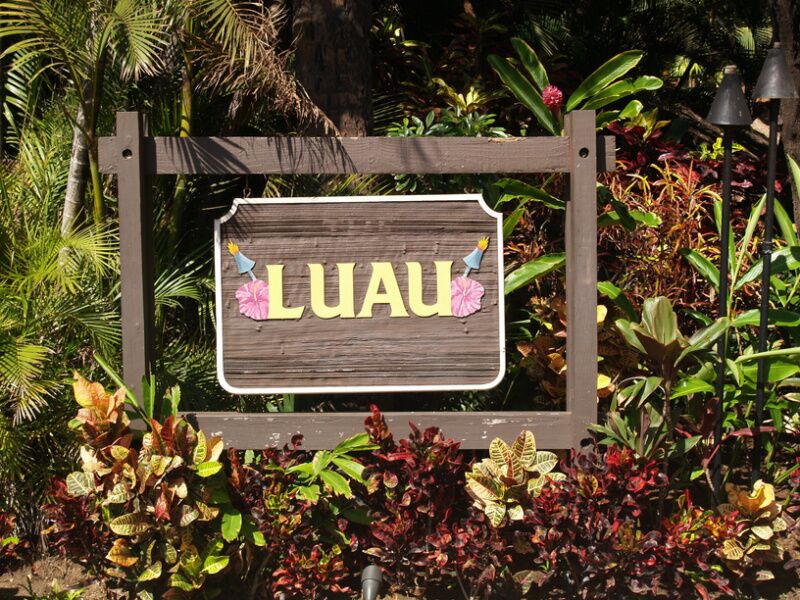 Photo: Gheorghe Roman/shutterstock.com
Create an oasis during the around the world fun with Hawaiian luau details! From the limbo to leis, everyone will go coconuts over this tropical party station. Hire a hula dancer or a ukulele player to set the beachy vibe as a perfect addition to your around the world party theme. 
Caterers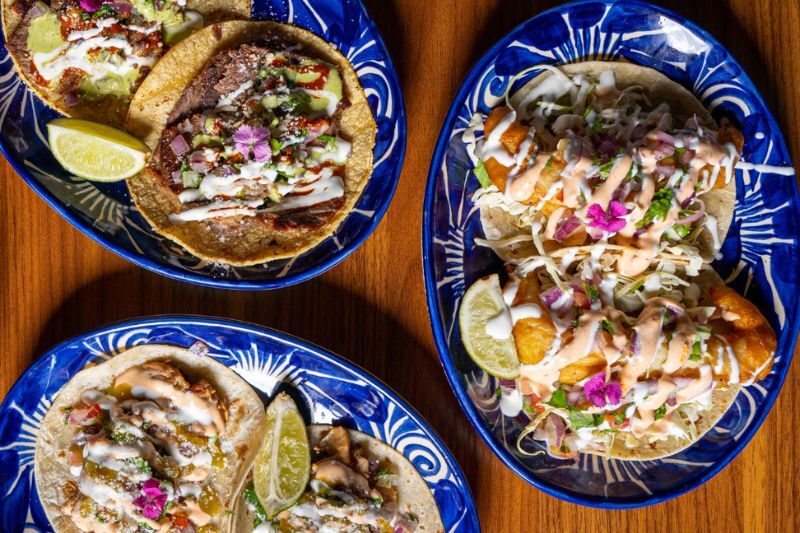 Vendor: Barracrudda
Send everyone's taste buds on a global culinary adventure by hiring a caterer to bring various cuisines to life. Consider crowd-pleasers such as sushi rolls from Japan, savory tapas from Spain, or creamy pasta from Italy to create your around the world dinner party menu. Be sure to label each dish with its country of origin for an authentic touch. 
Pro Tip: Work with your caterer beforehand to see if they are willing to dress the part for this theme. If so, you can provide flight attendant and pilot uniforms for servers as an added travel touch. 
Treasure Hunt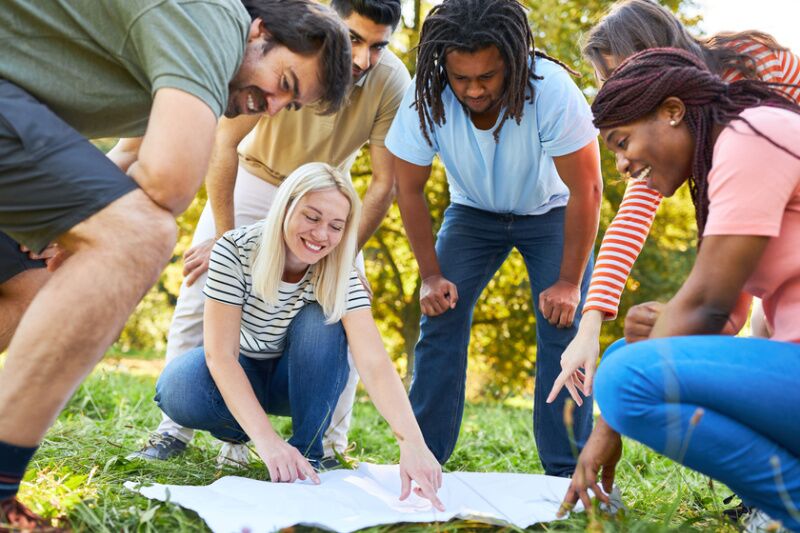 Photo: Robert Kneschke/shutterstock.com
Add a thrilling adventure to your around the world themed party with a global treasure hunt that will have your guests exploring continents, solving clues, and uncovering hidden treasures. Hide clues or fun facts at each country station and allow guests to travel the globe as guests explore to solve! The details in this quest will also double as perfect around the world party decorations. A global treasure hunt adds an exciting and interactive element as your guests party all around the world solving riddles and games! 
Globe Cake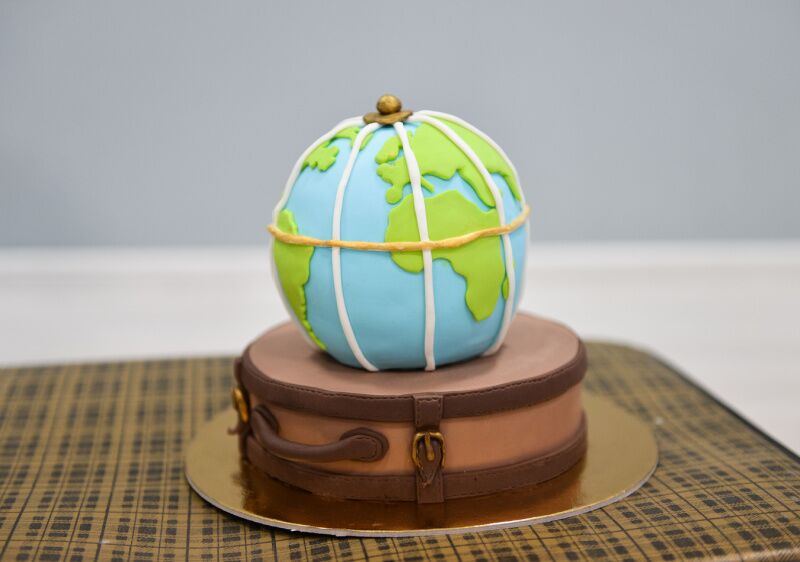 Photo: Olllllga/shutterstock.com
The perfect centerpiece for your party all around the world is a globe cake! Picture a cake shaped like a round globe, complete with intricate details like the continents, oceans, and even tiny edible landmarks representing the places you're celebrating. A globe cake is sure to be a delightful and Instagram-worthy addition to your global adventure-themed celebration. You could also very easily decorate sugar cookies to look like globes too!
Flag Decorations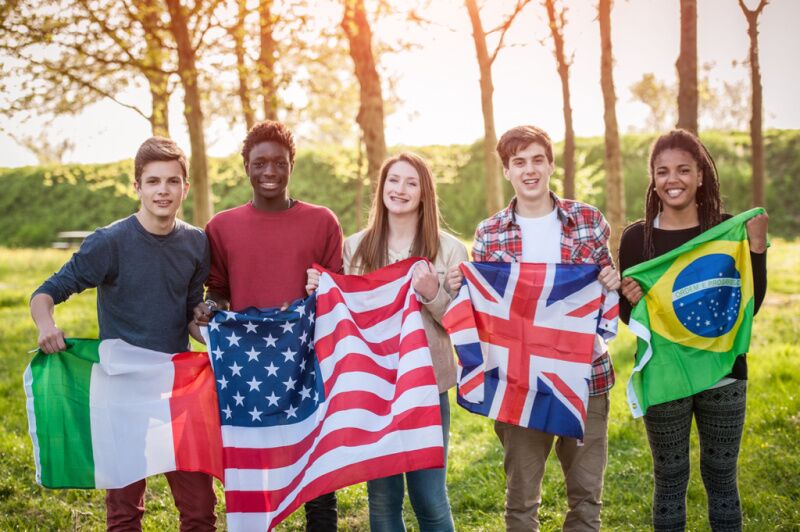 Photo: Riccardo Piccinini/shutterstock.com
Flag decorations are a simple but great way to infuse your around the world themed party with culture. Whether it's the stars and stripes of the USA, the Union Jack of the UK, or the bold colors of the Mexican flag, flags make the perfect around the world party decorations. So, unroll the flags, let them wave in the wind, and watch as they turn your party into a global celebration!
Postcards
Photo: Samuel Borges Photography/shutterstock.com
Postcards featuring iconic landmarks from different nations can become keepsakes that your guests can take home as mementos of their party around the world. Whether used as interactive elements, decorations, or party favors, postcards add a unique and heartfelt dimension to your adventurous celebration.
Suitcase Decor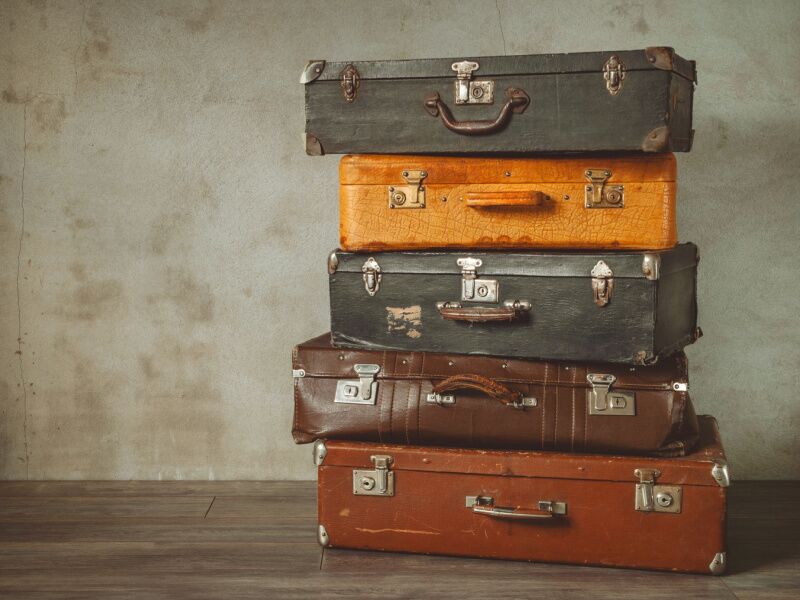 Photo: Serge Ka/shutterstock.com
Imagine your venue adorned with vintage suitcases, both big and small, stacked and open, bursting with exotic trinkets, travel souvenirs, and faux passports. Suitcases as decor will not only create an ambiance of globetrotting excitement but also serve as functional elements, doubling as unique storage solutions or display pieces for party favors. 
Inflatable Globes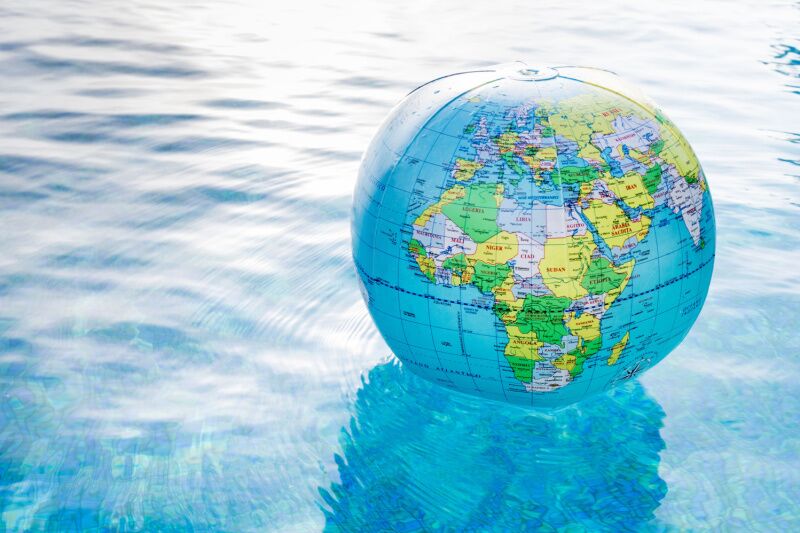 Photo: Jon Kempner/shutterstock.com
Inflatable globes will serve as around the world party decorations that are playful and interactive additions to your party. Whether they're suspended from the ceiling, placed on tables, or spread across the floor, inflatable globes perfectly emulate the global theme of your party.
Christmas Around the World Party Theme
Christmas is different all around the globe, so why not dive into various cultures to celebrate this year? We've got Christmas around the world party ideas that are going to want to make you celebrate big.
North Pole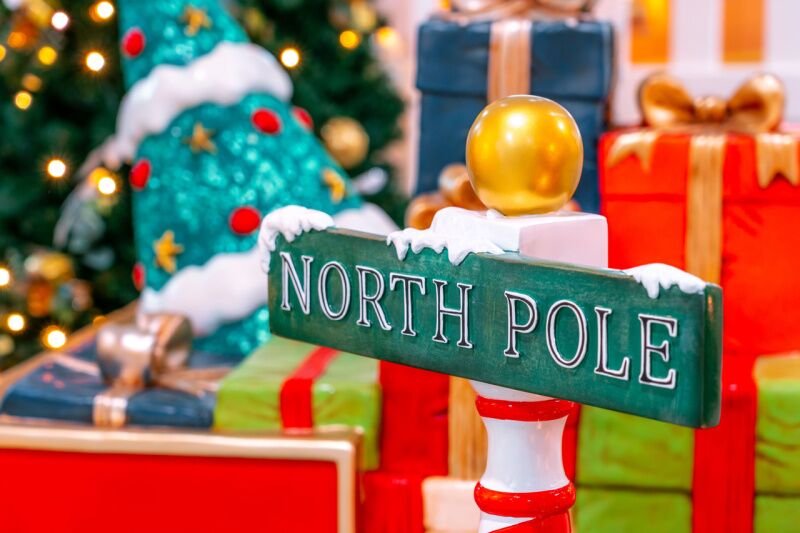 Photo: Alex Cimbal/shutterstock.com
Very few people have actually visited the North Pole, so it would be a fun touch to make it the backdrop of your international holiday party this season. This frosty twist will make your guests' dream come to life with snow-covered landscapes, a Santa's workshop sign, and real reindeer if you really want to elevate the experience!
Santa Claus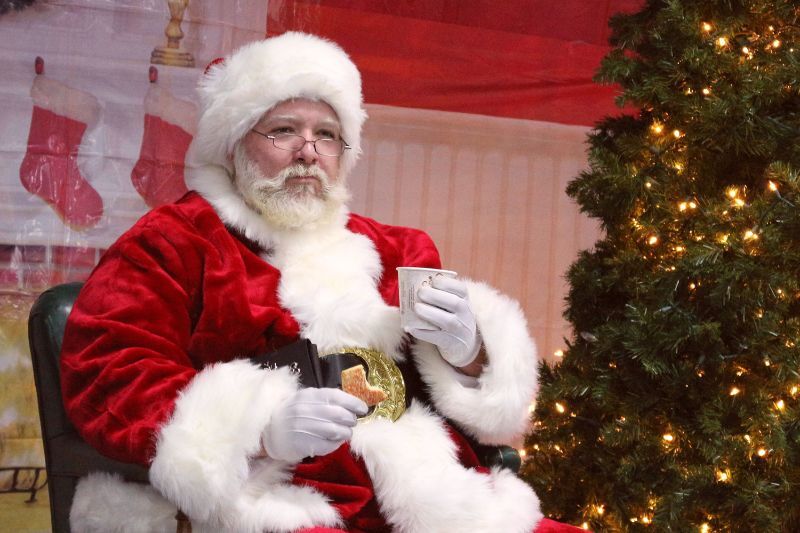 Vendor: A Claus To Remember
Whether you call him Santa, Father Christmas, or Babbo Natale, what's a Christmas party without the big guy to help celebrate? Browse local Santa Claus characters to bring the Christmas magic to your around the world party theme.
Christmas Food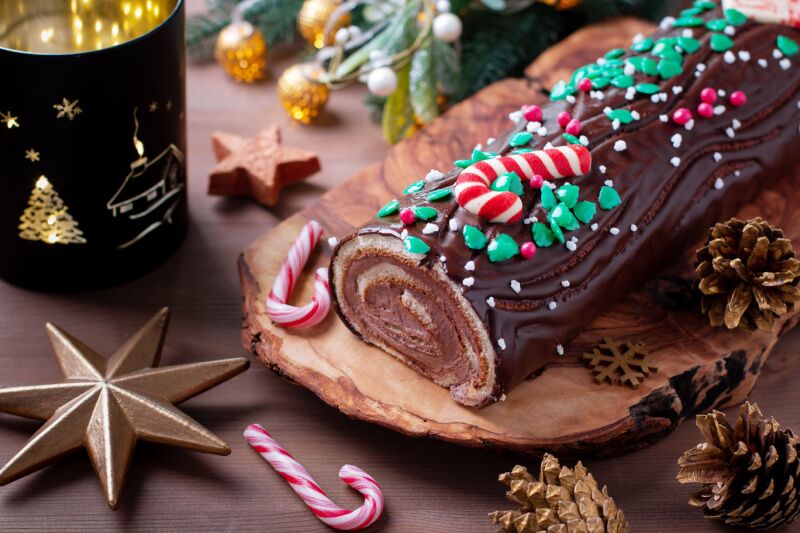 Photo: Maria Shipakina/shutterstock.com
There are tons of Christmas food traditions from around the world that your guests probably already make during the holidays! Invite guests to bring their favorite traditional foods like the Feast of the Seven Fishes, Bûche de Noël, or Christmas pudding for a delicious potluck feast.
Ornaments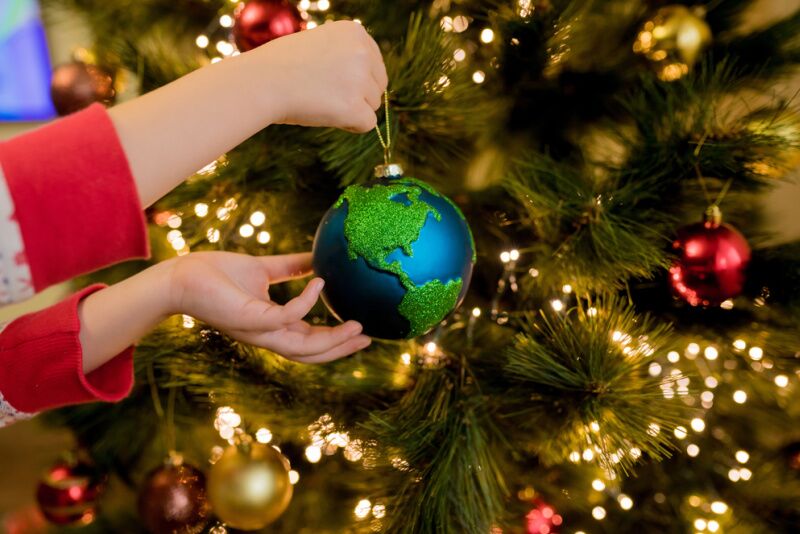 Photo: Tatiana Gordievskaia/shutterstock.com
As a unique and practical party favor, consider getting holiday ornaments from different countries! Guests can grab one on their way out of the party, or you can choose a special one for each person. This is the best party favor because they can go home and add it right to their Christmas tree.
Find more party ideas and inspiration here on The Bash.