Ideas for an Astrology Themed Party: Libra
Happy Libra season!
From September 23rd to October 22nd, it's officially Libra season. This means it's time to start thinking about your upcoming birthday party! When planning any event, it's important to start with the basics. You'll need to solidify the date, venue, entertainment, guest list, and of course, the party theme as soon as possible. Luckily, we have a handy checklist to help you out. 
If you want to stay true to your astrological sign, we've put together the top six party themes for Libras to celebrate this year in style. These air signs typically gravitate towards beauty, harmony, and balance, while appreciating a social setting.
Pro Tip: If you have a deep interest in all things astrology, consider booking an astrologer for your birthday party so guests can learn more about themselves.
Here are top party themes for a Libra…
Mamma Mia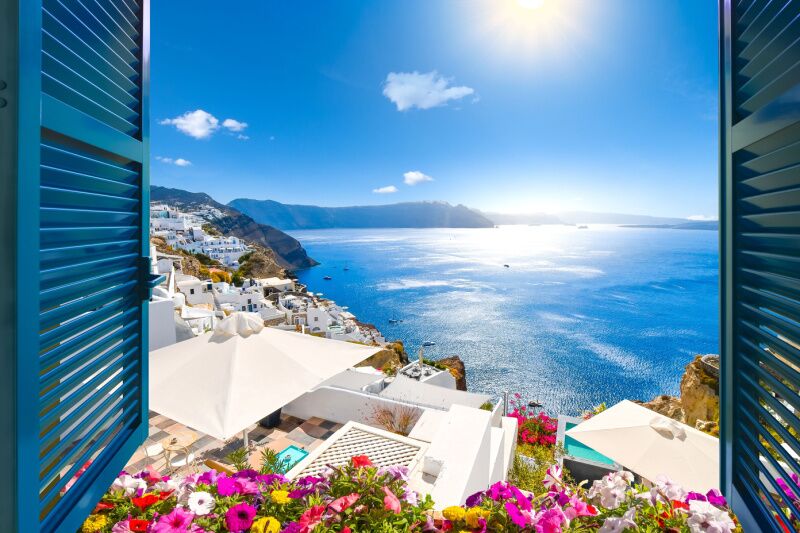 Photo: Kirk Fisher/shutterstock.com
While Libras are under the rule of Venus—the planet of love and beauty—the story of Mamma Mia features old and new love, making it a perfect party theme for this zodiac sign. Not to mention the celebratory mood and feel-good vibes!
For a Mamma Mia themed party, take inspiration from the picturesque Greek island of Kalokairi to set the tone. You'll want to serve a traditional menu featuring Spanakopita bites and Tzatziki dip with veggies, while decorating with a bright blue color scheme. Dressing like Donna or Sophie in white linens, floral designs, and denim jumpsuits will help carry out the 70s undertone while also making for great photo opportunities.
What's a Mamma Mia themed party without entertainment to match? You'll definitely want to take part in a few rounds of karaoke to sing "Dancing Queen" and "Honey Honey." If you'd rather listen to the professionals sing "Super Trooper," consider booking an ABBA Tribute Band to perform all the classics.
Garden Party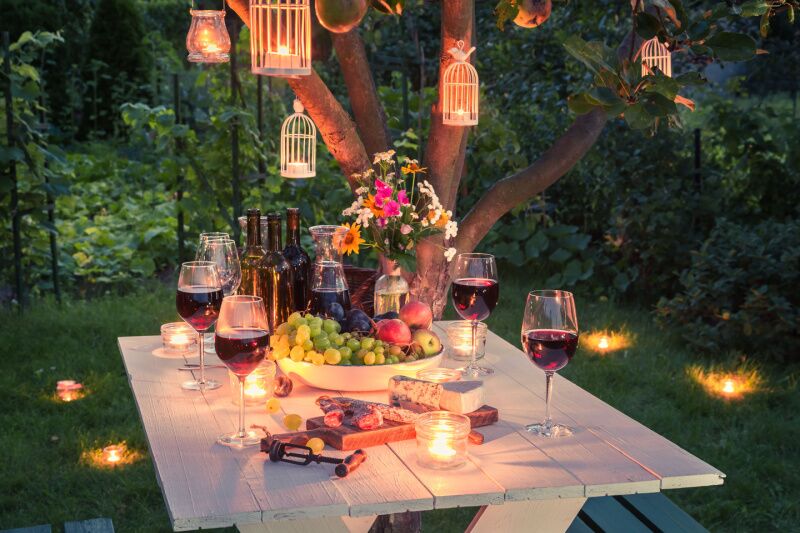 Photo: Shaiith/shutterstock.com
These air signs have a love for beauty and aesthetics. What's more aesthetic than the natural beauty of a garden? Enjoy the weather of the early fall by hosting your birthday party outside to enjoy the vibrant colors, fragrant blossoms, and serene ambiance of the season.
As people who enjoy bringing others together, Libras will thrive in the social get-together by mingling in conversation and building connections. Whether you choose a Bridgerton inspired tea party or opt for a magical fairy picnic tone, the outdoors make the perfect setting for this celebration.
Enhance the harmony and sensory experience with elegant entertainment to match. Consider booking soothing live music like a harpist, acoustic guitarist, or even a talented pianist for this classy occasion. If you want to go above and beyond at this garden party, you'll love the addition of a silhouette artist to provide guests with a unique keepsake.
Old Hollywood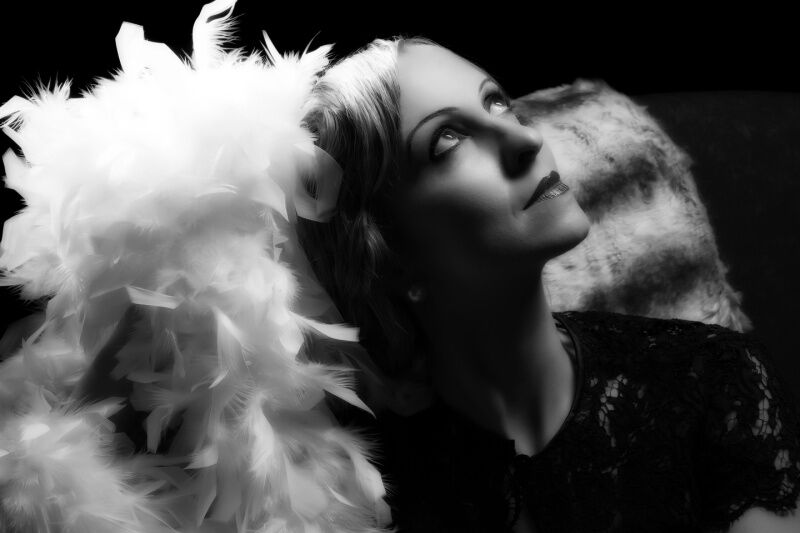 Photo: Anneka/shutterstock.com
An Old Hollywood party theme captures the glamor and elegance of the time period, attributes that Libras tend to love. With also a common appreciation for the arts, this nostalgic party theme allows for these signs to indulge in their creativity and passions.
Glitz and glamor is the backdrop for this birthday party. Roll out the red carpet, decorate with a monochromatic black and white color scheme, and incorporate old movie posters in your event space. To elevate the experience event more, request a black tie dress code on your art deco party invitations.
Throughout the celebration, you'll want to play the classics, perhaps on a larger than life movie screen to feel completely immersed. Invite some of your favorite stars to attend the festivities including a Marilyn Monroe impersonator or a Frank Sinatra tribute act that will mingle with guests. If you want more of an upbeat and dance atmosphere, you'll love the energy of a jazz band to get people on the dance floor.
Carnival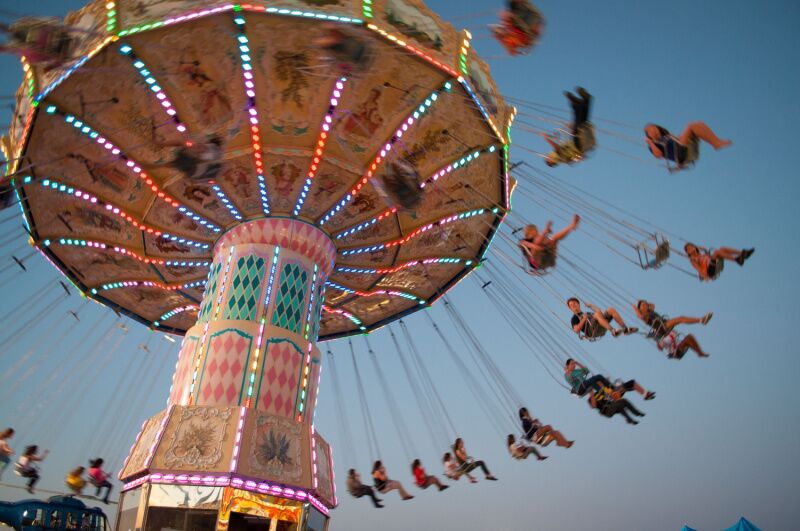 Photo: i-m-a-g-e/shutterstock.com
Step right up to enjoy this vibrant and lively party theme! This astrological sign tends to seek a balance in life, similar to the offerings of a carnival. The classic carnival features a balanced mix of attractions including games and rides, to food and performances—something for everyone!
As the end of summer approaches in the Libra season, can you think of a better way to celebrate? Snack on food truck favorites like corn dogs and candy apples, or you could test your bartending skills with carnival inspired pickle martinis. You'll want to decorate with an old-school carnival aesthetic incorporating the classic red, white, and yellow color scheme to help set the tone.
Entertainment and variety acts complete the carnival atmosphere, so don't be afraid to go all out! Choose from clowns and face painters, to stilt walkers and human statues for an unforgettable carnival themed party.
1970s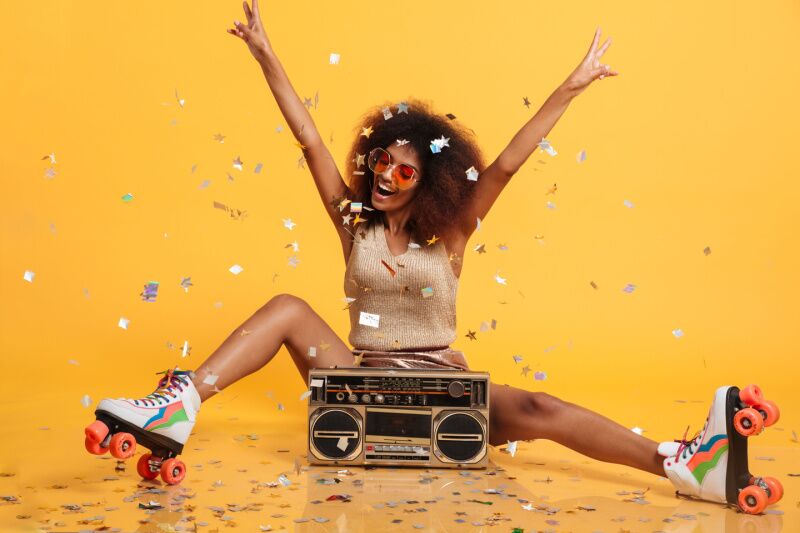 Photo: Dean Drobot/shutterstock.com
This decade brings together vibrant colors, unique fashion, and iconic music, creating a nostalgic and energizing ambiance. As a sign that enjoys the company of others, Libras will love the social component and lively atmosphere of a 70s disco.
As the era of expression and balance, this time period was significant for advocating peace, love, and harmony. It also came with a unique and distinct style of bell-bottom jeans, psychedelic patterns, and popularity of platform shoes. Libras are sure to appreciate the diverse offerings of this period and party theme.
A 1970s themed party needs music to match. Luckily, you've come to the right place! Browse 70s bands or a professional DJ that will have guests movin' and groovin' on the dance floor in no time.
Masquerade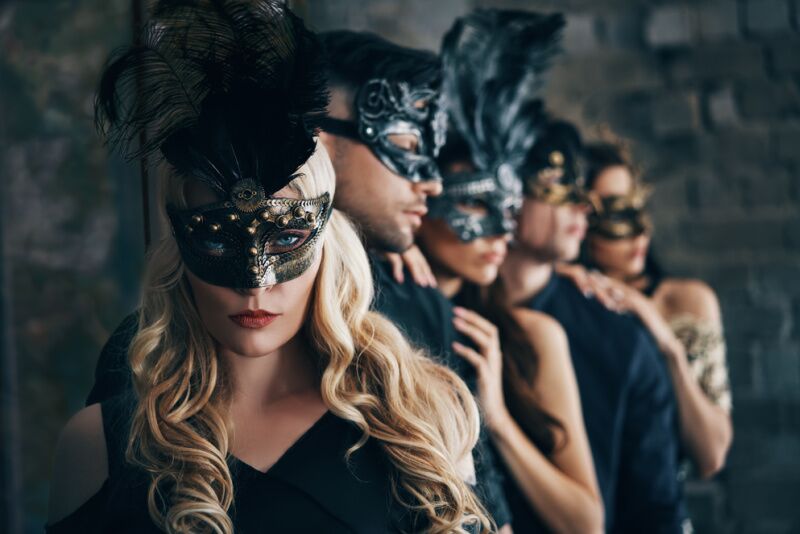 Photo: Viktor Gladkov/shutterstock.com
A masquerade themed party offers intriguing mystery and elegance, some characteristics that might resonate with a Libra. Dive into the 16th century through luxurious decor, entertainment, and food and drinks that will allow guests to travel back in time, in style.
A sleek ballroom provides the perfect backdrop for an occasion like this one, especially if this is a milestone birthday celebration. It also allows ample space for entertainers and vendors including acrobats, professional caterers, or ballroom dancers. You can even set up a station for guests to create and decorate their own masks.
To ensure everyone spends time on the dance floor, consider booking a live band or string quartet to play elegant songs. You'll also want to capture the celebration with a photographer or photo booth, providing plenty of pictures for guests to post on Instagram after the party is over.
Find more party theme ideas here on The Bash.