15 Fun Outdoor Venues in Los Angeles to Host a Party
These exciting venues are ready to be booked for your next special event.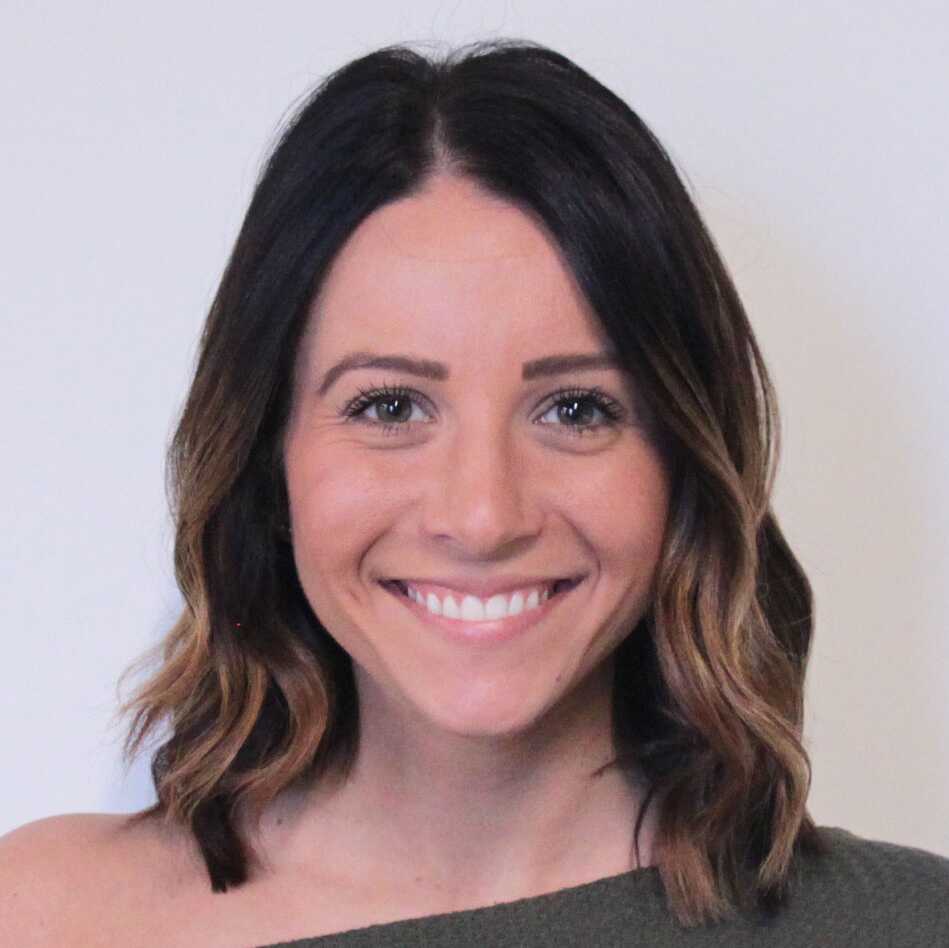 Let's Get This Party Started!
Find event inspiration, themes, and unique party vendors here on The Bash. We'll share customized ideas, personalized tips, and recommended vendors to help bring your celebration to life!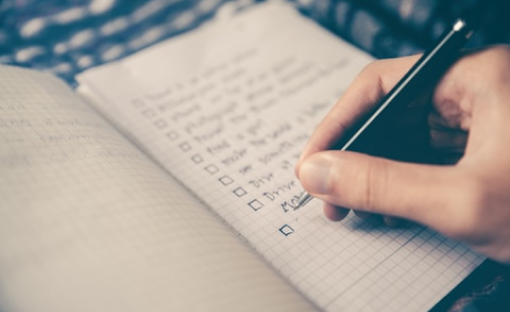 Party Planning Checklist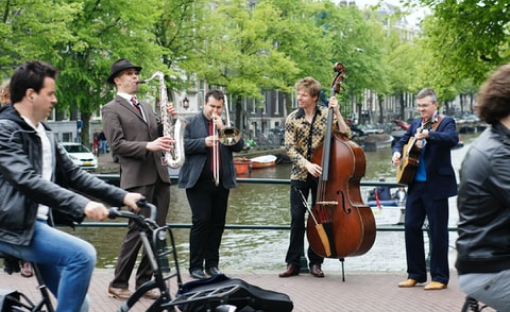 Recommended Vendors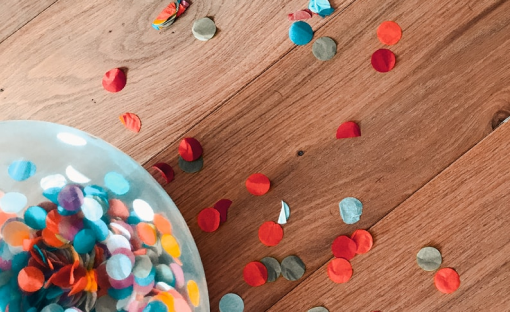 Party Trends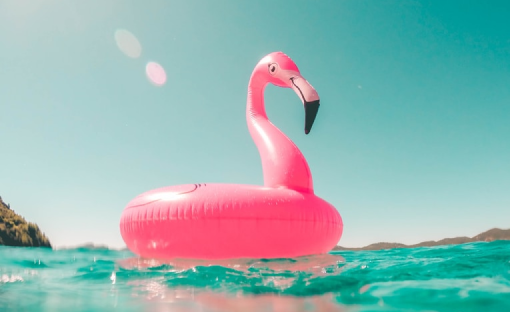 Party Themes
If you have a special event, occasion, or celebration coming up, you may want to consider going big and hosting it at an outdoor venue in Los Angeles. In the midst of COVID-19, outdoor party venues in Los Angeles are not only fun, but the safest option too. 
From gardens to rooftop bars, and everything in between, these outdoor venues will ensure your upcoming event is unforgettable.
READ MORE: 
Here are 15 of the best outdoor venues in the Los Angeles area to host your next party.

Santuari - Patio, 6711 Forest Lawn Dr.
Perfectly combining comfort and style is the patio at Santuari. This outdoor event space is suitable for celebrations of any kind ranging from birthdays to anniversaries and everything in between. The bright and airy space boasts a boho-chic atmosphere that makes an ideal event venue in Los Angeles.
Host up to 75 guests in the restaurant's patio for a special private celebration. With help from the event manager, staff, food and beverage services, everyone at Santuari is there to bring the vision of your party to life. Named LA's most transporting restaurant by Food & Wine Magazine, this is a space you'll want to book fast.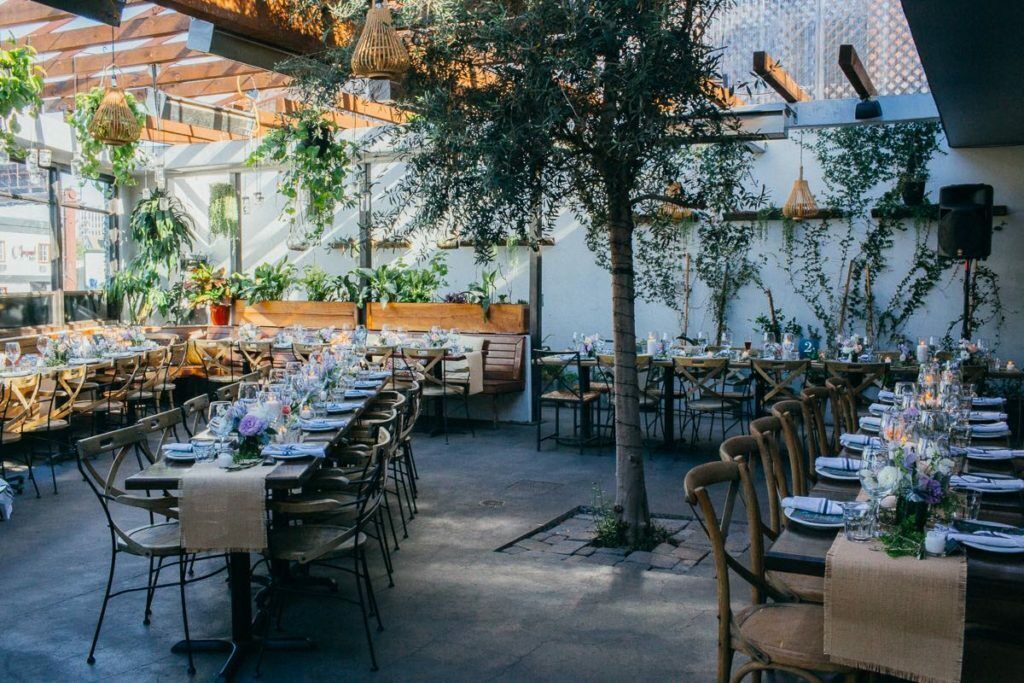 Madera Kitchen - Cahuenga Patio, 1835 N Cahuenga Blvd
Situated in the heart of Hollywood is the Cahuenga Patio at Madera Kitchen. The stylish establishment offers a charming aesthetic for any kind of occasion with tons of lighting, glass ceilings, and potted plants with trailing vines. Although not technically outdoors, the windows, view, and sunshine help take you there.
The versatile space can accommodate up to 100 guests in its warm and inviting atmosphere. Once booked, you can choose specific seating plans that best suit your event and guest list. Work with the culinary team to plan a mouth-watering menu that offers a range of cuisine and drinks to satisfy any palette.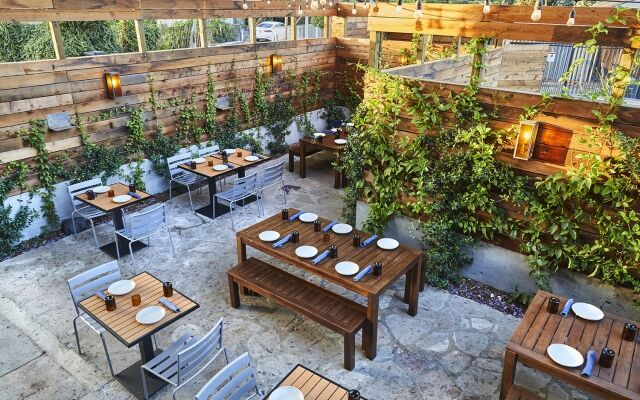 Alta Adams, 5359 W Adams Boulevard, Los Angeles
Nothing brings friends and family together quite like comfort food, which is what you can expect when you host your next event at Alta Adams. Located in the West Adams neighborhood of Los Angeles, California, this restaurant has a warm and inviting atmosphere with staff that is eager to welcome guests with amazing hospitality. 
Alta Adams features an indoor dining space, but its outdoor event space is what sets it apart. With beautiful greenery climbing the walls, cozy market and wall lighting, and modern, chic furnishing this outdoor event space in Los Angeles stands out. With this natural light, and greenery backdrops, party guests will have their own personal photo shoots.
Oak Grove, 3067 E Chevy Chase Drive, Glendale
Nestled under an old oak tree is Chevy Chase Country Club's Oak Grove, their newest outdoor event space. Guests will enjoy unobstructed views of the golf course, an expansive lawn space, market lights, and rustic furniture creating a tranquil, serene ambiance.  Whether your attendance count is small or large, Oak Grove offers a variety of layouts to accommodate every type of event or gathering. 
This space can be enjoyed any hour of the day with shade from the sun, and heater rentals available for the cooler nights. The large outdoor area allows for the set up of musical entertainment, a dance party, and even a romantic engagement party event. Enjoy the natural beauty of the focal point oak tree and relaxing atmosphere that this outdoor party venue has to offer.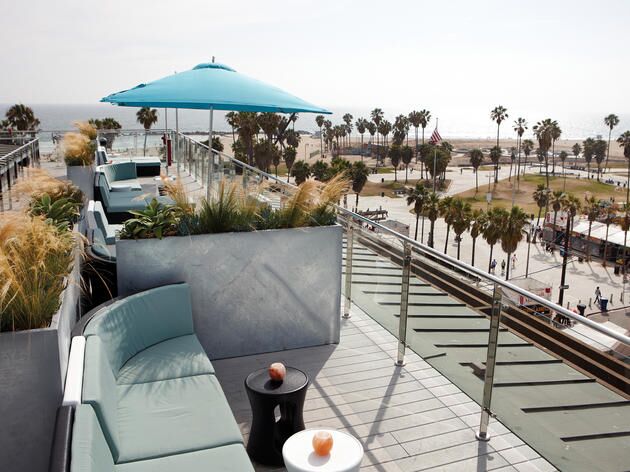 Hotel Erwin - High Rooftop Lounge, 1697 Pacific Avenue, Venice
Located on the coast of Los Angeles, in Venice Beach is Hotel Erwin. Within this chic, modern hotel on the top floor is its High Rooftop Lounge featuring 360 degree views of the Pacific Ocean, Muscle Beach, the Hollywood Sign, and the city skyline of downtown LA.
This popular outdoor event space is not only known for its breathtaking scenery, but for its curated menu of delicious cuisine and cocktails all serviced in house for events. Whether you are enjoying the space for a luncheon with friends or enjoying the sunset with coworkers, this outdoor venue is one that all guests will enjoy.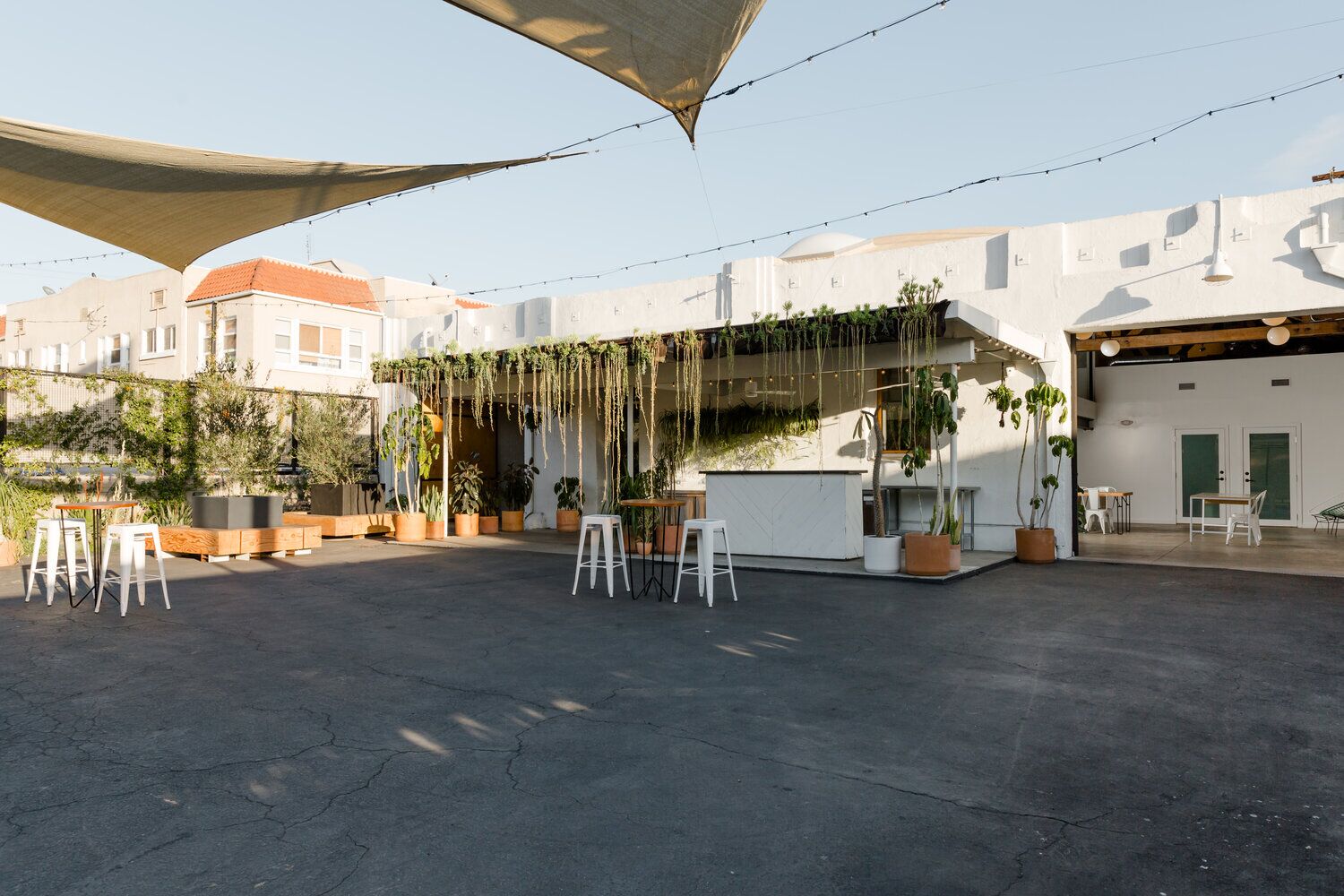 Office Party - The Garden, 4514 N Figueroa Street, Los Angeles
The vibrant event space known as Office Party is only 5 miles away from the heart of downtown LA. Situated in a rustic warehouse, Office Party has unmatched indoor and outdoor party space. This venue spans 5,500 sq ft and has a beautiful outdoor area otherwise known as The Garden. 
The Garden at Office Party can be exclusively rented out for private parties. The Garden is filled with relaxing green plants and shrubbery, trees, and Latin-influenced architecture with string lights across the entire space. The minimalistic but functional space allows for creativity by the party host.
Liaison, 1638 N Las Palmas Avenue, Los Angeles
Liaison is an event venue located on the famous Sunset Strip in Los Angeles, CA with an expansive outdoor garden space available to be rented for private parties. This nightclub and restaurant spans 10,000 sq ft where guests can experience a unique tranquil outdoor venue with warm, rich tones in the decor—right in the heart of Hollywood.
This open-air patio features a lounge-like atmosphere with a full service bar, as well as exposed brick walls, tons of string lights, and heaters options available upon request. As the name alludes to, Liaison is prideful in its objective to bring people together and have their space be welcoming and full of celebrations.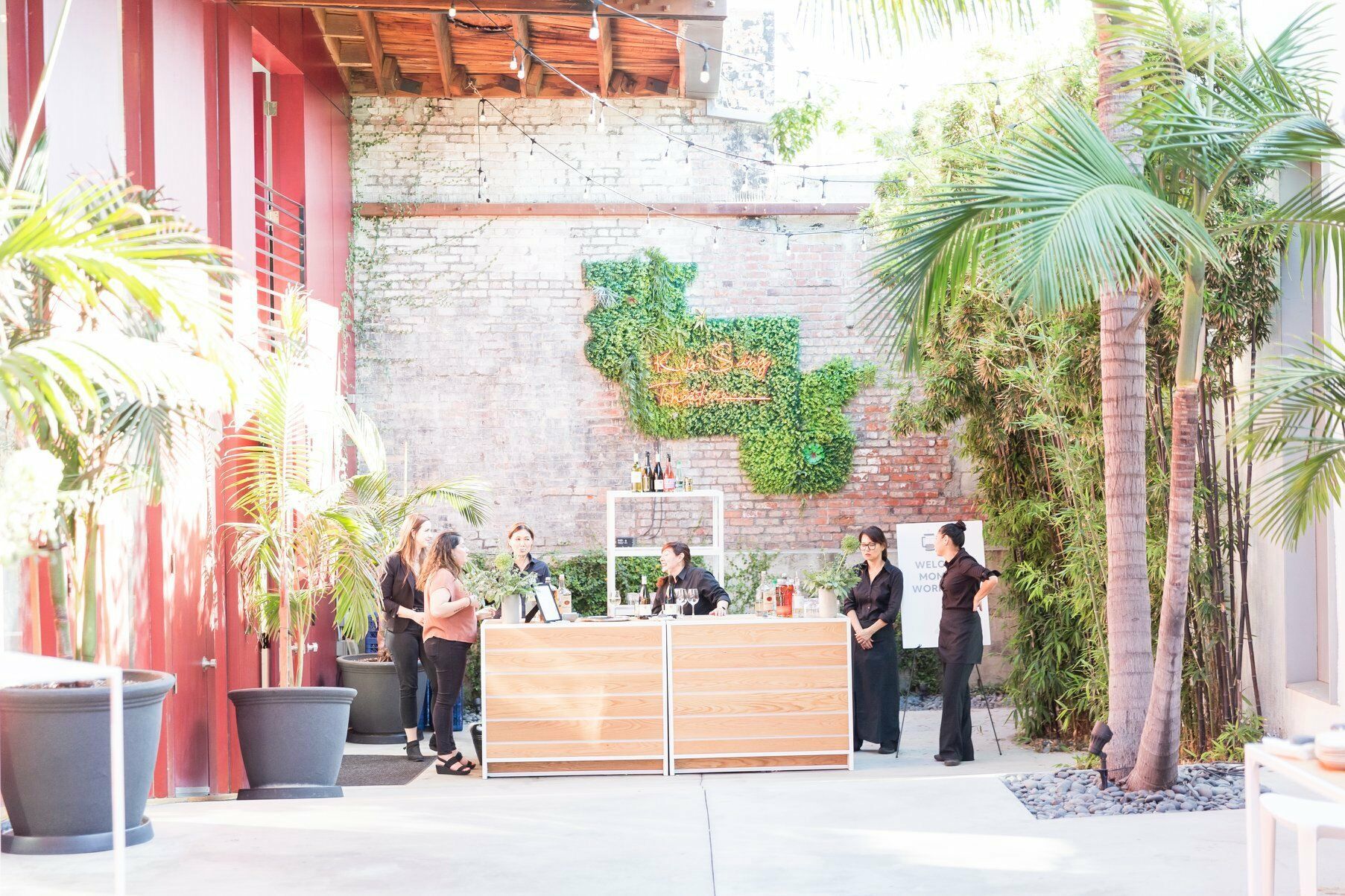 Kim Sing Theatre, 718 N Figueroa Street, Los Angeles
The historic landmark and event venue, Kim Sing Theatre, is located in the rolling hills of Los Angeles. This restored space is respected and treasured by the city. With 5,000 square feet of convertible event space, Kim Sing Theatre is the perfect venue for your next upscale party, film screening, or corporate event.
The outdoor courtyard can host 75 guests seated or up to 125 guests standing. The outdoor area at Kim Sing Theatre can be decorated to accommodate any event style and theme incorporated with its trendy greenery and market lights. Kim Sing Theatre also comes with a catering kitchen, dedicated event staff, and a connected hotel for overnight accommodations.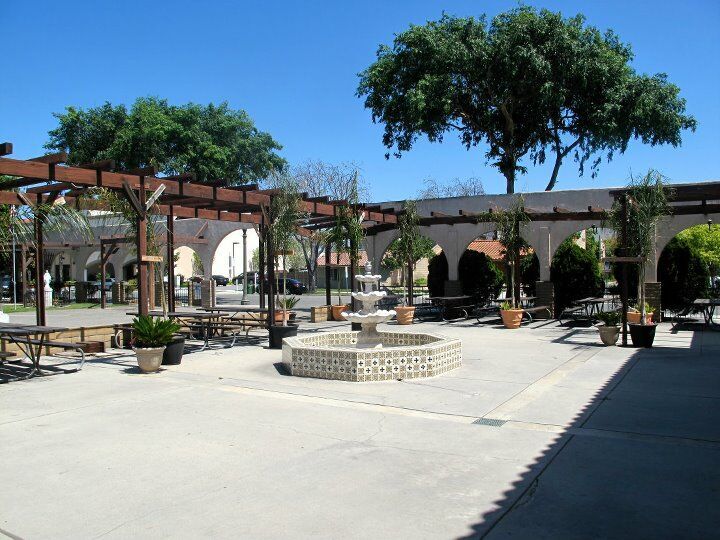 St. Isidore Historical Plaza, 10961 Reagan Street, Los Alamitos
St. Isidore Historical Plaza located in Los Alamitos, California is more than just your average banquet hall. St. Isidore's stunning outdoor patio is surrounded by villa-style arches and pergolas with string lights creating a truly romantic ambiance. Built in the 1940s, this mid century style venue has many historic features such as stained-glass windows and a small fountain in the center of the courtyard. 
St. Isidore's ambiance creates a peaceful and tranquil setting in the middle of a bustling city. Whether you are looking to host a corporate event, family gathering, or milestone celebration, St. Isidore Historical Plaza is an exciting spot to host your next special occasion. This outdoor party venue can be transformed to fit any event style or theme, and has the ability to hold up to 250 guests.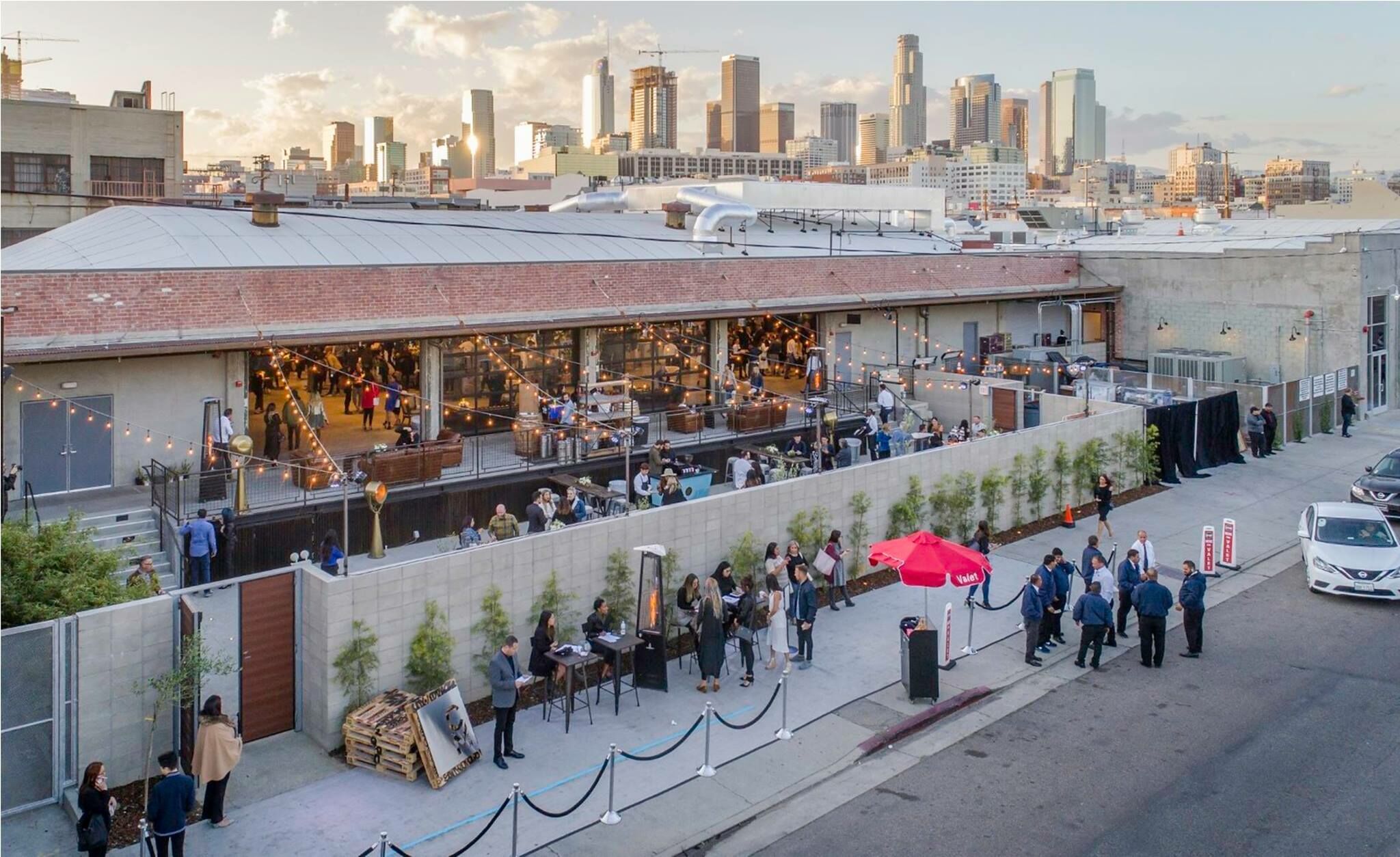 City Market Social House, 1145 San Pedro Street, Los Angeles
City Market Social House is the go-to outdoor party event spot for celebrations like a small cocktail party to a large corporate holiday party. Previously known as one of the city's most popular produce markets, City Market Social House has now become a one-of-a-kind venue. This huge modern warehouse spans over 20,000 square feet. The outdoor patio is two levels with privacy walls, greenery, and bistro lights stringing the width of the space. 
One of the hottest venues in Los Angeles—City Market Social House is fully equipped with a catering kitchen, A/V equipment, open-air fluid event space, and the ability to accommodate a variety of budgets. It is available to be rented for weddings, birthday parties, charity events, corporate events, holiday events, weddings, and more!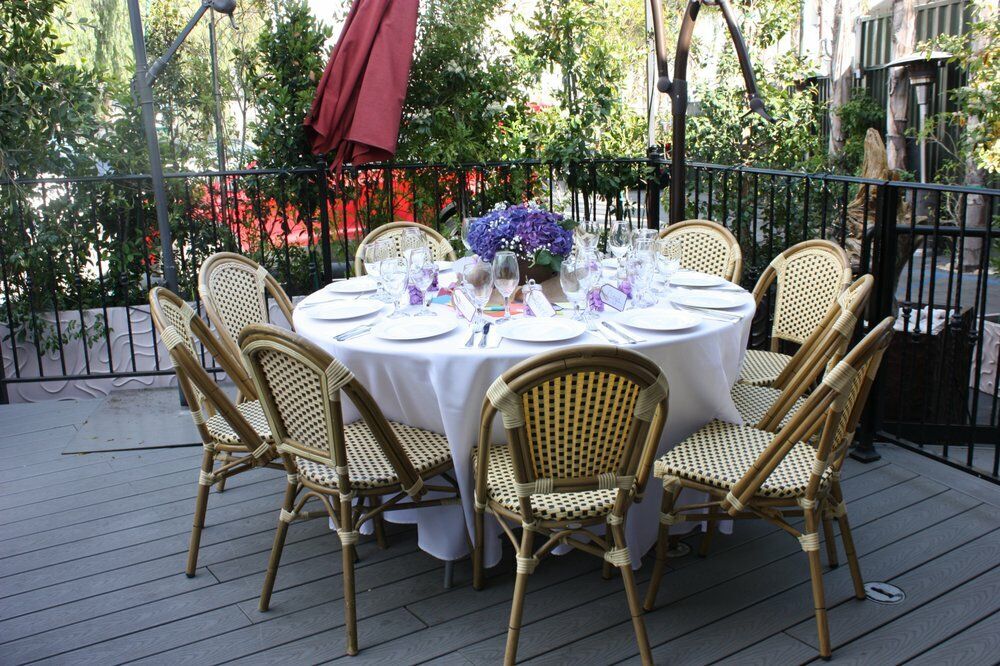 Lakeside Restaurant & Lounge, 16817 Ventura Blvd, Encino
Along Los Encinos Historic State Park's lake is Lakeside Restaurant & Lounge. This soothing atmosphere creates the perfect backdrop for small weddings, birthday parties, cocktail parties or any special celebration. 
The outdoor space creates a European bistro vibe that is tranquil and relaxing for all partygoers. Between 20 and 60 guests can enjoy the venue's outdoor patio furnished with wicker chairs, floral decor, stunning greenery, and vintage lighting. Sip on drinks from the restaurant's extensive beverage menu that includes an assortment of beer, wine, and house cocktails while you experience delicious cuisine from the on-site catering services.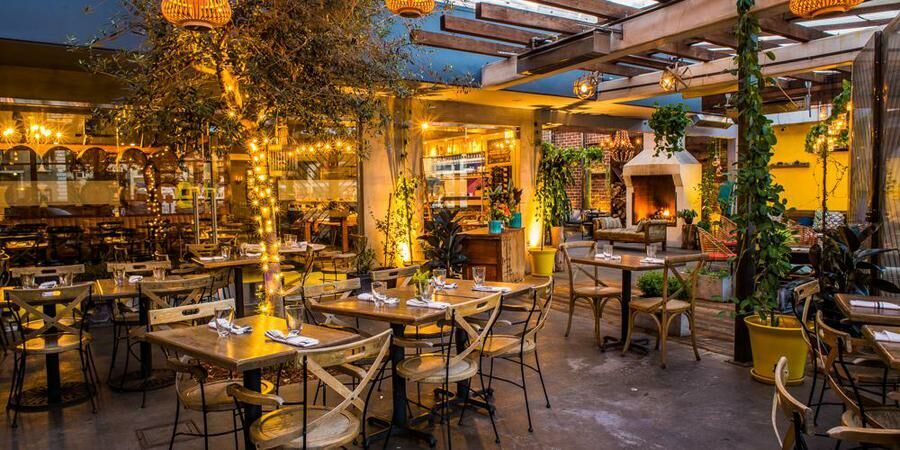 Madera Kitchen - Franklin Patio, 1835 N Cahuenga Blvd
The Franklin Patio at Madera Kitchen is a beautiful outdoor restaurant with a vibrant and modern aesthetic. Invite between 45 and 80 guests for an intimate get-together that suits both social and business events. The patio is adorned with greenery and floral arrangements throughout the outdoor space, making you feel like you are in an enchanted garden.
Exceed all expectations with the moveable and adjustable floor plan and furniture, and customize the space to exactly what you want and need. This rustic style patio gives a country-inspired charm that will be difficult to replicate anywhere else. The versatile space is suitable for all types of smaller event with a vibe that all partygoers will enjoy.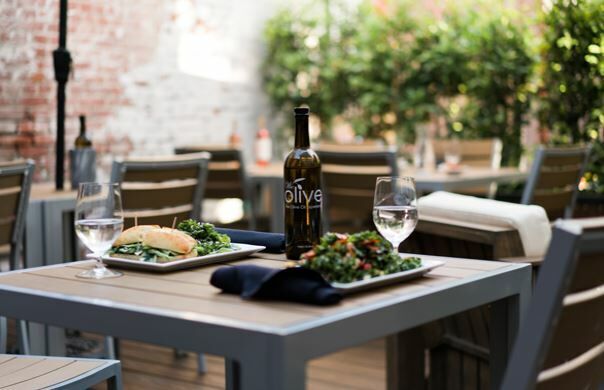 We Olive & Wine Bar, 32 E Colorado Blvd, Pasadena
Take your wine night to the next level at We Olive & Wine Bar located right in the heart of Pasadena. Enjoy the charming, rustic aesthetic that includes exposed brick walls, soft lighting, and vibrant greenery. Use this 1,600 square foot space for an intimate birthday party, office celebration, or engagement party to bring up to 75 of your loved ones together. 
Sip on their selection of Californian wines and pair them with different arrays of flatbreads, olive oil inspired products, and charcuterie boards for the ultimate alfresco dining experience. We Olive & Wine bar knows how to wine and dine guests making your next event unique and memorable.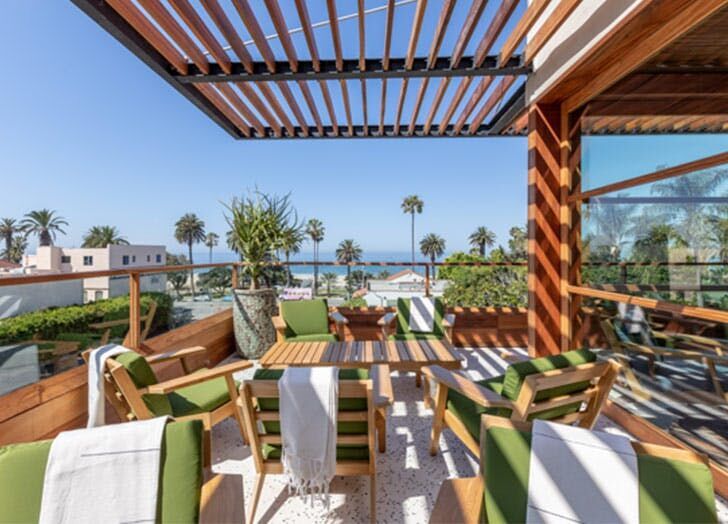 Elephante, 1332 2nd St, Santa Monica
The Golden state meets the sunny Mediterranean at Elephante. Just a short walk from Venice Beach, you can have your next celebration at this outdoor venue that will make you feel like you are spending your time in a trendy beach house. Transport yourself to the European coast and turn your next celebration into an exclusive VIP event.
Elephante can accommodate between 15 and 300 for a small company soiree, outdoor wedding reception, or big birthday extravaganza. Enjoy the venue's three different bars that serve up an eclectic selection of cocktails and wines to pair with the European and North African cuisine flavors.
Shade Hotel Manhattan Beach - Skydeck, 1221 N Valley Dr, Manhattan Beach
Feel like a celebrity during your next outdoor event when you host it at Shade Hotel's Skydeck in Manhattan Beach. Use the gorgeous California sky as a backdrop that will leave guests in awe. The private pool area can accommodate up to 92 people in the 950 square foot space for the ultimate VIP experience.
Guests can take a quick dip in the pool, relax on a luxurious float, or sit underneath a large parasol, offering something everyone will be able to enjoy. Take advantage of the open outdoor space and state of the art light and sound system that will take the event to the next level. This modern venue will make a perfect location for a summer get-together, birthday celebration, or bachelorette party.
Find more party and wedding venues in Los Angeles on The Bash.