How to Host a New Year's Eve Zoom Party
Staying home this NYE? Celebrate 2021 with your loved ones, virtually!
Brittany Barber
Contributor
So, you're having a virtual New Year's Eve Zoom party to ring in 2021? We love that for you. In fact, we love it so much, that we're going to make sure it's a banger. How? By providing you with this virtual New Year's Eve party guide, duh!
From hiring virtual entertainment to choosing a New Year's Eve Zoom background, we've made sure to cover all aspects of your virtual party.
READ MORE:
Here are our tips on how to throw a virtual New Year's Eve Zoom party:
Send Invites
You'll want to formally invite all of your loved ones to your virtual New Year's Eve party, whether that's with an email or an old fashioned letter. If you really want to do something special, you could even send virtual singing telegrams to give your virtual party guests the details!
Choose a New Year's Zoom Background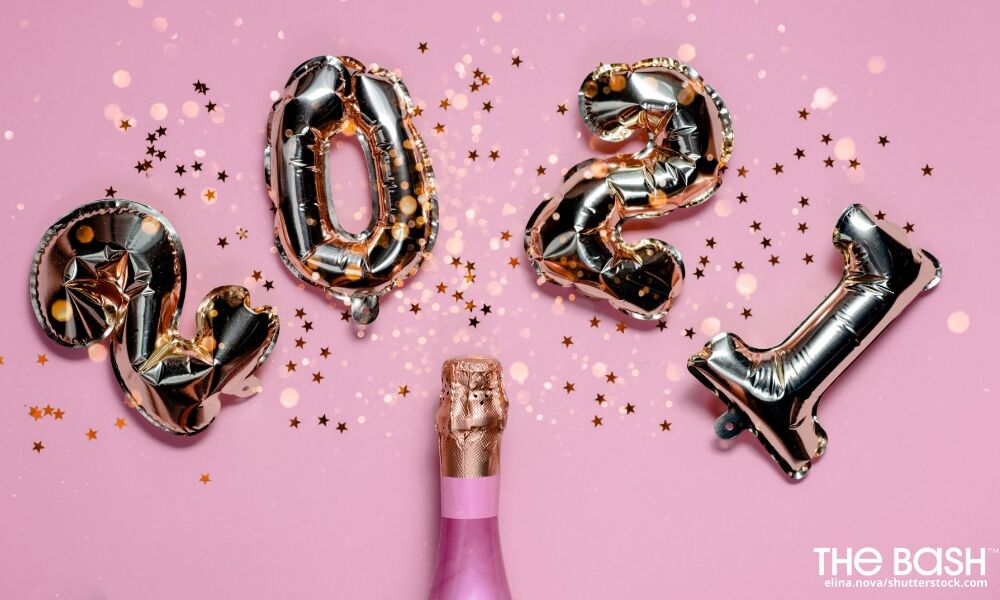 If Zoom is your video calling app of choice, then you probably already know that a necessity for any virtual party these days is a Zoom background! We have 31 New Year's Zoom backgrounds you can download, along with instructions on how to change your Zoom background. Each Zoom image is hi-res and free to download, so don't hesitate to pick more than one! 
Decorate
Along with your Zoom background, you're going to want to elevate your virtual party experience with the right decor. So get those streamers, balloons, and all things with sequins to deck your virtual party space out! 
Get Dressed Up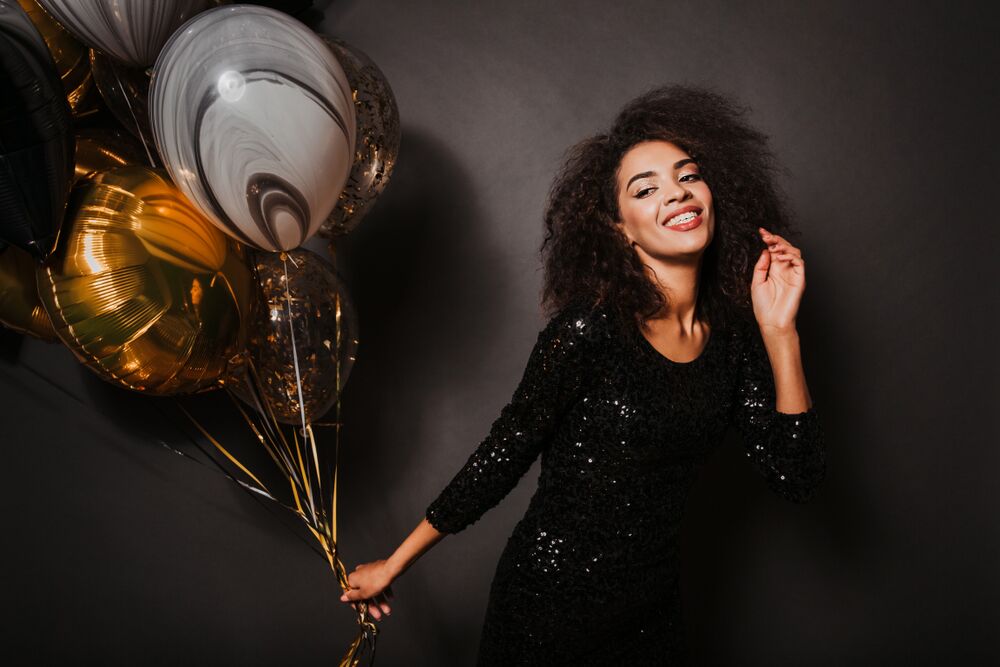 Photo: Look Studio/Shutterstock.com
Just because this New Year's Eve is virtual, doesn't mean you shouldn't dress up. Get out your best holiday attire, your party hats, and a wild amount of glitter — and get ready to kiss 2020 goodbye.
Have a Virtual Dance Party
What better way to greet the arrival of a new year than with a virtual dance party? But before you put on your dancing shoes, have a look at our guide on how to throw a virtual dance party for a 10/10 digital experience! 
Hire Virtual Party Entertainment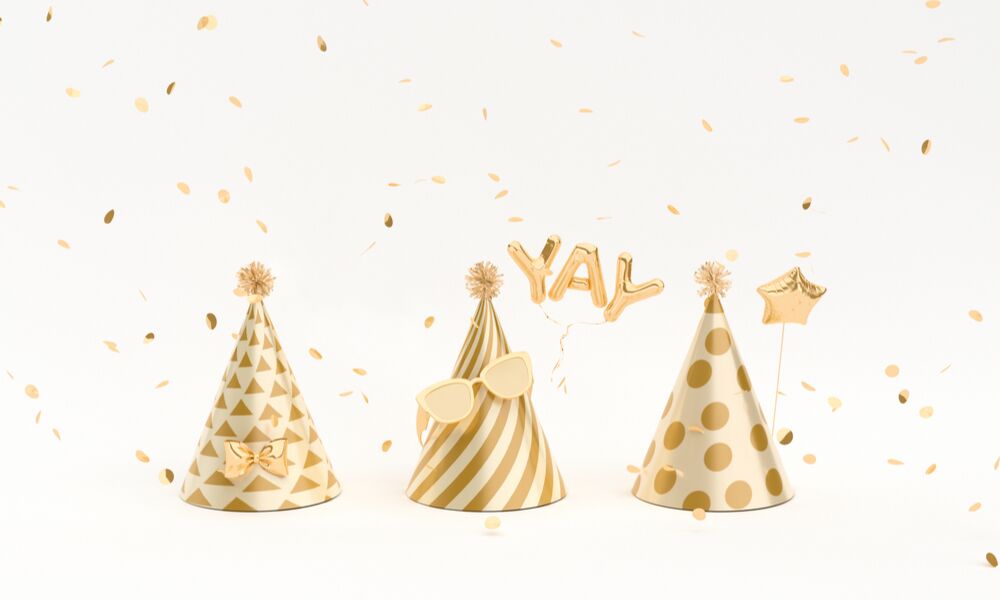 Photo: SVPanteon/Shutterstock.com
Hiring virtual entertainment for your New Year's Eve Zoom party is a great way to make the most out of your digital experience. Make it memorable with one of these awesome virtual vendors: 
Plan a Virtual Activity  
Photo: Vesna Cvorovic/Shutterstock.com
Since you can't do the usual, room-to-room mingling during a virtual party, plan something fun to do to keep the night exciting. Like: 
Share a Slideshow
If you plan on sharing a slideshow at your virtual New Year's Eve party, mention it in your invites and ask if anyone has any photos they'd like to add. 
Play New Year's Trivia
Play a few rounds of trivia to test your knowledge of how wild 2020 truly was. Feel free to get creative and make your own trivia game — with inside jokes and fun facts about your guests, of course. If you're pressed for time, make it simple by asking a variety of trivia questions that you can find online. 
Sign onto Jackbox 
Oh, Jackbox. I don't know about you, but Jackbox has been a staple for my virtual gatherings and celebrations. Each version has a variety of games in each, but our personal favorite is Jackbox Party Pack 6. Have a look!
Share New Year Resolutions
Go around the virtual circle and tell each other what you want to do differently in 2021. It may seem cheesy to some, but it's a great way to break the ice and reconnect with your loved ones. You might be surprised at what you learn about one another!
Times Square New Year Virtual Countdown
Make sure your virtual party is ready for the countdown! Whether you time it yourself, use a site like Time and Date, or watch along with New York City's Times Square virtual New Year ball drop. 
For more activities to do at your virtual New Year's Eve party, take a peek at these 35 virtual party ideas! 
New Year's Cheers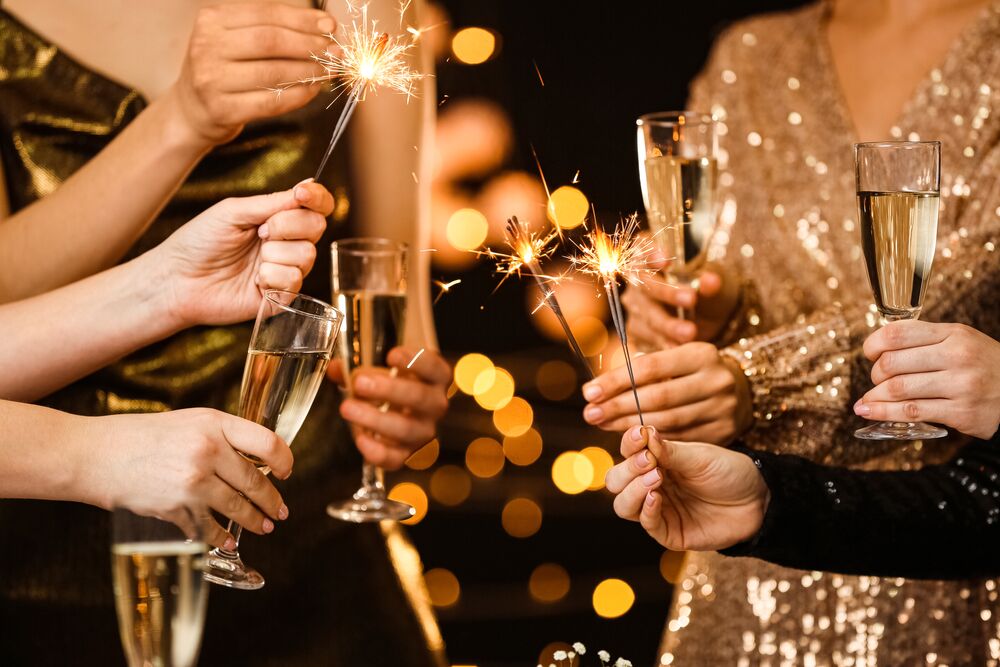 Photo: Pixel-Shot/Shutterstock.com
It's New Year's Eve. You're going to have to enjoy a cocktail or two! If you're on the hunt for inspiration, check out these delicious holiday cocktail recipes. Pick your favorite recipe, and include it in your New Year's Eve party invitation — so your whole party can enjoy a drink together!
You could even hire a bartender to host a mini virtual workshop, so your guests can learn how to mix their own drinks during your NYE Zoom gathering. Don't forget to enjoy your beverage with a festive appetizer while you anticipate the stroke of midnight! 
Check out virtual celebration ideas for more inspiration on The Bash.
About Brittany Barber
Brittany Barber, lover of books, dogs, and romance, graduated from Bishop's University with a Communications and Theatre degree. After spending some time working abroad in the theatre world, she is now a freelance writer covering a range of lifestyle topics including wedding and event planning for The Bash, WeddingWire, 2life and Fluttr.