50 Amazing 50th Birthday Party Ideas & Themes
Cheers to half a century with these creative party themes, games and more ideas!
Brittany Barber
Contributor
If you're wondering how fabulous turning 50 is, well, the answer is extremely—duh. So when it comes to 50th birthday party ideas and themes, prepare to go big because this milestone birthday celebration is not one to be taken lightly.
When planning a  birthday party, there are plenty of things to consider—including 50th birthday party themes, gift ideas, party decorations and entertainment—and that's just the tip of the iceberg. 
Get the ball rolling by writing out your guest list and sending loved ones invitations worthy of a birthday bash y'all will never forget; you're celebrating half a century, after all!  
If you're in need of a little party inspiration, take a gander through these 50 super fun 50th birthday party ideas. Any of these are sure to get your family members and friends fired up for the celebration, not to mention help you throw the perfect 50th birthday party.
READ MORE
Unique 50th Birthday Party Ideas
Photo: Halfpoint/Shutterstock.com
Backyard Concert
Nothing gets a party started like live music! Fire up the bbq and get the sangria flowin' while a live band performs right in your own backyard. If you can have a bonfire, get some chocolate and marshmallows and cap the festivities off with a round of s'mores and a toast to the birthday honoree. 
Black Tie Cocktail Party
Fabulous 50 is meant to be fabulous, so tighten up the dress code and serve up some delicious cocktails with a black tie event. If you need some help figuring out drinks, hire a bartender to take a little pressure off of the event planning. Feel free to elevate your musical entertainment and hire a pianist to perform at the party. 
'70s Disco Dance Party
Bell bottoms, disco balls, and funky tunes? Yes, please. Tell your party guests to bring their dancing shoes so y'all can boogie down and get groovy. If music is on your mind, hire a DJ to help you sort out your 50th birthday party playlist.
DIY Sushi Night 
If sushi is one of your favorite foods, having a sushi night will make the big day even more exciting. Turn your dinner party prep into the entertainment of the evening by gathering your loved ones to make sushi together. Make sure to stock up on plenty of sushi rice, seaweed, avocado, cucumber and sushi-grade salmon!
Murder Mystery Party
Celebrate turning 50 by throwing a murder mystery party. Whether you go out to a murder mystery event or host your own, check out our murder mystery party guide for advice.
Brunch Bash
Get the special day started early with a 50th birthday brunch! Hire a caterer and host at home, or lock down your favorite restaurant and make a reservation. Whatever you do, don't forget the mimosas.
Taco Night Fiesta
Amp up your 50th birthday dinner party by making it a taco night fiesta. Once you figure out your taco spread, be sure to pair it with a few tequila-based cocktails — like margaritas and palomas. If you really want to have some fun, grab a pinata (or DIY one) and celebrate turning 50 with a bang! 
Wine and Cheese Night
Get gussied up and host an epic wine and cheese night for your 50th birthday party. You can ask your guests to bring a board to contribute, or hire a caterer to help you get organized. Another fun idea is to have a wine tasting and hire a sommelier to lead it, so you and your guests can learn a little bit about what you're drinking.
Birthday Bowling Party
Book your favorite bowling alley and gather the gang to ring in your 50th birthday. Depending on the size of your guest list, you may want to consider booking out the entire venue so you can have the place to yourselves. 
Karaoke Night 
You better brush up on your vocals ASAP so you can kill it on stage at your birthday karaoke bash. Hit the town or hire a karaoke DJ and host your karaoke party at home! If you expect a huge turnout, consider renting out a venue and a bartender, too. 
Rockabilly Night
Celebrate turning 50 with a 1950's rockabilly party! Ask your guests to join the party in their finest high-waisted skirts and trousers and dance the night away to classic rock 'n' roll. 
Photo: Mariia Boiko/Shutterstock.com
Salsa Dance Party
Create an epic salsa music playlist and celebrate your 50th birthday with an exciting dance party. Consider hiring a professional dancer to start the night off with a few lessons, so everyone can learn a few moves while they enjoy the shindig. 
Fondue Party
Get those fondue fountains ready to go and make your 50th birthday party a fondue party. Whether you do chocolate or cheese—or both—make sure to stock up on fresh produce and other dippables your guests can enjoy.  
Potluck 
Make the party planning a little easier on yourself and have yourself a potluck on your 50th birthday. Just make sure to create and share a spreadsheet of what your guests plan on bringing, so there aren't ten of the same guacamole dishes. 
Pool Party
Grab some SPF and have some fun in the sun and host a 50th birthday pool party. If you have your own pool, then great! But if not, consider finding a venue that has one. Rooftop bars, hotels, and outdoor lounges are great places to check out — and some might even provide your party food and drink, which will take the pressure off of planning those out yourself. 
Creative 50th Birthday Party Themes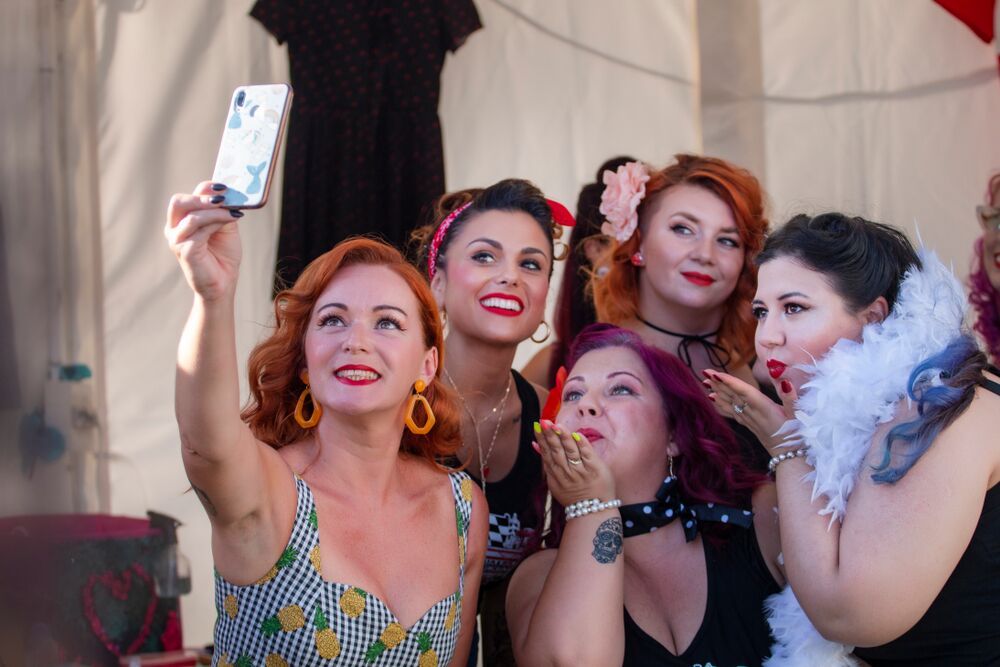 Photo: Mauro Rodrigues/Shutterstock.com
Favorite Decade Party
Whether you prefer the '60s, '70s or '80s, choose your favorite decade and make it your 50th birthday party theme. Make sure to prep the perfect playlist and ask everyone to come dressed in the chosen decade.
If you'd rather hire a band, look for one who specializes in the decade you've chosen. There are plenty of options to browse! 
All-White Theme
This year, ask your guests to dress in all white and celebrate your 50th birthday in style. While you can choose any color as your theme, white keeps it classy and will make your photos pop. Just make sure you're extra careful if you're serving red wine at the party! 
Nautical Theme
If you love all things seaside, have yourself a nautical 50th birthday party this year. Decorate with sailor stripes, anchors, navy, red and white, and don't forget to include some rope in your setup, too. 
Photo: Antonova Ganna/shutterstock.com
Coastal Grandmother Theme
Or, embrace the TikTok-inspired trend. We've put together this complete guide to a Coastal Grandmother-style party.
All Things Supernatural 
Tap into the unknown and celebrate your 50th birthday with a mystical theme. Adorn your party venue with candles and consider hiring a fortune teller, tarot card reader or psychic for entertainment.  
Casino Night
Bust out the cards and poker chips and make your 50th birthday party theme an exciting games night. Think red and black as your color scheme, and ask your guests to come dressed in their finest cocktail attire. You could lean into a 1920's vibe or go for a more James Bond aesthetic; dealer's choice! 
Southern Soiree
With rustic decor and all things gingham, enjoy a night (or day) of delicious southern cuisine and cocktails. Think mint juleps, smoked brisket, and peach cobbler for dessert. If you have an outdoor space and weather permits it, try hosting under the sun to really embrace a southern-style mood.  
Tropical Party
If you love a vibrant theme, throw a tropical 50th birthday party celebration this year. Think bright florals, palm trees and cocktails garnished with tiny umbrellas. When it comes to appetizers, think of mixing sweet with savory with dishes like grilled pork and pineapple skewers, fruit kabobs, and chips with mango salsa. Don't forget to have a cupcake or two while you're at it! 
Woodstock Theme
Throw it back to the late '60s and celebrate your 50th birthday with a Woodstock-themed party. Get your party guests to dress up in their best hippy attire and party the night away to the sounds of Jimi Hendrix, Janis Joplin, and Grateful Dead.
All-Denim Party
Embrace your favorite blue jeans and host a hilarious denim-only themed birthday party. We're not just talking pants here, people — denim shirts, jackets, dresses and even shoes are encouraged.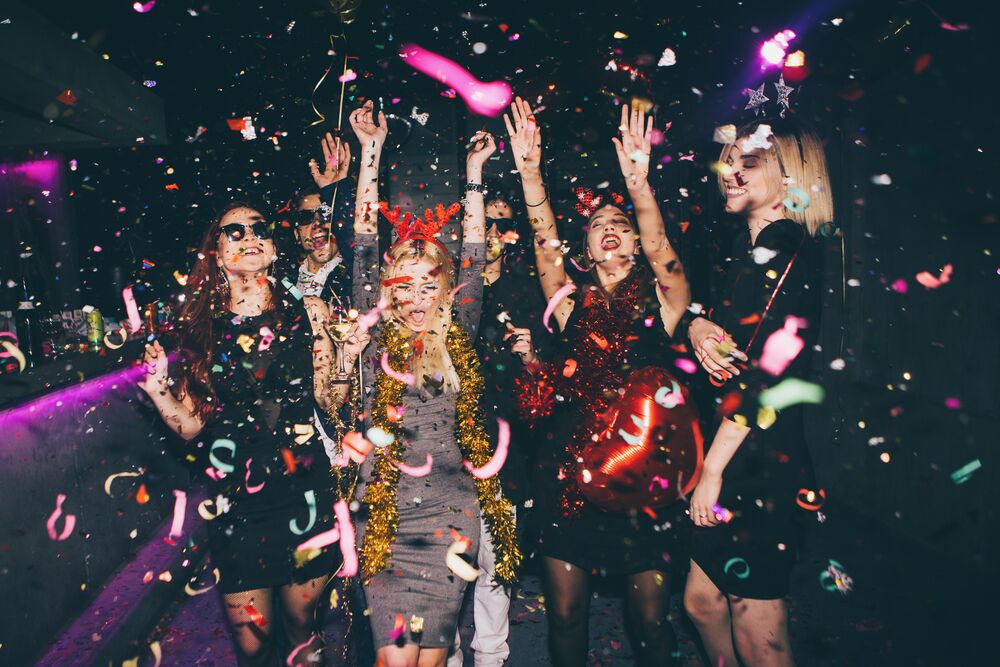 Photo: astarot/Shutterstock.com
Studio 54 Party
If reliving the adventure that was Studio 54 is on your bucket list, why not use it as your birthday party theme? If you don't know where to start, just think of it as a '70s party loaded with glamor. You'll want the ultimate disco nightclub vibes, so don't shy away from mirror balls, flashing lights, streamers and lots of shiny bling. Oh, and don't forget the champagne tower. 
Costume Party
Whether you provide guidelines or give your loved ones total freedom over the dress code, ring in half a century of living life to the fullest with a full-on costume party! Get spooky, classy, or straight-up ridiculous as you dance the night away in outrageous outfits. 
Pajama Party
Throw it back to a simpler time and enjoy a birthday celebration with a fun and light-hearted pajama theme. Take it to the next level and make it a slumber party! Watch a childhood-favorite film you can all enjoy and don't forget the popcorn and candy! 
Celebrity Dress-Up Theme
Get your guests to dress up as their favorite celebrity and ring in your 50th birthday red-carpet style. Consider making it a contest to give your friends and family some incentive to go all-out with their costumes! When it comes to cocktails, keep it classic with martinis and old fashions. 
Flower Power Theme 
If florals are one of your favorite things, deck out your 50th birthday party with flowers galore, including bouquets, centerpieces, and flower-shaped cake toppers. Garnish your cocktails with edible flowers like nasturtiums and make sure your guests are in their finest floral attire. 
Masquerade Ball 
For your 50th birthday party theme, go mysterious and extravagant with a masquerade ball. With a black tie dress code and elegant masks, your guests will be more than excited to plan their sultry ensembles. 
Pro Tip: Whatever 50th birthday party theme you decide to go with, consider hiring a photographer or renting out a photo booth so you can commemorate the guest of honor's milestone birthday!
Fun 50th Birthday Party Games
Trivia
There are plenty of games to add to your birthday party itinerary, whether you're hosting your 50th indoors or outdoors. Trivia is the ultimate fan favorite, and is even more fun if you make your own. Base it around the birthday celebrant, and don't hesitate to add a few embarrassing facts in there! 
Throwback Board Games
If you played MASH, Candy Land or Guess Who growing up, enjoy a serious blast from the past by playing some nostalgic games. These kinds of games are the perfect activities if you plan on throwing a retro decade birthday party this year.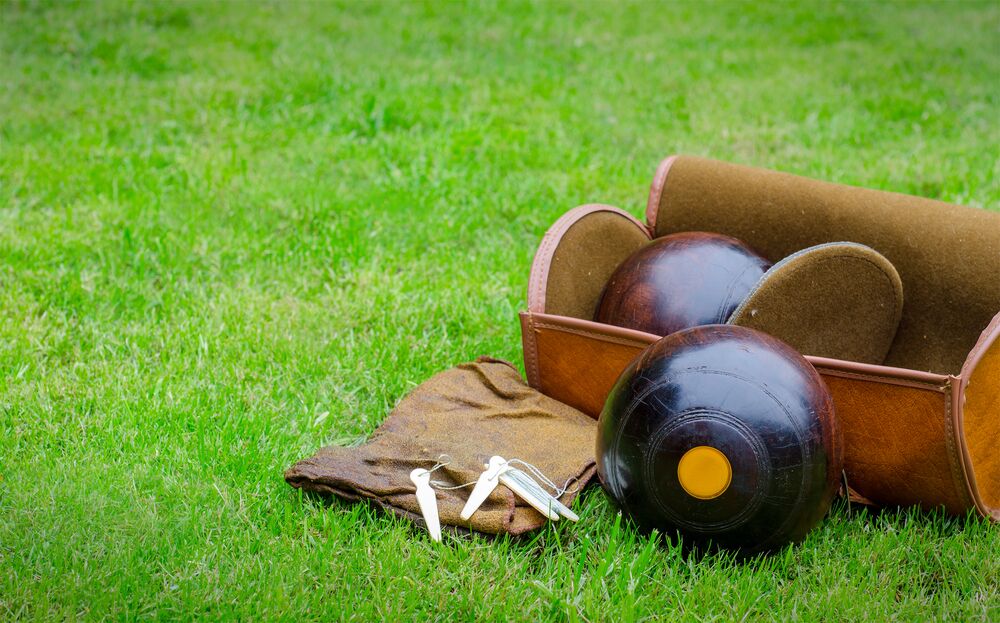 Photo: DJTaylor/Shutterstock.com
Lawn Bowling
If you have a big lawn, get together for a few rounds of lawn bowling on your 50th birthday. You could also go out to your local club with your closest friends to enjoy some quality time together before the party starts.
Bonus: Check out more outdoor party game ideas.
Scavenger Hunt
Host a massive scavenger hunt at your 50th birthday and get your party guests to find your clues and find your hidden treasure. To make it more exciting, hide party favors your guests can actually keep, which will heat up the competition and make it all the more satisfying for the winners.
Sticky Note Game 
If you've never played the sticky game, it's super easy and tons of fun. Basically, a sticky note is stuck to each guests' forehead, with a name on it unbeknownst to them. The name could belong to a historical figure, actor, musician — whatever you want. You have to guess what is written on your note by asking yes or no questions, but you can only ask three questions per guest. It's a fun way to get everyone to mix and mingle, and is perfect for parties of any size!
50th Birthday Party Decorations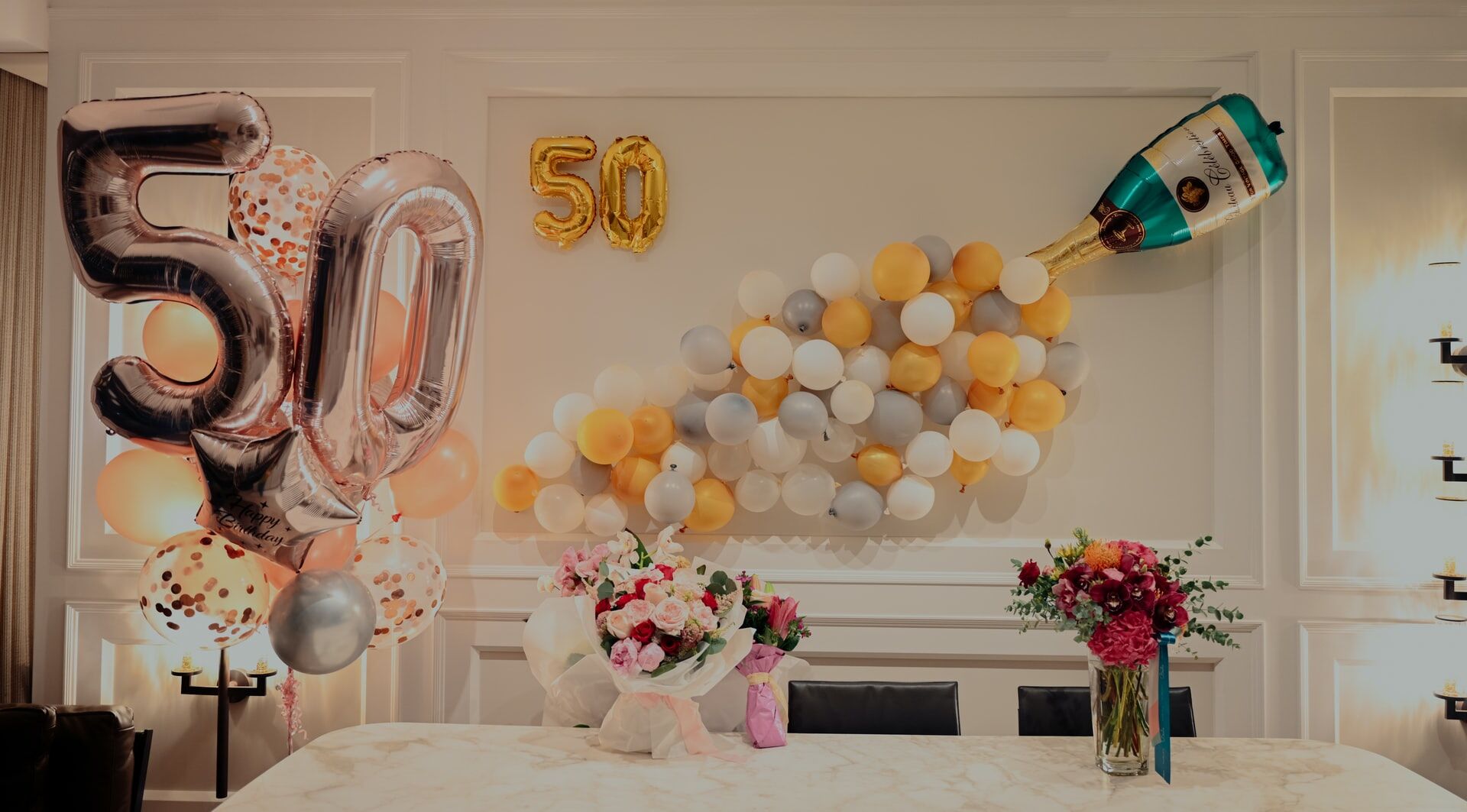 When it comes to 50th birthday party supplies, it really depends on what kind of birthday theme you choose and what your venue looks like. Aside from those factors, here are some classic 50th birthday party decor you'll want on hand, regardless of your theme:
50th birthday balloons

Happy 50th birthday cake topper

Elegant centerpieces

Birthday streamers 

Birthday confetti

50th birthday-themed dinnerware 

50th birthday-themed napkins 

Tissue paper pom poms and flowers 

Happy 50th birthday banner

Happy birthday ribbons 

50th Birthday Invitations
50th Birthday Invitations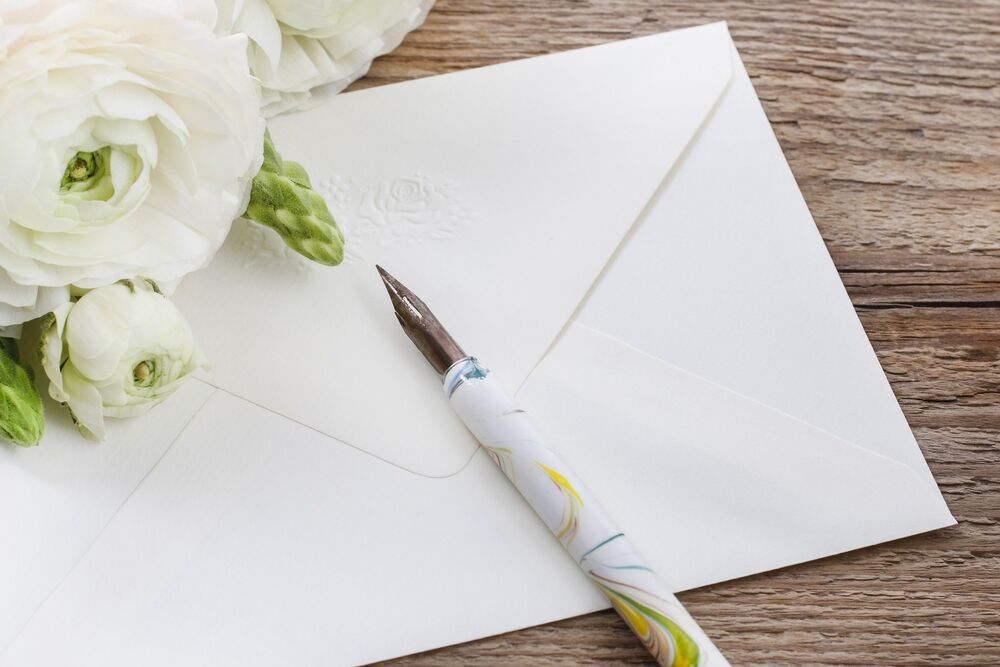 Photo: Agnes Kantaruk/Shutterstock.com
Themed Invites
Whatever you decide as your 50th birthday theme can be amplified with invitations that match! It'll get your friends and family into the theme before the party even starts, so they can start preparing their outfits, gift ideas and menu contributions right away.  
Store-Bought Birthday Invitations
If you want professionally-made birthday invites, you can order pre-made invitations online at shops on Etsy or Redbubble. Send the shop owner the details you want to have included on each invite, so they can be ready to mail out as soon as you receive them. 
 Handwritten Invites
There's something so personal about a handwritten invite, and if that's the vibe you're going for then freshen up your penmanship and get writing! Head to the nearest arts and crafts shop for beautiful paper and pens and DIY your own invitations this year. 
E-Invitations
Make it easy on yourself and send out virtual invitations to your family and friends via email. To keep it simple, use a birthday Evite. The structure and imagery will already be there for you, so all you'll have to do is fill out the details. 
Website Invites
If you plan on throwing an out-of-this-world kind of bash, create a website that'll tell your guests everything they'll need to know about your 50th birthday extravaganza. While this kind of invitation is more popular for weddings, it can still be an awesome way to let your loved ones know they're invited to your birthday party. 
Find even more birthday party ideas on The Bash. 
About Brittany Barber
Brittany Barber, lover of books, dogs, and romance, graduated from Bishop's University with a Communications and Theatre degree. After spending some time working abroad in the theatre world, she is now a freelance writer covering a range of lifestyle topics including event planning for The Bash, WeddingWire, 2life and Fluttr, and shopping for BuzzFeed.