35 Unique Party Themes for Adults
Get the party started with these awesome party themes for adults.
When it comes to party planning, it seems like kids get to have all the fun. Not anymore! It's time you host an unforgettable celebration for you and your friends that's over the top and fabulous. Whether you're celebrating a birthday, bachelorette, or just a fun Friday night dinner party, you can easily incorporate these themes into your event. The tip for hosting a great party for adults starts with fun party themes for adults, and we've got you covered.
If we've officially persuaded you to put your party hat on, you're probably wondering what goes into hosting epic theme parties for adults. We have a comprehensive party planning checklist that features everything from choosing exciting entertainment to delicious food and drinks, and a recommended timeline of when everything should take place. We've compiled a list of our favorite themes ranging from Coachella to Old Hollywood, and even Harry Styles, so you can get your next party started.

Keep reading for 35 party themes for adults…
1. Coachella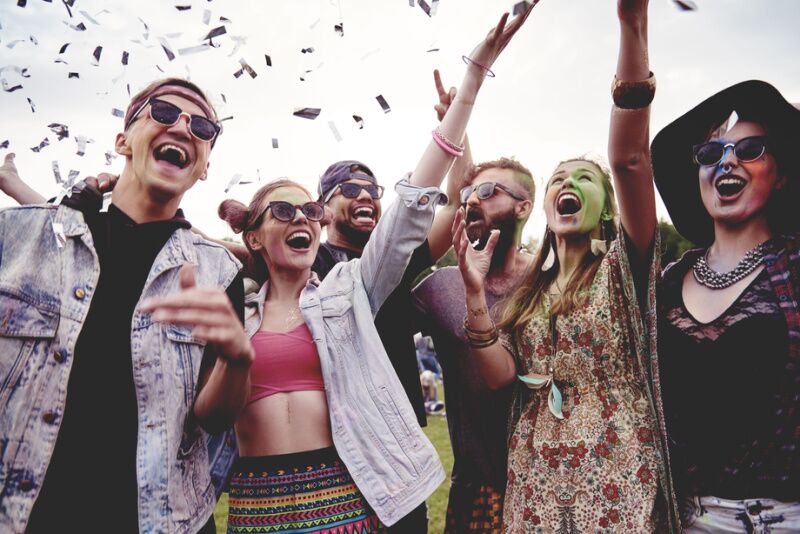 Photo: gpointstudio/shutterstock.com
Book a DJ, hire a few unique food trucks, and prepare to recreate your very own music festival for an upcoming celebration. Coachella consists of all things trendy, bohemian, and Instagram-worthy—can you even think of a better party theme? Encourage guests to wear festival attire, set up a DIY flower crown bar, and feature lounging tents throughout the space to enhance the desert vibe.
2. Old Hollywood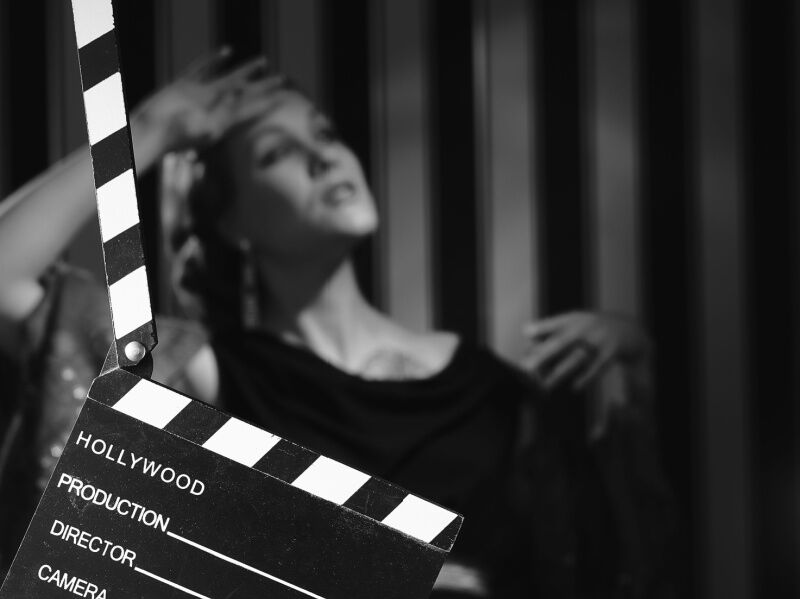 Photo: Jari Hindstroem/shutterstock.com
Channel the glitz and glamour of all things vintage Hollywood for an elegant and chic celebration. Party like the stars by booking a professional pianist to serenade guests, setting the scene with moody lighting, and having a guest appearance by Miss Marilyn Monroe! Book a Marilyn Monroe impersonator to help bring Old Hollywood to modern day and charm guests with her authenticity.
3. The One Where…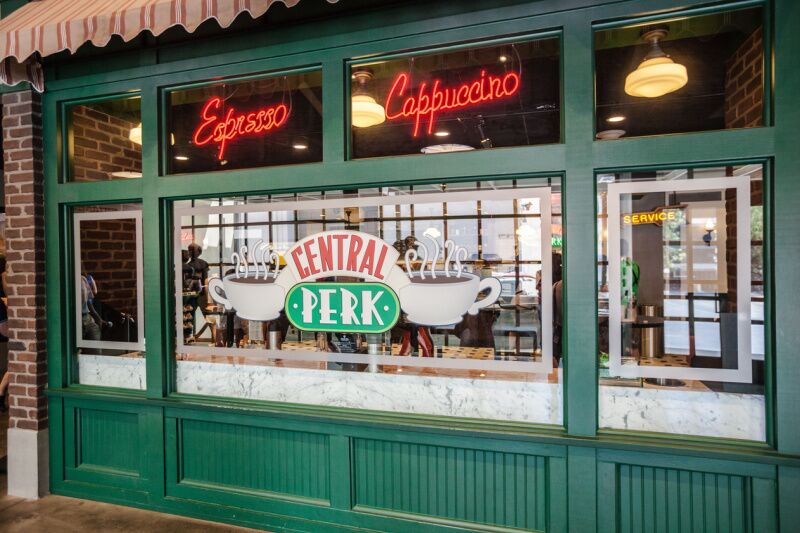 Photo: Krzysztof Stefaniak/shutterstock.com
Host the ultimate 90s throwback party with details from the classic sitcom, Friends. Whether the theme is "the one where Rachel gets married," "the one where Joey turns 30," or "the one where they have a dinner party," a Friends theme party is one of the best pop culture themes. Book a live band to play 90s music, hire a bartender to serve coffee cocktails, and refresh your card skills for a poker night.
4. Euphoria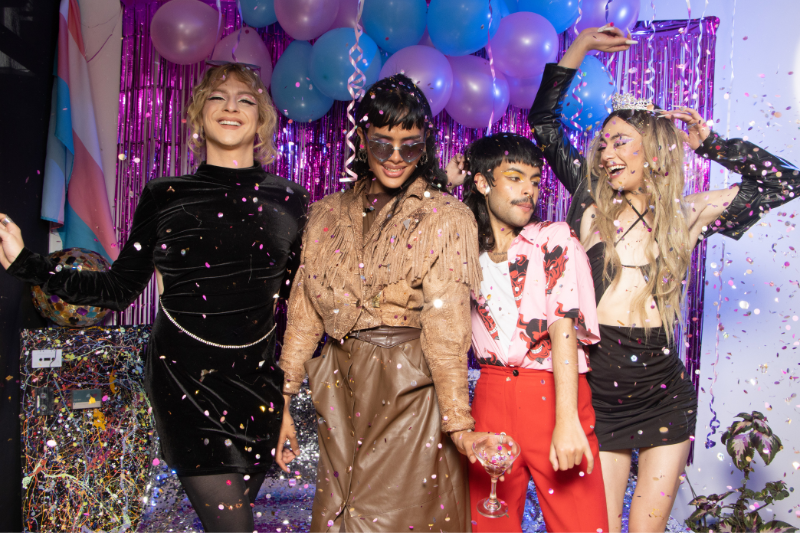 Photo: Lina Vanessa Merchán Jimenez
If you're like us, you've probably already binge watched HBO's hit series Euphoria and are waiting patiently for the newest season. The students of East Highland High threw the most iconic parties with live music, finger foods, and bold outfits with matching makeup. If booking a DJ for this Euphoria themed party, request to play songs from the soundtrack including the theme song "All of Us" by Labrinth and Zendaya. Incorporating the show's music will really  make the party come to life. 
5. Trendy Western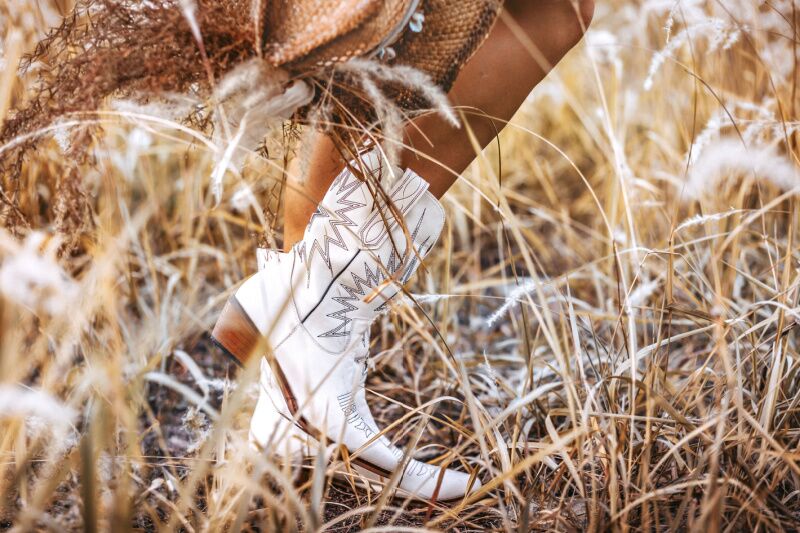 Photo: Zolotarevs/shutterstock.com
This isn't your typical shin-dig with flannel shirts and line dancing; swap the dark and drab color scheme with bright and bold for an upcoming milestone birthday or bachelorette theme. Incorporate cow print accents with pink party decorations, book a talented western band, and serve espresso martinis, just like the cowboys drink.
6. Color Theme Party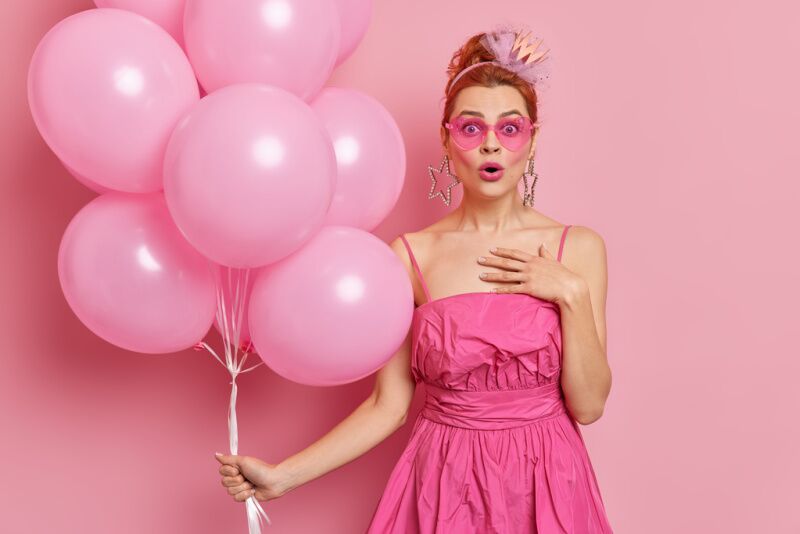 Photo: Cast Of Thousands/shutterstock.com
One of the most popular party trends on TikTok is a color party. Pick a color, any color, and only use that throughout the celebration. If you choose pink, decorate with shades of pink balloons, streamers, and roses. Instruct guests to wear only pink outfits, and serve food and drinks including pink lemonade and pink pasta. Choose any color you'd like and don't be afraid to go all out.
7. The Parent Trap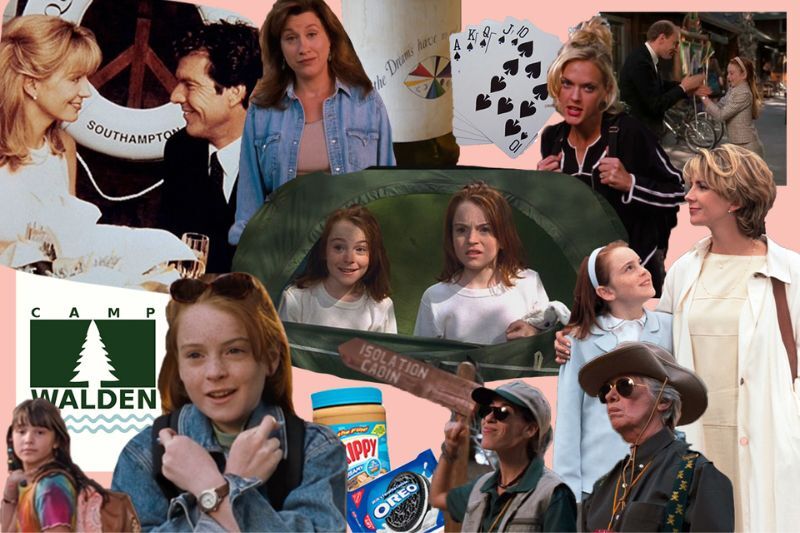 Photo: Hey Alma
Disney's version of The Parent Trap starring Lindsay Lohan has become one of the most popular bachelorette party and birthday themes on social media. Party guests can take inspiration from the character's styles, try your hand in Camp Walden themed activities like fencing or tie dye, and eat movie classics like Oreos with peanut butter. Use this fun theme to celebrate a 30th birthday, movie night, or other special occasion.
8. Hawaiian Luau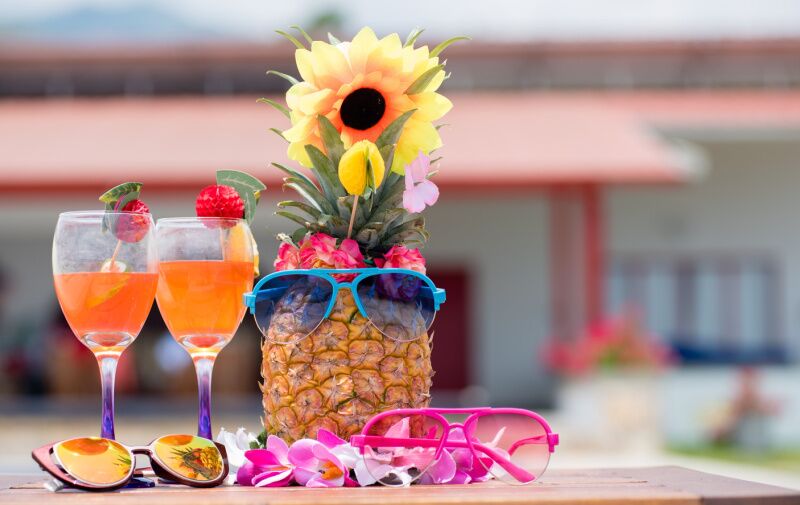 Photo: Norbey Tarazona/shutterstock.com
Tried and true, a pool party luau makes one of the best party themes. Invite guests over for a backyard BBQ with tiki torches, palm trees, and lawn games for an afternoon of fun. Browse The Bash to find Hawiian inspired entertainment including hula dancers, ukulele players, and even fire eaters. Don't forget to decorate the space with hibiscus flowers and serve drinks in pineapples and coconuts that will transport guests to the golden beaches of Hawaii.
9. Casino Night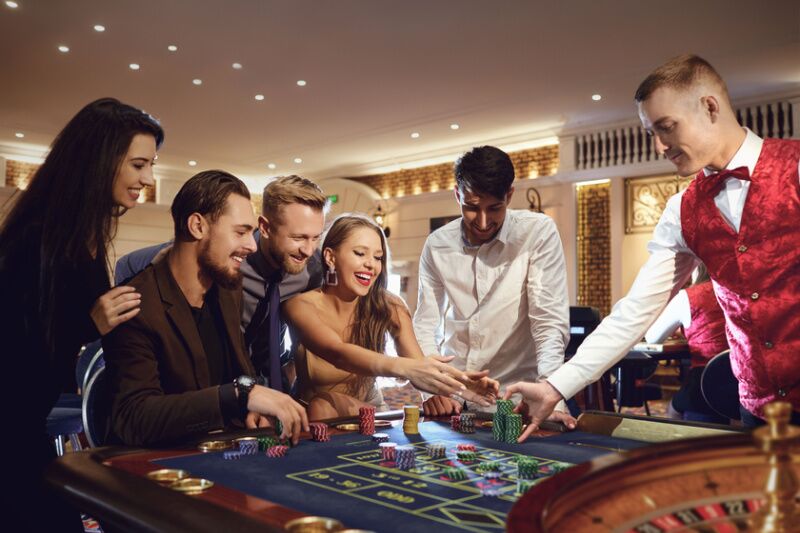 Photo: Studio Romantic/shutterstock.com
Channel your inner James Bond and take a trip to Las Vegas without having to pay for a flight. Bring the Vegas strip directly to your guests with casino game rentals so people can play all their favorite party games like poker, black jack, and of course, the slots. Consider hiring a professional bartender and waitstaff for this party to feel like you're actually on the casino floor.
If you really want to shock your guests and create a one of a kind celebration, book a visit from an Elvis impersonator to mingle, interact, and even perform at your casino style party.
10. Harry Styles
Photo: British GQ
During Harry Styles's concert tour, fans around the globe were inspired to dress in their brightest and most sparkly outfits, sip on creative cocktails, and turn the singer's persona into an experience. From the love on social media, we couldn't help but start to plan a Harry Styles themed party! This event has three details to make it a success; listen to Harry's albums, sip on "Watermelon Sugar" inspired drinks, and BYOB: bring your own boa.
11. Disco Cowgirl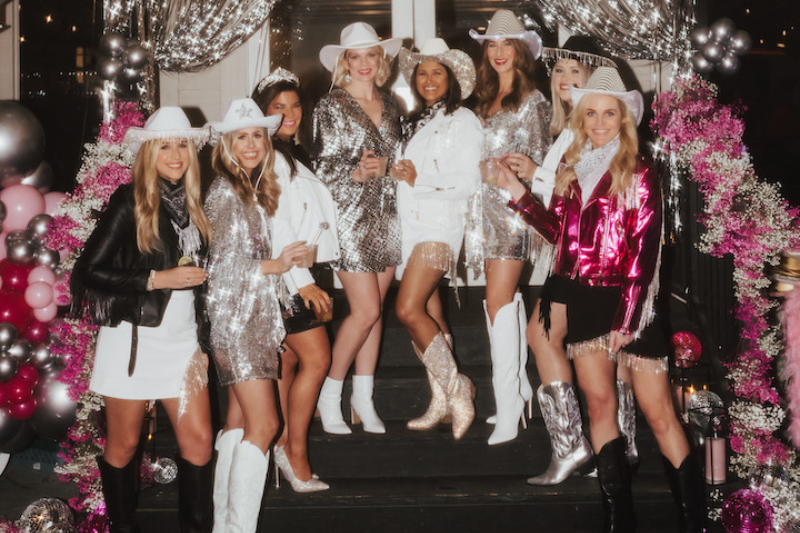 Photo: Haute Off The Rack
It seems like every bachelorette party on TikTok recently has been disco cowgirl, and we're obsessed! Combine the traditional western vibe with a fun and sparkly disco aesthetic for an extremely fun party theme for adults. Pull off this theme with glitter cowgirl hats, bejeweled fringe jackets, and tons of metallic pink accents.
12. The Wizarding World of Harry Potter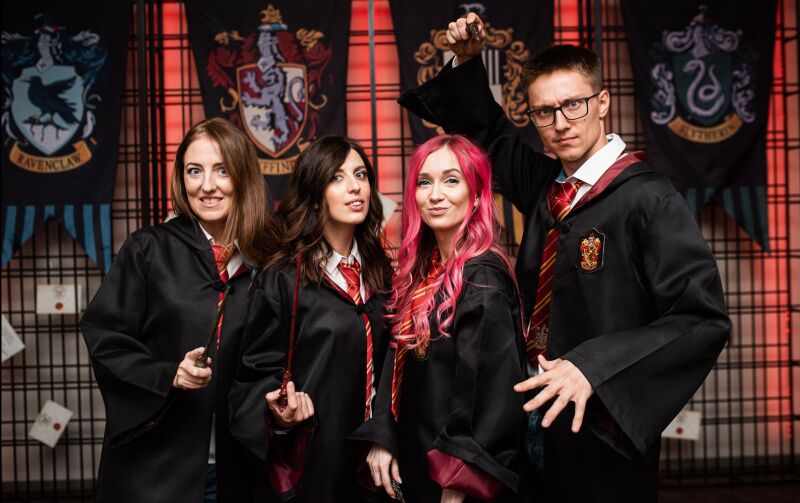 Photo: Ekaterina Soldatenko/shutterstock.com
Calling all Potterheads, this one's for you! If you've dreamed about receiving a Hogwarts acceptance letter in the mail, why not throw a Harry Potter inspired get-together? Start by booking magical entertainment ranging from magicians to ballroom dancers. Then, create a wizarding world backdrop using floating candles and Hogwarts house color decor. Finish off the celebration with plenty of butterbeer and you've got yourself a magical soirée.
13. Murder Mystery Party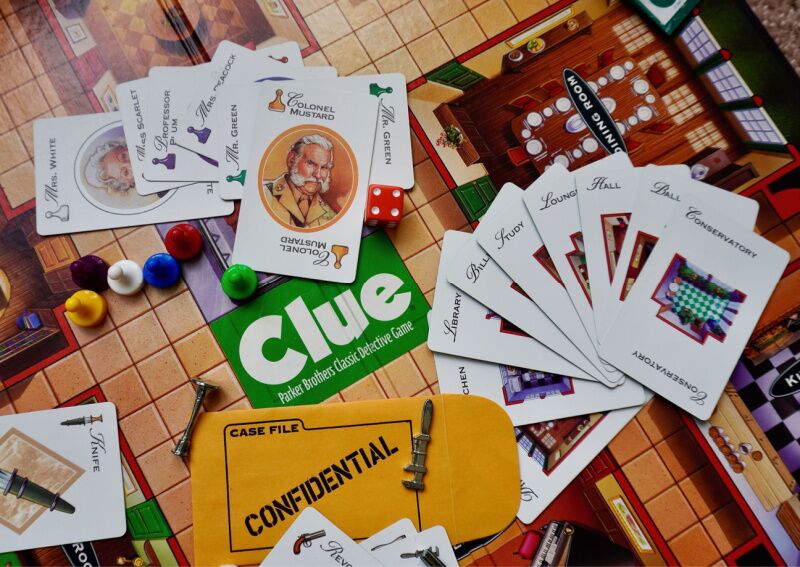 Photo: EWY Media/shutterstock.com
If you binge watched The White Lotus you should consider hosting your own whodunnit murder mystery themed party. Choose a theme or setting to help set the scene, assign guests their character roles, and plan a delicious food and drinks menu to match. Everyone will enjoy the guessing game of who's guilty and it will test everyone's acting skills! This is sure to be an extra special addition to your group's game night rotation.
14. Taylor Swift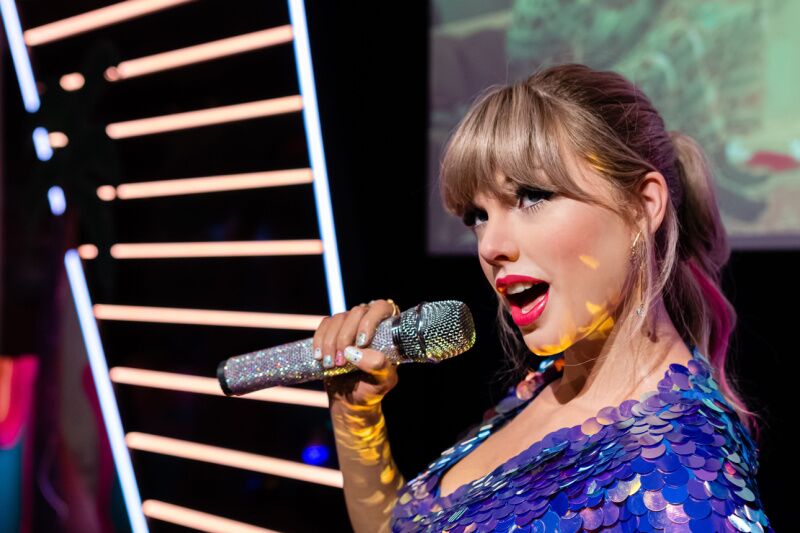 Photo: ako photography/shutterstock.com
If you're a swiftie and are celebrating an upcoming celebration, plan a gorgeous Taylor Swift themed party. Using her songs and albums as inspiration, hang a mirror ball, host a "picture to burn" bonfire, and serve Lavender Haze martinis. Use this Taylor Swift party theme for any occasion or excuse to celebrate.
She Found Her Lover Bachelorette
If your bestie is a fan of Taylor Swift and is newly engaged, host a bachelorette party using the theme, "she found her Lover." Fill the space with dreamy pastel colors, assemble a Champagne Problems prosecco tower, serve "this night is sparkling" apple cider, and complete the party with Swiftie karaoke.
I'm Feeling 22 Birthday Party
Celebrate a new year in your twenties with the ultimate Taylor Swift inspired birthday party. Dress in your best hipster-chic attire, play pin the red scarf on the Taylor, and dine together for breakfast at midnight.
15. Bridgerton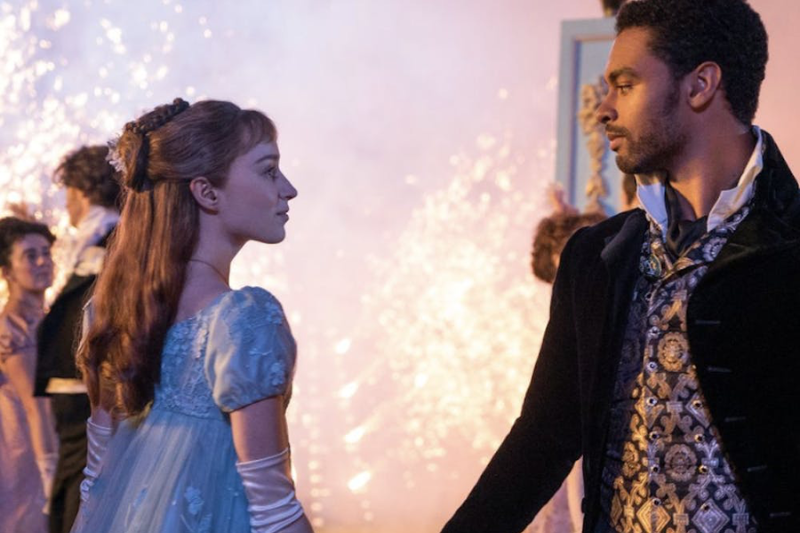 Photo: Duke Chronicle
Celebrate the social season (or any other special occasion) with a Bridgerton inspired party Lady Whistledown is going to want to write about. Host the soiree in an elegant banquet hall or garden space, book a performance from a string quartet, and sip on delicious tea and cocktails. Don't forget to play tea party music while guests arrive to set the tone for the Bridgerton bash.
16. Costume Party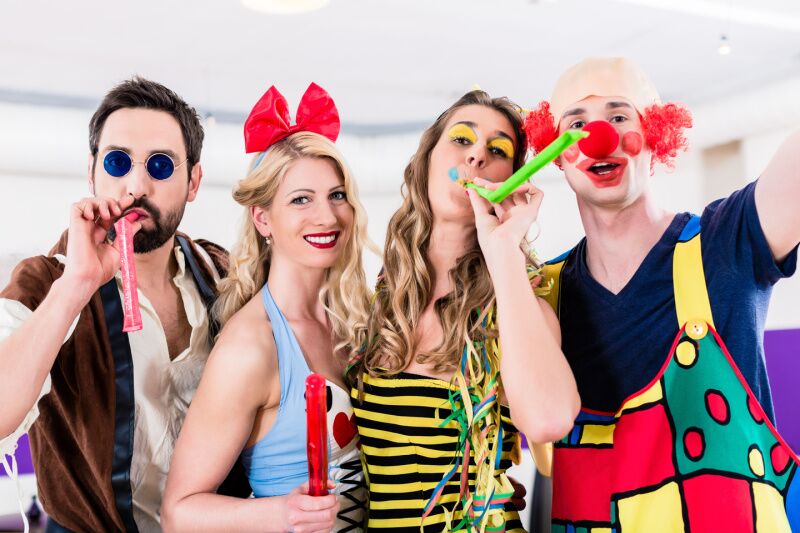 Photo: Kzenon/shutterstock.com
Theme parties for adults usually entail some sort of costume or dress code, but think out of the box for this special occasion. Invite everyone to dress up as something that starts with the first letter of their name, their favorite TV show character, or duos that rhyme. The possibilities are endless when you host an adult dress up party.
17. Princess Diaries
Photo: Radio Times
Birthday, bachelorette party, weekly movie night, regardless of the reason to celebrate you're going to want to use our Princess Diaries party ideas at your next get together. Host a princess pajama party with mattress surfing, Genovian pear cocktails, and plenty of singing with the help from a karaoke DJ. If you'd rather take the party outside, host a Princess Diaries beach party with a fortune teller, corn dogs, and paint filled balloon darts.
18. Black and White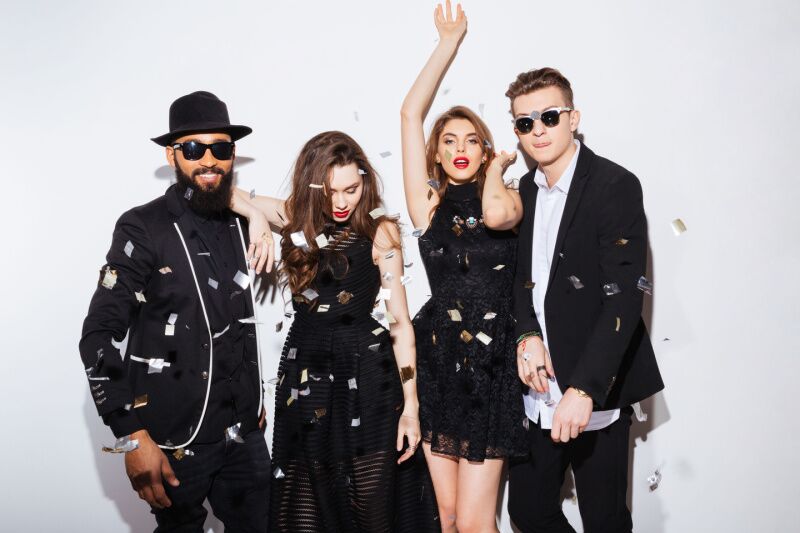 Photo: Dean Drobot/shutterstock.com
Black and white is a classic and chic color combination that makes a great theme for an upcoming celebration. Invite guests to dress in their best newspaper print dress, zebra striped pants, or traditional suit and tie for this celebration. Serve black and white cookies, decorate with balloons, and add a disco ball for a touch of sparkle.
19. Trendy Disco Aesthetic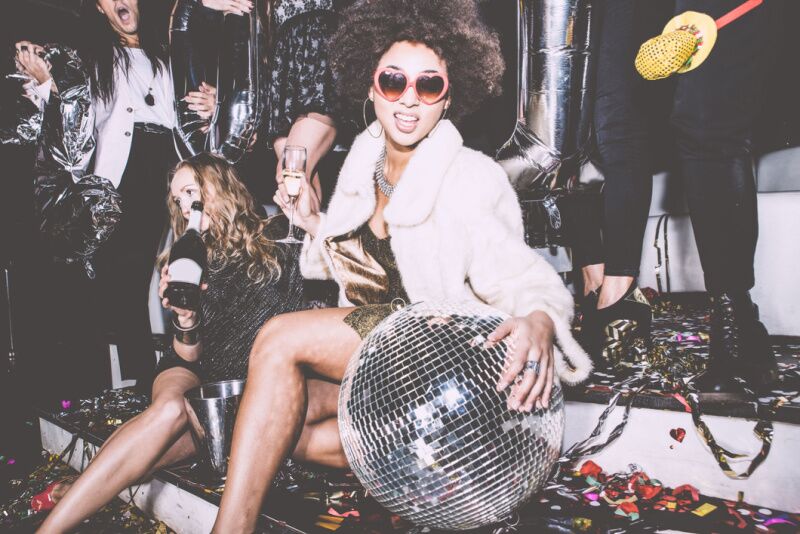 Photo: oneinchpunch/shutterstock.com
If you haven't heard by now, the disco aesthetic is in. This party theme consists of all things silver, shiny, and sparkly, just like a disco ball. Think of a 70s decade party but without all the cheesy outfits and over the top hair. A trendy disco party is meant to be chic and glamorous, giving you perfect content for your Instagram feed.
20. Great Gatsby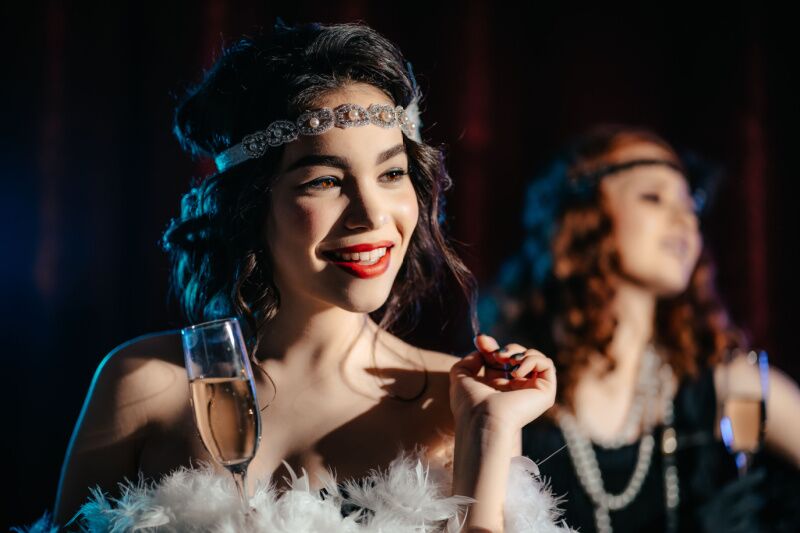 Photo: Stock Holm/shutterstock.com
Whether you're a fan of the classic novel or the film starring Leonardo DiCaprio, The Great Gatsby is a popular party theme for a reason. An elegant soiree filled with live jazz music, swing dancers, and commemorative photo booth adds all the glitz and glamor to this party theme. Over the top parties with flappers were the basis of the story line, so it only makes sense to host a Jay Gatsby approved soiree.
21. Y2K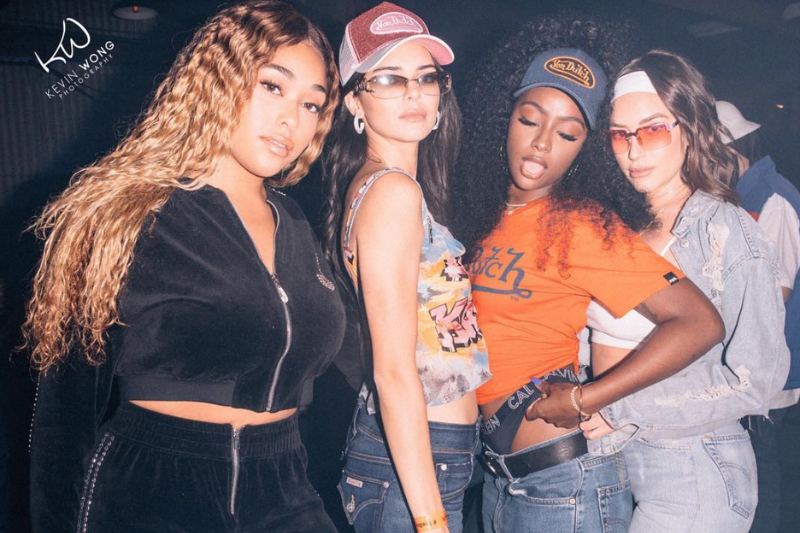 Photo: Buzzfeed
A 2000s throwback event complete with the iconic fashion trends, an R&B singer, and Jell-O shots creates the perfect upbeat setting for a celebration. Host this get-together in a loft space, play classic video games, and don't forget to capture everything on film with a Polaroid or disposable camera. Bonus points if oyu can get your hands on discontinued snacks like Pepsi Blue, Hershey's Kissables, or Dunkaroos.
22. Superhero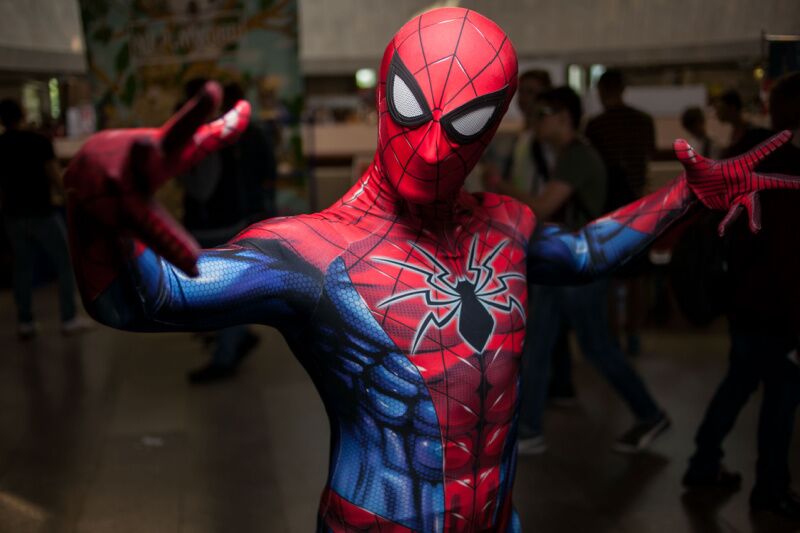 Photo: BLGKV/shutterstock.com
Who doesn't love the world of DC Comics or Marvel Universe? Invite a few costumed characters including Spider-Man, Batman, and Captain America to mingle and interact with guests, host a heroic movie marathon with all of the classics, and serve comic inspired treats and drinks for everyone to enjoy. Even adults will love the thrill of meeting their heroes!
23. Kentucky Derby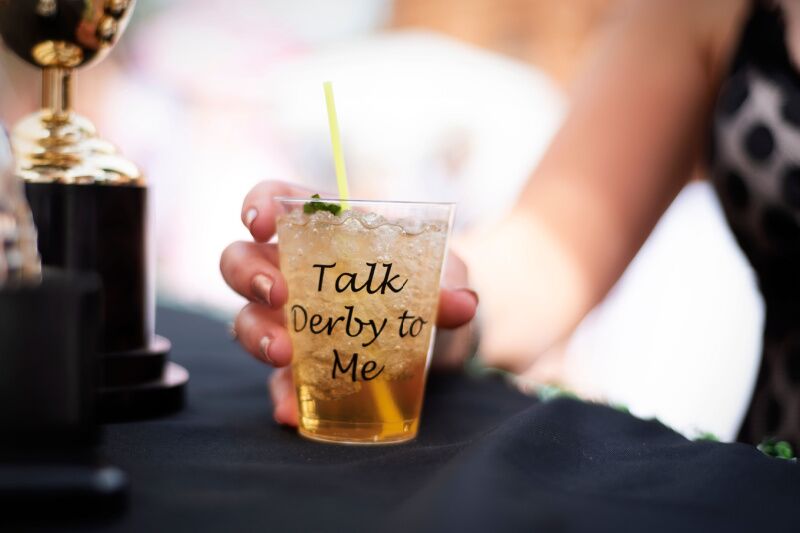 Photo: Jules1601/shutterstock.com
Whether you're actually watching the Kentucky Derby or want to use it as inspiration for a spring party, we've got everything you need to get your party off to the races. Start by booking a bluegrass band to bring the southern culture, decorate with plenty of fresh roses, and invite guests to wear their best hats and headpieces. If you don't plan on betting on any horses, play a few rounds of poker while you enjoy refreshing mint juleps and sweet tea.
24. Toga Party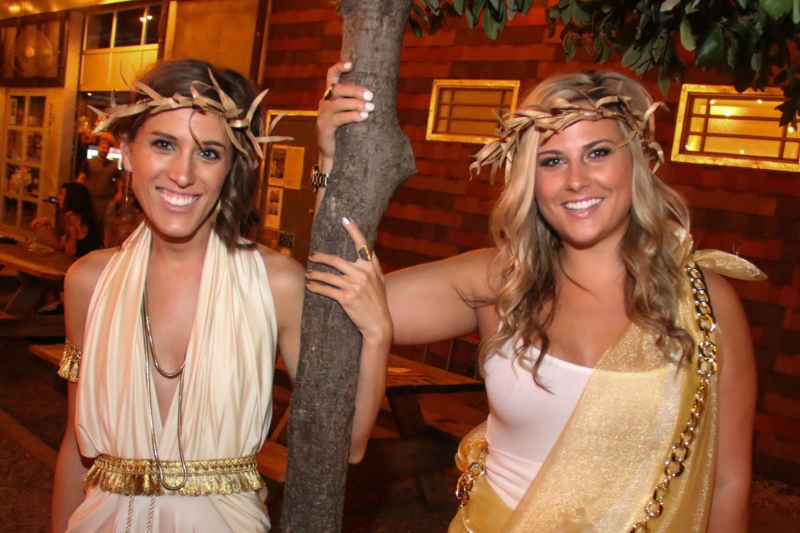 Photo: Dallas Morning News
If you were in a sorority or fraternity during college, you probably attended at least one toga party. If you loved this idea back then, it makes a perfect adult theme now. Party guests will enjoy the tradition of attempting to turn a bed sheet into a creative and flattering toga ensemble that will last throughout the event. Serve medieval inspired food and drinks like turkey legs and wine for guests to feel like they are in ancient times.
25. Après Ski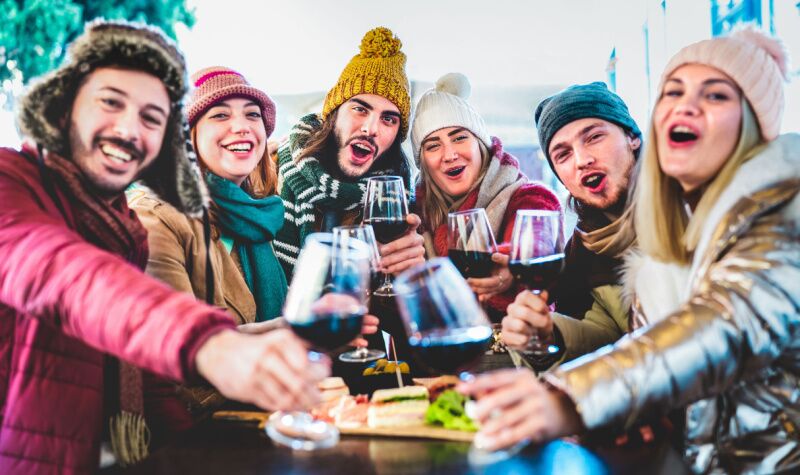 Photo: View Apart/shutterstock.com
Après ski or 80s in Aspen parties have become extremely popular on social media. Wear your brightest, puffiest winter jacket, sip on hot toddies by the fire, and of course dance to the upbeat music of a professional DJ. Après ski is all about the party that comes after a day on the slopes, so let's cut to the chase and get to the party for a unique adult theme idea. 
26. Awards Show Viewing Party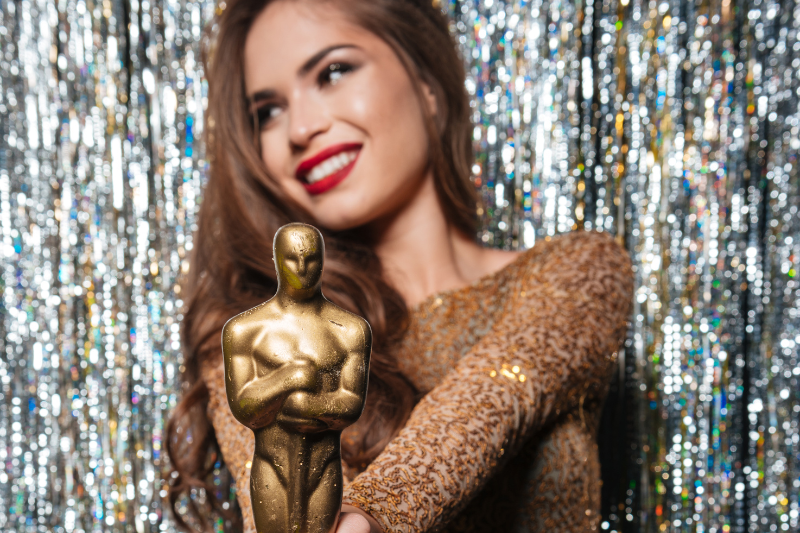 Photo: Dean Drobot
If you've ever wanted to host a party during awards show season, what's stopping you? Roll out the red carpet and choose from The Oscars, Grammys, MTV Music Awards, and beyond to plan an upcoming academy award winning celebration. Host the Hollywood event in pajamas on your couch, or get glammed like the stars for a black tie event at a fancy venue. Book a comedian to provide entertainment during commercial breaks and serve plenty of champagne to create your very own awards show gala.
27. Mardi Gras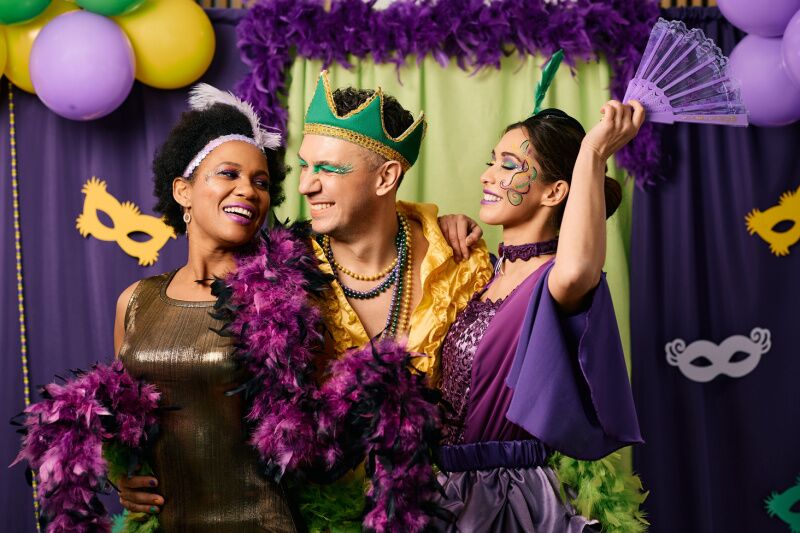 Photo: Drazen Zigic/shutterstock.com
You don't need to wait until February to host a Fat Tuesday inspired celebration, Mardi Gras makes a perfect party theme no matter what time of year. Get themed decor on Amazon, book Mardi Gras inspired entertainment, and eat Louisiana favorites including King Cake, gumbo, and New Orleans style beignets with ice cream. Don't forget to play songs from our Mardi Gras playlist while you set up and prepare.
28. Star Wars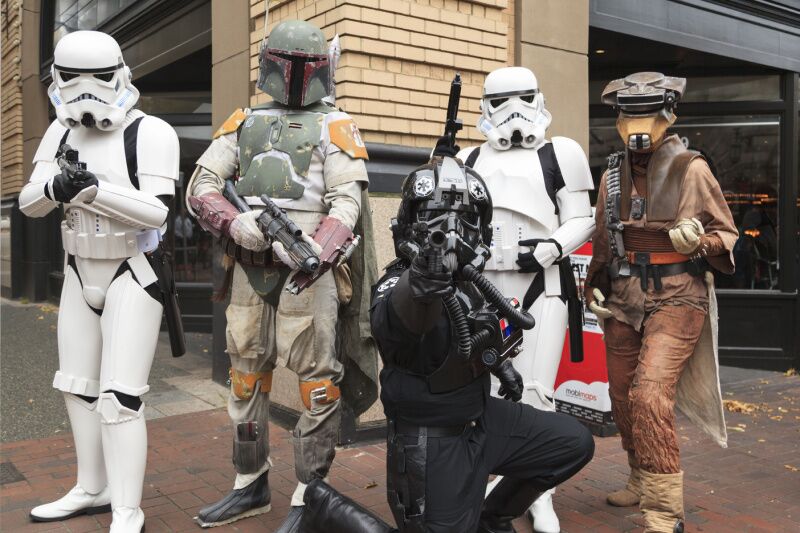 Photo: GTS Productions/shutterstock.com
This is the adult party theme you are looking for. If you've wanted to host a Star Wars inspired meal complete with Grogu's bone broth and wookie cookies, take this as your sign. To plan an out of this world Star Wars party, you'll want to add classic cantina music, movie inspired costumes, and maybe even a friendly lightsaber battle. Project your favorite films and shows like The Mandalorian or Star Wars Rebels throughout the space for an immersive galactic experience.
29. Mexican Fiesta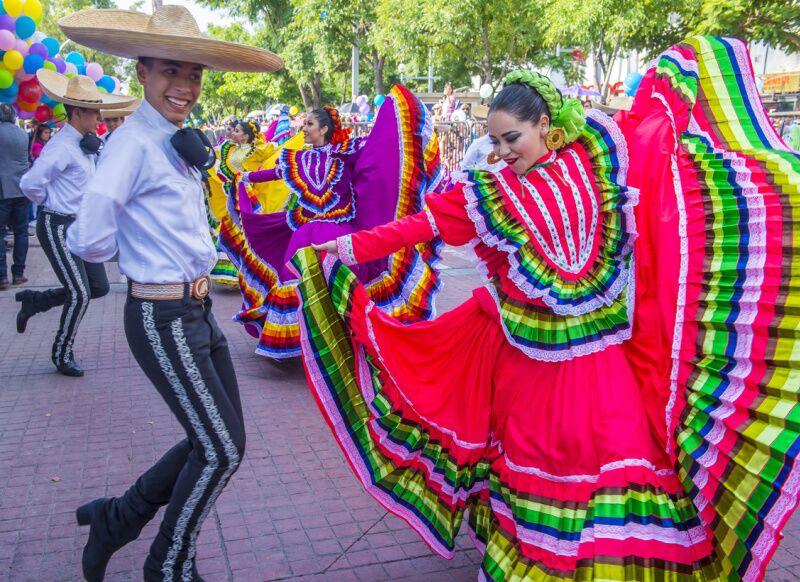 Photo: Kobby Dagan/shutterstock.com
Start planning your taco and cocktail party with a fun fiesta for your next celebration. To begin, you'll want to book a mariachi band, make other traditional Mexican food and drinks, and have a piñata filled with plenty of candy and treats. Decorate with vibrant colors, paper chains, and lanterns to make this fiesta  extra special.
30. Prom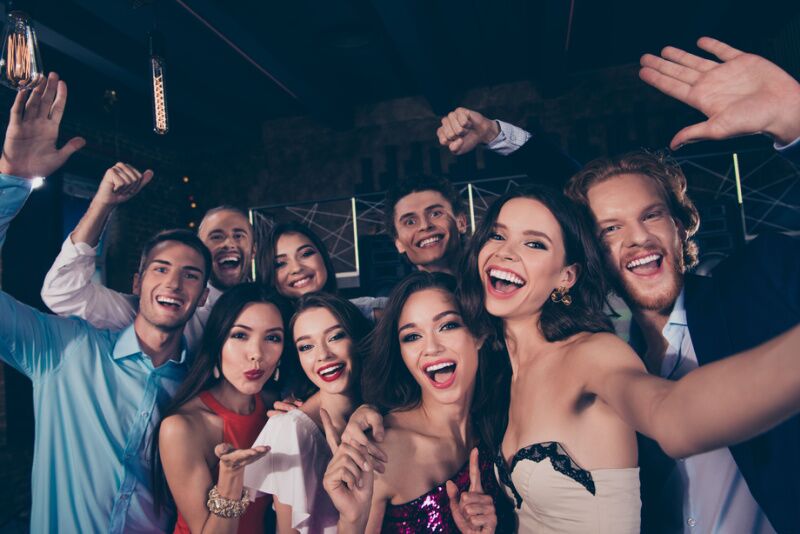 Photo: Roman Samborskyi/shutterstock.com
Whether you loved it or hated it, prom makes an iconic party theme idea for adults. For your next birthday or even a wedding reception, consider hosting a retro prom themed party for a memorable milestone event. Book a professional limo driver to transport guests, serve a catered meal, and book a photographer to capture people's prom attire during this creative party theme.
31. Wine Tasting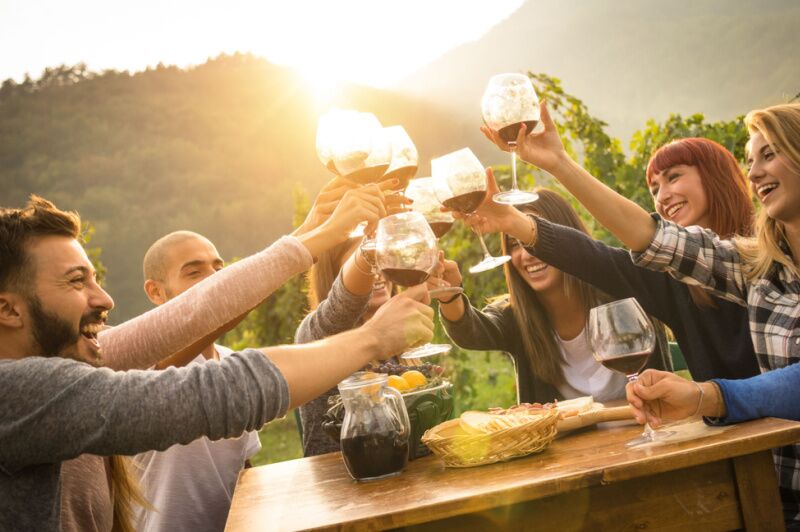 Photo: View Apart/shutterstock.com
If you're racking your brain trying to come up with theme party ideas for adults, you can never go wrong with a wine tasting. Keep the festivities as minimalistic or as over the top as you wish, just make sure there is plenty of vino for the wine connoisseurs. Pair a number of bottles of wine with small bites including cheese, dried fruit, and nuts. Elevate the wine tasting experience even more by booking an acoustic band or even a caterer so you can sit back and relax.
32. Pajama Party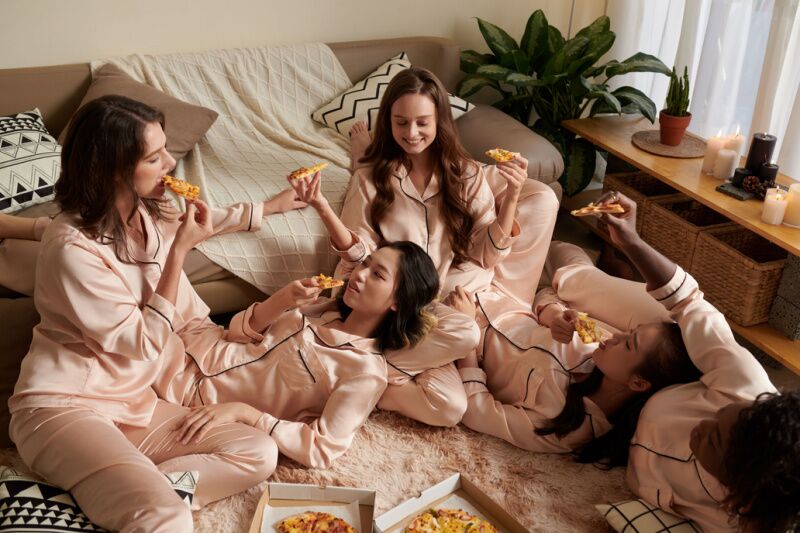 Photo: Dragon Images/shutterstock.com
Who says adults can't have a slumber party? Release your inner child by wearing matching pajamas, watching rom-coms, and sipping on delicious cocktails. That sounds like a perfect night to us! Consider renting an outdoor movie screen, booking food carts to serve popcorn and snacks, and hosting a traditional pillow fight.
33. Stranger Things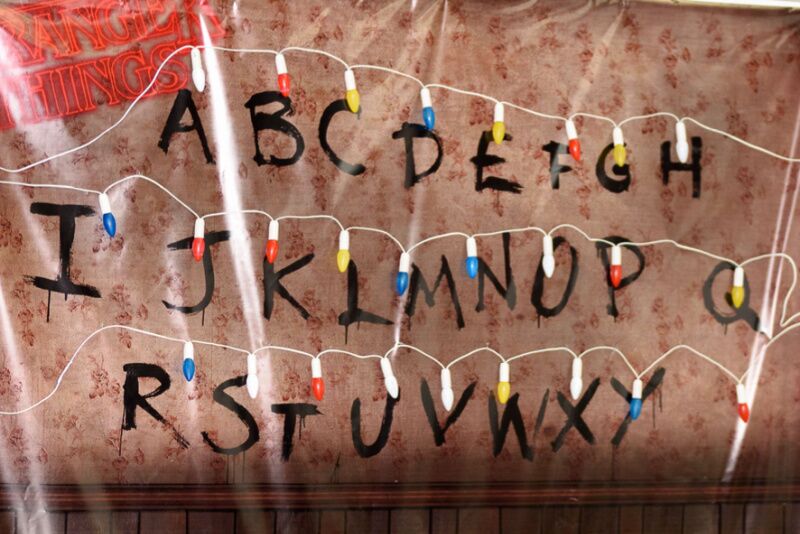 Photo: Anton_Ivanov/shutterstock.com
Take guests to the Upside Down with the ultimate Stranger Things themed party. Take inspiration from the show by hosting this party in your basement space, playing favorite 80s throwback games (maybe Dungeons and Dragons), and setting up an Eggo waffle bar.
Don't forget to incorporate mystic and spooky decorations featuring rainbow Christmas lights, vintage posters, and plenty of beakers and test tubes just like Hawkins Lab. Have all the fun of the Upside Down without having to worry about escaping the Mind Flayer!
34. Oktoberfest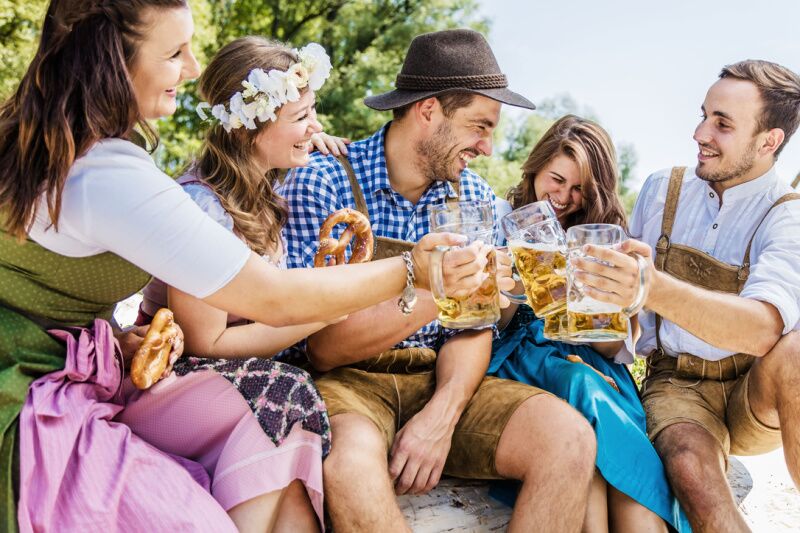 Photo: KarepaStock/shutterstock.com
Going to an Oktoberfest celebration is an event like no other, so why not host one yourself? Put together a German inspired Oktoberfest celebration any time of year with help from The Bash. Decorate your own beer garden with the traditional blue and white Bavarian flags, serve homemade soft pretzels with beer cheese, and don't forget your favorite bottles of beer. Transport quests to the streets of Munich with a polka band or songs from our Oktoberfest playlist to add a festive touch.
35. Mamma Mia
Photo: Playbill
The love of the hit movie and musical, Mamma Mia, isn't slowing down anytime soon. This bohemian and 70s inspired story combines classic and trendy details for an unforgettable party theme. Put on your disco pants, book an ABBA tribute band, and spend all night on the dance floor to channel your inner Donna and the Dynamos for your next theme party

Find more themed party ideas and inspiration here on The Bash.